Visiting Universal Studios Orlando is a significant expense. Most families save up for a trip like this, planning every moment so they don't miss a thing.
However, you might wonder if bringing your own food to Universal Studios Orlando is possible. Theme park food is very costly, and packing lunch and snacks would make the trip more affordable overall. So, can you bring food into Universal Studios Orlando?
Does Universal Studios Have Rules About Food?
There are rules about food and drinks on the Universal Orlando policy page. The park outlines general guidelines about what you can bring into the park, so you know what to budget for in terms of meals at the Universal restaurants.
You can bring in up to two liters of bottled water. Since you can ask for ice or ice water at any restaurant or concession stand, you might not want to bring water. You'll have to carry it around unless you rent a locker, so having that much water might not be worth the weight and hassle.
Don't bring any snacks or food items that need heating. You won't have access to a microwave or oven in the park. However, beyond that restriction, Universal Studios Orlando does allow you to bring in small snacks.
They also allow specific food for medical needs, including supplements and special dietary restriction foods. This allowance is a great relief for families that have members following strict diets. There's no need to find a restaurant where you can get gluten-free or other unique food items because you can bring them yourself.
If you're bringing your baby to the theme park, you can bring food and formula. Keep in mind that Universal Studios Florida doesn't allow glass, though, so don't bring baby food jars. Instead, consider buying resealable pouches of baby food for the trip. You can even buy reusable pouches and fill them with your baby's favorite food.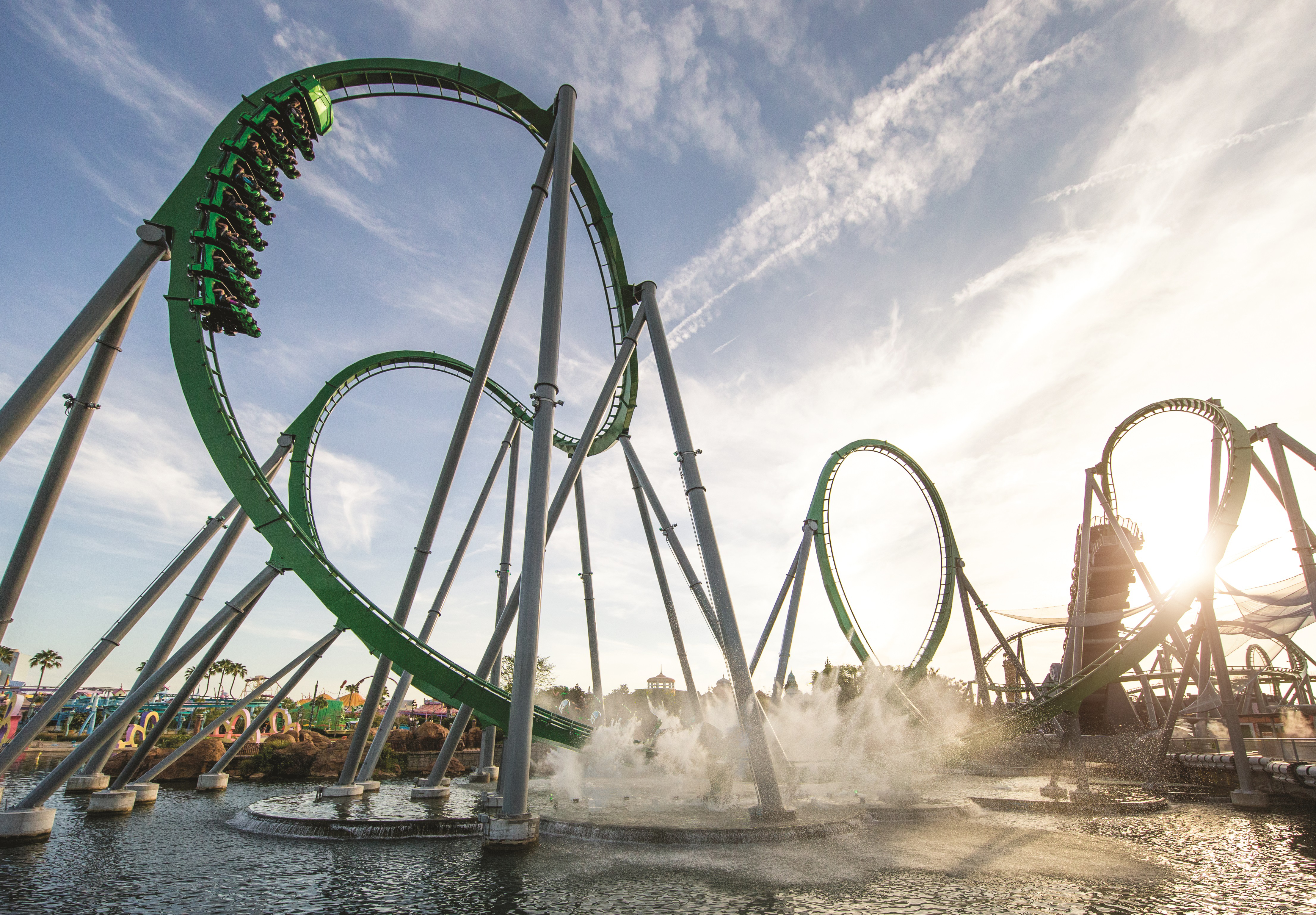 What Items Can You Bring Into Universal Theme Parks?
Spending a day at a theme park seems like a big undertaking because you want to have everything you need. Many people think it's better to bring as much as possible, so you don't have to leave the park to get something or buy an overpriced version in a park store.
However, you're at the park to explore and enjoy the rides. You want to be comfortable walking around, so a small backpack or fanny pack is enough. These bags will fit into the free lockers of rides that don't allow you to carry a bag, so you won't have to pay a few dollars to rent a locker.
Double-check your bags before you head to the park. You have to go through security and metal detectors at the gate. They'll measure your soft-sided cooler to ensure it's the allowed size, and they'll check bags for glass containers and alcoholic beverages. They won't say anything about the size of your backpack, though, so if it's too large for a free locker at a ride, you'll have to pay.
What Food Does Universal Studios Orlando Allow?
So, can you bring food into Universal Studios Orlando? Actually, Universal Studios Orlando is surprisingly lenient about the type of food you can bring to the park. Their biggest concerns are that people don't bring food that needs refrigeration before consumption or anything you need to heat or cook before you eat it.
With that in mind, you might have an idea of things you could pack for your day at the park. Read on to find out what's easiest to pack and how you can carry it all.
Coolers
Believe it or not, you can bring coolers into Universal Studios Orlando. Since picnic lunches aren't allowed, many might think you're not allowed to bring a cooler. However, you can't haul a massive cooler around the park all day. There are some restrictions.
Coolers must have soft sides, so you can't harm anyone or push them out of the way with a hard cooler. They must also be 8.5 inches wide, 6 inches tall, and 6 inches deep or smaller.
Basically, you can bring an insulated lunch box into the park. Though small, it's enough to keep some water and snacks cool. You'll save money in the parks if you bring a small, soft-sided cooler.
Since this small, soft bag is all you can bring in, you don't have to worry about carrying around a cumbersome cooler. Ensure the bag's dimensions meet the guidelines, or else you cannot bring it in and will have to carry your snacks in your regular bag where they won't stay cool.
Snacks
There are some snacks that are best to bring into the park. You don't want anything that needs to stay refrigerated all day because you'll carry it in your insulated cooler or leave it in a locker when you're on rides. You also don't want to bring anything that needs heating before you eat it because you won't have access to a microwave or oven.
Unless you rent a park locker, you'll carry your snacks around all day. So keep that in mind when you pack your bag. Lockers are at the front of the park, so while it might be worth it to rent one and lighten your load, you'll have to trek back to the park to access what you've stored inside.
Crackers and chips might get crushed in your backpack. Chocolate treats will melt in the Florida heat. While you can pack sandwiches to have a cheap lunch at the park, make sure the bread won't get compressed into an unrecognizable mush beneath everything else in your backpack.
With those constraints in mind, consider packing snacks like:
Applesauce cups or pouches
Carrots or celery sticks with dip
Chips
Crackers
Fruit (dried fruit is especially portable)
Granola bars
Pretzels
Trail mix
You can easily access a bathroom to wash your hands before and after you eat a snack, but consider packing a container of wet wipes as well. It's more convenient to clean everyone up after you eat, so you're ready to explore more of the park.
Drinks
You can't bring any alcoholic beverages into the park, nor any drinks that come in glass bottles. As previously mentioned, you can bring bottled water—up to two liters. You can also bring along your own reusable water bottle so you can refill it throughout the day. That way, you'll always have cold water available, and you won't have a plastic water bottle to throw out at the end of the day.
A lightweight, reusable water bottle with a loop is best for a day at the theme park. You can carry the loop with your fingers or thread it through the strap of your bag, backpack, or soft-sided cooler. Metal or insulated water bottles are heavier, but they'll keep your water cool. For a day in the Florida sun, cold water is much more refreshing than lukewarm or hot water.
Final Notes
Eating at theme parks can be an exciting experience. You get to try new food and see characters while you enjoy a meal with your family. But snacks are an expense that adds up quickly. You don't want to blow your budget on snacks throughout the day.
It's also essential that you only bring what's allowed. Trying to break the rules means they throw out your food, or you're unable to enter the park until you get rid of it. Follow the guidelines to ensure no hassle getting into the park, and pack enough snacks and water to keep your family satisfied. You'll maximize your time on the rides and save money!
More about our TFVG Author
A seasoned traveller, Dad, and avid sports tourist, James foundered The Family Vacation Guide to share his expert vacation experiences- especially when it comes to being a travelling family man.
Featured in Travel articles such as Travel + Leisure, TripSavvy and SFGate, you know you're reading some of the best vacation tips online.