As you browse hotels and resorts at Walt Disney World in central Florida, you'll notice that the swimming pools are a prominent feature. But can you pool hop at Disney World resort hotels? 
Pool hopping involves using the swimming areas of one Disney resort while holding a reservation at another. Unfortunately, pool hopping is not allowed at Walt Disney World.
Still, they allow a few exceptions to this rule. Moreover, several Disney resorts have more than one pool for guests. There are also two waterparks on the property.
Below, read about policies regarding pool usage at Disney hotels, including who can and can't access them. You'll be an expert on where to swim on your next Disney vacation!
Why not also check out our guide to the best pools at Disney World resort hotels?
Why Does Disney Prohibit Pool Hopping?
Some long-time Disney-goers may remember fondly when pool hopping was a regular part of Disney World vacations. Why doesn't Disney allow pool hopping now?
There are several reasons, the top two being safety and overall guest experience.
Each pool can only safely accommodate a certain number of guests in the water or on the deck. The risks associated with swimming are real, and lifeguards have enough on their plates. 
Disney staffs lifeguards based on each hotel's bookings, so there aren't extra guards for stowaways. In addition, other staff, chairs, towels, and amenities are limited. If too many guests from other resorts flock to one pool, they run out.
Many people choose hotels based on amenities like swimming pools. If that's your family, you wouldn't be happy to learn that guests of other hotels took chairs and space away from you.
Disney faces steep competition in the hotel market, even around Disney World. Pools are a significant selling point for bookings, and Disney knows that. If they allow pool hopping, that lure goes away.
What Are the Exceptions to the Rule?
There are a couple of exceptions to the no-pool hopping rule.
First, if your hotel's main pool is closed for refurbishment, you may be able to use the main pools at nearby hotels in the same price tier. Disney will communicate with you directly if that applies to you.
Second, Disney Vacation Club members have pool hopping privileges. However, it varies daily depending on hotel capacity, staff availability, and more. You'll have to check with guest relations on the morning of your visit to find out what's available.
What happens if you try to pool hop?
There's always a chance you won't get caught, but we don't advise risking it. You'll undoubtedly be asked to leave.
Security won't cause a scene since Disney doesn't want you to be too unhappy with them. Still, most people would be embarrassed to pack up their family's things with a security escort standing by.
Moreover, since it's a violation of Disney guest policy, they can enforce other penalties, up to a lifetime ban from their properties. They could also revoke your park passes without a refund. It's not likely, but we wouldn't risk it!
Planning Your Family's Disney Pool Time
Many travelers take a day away from the theme parks to soak up some Florida sun, while others like to come back to their resort early in the day to swim.
Even though you can't pool hop, there are many other ways to have fun at Disney pools.
Now is as good of a time as any to tell you this: Disney resort pools can (and do) close for refurbishment. Disney will alert you if pool closures affect your resort's main pool well before your arrival. They usually make other options available if it happens. 
Resorts with Multiple Pools
Several resorts on Disney property have more than one pool. In each case, the following hotels have one main pool. They often have a waterslide, splash zone, snack bar, and other features. They also have smaller pools on-site that guests can enjoy.
Disney Deluxe and Disney Vacation Club hotels with access to more than one pool include:
Disney's Animal Kingdom Lodge
Disney's Beach Club Resort
Disney's Old Key West Resort
Disney's Saratoga Springs Resort and Spa
Disney's Wilderness Lodge
Disney Moderate and Value hotels with access to more than one pool include:
Disney's All-Star Resorts (Movies, Music, and Sports)
Disney's Coronado Springs Resort
Disney's Pop Century
Your resort may have more than one pool even if it is not included on this list. Ask a cast member at your resort for help if you are unsure.
Disney heats all swimming pools at the resorts year-round (as needed). In the cooler months, water temperatures will be over 80 degrees.
The only Walt Disney World hotel that does not have a pool is the Star Wars Galactic Star Cruiser. Guests engage in an immersive role-playing experience throughout their entire stay, and there's no time to lounge by the pool.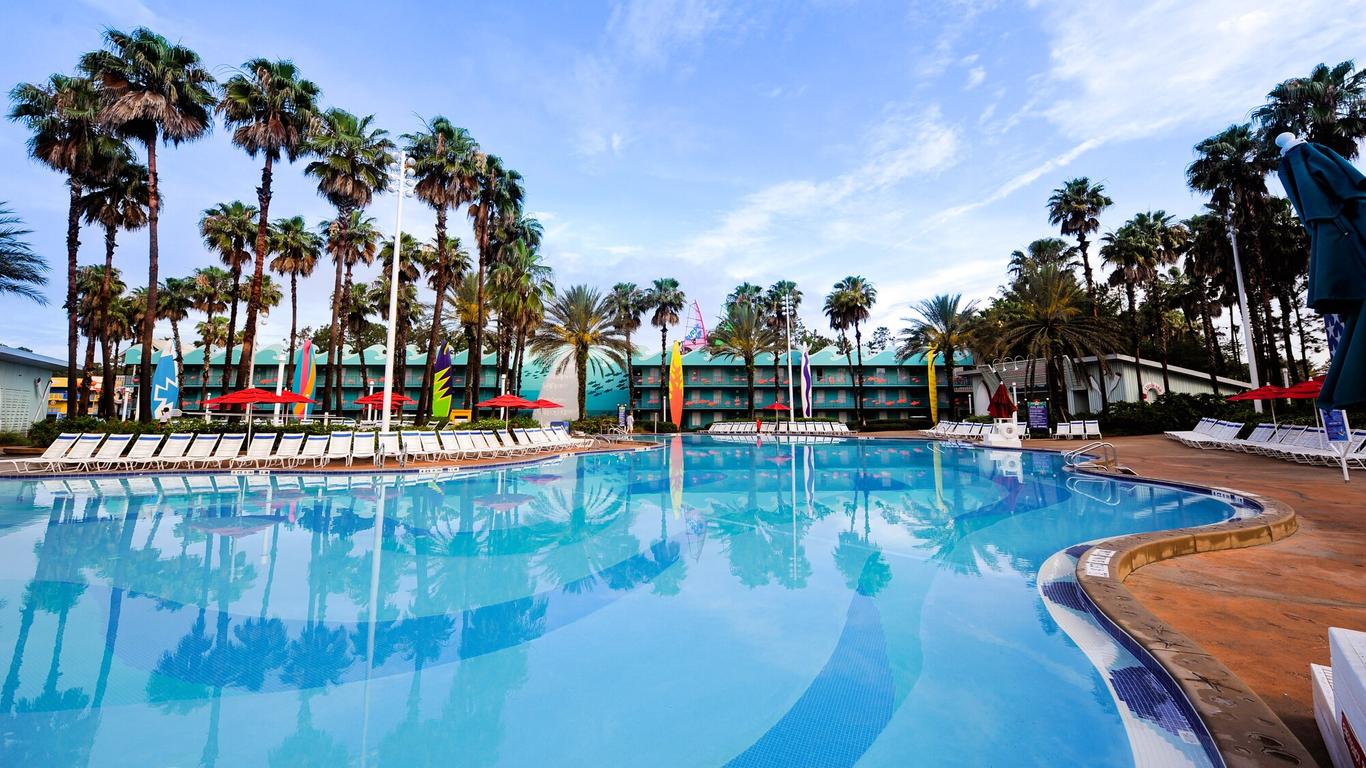 Disney World Water Parks
Disney has two water parks in Walt Disney World, Blizzard Beach, and Typhoon Lagoon. Both have over a dozen waterslides and more water attractions. 
Typhoon Lagoon houses the country's largest wave pool, while Blizzard Beach has a terrifyingly-tall plunge.
During the off-season (October or November through March), Disney usually closes one of the water parks, but the other is open every day, weather permitting. All the water is heated over 80 degrees, so swimming is comfortable even when it's a little chilly.
Slides, Splash Zones, and More
All Deluxe, Deluxe Villa, and Moderate resorts at Walt Disney World have water slides at their main pools. A few, like the Grand Floridian, have second slides. Most resorts also have splash zones for the littlest guests to climb and play safely.
The main pools at all resorts also have cast members who host games, trivia, and other fun activities daily, especially for kids. It provides a great distraction and gives parents a small break.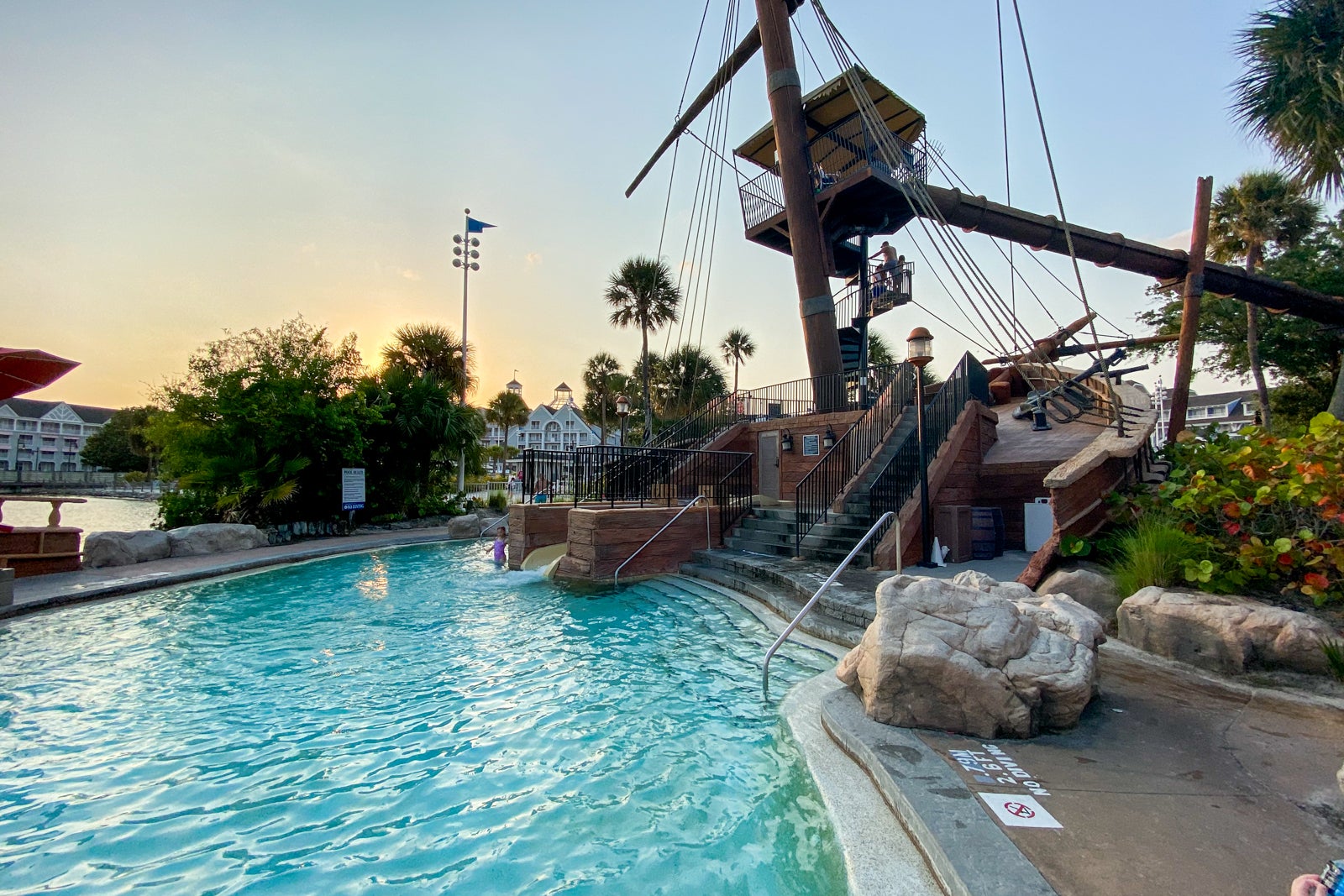 Soak Up Sunny Florida
No vacation to Florida is complete without spending some time soaking up the sun. Even though they don't allow pool hopping, Disney makes it easy with awesome pools at each resort. Don't forget to schedule pool time on your next family vacation to Disney World!
More about our TFVG Author
A seasoned traveller, Dad, and avid sports tourist, James foundered The Family Vacation Guide to share his expert vacation experiences- especially when it comes to being a travelling family man.
Featured in Travel articles such as Travel + Leisure, TripSavvy and SFGate, you know you're reading some of the best vacation tips online.