Disney's Blizzard Beach is one of the most popular water parks in the United States, attracting millions of visitors each year. The park opened on April 1, 1995, and is located at the Walt Disney World Resort in Orlando, Florida.
Disney's Blizzard Beach is themed after a ski resort hit by a freak snowstorm.
Blizzard Beach features plenty of attractions for both kids and adults: slides, pools (including a wave pool), a lazy river, and many more! The park also has numerous restaurants and shops.
If you're planning to visit this exciting park, you've come to the right place. This guide will break down everything you need to know about Disney's Blizzard Beach.
Things To Consider Before Visiting Blizzard Beach
As you plan your visit to Blizzard Beach, there are a few things you should know:
First, the water at Blizzard Beach is very cold. This is because the park is themed after a ski resort. The temperatures can be quite a surprise on hot days. Be sure to pack a swimsuit that will keep you warm.
Second, there are a lot of stairs at Blizzard Beach. So this may not be the park for you if you have mobility issues. There are several places where you will need to walk upstairs to get to the slides or other attractions.
Third, the lines at Blizzard Beach can be very long. During peak times, it is not uncommon for the wait for some of the most popular slides to be over an hour. If possible, try to visit during off-peak times or use a FastPass+ reservation to avoid the longest lines.
Blizzard Beach Tickets & Reservations
You'll need to purchase tickets in advance before visiting Blizzard Beach. You can do this online or at the park entrance. Bring cash or a credit card if you're buying tickets at the park, as the park does not accept checks.
Reservations are highly recommended at Blizzard Beach. Guests can make reservations up to 60 days in advance by calling the Blizzard Beach hotline or booking online. Guests must provide their name, contact information, and desired date and time when making a reservation.
Guests will also be asked to select a package, which includes options for Single-Day Admission, Park Hopper Plus, and Annual Passes. Once a reservation is made, guests will receive a confirmation email that must be presented at the gate on the day of their visit. Reservations are non-transferable and non-refundable, so it is essential to plan and make sure that the desired date and time are available before booking.
Getting to Blizzard Beach
There are two ways to get to Blizzard Beach from the parking lot – by foot or by taking the Ski Lift. The Ski Lift is located at the far end of the parking lot, near the entrance to the park. To get to the Ski Lift, follow the signs that say "To Blizzard Beach." The Ski Lift will take you directly to the Summit Plummet area.
If you want to go to any other area of Blizzard Beach, you'll need to walk. The main path that goes through Blizzard Beach is called Snow Drift. Snow Drift runs parallel to the ski slopes and connects all of the areas of the park. To get to a specific area, look for the sign that points in the right direction. You can also ask one of the Blizzard Beach cast members for directions. They're always happy to help!
Blizzard Beach Rides & Attractions
Guests can enjoy a variety of thrill rides, such as the Summit Plummet or the Downhill Double Dipper, or take a leisurely float down the Lazy River. For those looking for a more extreme adventure, the Park offers the Slush Gusher, a high-speed water coaster that descends from atop Mount Gushmore.
And, of course, no visit to Blizzard Beach would be complete without a trip down the Chairlift, which offers stunning views of the park. With so much to see and do, it's no wonder that Blizzard Beach is a favorite destination for families and friends alike.
These are some of its most popular attractions:
Chairlift
The Chairlift is one of the most popular attractions at Walt Disney World. The lift takes guests up to the top of the ski slope, where they can enjoy stunning views of the resort. The Chairlift is also a great way to get around the park, providing easy access to all the different areas.
Guests can choose to ride up or down the lift and a few places to stop along the way. A Chairlift is an excellent option for those who want to experience all Blizzard Beach offers.
Melt-Away Bay
Melt-Away Bay at Blizzard Beach is one of the best places to cool off on a hot day. The refreshing water and the bay area are filled with WaveRacers, providing hours of fun. Melt-Away Bay is also home to the Liquid Avalanche, a thrilling water slide that will pump your adrenaline.
If you're looking for a place to relax, there are plenty of beach chairs and umbrellas where you can soak up the sun. Whether you're looking for some excitement or a chance to relax, Melt-Away Bay is the perfect place to beat the heat.
Summit Plummet
For many people, the thought of hurtling down a near-vertical drop at speeds of up to 60 miles per hour is enough to send them running for the hills. But for thrill seekers and adrenaline junks, there's nowhere quite like Summit Plummet at Blizzard Beach.
As one of the world's tallest and fastest water slides, Summit Plummet is not for the faint of heart. Riders must be at least 48 inches tall to experience the thrill of a lifetime. After making their way to the top of the towering structure, they'll take a deep breath and plunge down the slopes, reaching speeds of up to 60 miles per hour before splashdown.
Riding in a toboggan with up to three others is also available for those looking for an extra thrill. There's no doubt that Summit Plummet is one of the most exhilarating rides at Blizzard Beach.
The Snow Stormers
Blizzard Beach is home to one of the most popular attractions, the Snow Stormers. The Snow Stormers are two slides that start at the top of a giant snow-covered mountain. Riders race down the slides on inflatable rafts, reaching speeds of up to 40 miles per hour.
The attraction is so popular that it often has an hour or more wait time. However, the wait is well worth it, as it's a thrilling experience for both young and old. If you're looking for a cool way to beat the heat, check out the Snow Stormers at Blizzard Beach.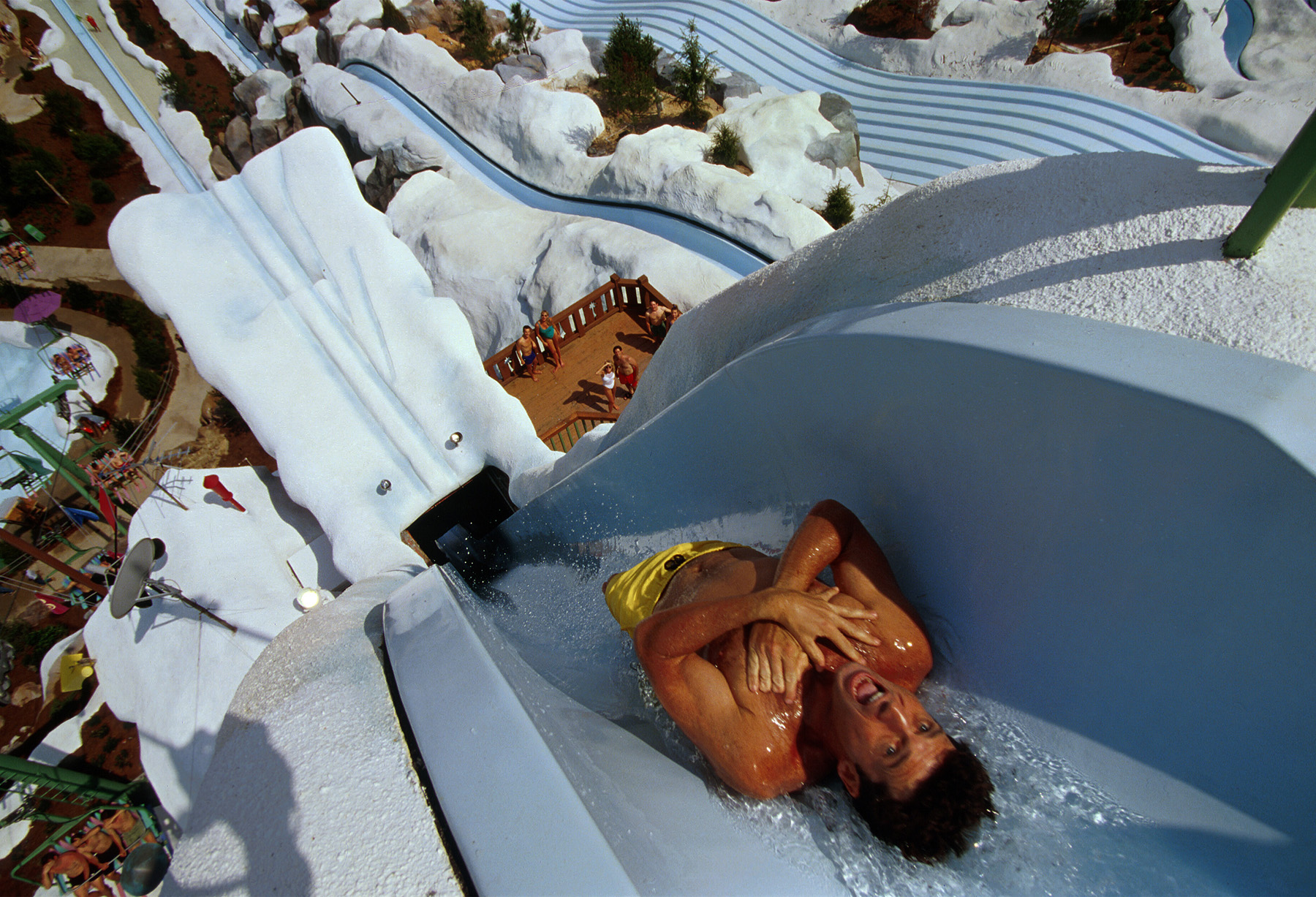 Spots To Eat & Drink at Blizzard Beach
Are you looking for a quick and easy meal while at Blizzard Beach? Check out some of the great quick-service eateries the park offers! While there are plenty of options for sit-down dining, sometimes you need something quick and convenient.
From burgers and fries to pizza and salads, there's something for everyone at these fantastic locations. And of course, don't forget the ice cream! Blizzard Beach is home to some of the best ice cream in Disney World, so be sure to try a scoop (or two) while you're here.
The Polar Pub
The Polar Pub is the perfect place to grab a drink and break from all the excitement. The bar is decorated with snowmen and polar bears, and there's even a fireplace to keep you warm.
The menu features a variety of frozen drinks and cocktails, as well as beer, wine, and non-alcoholic options. And if you're feeling snacky, the Polar Pub also offers a selection of appetizers. Whether you're looking to cool down or warm up, the Polar Pub is the perfect spot to enjoy some time out of the sun.
Mini Donuts
Mini Donuts is one of the favorite spots for a quick snack or a sit-down meal at Blizzard Beach. The donuts are made fresh to order and served hot and fresh out of the fryer. They're also covered in various toppings, from classic sprinkles to more unique flavors like a chocolate-covered strawberry. In addition to donuts, Mini Donuts also offers a selection of hand-dipped ice cream, milkshakes, and coffee drinks.
Frostbite Freddy's
Stop by Frostbite Freddy's when visiting Blizzard Beach for a delicious snow cone! You'll get all your favorite flavors, from cherry to grape to tiger's blood, and its friendly staff will be more than happy to help you find the perfect snow cone for your taste. Plus, Frostbite Freddy's shaved ice is so light and fluffy that it will cool you down on even the hottest day.
I.C Expeditions
When you need a break from all the fun at Blizzard Beach, you can refuel at I.C. Expeditions. This counter-service restaurant offers a variety of American classics with a tropical twist. Highlights include the Hawaiian Chicken Sandwich, Poutine with Pulled Pork, and Key Lime Pie.
There's also a full bar, so you can enjoy a refreshing cocktail or beer while you take in the stunning views of Mount Gushmore. Whether you're looking for a quick bite or a leisurely meal, I.C. Expeditions is the perfect stop for satisfying your hunger after a day of splashing around at Blizzard Beach.
The Warming Hut
After a few hours of fun in the sun, there's no better place to take a break than the Warming Hut. The Warming Hut is located in the middle of the Blizzard Beach complex and is an excellent place to rest and recharge. The Hut has a heated pool, comfortable lounge chairs, and a full-service bar.
In addition, the Hut offers a great view of the park, making it the perfect spot to watch the action. Whether you're looking for a place to take a break from the sun or want to enjoy some time with friends, the Warming Hut is sure to be your go-to spot at Blizzard Beach.
Blizzard Beach Character Meets & Experiences
Blizzard Beach is home to some of your favorite Disney characters! You can meet and take pictures with many of them throughout the park. Check the daily park schedule for meet and greet times and locations.
You might find some popular characters, such as Mickey Mouse, Minnie Mouse, Goofy, Donald Duck, and Pluto. If you're looking for a specific character, ask a cast member for help. They will be able to point you in the right direction. Please keep in mind that all character appearances are subject to change without notice.
Donald Duck
Donald Duck is one of the most popular characters at Blizzard Beach, and he's always ready to meet and greet his fans! You can find Donald near the main entrance to the park, and he's always happy to pose for pictures and sign autographs. You might even spot him taking a dip in the pool or riding down the slides if you're lucky!
Mickey Mouse
No visit to Blizzard Beach would be complete without meeting Mickey Mouse himself. That's right, Mickey Mouse is available daily to meet and greets at Blizzard Beach. So whether you're enjoying a day of thrills on the slides or relaxing in the sun, be sure to say hello to Mickey Mouse. He's always happy to see visitors at his home away from home.
Goofy
Vacationing at Walt Disney World is always a memorable experience, but meeting Goofy is sure to make it extra special. Guests can now meet and greet Goofy at Blizzard Beach, one of the parks' most popular attractions. Guests can choose to take their picture with Goofy or receive an autograph. Meeting Goofy is the perfect way to create lasting memories of a magical vacation.
Blizzard Beach Shops
Blizzard Beach is home to numerous shops, ranging from souvenir shops to places where you can buy beach supplies. There are also plenty of restaurants and food stands located throughout the park. In addition, there are several ATMs for your convenience. Whether you're looking for a place to buy souvenirs or want to grab a quick bite, Blizzard Beach has you covered.
Shade Shack
Shade Shack is the place to be at Blizzard Beach, whether you're looking to cool off with a refreshing treat or grab some sun protection before hitting the slides. With a wide selection of sunny-day essentials, Shade Shack has everything you need to make the most of your day at the water park.
From swimsuits and towels to sunscreen and sunglasses, we've got you covered. And when you're ready for a break from the heat, step into our air-conditioned shop for a refreshing drink or snack. Shade Shack is your one-stop shop for all things fun in the sun!
The Beach Haus
The Beach Haus is a famous shop at Blizzard Beach, and it's easy to see why. The shop sells everything you need for a day at the beach, including sunscreen, swimsuits, and towels. But what sets the Beach Haus apart is its wide selection of souvenirs.
From t-shirts to hats to keychains, the Beach Haus has something for everyone. And if you're looking for a unique gift, you can also purchase a Blizzard Beach bag or mug. So whether you're looking for supplies or souvenirs, be sure to stop by the Beach Haus on your next visit to Blizzard Beach.
Blizzard Beach: Top Tips for Enjoying Your Visit to the Park
If you want the best time, you'll need to follow a couple of our tips!
Arrive Early
The lines for the slides can get long, so it's best to arrive when the park opens. That way, you'll be able to enjoy all of the slides before the crowds start to build. And if you do end up having to wait in line, you can take comfort in knowing that it will be shorter than it would have been later in the day.
Wear Sunscreen
As any Floridian will tell you, the sun can be intense, so it's essential to wear sunscreen when heading to Blizzard Beach. Not only will it help to prevent sunburn, but it will also help to keep your skin healthy and looking its best.
And because the sun can be so intense, it's important to reapply sunscreen often, especially if you're swimming or sweating. So make sure to pack plenty of sunscreens when heading to Blizzard Beach, and don't forget to reapply them often. Your skin will thank you for it!
Bring Towels
As anyone who has been to Blizzard Beach knows, the water slides are a lot of fun. But after you've been in the water for a while, you will want to dry off. That's why it's a good idea to bring a towel.
Towels are absorbent, so they'll soak up all the water on your body. And they're lightweight, so they won't take up too much space in your beach bag. So next time you plan a trip to Blizzard Beach, remember to pack a towel!
Blizzard Beach is perfect for relaxing and soaking up the Florida sun. With over twenty acres of white sand beaches, Blizzard Beach is one of the largest water parks in the world. And with a host of activities to choose from, there's something for everyone. Blizzard Beach has it all, whether you want to float down the lazy river or catch some waves in the pool. So make sure to take a break from the slides and enjoy everything this water park offers.
Plan Your Route
Visiting the Water Park is always a blast, but there's nothing worse than standing in line for a slide only to realize that it's not the one you wanted to go on. Before heading to the park, check the map so you can plan your route. You can also download the My Disney Experience app and use the "Get Directions" option to plan your trip from one place to another. This way, you'll be able to hit all the slides you want to ride without wasting time.
And if you're visiting with a group, make sure everyone knows which slides they want to go on, so there's no confusion once you get there. With planning, you can make sure your visit to the Water Park is as much fun as possible.
Enjoy Privacy in a Rented Polar Patio
Polar patios at Blizzard Beach provide a unique and private setting for guests to relax and enjoy the park. The patios are located at the Wave Pool and offer stunning views of the snow-capped mountain.
Guests can rent the patio for an hourly rate, and it comes with a refrigerator, television, and chairs. The patio also has a heated pool, perfect for cooling off after a day in the sun. The polar patio is an ideal option whether you're looking for a place to escape the crowds or enjoy some privacy.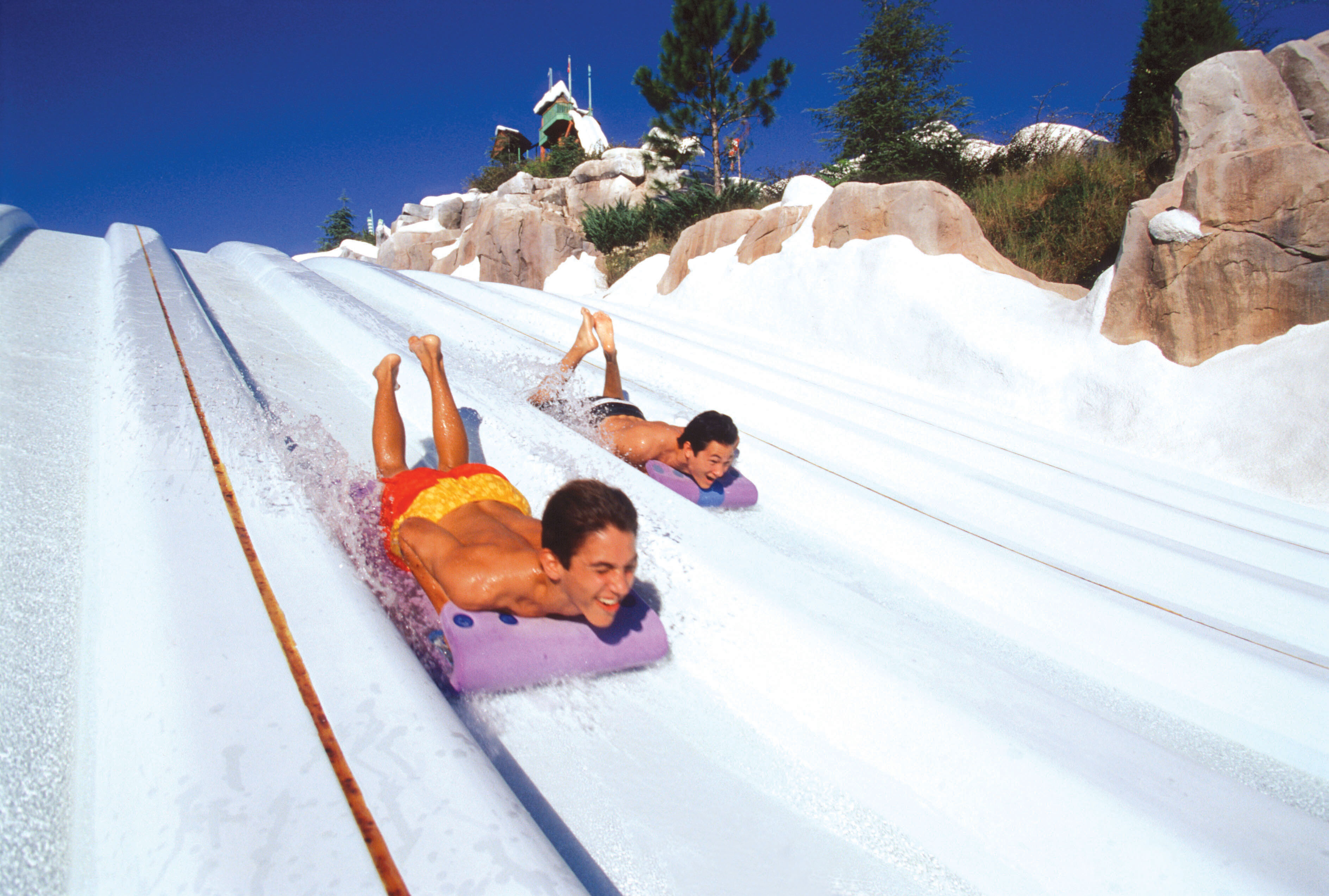 Take a Photo With Goofy
A visit to Blizzard Beach, Walt Disney World's water park, isn't complete without a photo with Goofy! Guests can find Goofy near the entrance or exit of the park, ready to give a big hug and pose for some fun photos. Be sure to have your camera ready to capture the memories of your day at Blizzard Beach!
Pack Shower Essentials
After a long day at the Blizzard Beach park, you'll need to take a refreshing shower to wash off the sunscreen and chlorine. Pack a few essentials in your bag before heading to the park to make sure you have everything you need for a relaxing shower. First, bring plenty of sunscreens and reapply them throughout the day.
Second, pack a bottle of body wash or shampoo to scrub all the chlorine and dirt off your body.
Finally, don't forget to bring a towel to dry off when you're done. With these simple items, you can enjoy a refreshing shower that will leave you feeling ready for another day at the park.
More about our TFVG Author
A seasoned traveller, Dad, and avid sports tourist, James foundered The Family Vacation Guide to share his expert vacation experiences- especially when it comes to being a travelling family man.
Featured in Travel articles such as Travel + Leisure, TripSavvy and SFGate, you know you're reading some of the best vacation tips online.