There's nothing quite like planning your trip to Disney World in Florida, and a considerable part is deciding which Disney World resort you will stay at. 
Disney's All-Star Sports Resort is an exciting and fun experience, even for non-sport fans.
If you're considering booking your stay with this resort, here's everything you need to know about it. 
Disney's All-Star Sports Resort: An Overview
Disney's All-Star Resort first opened in April 1994 and currently spans 90 acres. This affordable Disney resort is a hit with families and solo travelers alike. The five sports themes at the resort include:
Baseball
Tennis
Football
Surfing
Basketball
Throughout the resort, you'll find bright and bold colors and plenty of pop art that pay homage to these sports. You'll see a four-story football helmet, a stairwell shaped like megaphones, and much more.
Each building with guest rooms is for one of the five sports. You'll see larger-than-life sculptures, colorful surfboards, and other fun sporting decors. There are two fantastic pools, and the resort can accommodate enough people to fill the 1,920 rooms on the property.
Rooms
Of all the All-Star resorts that belong to Disney, the All-Star Sports is the smallest, but they still have 1,920 rooms like the others and 960 connecting rooms. That just means their rooms are smaller but still comfortable enough to sleep four adults or two adults and two children.
Most rooms here have two double beds or a king-sized one. They come with a beverage cooler, a table and chairs, a TV, a nightstand, a phone, a dresser, a luggage rack, a closet, and fun-themed light fixtures like megaphones.
You'll enjoy complimentary WiFi, a wall safe for valuables, and a separate vanity area to get ready while someone else in your party bathes. The resort offers handicap-accessible rooms with wheel-chair access showers.
If you have a larger party, they offer roll-away cots for an additional charge of $15 per night, which isn't bad for a Disney resort. For the smallest of Disney travelers, they have cribs and pack-n-plays available upon request. Another additional charge to be aware of is if there are more than two adults in one room, there's an extra $10 charge per person per night.
Something we've noticed about the resort room options is that you can often pick which building you're in. You can try the Touchdown or Surfs Up buildings if you want a room closer to the bus stop and food court. For quieter spaces, the Center Court and Hoops Hotel are ideal.
If you book with this hotel, your check-in time is 4 p.m., and check-out is 11 a.m. They offer early check-in if your room is available, but even if it's not, they'll happily hold your luggage for you while you venture off to the Disney Parks.
Recreation and Pools
When you're not frolicking around the Disney theme parks, you can cool off from Florida's heat in one of the two excellent swimming pools at Disney's All-Star Resort. One pool has a surfing theme, and the other is baseball. Kids love the surfing pool because it's shaped like a wave with giant shark fins surrounding the pool.
The surfing pool is much livelier than the other. The Grand Slam pool is much quieter and is shaped like a diamond with an "outfield" sundeck. It's perfect for a more relaxing day and younger kids. Both pools have depths ranging from 3 to 5 feet.
Lifeguards are on duty at both pools, but the hours will vary depending on the day. Usually, there are lifeguards from 10 a.m. to 10 p.m. every day, but the pool opens at 8 a.m.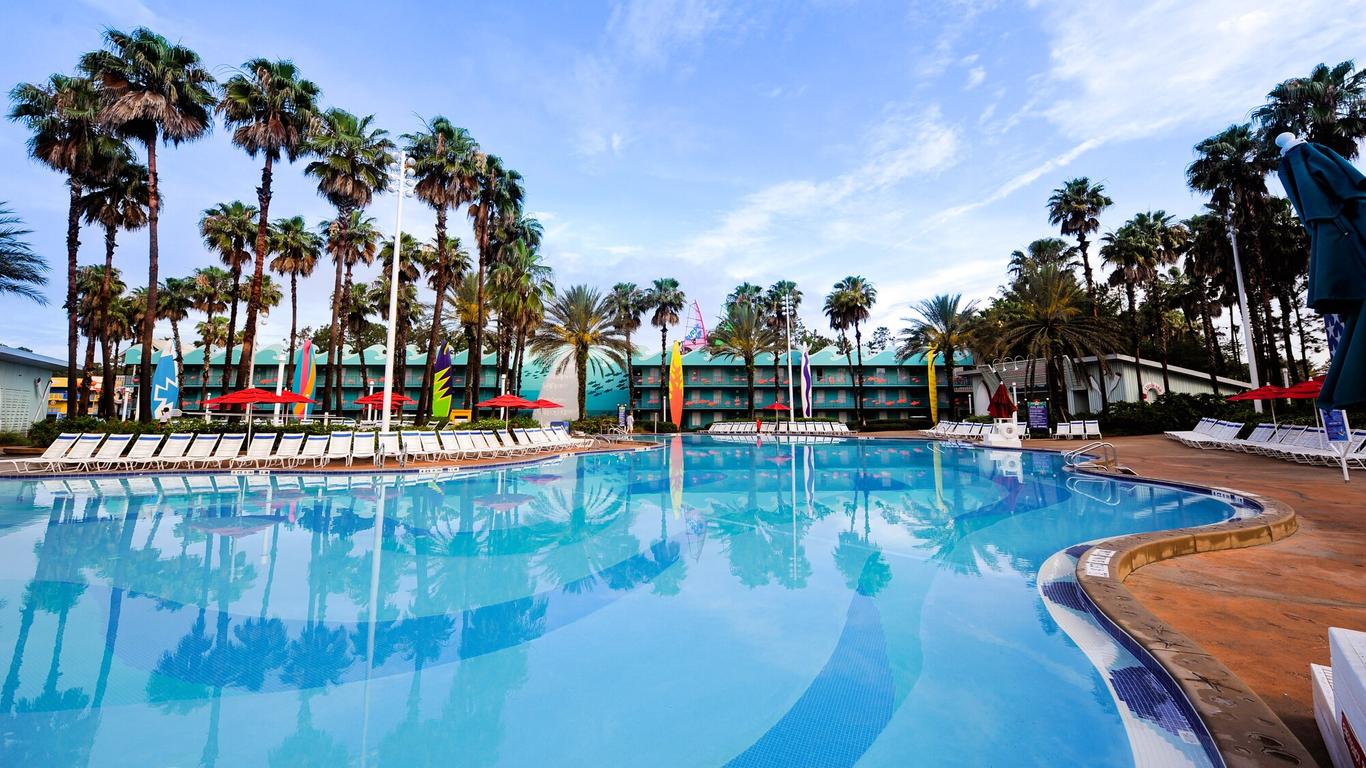 Dining
Unlike other Disney resorts, there are no sit-down restaurants at this resort, but that doesn't mean you don't have a great dining option. The End Zone Food Court is a quick-service restaurant that can hold 550 people at once. You're also welcome to bring the food to the pool or back to your room if you prefer to enjoy it outside the restaurant.
End Zone features everything you could want in a restaurant. There's pizza, barbeque ribs, pasta, fruit, sandwiches, burgers, and plenty of kid-friendly options like chicken tenders and mac and cheese. You can choose what you want or try a little bit of everything. If you want room service, you can only get pizza, burgers, and beverages after 5 p.m.
Some of the most popular things here are to create your own pasta station, build your own burgers, and they even offer beer for adults and soda and juice for all. They have a souvenir mug you can purchase, which allows you free refills of soda and juice throughout your stay as long as you use that cup.
Amenities
The other amenities that you'll enjoy while you stay at Disney's All-Star Sports Resort include:
Babysitting and childcare services for an additional fee
Express check out
Laundry facilities
Valet cleaning services
ATMs
Voicemail services
Free WiFi
A poolside bar
A sport Goofy gift shop
Transportation
One of the main reasons people choose to stay at a Disney resort is the transportation available to and from all the Disney parks and surrounding areas. If you stay at this resort, you'll be able to catch Disney buses to all the theme parks and Disney Springs.
The buses run approximately every 20 minutes, and the bus marquees display the destinations. Some buses run directly between the Disney All-Star Sports resort. At the end of the day, when the parks close, you might have to wait while the buses make stops at the other All-Star resorts.
If you drive to the resort, they have a self-parking lot that costs $15 per night. You're welcome to drive yourselves to the parks, but the buses are the top option for travelers.
Final Thoughts
Disney's All-Star Sports Resort is one of the most affordable Disney resort experiences you and your family can have. There are great rooms, a delicious food court, two pools, and plenty of transportation options to get you to and from the parks.
As you browse for the best Disney resort for your family, you can't write off the All-Star Sports Resort.
More about our TFVG Author
A seasoned traveller, Dad, and avid sports tourist, James foundered The Family Vacation Guide to share his expert vacation experiences- especially when it comes to being a travelling family man.
Featured in Travel articles such as Travel + Leisure, TripSavvy and SFGate, you know you're reading some of the best vacation tips online.