Disney World has long been a top destination for family vacations. With four unforgettable theme parks and two water parks to choose from, there's something fun to do for everybody. Even toddlers can tag along to what's known as "The Most Magical Place on Earth" for an unforgettable holiday. In fact, kids under age three get into parks for free.
While there's plenty for young kids to do at Disney, navigating the parks with a toddler in tow can still be a challenge. Read on to learn all of the top tips and tricks for visiting Disney World with toddlers to make the most of your next family vacation.
Get Excited Before the Big Trip
The best time to start preparing for your Disney vacation is well before your trip. Getting kids amped up and excited can make the parks a little bit more magical for everybody involved. It also ensures that your toddler will recognize all of the familiar faces they see at the park for meet and greets and autograph signing.
One of the best ways to get toddlers excited for your trip is by watching Disney shows or movies together. Doing this will introduce them to the classic characters and stories featured in rides around the park. There are also plenty of age-appropriate Disney books that you can read together with your toddler.
You don't necessarily have to stick to the classics when introducing young kids to Disney. At Disney World, they'll also see some of their favorite characters from some of Disney's newer shows, such as Doc McStuffins and Sofia the First.
Familiarize Yourself With the Maps
Before you head out the door of your hotel, you should be familiar with the layout of all the theme parks and water parks that you plan to visit. Doing this will help you plan out the route of least resistance and minimize walking throughout the day.
Looking through park maps also gives your family a chance to discuss which rides and shows are a must during your trip so that you don't miss out on anything. You should sit down together and discuss different attractions to plan out a rough schedule for the day. Doing this not only helps the day run more smoothly, but it can help to ease any anxiety about your trip.
Make sure to include the youngest family members in your planning to ensure that no one gets left out on the big day. Some rides have minimum height requirements that young toddlers won't be able to meet. Make sure that you explain ahead of time to your toddler why they can't go on certain rides to avoid a meltdown at the scene.
Fortunately, Disney World is home to more than 100 different attractions with no height requirements. Some even have a maximum height requirement. Check before your trip to see which rides allow toddlers to ride in a car or on your lap. Some popular classics include Dumbo the Flying Elephant in the Magic Kingdom, the educational Spaceship Earth at Epcot, the Triceratops Spin at the Animal Kingdom, and many more.
Bring In-Line Entertainment
While Disney World itself is a blast, all of the lines and wait times are undeniably not. During the height of tourist season, lines for popular rides can have hours-long wait times. Unfortunately, most toddlers aren't the most patient, and a long wait can quickly lead to a meltdown.
Some rides geared towards younger children come equipped with interactive activities and entertainment in the waiting line. For example, the Dumbo the Flying Elephant line received recent upgrades and now has a full indoor play space to distract restless kids.
Unfortunately, not every line at Disney comes equipped for a bored toddler. It's a good idea to come prepared with your own bag full of fun activities to keep kids occupied as you wait. You can bring small coloring activities, handheld games, books to read, and more. Your bag of goodies may also come in handy during any downtime you have throughout the day. 
Take Advantage of Lightning Lanes
If you want to cut back on wait times, you may want to consider purchasing Lightning Lane access for Disney's most popular attractions. You can schedule an entry window for up to two rides a day where you can bypass the line and save time.

If you want even more fast pass access, you can sign up for the Disney Genie+ service. Doing this allows you to select your Lightning Lane arrival window on demand for unlimited attractions all day long. You can squeeze in more rides and shows each day to make the most of your Disney vacation. 
Include Rest Time in Your Schedule
As any parent knows, disrupting the napping schedule can lead to trouble later in the day. While it can be tempting to try and power through Disney parks all day, nonstop action can be exhausting and overwhelming for young toddlers. You should make sure that your daily schedule includes a designated time for a little bit of R&R.
Try to follow your home schedule as closely as possible to keep toddlers calm and happy during your trip. You can let your kids nap in their stroller at the park, or you can head back to the hotel for an hour or two in the afternoon. While this might cut into some of your Disney time, a well-rested toddler makes for a more enjoyable experience for everybody.
If you're concerned about making the most of your visit, the adults and older children in your group can keep the fun going even as your toddler naps. Many rides feature a Rider Switch program where you can swap off with others in your group.
Rides that offer Rider Switch boast comfortable, air-conditioned rooms where parents can wait with their toddlers as they nap. Others in the party stand in line for the ride, and once finished, can swap places with the parent in the designated waiting area to ensure that their toddler is never left unattended.
Use a Stroller
Even if you map out your route ahead of time, there's no way to avoid walking at Disney parks. You could end up walking miles in a day as you tour around to catch all of the different attractions. Little legs can often find it difficult to keep pace.
Any parent with a child under eight should always have a stroller handy on a Disney vacation. Otherwise, you may end up having to carry your toddler all of those miles around the park once their legs get tired.
You can bring your own stroller from home, but keep in mind that it has to fit in Disney's designated stroller parking areas. Any stroller that you bring should be 31 inches wide and 52 inches long or smaller.
If you choose not to bring a stroller or simply don't have the packing space, Disney's stroller rental is available throughout all four parks. For a small daily fee, you can rent either a single or a double stroller to carry your kids. If you pre-book, you may be able to save on the grand total.
Having a stroller lets your toddler rest while you continue to make your way through the park. You won't have to slow down and adjust your schedule, nor will you throw out your back carrying a cranky toddler. What's more, a stroller gives you a convenient place to store items such as jackets, snacks, and toys to help free up space in your day pack.
Make Dining Reservations
Disney is home to a wide variety of themed restaurants that are sure to delight your toddler. However, many require a reservation for meals, and spaces fill up fast. It's a good idea to make reservations at Disney restaurants as early as possible in the booking process to ensure that your family gets a table.
While Disney doesn't require park reservations for guests under three, restaurants need an accurate headcount to seat your entire family. Always make sure to include toddlers when making a lunch or dinner reservation.
If you want to save some money on your trip, keep in mind that kids under three can enter Disney parks and eat for free. Parents can opt to "share" their plate with toddlers at any buffet or family-style restaurants for free. Doing this doesn't necessarily mean that you have to let your children pick off your plate; they can eat whatever they like on their own plate.
Some Disney restaurants offer character dining experiences where your child can enjoy a meal alongside their favorite Disney friends. These opportunities book up fast, so it's important to reserve your family's seats as soon as possible if you want to get up close and personal with classic characters.
Pack Snacks
When toddlers get hungry between meals, it's a good idea to have snacks on hand. Otherwise, you may be facing hunger-induced meltdowns until your lunch or dinner reservation. All of the action and excitement is sure to have kids burning more calories than usual.
You should always pack plenty of healthy snacks to keep your kids full and happy throughout the day. It's best to pack foods packed with protein to keep toddlers going throughout the day. Granola bars, cheese sticks, and peanut butter crackers all make good snack options for toddlers.
Most Disney hotels allow guests to order groceries from food delivery services if they don't have time to shop for snacks. You can stock up on whatever snacks you need as well as essentials like diapers and toiletries.
Disney parks also offer plenty of fun snacks for kids, including special themed foods such as the Mickey soft pretzel or the Cheshire Cat roll. You can find snacks in most gift shops, or you can try one of Disney's walk-in restaurants to see their children's menu.
Stay and Play at a Disney Hotel
You may want to consider staying at a Disney resort for your trip to make your trip even more memorable. You can choose from more than two dozen different themed hotels, cabins, and campsites that span a range of different budgets.
Staying at a Disney hotel can make the experience more immersive for your toddler, as they'll get to see classic Disney scenery and even live characters wandering the halls. Hotel guests also enjoy perks such as early park entry, extended hours, and discounted dining plans.
Parents with infants and toddlers can request a crib, high chair, or a Pack n' Play for the duration of their stay free of charge. Some hotels also have laundry machines and kitchenettes in guest suites.
Perhaps the biggest benefit of staying in a Disney hotel is the proximity to the parks. The resorts make it easy for families to get to and from the park, which can be a lifesaver for parents with a fussy toddler in tow.
Hotel guests can use the complimentary Disney bus service or take the monorail to all parks with ease. The recently added Disney Skyliner lets you and your family soar from the hotel to the parks in a gondola with a bird's-eye view of Disney World. If you have a car, you can park for free at Disney hotels as a guest.
Beat the Lines with Early Entry
One of the perks of staying in a Disney resort is that you can take advantage of early entry to the park. Doing this means that you can get more done in the morning when toddlers are still bright-eyed and bushy-tailed, leaving everyone to rest and relax as needed in the afternoon.
Each day, you can get a 30-minute head start on other guests at any of Disney's four parks. You'll get the chance to make sure that you fit in any rides that your toddler might have their heart set on. It's best to hit the most popular attractions as early as possible since lines are bound to be longer later in the day.
Early entry also gives you more flexibility in your schedule, especially when it comes to rest time. With an additional 30 minutes to enjoy yourselves each day, your family will have more time to stop and relax without missing any attractions.
Stop By a Baby Care Center
All four Disney theme parks offer fully equipped Baby Care Centers for parents with infants and toddlers. You can find nursing changing rooms, nursing stations, and even a feeding area complete with high chairs for younger toddlers. There's also a kitchen and a restroom with toddler-sized potties for kids still training.
You can stop by a Baby Care Center to ensure that your toddler is clean, fed, and ready to tackle the next leg of the park. Baby Care Centers also offer a good place for families to stop, rest, and let kids nap. There's a television playing kid-friendly Disney movies in the main room and plenty of seating for both parents and children.
Disney's Baby Care Centers are also a one-stop shop for any childcare essentials you may have forgotten in your hotel room. You can purchase items you may not find in gift shops, such as baby food and formula, diapers, baby wipes, juice, sunscreen, and even certain OTC medications.
Book In-Room Babysitting
If you and your partner want a day at the parks by yourself, you can arrange for in-room babysitting services to take care of your toddler. Disney World partners with Kids' Nite Out, a child care provider that provides professional sitting services for children up to 12 years old.
You can hire babysitting services to watch your kids in your room, or you can hire an extra helping hand while you're out at the park so that nobody misses out on a day of action. All child care professionals are over the age of 18 and certified in basic first aid as well as child CPR.
You can leave toddlers over the age of four at one of Disney's Children's Activity Centers, where they'll enjoy snacks, movies, board games, and more with other kids. Each Children's Activity Center is supervised at all times by trained staff, and you can find facilities located in both resorts and parks.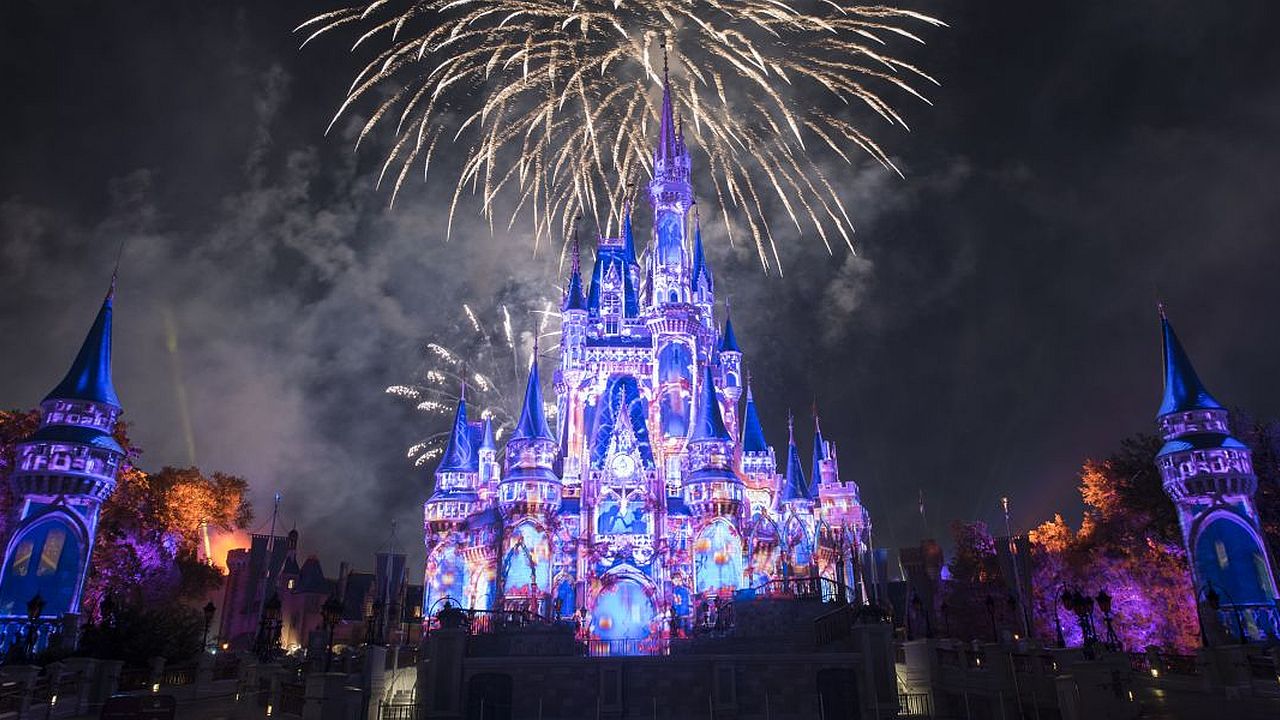 Capture Memories With a Photopass
When you're juggling kid duties as you travel through Disney parks, the last thing on your mind is probably photo ops. However, if you come home with your trips with no pictures to show for it, you're bound to regret it.
Disney's Memory Maker Photopass makes it easy to capture memories in high-quality digital detail with no effort on your part. You can rely on professional Disney Photopass photographers to help you document your family vacation. Photographers are stationed around iconic locations around the parks, such as Cinderella's Castle or the Tree of Life.
With the Memory Maker Photopass, all of your photos get sent to a Disney account that you can access via your MagicBand, your PhotoPass card, or with a personal QR code. You can download all of the photos either from a single day or from your entire trip.
In addition to professional photos, the Memory Maker package includes pictures and videos from rides and attractions. You can add magical effects to all of your pictures using special PhotoPass lenses.
Download Disney Apps
Disney offers a couple of free apps for your smartphone that can help you to better plan your trip and navigate the parks. With the My Disney Experience app, you can find information such as park hours, showtimes, and wait times in real-time. You can even order food for a contactless dining experience.
The My Disney App comes with a free, built-in feature called the Genie Service that can be an invaluable tool for parents trying to plan the perfect trip. The app can automatically help to create an itinerary for your family that includes everyone's favorite ride. You can even find help planning a schedule based on general interests. Whether your toddler is into princesses or villains, the Genie service can help you to arrange for an unforgettable day.
The Genie service also offers a tip board with helpful hints that let you make the most of your vacation. If you want to avoid long lines, you can track wait times to hit your family's favorite attractions when the line is the shortest.
If you plan on saving time with the Lightning Lane service, you can purchase the Genie+ package with just a click through the app. You can seamlessly sign up for arrival windows from the convenience of your smartphone.
Schedule Your Trip Off-Season
If possible, it's always best to schedule a trip to Disney World with toddlers during the park's off-season. While the parks get visitors year-round, there tend to be far more guests in the summertime when schools are on holiday.

Between late fall and early spring, Disney World tends to be less packed. Not only will you enjoy smaller crowds and shorter wait times, but you'll also escape the heat and humidity of summer in Orlando. Just remember to bring jackets for the whole family, as it can get chilly during the winter months.
Since toddlers don't have to worry about school schedules, it may be possible for you to book a trip during Disney's off-season. If you also have school-aged children, however, this can be more of a challenge. In this case, you can try to schedule your trip for their winter break, which usually lasts a couple of weeks. Just try to avoid Disney World on Christmas eve, Christmas, and New Year's, as they experience high levels of traffic on those holidays.
The Bottom Line
Visiting Disney World with toddlers can be a challenge, but it's also an incredibly rewarding experience. There's plenty for toddlers to do at all of Disney's parks, from shows and character performances to classic rides. With a little bit of planning and preparation, you can make sure that your family vacation to Disney World goes without a hitch.
More about our TFVG Author
A seasoned traveller, Dad, and avid sports tourist, James foundered The Family Vacation Guide to share his expert vacation experiences- especially when it comes to being a travelling family man.
Featured in Travel articles such as Travel + Leisure, TripSavvy and SFGate, you know you're reading some of the best vacation tips online.