Walt Disney World outside Orlando, Florida, is one of the most popular tourist destinations in the world. Disney runs more than 20 hotels and resorts on the property, so you have many choices for where to stay. One of the best is the Beach Club Villas, a fun-filled, luxury resort many people choose to stay in when they visit Disney World.
We'll cover the basics of the hotel, describe the rooms in detail, and tempt you with amenities and dining options. By the time you finish reading, you'll be ready to make Disney's Beach Club Villas your next Disney destination!
Disney's Beach Club Villas Basics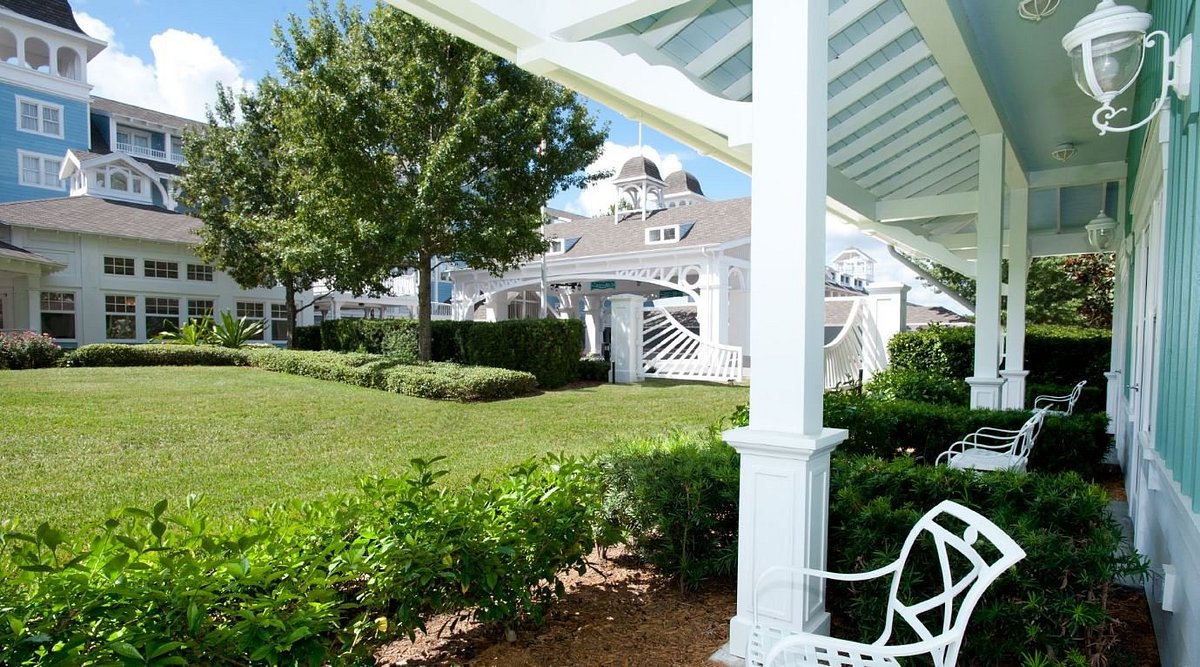 Before we get into the good stuff, let's cover the basics of Disney's Beach Club Villas.
Beach Club Villas vs. Beach Club Hotel: What's the Difference?
The Beach Club Hotel opened in 1990 as a deluxe hotel, Disney's highest tier of accommodations. It consisted mainly of standard guest rooms, which sleep up to five adults, and several suites.
Next door, the Yacht Club opened at the same time, boasting a large convention center. The two hotels share a pool and most other amenities.
The Beach Club Villas opened in 2002 as part of the Disney Vacation Club (DVC), a timeshare-style vacation ownership program that began in the mid-1990s. The expansion added more than 250 units without converting the already-existing rooms.
Do You Have To Be a Member of DVC To Stay at the Beach Club Villas?
No! DVC villas at all Disney properties can be reserved using cash rather than DVC points.
Can Guests of the Beach Club Villas Use Yacht and Beach Club Resort Amenities?
Guests at the Beach Club Villas are welcome to use all amenities at the Beach Club and Yacht Club Resorts, as they are all part of the Disney Beach Club resort.
Where Is the Beach Club?
The Beach Club's location is one of its best perks since it's right next door to Epcot theme park. The Beach Club villas are the closest rooms to the park, so the walk is even shorter.
Officially, the Beach Club Villas address is 1800 Epcot Resorts Boulevard, Lake Buena Vista, Florida, 32830. The Epcot resort area is south of the Magic Kingdom, east of Animal Kingdom, and very close to Hollywood Studios. You can even take a boat to Hollywood Studios if you don't feel like walking!
How Much Does It Cost To Stay At Disney's Beach Club Villas?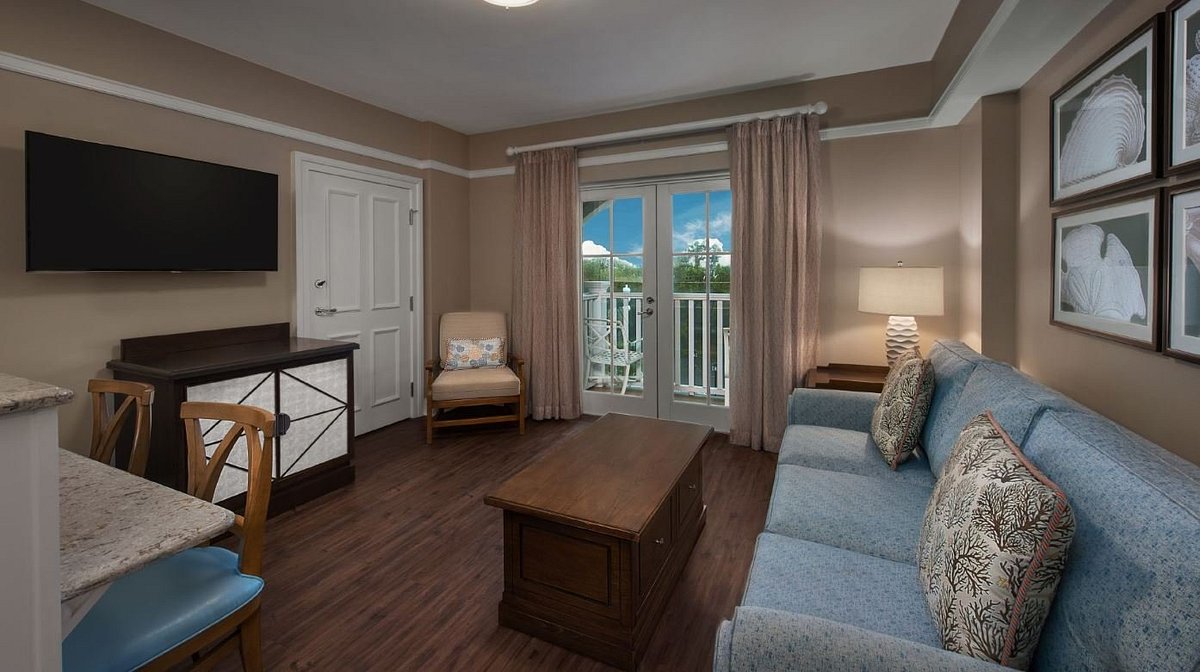 The prime location and top-notch amenities of Disney's Beach Club Villas come at a cost. Disney sets prices based on demand, so these figures are estimates; actual costs will depend on the time of year you visit the park.
The least expensive rooms are studios. In 2022, these rooms started at around $500 per night and went up over $900 per night. The most costly are two-bedroom villas. In the same period, they jumped from around $1200 per night to more than $2200.
Studio Villas
Studio villas in all DVC properties most closely resemble traditional hotel rooms. They sleep five adults in one room with a queen bed, double sleeper sofa, and pull-down twin bed.
Each room has a balcony, and you can choose your view at booking. Better views (garden and water) come with a higher nightly rate. The bathroom separates the sink from the toilet and tub, making it easier for multiple people to get ready simultaneously.
The kitchenette is the main thing that differentiates a studio villa from a standard room. You'll have a sink, mini refrigerator, microwave, and basic utensils during your stay, making late-night snacks easy.
One-Bedroom Villas
The one-bedroom villas are noticeably larger than the studios, though ironically, they sleep fewer people. The main bedroom has a king-size bed and a queen or double-sleeper sofa in the living room. They aren't designed for larger parties, but rather for groups that want more space and a full kitchen.
The kitchen has everything you need to make basic meals, including cooking utensils, a stove and oven, a microwave, and eating utensils. There's a full fridge and a dishwasher for your convenience as well.
There's also a dining table where you can eat meals together. The kitchen and dining room are part of the open living space with seating for everyone to watch TV together.
The bathroom in the one-bedroom villas also gets an upgrade. There's a walk-in shower, a soaking tub, and a separate water closet with a toilet and extra sink. Nearby, there's a smaller washer and dryer for your clothes.
Two-Bedroom Villas
The largest rooms at the Beach Club Villas are two-bedroom villas, which sleep up to eight adults. They also have two full bathrooms. The living space in the two-bedroom villas is the same as the one-bedroom, though some are slightly larger.
The main bedroom and bathroom are the same as in a one-bedroom villa, with the king bed, soaking tub, and walk-in shower.
The second bedroom has two queen beds or one queen bed and a sleeper sofa. The second bathroom is similar to a standard hotel room, but the double vanity is located separately from the toilet and tub.
What Is a Two-Bedroom Lock-Off Villa?
When you book, you may have the option to select a two-bedroom lock-off villa. Instead of a traditional two-bedroom, you'll have a studio and a one-bedroom villa connected by an interior door.
The lock-off villa is excellent for multi-generational or multi-family trips since it allows some privacy. It's less ideal for single families since mom and dad probably don't want the kids to be able to lock them out!
Amenities and Things to Do
Staying at the Beach Club Villas gives you so much to do! Without even mentioning all of the park attractions, you'll have plenty of fun at your home away from home.
Swimming Pools
Without a doubt, Stormalong Bay, the pool at the Yacht and Beach Clubs, is the best in Walt Disney World. It's such a desirable spot that there are some cast members whose only job is to prevent people from sneaking in!
Stormalong Bay occupies an astounding three acres. It has a sandy bottom and zero-depth entry, a circular lazy river, three whirlpools, and a replica of a shipwreck with one of the longest slides in Walt Disney World.
There are also three leisure pools on the property if you prefer a quieter atmosphere. Lifeguard and pool hours vary depending on season and other factors, but the main pools at Disney World typically stay open from early morning until late evening.
Nighttime Fun
If your family isn't exhausted from a day of theme park fun, check out the nighttime activities at the Beach Club Villas. Besides night swimming, you can participate in an old-fashioned campfire at sunset, complete with s'mores and stories.
Afterward, join the Movie Under the Stars, held on the lawn near the volleyball courts (weather permitting) or the Solarium. Your family can cuddle close for a favorite Disney/Pixar film.
Unofficially, you can sometimes catch a glimpse of the Epcot fireworks, which go off at park closing. Head out to Crescent Lake and look to the skies.
Sports and Water Activities
If you like to be active, there's plenty to keep you busy at the Beach Club Villas. Besides the fully-equipped fitness center, jogging trails wind around some fantastic sights.
You can rent motorized watercraft for a leisurely boating adventure or book a guided catch-and-release fishing trip. The Yacht and Beach Clubs also have tennis and volleyball courts, and you can borrow equipment to get into the game.
Ship Shape Massage Salon Fitness
While not a full-service day spa, Ship Shape Massage Salon Fitness will meet your basic needs and can provide some much-needed TLC on your trip. The spa offers a range of massages and facials to help you relax. They can also do hair and nail services and have unique nail treatments for guests ages four to 12.
Shopping and More
The Beach Club and Yacht Club are both gorgeous hotels, and it's fun to walk through the halls and grounds.
There are gift shops in both hotels that sell souvenirs and necessities. You'll find a selection of clothing, home goods, toys, gifts with Disney characters, attractions, and more. You'll also find souvenirs specifically themed to these resorts if you want to remember your stay.
Kids and kids at heart will love to play games at Lafferty's Arcade. Teach your kiddos how to play some of the games you grew up with, and let them show you the new ones.
Nearby Attractions and Transportation
Very few people come to Disney World intending to spend the whole time in their hotel. There's the theme parks, Disney Springs, two waterparks, miniature golf, and so much more that you can do for the ultimate vacation.
Disney provides transportation to all of its major attractions, and the transportation options are one of the best things about staying here. Not only can you walk into Epcot, but you also have access to the Skyliner.
Here's the best way to get where you're going from the Beach Club:
Magic Kingdom: Skyliner or bus
Epcot: Walk or boat
Hollywood Studios: Boat, bus, or walk (about 1.2 miles)
Animal Kingdom: Bus
Disney Springs and other attractions: Bus
Dining and Drinking
Bring your appetite! Disney's Beach Club Villas has a variety of dining options that are sure to fill up your stomach.
Beaches & Cream Soda Shop
Disney die-hards love the Beaches and Cream Soda Shop. They serve delicious ice cream, burgers, and other pub fare for lunch and dinner. Don't forget the Kitchen Sink!
Beach Club Marketplace
If you want to grab supplies for your villa's kitchen or need a meal on the go, stop by the Beach Club Marketplace for simple groceries and other necessities.
Cape May Cafe
Open for breakfast and dinner, Cape May Cafe serves an all-you-care-to-eat buffet. At breakfast, you can meet some favorite Disney characters and at dinner, enjoy a more relaxed atmosphere with surf and turf.
Martha's Vineyard
This lounge-style bar is open from lunch until late at night. Grab a drink or some small plates and enjoy the cozy Vineyard atmosphere.
Dining at the Yacht Club
In addition to the available options at the Beach Club, there are several places to eat at the Yacht Club. For fine dining, check out the Yachtsman Steak House.
The Ale and Compass have table service, a lounge, and a cafeteria with many to-go options. There are also two other bars on the premises if you need a little loosening up.
Should You Stay at Disney's Beach Club Villas?
As you can see, the Beach Club Villas at Walt Disney World has many to offer vacationing families. From the spectacular swimming pool to the comfortable accommodations, you'll be able to find something for everyone.
More about our TFVG Author