There's nothing like a Disney vacation with friends, family, or even on your own. Disney World has over 30 resorts on their property to choose from if you want that magical Disney experience everyone craves when they travel to Orlando, Florida. 
If you're browsing through the resort options and can't get your mind off Disney's Beach Club Resort, there's no wonder why. The Beach Club Resort is a spectacular resort on Disney's property in one of the best locations. 
Before you book your stay, pack your bags and load up the car or jump on a plane. Here's everything you need to know about staying at Disney's Beach Club Resort.
Overview of the Resort
Disney's Beach Club Resort, also called the Beach Club or BC, opened its doors in 1990 and has become a landmark of Disney's resorts. It's a beautiful resort that will make you forget you're in Florida. The aesthetic or theme of the resort is a New England beach resort that mimics a place somewhere in Massachusetts, Connecticut, or even Rhode Island.
The resort's colors are a calming light blue, which makes it tranquil, especially at night. Everywhere you turn in this resort, you'll feel like you're at the beach rather than on the Walt Disney World property.
The resort is joined at the center with their other popular resort, the Yacht Club. They share some facilities but are two different resorts. The Beach Club features 583 rooms and suites that make for the most magical and relaxing vacation, making you feel like you're anywhere but Florida until you step outside. 
Checking In and Out
Every hotel and vacation rental is a little different when checking in and out of the property, so learning about that before booking can help you feel more prepared when your vacation comes.
Check-in at the Beach Club is at 3 pm. As with most hotels, you can request an earlier check-in, but that doesn't mean you'll get it. It depends on how long it takes to flip the room after the previous guests leave. You can also check in online before you even arrive at the resort or head to the front desk once you arrive.
As for checking out, the check-out time is 11 am. If you want a later check-out, you can request that when you book or once you arrive for check-in. Remember that the latest the resort will allow you to check out without paying for another night is noon. 
Accommodations
When you're ready to book your stay at Disney's Beach Club Resort, you'll have several accommodation options. They have a variety of rooms with different views and suites for you to choose from.
Standard View
The standard view room is the beach club's most basic room choice. These typically face the parking lot, woods, or roof depending on your room's level. Standard view rooms can sleep up to four people with two queen-sized beds. 
They come with a TV, large bathroom, mini-fridge, and a small table and chair. Some of the standard rooms come with a balcony or patio. They might be the most basic option, but they're still comfortable, and frankly, you probably won't be spending too much time in the room.
Garden View
Their garden view rooms are identical to the standard rooms except for facing the garden. Whether you have the view from a balcony or your window, you'll appreciate the garden's serenity every time you look outside. This view makes for a great spot to have breakfast on your balcony each morning if you're lucky to get a room with this feature.
Water View
As for the Beach Club's water views, there are a few areas your room will face. You might get a room that overlooks Crescent Lake, the quiet pool, or the boardwalk on the lake. Besides this, it has all the same features as the standard and garden view rooms. Since water recreation is so popular, these rooms might be a little louder during the day. 
Junior Suite
Junior suites are great options for those who prefer more room than a standard, garden, or water view room. They come with a master bedroom with a king-sized bed, a spacious bathroom, and a sitting area separating itself from the bedroom with beautiful French doors. It comes with a TV and mini-fridge and can sleep an additional person on the daybed.
Two-Bedroom Suite
A two-bedroom suite is a great option when you need a larger room but don't want to splurge on the Presidential or larger suites. There are several of these on the property, and they can each sleep up to eight people.
The master bedroom has a king-sized bed, and the second bedroom has two queen-sized beds. There's even a daybed sofa that can accommodate two additional people or children. These rooms are great for families or a larger group of friends traveling together.
The Nantucket Suite
There's only one Nantucket suite at the Beach Club, and it's on the fifth floor. This one-bedroom and one-bathroom suite are perfect for friends, couples, and smaller families. You can use it for meetings, too, if you're traveling for business.
There's a living area with couches, a dining area, and a wet bar. Traditionally, the room can sleep four people, but you can request cribs and cots if necessary.
The Newport Suite
The Newport suite is another elegant option at the Beach Club. It's on the resort's fifth floor and as elegant as you might think. A large balcony extends through each suite room, with a large fireplace, a sitting area, a dining table, and a wet bar.
You can sleep up to eight people in this suite, making it very similar to the Presidential suite. You can add connecting junior suites to accommodate more people.
The Presidential Suite
If you're ready to splurge, the Presidential suite at the Beach Club is the most lavish room in the entire resort. The spacious suite sits in the tower, giving you the best view of Stormalong Bay. A huge sitting area overlooks this area, and a formal living room is perfect for having a meal and sharing laughs around the fireplace.
There's a dining room, table, wet bar, huge bathroom, and large bedroom. The main bedroom has a king-size bed. If you have a larger party, several connecting rooms can accommodate up to a party of eight.
Recreation and Pools
When you're not spending time hopping from Disney park to Disney park, you can spend time at the resort. Here's what you can expect from the Beach Club in terms of recreational activities and the pools on the property.
Ship Shape Massage Salon Fitness
If you like to work out while you're on vacation or treat yourself to spa treatments, you'll love taking advantage of the Ship Shape Massage Salon Fitness. There are plenty of cardio machines, free weights, and weight machines for you to use and feel the burn.
As for the spa area, you can enjoy an excellent Swedish or firm-pressure massage, facials, and even nail services if you need a new manicure during your stay.
The Beach
There's a beach on Crescent Lake, right outside the resort. It's not a real beach, but there's soft sand and plenty of beach chairs for you to kick back and relax in. Even at night, you'll love this beach. Sometimes, there are campfires and movies, which you can ask resort staff for a schedule. 
Stormalong Bay
Arguably the most popular water activity at the Beach Club is Stormalong Bay. The Yacht Club and the Beach Club share this feature but are fairly large. It's a three-acre water area that has a replica of a shipwreck and water slides into a sprawling pool. There's a sandy-bottom pool with a shallow area perfect for kids or those looking for a more relaxed water activity.
The sandbank is perfect for tanning and building sandcastles. In addition to these two pool areas, the lazy river is the perfect spot to float and soak up the sun.
The Quiet Pool
If you're looking for a quiet place to soak up the sun, the quiet pool is the perfect spot. This area has plenty of towels, chairs, and a relaxing atmosphere. There's no lifeguard, so it's better for older individuals and adults. Kids can come to this pool, but more often than not, people opt not to bring their children to it so they can play and be loud at the other ones.
Motorized Boat Rentals
Since the resort is located on Crescent Lake, you have the option to rent motorized boats for a specific period of time. You'll be able to move around the lake and be the captain of your own boat. You don't need to make reservations to rent a boat, but they are helpful to ensure that you get a boat for the time you want to be on the water.
Food and Beverage at the Resort
Be prepared to feast on some delicious food while you stay at Disney's Beach Club Resort. They have a little bit of everything and plenty of kid-friendly options, too, if you're traveling with children. Here's what you can expect from the restaurants and food service spots near the resort. 
Martha's Vineyard
It wouldn't be a New England-style resort without something named after Martha's Vineyard. This restaurant has a beautiful lounge for the adults to sip cocktails and wine after a long day at the parks. They have plenty of imported wine, appetizers, and seafood for you to enjoy. They're open for lunch, dinner, and bar service.
Hurricane Hanna's Waterside Bar
Hurricane Hanna's Waterside Bar is the perfect spot to enjoy poolside cocktails if you're over 21. You can enjoy frozen cocktails like piña coladas and daiquiris. They also have plenty of rum-infused drinks to quench your thirst in the hot Florida sun.
Unfortunately, they don't have poolside snacks, but you can grab food from elsewhere and bring it to this bar or the pool.
Beaches & Cream
People of all ages will love Beaches & Cream. This fun spot reminds people of a quick service shop on a boardwalk on a New England beach. There's everything, from ice cream to hot dogs to burgers, grilled cheese, and soups. You'll love the onion rings and other fried side dishes, but the sundaes are the stars of the show at this restaurant.
If you stop here and want a true Beaches & Cream experience, you need to try their Kitchen Sink sundae. It's eight scoops of ice cream with every topping they have in the shop. Be sure to split this, or you will probably get a major brain freeze.
Cape May Cafe
Cape May Cafe is one of the best spots near the resort for all your breakfast needs. They have a breakfast buffet with all your favorite dishes like omelets, pastries, fruit, and the famous Mickey and Minnie Mouse waffles. They also offer a dinner buffet with plenty of New England seafood like lobster, clams, shrimp, and more.
Ale & Compass Restaurant
If you're looking for a family-friendly sit-down restaurant at the Beach Club, you need to check out Ale & Compass Restaurant. This comfortable restaurant has all your favorite American dishes and plenty of east coast seafood to go around.
They're open for breakfast, lunch, and dinner service, so you never have to worry if you'll have time to dine here. Some of the most popular dishes are their dark chocolate waffles, burgers, and fresh seafood like lobster and fresh clams.
For adults who are looking for a fantastic place to enjoy a cocktail after a long day, the Ale & Compass Lounge is attached to the restaurant and specifically for adults. You can sit in elegant leather chairs and sip hand-crafted cocktails, local beer, and imported wine.
Amenities
Disney is known for taking spectacular care of its guests. Some of the amenities you'll be able to take advantage of here include:
Safes in all the rooms for valuables
Valet parking
24 room service
Evening turn-down service with chocolates on the pillows
Complimentary Wi-Fi
Laundry and dry cleaning services
ATMs
Designated smoking areas
Something to remember about the turn-down services offered here are by request only. You must call the front desk or request it when you check into your room. It's complimentary, but they only do it by request. We highly recommend asking for it at least once during your stay.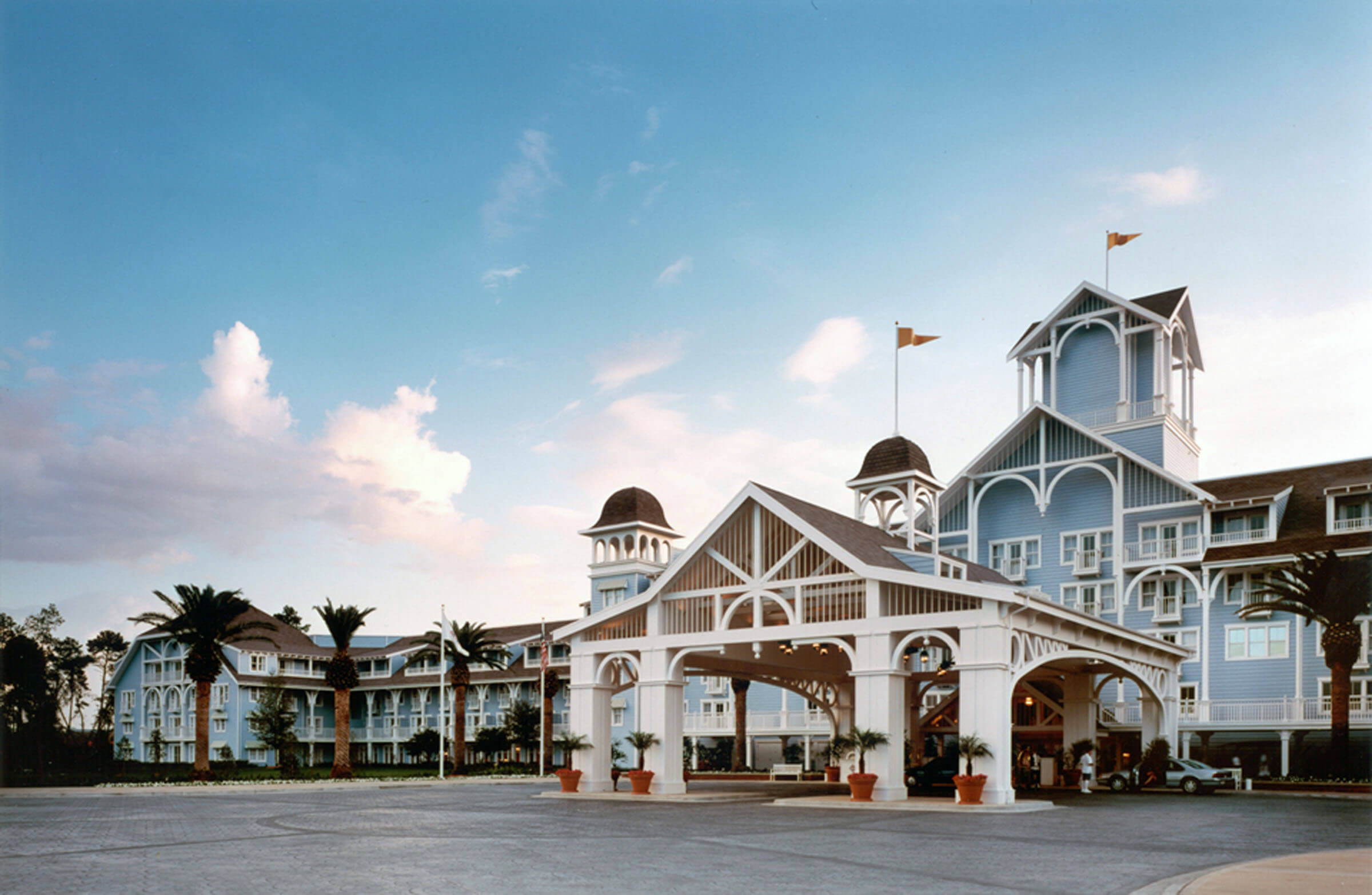 Transportation
One of the perks of staying at a Disney resort is the transportation options to and from the parks. You are more than welcome to drive your car to the parks if you choose, but that can be a hassle. Besides driving yourself to the park, here are three great transportation options the Beach Club offers guests heading to the Disney theme parks.
Bus Service
The Disney bus service is the most popular way to get around the property. The bus routes visit all the parks and all the resorts so that you can visit more than just EPCOT and Hollywood Studios like you can with the other two transportation options.
You can quickly look up the bus schedule on your phone or ask the front desk at your hotel for assistance. They constantly run throughout the day, so you can easily hop on and off when you need to to get back to the resort or switch parks.
Skyliner
Disney offers whimsical gondolas in the sky to get you to and from various resorts to the parks. This exciting transportation option features different themes based on all your favorite Disney characters and movies.
The skyliner only goes to a select few resorts and now travels to and from the Beach Club to EPCOT and Hollywood Studios. While the skyline isn't inside the resort, it's only a few minutes' walk along the boardwalk to hop on. It starts operating an hour before the parks open and closes an hour after the parks close. 
Ferryboat
The ferryboat at Disney World is a unique transportation option that's unavailable at all resorts and parks. Luckily, if you want to take the ferry to one of the parks, you can get there from the Beach Club. The ferryboat can take you to Disney's Hollywood Studios and EPCOT. It runs every 15 to 30 minutes, so you shouldn't have any issues grabbing a seat. 
Final Thoughts
Disney's Beach Club Resort is a beautiful resort that offers something for everyone. There are great dining options, recreational activities, amenities, and transportation to and from your favorite Disney World parks.
The Beach Club Resort has a great atmosphere that reminds you of the East Coast but with all the charm of Disney magic. Whether you're traveling with friends, family, or by yourself, the Beach Club will be the perfect starting point for your Disney vacation.
More about our TFVG Author
A seasoned traveller, Dad, and avid sports tourist, James foundered The Family Vacation Guide to share his expert vacation experiences- especially when it comes to being a travelling family man.
Featured in Travel articles such as Travel + Leisure, TripSavvy and SFGate, you know you're reading some of the best vacation tips online.