Disney's Polynesian Village Resort has been a popular destination since its opening in 1971. This resort provides a nice place to stay, enticingly close to the Disney parks, along with added benefits that make staying there so much easier!
It can be challenging to find the perfect places to stay while you visit Walt Disney's massive creation, so keep reading to find out everything you need to know about Disney's Polynesian Village Resort.
Location
This resort features a prime location near Magic Kingdom, and they even have a monorail that will take you there straight from the resort. It is central to all the fun Disney adventures in Orlando. From the resort, you can see over into Seven Seas Lagoon, and the resort provides transportation to get you to any other Disney Parks.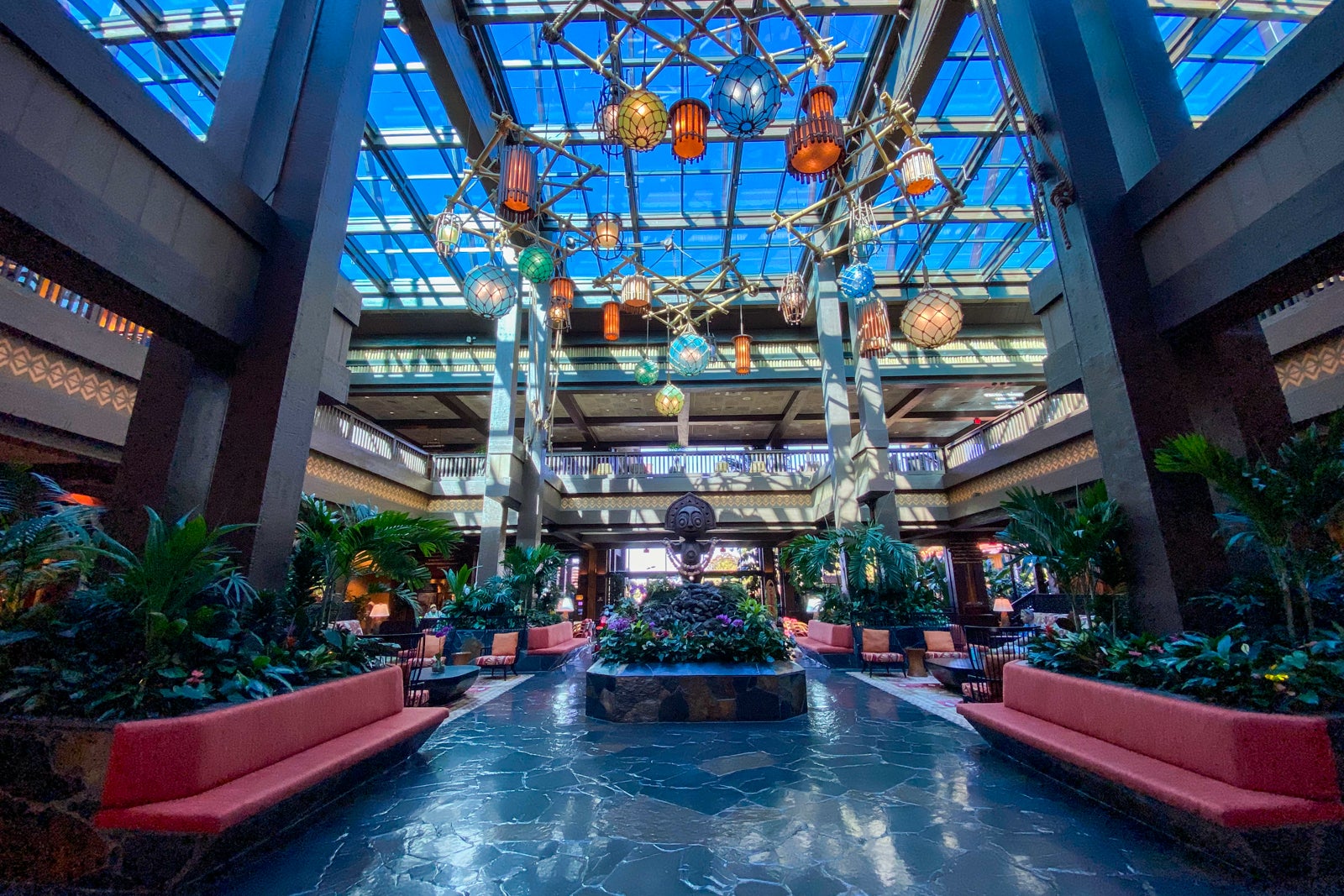 Rooms
Rooms and suites get divided by their view; there are four main kinds of view. Each view type is a different price and offers various sizes, bed numbers, and other fine details. These rooms provide unique experiences made to match the Polynesian theme. Most rooms sleep up to five and come with the basics like small fridges and a coffee maker.
Theme Park
These rooms have a view looking out over the various Disney parks, mainly Magic Kingdom and Seven Seas Lagoon. These rooms, while having a view overlooking different locations, also includes a small fridge, coffee and tea station, and a patio or balcony. You can also move up and choose a Club Room with a Theme Park view.
Water
This room is exactly like the theme park or the standard rooms, except their view, looks out over the pools or marina. It includes the same amenities, just with a different vista.
Standard
A standard room is like the filler rooms, so they look out on several different views. They are identical to the other rooms but will have a window and balcony looking out to either garden, monorail, or parking area. Maybe not the most glamorous views, but the rooms are just as comfortable.
Special Suites
A few rooms get a unique name and are a little harder to come by. Some rooms overlook the Seven Seas Lagoon, and then there are the Ambassador VP Suite, King Kamehameha Suite, Garden View, and the Honeymoon Room. Each of these has a unique view, and they are pretty limited in options (there are only one or two of these in the whole resort).
Villas, Bungalows, and Deluxe Studios
Different than the standard "view" rooms, these rooms are a bit more expensive and just a little bit more awesome. The villas and bungalows sleep up to eight people, making them perfect for larger families who need a little more space. These places have the same theme and decorations as the rest of the resort but seem to transport you to another time and place. 
Food
No vacation is complete without great food. Disney is no stranger to this as they surround their parks with various restaurants and foods to entice visitors. While a resort is typically not as big or visited as a park, Disney spares no expense in providing delicious delicacies for their guests to enjoy.
Disney's Polynesian Village Resort has ten different eateries to try. Each restaurant ties to the Polynesian theme but offers slightly different foods from the other places.
Kona Island
When you first arrive near the front of the resort, Kona Island is open all day to serve breakfast, lunch, and dinner. Though Kona Island offers traditional American food, there is also Sushi and other Asian delicacies to try.
This casual dining restaurant provides the best of both worlds, at least the American and Asian. From California rolls to Tiramisu, there are plenty of choices to make this a great place to eat for even a picky eater.
Oasis Bar and Grill
This poolside bar offers the best of both worlds with drinks and actual meals. Most bars in the resort, especially those close to the pool, only provide drinks and appetizers. However, Oasis is different.
Oasis Bar and Grill offers drinks, entrees, and starters. This restaurant closes at eight, though, so you have to plan to be there a little before closing time to get the good stuff.
'Ohana
Like the Tambu Lounge, 'Ohana features Hawaiian food but presents Polynesian. The range of options includes a typical American breakfast, like waffles, fruit, cinnamon doughnuts, and a plant-based skillet.
Ohana is one of the best family-oriented restaurants and one of the few that open all day. Sometimes, characters will come around during the meals like Lilo and Stitch.
Trader Sam's Tiki Terrace
This outdoor venue is primarily to enjoy drinks out on a gorgeous terrace in the mild Floridian weather. There is typically live music and plenty of specialty drinks to try, like their Polynesian Pearl or Tahitian Torch.
The Tiki Terrace is a lounge; it opens around three pm and closes around ten pm. While they serve appetizers, they primarily serve drinks. However, you can order food from Trader Sam's Grog Grotto and eat it there.
Kona Cafe
While currently in the process of being refurbished, the Kona Cafe provides the perfect blend of American fun with Asian delight. Even though you cannot go inside and eat, you can still try their food!
The Kona Cafe offers a to-go option with pickup next to Kona Island, so you can order and enjoy their food. They offer breakfast, lunch, and dinner with fun seafood twists. There is a wide range of options, from burgers to poke bowls.
Capt. Cook's
Close to many other full-service restaurants, Capt. Cook's offers food for all occasions and palettes. They have special meals for the fiftieth anniversary and offer excellent breakfast, with waffles and toast.
The wide variety of sandwiches, salads, and burgers satisfies any hunger. You can mobile order and pick up to save time. The shrimp, as well as the oatmeal, hits the spot. 
Barefoot Pool Bar
This bar service does not require guests to wear shoes! This bar overlooking the pools offers a mix of drinks, entrees, and appetizers. If you do not feel like something so alcoholic, there are a variety of smoothies to choose from as well.
You can enjoy the snacks and drinks while looking out over the clear water or watching your family from a distance for some "me time."
Pineapple Lanai
Pineapple Lanai is a perfect go-to dessert spot to avoid the main entrees and appetizers. You can grab dinner near the Kona Cafe and finish with a Dole whip.
You can get their unique swirls or even eat a float in the souvenir slippers you can wear after washing! Their refreshing snacks are great for a quick bite when you do not want to wait to sit down and eat at the other places around the Ceremonial House.
Tambu Lounge
Like many places to eat around the Polynesian village, the Tambu Lounge is just a lounge. Though the lounge is enchanting, the food and drinks are out of this world!
Tambu Lounge offers delicacies like ribs, wings, and pot stickers. Their fresh drinks have alcoholic and non-alcoholic options to fit whatever your needs are. It is more Hawaiian-inspired than Polynesian, but that does not make it any less significant.
Trader Sam's Grog Grotto
Sporting a similar menu to The Tiki Terrace, Trader Sam's Grog Grotto features a unique dining experience to immerse guests in a fun adventure. While this adventure is kid-friendly, all children are asked to leave by eight pm, when it becomes only twenty-one and over.
Trader Sam's Grog Grotto does not offer much food, but their food is excellent and made quickly, and the drinks are part of the adventure.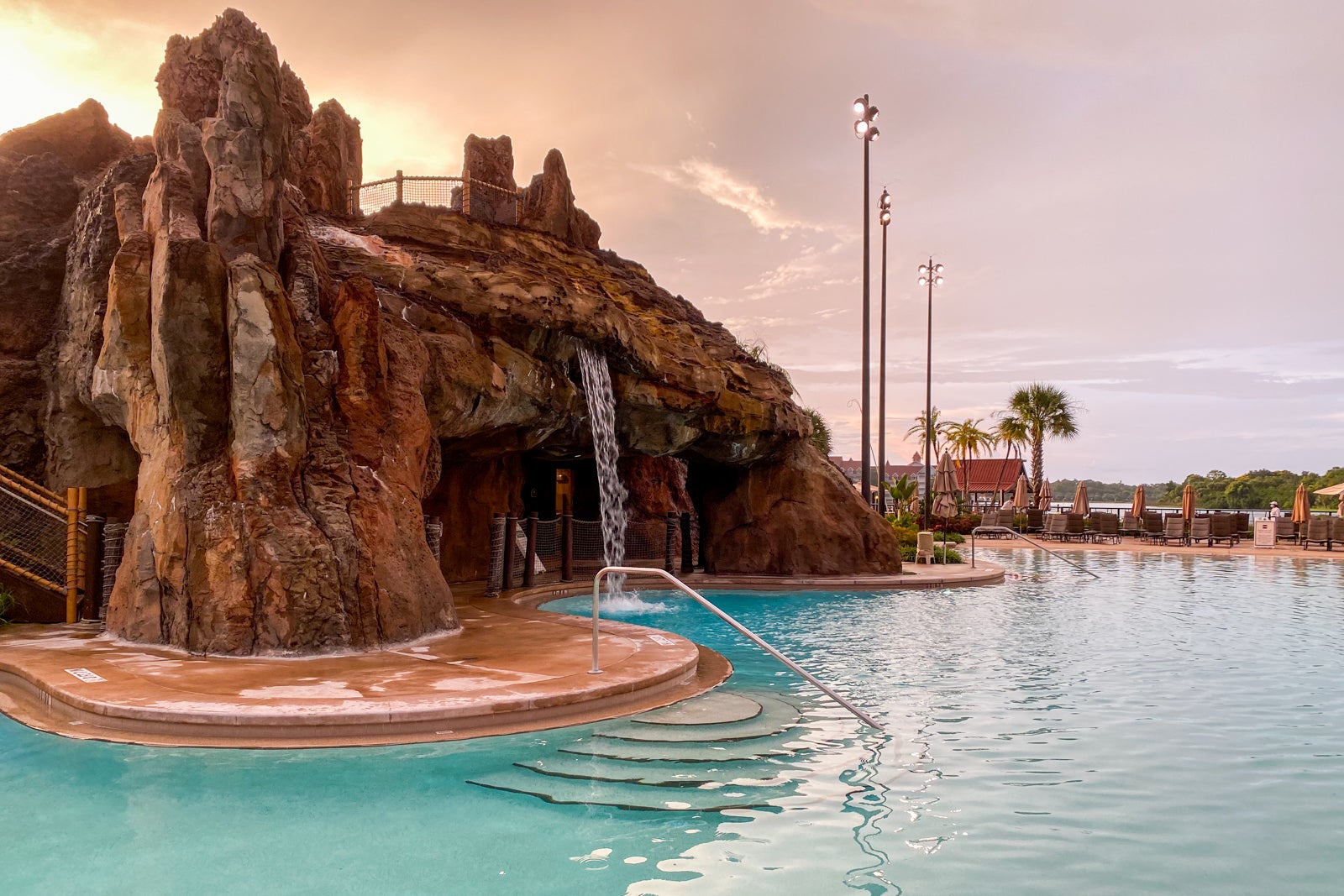 Recreation
While the parks provide plenty of fun, they can become exhausting. There needs to be some time to relax on vacation, which is why Disney includes many recreation options in their resorts, along with fantastic amenities. They offer a wide range of options, providing something for everyone to enjoy!
Movies
What would Disney be without their movies? The Polynesian Village Resort shows films over the pools at night under the stars. The movies are constantly changing, and you can find out what is showing soon by calling the hotel or visiting the front desk. They are Disney movies, good for the whole family.
Pools
Nothing is better than cooling off in a gorgeously blue pool after a long hot day in Florida. Each pool has a different theme; two of them, Oasis and Lava, were just renovated. The pools are surrounded by patios and restaurants, making it the perfect vacation zone outside the Disney Parks.
Volleyball
Snuggled between Hawaii and the Tahiti buildings are the sand volleyball courts. You can check out a volleyball and enjoy playing a set or two with your party or random new friends. Each of the eight courts is around the Disney Resort area, though only one is actually in the Polynesian Village Resort.
Fishing
Disney allows excursions over the water to find some of the best bass Florida offers. They have multiple locations across the resort, one at The Polynesian Village. It is a guided excursion that allows up to five guests on a pontoon boat or a NITRO® bass fishing boat, which can only hold up to three guests.
Boating
Part of an adventure is exploring for yourself. At the various marinas, guests over eighteen can rent one of their Sun Tracker® Pontoon boats. Each boat can hold ten guests and gets rented by the half-hour. No reservations are required, but you must be eighteen to drive one of the boats.
Trails
Sometimes you need a good run to build up your energy or maybe to train you to walk around the park full throttle. Or it could be that you want to take a nice walk; whatever the case may be, Disney Resorts has a mile-long trail that runs around the resorts and Disney Wedding venue that you can explore.
Campfires
A good fire is never misplaced, especially when they show Disney movies afterward! As the sun sets, you can enjoy roasting marshmallows over a cozy fire. The fire pits are located all over the resorts in twenty-six different locations. A campfire is a perfect, relaxing event for any family creating lasting memories.
Resort Amenities
A place to stay is just a bed unless it comes with the right amenities. Some amenities are essential, like wifi, while others are an added perk that makes the vacation all the sweeter. Pools, spas, parking, all these added benefits encourage people with a fantastic stay.
So, what amenities will you find at Polynesian Village Resort? The answer is a whole bunch. There are the basics like parking and wifi, and then there are things that dreams are made of, such as spas and merchandise delivery.
Complimentary Wifi
In today's world, it is hard to live without wifi; this is even more so if you have young kids to entertain or work to submit promptly. Wifi is an essential amenity that Disney Resorts provides.
This complimentary internet is not just in your room or the lounge areas across the Polynesian Village. This wifi access spans all the Disney parks and resorts, making internet readily available and convenient for all guests.
Disney Bus Transportation, Monorail, and Water Ferry
Disney's Polynesian Village Resort is close to Magic Kingdom and Epcot, two of the most popular Disney parks. Unfortunately, it can be inconvenient to drive over and park to go to these fun destinations.
Luckily, Disney has your back in providing the perfect shortcuts. There are many options from vans to buses to trains to boats, pretty much any way but flying. These services are available for any guest! What an easy way to visit some of the most fun places on earth!
Spa
While visiting the parks is fun, sometimes the best vacation is one of relaxation. What is a better way to relax than having a blast at the spa? Referred to as the Grand Floridian Spa, this spa provides spa treatments while also functioning as a salon.
Enjoy the comfy robe and slippers while you relax in specific rooms with soothing music and low lighting. The salon and spa provide services for both men and women to enjoy their stay.
Fitness Center
Sometimes the most relaxing thing is working out all the nerves and building energy. The fitness center is open twenty-four hours a day for convenience. It is up to date with all the fancy bells and whistles.
They have cardio equipment, weights, strength trainers, and almost any other workout equipment you could need. You may have to walk a bit or take a short ride to the Fitness center and spa.
Merchandise Delivery and Pickup
It is hard to resist buying sweet souvenirs while visiting Disney parks. The biggest downside is having to carry some heavier purchases throughout the day. Disney understands and provides many services to hold, deliver, and pick up purchases.
Purchases made at the resort or the parks and through the mobile app are dropped off and taken to your resort pick-up location! Buying things has never been easier!
Mail Service
One of the most classic souvenirs is a simple postcard. Sometimes we accidentally buy more than they can fit in their car. That is why mailing things are essential, and Disney sees that need.
At Polynesian Resort, you can send postcards, letters, and packages from the resort front desk. They even have all the postage you could need to get it home or to whoever you are giving it to safe and sound.
Laundry and Dry Cleaning
It is hot in Florida, and kids make messes (sometimes adults do, too), so we have to wash our clothes, even on vacation. It is helpful to have laundry at the place you stay to avoid running out of clothes or having to find the service somewhere else.
This service is available in a laundry room at any time. You can also call for dry cleaning or a valet laundry service.
Designated Smoking Areas
Some guests like smoking; other visitors cannot stand the smell or don't want it around their children. Because of the many different options for smoking, the best solution is for it to be done only in specific areas.
Disney provides those areas and specific regulations as well as rules when it comes to smoking. Those guidelines must get followed, or guests will have to pay fines and may even have to leave.
Why Choose the Polynesian Village Resort
There are quite a few Disney resorts in a small area, and the Polynesian Village is just one of them. While it may share most of its amenities with the neighboring resorts, Polynesian Village creates a welcoming environment that encourages you to try Asian food and soak in the richly-themed fun. It is conveniently close to Magic Kingdom, only a boat ride away from Epcot.
More about our TFVG Author
Caitlin is one of The Family Vacation Guide's long standing contributors. She enjoys taking vacation to busy, vibrant cities and has stretched her traveling legs out towards Europe in recent months, enjoying new experiences in Barcelona in Spain, and Nice in France.