Planning a trip to Disney World includes many different pieces. Not only is there the park itself, but you have to consider the transportation and lodging. These elements don't even speak of the need for dining and shuttles. Thankfully, a stay at a Disney resort helps you to check several of those boxes.
Disney's Riviera Resort is categorized as a Deluxe Villa Resort and has a location in the Epcot park area. With the many perks and amenities that come with this type of lodging, you will enjoy a fun and memorable vacation for you and your family.
What Is Disney's Riviera Resort?
Modeled to resemble European architecture, the Riviera Resort has high archways, palm-tree-lined sidewalks, and innate porticos that lead to the tower and surrounding terraces. You will see the influence of the Mediterranean style blended in, and this is to highlight Walt Disney's affinity for the areas.
As an upper-level Disney resort, your stay at the Riviera comes with many premium features and exquisite dining options. Near Epcot, you can enjoy various cultural experiences while in the park and continue that exploration at the hotel.
Located at 1080 Esplanade Avenue in Lake Buena Vista, you are centrally located to many highlights within the area. You can also take advantage of two different shuttle options for transportation to and from the parks and Disney Springs.
What Type of Rooms Does Disney's Riviera Resort Offer?
There are many different room styles available at Disney's Riviera Resort. No matter your group size, the hotel staff will find a way to accommodate you for your Disney adventure.
Deluxe Studios
There are two different options when booking a deluxe studio. You can choose between a standard view – typically the resort parking lot – or a preferred view. Selecting the preferred option usually overlooks the courtyard, lake, or one of the two resort pools.
Although they come with the label of being a studio, they can each sleep up to five guests. There are typically two queen beds and a singular pull-down bed. A private bath is included as well.
One Bedroom Villas
Like the deluxe studios, a villa comes with your choice of a standard or preferred view. Each option has a different price associated with the room. In your accommodation, you will have a separate sleeping area and an ample space that occupies a living room, dining table, and full kitchen. You will also have a beautiful marble bathroom with a separate bathtub.
The one-bedroom villas can sleep five individuals with one king bed, a queen bed, and a single. There are also two televisions, one in the bedroom and another in the living room.
Two Bedroom Villas
If you have more than five guests along for the trip, you may want to look into the extra space afforded in a two-bedroom villa. You can choose the view you wish to have during your stay, and each villa will have enough bed space to accommodate nine guests.
You will have an expansive bathroom, three televisions throughout the bedrooms and living space, and a full kitchen with a large dining table. Although it's a hotel room, you will feel like you are renting out a house with all the square footage given.
Three Bedroom Grand Villas
As the most extensive option for lodging at Disney's Riviera Resort, the three-bedroom grand villa sleeps up to 12 people. This arrangement is a reality through one king-sized bed, four queen beds, and one queen sofa sleeper. Each room has its own television and high-end furnishings.
The living room and kitchen are massive, with a significantly sized sectional couch and flat screen television in the lounge space. The kitchen has an extended island and extra large appliances to fulfill the needs of 12 people.
Tower Studios
The newest addition to the resort comes in the form of their tower studios. These rooms fit up to two people and are the smallest available. You will get a double bed, microwave, television, a view of your choosing (standard or preferred), and a private bathroom.
Each tower studio has its own balcony, so you can enjoy the Florida air and sunshine whenever you desire. There is ample storage space within the many cupboards surrounding the pull-down bed. During the day, you can fold the bed up to expose a cozy couch for lounging.
What Amenities Come With a Stay at Disney's Riviera Resort?
A stay at any Disney resort includes a selection of unique amenities and features. However, as a deluxe resort, you will find the extras to be of a higher caliber.
Swimming
Several areas are available throughout the resort for guests of all ages to enjoy the water, whether it be through swimming, soaking, or splashing. The largest pool is called the Riviera Pool. Along the water's edge are several umbrellas and lounge chairs for guests to utilize and a winding water slide off to the side.
For the littlest guests who want to splash to their heart's delight, there is a connected splash pad with various interactive fountains adorned with their favorite Disney Fantasia characters. A bit further down the path is the Beau Soleil Pool. This space provides a more relaxed atmosphere and mainly caters to adult guests of the resort.
There are no hot tubs available on the resort property. However, a beautiful and expansive lake surrounds the Riviera Resort. It's necessary to note that you should not go near this body of water due to the chances of alligators being nearby, as they are local to the area.
Fitness Center
While having a fitness center in a hotel has become commonplace worldwide, you don't always see them in Disney resorts. However, the Riviera has a state-of-the-art fitness center called Athletique Fitness that is open 24 hours for guests.
Inside the gym, you will find Technogym equipment. You can lift weights, jog, or use cardio machines. There are age restrictions on who is allowed to use the space, so be sure to inquire at the front desk about the specifications when you arrive.
Lounge
If you are looking for a spot to be alone with your thoughts or escape the hustle and bustle of Disney vacations, you can check out the Voyageurs' Lounge. With many vintage Disney art adorning the walls, you can easily get lost in the visual trip it takes you on while there. You can also partake in a board game or flip through some of the coffee table books with other resort guests.
While the lounge is set up like a study with many books on the shelves, you won't be able to curl up and read one. You will quickly discover that each one is glued to the stand, making them decorations instead of reading materials.
Activity Areas
Throughout the resort, you will find various spots that offer activities for guests. Whether it's bocce ball, chess on the lawn, or even sitting in front of a fire pit in the evening, you are bound to find something that caters to your interests.
If you want to venture off-site, take the opportunity to check out the many shops and restaurants nearby at Disney Boardwalk. You don't need a ticket to enter the area and can visit anytime during your trip.
Another option is Disney Springs, a more extensive shopping, dining, and entertainment area than Disney Boardwalk but one that is further from the Riviera Resort. You can access Disney Springs by the park shuttle, but not Disney Boardwalk.
Transportation
When you stay at the Disney Riviera Resort, you have more than one option for getting to and from the parks and other resorts, including Disney Springs. As a Disney guest, you always have the opportunity to use the park shuttle service. This option picks you up in front of your hotel and charters you to one of the parks or Disney Springs on a predetermined schedule.
However, when you are a guest at Riviera Resort, you can take advantage of the Skyliner Gondolas. These enclosed cars travel above the town and deliver you to Epcot. You can also take the Skyliner to a few other resorts along the way. Not only is this a unique experience, but they are constantly going. Therefore, you don't have to wait for a scheduled arrival time.
What you won't find at the Riviera Resort is a complimentary shuttle that takes you to the resort from the airport and back. While this used to be standard with all resort packages, Disney started to phase out the feature at the end of 2021. There are still options available, but there is a separate fee to utilize them.
Lastly, the Riviera Resort, and Disney World as a whole, offer the use of the Disney Minnie Van service operated by Lyft. You can easily arrange a ride with the concierge or a front desk associate when the service is available. However, it is an additional cost, and the resort doesn't include it as part of your room rate.
It's worth noting that guests don't have restrictions that require them to use Disney transportation options during their stay. Many guests utilize cabs or ride-share apps during their visit with no issue.
Parking
Those driving to the resort do not have to worry about finding parking for their vehicle. The Riviera Resort offers secure parking for all guests for a daily charge. Once you check in, the front desk will add the fee to your bill, and you can review the costs upon checkout.
What Dining Options Are at Disney's Riviera Resort?
Disney's dining options are what bring many guests to the parks and resorts. The unique dishes and menus the company chefs put together aim to please, and guests are known to have that emotion after finishing their meal.
Riviera Resort has four different dining options available on the grounds. Of the four, only one requires a reservation. If you want to obtain a spot on the guest list, you must check availability when it opens up, which is often 60 days before your arrival.
Along the edge of the resort's largest pool, Riviera Pool, you can take advantage of the open-air bar that serves exquisite drinks and filling sandwiches. Bar Riva is a perfect quick service option for an afternoon drink or snack while enjoying the sunshine and water.
As the only reservation-style restaurant at the resort, Topolino's is available for breakfast and dinner. The menu centers around French and Italian food. The eatery also offers character meals. While enjoying your breakfast or dinner, you can interact with some of your favorite Disney characters.
You can't deny your sweet tooth when spending time at Disney. The Riviera Resorts Le Petit Cafe offers ample baked goods and sweet confections that will add an extra layer of happiness during your visit to the happiest place on earth. No reservations are needed; you can stop anytime during the day for a snack or dessert.
Primo Piatto is the last restaurant on the list, a quick-serve meal option at Riviera Resort. Here you can choose from a wide range of menu items, which vary throughout the day. Primo Piatto is open for breakfast, lunch, dinner, and even late-night munchies. In addition to the food, you can select beer and wine to accompany your meal.
Is Disney's Riviera Resort Part of the Disney Vacation Club?
The Disney Vacation Club is a prestigious membership that affords discounts to travelers who frequently visit Disney parks and resorts. The deals come through the acquisition of collective ownership in the different resorts.
Many of the deluxe resorts and hotels within the Disney chain are included in the vacation club, but that is not guaranteed. However, Riviera Resort is an option you can consider within the Disney Vacation Club. You can pick a membership that speaks to your budget. Most Disney Vacation Club members have ownership of the villas at the Riviera Resort due to their home-like qualities.
When Is Check-In at the Disney Riviera Resort?
If you are considering staying at the Disney Riviera Resort, it's essential to know when you can check in and when you have to check out at the end of your vacation. While all resorts differ a bit in what times they adhere to, the Riviera Resort allows guest check-in to start at 4:00 PM. The day you leave, you must check out by 11:00 AM.
For both the check-in and out process, you can use the Disney Parks app on a mobile device or do so in person. It's essential to remember that there may be a significant line if you do so in person at the front desk.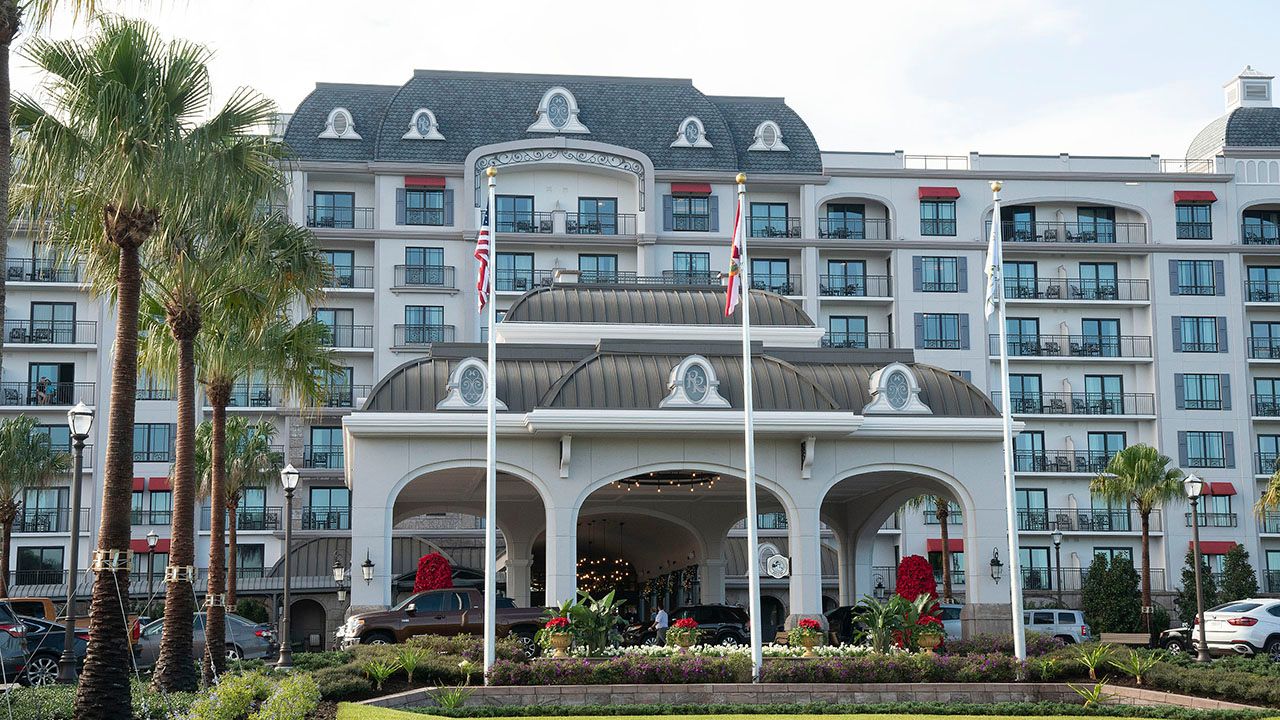 Disney Riviera Resort Pros and Cons
Finding the best Disney resort for your family vacation takes a lot of research. You want to select the option that best fits your needs and offers a high level of amenities. Additionally, you want great recreational activities to choose from during your downtime.
Below we highlight the pros and cons of staying at the Disney Riviera Resort.
Pros:
Numerous room sizes, ranging from two-person occupancy all the way to a 12-person villa.
More than one pool, with one catering to children and another to adults.
Several restaurants on-site, including three that don't require a reservation for dining.
Multiple transportation options for getting to the parks from the resort.
Close proximity to Epcot and the Disney Boardwalk.
Cons:
Limited activities for guests outside of the pools.
Late check-in time, which can be a challenge for those with early arriving flights.
High cost per room due to being a deluxe resort option.
No complimentary airport transportation is available for guests.
Final Thoughts: Disney's Riviera Resort
Making the decision about which resort hotel to stay at for your family vacation to Walt Disney World can be a challenge. There are many options to choose from, all of which come with their own unique features and amenities. Additionally, the price point varies significantly throughout the different classes of resorts.
How do you know if the Riviera Resort is the right choice for your upcoming travels? While the accommodation offers several restaurants to choose from and is home to more than one pool to utilize, it comes at a high cost. During the peak season, room rates can be near $1,000 per night.
However, the Riviera Resort also has easy access to Epcot and Disney Boardwalk and multiple options for transportation between parks. You can also select a room with a kitchen to minimize the need for restaurants at every meal.
Ultimately, Disney's Riviera Resort is an excellent fit for some that come to visit the parks and attractions, but not all. The decision will boil down to your needs as a family and your price point. What is guaranteed, however, is that you and your family will make great memories on your Disney vacation.
More about our TFVG Author
A seasoned traveller, Dad, and avid sports tourist, James foundered The Family Vacation Guide to share his expert vacation experiences- especially when it comes to being a travelling family man.
Featured in Travel articles such as Travel + Leisure, TripSavvy and SFGate, you know you're reading some of the best vacation tips online.