People everywhere are gearing up for another fun summer vacation season. Sandy beaches, bright sun, and plenty of attractions for the whole family make Florida a regular summer vacation destination. But before you head down to the Sunshine State, it's good to know what to expect from the weather when you arrive.
Florida is the most visited state in America, with over 30 million people visiting it every summer. Top attractions like Universal Studios, Everglades National Park, Kennedy Space Center, and Walt Disney World make it easy to see why people love to visit. Unfortunately, it's also often very humid and rainy.
Florida weather in June comes with some pretty warm temperatures considering it's the southernmost state in the continental U.S., and June has the longest days of any month in the calendar year. It's also rainy as June is the third wettest month and marks the start of the hurricane season.
Here are the details on what you can expect from the weather on your summer vacation in Florida.
Lots of Heat
June offers about nine hours of sunlight on average and over 13 hours on the longest day of the year, the first day of summer. With sunlight comes heat. The average temperature is 81 degrees Fahrenheit, but you can expect highs that reach 90 degrees or more. Even when the sun goes down, nights in June still average 70 degrees.
Orlando has the highest temperatures of the month. Orlando houses Walt Disney World and has an average daily high of 91 degrees Fahrenheit. Not far behind are Tampa and Jacksonville. Both cities average highs of 90 degrees. Miami is the tamest of the Sunshine State's major cities with an average high of 86 degrees.
But don't let those hot temperatures get you down. There are plenty of places to cool off while you're down there. Below are just two of the many places you could visit.
The Weeki Wachee Springs State Park and River
The Weeki Wachee Springs State Park and River is in Hernando County. It provides visitors with the following:
An amusement park
A river cruise that is sure to cool you off
Natural spring water flowing from its underground caverns
A live mermaid show that has been garnering the park fame since 1947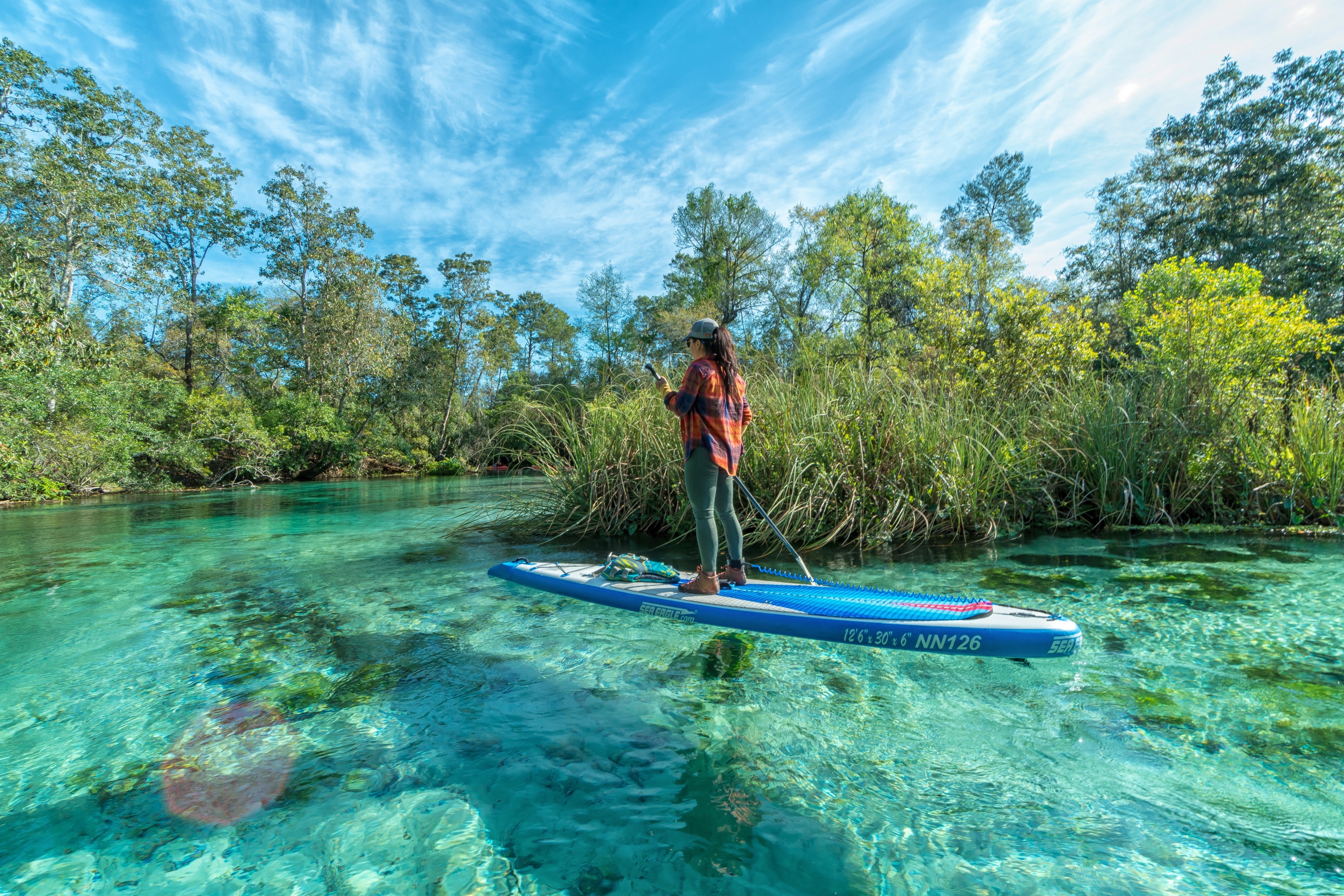 Crystal River
Crystal River is just north of Orlando in Citrus County. It's known as Florida's "Water Lovers' Paradise" because it includes over 40 springs and travels for six miles to the Gulf of Mexico. Crystal River also has a 60-foot cave that swimmers, snorkelers, and scuba divers love.
It's almost unbearably hot in June, but good planning makes for a fun and memorable stay in sunny Florida. Make sure you do your research and plan to maximize your vacation. It can get pretty warm down there, which is why it's great that Florida has so many water-themed attractions!
For more water-themed attractions, discover the best water parks in Florida!
Lots of Rain
On average, it rains for 22 days in June. The average rainfall is 4.5 to 6 inches. The earlier part of June tends to be drier, but that's still no guarantee. Travelers tend to see the most rainfall as the month goes on. June is Florida's second wettest month, so pack your ponchos and umbrellas.
The first day of the month is the official start of Florida's five-month-long hurricane season, but storms don't usually reach their peak until August or September. It's best to know the different types of storms and their warning signs before you go on your trip. Being prepared and following a Florida storm tracker will only be to your advantage.
There is a lot of information contained in these articles, so below is some of the most important information summed up for your convenience.
Tropical Depressions
A tropical depression is a cyclone with winds up to 38 miles per hour (mph). Tropical depressions, tropical storms, and hurricanes are all subtypes of tropical cyclones.
Understanding how you should react to each type of weather alert is an essential skill. A tropical storm watch alert means you should be on the lookout for:
Thunder
Possibly lightning
Heavier winds
Heavy rainfall
Tropical Storms
Tropical storms have wind speeds that are 39 to 73 mph. A tropical storm shares many similarities with a tropical depression, but you should additionally watch out for:
Rip currents—water activities should be put on hold until after the storm blows over
Tornadoes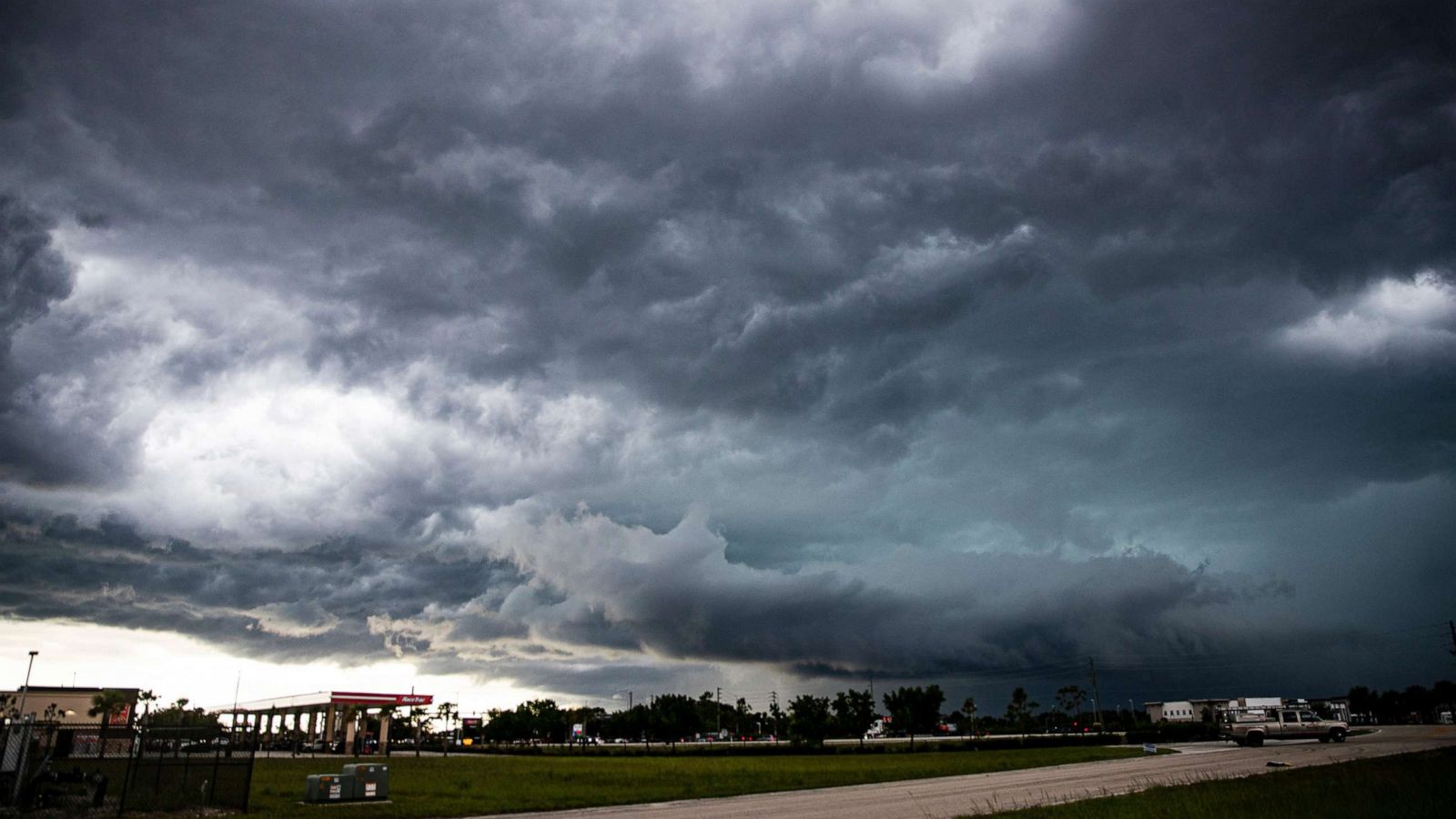 Hurricanes
A hurricane watch is issued 48 hours in advance and comes with the anticipation of tropical-storm-force winds. A hurricane warning is issued 36 hours in advance, and expect storm surges that bring water swelling and flooding. It is best to have as much information as possible before your vacation begins.
Hurricanes have winds of 74 mph or higher. Hurricanes are the most dangerous because, in addition to the issues that a depression and a storm can cause, hurricanes also cause:
Far more damaging winds
Flooding
Coastal storm surges
Florida is more prone to hurricanes than any other state in America. Almost 40% of hurricanes hit the Sunshine State.
One of the most damaging hurricanes in recent history was Hurricane Irma. Hurricane Irma was so large and powerful that it made landfall twice. The Category 4 storm had winds of nearly 130 mph and storm surge values of up to five feet. It hit during Florida's hurricane season peak, in September.
Hurricanes that hit during June are more likely to be like Hurricane Agnes, which weakened as it hit Florida and only revitalized once it had reached North Carolina as a tropical storm. The hurricane was undoubtedly dangerous but had not formed during Florida's seasonal peak and was not at its strongest.
While tropical cyclones do happen in June, a flat-out hurricane is much less likely to form.
Lots of Humidity
Humidity is the measure of the amount of water vapor in the air. When there is a large amount of water vapor in the air, the humidity will also be high. Simply put, the higher the humidity, the wetter it feels. Florida has the second-highest humidity of any state in America. On the whole, its average humidity is about 74%.
Relative Humidity (RH) is the amount of water vapor in the air and is the percentage you see in weather reports. June has one of the highest percentages of relative humidity throughout the year. It can range anywhere from 60 to 92%, but the month's average RH is around 77%. Mornings in Florida will usually have higher humidity levels but cooler temperatures.
Be sure to stay up to date on the relative humidity and all weather conditions during your stay.
Wrapping Up
Florida weather can be temperamental and June can be a hot, wet, and humid month in the Sunshine State. Temperatures reach over 90 degrees. Tropical storms with high winds surge, and relative humidity crosses north of 90%. Some days, your plans are likely to be foiled by a regular thunderstorm.
It can be frustrating, but it's better to know this in advance so that you can prepare for it.
Bring umbrellas, follow news stations and storm trackers to get the most up-to-date information, and know how to be safe in the event of a tropical cyclone. 
If you are prepared, your vacation should go swimmingly.
Remember that there's a reason people keep coming to Florida despite its hurricane season. It has lovely beaches, plenty of attractions, and it's beautiful outside when it isn't raining—except, of course, during a relaxing sunshower.
Whether you decide to visit famous theme parks or the white sand beaches in Florida for fun in the sun, you are now better prepared for your Florida vacation in June.
If you're not prepared for the rain that comes with visiting Florida in June, take a look at our guide exploring the best time of the year to visit Florida.
More about our TFVG Author
Caitlin is one of The Family Vacation Guide's long standing contributors. She enjoys taking vacation to busy, vibrant cities and has stretched her traveling legs out towards Europe in recent months, enjoying new experiences in Barcelona in Spain, and Nice in France.