Florida vacations are an expensive prospect.
You have to pay travel expenses, you need a place to sleep, you need transportation when you get there, and you have to pay for food every step of the way. Whether you're going by land or by air, the costs will definitely add up. And if you've already got some of the more popular and expensive destinations on your to-do list, that'll cost even more. 
This is all made even more stressful if you have kids to consider. Even if they're allowed in the door of places you'd like to visit–a tall order for things like wine-tasting–it still needs to be something that won't bore them out of their minds. You want them to have just as much fun on this vacation as you do.
So to avoid that particular hassle, here's a helpful list of free things to do in Orlando with kids that you'll be able to enjoy too.
Downtown Disney Boardwalk and Disney Springs
Not all of the Disney properties in Orlando require an entrance fee to get in the door. The Disney Boardwalk is a quarter-mile long feast for the senses that's sure to bring smiles to your kids' faces. Similarly, Disney Springs is a free part of the Walt Disney World Resort that has a huge selection of food, activities, and events for the whole family to enjoy.
Just watch what you spend while you're there; like anything Disney related, the up-front cost is only a small fraction of how they make their money. Merchandising and food are where they hit you the hardest.
Lake Eola Park
If you're not feeling like lining Disney's pockets but still want a relaxing place to take the kids to, then Lake Eola Park might be the place for you. There you'll find an amphitheater for their regular shows and swans and ducks aplenty for the kids to stop and feed (or chase). If nothing else. it'll make for a great rest stop for your many adventures, one where you can unwind and your kids can let off steam.
Make sure to check times at the amphitheater before you go, just in case you'd like to catch a show while you're there.
The Holocaust Memorial Resource and Education Center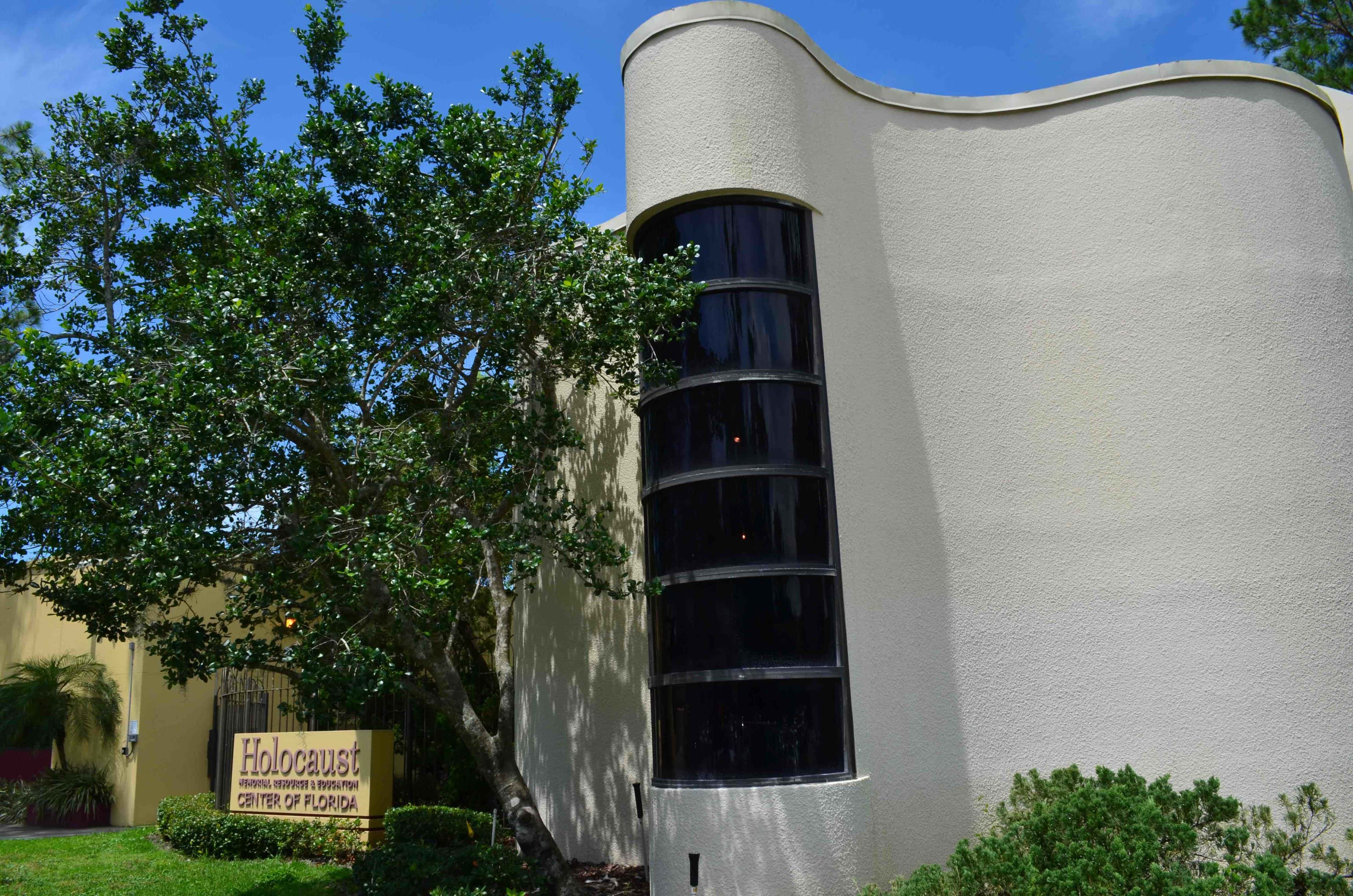 This one's for the parents that think a vacation should be a learning opportunity for their kids. As sobering as it is, it's important to remember where we've been. It won't be as cheery and fun as some other places, but it might be a good start to a conversation with your kids about the kinds of things they'll see while there.
Started by a survivor, the Holocaust Memorial Resource and Education Center of Florida might not be what you think of first as a holiday destination. But it may be a good place to start when teaching your kids a little bit of empathy for others, and it certainly won't be something they'll forget anytime soon.
The Lego Imagination Center and Store
As much as the "store" part doesn't exactly scream "freebie" on the surface, your kids will love this place. Located at the Disney Springs marketplace, the Lego Imagination Center is a place where children are allowed to play around as much as they want. If you can avoid the temptation of all that merchandise on display, then it'll be a great place for them to stretch their creativity muscles.
Just be aware that everyone else's kids will be doing the same thing yours are and that hand sanitizer is a must-have, and you're likely to have a fantastic time.
The Leu Gardens
The Harry P. Leu Gardens are a beautiful expanse of botanical wonder spread across 50 acres of tamed Floridian wilderness. Donated to the city of Orlando in 1961, it's true that these gardens aren't quite as free to visit on most days. But if you plan your vacation well, you might just find your trip intersecting with one of their free admission days, allowing you and your family plenty of time to explore.
Bring your walking shoes and pack a few drinks for this; it's easy to get sucked into a botanical garden as big as this one.
The City of Celebration Town Center
The City of Celebration was established by the Walt Disney Company as an experiment in community-building. This may read as a red flag to a lot of people, but on the surface there's plenty for your family to do if you feel like paying it a visit. The Celebration Town Center is a vibrant, friendly place with a lot of places you can poke around in if yours is the kind of family that doesn't mind shopping without buying.
Winter Park Farmers' Market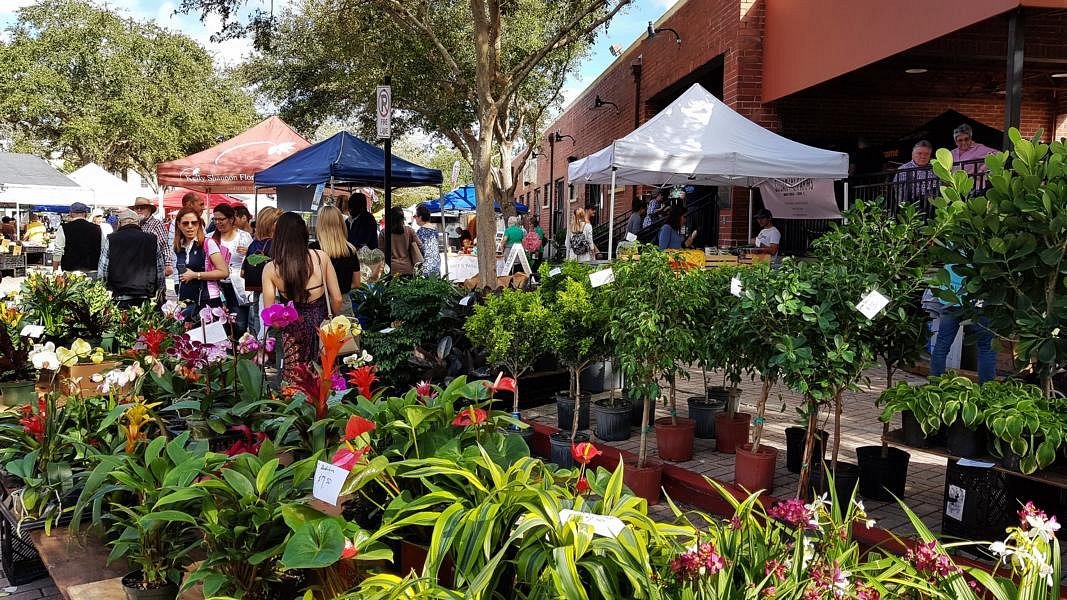 Do you like healthy snacks? Do your kids like gawking at absurdly large vegetables? Will your vacation include at least one free Saturday? Then the Winter Park Farmers' Market may be the place for you. Located in the nearby city of Winter Park, the only Saturday of the year that this farmers' market doesn't run is one that plays host to a sidewalk art festival which you may want to visit anyway.
It's true that it may not seem like much of an attraction on the surface. But introducing your kids to the concept of a farmers' market early on has the added benefit of getting them used to buying food from places other than supermarkets, and–for the environmentally conscious among us–makes for a great opportunity to teach them about locally-sourced food.
The Florida Mall
Of course, if the weather isn't cooperating, then you'll probably be looking for something a little more enclosed to poke around in. For that, we recommend the Florida Mall. With everything from Macy's and Sephora to the Crayola Experience and Build-A-Bear, there's a little something for everyone at a mall this big. And with a strong emphasis on COVID safety to boot, you can rest easy knowing that your family will be safe even beyond what local regulations ask for.
The Florida Mall has over 250 stores to choose from, automatic doors, and touchless free sanitizer dispensers. What more could a health-conscious family on vacation want?
Fort Christmas Historical Park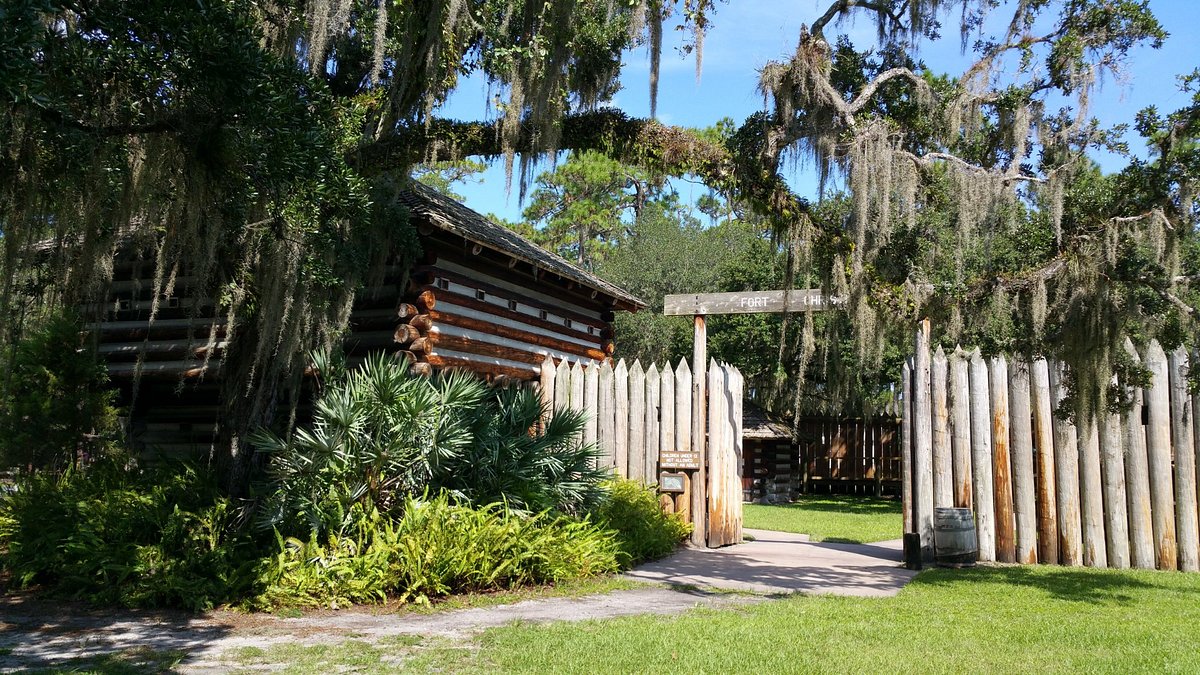 When a website uses five different fonts and one of the most prominent ones is Comic Sans, you know it's the kind of place that lets its content speak for itself. The Fort Christmas Historical Park is a classical recreation of a fort built all the way back in 1837 by a combined force of 2,000 US Army soldiers and Alabama volunteers. Like all Southern historical recreations, this one's undoubtedly a labor of love; there's pioneer homes, a schoolhouse, and even a sugar mill.
Obviously, this won't be for everyone. There's a certain degree of cringing and awkward explaining that one has to accept when taking kids to any historical site. But on the plus side, at least there's a playground.
Old Town, USA
Deep in the entertainment district in Kissimmee, FL, you'll find a bright and shiny look into the post-war boom of what's known as Old Town, USA. With shopping, car shows, weekly events, and live music, what you'll find depends entirely on the timing of your trip. This also means that if you have a free day and want to see if anything's changed, you can go back and probably find something new to look at on the second visit.
Go ahead and check the schedule beforehand to make sure you're not missing anything you'd really want to see. With so much to do, this may just be one of the best free things to do in Orlando with kids you'll want to plan a chunk of your trip around.
Free Movies in the Park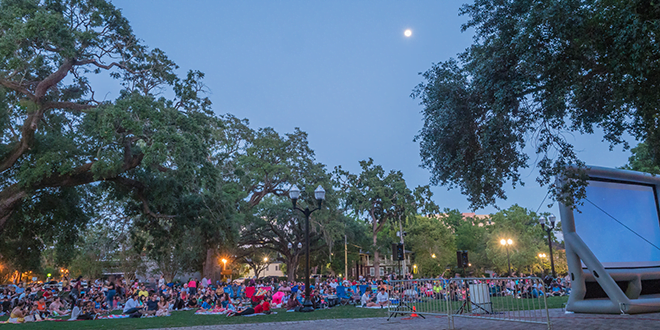 Drive-in theaters may be a little old school, but they're a classic for a reason. And on the last Friday of every month from April through August, Lake Eola Park hosts a special event called Movieola where you can see why. Bring blankets, snacks, or even leashed pets if you want; all the movies shown are family-friendly and free for anyone to enjoy.
In a similar vein, Winter Park's Enzian Theater hosts an event the second Thursday of each month called Popcorn Flicks in the Park. Again, this event is absolutely free and open to the public, with captions included for easier viewing and a completely family-friendly selection. Just be prepared for them to close up shop if the weather turns sour, which Florida weather often does.
ICON Park
You know that big wheel you see in all those photos from idyllic Orlando vacations? Well, ICON Park is where that's located. Known simply as The Wheel, it seems like this one landmark alone takes up the bulk of non-Disney marketing for the city's vast tourism industry. However, riding the Wheel is hardly the only thing to do in ICON Park.
Though many of the attractions themselves can cost a pretty penny, there's still shopping, people-watching, and picture-taking to do. You'll have to keep a very close eye on your wallet for this one, but it's definitely worth a visit if only to see the sights.
A Self-Guided Mural Tour
It's a little less spicy than some other options, but a tour of the city's murals would be a great way to spend a sleepy day if you've got access to a car. After all, Orlando has a vibrant, diverse culture with plenty of artistic influences to draw from. It's only natural that the resulting street art has become a celebrated enough tradition for there to be a gallery online that you can use to plot out a route.
The beauty of this one is that it doesn't have to be a dedicated task with a set goal or planned beginning, middle, and end. It can simply be a part of your exploration of the city, or a little something that you take note of while you're there doing other things.
Mead Botanical Garden
Returning to the natural world for a bit, we have the beautiful Mead Botanical Garden located in Winter Park, FL. While not as big as some other botanical gardens, it makes up for it with free admission, a butterfly garden, live music, and more. Depending on when you come by, you could see a live jazz band, learn about how to identify mushroom species, or even join in on a scavenger hunt.
Do some birding, join in a rubber duck derby, take some pictures–there's no lack of free things to do in Orlando with kids. Honestly, even without the events it'll still be a good time; there's very little that's more memorable to a kid than having a butterfly land calmly on their hand for a while. Just make sure they know to be careful and not squish any of them.
Adopt a Dog for a Day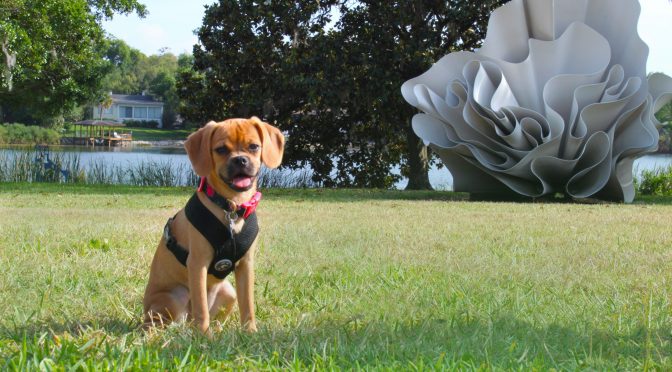 Yes, we're serious. Orlando has a program run by a local pet rescue where you get to adopt a dog for a day to take them out on the town. You'll need to fill out a form–yes, we know the website is a little scuffed, bear with it–and you're not allowed to expose them to other pets, take them home, or bring them to dog parks. But if you want to teach your kids about both the joy and responsibility of owning and loving a dog, this might be something to look into.
The program itself is free, but there may be other expenses involved with taking care of a dog for a day that need to be taken into account. This is another one of those that won't be for everyone, but we'd be neglecting our duties here if we didn't mention it.
Casselberry Art and Music in the Park
Food trucks? Artisan goods? Live music? The site might be a little slow to update, but Casselberry's Art and Music in the Park comes highly recommended. You'll have to bring your own seating–the whole thing's highly informal–but part of the fun of these things is how laid back they are. Hosted on the second Friday of each month, this miniature festival of music and food will be a great place for your family to kick back and relax for a while.
Free Family Funday at Mennello Museum
On the second Sunday of each month, the Mennello Museum hosts what it calls a Free Family Funday. With free admission and free kid-friendly activities, it's another one of those fantastic opportunities for you to unwind and for your kids to get creative. Check in for their special events, too; there's no telling what kinds of unique educational content you might stumble onto. There might even be a chance to take home a free souvenir.
No matter what you manage to find while you're there, the Mennello Museum will definitely have enough going on to keep your kids talking about their trip for a while.
Central Florida Railroad Museum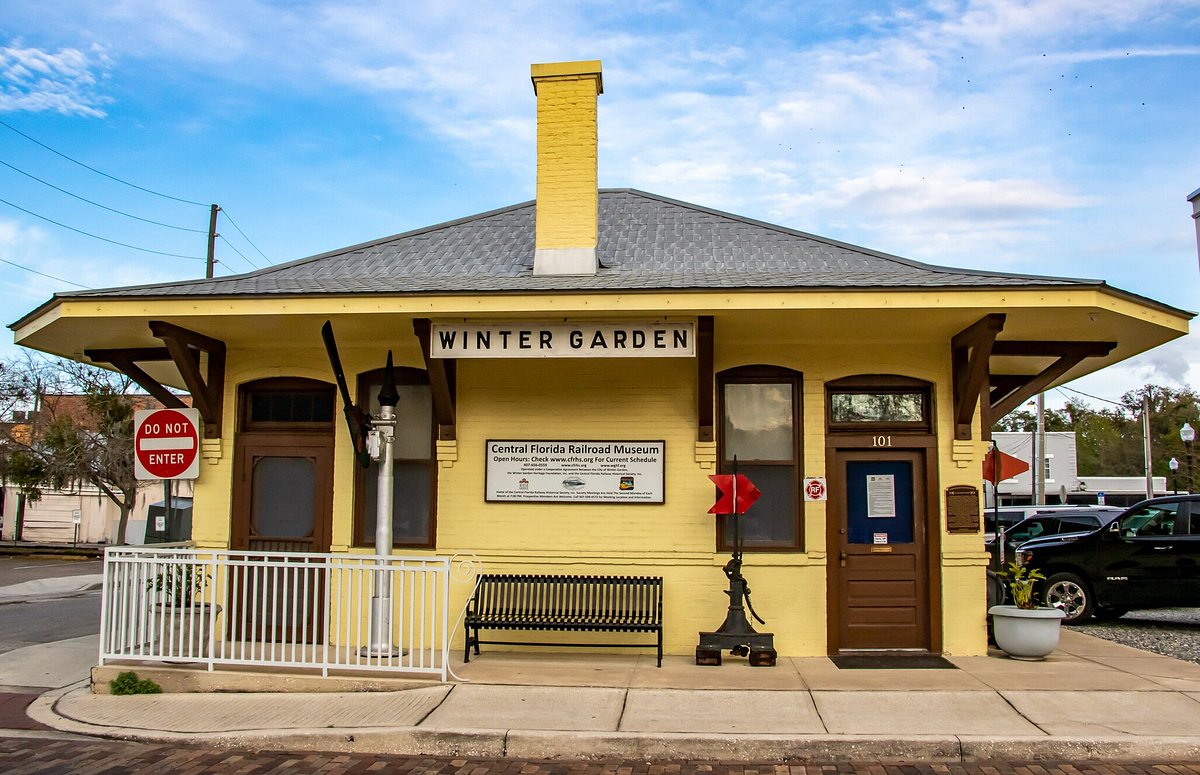 This one's for the dads that like model train sets. Housed in an old railway station, the Central Florida Railroad Museum is a neat little slice of history with free admission and plenty of things to see. You'll be amazed at just how much stuff they've managed to cram into what square footage they have, from railroad-related antiques of all shapes and sizes to highly detailed scale models.
Open Tuesday through Saturday, this tiny museum is sure to leave smiles on at least a few faces out there. If your kids like trains, then this one is a must-see.
Car Shows
Okay, hear us out. Cars are cool, right? Kids might not be able to drive them yet, but they can definitely appreciate them. And if yours is the sort of kid who likes loud things on four wheels, then Orlando's definitely got you covered. We mentioned the weekly car shows in Old Town earlier, but they're far from the only option.
With that in mind, here's a helpful schedule. Check back for dates, and figure out what works best for your family. We hope you and your kids have a blast looking at every shape and size of automobile that the locals have managed to collect over the years. Since these are Floridians we're talking about, they're bound to have an eclectic mix.
Antique Stores
This may not sound like one for the kids at first, but appreciation of antiques is undoubtedly something that the whole family can find some joy in. And not only does Orlando of all places have a robust selection of antique stores to choose from when you're in a mood for them, it has entire lists of places to explore.
With no price of admission and an endless supply of fascinating things to gawk at, you might have more trouble getting your family to leave than getting them in the door. All you need are good walking shoes, masks, and a drink or two to stay hydrated. It may be another one of those places where you have to keep your wallet taped shut, but a day spent antiquing is never wasted.
More about our TFVG Author
A seasoned traveller, Dad, and avid sports tourist, James foundered The Family Vacation Guide to share his expert vacation experiences- especially when it comes to being a travelling family man.
Featured in Travel articles such as Travel + Leisure, TripSavvy and SFGate, you know you're reading some of the best vacation tips online.