Hunting Hidden Mickeys is one of the incredibly fun things to do in the four theme parks and around Walt Disney World in Florida. Disney hides these characteristic shapes everywhere, and spotting one is always exciting.
There are more than 1,000 Hidden Mickeys throughout Walt Disney World.
That number isn't precise because the amount of Hidden Mickeys changes. Some are found in holiday decorations that are only displayed seasonally, and some are related to festivals and events in the park. Remember that Disney World is constantly evolving and changing, which means Hidden Mickeys come and go.
Let's look at what Hidden Mickeys are exactly, where to look for them, and some of our favorites that you can spot, too.
A "Hidden Mickey" is an image or impression of Mickey Mouse, usually the silhouette of his head and ears, those distinct three spheres. They're strategically placed by Disney artists, Imagineers, and other cast members to blend into their background around the parks and resorts.
A Hidden Mickey can be any size, very small or enormous. They can be very well-disguised, matching their surroundings. Or sometimes, they're hidden in plain sight, and once you spot them, you're unsure how you possibly missed them.
Hidden Mickeys serve no other purpose than to entertain and amuse guests. For guests who know about them, hunting for them around the property is fun, especially during downtimes, like waiting in line. For visitors who don't know about them but spot a Hidden Mickey anyway, it's a delightful surprise. 
Hidden Mickeys can be anywhere, and it would be impossible for us to describe everywhere you should look for them. However, there are some places to keep a particularly keen eye out and some tactics you can use to help you spot more of them.
Always keep a keen eye out anywhere where you see a lot of circles and spheres. This could be in a pattern on the floor or carpet, in the wallpaper or the wall's texture, or anywhere else. The chances are good that any design that incorporates a lot of circles has Hidden Mickeys in it somewhere.
Look in murals, large pictures, or paintings. In these kinds of art, you'll sometimes find Mickey's entire body in the mural. It's almost like a Where's Waldo book page. It's a unique Disney touch.
We've already emphasized that there are Hidden Mickeys everywhere. As a rule of thumb, you can almost always find one in every attraction and major fixture throughout the parks and resorts. That doesn't mean that each popcorn kiosk will have one, but table-service restaurants, ride queues, and resort check-in areas are good places to start.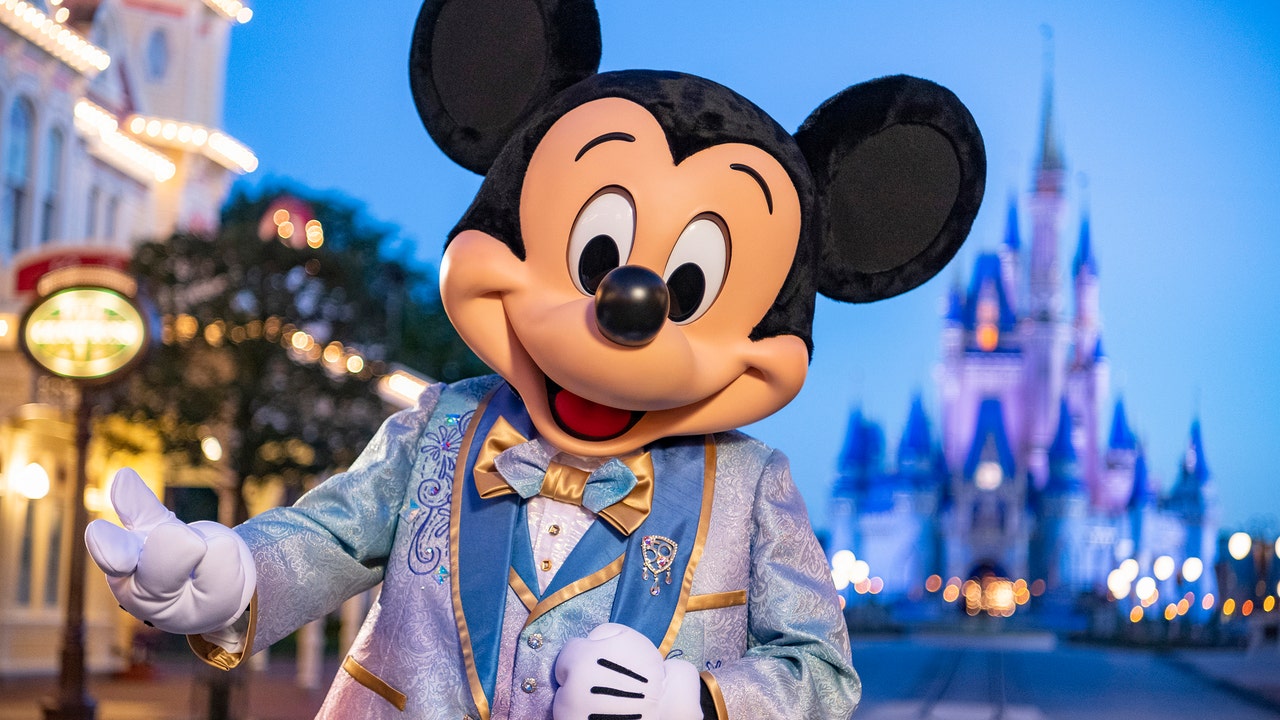 Now let's look at some of our favorite Hidden Mickeys throughout Walt Disney World's parks and resorts.
One of the neatest Hidden Mickeys in all of Walt Disney World is on the Haunted Mansion ride. During the dinner and ballroom scene, look closely at the table settings, specifically the plates. They're arranged in the shape of Mickey's ears.
You might be a little disoriented when Big Thunder Railroad slows down, but as you pull into the station, you might notice that Imagineers arranged the gears in the shape of Mickey's ears. On the Jungle Cruise, there are also Mickey ears on the side of the plane.
One of our favorite Hidden Mickeys is very carefully hidden since it only shows once a year. It's in the queue area for Voyage of the Little Mermaid. The Imagineers arranged an opening in the rocks that, one day a year, allows the sun to create a shadow Hidden Mickey. It happens on Mickey's birthday, November 18, so if you visit on that day, make sure you look for it.
Some of the most apparent Hidden Mickeys in the park are on the Living with the Land ride. When your boat glides through the greenhouses, see if you can spot some of the produce grown in the shape of Mickey Mouse. The Disney gardeners use special cases for the plants that force them to grow this way.
There is at least one Hidden Mickey in every World Showcase pavilion. In Canada, a Tsimshian artist named David Boxleymay have carved the totem pole, but he included a Hidden Mickey at the very top. In addition, look carefully at the painting in the America pavilion of the wagon train. We promise there is one there.
Once you're almost through the line, you watch a short pre-ride Twilight Zone video. The little girl in the movie is holding a Mickey Mouse toy. During another thrill ride pre-show, the one for Rock N Roller Coaster, take a look at the electric guitar cords on the floor; they're coiled into the shape of Mickey's ears.
New attractions and lands have Hidden Mickeys, too. In Galaxy's Edge, pay attention to the blaster holes and marks on the outside of the walls. Some of them are triplicate and in the shape of Mickey's ears.
Hollywood Studios itself was laid out like a big Hidden Mickey, complete with much of his face and everything. With changes in the park, including adding new lands, it's hard to see now. But you can Google an image of it from opening day to see what we mean.
There are lots of little Hidden Mickeys in Animal Kingdom. Some of them are in the pattern on the sidewalks. Another is on the Maharajah Jungle Trek. The Sultan's earring in the mural on the wall is a very well-hidden Mickey.
On Kilimanjaro Safaris, try to zoom out on the island where the flamingos live. It's in the shape of Mickey ears. And as you might expect, you can undoubtedly find a Hidden Mickey on the park's centerpiece, the Tree of Life. It isn't carved into it like the animals, though. It's formed with moss.
Other Places in the Resort
One of the biggest Hidden Mickeys on the property isn't anywhere that guests regularly visit, but it's worth mentioning nonetheless. There is a massive collection of solar panels that help power the parks and resorts, and designers arranged them in the shape of a giant Hidden Mickey.
Disney's Florida flagship resort is the Grand Floridian, and there are Hidden Mickeys everywhere there. Be sure to look down at the floor in the main lobby since you'll see plenty of them there. Remember, you can find Hidden Mickeys at all of the hotels, so look for them no matter where you're staying.
Just like so many elements of Walt Disney World, Disney uses Hidden Mickeys to add to the enjoyment and magic of your visit. You can use them to your advantage to turn them into a game.
Challenge your family members to be the first to spot any of the many Hidden Mickeys throughout the property. If your family is competitive, keep score to see who can find the most in a day, while you're in a particular park, or for your entire trip. Or, just point them out to each other so everyone can see them.
Finding and discussing Hidden Mickeys can also be a great way to connect with cast members who are well-educated on the topic. However you enjoy the Hidden Mickeys throughout Walt Disney World, the most important thing is that you allow them to enhance your experience and your family's time spent together. Happy hunting!
More about our TFVG Author
A seasoned traveller, Dad, and avid sports tourist, James foundered The Family Vacation Guide to share his expert vacation experiences- especially when it comes to being a travelling family man.
Featured in Travel articles such as Travel + Leisure, TripSavvy and SFGate, you know you're reading some of the best vacation tips online.