There's nothing more exciting for fans of the Harry Potter series than a trip to the Wizarding World of Harry Potter at Universal Studios Orlando in Florida.
You can leave the muggle world behind and immerse yourself in magic. Everything is inspired by this magical realm, including the food and drink, sights and sounds, and shopping.
The most essential item for any witch or wizard is their wand, so naturally, you can buy a Harry Potter wand at Universal Orlando.
However, the experience goes far beyond that. This article will explore where to buy a wand, the wand ceremony, and how much wands cost at Universal Studios.
How Much Are Harry Potter Wands at Universal Studios Orlando?
Buying, carrying, and using a wand is a big part of the experience of the Wizarding World of Harry Potter. As of 2022, traditional Harry Potter wands cost $55 plus tax, and interactive wands cost $59 plus tax. Let's look at what those are.
Traditional versus Interactive Wands
When you buy a wand, you choose between two types, traditional and interactive. While they look very similar, they are actually quite different. Let's take a closer look.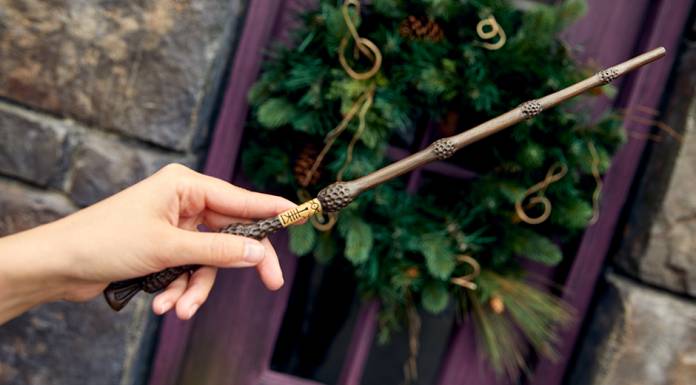 Traditional Wands
Traditional Harry Potter wands cost $55 plus tax.
The wands you purchase at Universal Studios Orlando or Islands of Adventure (see below for specific retail locations) look very similar to those used by your favorite witches and wizards in the Harry Potter films.
Most are narrow and long, between 14 and 16 inches in length. Most are in shades of brown and black, and some have silver, gold, or other elements. Most of them have some kind of design carved into the handle or along the entire length of the wand.
These wands come in a box that resembles those used in the films. You can buy one of more than 20 different models detailed below.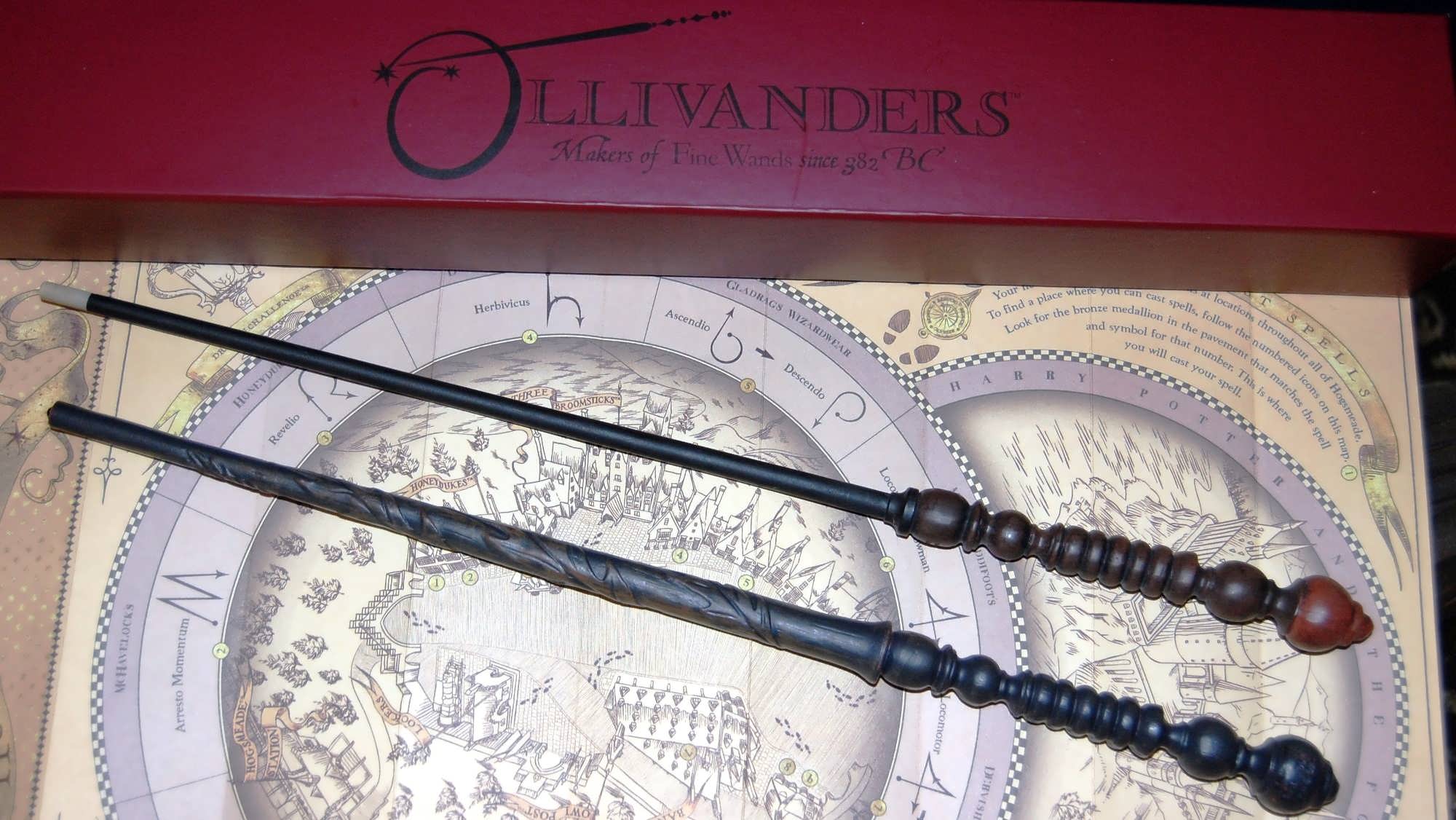 Interactive Wands
Interactive Harry Potter wands cost $59 plus tax.
Interactive wands look very similar to traditional wands, except they're slightly thicker and embedded with a function that allows them to do some pretty amazing things. You can see a sensor at the very tip of the wand that communicates with receptors around the parks.
These sensors and receptors allow you to cast magic spells. In the box with your wand, you'll receive a map (that closely resembles the Marauders' Map from the books and films) that directs you to points in the park where you can use your wand and see real magic happen.
Some of the spells you'll be able to cast include "Silencio" at the Magical Menagerie in Diagon Alley, "Aguamenti" at the Mermaid Fountain in Carkitt Market, and "Incendio" at Zonko's Joke Shop in Hogsmeade. If you ever have difficulty casting spells, many friendly staff witches and wizards are available to assist you as you learn.
In addition, you can discover secret or hidden spell spots throughout the parks. Look a few of them up ahead of your visit, or ask a staff member about them.
How Much Do Special Edition Wands Cost? 
Occasionally, Universal Studios designs and releases special edition wands. These typically cost more than either traditional or interactive wands. Depending on the intricacy of the design, they can cost $75 or more.
You'll usually find them for sale in the wand stores and other shops, such as Borgin and Burkes. Ask an employee if there are any available at the time of your visit.
Whose Wands Can You Buy?
There are more than two dozen different wand designs from which to choose. Some of them are modeled after those carried by the characters in the books and films, including:
Harry Potter
Hermione Granger
Ron Weasley
Professor Dumbledore
Professor McGonagall
Professor Snape
Lord Voldemort
Sirius Black
Bellatrix LeStrange
Remus Lupin
Mad-Eye Moody
Narcissa Malfoy
Nymphadora Tonks
Yaxley
Draco Malfoy
Neville Longbottom
Ginny Weasley
Cedric Diggory
Luna Lovegood
Fleur Delacour
Cho Chang
In addition, there are signature Ollivanders wands in various woods, including alder, hawthorn, ivy, oak, and reed. These types of wood correspond to date ranges for birthdays, so you can even buy a wand according to your birthday and astrological sign.
Where To Buy Harry Potter Wands in Universal
There are several places to buy wands in the Wizarding World of Harry Potter, including three shops and one cart. All of the shops are modeled after stores in the books and films.
In Diagon Alley, you can visit Ollivanders or Wands by Gregorovich. Ollivanders also has another store in Hogsmeade. Also, in Hogsmeade, there's a wand cart that sells many of the same models as the stores on your way to Hogwarts. Only Ollivanders Shop in Diagon Alley hosts the wand ceremony described below.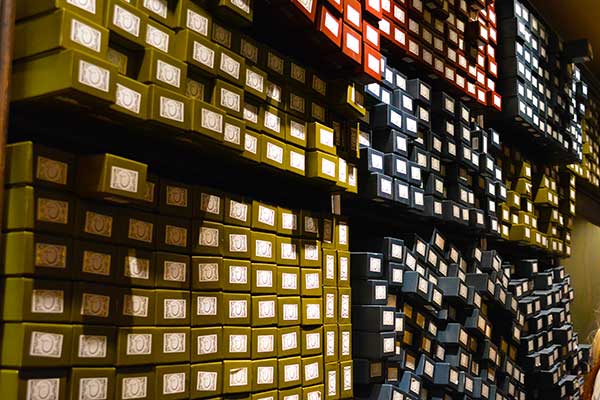 What Is the Best Place to Buy a Wand?
Buying an item like a wand can absolutely become part of the experience of visiting the Wizarding World of Harry Potter. After all, one of the first things that Harry does in the first book and film is purchase his wand.
That might mean that you want a meaningful, immersive experience when you get yours. If that's the case, you should definitely check out the wand ceremony at Ollivanders in Diagon Alley. Even if you're not chosen as the lucky guest for the ceremony, witnessing it is still quite an experience.
The other two shops are also highly themed. However, since neither is featured in the films, they're simply stylized to look like a shop you imagine would exist in Diagon Alley or Hogsmeade.
However, if you just want to get your wand and then head to a favorite ride or attraction, we recommend visiting the cart. It usually has the shortest line and fastest service.
The Wand Ceremony
When you go to Ollivander's Wand Shop, you can enter the shop directly or wait in line for the wand ceremony. The line can be as long as 90 minutes on a hectic day, and the actual ceremony takes about seven minutes.
During the wand ceremony, a small group of guests enters a special room at Ollivander's. Once inside, the staff selects one guest in the crowd to participate in the wand ceremony. Much like the film scene, that guest tries out a series of wands until they find their perfect match.
There is no way to guarantee that the staff will choose you or anyone in your family for the ceremony, and the wait can be quite long. You can better your chances by dressing in your finest Harry Potter attire, especially robes or house shirts.
The wait for the wand ceremony is the longest in the morning. Many guests want to get their wand for the day as soon as they arrive at the parks. Instead, you can buy a wand at the cart or one of the other wand shops in the park and then hope for a shorter wait for the ceremony later in the day. You don't get a free wand even if you're chosen for the wand ceremony later.
Using Your Interactive Wand
If you decide to buy an interactive wand, you'll undoubtedly want to use it while you're in the parks. Interactive wands are only a few dollars more than traditional ones, so we recommend trying them out.
As you make your way through the parks, you'll see brass medallions with symbols corresponding to the ground's spells. Follow the motions, say the magic words, and you'll get to see something remarkable.
How Do Interactive Wands Work?
Contrary to popular belief, interactive wands don't contain electronics. Instead, the wand's tip reflects light onto sensors. When the sensors pick up the movement of this light, it causes magic to happen. You don't have to worry about your battery dying or your wand wearing out.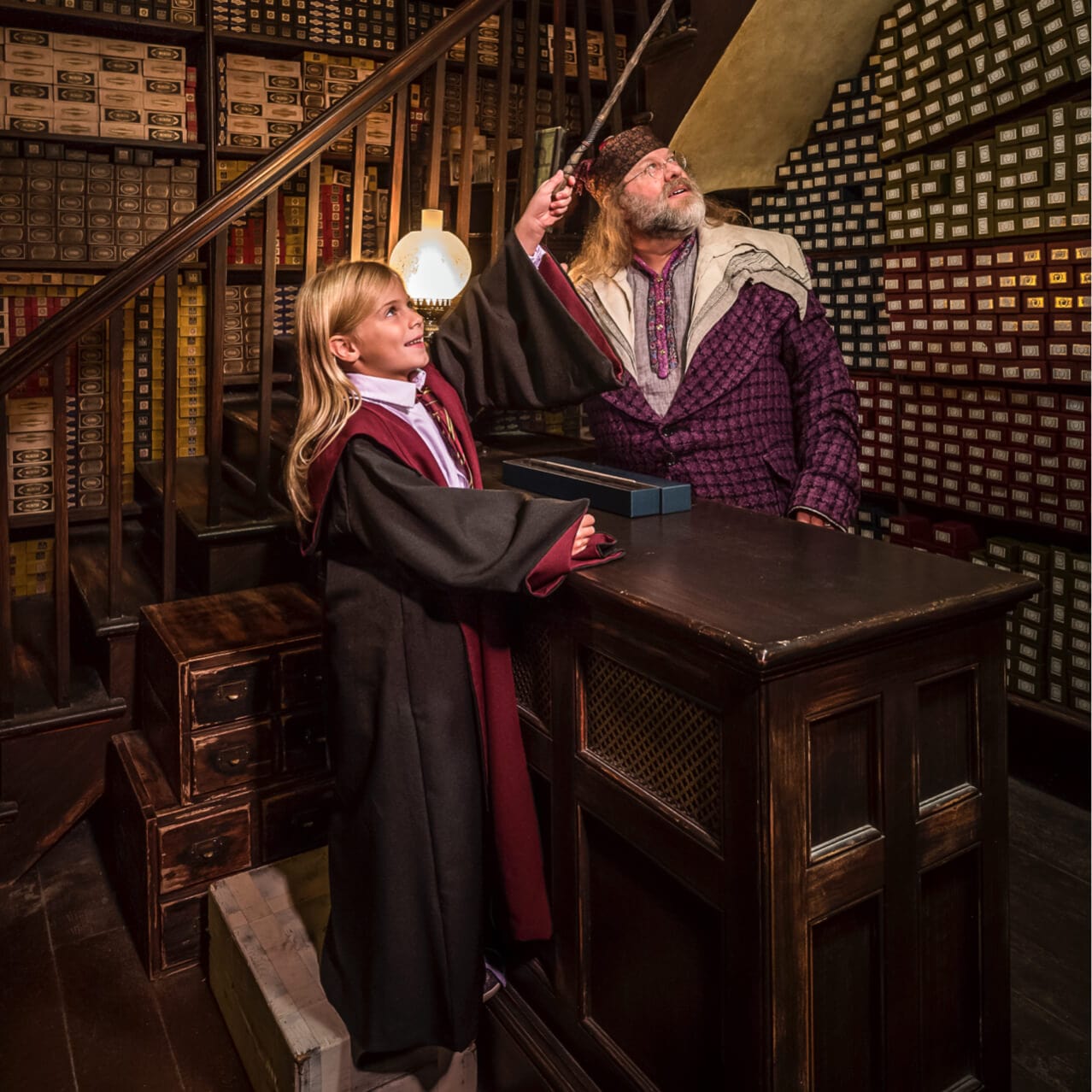 Where Can You Use Interactive Wands?
Your interactive wand comes with a map of both Harry Potter lands in Universal Studios and Islands of Adventure. This map lists most of the locations for spell casting. There are 16 in Diagon and Knockturn Alleys and nine in Hogsmeade.
In Diagon Alley:
Bowman E. Wright Blacksmith Shop (two spells)
Chimney Sweep Elf Sign
Dystal Phaelanges
Flimflams Lanterns
Magical Menagerie
Mermaid Fountain
Noggin and Bonce
Periwinkle's Playthings
Scribbulus
Tallow and Hemp Toxic Vapors
Trackleshanks Locksmith
Umbrella sign
Weasley's Wizard Wheezes
Wiseacre's Wizarding Equipment (two spells)
In Hogsmeade:
Dervish and Banges
Dogweed and Deathcap
Gladbags Wizardwear
Honeydukes
Madam Puddifoots
McHavelock's
Spintwitches
Tome and Scrolls
Zonko's Joke Shop
If purchasing a magic wand isn't in your budget, but you still want to try a spell or two, don't worry. Friendly staff witches and wizards are usually more than happy to lend you their wand to see if you can make a bit of magic yourself.
Create Real Magic
Whether or not you decide to buy a wand, the most important type of magic you'll experience is your time spent with family. With careful budgeting and planning, you can get the most out of your time spent at the Wizarding World of Harry Potter with your loved ones.
More about our TFVG Author
A seasoned traveller, Dad, and avid sports tourist, James foundered The Family Vacation Guide to share his expert vacation experiences- especially when it comes to being a travelling family man.
Featured in Travel articles such as Travel + Leisure, TripSavvy and SFGate, you know you're reading some of the best vacation tips online.