Florida is a top tourist destination. Millions of tourists head to the Sunshine State to sit under the sun and enjoy its tropical climate. Florida offers tourists everything from attractions, special events, adventurous outings, beautiful beaches, and much more.
The summer season sees the most visitors. School is out, and it is a prime location for vacation. Florida offers many summer attractions such as theme parks, water parks, beaches, and much more.
The adventures of the sunny state are not limited to the summer. Florida has a lot to offer all year-round.
Each month has its perks. October is filled with cooler weather, fall festivities, and Halloween-themed events. Florida takes advantage to celebrate as big as they can when it comes to festivities and holidays.
If you are considering visiting Florida in October, it may be the best time to go. Here are a few reasons why October is a great time to go to Florida.
Weather
The Florida heat is known to be brutal at times. October is the perfect month to visit Florida weather-wise. During this month, the end of hurricane season begins, and daily rain and storms lessen.
The weather is far more pleasant as temperatures begin to drop. It changes from humid and hot to crisp and cool. The weather change is convenient and far more comfortable to enjoy the outdoors. You can spend more time outside relaxed without the urge to run into an air-conditioned location.
The weather is typically warm but breezy, while some days can hotter than others. The average high is about 80 degrees, and the average low is 67 degrees during the night.
Crowd
Many people do not travel during the cooler months of the year. Tourism during October is one of the slowest and sees smaller crowds – this is an advantage for anyone who wishes to avoid large crowds. Smaller crowds set the tone for a much more relaxed vacation.
Cost
During the slower season, the cost of hotels and tourist attractions is cheaper than during the busier months. Tourists and visitors can benefit from lower hotel and flight rates.
Halloween Attractions
October includes the universally loved holiday, Halloween. Theme parks and attractions celebrate big in Florida. If thrills and scares are your favorite thing to do in October, there is plenty for you to explore and experience.
You can check out the following best Halloween Attractions in Florida.
Disney World Theme Parks
Celebrate Halloween at Mickey's Not-So-Scary Party with the family. Disney World is the perfect theme park to visit during the holiday season with little ones. It is a holiday experience for everyone of all ages.
You can load up on sweets and snacks as you trick or treat throughout the park and meet your favorite character dressed in a costume of their own. There will be Halloween-inspired food and drinks you can nibble and sip on.
While you snack on Halloween treats, you can wave to Disney villains and ghouls as they float by a "Boo-to-You" Halloween parade or catch the Sanderson Sisters at their Hocus Pocus Villain Spelltacular. With the help of other Disney villains, Winifred, Mary, and Sarah return to conjure the ultimate party potion to cast a spell on everyone in Magic Kingdom.
End the night watching the Not-So-Spooky Spectacular. The fireworks show is hosted by Jack Skellington and is inspired by Tim Burton's The Nightmare Before Christmas. The dazzling display will feature Mickey, Minnie, Donald, Goofy, and Disney villains.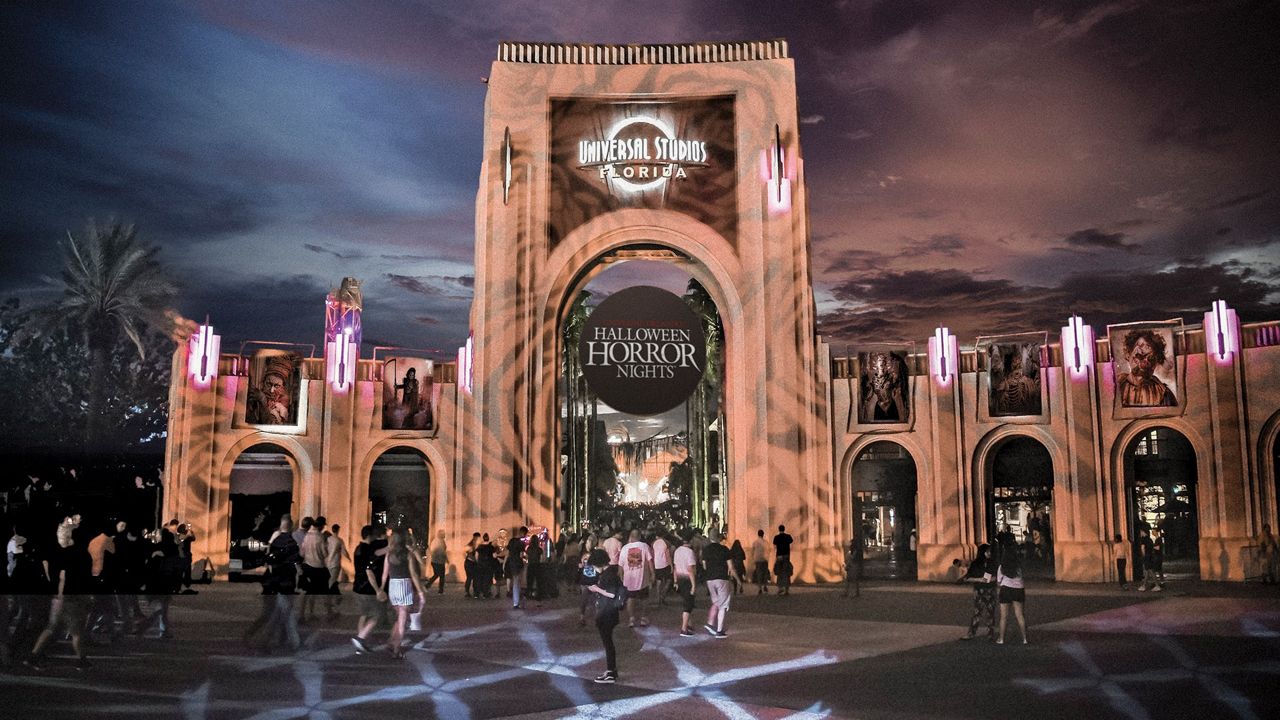 Universal Studios Halloween Horror Nights
Universal Studios is a popular theme park for adult Halloween fun. It has been named the Best Halloween Event by Amusement Today's Golden Ticket Awards for 12 years.
The Halloween event features ten haunted houses with The Horrors of Blumhouse, Mike Myers' Halloween film, and other scary themes. There will also be five scare zones, two live shows, and many more thrilling adventures throughout the park.
The horror has been said to be too intense and terrifying for youngsters and is not recommended for anyone under the age of 13.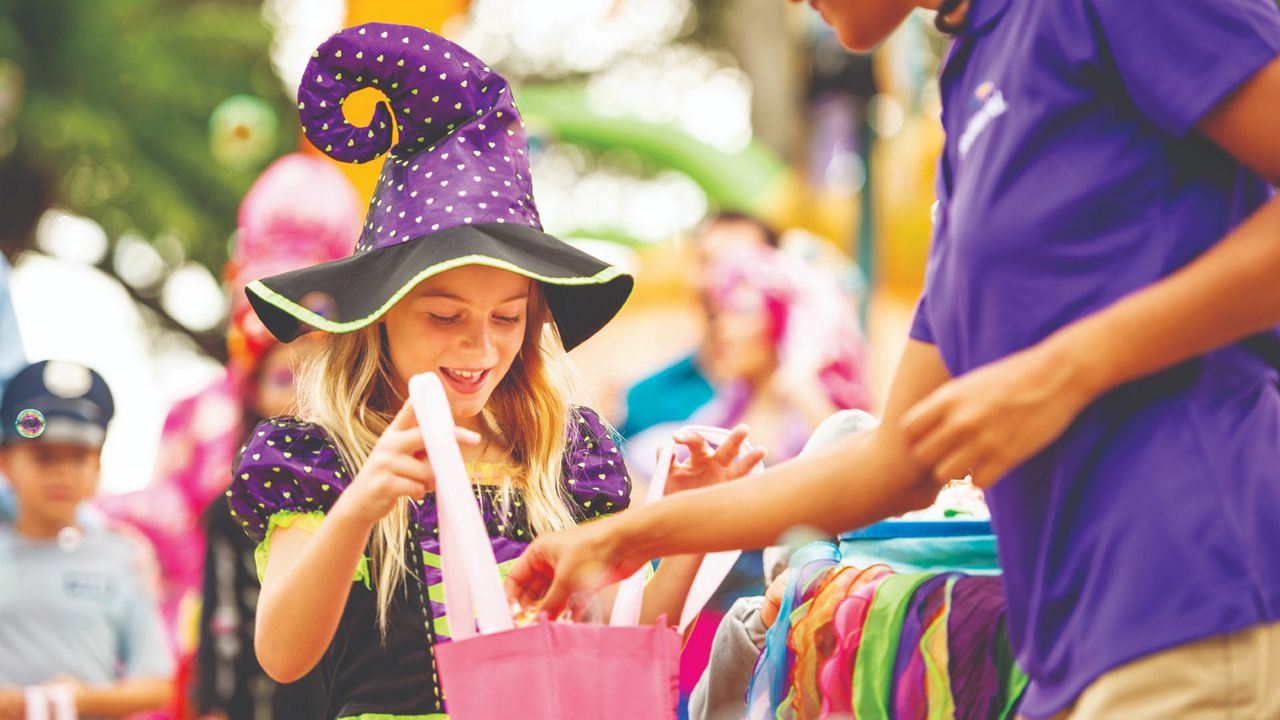 SeaWorld Spooktacular
Have a kid-friendly spooktacular time at SeaWorld. You and your family can trick-or-treat during the weekends of September 10 to October 31st at the marine-life theme park. Along the path of treats, you can meet unique characters dressed as mermaids and sea life characters. Sea World allows all guests to dress up in costumes, with some restrictions for guests 13 and older.
Bring the kids home and head back for a mature Halloween experience at Sea World's Howl-O-Scream event. The haunting thrills feature scare zones, houses of horrors, nighttime coaster rides, and a live show. This is a separately ticketed night event intended for a mature audience, and costumes are not allowed during this time.
Sea World is the perfect place for family fun by day and terror by night.
Legoland
Brick or treat with the little ones at Legoland.
Legoland is the perfect theme park for families with children between the ages of 2 and 12. The Halloween celebration will feature never-before-seen exclusive Lego characters, new shows, and of course, candy.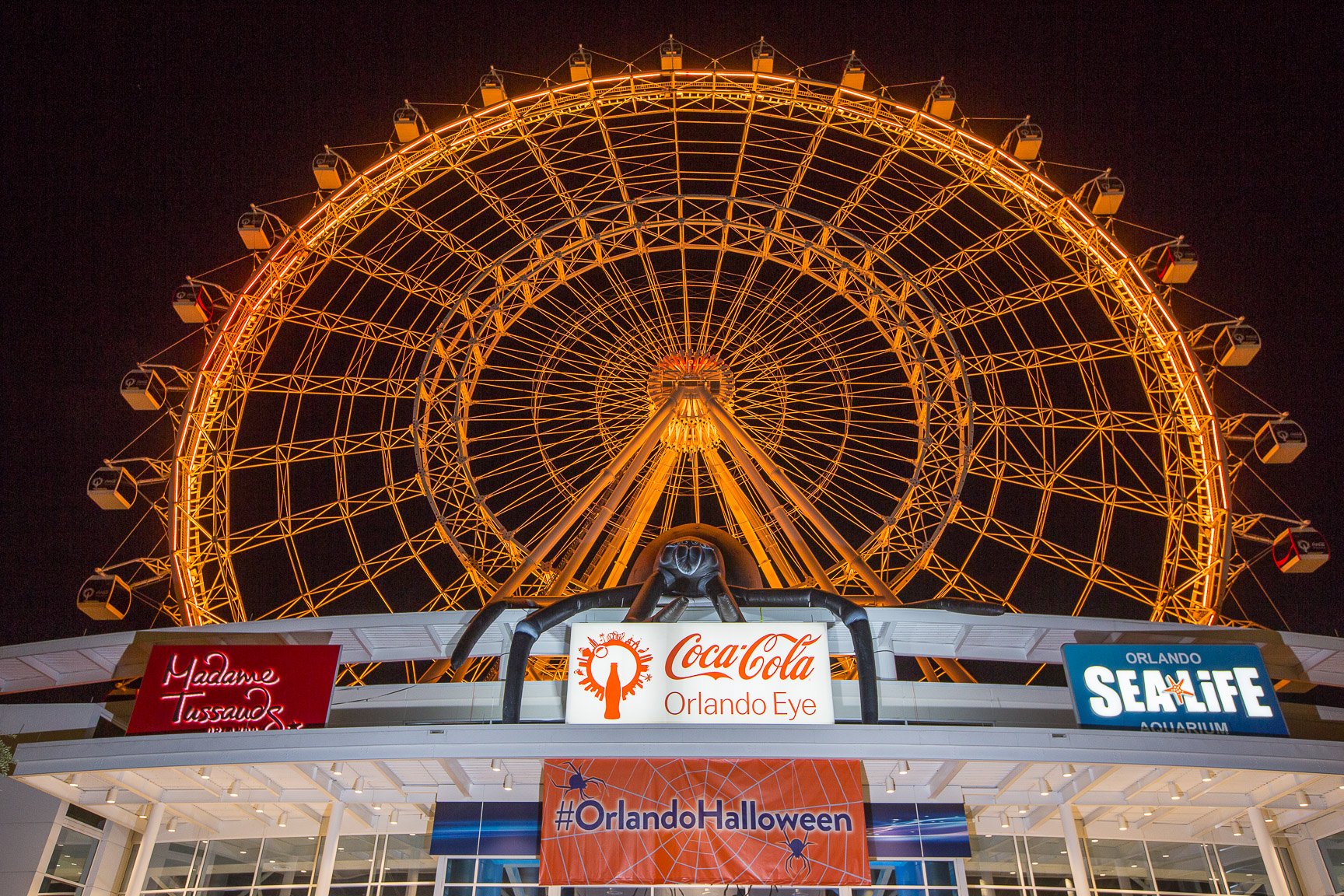 ICON Park
ICON Park is the perfect place to go to appease a large group of people who want different things. The 20-acre park offers Halloween fun for everyone of all ages and scares tolerance.
During October, you can purchase the Spooktacular Florida Fun Pack to celebrate Halloween.
At night, you can enjoy a free light show on The Lawn at 8 p.m. Sunday through Thursday and shows at 8 p.m. and 10 p.m. on Friday and Saturday. The Wheel's lights dance to a Halloween soundtrack for a 10-minute spooky production.
Bring your little ones in costume, and you can hop on The Wheel for a discount. ICON Park offers complimentary tickets for children 12 and under in costume, and family members can ride along with tickets for a discounted half-off price.
ICON Park is located on International Drive at the center of tourist attractions and has free parking.
Busch Gardens Howl-O-Scream
Busch Gardens is bringing terror at night in Tampa, Florida. Like many haunted theme parks, it is a frightful adventure with haunted houses and terrifying scare zones. You also get the experience of thrilling rides on roller coasters in the dark.
Old Town Thriller Nights
Old Town is a recreation of a classic Florida town that is transformed into the spooky theme of Halloween during October. The iconic town full of shops, rides, and entertainment is dressed with festive decorations and offers trick-or-treating. There are multiple performances of the classic song, "Thriller."
For a scarier thrill, you can visit Mortem Manor. The Manor is unlike any other. It is a haunted house open year-round.
Old Town is in Kissimmee, FL.
Haunted Houses & Attractions
For a true horror experience, skip the theme parks and head over to a haunted house where taunting terrors are the main event.
A Petrified Forest
The three trails at A Petrified Forest are a unique Halloween experience. Dare to walk through the haunted scare trails where lurking creatures and haunters hide.
For the terrifying walk through the trail, you are given one glow stick, but you must be careful. If the glow stick is stolen by a ghoul, you won't get another. Prepare to scream and run until you've made it through with or without light.
This high-rated event is located in Altamonte Springs and hosts some daytime fun for the younger crew. Kids can trick-or-treat, do arts and crafts and jump around in a bounce house.
Scream-A-Geddon Horror Park
Scream-A-Geddon is for true Halloween lovers. The horror park has been named one of the scariest haunted houses in Florida.
The horror park is home to six attractions: Ravenhill Asylum, Blackpool Prison, Rage 3D, Bloodwater Bayou, Zombie Paintball Assault, and Demon's Revenge. Each attraction is a uniquely terrifying experience where you will face criminals, rely on your instincts to make crucial decisions, and escape haunting magic.
You can loosen the tension from fear while you enjoy a beer at Bonzo's Beer Garden or the new food court, Monster Midway, where you can eat, play games, and drink.
Morterm Manor Haunted Attraction
Morterm Manor at Old Town is a haunted house open year-round. Travel Channel has labeled the haunted attraction as Scariest Haunted Houses in America.
If you dare, you will take a walk through two floors of an Old Victorian setting where there will be frights, thrills, and fun. For more of a daunting thrill and an additional cost, you can hop on "The Last Ride," a coffin burial simulator of being burned alive.
Sir Henry's Haunted Trail
Another top-rated haunted attraction in Florida is Sir Henry's Haunted Trail.
At the high-ranking scary attraction, you will experience several Halloween thrills. There are three haunted trails, two escape games, and laser tag. After you survive the trek through the woods, you can enjoy live entertainment and food.
Sir Henry's Haunted Trail is an outdoor event located in Plant City, FL. Tickets must be purchased online in advance.
Fall Harvest Festivals
The fall season brings the traditional celebration of harvesting crops. People gather at farms and orchards to pick their favorite produce and pose for festive family photos on hay.
Florida brings many harvest festivals and fall adventures during October to keep your days full of entertaining activities.
Carve a pumpkin, go apple picking, sip on cider, and feast on good food and drinks at these fall harvest festivals.
Harvest Festival at Flamingo Gardens
Throughout October, Flamingo Gardens hosts a family-friendly Harvest event. You can enjoy hayrides, and a pumpkin patch, enter a costume contest, and the kids can have fun in a bounce house.
There will also be live character interactions, arts and crafts, and a Great Scarecrow competition. Each weekend is themed differently. You can have your pick your day to celebrate with pirates & princesses, superheroes & villains, or creatures & critters.
Epcot International Food & Wine Festival at Walt Disney World Resort
Epcot International Food & Wine Festival makes its way to Walt Disney World beginning in July. You can get a savory taste of food and beverages from around the world. The festival features over 30 global marketplaces throughout the park. Anyone of age can sip on wine, beer, and spirits as you experience exotic dishes.
The event is fun for everyone of all ages with activities for the whole family. There will be culinary demonstrations, seminars, celebrity chefs, and live music concerts. The Food & Wine Festival runs from July 14 to November 19, 2022, at Epcot Center in Lake Buena Vista.
Chalk Festival
Head to the Chalk Festival in Venice, FL and see the stunning artwork by renowned artists from all over the world create 3D illusions and fine art on the pavement of Venice Airport Festival Grounds.
The "Spirited" cultural art experience will also feature an interactive zone where anyone can get creative with chalk. Art enthusiasts will especially love a behind-the-scenes view of the artist's process before the final day.
You can spend the day viewing breathtaking art, shopping and eating from the arts and craft vendors, and getting in touch with your artistic side at the Chalk Festival.
The festival does not last long. It is a short four-day event that runs from October 28-31.
Oktoberfest of the Palm Beaches
Oktoberfest of the Palm Beaches brings German culture to Florida. You can get a taste of bratwurst and schnitzel while you sip on imported beers at this festival.
You don't have to leave the kids with a sitter. The festival includes family-friendly activities such as carnival games, arts and crafts, live entertainment, and folk dancing.
Coconut Grove Pumpkin Patch Festival
The Coconut Grove Pumpkin Patch Festival, located in Regatta Park, features everything you might want during your fall adventures.
You can decorate your pumpkin after picking the perfect one from thousands of choices. Children can get lost in a kid-friendly corn stalk maze or hop on a carnival ride. There will also be live shows and pumpkin beers for the adults.
ICON Park
Icon Park once again is the place to go for some October fun. The massive park is celebrating Oktoberfest at The Wheelhouse. The Sausage Shack will be serving Oktoberfest meals and drinks. You can enjoy Oktoberfest beer brat topped with kraut and mustard or a Bavarian pretzel with beer cheese.
The Wheelhouse Bar will also be celebrating Oktoberfest, serving specialty Oktoberfest beer.

Other Things to Do in Florida in October
Florida has plenty of festivals and theme parks to fill your day in October. Still, every day does not need to be an adventure. If you are looking for something casual and unrelated to the spooky season, check out these year-round activities Florida has to offer.
Winter Park Autumn Art Festival
Support local artists of Winter Park at the Autumn Art Festival. Artists present their artwork at the community-tailored sidewalk show. You can find unique pieces of ceramics, jewelry, and art to purchase as a souvenir.
You can also experience live entertainment while your children dive into art activities. The price of admission is free.
Hike the Florida National Scenic Trail
The weather in October is perfect for a hike. Explore the wildlife and enjoy the calming nature as you walk along the 300 miles of planned trails of the Florida National Scenic Trail. Nature lovers can find peace among the trail, and experience swamps, lakes, rivers, and pine forests.
With fewer pesky bugs and a cooler climate, October is considered the perfect month to enjoy a hike.
Visit a Water Park
Although October weather is known to be cooler, some days can still get hot. Keep your cool at any of Orlando's most popular water parks.
Universal's Volcano Bay, Aquatica Orlando, Discovery Cove, and Disney's Typhoon Lagoon Water Park are among the top parks that will keep you cool and entertained with their heated water slides, lagoons, and lazy river pools.
Universal CityWalk
If daring rides and haunted houses are not your thing, you can skip the theme park and take a walk through CityWalk to find your kind of fun. The entertainment complex is a trendy hotspot for nightlife. It is filled with trendy restaurants, clubs, and shops, and hosts special events.
Orlando Science Center
Visit the Orlando Science Center for some educational fun. The science center encourages exploration, curiosity, and fun learning, and features exhibits, a giant screen, and 3D films.
The Orlando Science Center makes science and learning exciting.
Go Shopping
Head to the Mall of Millennia to snag some souvenirs and a new wardrobe. You can spend an entire day exploring the massive and beautiful mall featuring over 150 retailers.
You can also visit the Orlando International Premium Outlets to bring home discounted goodies. The outdoor shopping facility has over 180 outlet designer and name-brand stores that offer amazing deals on designer products.
Visit a Beach
You can't visit Florida without stopping by a beach. Although the temperatures are dropping, you can catch a perfect beach day at a beach on the Florida Suncoast. Beaches on the Suncoast such as Clearwater Beach and St. Petersburg Beach are the perfect spot to take in the last bit of summer-weather beach fun.
Final Thoughts
October is the perfect month for a leisure getaway to Florida. The crowds are smaller, it is less expensive, and the weather is more enjoyable.
Florida offers festive events and activities for everyone to enjoy. From theme parks to haunted houses, harvest festivals and art shows, and nature and beaches, there is no reason to hesitate to go to Florida in October.
More about our TFVG Author
A seasoned traveller, Dad, and avid sports tourist, James foundered The Family Vacation Guide to share his expert vacation experiences- especially when it comes to being a travelling family man.
Featured in Travel articles such as Travel + Leisure, TripSavvy and SFGate, you know you're reading some of the best vacation tips online.