Feeding kids can be a little challenging, and it's only more true when you're on vacation. Fortunately, even your pickiest little ones won't go hungry when you're in Orlando. This Florida city is home to tons of amazing restaurants with child-friendly atmospheres and plenty of menu options to choose from. 
Here are 18 of the best kid-friendly restaurants in Orlando. Whether your family is craving Tex-Mex, burgers, or a refreshing frozen dessert, there's likely to be something here that will pique your interest.
T-Rex Cafe 
Who doesn't love dinosaurs? Your kids will have a blast at this cafe with a prehistoric twist. It's great for a relaxing dinner or lunch, or even for hosting a dinosaur-themed birthday party. It's also just within walking distance of Disney Springs, so those who are in Orlando for a Disney World vacation will want to give this place a try.
Not only is the atmosphere vibrant, but their kids' menu is, too. Your child can enjoy fun yet familiar dishes such as Cosmo's Cheesy Macaroni or Paleo Pizza. They also have some decadent desserts like Cosmic Key Lime Pie if you're craving something sweet.
Antojitos Authentic Mexican Food
Whether you're spending a day at Universal or simply looking for some authentic Mexican food in Orlando, this restaurant is a great option. It has a fun, vibrant, and kid-friendly atmosphere that the whole family is sure to enjoy.
Even picky eaters will have an easy time dining here. Their kids' menu includes simple yet authentic Mexican classics such as cheese quesadillas and adobo grilled chicken. They also have plenty of kid-friendly appetizers such as nachos and guacamole!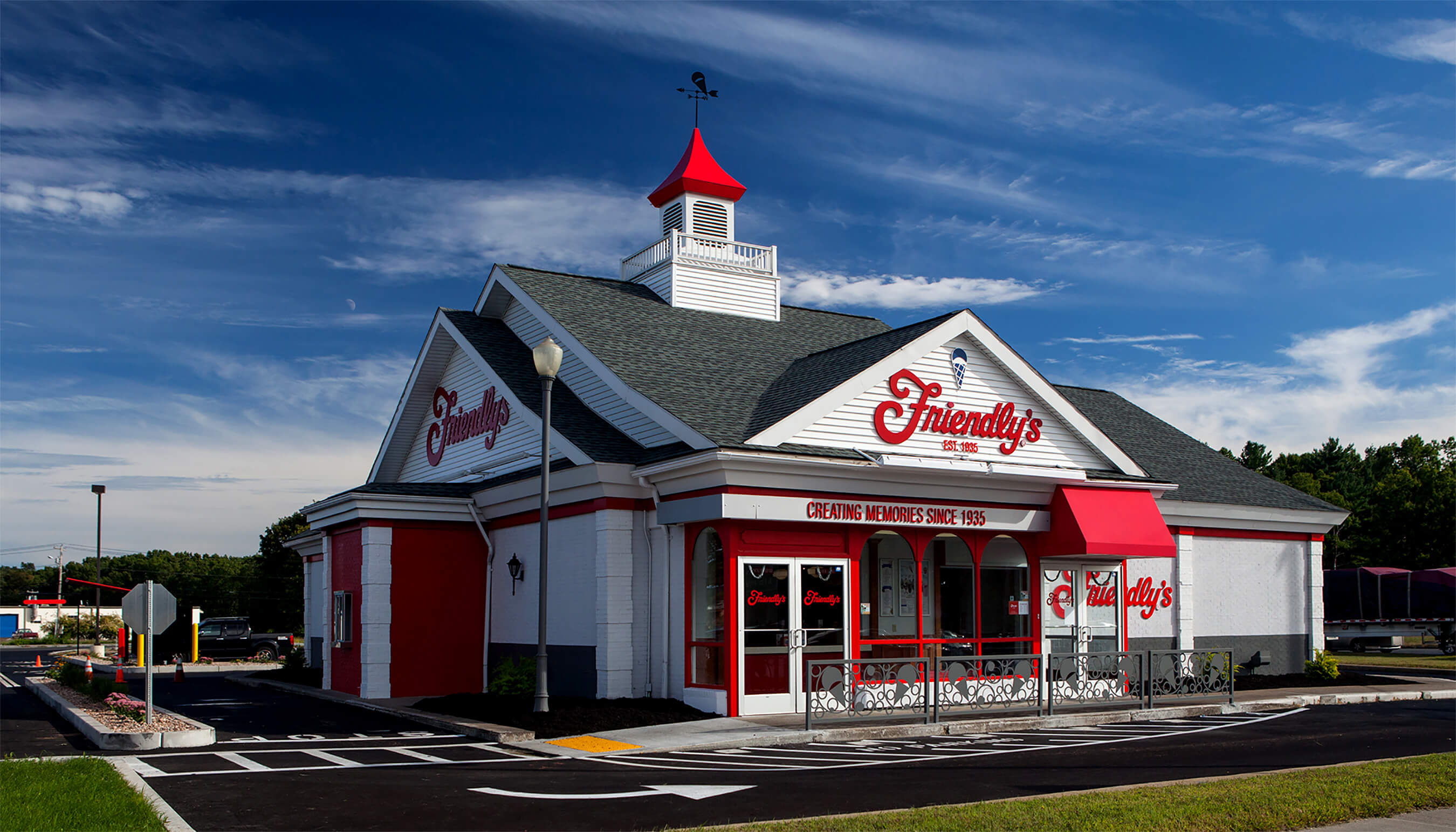 Friendly's 
This classic American-style diner is as kid-friendly as it gets. It has a relaxing and cheerful atmosphere and a rather varied menu, so your children should have an easy time finding something they'll love.
Their kids' menu includes classics such as chicken tenders, melts, or grilled cheese with soup. Friendly's also offers a soup of the day, as well as plenty of salads for those craving something light yet nutritious.
And if your kids are craving something sweet, you'll want to try their make-your-own sundae. It includes your choice of ice cream with a variety of unique toppings, including marshmallows and gummy bears.
IHOP
Looking to dine-in for breakfast or brunch? This cozy diner is the way to go. And if you'd rather not dine in, they now offer take-out as well. Because this is a popular chain restaurant throughout the U.S., it's great for kids who are wary about dining at new places.
IHOP has a reputation for its delicious pancakes, but that's far from the only option on their menu. Waffles, French toast, and omelets are just a few of their popular breakfast items.
If you're stopping by later in the day, they have a non-breakfast menu as well. It includes burgers and even Tex-Mex! 
Grills Lakeside Seafood Deck & Tiki Bar
The weather in Orlando is lovely year-round, so why not make the most of it? Consider stopping at Grills Lakeside Seafood Deck & Tiki Bar for a meal with a beautiful outdoor view.
This tiki bar is a great place to dine in for breakfast. Kids will love their Crabby Franks Benedict, Cinnamon Roll Slam, and Alli's Pizza Omelette. And if you're looking for a more refreshing breakfast, you could opt for their colorful fresh fruit plate.
When you dine here later in the day, you can expect equally delicious options. You can enjoy dishes such as grilled fish in all its forms, grilled shrimp kabobs, and more.
Hot Krust Panini Kitchen
Hot Krust Panini Kitchen is the perfect place to settle down for lunch. As their name suggests, they offer a wide variety of paninis, including Chicken Caprese and Philly Steak. Kids with a sweet tooth may also want to try their Nutella Marshmallow panini!
But if you're not in the mood for paninis, they offer burgers, soups, and wraps as well. No matter what you get, you can pair it with some delicious french fries.
It's also a suitable option for families and children with dietary restrictions. Hot Krust offers gluten-free, halal, and vegan options, so there's something here for everyone. 
Mrs. Potato Restaurant
Potatoes are one of the most versatile ingredients on earth, and Mrs. Potato Restaurant knows how to make the most of them. Kids are sure to find something at this Brazilian restaurant that will satisfy their taste buds!
Consider trying their special Rosti Potatoes. With a crispy hash brown exterior and your choice of meat or veggie filling, they're super filling and super delicious. And if you'd like to stick to something more familiar, they also offer baked potatoes and french fries.
If you're craving something sweet, you can finish off your meal with a refreshing bowl of ice cream or some churros!
Capone's Dinner & Show
If you're looking for a meal and some entertainment, you'll want to head over to Capone's Dinner & Show, one of the best family dinner shows in Orlando. This immersive and interactive experience is one your kids will surely remember. 
As you enjoy the show, you can enjoy food that fits the restaurant's Chicago gangster theme. The menu can vary depending on the day, but it tends to stick to a general Italian-American theme. They also have a designated kids' menu, so there's sure to be something your little ones will love. 
Bosphorous Turkish Cuisine
Are your kids in the mood to try something new? Bosphorus Turkish Cuisine has a kid-friendly environment and a menu full of authentic Turkish dishes.
You'll definitely want to order one of their appetizers if you're coming here with your kids. Warm bread served with hummus or cold cucumber dip can make a nutritious yet kid-friendly treat.
As for the main courses, falafel is a notably popular choice for children. It's crispy, deep-fried, and tastes delicious with some fresh tahini sauce.
Keke's Breakfast Cafe
Need something that will fill your kids with energy for the day ahead? You'll want to have breakfast or brunch at Keke's Breakfast Cafe.
It has a relaxing atmosphere that's perfect for the little ones. Their menu is also full of kid-friendly options like silver dollar pancakes or blueberry waffles.
If you stop by after 10:30, you can enjoy their lunch menu items like paninis, macaroni and cheese, or burgers with fries.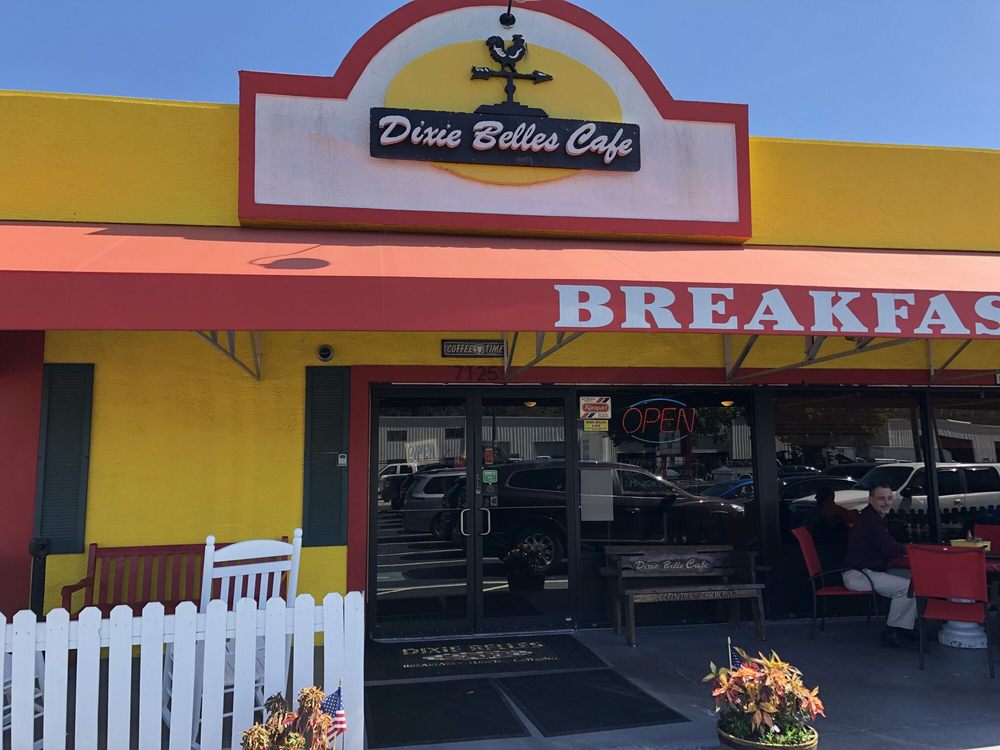 Dixie Belle's Cafe
At Dixie Belle's Cafe, you can get southern-style cuisine in a super family-friendly atmosphere. They serve breakfast, lunch, dinner, and dessert, so you can stop by any time you need a hot meal.
They include everything you'd expect from a classic diner, from omelets to steaming hot bowls of soup. They even have sweet potato biscuits, which taste great with a little butter and honey.
For your younger children, their "little bellies" menu has plenty of delicious options in kid-friendly portions. Pancakes, meatloaf, and grilled cheese are just a few tasty comfort foods they offer.
Freddy's Frozen Custard & Steakburgers
Whether you dine in or take out, Freddy's Frozen Custard & Steakburgers in Orlando is a perfect kid-friendly restaurant. Their sweet and savory dishes are equally delicious, so be sure to save room for dessert.
The Dirt 'n' Worms Sundae is a fun and colorful option that kids are sure to love. It has a custard or ice cream base with a sprinkle of crushed-up cookies, all topped off with some colorful gummy worms.
As for the main course, their kids' menu includes burgers, hot dogs, chicken tenders, and grilled cheese. All kids' menu items come with a side of french fries or applesauce. 
Ginther's Swirls Ice Cream
After experiencing Orlando's scorching hot weather, your kids may want to settle down for some ice cream. Ginther's Swirls Ice Cream offers a huge selection of ice cream flavors and treats that will leave everyone satisfied and refreshed.
For something easy to enjoy on the go, you may want to try one of their milkshakes or malts. And if you want an ice cream cone with a unique twist, consider one of their Flavorburst ice cream swirls. They even have a Dole Whip float for those craving this iconic Disney World treat.
Agave Azul Cocina Mexicana
There are plenty of authentic Mexican restaurants available in Orlando, and Agave Azul Cocina Mexicana is among the best.
You can stop by before 3 on Sundays for their Vibras Sunday Brunch. During these hours, they'll offer tasty Mexican-themed breakfast dishes such as Enchiladas Ixtapan and Chilaquiles.
As for their standard menu, there are plenty of options that even picky kids will like. Chips with queso and street corn are just a couple examples of kid-friendly appetizers they offer. They even have a create-your-own combo option, so your kids can include everything they love and leave out everything they don't.
Boma – Flavors Of Africa
If you're craving African cuisine from breakfast to dinner, you'll want to dine at Boma – Flavors of Africa. Their restaurant is in the Animal Kingdom Lodge, so it's a great place to sit down after a journey through Disney World.
When you're at this atmospheric restaurant, you can dine on authentic dishes from several parts of Africa. From Moroccan-style pita and hummus to the Sengelese Yassa-style salmon, you'll experience flavors all across the continent!
And for kids who aren't in the mood to expand their palate, they also serve more familiar dishes like macaroni and cheese and pasta with marinara.
The Cheesecake Factory
Be sure to come here with an empty stomach, because The Cheesecake Factory has some rich, hearty dishes served in massive portions. They make everything on their menu from scratch, so rest assured that you'll have a fresh meal when you dine here.
Their kids' menu includes classics such as spaghetti, mini corn dogs, and even grilled salmon. They also have a breakfast menu, so you'll want to stop by early in the day for one of their steaming hot omelets.
True to its name, The Cheesecake Factory has a huge selection of cheesecakes to end your meal on a sweet note. Lemon raspberry cream and salted caramel are just a couple of the rich flavors they have to offer. 
Bread Box Hand-Crafted Sandwiches
The vibrant and colorful aesthetic of this restaurant gives it a notably kid-friendly atmosphere. Appearances aside, Bread Box Hand-Crafted Sandwiches can serve your whole family a deliciously satisfying meal. It's also in Universal Orlando, making it a convenient place to dine if you're staying over at their resort.
They have plenty of vegetarian and vegan options, so even those who prefer plant-based ingredients can enjoy a satisfying meal here. You can choose between a side of fries, tater tots, or coleslaw with every melt sandwich.
There is also a designated kids' menu, including BLTs and ham and cheese melts, for those seeking smaller portions.
Flippers Pizzeria
Families looking for some high-quality Italian dishes can find what they seek at Flippers Pizzeria. Their brick-fire oven gives their pizzas and calzones a crisp texture that's nothing short of delicious.
If your kids are in the mood for pizza, you can build your own for the whole family to share. They offer just about every topping you can think of, and they have several different kinds of cheese to choose from.
Alternatively, you could order individual dishes like their calzones or brick-fired sandwiches if everyone in the group is craving something different. And if you have room for dessert, you'll want to order a batch of their freshly-baked chocolate chip cookies.
Conclusion
Orlando is home to plenty of amazing restaurants, including casual diners and themed eateries with extravagant props. There are so many options that it's hard to narrow down the best kid-friendly restaurants in Orlando.
So when you visit this popular tourist town, you won't be short on places to eat; dine-in or take out, you're in for a delicious meal. Whether your kids are a little adventurous when it comes to food or prefer to stick to their favorites, there's sure to be a restaurant out there that will have them clean their plates.
More about our TFVG Author
A seasoned traveller, Dad, and avid sports tourist, James foundered The Family Vacation Guide to share his expert vacation experiences- especially when it comes to being a travelling family man.
Featured in Travel articles such as Travel + Leisure, TripSavvy and SFGate, you know you're reading some of the best vacation tips online.