Summer vacation is just around the corner, which means Florida will welcome plenty of residents and tourists to its pristine beaches, exciting amusement parks, and warm weather.
Located in the Southeastern part of Florida, Miami is an infamous city known for its bustling nightlife, which attracts many people. 
But if you find yourself in Miami looking for more of a laid-back atmosphere, you may find your answer in a destination not that far. Just 160 miles southwest of Miami is the island city of Key West.
So whether you choose to fly, drive, or take a boat, getting there is easy and absolutely worth it.
How Can I Get There?
Regardless of your schedule, physical capabilities, family size, and budget, you'll be able to reach Key West from Miami without issue. Here are the primary ways you can get there.
By Car
Driving to Key West is an absolute must if you are a fan of scenic routes. Take a rental or your own vehicle down US 1, also known as the Overseas Highway, and you will see how it got its name.
You'll drive directly above ocean water and across a thin chain of islands and bridges that make up the Florida Keys. This 113-mile roadway exists above the waters of the Atlantic Ocean, Florida Bay, and the Gulf of Mexico.
While this trip will take roughly 3.5 hours, you will want to add on more time if traveling on a weekend or holiday. If you have the time to stop and explore the beautiful Florida Keys, consider checking out their many great tourist attractions.
The John Pennekamp Coral Reef State Park, for example, is an underwater park in Key Largo that features kayaking, snorkeling, scuba diving, and setting sail on a glass-bottom boat tour. The Theater of the Sea is a marine park that includes sea lion shows, parrot encounters, and even swimming with dolphins!
By Shuttle
If you want to travel from Miami to Key West by land but would prefer a hands-off experience, there are several regular bus services between Miami and Key West. Greyhound offers numerous pickups and dropoffs between Miami International Airport and Key West, including Key Largo.
Keys Shuttle is also an option if you prefer a smaller bus. These shuttles carry twelve people and provide three trips daily between the Miami International Airport and the Florida Keys.
Island Queen is another option alongside Greyhound and Keys. Departures happen daily between 6:10 and 7:30 AM. Pickup is available from select hotels in Miami as well as the airport.
You are free to explore Key West as you please when you arrive. Dropoff takes place between 8:30 and 9:30 PM. The entire voyage lasts approximately thirteen hours, and the low ticket prices make it worth it – adults pay $45, children between 4 and 12 pay $35, and kids under four years old can ride for free.
Transportation services are also available. Florida Keys Express Shuttle, LLC is a daily car service to and from the Miami airport that allows you to "Travel With Ease Throughout the Florida Keys." You can even ride in style, as they provide vehicles ranging from 11-passenger Mercedes Benz vans to stretch limousines.
Shuttles are an excellent option for those on a tight budget, especially with gas prices reaching all-time highs. However, it's important to note that it may not be the quickest option, as some shuttles can take up to five hours to get you from Miami to Key West.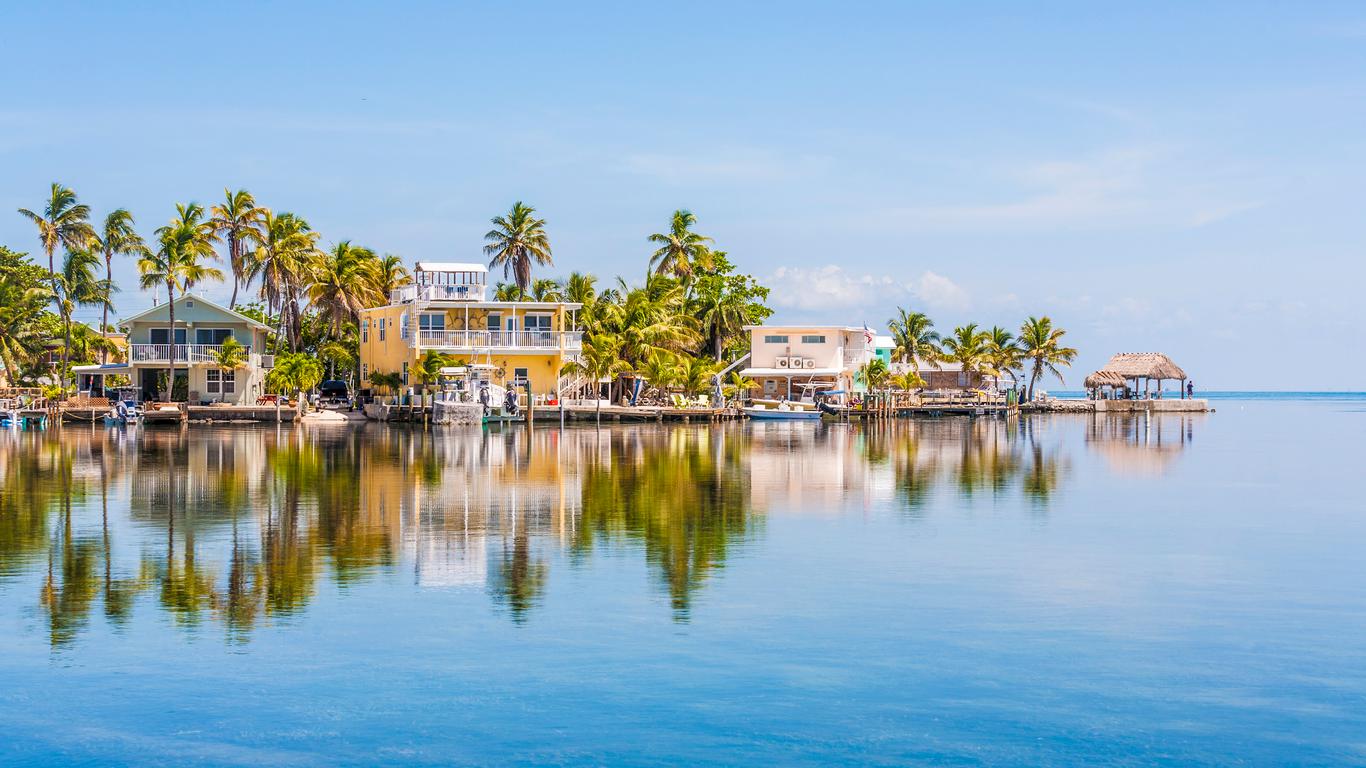 By Air
If you're not worried about the price of traveling and you want to take the quickest route, flying is a great option. Many major airlines serve Key West, including American Airlines, Delta, and United.
While the direct flight takes just under one hour, you will want to factor in extra time at the airport. Fares can cost upwards of $300 and even higher if you travel on the weekend or over a holiday. So, if you want to fly but the cost is an issue, consider traveling during the week and looking for deals.
For those with no budget caps, private charters also operate along the route from Miami to Key West. Air Key West offers a direct private flight and can seat either five or nine passengers, depending on the plane you need.
The five-passenger aircraft costs around $1,100 while the nine-passenger runs about $2,200. If you are traveling with a group of friends or family members, a private charter may be the best option if you split the cost between everyone, as each person would only pay about $230 – that's cheaper than most flights these days.
By Water
If you are not prone to seasickness, traveling by boat to Key West from Miami could be an exciting and refreshing option. While there are no regular ferry services between the two cities, many charter companies offer boat rides. Miami Charters offers a variety of options.
If you are looking for an exhilarating adventure, you can take a speedboat ride. On the contrary, if you prefer something more laid back, you can take a sailing yacht. They even have fishing charters so you can enjoy a mini fishing trip on your way to paradise. Prices vary by boat, so your best bet is to call them and request more information.
If you want to explore Key West as a stop on a long voyage, you might be interested in taking a cruise. Royal Caribbean offers numerous cruises out of Miami that port in locations like Key West and the Grand Cayman Islands.
If this interests you, but you're not sold on taking a weeklong trip, they also offer shorter cruises that depart on Friday and return on Monday. Royal Caribbean often offers family deals, so check those out on their website!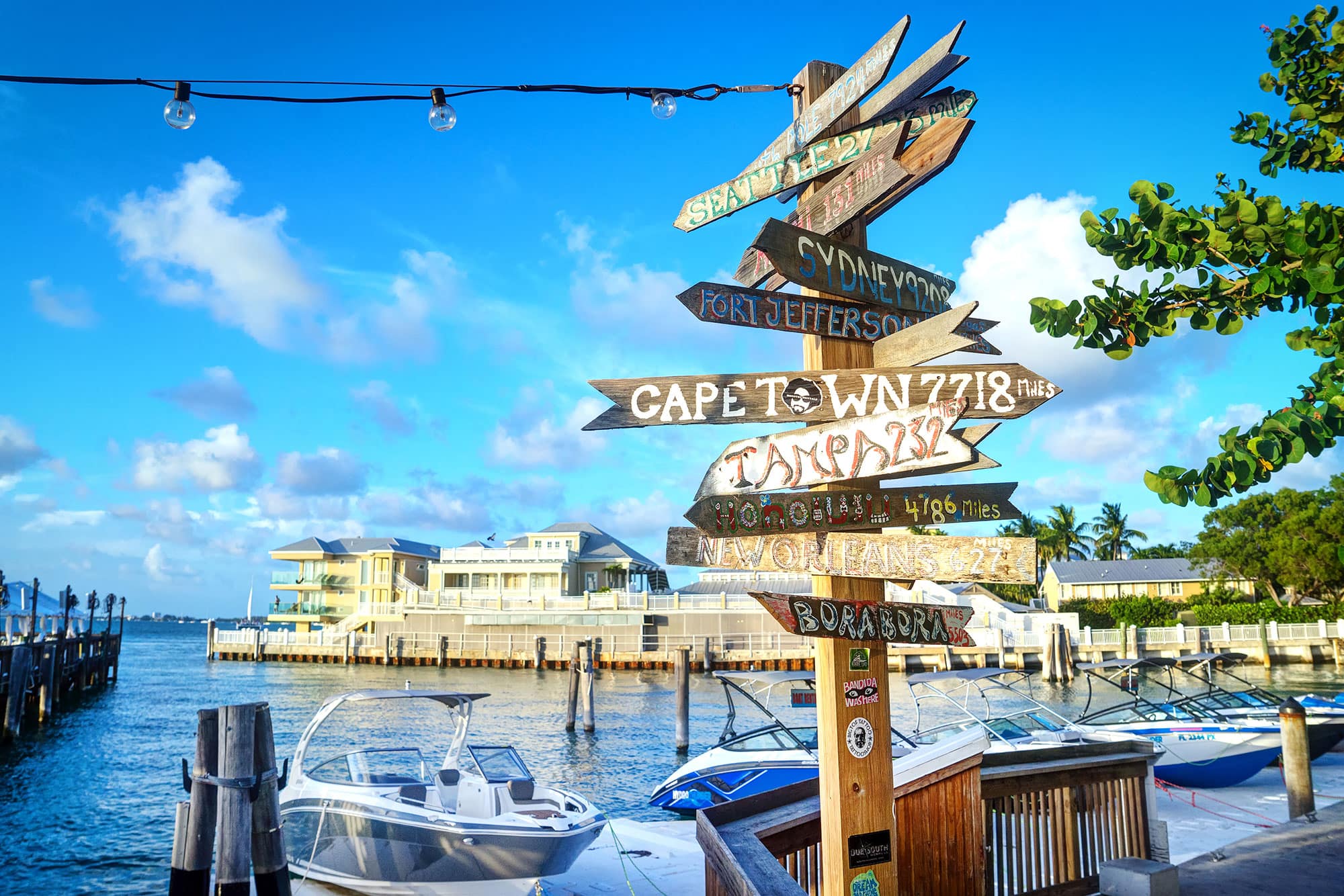 What Are the Best Times to Travel?
When you travel to Miami or Key West will depend on your own schedule. However, here are some recommendations for which times of the year are the best for your budget, the weather, or events.
Budget-Friendly
If you are yearning to travel from Miami to Key West but are on a tight budget, you can still make it happen – you'll just need to be flexible! You'll probably want to avoid traveling during holidays, the spring break season, and summer vacation.
These are the busiest time frames in Florida, which means prices for everything surge. The best times to travel cheap are usually January — February and late August — November.
Flight and hotel prices drop drastically during these periods since kids are back in school, reducing the number of tourists. The average plane ticket from Miami to Key West in January is, on average, about $200 round trip, which can save you hundreds of dollars alone.
Weather
Florida is known for being warm year-round, but there are many different levels of warmth that people prefer. The spring season typically runs from March to May, and the fall season is from September to November. Both spring and fall see similar patterns of temperatures ranging from the mid-70s to the high 80s.
With Miami and Key West both located in the southern part of the state, they tend to experience temperatures on the higher end of that range. If you prefer mild warmth, then going to Key West in the spring or fall is your best bet.
For the brave warriors who enjoy the blistering heat, the best time to travel to Key West is in the summer. Temperatures can reach the high 90s from the end of May until the middle of September.
However, with this heat comes the chance for tropical storms, as hurricane season starts in June and often can last until October. Therefore, if you choose to travel during this season, you must go with caution and a plan.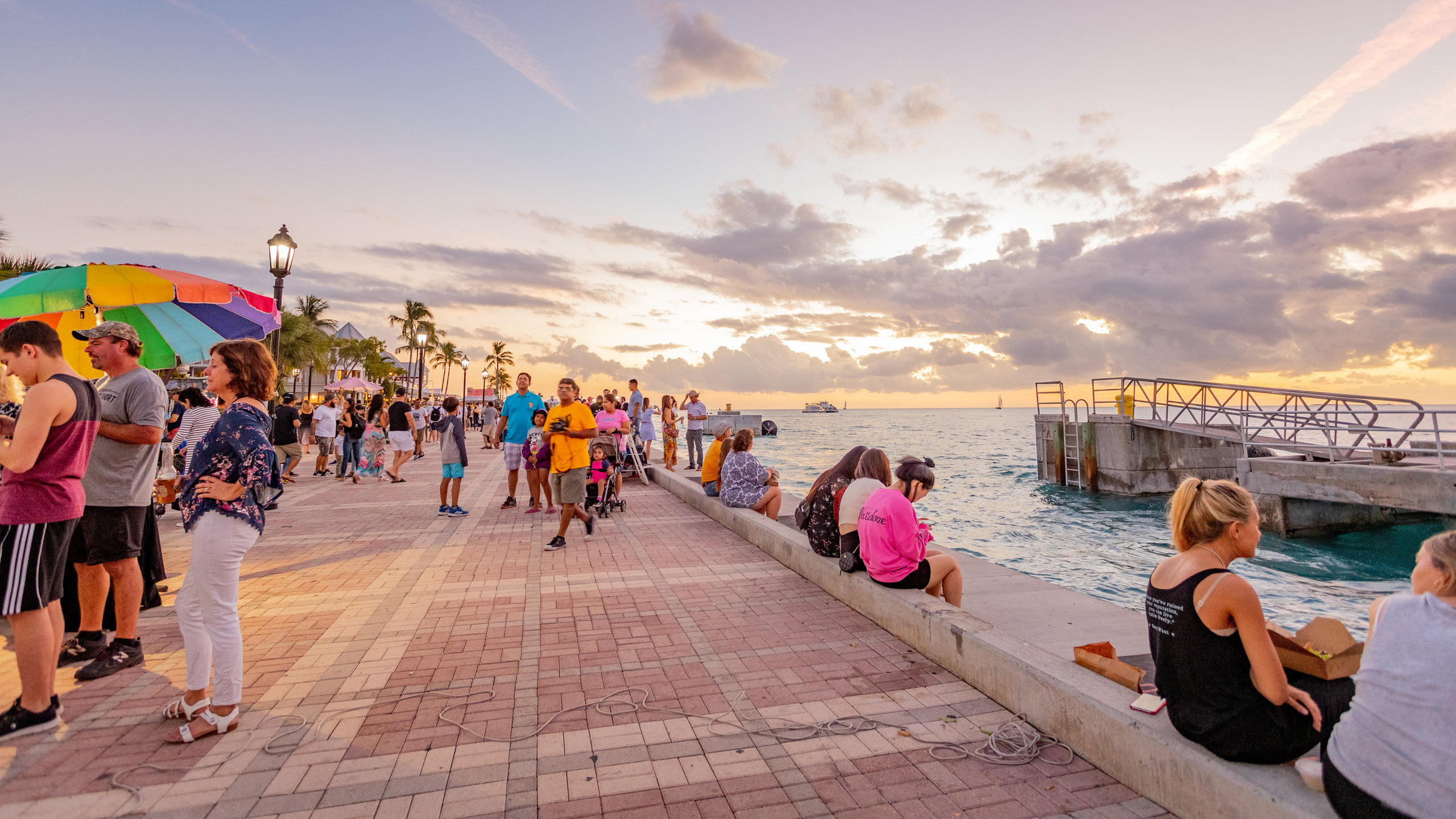 Crowds
Miami is no stranger to tourists. In 2019, Miami had over 24 million tourists visit throughout the year. 46% of those tourists visited the beach. If you are looking to meet new people or enjoy the ambiance of tourism, then traveling during the summer is a great option.
On the other hand, if you prefer a laid-back and easy-going experience with shorter lines and fewer people, traveling during January and February might be your best bet when Florida sees its slowest foot traffic. Plus, fares are the cheapest during this time, so it's a win-win situation!
Events and Attractions
Along with amazing beaches, Miami and Key West are known to host fun events and attractions year-round.
The Ultra Music Festival is an electronic dance music (EDM) festival held in Miami each year, usually on one of the last weekends in March. This festival draws in tourists from all over the world and has hosted some well-known musical artists such as Marshmello, The Chainsmokers, and the late Avicci.
If you are looking for more of a family-friendly attraction, the Miami Zoo is iconic, as it's the largest zoo in Florida and the fifth-largest in the United States. The zoo has everything from animal exhibits to giraffe and rhino feeding and even safari and pedal boat rides.
After you finish exploring Miami, you can head down to Key West and check out their butterfly conservatory, where you can experience more than 50 different butterfly species.
You can also check out the southernmost point of the United States. Key West has a red, black, and yellow concrete marker at the corner of Southhead and White Street. Take some pictures with the marker and enjoy the many vendors, street performers, and souvenir shops located around the tourist spot.
More about our TFVG Author
A seasoned traveller, Dad, and avid sports tourist, James foundered The Family Vacation Guide to share his expert vacation experiences- especially when it comes to being a travelling family man.
Featured in Travel articles such as Travel + Leisure, TripSavvy and SFGate, you know you're reading some of the best vacation tips online.