Taking a family vacation to Disney World requires detailed planning, and mealtimes are no exception. Planning family meals during a Disney trip involves sticking to a budget, considering your kids' food preferences, and making a meal schedule that optimizes your time spent in the parks.
One of the key elements of Disney dining is casual restaurants. Every park in Disney World has a large selection of casual restaurants that are less expensive than full-service dining and allow your family to grab a quick bite in between visiting the attractions.
If you're looking for a casual lunch or dinner option in Hollywood Studios, PizzeRizzo is an excellent option.
PizzeRizzo has a convenient location in the park and offers yummy food that both children and adults will enjoy. Read on to learn more about the dining experience at PizzeRizzo in Hollywood Studios.
What Is PizzeRizzo?
PizzeRizzo is a casual quick-service restaurant located in the Grand Avenue area of Hollywood studios. Situated near the Muppet Vision 3D attraction, PizzeRizzo sticks to the Muppets theme and operates as the Muppet Rizzo's New York-style pizza parlor. You can find decorations throughout the restaurant that pays homage to Rizzo and his rat family, as well as references to the other Muppet characters.
The PizzeRizzo menu offers fast-food pizza, sub sandwiches, and a few other pizza parlor-inspired dishes. The menu also has several alcoholic beverage options for adults. Although this spot isn't the fanciest dining option in Hollywood Studios, it's convenient and satisfying for families looking for a quick-service restaurant in the Grand Avenue region of the park. PizzeRizzo is open seasonally, so be sure to check whether the dining option is available during your trip to Disney World.
History of PizzeRizzo
PizzeRizzo looks like a worn-down New York pizza parlor that has been around for generations, but in reality, it's a relatively new restaurant in Disney World. PizzeRizzo replaced the Toy Story Pizza Planet Arcade, a Toy Story-themed pizza place that had become outdated in comparison to the newer attractions in Hollywood Studios.
PizzeRizzo opened in 2016 as a part of Disney's plan to transition the Streets of America section of Hollywood Studios into the Muppets Courtyard since Disney acquired the Muppets franchise in 2004. The concept for Muppets Courtyard quickly changed to the Grand Avenue in 2017, but the Muppet-themed attractions PizzeRizzo and Muppet Vision 3D remained as a part of Grand Avenue's trendy urban aesthetic.
PizzeRizzo Dining Experience
As with all Disney restaurants, the Imagineers designed PizzeRizzo to be a complete experience, paying attention to decorative details while planning for quality service and a fine-tuned menu.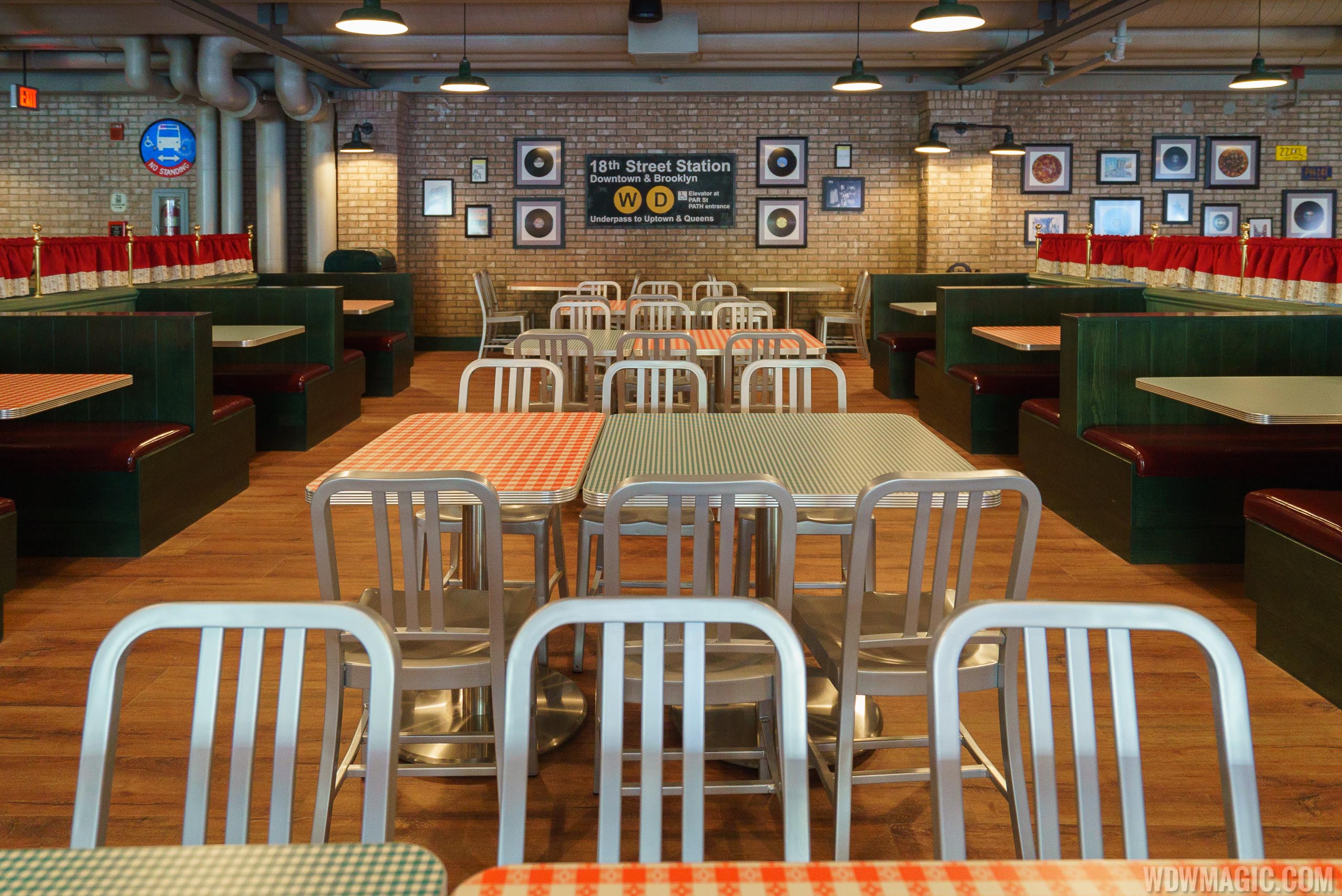 Service and Ambiance
PizzeRizzo is a quick-service restaurant and follows the same service format as most quick-service Disney restaurants. The ordering area has several queues for you to wait in, and once you get to the counter, you place your order, receive your food, and go to the register to check out.
In terms of ambiance, PizzeRizzo does a decent job of making you feel like you're in an old-school family pizzeria. The exposed brick walls host an ample amount of decor that references the Muppets and New York City. The tables and booths are identical to the ones you would find in any pizza joint.
In the upstairs seating area, you can crash an in-progress wedding reception in the banquet hall, complete with a disco ball and gold chairs. If you prefer to dine outside, there are plenty of tables on the PizzeRizzo patio, as well as more tables that extend past the patio. Some of the best seating is on the second-floor covered patio, which provides you with fresh air and a fabulous view of Grand Avenue.
Food and Drink Options
The menu at PizzeRizzo's is a little controversial in the world of Disney food critics. PizzeRizzo has the ambiance of a New York pizzeria, but they do not make New York-quality pizza. Instead, you can expect typical theme park pizza.
PizzeRizzo has four pizza options on the adult menu: cheese, veggie, pepperoni, pepperoni, and sausage. The kids' menu offers cheese and pepperoni pizzas. The pizzas are small and meant for one person. They have thick dough and typically are heavy on the toppings. It's not fine cuisine, but the pizzas do hit the spot after a long morning walking around Disney World. Plus, a simple pizza is awesome if you have a kid who is a picky eater.
Aside from pizza, you can also get a meatball sub or antipasto salad. The meatball sub is arguably the best item on the adult menu at PizzeRizzo. The meatballs are well-seasoned, and the sandwich has a generous helping of marinara sauce and provolone cheese. The antipasto salad is also quite good and has a nice, fresh taste with enough meat and veggies to fill you up.
It's also worth discussing the drinks menu. PizzeRizzo offers wine, beer, and a few Italian-inspired cocktails. If you want to try a cocktail, the frozen Italian margarita is a fun treat. Additionally, if you visit Disney during the holiday season, you can find some of the signature Hollywood Studios holiday drinks at PizzeRizzo, including regular hot chocolate for the kids and boozy hot chocolate for the grown-ups.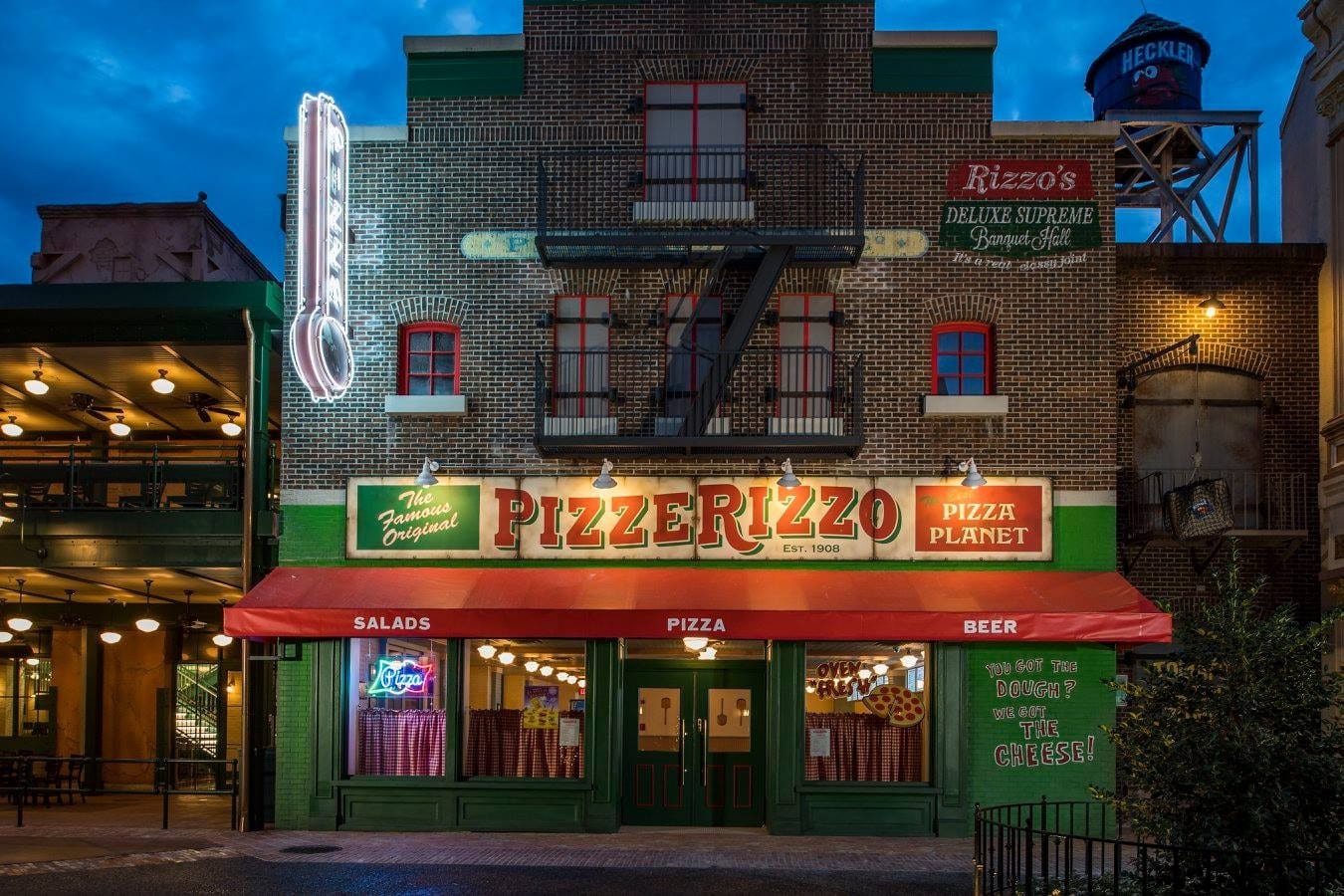 Dining Costs at PizzeRizzo
In the grand scheme of Disney dining costs, PizzeRizzo is one of the more affordable options. However, within the tier of quick-service casual restaurants, PizzeRizzo is on the slightly pricier end.
Disney Dining Plan
PizzeRizzo is usually a part of the Disney Dining Plan and counts as a counter-service credit. However, Disney World temporarily suspended the Disney Dining Plan due to the COVID-19 pandemic. While dining at Disney is now almost completely back to the way it was before the start of the pandemic, the company still hasn't announced a date for the reinstatement of the dining plan.
Current Menu Prices
Here are the current PizzeRizzo prices as of this article's date.
Adult Menu
Adult Pizzas
$10.79+
Meatball Sub
$10.49
Antipasto Salad
$10.99
Mandarin Orange
$1.99
Side Caesar Salad
$3.79
Mini Babybel Snack Cheese
$3.49
Cannoli
$5.29
Nonalcoholic Beverages
$3.49+
Alcoholic Beverages
$8.75+
Souvenir Cup
$16.99

Kids' Menu
Kids' Pizzas
$7.59+
Mini Chicken Sub
$6.99
Macaroni & Cheese
$6.99
Holiday Specials
Sugar Cookie
$4.29
Frozen Salted Caramel Hot Chocolate
$5.49
Hot Chocolates with Alcohol
$12.50+
Holiday Souvenir Cup
$18.29
For the most updated version of PizzeRizzo's offerings and prices, you can check out the official menu online.
Frequently Asked Questions
Here are answers to some of the most frequently asked questions about PizzeRizzo.
Is PizzeRizzo a quick service?
Yes, PizzeRizzo is a quick-service casual restaurant. As a quick-service restaurant, PizzeRizzo serves you your food when you order it at the counter and has lower prices than a sit-down restaurant at Disney World.
Is PizzeRizzo air-conditioned?
The inside space at PizzeRizzo is air-conditioned. If you want to enjoy your lunch in the cool air, PizzeRizzo has a large indoor dining space where you can find a table. In addition, the outdoor covered patios on the first and second floors have ceiling fans.
Does PizzeRizzo have vegetarian options?
PizzeRizzo has an inclusive menu with options for vegetarians and other people with dietary restrictions. The restaurant offers plant-based pizza, gluten-free pizzas, dairy-free pizzas, and more.
Final Thoughts
PizzeRizzo is a fun fast dining experience that is a convenient option for fueling up on carbohydrates before continuing your trek throughout Hollywood Studios. While the food isn't fancy, it is satisfying, and the spacious dining space serves as a great spot to decompress in the middle of the day. With all that in mind, PizzeRizzo deserves a place on your list of casual dining options in Hollywood Studios.
More about our TFVG Author
A seasoned traveller, Dad, and avid sports tourist, James foundered The Family Vacation Guide to share his expert vacation experiences- especially when it comes to being a travelling family man.
Featured in Travel articles such as Travel + Leisure, TripSavvy and SFGate, you know you're reading some of the best vacation tips online.