So, you're heading to Orlando, Florida!
Maybe you're hoping to spend your days exploring the incredible Disney parks or have your eye on one of Orlando's other attractions on offer.
Perhaps your idea of fun is lazing beside a pool at a gorgeous hotel, or enjoying the local nature preserves!
No matter your goal, The Grove Orlando is an excellent choice if you're looking for a comfortable, family-friendly vacation spot. Let's dive right in!
What Is The Grove Orlando?
The Grove is a 106-acre resort in Winter Garden, Orlando. It's just six miles from the Walt Disney World theme parks and set on the scenic Lake Austin amid some of Central Florida's most gorgeous conservation grounds.
The resort is surrounded by theme parks, natural beauty, luxury shopping, and entertainment centers.
Even without venturing outside the resort, there are plenty of attractions to enjoy.
These include the Spring Pools, the Surfari Water Park, access to Lake Austin, and the Escape Spa– features that are topped off with a variety of food options such as the Valencia Restaurant and Alfresco Market!
The biggest benefits of staying at The Grove are definitely its friendly, multilingual staff and spacious, apartment-like rooms.
Whether you're a family, a couple, or a group of friends, there will be something for you to enjoy at The Grove!
How To Get To The Grove Orlando
To start with, let's break down how to actually get to the resort:
Address
The Grove Resort & Water Park Orlando,
14501 Grove Resort Avenue, Winter Garden, FL 34787, USA
Directions
Unfortunately, public transport options are limited when it comes to getting to The Grove Orlando. If you're coming from the airport, you'll either need to order an Uber, Taxi, or a rental car.
If you're driving yourself, here are some quick directions to get from Orlando International Airport to the resort:
Head south on FL-417 for 13.7 miles
Take exit 3 on Osceola Parkway West, following signs for Magic Kingdom, Hollywood Studios, or Animal Kingdom
After 3.6 miles, take the ramp toward Disney's All-Star Resorts, Blizzard Beach, and Coronado Springs
Turn right onto Buena Vista Drive
After 0.5 miles, turn left onto Western Way
After 3.2 miles, turn left onto Flamingo Crossing Boulevard
Follow this road for 2.4 miles and turn left onto Avalon Road
Finally, turn right into the resort.
This drive will take around 45 minutes, depending on traffic.
Once you've arrived, follow the rotunda right around the circular drive. You should see signs for the lobby registration area in front of you and to the left. Park in one of the parking areas and head in to check into the resort.
Just a head's up Parking isn't free! There is a charge of $18 per night, plus tax.
However, if you drive an electric vehicle, you're in luck. There are two charging stations on the first floor of Garage 1.
The Grove Orlando: Everything You Need to Know Before Visiting
What To Do At The Grove Orlando
There are plenty of exciting and enjoyable things to do at The Grove without even leaving the resort. Let's explore a few!
Surfari Water Park
This water park is the main attraction at The Grove, especially for families with kids!
Entrance to the water park is included for any guest of The Grove Orlando– you just need to get a wristband from the reception desk. Once you've got one, the water park is only a 6-minute walk from the main building.
For older children and child-at-heart adults, there are plenty of things to do at Surfari Water Park.
The main attraction has to be the two, large water slides that end in the Lazy River; one a half-pipe, and the other fully covered.
If you want something more chilled out, the Lazy River is perfect. Tubes are provided for free, allowing you to float down the winding river path through waterfalls and under bridges.
This attraction is also great for younger children and toddlers, as long as they're accompanied at all times by an adult.
Young kids should check out the Activity Pool, complete with smaller slides, water spouts, and a wading pool. It's a great place for kids to wear themselves out and adults to watch from comfy, poolside chairs!
Finally, there's the zero-entry pool. The gradual slant allows you to walk seamlessly into the water, coming up to a depth of 4.6 feet.
The pool is surrounded by lounge chairs, lush gardens, and private cabanas. The water is heated all year round to keep you comfortable no matter the temperature!
All of The Grove's pools are ADA-compliant and wheelchair accessible upon request.
There are a few optional extras for additional charges if you want to enhance your experience at the water park.
Namely, a Splash Pass that allows you to skip most lines for $20 per day. Premium poolside seating is available at $50 for 2 people, and private cabanas can be rented for $150 – $375 depending on the specific unit.
Finally, life jackets are provided for free on request!
Flow Rider
Located in Surfari Water Park, the FlowRider is Orlando's first in-hotel double surf simulator.
The simulator is open for all skill levels and ages, as long as you are at least 42 inches tall and a fairly confident swimmer. It offers shared sessions at $30 for 30 minutes, and private lessons for $150 each.
This is an exciting and novel experience for adults and kids alike and is sure to add to your resort experience. Don't miss it if you drop by!
Flip Flops Arcade
Located across from the water park, the arcade has a wide variety of games for kids and adults to enjoy.
This includes many classic physical and digital arcade games including Whack-A-Mole, Space Invaders, Skee Ball, and Crossy Road. There are also licensed arcade games like the Walking Dead and Jurassic Park.
To play, you only need to purchase credits for about $25 per 100 credits. You can also purchase discounted packages for arcade credits and mini-golf games.
To sum it up: The arcade is a great rainy day activity, with a huge range of exhilarating games available!
Glow-In-The-Dark Mini-Golf
Located in the arcade, this small mini-golf course is adorned in glow-in-the-dark paint!
The entire thing is jungle-themed, with 7 holes in total. It costs about $8 per person to play, although it's cheaper if you buy a mixed arcade and mini-golf package.
You're allowed five people per group, with six strokes per hole. Despite being small, the cheap price makes this a nice break from the intensity of the arcade. It's also great for small children, being fairly easy and child-friendly.
Escape Spa
The Escape Spa is located in a quiet corner of the main hotel building.
The luxury facilities offer a wide range of pampering treatments to choose from, including Himalayan salt stones and vitamin C infusion facials. They also offer couples massages for a side-by-side, romantic evening.
Additionally, manicure and pedicure treatments are available with a range of optional inclusions such as cuticle trims and massages.
Mostly aimed at adults, options are limited for guests under 16, with 17-18-year-olds able to get most treatments if accompanied by a guardian.
If you need a quiet break from the excitement of the rest of the resort, Escape Spa is a great place to chill out and forget the outside world exists for a while.
Lake Austin Pier
If natural beauty is more your style, the resort has easy access to their Lake Austin pier, surrounded by nature reserves.
The pier is open from 10 am, depending on weather conditions. It offers incredible views of the surrounding nature reserves, as well as a serene view of the lake.
Recreational catch-and-release fishing is also on offer: You can rent equipment or bring your own, but you'll be limited to artificial bait only! The lake is home to bass, bluegill, sunfish, and catfish.
Also available are swan and paddle boats, kayaks, guided pontoon tours, and fishing charter tours. Tours need to be booked 24 hours in advance.
The beautiful surroundings of the Lake Austin pier will allow you to lose yourself in nature for a while!
The Grove Orlando Accommodations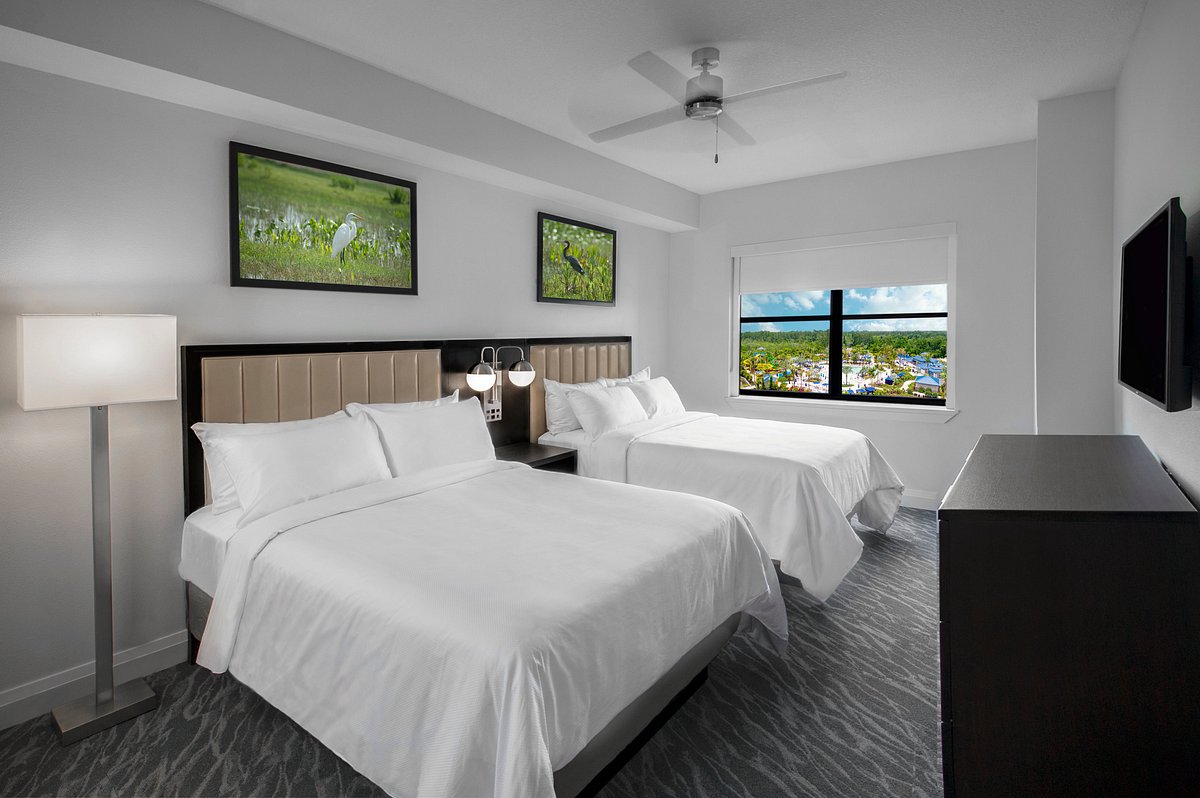 The Grove Orlando offers two or three-bedroom suites, fitting 6 or 8 people respectively. This number includes a pullout sofa bed.
All rooms have fully equipped kitchen and laundry spaces, with separate living and dining areas. They all have at least two bathrooms, as well as heating, fans, and air conditioning. Most rooms also have balconies or patios with outdoor furniture.
Daily trash removal, towel replacements, and amenity top-ups are available from housekeeping with all bookings! Additionally, when it comes to bookings of 6 days or more, there is a full room cleaning provided every 4 days. Additional cleanings can be requested but will cost extra.
Cribs are available on request, but keep in mind that high chairs and bed rails will need to be rented elsewhere.
Finally, accessible rooms can be booked on request, complete with grab bars, low kitchens, and roll-in showers for the comfort of guests.
Where to Eat at The Grove Orlando
Now that you're settled into your comfy room, let's talk about the food options at The Grove Orlando!
While there's no delivery available, all of the locations below offer online ordering pickup through the hotel website— allowing you to simply walk in and grab your delicious food!
Alfresco Market
This little market is located near the main lobby. It has basic groceries, snacks, souvenirs, and drinks that include coffee, tea, and alcohol. It's also an excellent resource if you want ingredients to cook in your room.
All food is to-go, but there's a lovely outdoor patio nearby to sit and eat if that's what you feel like!
Longboard Bar & Grill
Located with an easy view of the FlowRider, this restaurant allows you to dine in while watching surfers ride waves and wipe out!
Though not really a full dining spot, it's great for small bites and refreshments when you need a break from the pools. Longboard Bar & Grill offers cocktails, smoothies, beer, and wine for adults, as well as soft drinks for kids. It also has Hawaiian-style BBQ and traditional continental foods.
A kid's menu is also available, with all their favorite items like grilled cheese and hot dogs.
Dining is all outdoors, with some tables sheltered and others having umbrellas. In the winter, external heaters and fireplaces are rolled out to keep guests toasty.
The Springs Bar & Grill
Located in the water park, this is a great spot for a light lunch and a few drinks.
The menu lists a variety of appetizers, entrees, cocktails, and beer, all brought over from the Valencia kitchen. The food is headlined by salads, wings, shrimp cocktails, tacos, sandwiches, and flatbreads.
The Springs is perfect for brunch in between resort activities.
Valencia Restaurant
This is the most "complete" dining experience available at The Grove. Valencia offers full, 3-course dining with a mix of Southern European and continental food.
Open for breakfast between 8 and 11 AM, it lays out a full breakfast buffet with all of the expected fixings at a resort such as classics like waffles, eggs benedict, and French toast! Coffee, tea, and juice will also be there waiting for you to start your morning.
After 1 PM, the All Day menu becomes available to order with a range of delectable options like wood brick oven pizza, pan-seared salmon, and sirloin steak.
A kids menu is also provided, and during holidays and special events specialty brunch and dinner, buffets are served! Make sure to check the website to see if these are available during your stay.
The drinks selection at Valencia is exciting, with endless draft beers, wine, bubbly, and cocktails. Local, seasonal options are also on tap.
Vegan, vegetarian, gluten-free, dairy-free, and most food sensitivities are all able to be catered for. Unfortunately, kosher options are the exception and aren't available.
With a wide array of food options, most guests should be satisfied with ending their day at Valencia! After dinner, it's an easy walk back to your room for some well-deserved rest.
Attractions Nearby The Grove Orlando
What if you're itching to adventure outside the resort? Well, you're in the right place!
There are numerous options just outside The Grove for you to discover— namely, the Disney parks that are within throwing distance of the resort! They're all easy to access, with a daily shuttle to the Disney Transport Center.
Just take the morning bus from the hotel and follow the signs to your chosen destination, either on the monorail, buses, or ferry.
Magic Kingdom® Park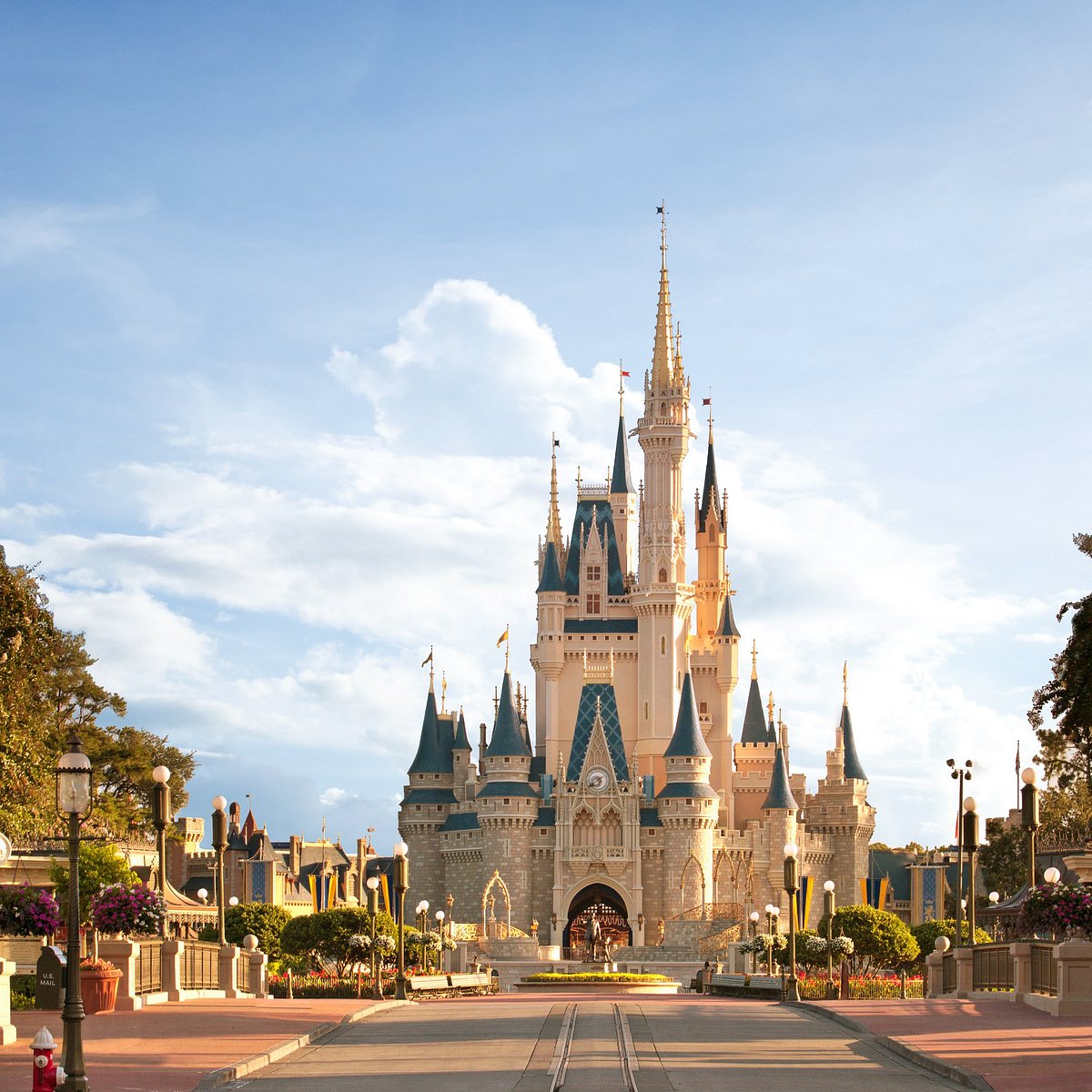 Located 16 minutes from The Grove Orlando
A place where fairytale dreams come true, Magic Kingdom is a wondrous place to explore for kids and adults alike. It has a classic, family-friendly attractions ranging across six different lands.
Here, you can see a fantasy become reality across Adventureland, Frontierland, Liberty Square, Fantasyland, Tomorrowland, and Main Street U.S.A.
Whether you want to confront the final frontier of space, sail the high seas as a pirate, or explore enchanted, magical lands, you'll find something incredible at Magic Kingdom.
Epcot®
Located 20 minutes from The Grove Orlando
A popular feature in Disney's lineup of parks, EPCOT seeks to celebrate all that is human innovation, achievement, and art.
Attractions and events are themed after different areas of the world, human achievements, and other features of our collective nature.
With a huge range of experiences, there's sure to be something for everyone at EPCOT! Festivals and events are seasonal, with examples like the Festival of Arts making each visit unique.
Disney's Hollywood Studios®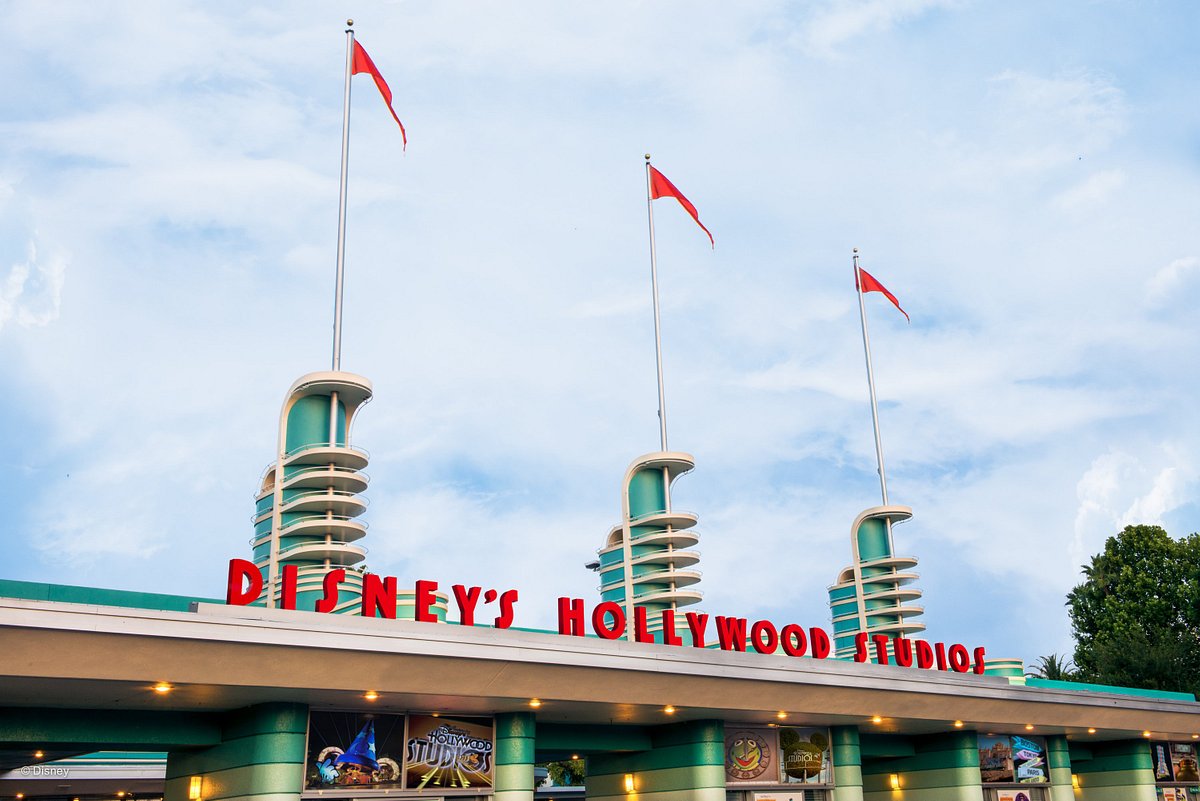 Disney's Hollywood Studios is Located 19 minutes from The Grove Orlando
Emulating the famous features of Hollywood, this park is all about fame, stardom, and famous Disney titles. Here, you can celebrate the amazing creations of Hollywood through exhilarating attractions, events, and activities.
The nine lands available here include Hollywood Boulevard, Echo Lake, Commissary Lane, Grand Avenue, Animation Courtyard, Sunset Boulevard, Pixar Place, Toy Story Land, and Star Wars: Galaxy's Edge.
Disney's Animal Kingdom® Theme Park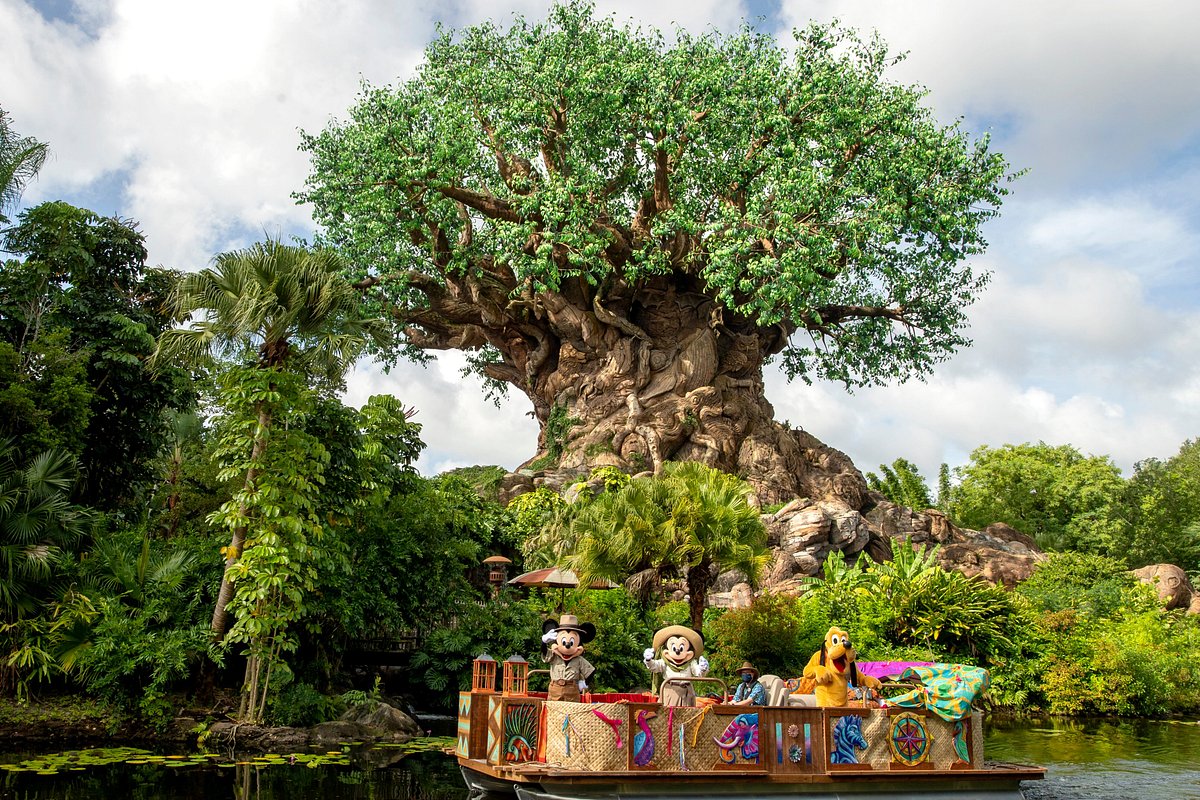 Located 14 minutes from The Grove Orlando
Being one of the largest animal theme parks in the world, Animal Kingdom offers a huge roster of 2,000 animals across 300 species.
Discover the magic of our natural world across six different, themed lands including Oasis, Discovery Island, Africa, Pandora – The World of Avatar, Asia, and Dinoland U.S.A.
Enjoy both attractions and real animal exhibits, and have fun and learn a new fact or two at the same time!
Make the Best Memories at The Grove Orlando!
The Grove Orlando is a great, central home base for a visit to Florida, allowing you to experience a huge range of what Orlando has to offer.
It offers spacious rooms with apartment layouts, in-built entertainment like Water Park, and plentiful food options to make your visit pleasant and memorable.
If the above all sounds good to you, think about booking The Grove for your next holiday!
More about our TFVG Author