Walt Disney World is known for its fun, lighthearted atmosphere. Most dining spots at Disney are casual; you can wear whatever you wear to the rest of the park and order standard family fare in comfortable environments.
But what if you want a different type of dining experience at Walt Disney World? One where you can sample fine food and relax in an opulent setting? Why not be treated like royalty while you're there? It is the place where dreams come true, after all.
Walt Disney World does indeed have some high-end dining options. Most are Disney-themed, featuring decor and characters from the company's famous films, but some are indistinguishable from any good-quality restaurant in the "outside world."
Granted, as with any other high-end restaurant, these places will cost you. Disney World's food prices can be steep across the board, but these exceptional restaurants are the most expensive choices the Mouse has to offer.
So, loosen your belt, grab your wallet, and be our guest on this tour of Walt Disney World's most expensive restaurants.
Akershus Royal Banquet Hall
At $50 for breakfast and lunch and $65 for dinner, Akershus Royal Banquet Hall isn't the priciest restaurant on our list, but it's an excellent introduction to the higher-end side of Disney World dining.
Like many of the more costly establishments at Disney, Akershus is a character dining experience. In these experiences, guests meet and chat with various Disney characters before and sometimes during their meal. Many kids will love meeting their favorite Disney characters, and parents will enjoy the delicious food choices.
Akershus is a Scandinavian restaurant where you can enjoy dishes like Norwegian meatballs, glazed pork chops, salads, and European desserts. Breakfasts feature an array of pastries, coffee, tea, juice, and more. Reviewers say the food is good, but the real draw is the princess meet and greet.
Be Our Guest
Be Our Guest is a Beauty and the Beast-themed restaurant in the Magic Kingdom. The first thing visitors rave about is the gorgeous decor. The ornate moldings, painted ceilings, and fancy table settings will impress adults and kids alike, and it truly feels like stepping straight into the Beast's castle.
When it comes to the food, the menu offers a small but respectable selection of pre-set 3-course meals. While not authentically French, the restaurant does offer French-inspired dishes like onion soup, filet mignon, and wine and cheese offerings.
Some guests who reviewed the restaurant claim that it offers lackluster food and a noisy atmosphere they could find elsewhere for a much lower cost. Others were in love with the dining experience and would visit again.
California Grill
Sometimes, when you're in Disney World, you need to take a moment to forget you're in Disney World. Long lines, noisy kids, crowds, and hours of walking can all take their toll on a grownup. No matter how upscale, a character-themed restaurant is probably not what you want when you feel like that.
Enter California Grill. This open-concept restaurant, located in the Contemporary Resort in the Magic Kingdom, offers trendy West Coast cuisine and breathtaking views of the park.
Guests can choose from an extensive menu that includes appetizers of flatbreads and sushi to main courses that include gourmet takes on chicken, beef, and seafood. Delectable desserts, cocktails, and a healthy selection of wines round out this top–of–the–world dining experience.
Capa Steakhouse and Bar
The Four Seasons Orlando is not technically a Disney-owned resort, but with its proximity to the park and location on Disney property, which allows diners to view Disney's awe-inspiring nightly fireworks, it may as well be.
It's no surprise that the hotel charges around a thousand dollars per night for a standard room, nor is it a shock that it is home to one of the best – and most expensive – restaurants in the Disneyverse.
Capa Steakhouse and Grill offers a delicious and imaginative tapas menu that will help you prepare for the main course options like hickory-grilled steaks, melt-in-your-mouth pork belly, and so much more. The restaurant specializes in modern Spanish-inspired cuisine and pays attention to every detail of the meal from start to finish.
Cinderella's Royal Table
If you or someone in your travel party is looking for a fun, luxurious character dining experience, Cinderella's Royal Table is the place for you. Depending on your schedule and preference, you can have breakfast, lunch or dinner at the castle. The building is impressive, boasting true gothic style and period decor.
Guests are greeted by Cinderella as they enter the castle and are seated at a royal-looking table. They can then pick from a short menu of specially curated dishes.
Choices for lunch and appetizers include classics like steamed mussels and a charcuterie board. Entrees include the Magic Carpet Ride; a roast pork meal served with an edible decorative covering that resembles a flying carpet. You can also get the vegetarian chickpea Panisse.
Desserts steal the show at this restaurant, with offerings like cheesecake or dark chocolate mousse with a caramel praline center served in an edible white chocolate "slipper."
Enchanted Rose Lounge
The Enchanted Rose Lounge is a Beauty and the Beast-themed bar/lounge. While it's clearly aimed at adults, it retains some of its Disney flair to remind you where you are.
The decor was designed to reflect the deep forests surrounding the Beast's castle, with antler chandeliers, woodland paintings, and hues of blue, green, and brown all around. You can opt to sit on the patio, where you can enjoy the warm breeze and pretty views. Overall, the lounge's aesthetic is spot-on.
Food-wise, the menu isn't huge. It is a bar/lounge first and foremost, so the drinks are what take center stage. Margaritas, daiquiri, mojitos, beer, wine, or whatever you like, they have a wide selection at the Enchanted Rose. You can also enjoy a curated menu of sandwiches, salads, and more, including an impressive plate of truffle french fries.
Garden View Tea Room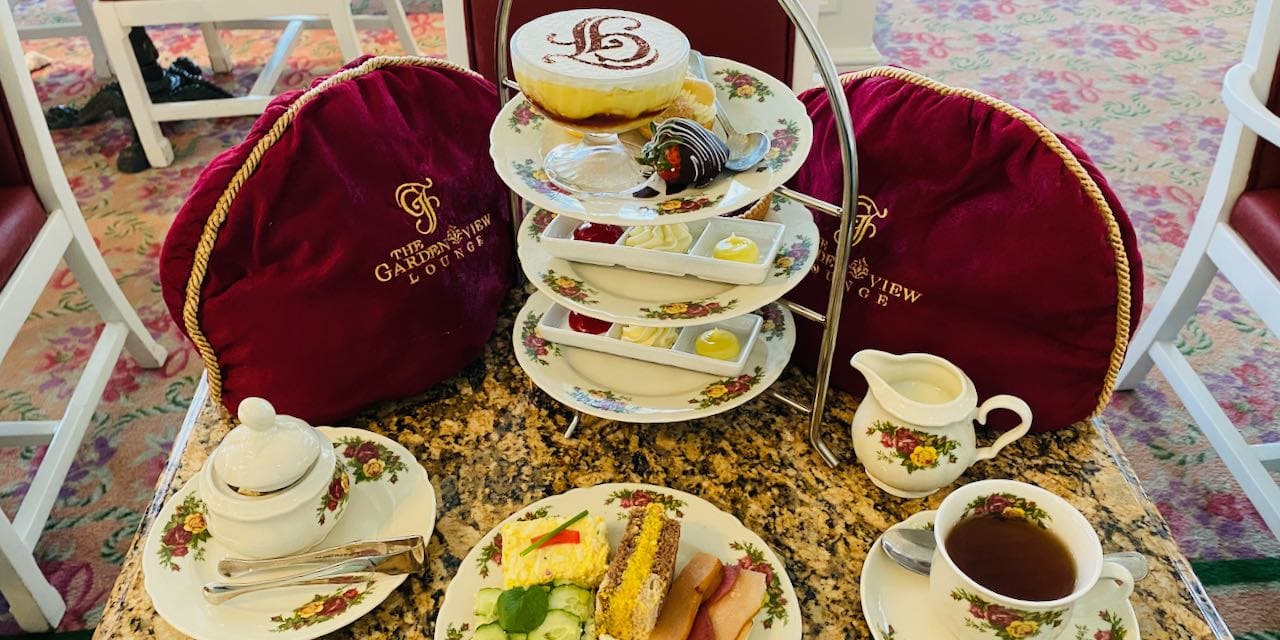 The Garden View Tea Room is part of the Grand Floridian Hotel at Walt Disney World. While the menu isn't huge, it is just the right amount of food for a relaxing, dainty afternoon tea in a posh environment.
The Tea Room is richly decorated in white and accented with deep red touches. It faces the Grand Floridian's well-kept grounds, and if you'd like, you can take a walk around the property before or after your tea.
The menu offers a wide selection of teas ( black, white, green, and herbal) as well as pastries, finger sandwiches, tarts, fruit, cheese, and cakes. It's all presented beautifully, and they pay attention to detail, giving you the feeling of a genuine luxurious tea service.
The price reflects the service, with the higher-end tea service options running you around over $100, and character teas where your child interacts one-on-one with a Disney princess costing a couple hundred more.
If you have a child who dreams of attending a real-life fancy tea party – or if you want to yourself! – then, by all means, pay a visit to the Garden Tea Room!
Hollywood Brown Derby
The original Brown Derby was an iconic chain of restaurants located in Los Angeles. These restaurants, particularly the one on Wilshire Blvd., became THE place to eat -and be seen – for the big names of Hollywood during its Golden Age.
While the Brown Derby lost popularity and shut down in the 1980s, Walt Disney World recreated this iconic restaurant in their Hollywood Studios theme park. 
The Brown Derby's menu offers a healthy number of choices, and almost all are tried-and-true classics like short ribs, shrimp cocktail, and Cobb salad. The desserts are throwback treats also, like Baked Alaska and grapefruit cake.
Due to its high-quality food and retro-cool ambiance, you'll end up paying quite a hefty price for an entree alone at the Hollywood Brown Derby.
Narcoossees
Narcoossees at the Grand Floridian is one of the top-rated restaurants in Walt Disney World. The decor features lots of natural wood accented with bright blues and white fabric, with nautical themes throughout. You'll also enjoy panoramic views from the wraparound windows, overlooking the Magic Kingdom's artificial lake.
When it comes to food, Narcoossees is all about the coast. It features mainly seafood dishes from both the east and west coasts, cooked to perfection and served with flair.
Try the buttermilk-fried Virginia crab or the Washington state Japanese oysters for appetizers. Entrees include indulgent favorites like surf and turf, Alaskan halibut and Maine lobster. Desserts, too, are a classy affair: spring cherry clafoutis, baked chocolate mousse, mango sorbet, and more.
Tiffins
If you live in North America and don't make your home in a major city, chances are you don't have many opportunities to eat African food. If you decide to eat at Tiffin's in Disney's Animal Kingdom, you'll be introduced to the tastes of Africa in a well-appointed, upscale dining atmosphere.
Start your meal with Tiffin's popular Bread Service. The platter features several types of bread served with a trio of dips. The chickpea falafel and charred octopus are also tasty starters. For the main, guests rave about the Braai-spiced veal, shrimp and grits, or North African-spiced tofu. There is also a kids' menu with child-friendly options like grilled chicken and mac and cheese.
Tiffins has a good selection of vegetarian and vegan options and gluten-free choices.
Victoria and Albert's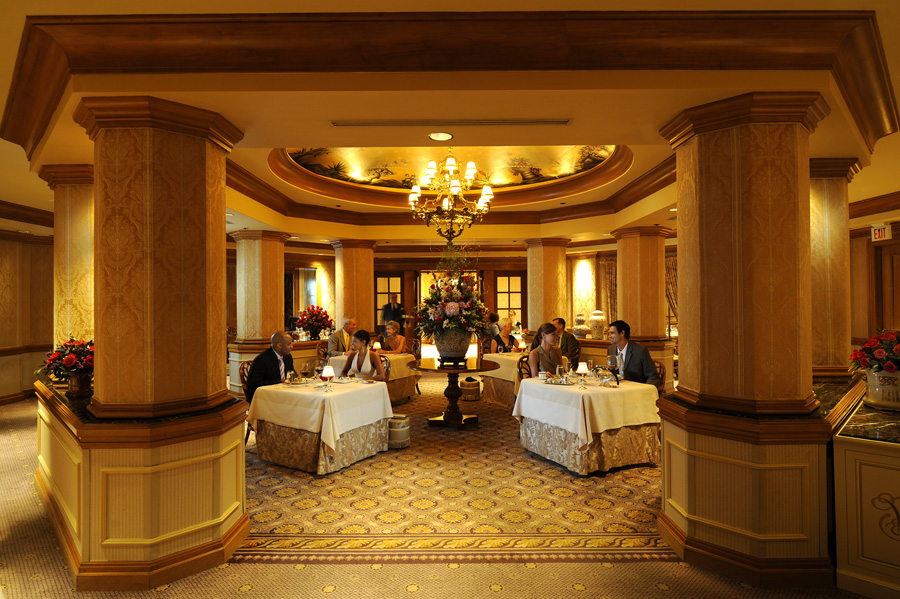 If you're looking for the cream of the crop restaurant in all of Walt Disney World, Victoria and Albert's is the one. Located in the Grand Floridian resort, this restaurant combines opulent decor and table settings with gourmet-level food. Victoria and Albert's has received a Five Diamond Award from AAA and is ranked second in Trip Advisor's best fine dining in America.
The second you walk into Victoria and Albert's, you feel like you're having a VIP experience. You'll notice the semi-formal dress code, the highly-trained servers, and the attention to detail in every area.
There is no specific menu at V&A; it operates on a "chef's choice" basis, but you can find examples online in restaurant reviews. You can expect a ten or twelve course meal served in an intimate dining room and enhanced by the impeccable service of the restaurant staff.
Needless to say, the food is top-notch, and the price tag reflects that fact. You'll pay a couple hundred dollars per person for the standard dining experience, excluding wine service. If you want the Chef's Table experience, it will cost even more.
Final Thoughts and Trip-Planning Advice
If you decide to visit any of the places on our list, please do some planning ahead of time. The schedules, menus, and reservation requirements frequently change in Walt Disney World, particularly at higher-end venues and sought-after experiences. Here are a few tips!
Book well ahead of time. This is even more important if you're traveling during peak times, are planning on visiting a specific spot that has limited accommodations, or a memorable experience like a character meet-and-greet or "chef's table" dinner.
Keep checking for changes. Walt Disney World is constantly undergoing changes, including renovations, new attractions, and new policies. Things like character interactions, hours of business, costs, and available menus may be different now than when you last checked on them.
Dress appropriately. Not all higher-end restaurants in Walt Disney World enforce a dress code, but some do. If you plan on being out at the parks all day in your comfiest clothing and shoes, be aware that you may need to factor in time to run back to your hotel and change before heading out to dinner at one of the places on this list. Dress codes can be different for lunch and dinner hours, so your best bet is to call the establishment and ask.
Budget wisely. If you can fully splurge on gourmet dining at Walt Disney World, awesome! However, if you need to stay on budget but still want to try one of these better restaurants, consider a mini-splurge. Order appetizers or sharing plates at higher-end restaurants instead of full meals. Or, if you're there for the characters, you can go during breakfast or lunch hours, which are almost always less expensive than dinner.
You can save money on meals throughout your vacation by purchasing Disney Meal Plans or booking a hotel with a kitchen so you can make and bring your own food. This way, when you want to have that special dinner out, you can spend the money without guilt.
More about our TFVG Author
A seasoned traveller, Dad, and avid sports tourist, James foundered The Family Vacation Guide to share his expert vacation experiences- especially when it comes to being a travelling family man.
Featured in Travel articles such as Travel + Leisure, TripSavvy and SFGate, you know you're reading some of the best vacation tips online.