There's no doubt that Orlando, Florida, is a dream come true for theme park lovers. It's home to the beloved Disney World, Universal, and plenty of other amusement parks for you to spend a vacation at.
In addition to all the exciting theme parks, you can't forget about all the waterparks and attractions that Orlando offers visitors and locals. The Florida sun can be brutal, and there's no better way to beat it than spending a day splashing in the water.
Before you pack your bags and head out, take a look at eight of the best water parks in Orlando to visit while you're there.
Whilst you're here, why not also check out our guide to the best resorts in Orlando with water parks for more inspiration?
Disney's Typhoon Lagoon
You can't go to Orlando wanting to visit a water park and not consider one of Disney World's two water parks. Typhoon Lagoon sits on several acres of land in Lake Buena Vista on the Walt Disney World Resort complex.
The water park has a typical beach or tropical design. One of the biggest attractions at Typhoon Lagoon is its 2.5-acre wave pool. This massive wave pool is zero-entry and produces rather large waves. It's enjoyable, and life vests are provided for young children and those who need them.
Besides hanging out at their wave pool, you can go down any of their 11 slides and streams. Some are calmer, while some are more for the adventurous park goers. Most slides have a height requirement for safety, but people of all heights can ride Mayday Falls.
You have the option of renting a cabana-style area where you can plant yourself for the day, or you can use any of their first-come, first-serve beach lounge chairs. There are several places to grab food and drinks throughout the park. A fan favorite is their ice cream shop.
Universal Orlando's Volcano Bay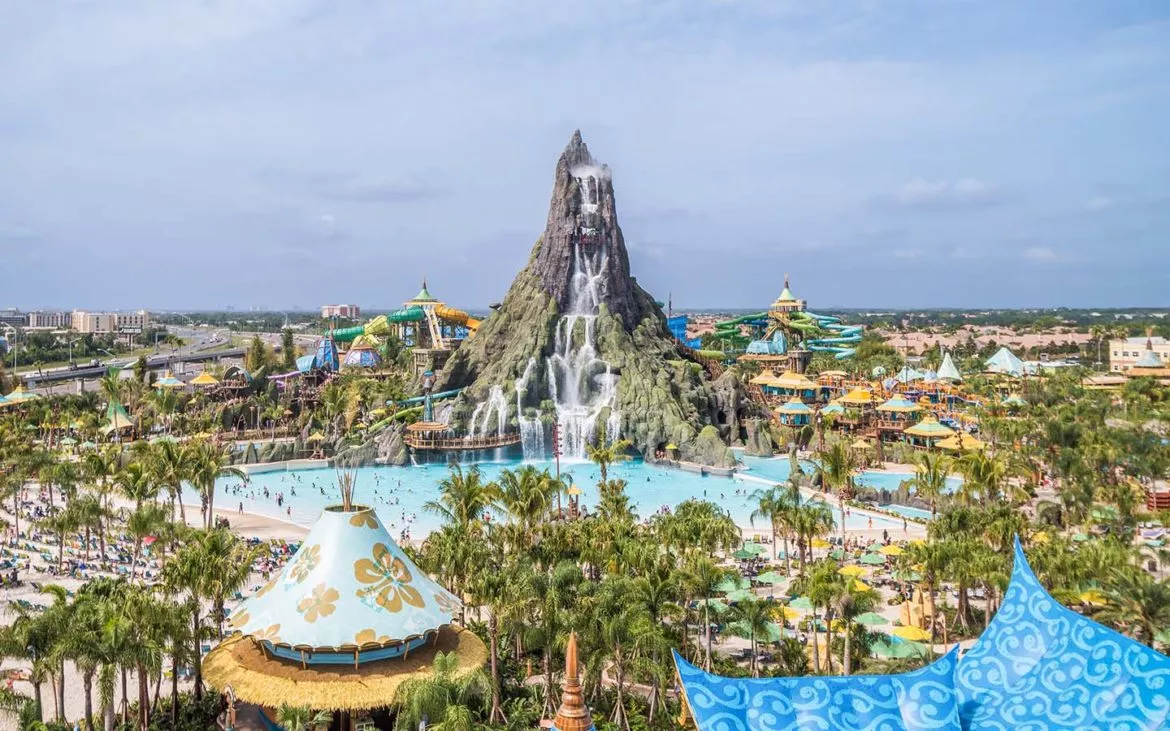 Regardless of if you're planning on visiting Universal Orlando or Islands of Adventure, their beautifully constructed water park is worth checking out. The only water park owned and operated by Universal Orlando Resort is Volcano Bay.
Volcano Bay is another tropical-themed water park in Orlando. Something that makes this water park stand out is its sizable faux volcano that sits in the middle of the park, which almost looks real except for all the water slides coming out of it.
If you love going to water parks for the water slides, then Volcano Bay may be the right choice for you. The park has one of the largest water slide selections, with 20 filling the park. When you need to relax between the adrenaline rush from the slide, there are several pools throughout the park.
A popular attraction is their version of a lazy river. You can grab a tube and float the day away if you choose. Most people who go to this water park prefer to rent a cabana ahead of time to ensure they have a nice place to lounge throughout the day.
You won't go hungry while you're here. You can dine at one of the several restaurants or food booths. They have plenty of kid-friendly options and frozen cocktails for the adults.
Aquatica Orlando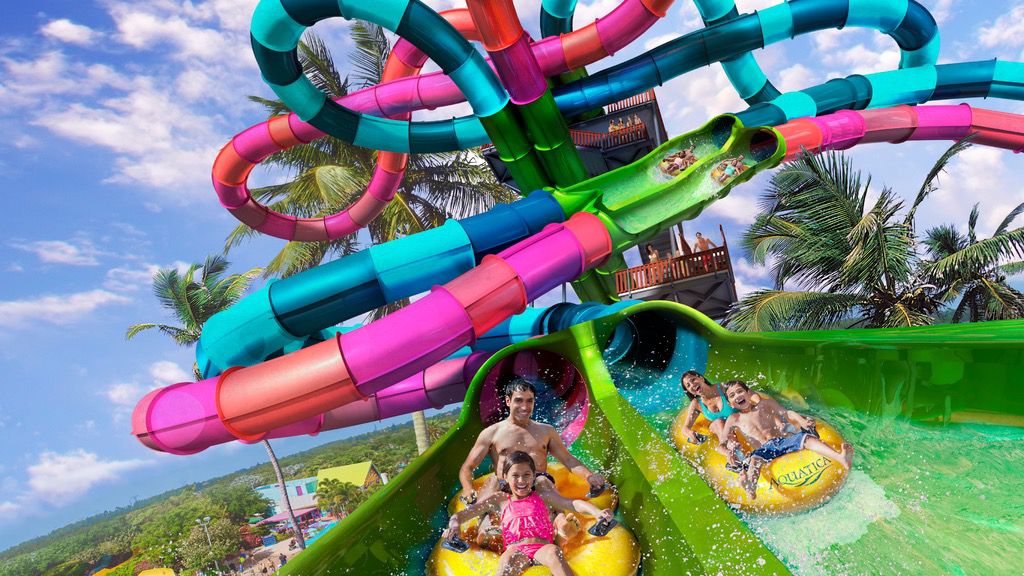 Across from the famous SeaWorld Orlando is a lively water park, Aquatica Orlando. This water park is owned and operated by SeaWorld Orlando and is a fabulous place to stay cool in the Florida sun. This massive water park features 84,000 square feet of sandy beaches, over 40 water slides, and plenty of pools and lagoons to swim in.
One of their most popular water slides is a transparent tunnel that brings you underwater with some beautiful marine life like sharks and large fish. Their dueling water slides are entertaining if you want to race your friend or family member to the bottom.
In between sliding down their dozens of water slides, you might want to find time to catch a marine life show. As the water park of SeaWorld, you can expect to see plenty of fish, stingrays, and other animals in their own tanks throughout the park.
There are restaurants throughout the park to keep you full and satisfied as you spend your day in the sun. They even have an all-you-can-eat pass so that you can get as much food as you like throughout your visit.
Disney's Blizzard Beach
The third water park that the minds at Disney came up with is Blizzard Beach. It's nestled on the Walt Disney Resort Complex and is a contender for one of the best water parks in Orlando. Unlike other water parks in the area, Blizzard Beach has a snowy mountain theme instead of a tropical one.
Blizzard Beach has a total of 17 slides, two of which are coming out of the snowy mountain top that sits in the middle of the park. If you love an exhilarating slide, the Summit Plummet is the one you need to try. It's one of the tallest and free-falling body slides in the entire world.
If one of the tallest water slides in the world isn't your cup of tea, they have other minor slides, a wave pool, sandy shores for you to relax on, and more. The kids have a water ropes course that you can participate in and a kiddie area for the smallest of visitors.
There are plenty of delicious dining options at Blizzard Beach. You can find plenty of kid-friendly opinions, like hotdogs and chicken fingers, as well as more sophisticated menu items for the adults. You can kick back with a nice frozen drink while the kids play in the wave pool or join them for some water fun.
Orlando Watersports Complex
For adrenaline junkies, the Orlando Watersports Complex is a great place to be. Besides your traditional water slides and other water park attractions, you can participate in various water sports.
You can go boating on the complex, go kneeboarding, water skiing, wakeboarding, and so much more. Not only is it a super fun place to practice your water sport skills, but it's also entertaining to watch other water park goers show off their skills too.
Even if you don't want to water ski or participate in other water sports, they have an aqua park that people of almost all ages can enjoy. There are 40 water features, including a rock-climbing wall, floats to jump onto, and a little obstacle course.
They also have a beach area for you to relax when you're in between water activities.
CoCo Key Water Park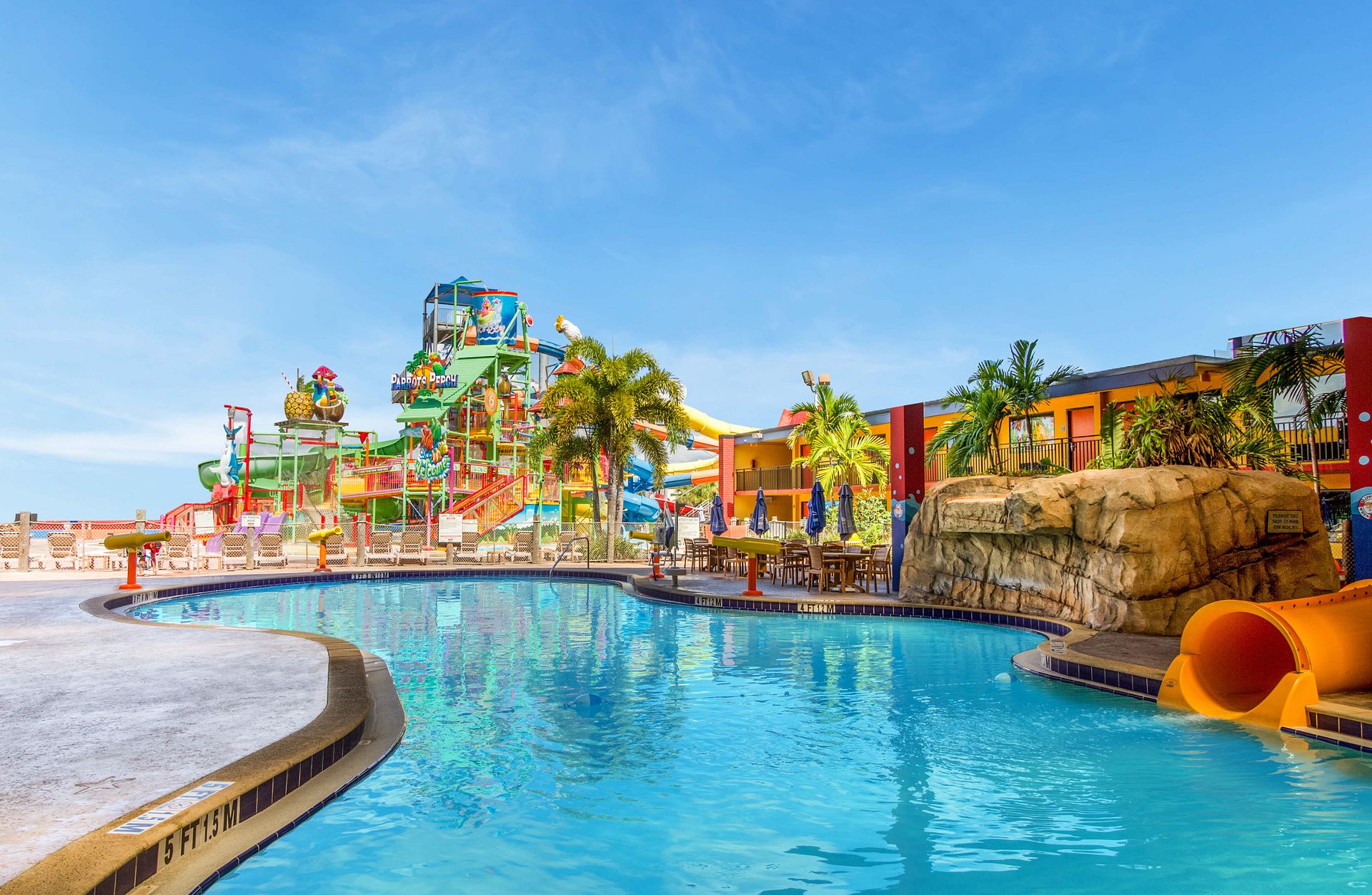 CoCo Key is more than just a water park in Orlando. It's a water park and resort where you and your family or friends can stay. If you don't want to stay at their hotel, you can still purchase day tickets to the CoCo Key Water Park.
The location of this water park is one of the things people love about spending a day here. It's right off of International Drive and easy to get to from anywhere in the city. The water park is over 50,000 square feet and has a canopy covering the vast majority of the space.
Even though the park is a little smaller than some of the other larger-name ones in the city, there are still 14 excellent water slides for you to go on. For the little ones, they have a separate area for children under 36 inches tall. This includes smaller water slides and a splash pad that they can play in.
You can choose from two on-site restaurants if you want to grab some lunch or a cocktail while you play. Adults will love the tiki bar, where you can sip on a refreshing tropical drink while the kids get their water slide fix.
Treasure Cove Water Park
Off of I-4 is Orlando's newest water park, Treasure Cove Water Park. The Westgate Lakes Resort and Spa owns this water park. The water park is on the property and is the perfect smaller water park if you want to avoid the long lines at Disney or other parks.
You don't need to stay at the Westgate Lakes Resort and Spa to enjoy a day at the water park. You do need to purchase a day pass, though. As a smaller water park, they only have two water slides, but they're dueling and very fun.
Their wave pool is a popular attraction that's in the center of the park. Don't be surprised if you find yourself chasing the waves all day. There's a fun splash pad for the little ones so they can enjoy the water safely.
The lazy river is the perfect way to relax all day while you float along without ever getting lost. Don't forget to check out their tiki tavern to grab your favorite cocktail. You can enjoy it at the bar or bring it back to the cabana you rented or in a standard lounge chair.
Discovery Cove

Last but certainly not least is Discovery Cove. This is a unique water park because not only do you get to frolic in the water, but you get to have up close and personal encounters with some beautiful marine life.
Discovery cove gives guests a memorable experience that they can't get anywhere else. There are several sandy shores for you to catch some rays, faux rivers, and waterfalls to relax in, and of course, the variety of marine life. You get wet suits, snorkel gear, and towels when you purchase tickets.
You can snorkel with various fish and stingrays, feed exotic birds, and even swim with dolphins. The grand reef is where you can see and swim with large stingrays and a spot for a great photo opportunity. Regardless of where you are in the park, you don't need to worry about the animals. There are lifeguards and animal trainers around at all times.
If you want to swim with the dolphins and feed the stingrays, you need to make sure you make reservations. You can swim with sharks with the proper reservation for those who are up for an adventure.
They have one restaurant on the property, but the food is excellent, and they have a little bit of something for everyone.
Final Thoughts
Orlando has no shortage of fantastic water parks for you to visit. The best part is that Florida has warm weather almost all year, so it doesn't matter too much when you want to visit. There are water parks that cater to people of all ages.
Whether you're looking for a relaxing place to soak up the sun, exhilarating water slides, or a place to swim with marine life, the best water parks in Orlando have something to offer for everyone.
Other fantastic water parks to consider for some family fun
If you're hoping to find some more of the best water parks, our round-up below will be the perfect place to start.
More about our TFVG Author
A seasoned traveller, Dad, and avid sports tourist, James foundered The Family Vacation Guide to share his expert vacation experiences- especially when it comes to being a travelling family man.
Featured in Travel articles such as Travel + Leisure, TripSavvy and SFGate, you know you're reading some of the best vacation tips online.