Planning a beach vacation is always exciting for a family, and you may have even let your kids choose Florida as your destination state.
But now, you have the responsibility as a parent to choose a beach destination that offers a safe, engaging, and enjoyable experience for your children.
We're here to help by showing you the differences between West Palm Beach and Fort Lauderdale.
While both destinations have their perks, we have a favorite for families, which you'll see as you read through the various points in this article.
Considering the Atmosphere
West Palm Beach is just a one-hour drive north of Fort Lauderdale. Nevertheless, these two destinations have a distinct feel in terms of their atmospheres.
Since you're traveling with kids, you'll likely appreciate West Palm Beach's more laid-back vibe than Fort Lauderdale. Much of this has to do with the party scene in Miami Beach overflowing into Fort Lauderdale, although it's certainly not as much as being in the heart of Miami Beach's Art Deco downtown.
So, West Palm Beach has less nightlife, making it an attractive choice for families wanting a quieter beach vacation.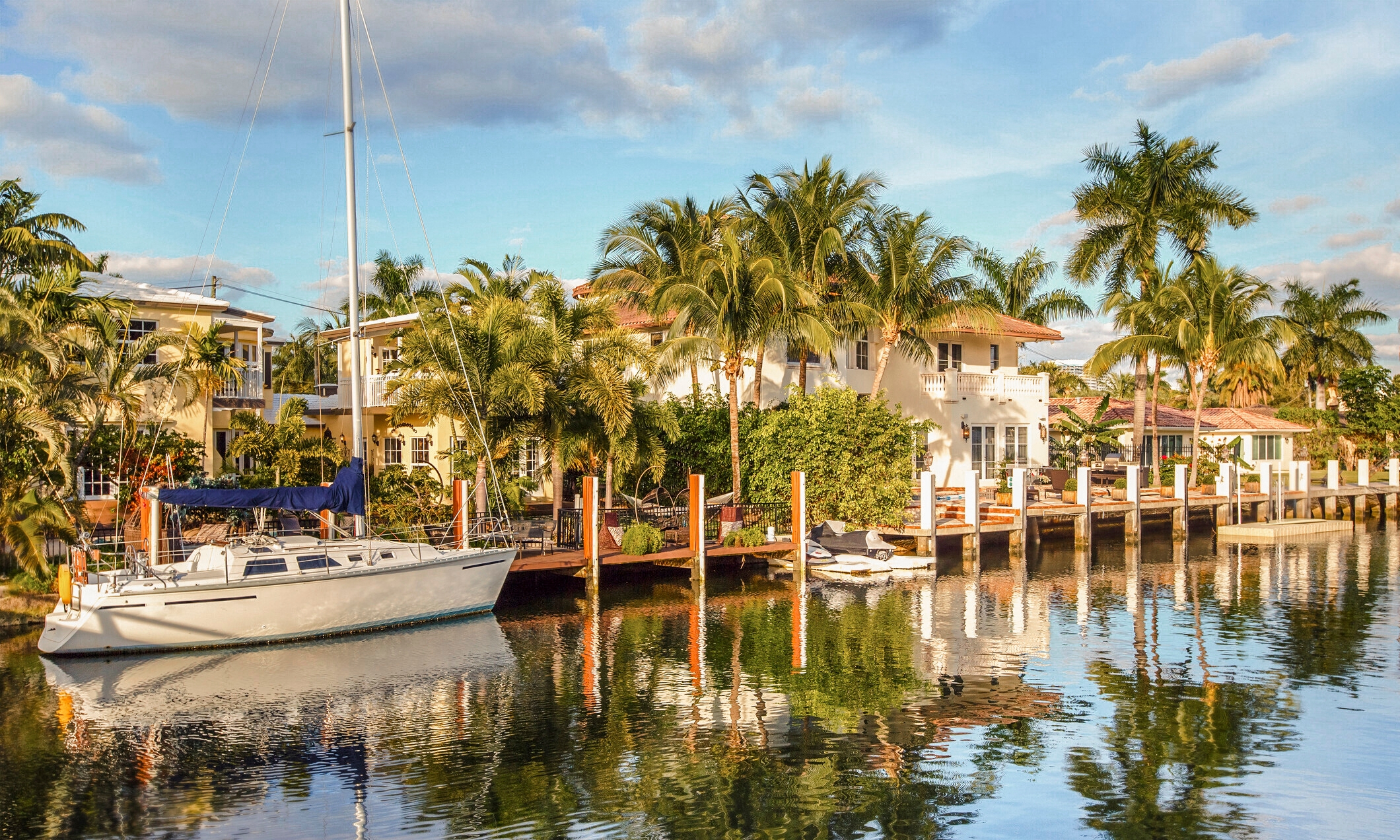 West Palm Beach is a metropolitan city that's a popular place for retirees and people who commute to their job but want to live in a more residential district in the city. You'll have countless options for shopping, should you be traveling with teenagers who love to do so.
In contrast, Fort Lauderdale has a bigger bar scene and draws a younger crowd than West Palm Beach. Since Fort Lauderdale is a cheaper destination than Miami Beach, it often attracts budget spring breakers.
Nevertheless, Fort Lauderdale doesn't only have a young party atmosphere, as it has a boating culture that attracts yachts. In fact, Fort Lauderdale's nickname is "Venice of America" because of all its canals. Walking along these canals and seeing the boats is a great family-friendly activity.
Best Beaches for Kids
If you're on the fence when comparing West Palm Beach and Fort Lauderdale, here's the good news: Both destinations have beautiful white sand beaches with mostly clear water.
Your kids can also look for seashells on these beaches, although they may end up finding a lot of broken pieces compared to Gulf Coast destinations like Sanibel Island.
Fort Lauderdale and West Palm Beach are also similar in terms of their waves. These destinations have waves that'll disappoint most surfers, but the water typically isn't as calm as that on the Gulf Coast.
Therefore, we recommend checking the flag status of the beach you're on in either destination before letting your kids swim. If the flag is green, it should be okay to swim safely with supervision.
However, yellow and red flags are signs that they should stay out of the water—the waves could be too rough, and there might even be the possibility of rip currents. According to Surf-Forcast, the best time for surfing in South Florida is in the fall, especially November.
So, if you're planning on traveling around that time of year and your kids love to swim, we recommend booking a hotel with a pool.
As a whole, though, both Fort Lauderdale and West Palm Beach offer good water for swimming, as long as your kids have experience and you're present with them.
Family-Friendly Activities
Let's face it—the beach is beautiful, but a kid's attention span is short, and there are only so many sandcastles you can build. So, when the inevitable moment comes when their enthusiasm for the beach wanes, you'll likely wonder what other activities you can do.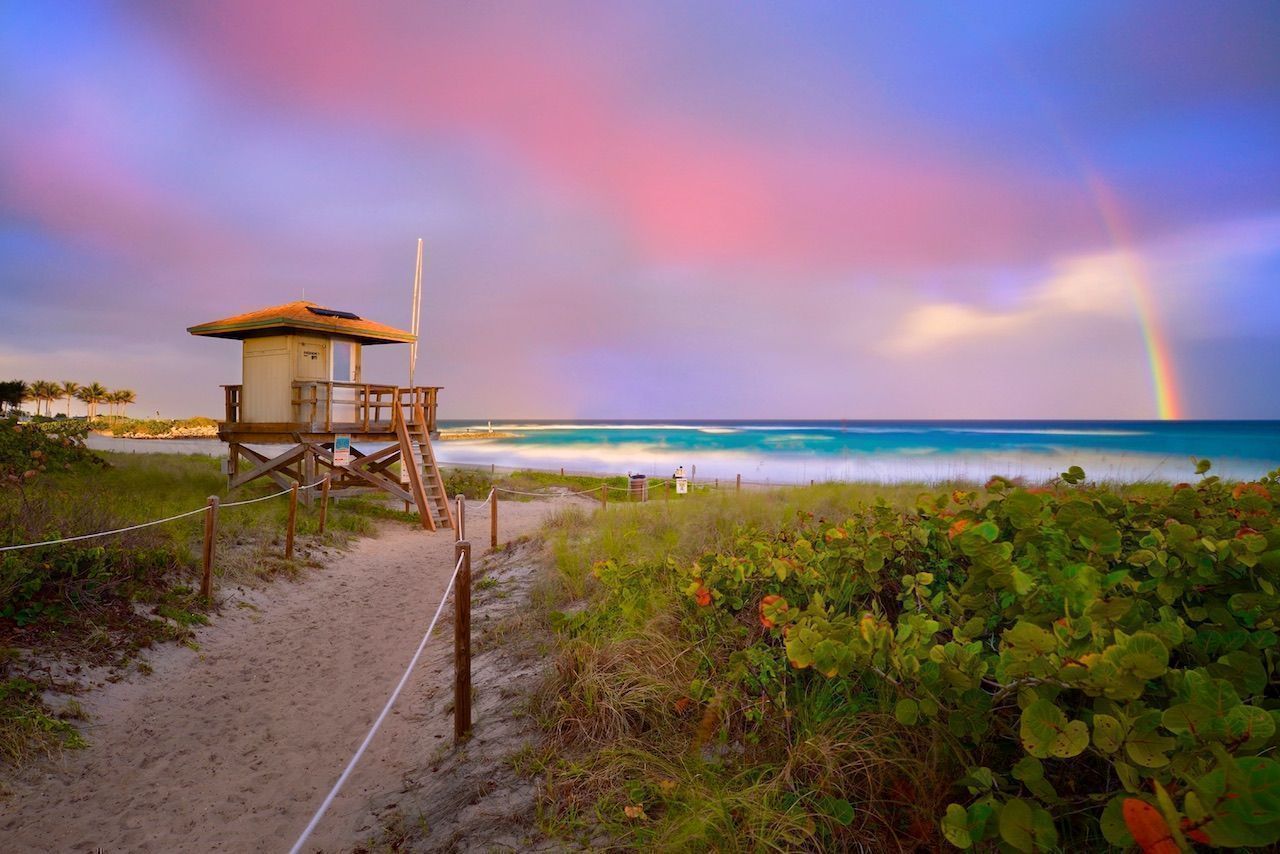 Some fantastic kid-friendly things to do in West Palm Beach include:
South Florida Science Center and Aquarium: If a rainy day causes a boat tour cancelation, taking your kids to interact with marine life and more at this aquarium is a solution to turn their tears into smiles.

Palm Beach Zoo: Your kids will be able to observe local marine wildlife and animals from across the globe at this zoo. The zoo makes many items out of recycled material, offering an educational experience on caring for the environment.

Sawgrass Recreation Park: Taking an Everglades tour is a must in South Florida. At this park, your kids will get to embark on a 30-minute airboat ride to spot wildlife, including alligators.
If you end up visiting Fort Lauderdale, below are some of the best activities to do there with kids:
Flippo's: An indoor adventure park where your kids can play on jungle gyms, laser mazes, balance beams, and more. They offer special activities and rooms for birthdays, as well.

Bluefoot Pirate Adventures: An exciting daily pirate boat that cruises around Fort Lauderdale, encouraging kids to help find a treasure during this real-life treasure hunt.

Buehler Planetarium: Introduce your kids to the stars in Flordia's eyes—and their own hometown—by taking them to this college-based planetarium.
Why not check out our guide to the best family-friendly things to do in Fort Lauderdale for more ideas?
The Most Affordable Destination
West Palm Beach is slightly more expensive than Fort Lauderdale, so the latter may be a better option if you're traveling on a tight budget or have a massive-sized family.
However, according to Numbeo, rent in West Palm Beach is actually over 52% lower than in New York, while rent in Fort Lauderdale is only about 44% lower. So, if you are thinking of renting, West Palm Beach may be a cheaper option out of the two.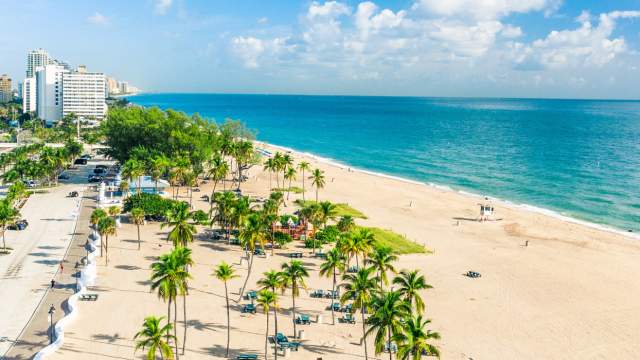 Of course, the location of your accommodation makes a difference in your expenses. In both destinations, you'll spend more money by staying right on the beach. So, if you're on a budget, consider booking a hotel a couple of blocks back.
Another great option for families staying in either area is to book an Airbnb or Vrbo. Both of these companies operate in West Palm Beach and Fort Lauderdale, and they offer families the option to stay together in the same house or apartment without having to break up amongst hotel rooms. Even better, you can save money by cooking meals.
While we're on the subject of meals, food is also more affordable in Fort Lauderdale than in West Palm Beach. So, if you have a growing teenage boy with a seemingly bottomless pit, staying in Fort Lauderdale will help reduce your restaurant bills.
Comparing Safety
When looking at West Palm Beach vs. Fort Lauderdale, vacationing in a safe area is undoubtedly important for your family. Of these two destinations, West Palm Beach is safer.
According to Crimegrade, West Palm Beach has a D+ rating. In contrast, they give Fort Lauderdale an F rating.
Of course, neither of these ratings would be considered great. However, they also don't tell the whole story, as where you stay within both of these cities makes all the difference in safety levels.
Therefore, we recommend checking out Crimegrade's maps so that you can see where the A+ areas are for safety, which they mark as dark green. As a general rule, the northwest part of West Palm Beach and the southwest part of Fort Lauderdale are the safest areas.
Teaching your kids about standard best safety practices is also a good idea, given that you'll be in an area you don't know well. So, encourage them to tuck their phones away when walking along quieter streets and make sure they have your phone number and the address of where you're staying memorized.
The Best Time of Year to Travel
West Palm Beach and Fort Lauderdale are only an hour apart, so they share similar weather. As a result, regardless of your destination, it's crucial to understand their weather patterns. Most notably, their hurricane weather patterns.
The only thing more disappointing than canceling your trip to a hurricane is having to walk into your children's bedroom as they pack and break the news to them. So, to avoid the possibility of a hurricane cancelation altogether, travel from December 1st to May 31st.
If those dates don't work for your kids' school and extracurricular activities schedules, here's some promising news: The greatest number of hurricanes happen in August and October after the ocean's water has time to warm up from summer heat.
Therefore, you'll have a relatively low chance of encountering a hurricane (or, at least, a major one) by planning a trip to West Palm Beach or Fort Lauderdale in June or July.
Although summer is the hottest time in south Florida, it's also when there are fewer tourists. Therefore, you'll get to take advantage of quieter beaches for your family and potentially cheaper off-season pricing.
That said, traveling during the winter offers the chance to enjoy your beach vacation with cooler weather and less rain. So, your kids will likely have more opportunities to explore the outdoors.
The Verdict: West Palm Beach vs. Fort Lauderdale
From a quieter atmosphere to a safer and more affordable environment, we recommend West Palm Beach over Fort Lauderdale when traveling with children.
West Palm Beach offers many child-friendly activities, and like Fort Lauderdale, it has pristine beaches with water that's often suitable for swimming.
Best of all, if you had your heart set on visiting Fort Lauderdale, you can still take a family day trip there, as the drive is only about an hour.
More about our TFVG Author
A seasoned traveller, Dad, and avid sports tourist, James foundered The Family Vacation Guide to share his expert vacation experiences- especially when it comes to being a travelling family man.
Featured in Travel articles such as Travel + Leisure, TripSavvy and SFGate, you know you're reading some of the best vacation tips online.