Did you know that more than 155 million tourists come to the Happiest Place on Earth every year?
With millions of people coming through, planning your vacation is crucial if you want to see as much as possible. But what can your toddler enjoy here at Disney's wonderland in Florida?
If you're going to bring a toddler to the Hollywood Studios, we're here to help you plan. Read on for a list of rides and attractions that even the littlest mouseketeers will love.
Afterward, we'll look into some of the attractions you should avoid.
What Makes A Ride Toddler Safe?
First thing's first: What makes a ride "toddler safe?" The first thing you'll want to look at is height. Most of the rides at Disney (and theme parks in general) aren't gate kept by age but size!
On average, most rides at Hollywood Studios have a restriction of 38-inches, or 3.5 feet. Regardless of your child's age, they'll need to be at least that tall to ride some of the restricted rides.
Many of Hollywood Studios' attractions won't have any height requirement. It's only more intense or active rides that require a specific size.
Generally speaking, that height requirement is to ensure your child can snuggly and safely fit inside of restraints, like roller coaster harnesses. 
Plenty of Activities
There's no shortage of attractions to enjoy in Hollywood Studios with your toddler!
Many of these are shows, but they're still just as enjoyable as any other attraction in the park. 
Beacons of Magic
One of the first things you'll want to add to your schedule is the Beacons of Magic. You may recognize this name from other parks as well, as the Beacons of Magic is the name for the many lights shows that you can find across the four Disney World parks.
In Hollywood Studios, the Beacons of Magic light up the Hollywood Tower Hotel. Countless gorgeous lights twinkle and sparkle to highlight and celebrate the golden age of imagination and adventure.
If you're going to be in the park when the lights go down, you can't miss this! You can catch the show every night of the week, just after dusk.
Beauty & The Beast
Orlando gets hot, and having somewhere to sit and relax is essential. Even more important is having that place be somewhere your toddler will delight in!
The Beauty & The Beast show is one of the best live shows on Disney property. Whether you love the classic movie or not, the stage show is enough to leave you breathless.
Your toddler will love watching Belle, Beast, and Lumiere dance along with the iconic cast. With dance numbers, classic songs, and a spectacular stage show, it's a lovely way to knock half an hour off the clock and relax in the shade.
To ensure you're catching this show, keep a keen eye on the schedule. The times change daily, and only a limited number are done each day, so it isn't a guarantee you'll get there unless you block it out in your itinerary. 
Disney's Junior Play and Dance
You might need to cool down, but your toddler's energy seems limitless. In that case, why not bring them to Disney's Junior Play and Dance?
Let your toddler spend a while rocking out with their favorite Disney Junior characters. Timon, Mickey, Vampirina, Doc McStuffins, Mickey, and more are all here to help your kid catch a dancing fever.
This is likely your best bet if you're trying to let your child burn off some energy. It's also a great way to keep them occupied while planning out the rest of your visit or letting the older kids have a chance to take on the bigger rides.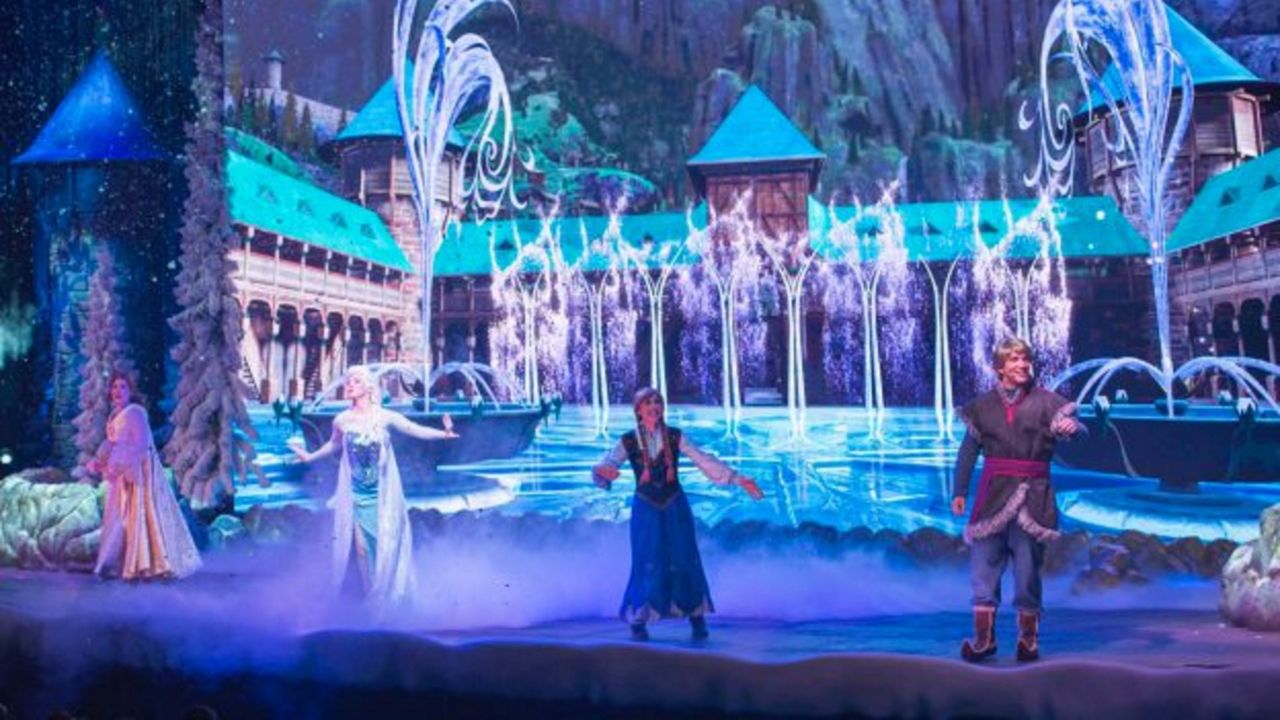 Frozen Sing-Along
If you're in the mood for more sing-alongs, take your child to the Frozen Sing-Along attraction. As you can probably guess, this is a great place to let your toddler belt out the words to their favorite Frozen songs.
The Frozen Sing-Along Celebration features live entertainment and a bustling stage show. It's a wonderful way to experience the thrills of the movies and spend the rest of the day humming "Let It Go" under your breath.
You'll likely have no problem squeezing this attraction into your schedule, as it offers ten different shows per day.
Walt Disney Presents
If you don't want to jump into any shows, you may enjoy a moment out of the sun (and in the air conditioning) at Walt Disney Presents, an indoor showcase of some of the history of the parks and the Disney company as a whole.
To be blunt, your child might not have a deep interest. Toddlers aren't renowned for their keen passion for creative history, but it's a pleasant, quiet atmosphere that might lull them into a much-needed midday nap. It'll give you a break from the sun, and it truly is a spectacular showcase of history you can't find anywhere else.
Toy Story Mania!
There aren't many "true rides" in Hollywood Studios your toddler can ride, but Toy Story Mania is certainly one they'll love! Whether they love Toy Story or not, the Toy Story Mania ride is a hectic and lively atmosphere for all ages.
The ride conductor will load you and your toddler into a cart with a rope-activated "gun." The cart will continue along a set path with your favorite Toy Story characters cheering you on. You'll stop in pre-set areas in front of large interactive screens with targets.
These mini-games provide targets for you and your toddler to take down. You'll get points depending on how many you take down and how quick you go. You have unlimited shots, so don't worry about running out of ammo.
In the end, you'll tally your scores up and compare. Depending on how big the lines are, you can get back onto the ride and try to beat your scores.
Muppet-Vision
Another fantastic stage show for you and your toddler is the hilarious Muppet-Vision 3D. As you can likely guess, this is a 3D show for you and your toddler to enjoy. As an added bonus, you'll be inside a theater, giving you a welcome reprieve from the Florida heat.
Your toddler will love watching Kermit, Miss Piggy, and all their friends come out in eye-popping 3D. With a tour of their lab, you'll enjoy all the surprises, live-in-theater special effects, and musical numbers. It's fantastic fun for all ages. 
Mickey & Minnie's Runaway Railway
Few Disney characters are more notable than Mickey & Minnie. Believe it or not, this ride is the first of its kind, being the first ride at any Disney park starring Mickey Mouse and his friends.
Here, a leisurely drive towards a picnic turns into a railroad runaway. Physics goes out the door as Mickey and Minnie twist and turn to try to save the day while you and your toddler hold on tight!
Indiana Jones Epic Stunt Spectacular
The final attraction your toddler might love is the Indiana Jones Epic Stunt Spectacular, especially for action-loving toddlers. You'll get to watch some stunt professionals go through some of the most famous scenes from the Indiana Jones franchise.
The pros will break down some of the movie magic during the presentation and show off how these stunts are done. In the end, it all comes together into an awe-inducing final performance featuring pyrotechnics, boulders, and airplanes that will impress even the most knowledgeable of movie buffs.
Make sure you're okay with your toddler seeing some violence and scripted fight scenes, and that they will not be spooked by pyrotechnics!
Meet and Greets
While not true "attractions" in the traditional sense, Meet and Greets are one of the best options for entertaining your toddler. They'll have a chance to hug their favorite characters, and parents can snap a few pictures that are sure to stir your heartstrings over the years.
Remember Meet and Greet times change, and each has its own timetable, so check a schedule when you get to the park for up-to-the-minute information.
Olaf
Olaf is one of the many lovable characters available for you to see. Depending on the time of day, the lines can get pretty long, so plan ahead!
To beat these lines, try to get there early. The first showing of a character in a day usually has fewer people in line. For Olaf, you can find him near the Grand Avenue taking photos with all his friends.
Sulley
Sulley is another character waiting to meet your toddler. You can find Monstropolis's top scarer near the Pixar Place, just outside Toy Story Land. His times differ by day, and the characters sometimes switch out.
An excellent tip for seeing Sulley is to pair it with visiting Toy Story Land. You can check the line and skip it for a moment if it's too overwhelming, then come back through after you've explored the nearby attraction.
Disney Stars
Why see just one star when you can see two! If you want to see the leading stars, you can find Mickey and Minnie celebrating their newest films.
Minnie has donned a red-carpet gown, showcasing their fashion to the world. Mickey, meanwhile, has dressed as the Sorcerer's Apprentice in one of his most classic appearances.
You can find these characters near Grand Avenue and Commissary Lane when the time is right.
Disney Junior Pals
Finally, your toddler might love getting to meet the Disney Junior Pals. You can find many of the same characters you danced with at Disney's Junior Play and Dance here, waiting to meet your toddler.
Vampirina, Doc McStuffins, and Fancy Nancy Clancy join together at Animation Courtyard when they're around. They aren't far from Sulley, so it's a great way to see both if the lines aren't too crazy!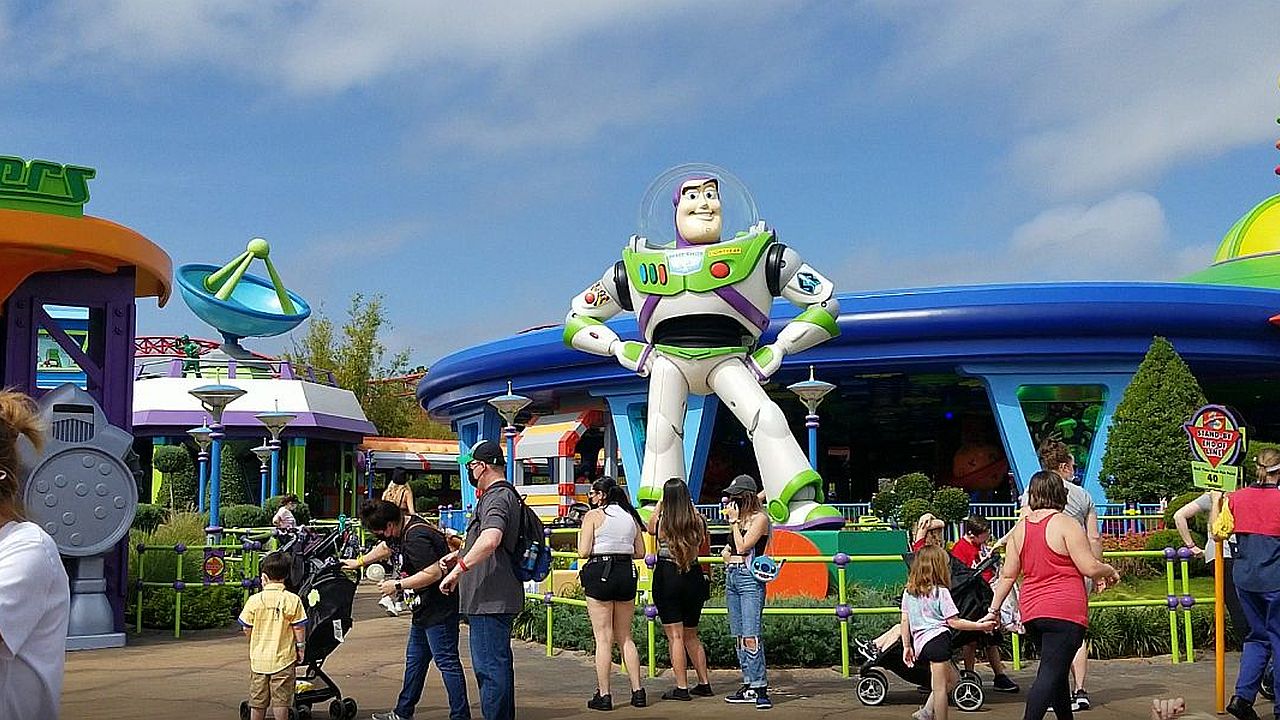 What to Avoid
What attractions should you avoid? There are a few rides at Hollywood Studios you shouldn't take your toddler to. Here are a handful of the most toddler-unfriendly attractions at the park.
Smugglers Run
One of the most exciting rides at Hollywood Studios is the new Millennium Falcon attraction. Unfortunately, it's also one that isn't toddler friendly.
The Smugglers Run is a fast, intense ride that can spook younger children. More than that, you'll need to be 38″ or taller to ride. Unless you have a very tall toddler, they won't be allowed on the ride.
Rock' n' Roller Coaster
Another intense ride you should avoid is the Rock' n' Roller Coaster. Though attractive and flashy, it's also not suited for toddlers and has a 48″ height requirement.
The ride starts with a boost and launches you into a loop immediately. Taking place indoors, you'll go through neon signs and highway roads. For Aerosmith fans, it's a must-do, but your toddler is likely several years away from being able to fit into the harness.
Tower of Terror
The third is the Tower of Terror, one of the most iconic rides on Disney property. The Tower of Terror is inside the Hollywood Tower, visible from anywhere in the park. You can see people at the top looking out and shrieking before they get dropped from the tower.
However, it's also not fit for toddlers or even shorter children. There's a height requirement of at least 40″, so you'll need to give it a few years before they're ready to take on the terror.
Slinky Dog Dash
Finally, the Slinky Dog Dash is a notable ride that your toddler won't be able to join. You'll find this roller coaster in Toy Story Land twisting over the landscape. With a height requirement of 38″, your child will likely have some growing to do before they can join in the fun. 
Wrap Up
Hollywood Studios is one of the most toddler-friendly parks if you don't mind shows and live experiences. There's dance numbers, sing-alongs, pyrotechnics, and carnival games for you and your toddler to enjoy!
Despite not being able to take on the larger rides, you'll still get plenty of tiny giggles as you explore the park.