The toddler-friendly attractions at Disney parks are more focused on experiences than rides.
Certainly, if your child is tall enough, you can find an ideal ride, but remember that they will likely be more interested in the available performances and other attractions.
Before going to the park, remember:
Take note of your child's height since every ride has a specified height requirement.
Some rides will be easier for your child to get into, while others might be too high for them.
Now that you know what you're supposed to do, let us dive into the 16 best Hollywood Studio rides for toddlers.
1. Alien Swirling Saucers
The Alien Swirling Saucers is a short and entertaining ride, which is significantly less unsettling compared to other popular toddler rides.
The ride will require your child to have a minimum height of 32; thus, babies will not be allowed to ride. But if your toddlers are tall enough, they'll have a great time with it. You'll note that the ride is jam-packed with entertaining electronic space music and vibrant lighting.
In addition, after the kids get into the rocket, they will be confronted with a bewildering array of knobs and buttons to adjust. Visitors will discover this ride to be relatively moderate, with minor spinning. Average wait times for this attraction are below 30 minutes on most days.
2. Toy Story Midway Mania
Toy Story Midway Mania is the only attraction in Hollywood Studios with no height or age restrictions, so toddlers of all ages can experience it. The attraction operates from 9 AM to 10 PM, and extra magic hours are from 6 AM to 9 AM.
The 4D ride commences in Andy's room. After finding various classic games, you must don 3D glasses and board a tram equipped with a pull-string gun to hit a collection of digital moving targets.
You can form a team with your child and battle against other participants via the scoring system, or else have fun by yourselves. Riders earn points for hitting targets, and the player with the most points at the game's finish wins.
Wait times can be quite long, often exceeding 60 minutes; thus, it's advisable to have a FastPass+ whenever available.
3. Millennium Falcon: Smugglers Run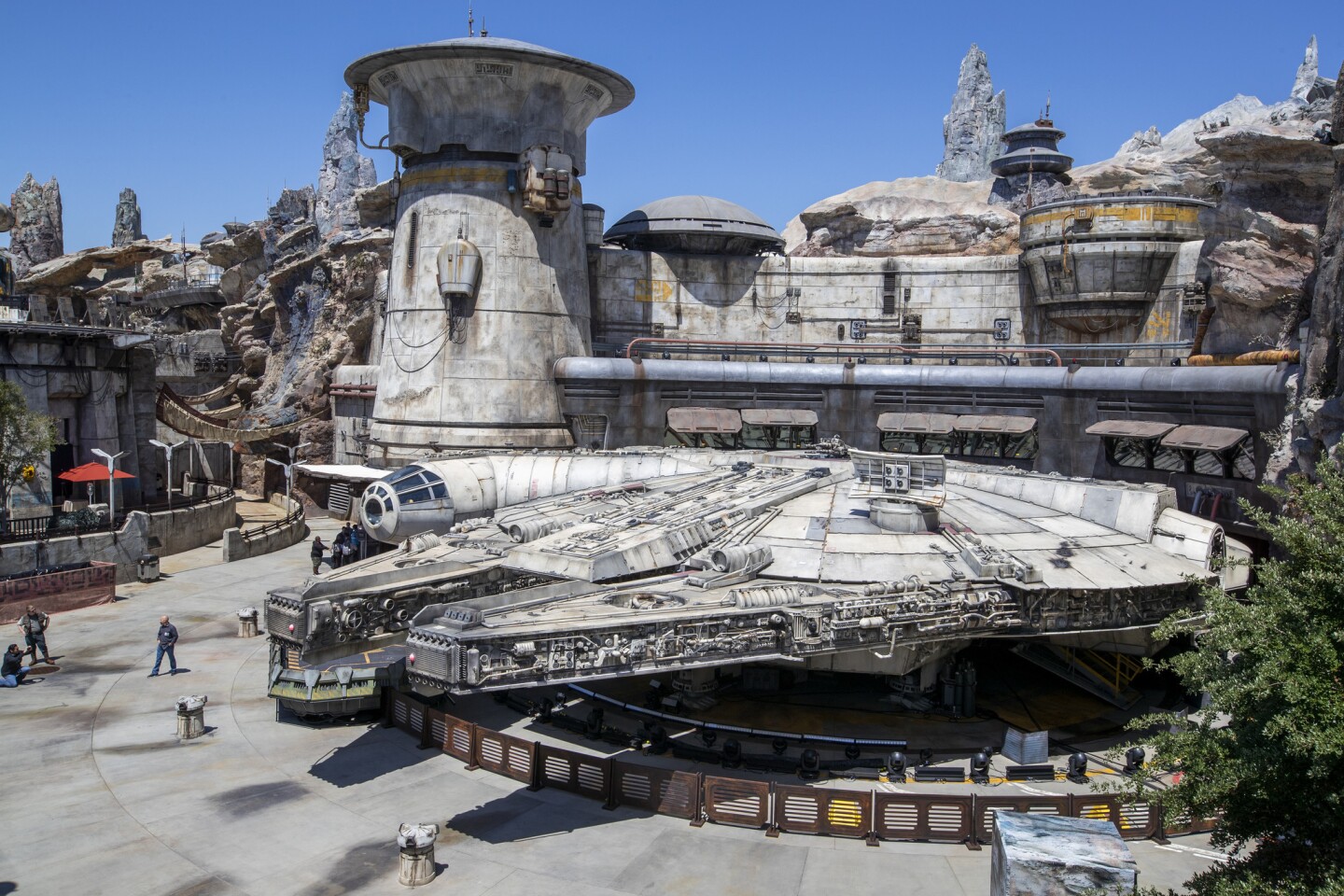 The Star Wars craze is here, and tall children will be able to appreciate the best of this classic sci-fi world. One of the newest additions, Smugglers Run, is unlike any ride you've ever taken in the park.
Your inexperienced child's adventure aboard the Millennium Falcon is more akin to a video game than a short ride. It's worth noting that the outcome varies according to the position you select and the choices you make.
The game is centered on an agreement between Hohndo Ohnaka and Chewbacca in which you must assist the big Wookie in delivering a performance. Nevertheless, the story isn't deeper than evading or eliminating barriers in space to reach your destination.
Piloting may place significant pressure on the kid, as all six passengers will feel the impact of the pilot's collisions. Nonetheless, it is also the most interactive position. As long as the children can follow the simulator's directions, hit the buttons when instructed, and have fun, there shouldn't be any issues.
Consider advising kids who are gunners or engineers to enjoy the trip rather than trying to figure out what buttons to press. Star Wars Galaxy's Edge is a hit with everybody who enters the land. Rider exchange and Single Rider are good options if your child backs out.
The ride operates daily from 9 AM to 10 PM, with extra magic hours from 6 AM to 9 AM. There's a great deal of movement and loud noises. Therefore, it might not be an ideal choice for all toddlers.
When Disney reintroduces the FastPass+ system, you can use it for this attraction due to the lengthy wait times, which frequently surpass 30-60 minutes.
4. Mickey and Minnie's Runaway Railway
If you intend to visit the ride soon, you may be among the first few people to experience the new and spectacular attraction starring the park's most renowned couple. The dark ride is based on Mickey Mouse's award-winning short films and his history.
The big talking mouse and his companions make their debut appearance on this ride. Your little ones will have a blast as they go through a fantastical realm where the laws of physics don't apply. You may count on surprising turns, goofy jokes, amazing makeovers, and other surprises.
Mickey & Minnie's Runaway Railway has no minimum height limit and is a very moderate attraction. FastPass+ is strongly advised for this attraction as wait times can get prolonged and frequently go beyond 60 minutes.
5. Slinky Dog Dash
Kids with a minimum height of 38 inches can enjoy the magnificent ride. It's open for visitors from 9 AM to 10 PM, with extra magic hours from 6 AM to 9 AM.
For a solid reason, the ride is many children's favorite. Everything is based on Andy's Dash and Dodge Mega Coaster roller coaster, which he made with Slinky Dog as the ride vehicle.
It takes 18 riders two minutes to traverse the lovely curves, climbing hills and descending at a relatively rapid rate for little children. It travels at a pace of 40 miles per hour, which is quite slow compared to most adult attractions.
Slinky Dog Dash is quite famous, with usual wait times exceeding 60 minutes. A FastPass+ is highly recommended if it is available.
For children who satisfy the height limit, this is a fun ride. The lighting at Hollywood Studios and Toy Story Land at night transforms the ride into one of Disney World's best attractions. It's time to hop into Slinky Dog with your children for an unforgettable family experience.
6. Jedi Training Academy: The Temple Trials
Your toddler will not be able to play because the age requirement is four, but it is still entertaining to watch for a while.
If you've never seen it, the Training Academy is a live-action presentation where the staff teaches Jedi young park tourists the basics of fundamental combat techniques. Darth Vader interrupts the training, and the kids each have a turn fighting the Sith Lord.
7. Beauty and the Beast – Live on Stage
It is a Broadway-style musical. Beauty and the Beast Live on Stage debut are on November 22, 1991, the same day as the theatrical release of the animation film Beauty and the Beast.
While the plot is condensed and full, the long-running Beauty and the Beast production features many memorable characters and a well-decorated set.
Nearly every seat in the theater has an unobstructed view of the stage. However, even with a cover protecting the audience from the Florida sun, it still gets hot in the theater during summer. Because the concert is so popular, you must arrive 25-35 minutes before the start to get a decent seat.
8. Voyage of the Little Mermaid
Toddlers will be mesmerized by a glow-in-the-dark hand puppet show featuring live-action figures and a stage with raindrops. As the act comes to a close, bubbles fill the theater, exciting children of all ages.
If you're visiting Walt Disney World with your kid, don't miss the stage performance. Voyage of the Little Mermaid is the perfect place if you want a place to cool off.
It serves as a shelter from the rain during the spring and fall months. The story is well-told, the length is suitable for children, and the line never gets too long. No doubt, Voyage of the Little Mermaid is precisely what parents want.
9. Disney Junior Dance Party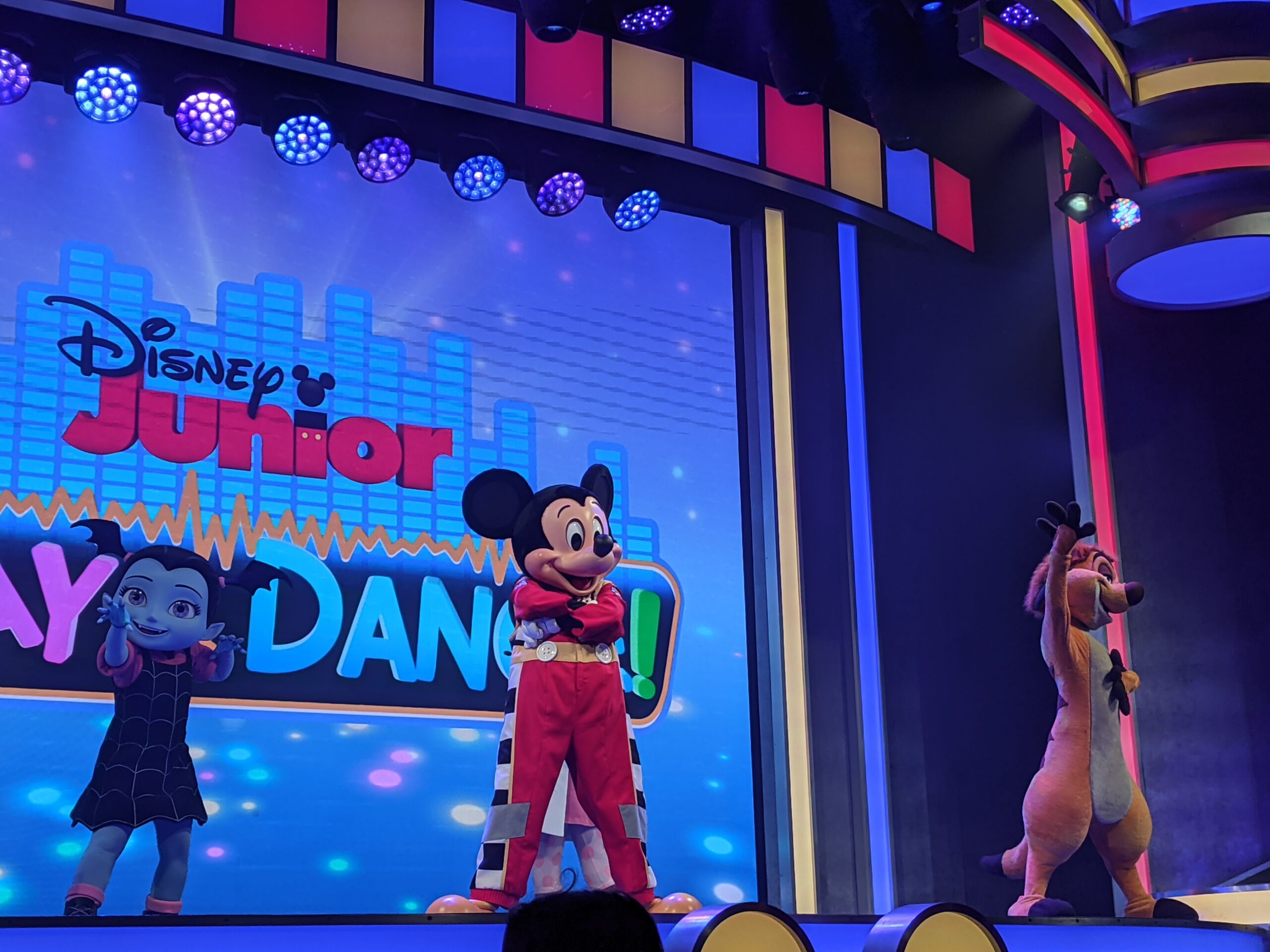 The once famous Disney Junior evolved into this brand-new production, which features fantastic new songs and even better dancing.
Toddlers and young children may catch bubbles, dance their skeleton off, and have a great time with their favorite Disney Junior characters. The 25-minute parties happen daily from 9:40 AM to 6 PM in the Animation Courtyard.
10. Mickey Shorts Theater
The Mickey Shorts Theater is a brand-new theater that exclusively screens Mickey Mouse short films. Even if toddlers do not understand all of the jokes, they should enjoy watching Mickey and his buddies.
11. Star Tours – The Adventures Continue
Though the ride is beginning to show its age, it remains one of the kids' favorites, and the fact that it offers a variety of various experiences renders it a fascinating attraction.
It's a 3D motion simulator experience where riders travel alongside C-3PO and R2-D2. However, Star Tours becomes a rebel mission, at which point things become rather intriguing. Ride wait times are usually a maximum of 30 minutes on the majority of the days, and a Disney Genie+ Lightning Lake Entrance is available.
12. The Twilight Zone Tower of Terror
At Disney's Hollywood Studios, the attraction is a park landmark that can be seen from a long distance. The Twilight Zone: Tower of Terror is a spine-tingling experience that sends riders plummeting from the 13+ story tower before accelerating higher and returning downward several times.
The tower also serves as the stage set for the Beacons of Magic projection show, which is part of Walt Disney World's 50th Anniversary Celebration. Wait times for the Twilight Zone Tower of Terror may be as long as 1 hour on an average summer day. Make sure to visit the park early, preferably between 9 AM and 12 PM, because it gets crowded.
13. Indiana Jones Epic Stunt Spectacular
The Indiana Jones Epic Stunt Spectacular has returned after a brief break. The live-action show is among the greatest at Walt Disney World, providing the best experiences for kids between three and seven years.
The 25-minute performance features Indiana Jones and Marion stealing priceless artifacts and battling evildoers, just like in the movies. The breathtaking stunt performance happens multiple times daily, so check the app before visiting the park.
If you're not using the Genie+ Lightning Lane, plan to arrive early because the good seats in the center of the theater tend to go fast.
14. For the First Time in Forever: A Frozen Sing-Along Celebration
It's a 30-minute sing-along to Frozen songs with your beloved Frozen actors. It will offer a delightful experience for children and adults and is a must-do for Frozen lovers.
Generally, For the First Time in Forever might be a little too long for toddlers before they can get used to the intensity of the final scenes.
15. Star Wars: Rise of the Resistance
Rise of the Resistance is more than simply a ride. It is a holistic experience in which guests are immersed in the plot as the villainous First Order arrests resistance warriors. It is a multi-phase ride that will take more than 15 minutes to complete from the time one board to the time they exit.
One hour will be deemed a short time if you're in the waiting line since wait lengths may extend up to 180 minutes. If you don't take advantage of the Lightning Lanes, you could find yourself waiting for the better part of the day.
16. Muppet*Vision 3D
The concept of the 15-minute presentation is that the Muppets will showcase new 3D technology, complete with cheap 3D gimmicks. It's classic Muppet humor, and toddlers will enjoy the 3D effects. The theater is similar to classic television series and can accommodate 584 people.
Your kids will have an enjoyable experience at the live auction show. You can visit the attraction any day, but the performances are more amazing during summer.
Final Thoughts
Disney's Hollywood Studios features fewer attractions, most of which are sit-down shows or rides with longer durations. That renders it an excellent alternative for a day when your family's feet require some rest.
The list of rides at Hollywood Studios contains everything you need to plan the perfect day at the theme park. We hope this guide highlighting 16 of the best Hollywood Studio rides for toddlers will assist you in making the right choice.
More about our TFVG Author
A seasoned traveller, Dad, and avid sports tourist, James foundered The Family Vacation Guide to share his expert vacation experiences- especially when it comes to being a travelling family man.
Featured in Travel articles such as Travel + Leisure, TripSavvy and SFGate, you know you're reading some of the best vacation tips online.