If you're planning a trip to the Most Magical Place on Earth, make sure you bring your autograph book. Then, you can go on the hunt for some of your favorite Disney characters throughout the parks.
Finding Aladdin may be hard if you're visiting Disney World for the first time.
Fortunately, we're here to help you. So, where can you meet Aladdin at Disney World? Here is everything you need to know to find your favorite diamond in the rough.  
Who Is Aladdin?
Aladdin is the title character from the movie Aladdin.
He starts his journey as a "street rat" in Agrabah. Aladdin finds a magic lamp and befriends a genie who grants him three wishes. With the help of his trusty sidekick, Abu, and a genie, Aladdin becomes the Prince of Agrabah.
Where there's Aladdin, you'll also be likely to find Princess Jasmine. Whether they are soaring on a magic carpet ride beyond her palace walls or defeating the evil Jafar, Princess Jasmine and Aladdin are always lurking at Disney World. 
Where To Find Aladdin at Disney World?
If Aladdin is your favorite Disney movie and you're going to see him, you can find him in a few different places. The two main parks where you can meet Aladdin are Epcot and Magic Kingdom. 
Read on if you want to know where to look to find Aladdin.
Epcot
Epcot is the dedication to international culture. You can walk around from country to country and become immersed in the culture of the permanent world's fair. This walking tour around the world is called Epcot's World Showcase.
You can find Aladdin at the Morocco Pavilion.
You can find the Morocco Pavilion between the Japan and France Pavilion in Epcot's World Showcase.
Aladdin and Jasmine are usually outside the Marrakesh Restaurant. The Morocco Pavilion at Epcot is the best way to meet Aladdin at Disney World. There may be a line, but you can use the My Disney Experience app to see Aladdin's meeting times.
The Marrakesh Restaurant is an indoor character meet, so you can escape the heat for a few minutes as you meet Aladdin and Jasmine.
You can find the Marrakesh Restaurant across the way from Casablanca Carpets. 
Magic Kingdom
Another great place to meet Aladdin would be Disney World's Magic Kingdom.
The most common place to meet Aladdin is in Adventureland.
You can meet Aladdin and Jasmine near The Magic Carpets of Aladdin ride in the Magic Kingdom.
The Magic Carpets of Aladdin lets you ride in your very own magic carpet. See a whole new world above Agrabah as the magic carpets take you in circles.
You can meet Jasmine and Alladin at the Agrabah Bazaar, which you can also find in Adventureland. The Agrabah Bazaar is behind The Magic Carpets of Aladdin ride.
According to Walt Disney World Resort, there are certain times when you can meet Aladdin at Disney World. For example, Aladdin is at The Magic Carpets of Aladdin ride in both the morning and afternoon. 
Listed on the app, Aladdin's meet-and-greet times with Jasmine are 9:05 a.m., 10:10 a.m., and 11:15 a.m. So if you're a guest that loves park hopping, then there's a chance you might not be in Magic Kingdom during the morning.
If that's the case, Aladdin also has meet-and-greet times during the afternoon. These times are 1:15 p.m., 2:30 p.m., and 3:45 p.m.
Make sure you show up to these meet-and-greet times a few minutes early to avoid waiting in long lines.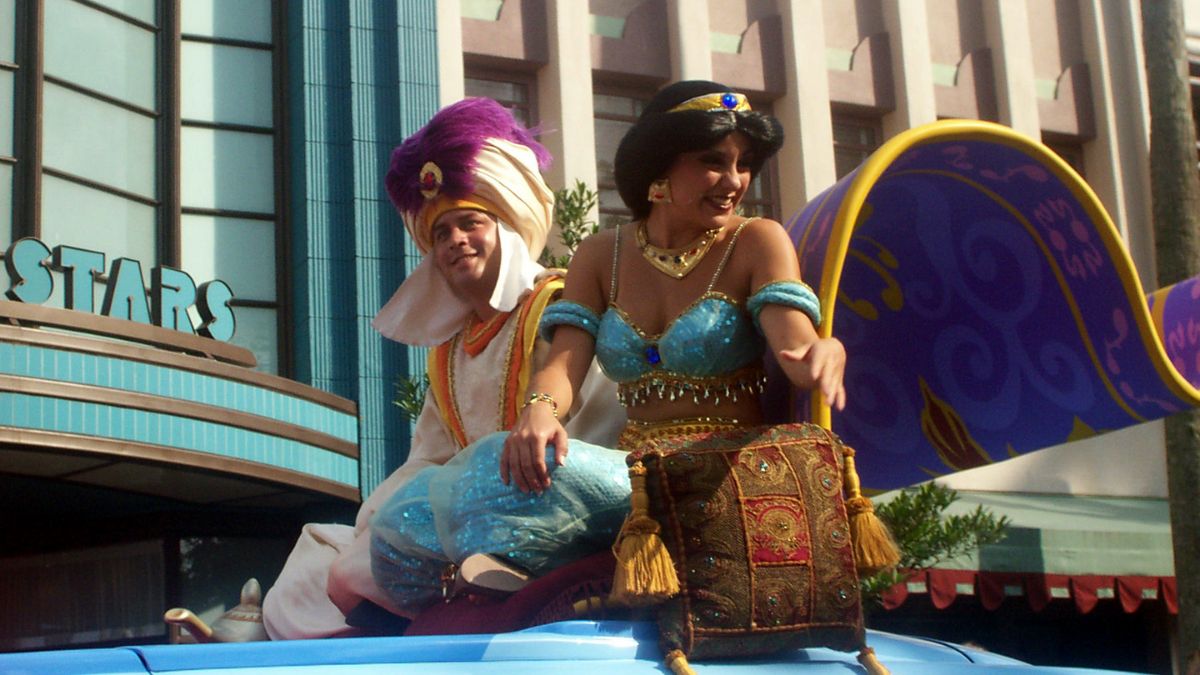 Can You Take Photos With Aladdin?
Yes, you can take photos with Aladdin if you find him at Disney World. The most iconic picture location with Aladdin is the exotic marketplace in Adventureland right behind The Magic Carpets of Aladdin ride.
Photos with your favorite Disney characters make a wonderful souvenir for anyone. In addition, these photos won't cost you any extra money because you take the photos yourself.
Also, you can use Disney's PhotoPass service, which includes professional photos from skilled photographers who will be available at the meet-and-greet location.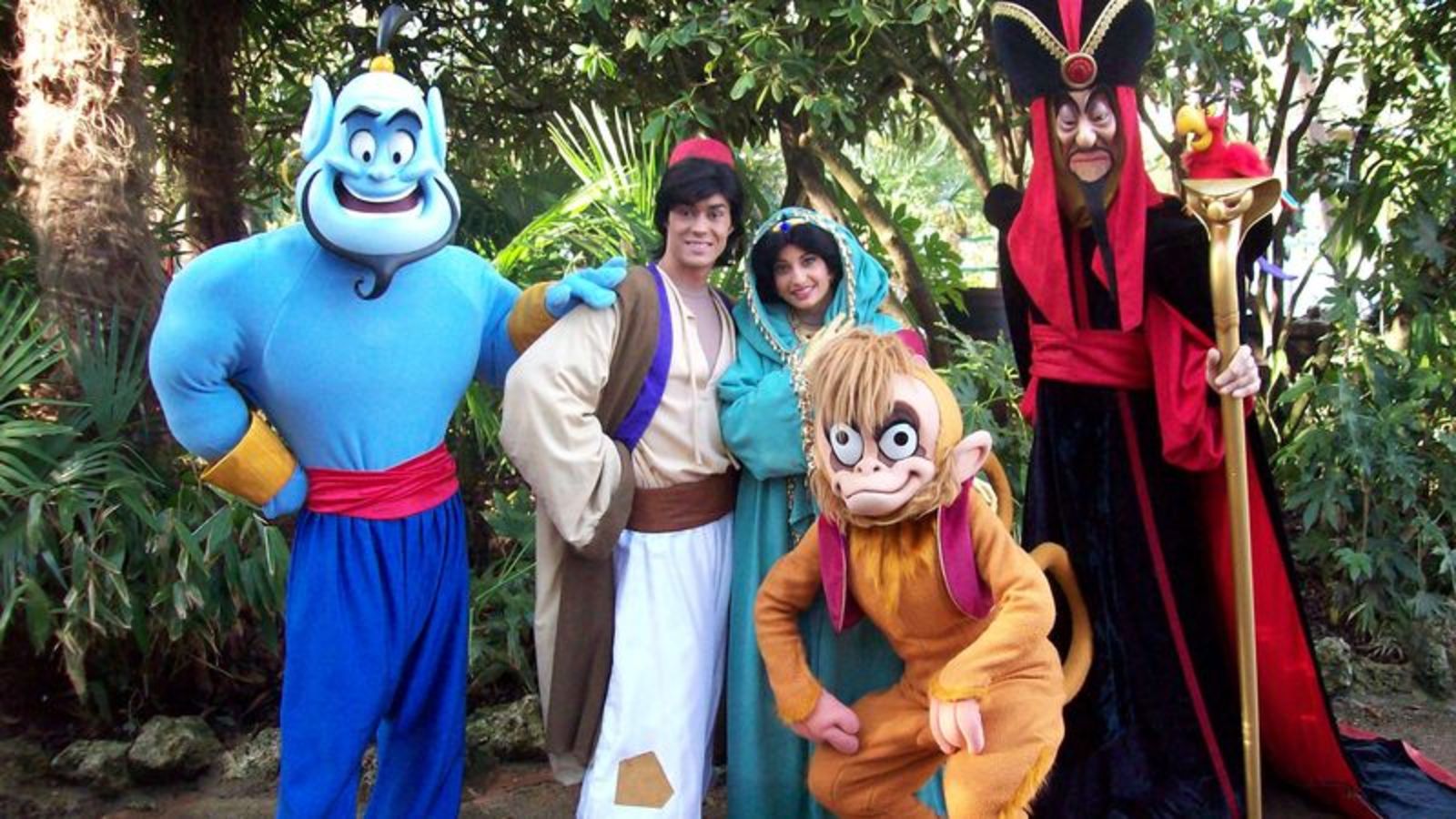 Tips for Meeting Aladdin at Disney World
Before you go searching for Aladdin at Disney World, there are a few things you will want to consider.
Lines to meet Aladdin can be long. Bring water and toys to help you pass the time.
Arrive early to ensure you aren't standing in line for long.
Use the My Disney Experience app to have a smooth Disney World experience.
The most important tip to remember is that Disney World is located in Florida. The sun is constantly beating down on you, so you'll want to remember to bring food and water to stay hydrated.
Also, the meet-and-greet times are subject to change due to unforeseen circumstances in the park. These circumstances include the day of the week and the weather. Use the My Disney Experience app to get updated information on what Aladdin's doing.
If you keep these tips in mind, you can enjoy a smooth experience when meeting Aladdin at either Magic Kingdom or Epcot. 
So, Where Can You Meet Aladdin at Disney World?
Aladdin may be one jump ahead, but now you know a couple of ways to meet him at Disney World.
Let's recap, where can you meet Aladdin at Disney World? You can find this "street rat" turned Prince of Agrabah in these locations:
The Morocco Pavilion in Epcot
Marrakesh Restaurant in the Morocco Pavilion in Epcot
The Magic Carpets of Aladdin ride in Magic Kingdom
Are you ready to meet Aladdin in person? Also, do you want to meet Princess Jasmine?
Children and adults who love this classic Disney movie can enjoy hearing stories from Aladdin about his adventures with Abu and how he got to marry his Princess.
So if you dreamed of meeting Aladdin, check out one of these locations next time you're in Disney World.
More about our TFVG Author
A seasoned traveller, Dad, and avid sports tourist, James foundered The Family Vacation Guide to share his expert vacation experiences- especially when it comes to being a travelling family man.
Featured in Travel articles such as Travel + Leisure, TripSavvy and SFGate, you know you're reading some of the best vacation tips online.