First, the most important thing to know about meeting Chip and Dale is to know which is which and never confuse them. Telling the difference is super easy if you look at their adorable noses.
Chip's nose is black like a chocolate chip, while Dale's nose is slightly redder. These adorable chipmunks take great offense (in true Disney style) to being called the other's name. If you mistake the two, be prepared for some antics!
If meeting these two silly chipmunks is something you want to do on your next trip to Disney World Resort in Florida, then you are in luck. These two show up in many locations around the resort.
Keep reading, and we will give you the insiders tips and tricks to find these crafty chipmunks for a flawless meet and greet.
Where to Meet Chip and Dale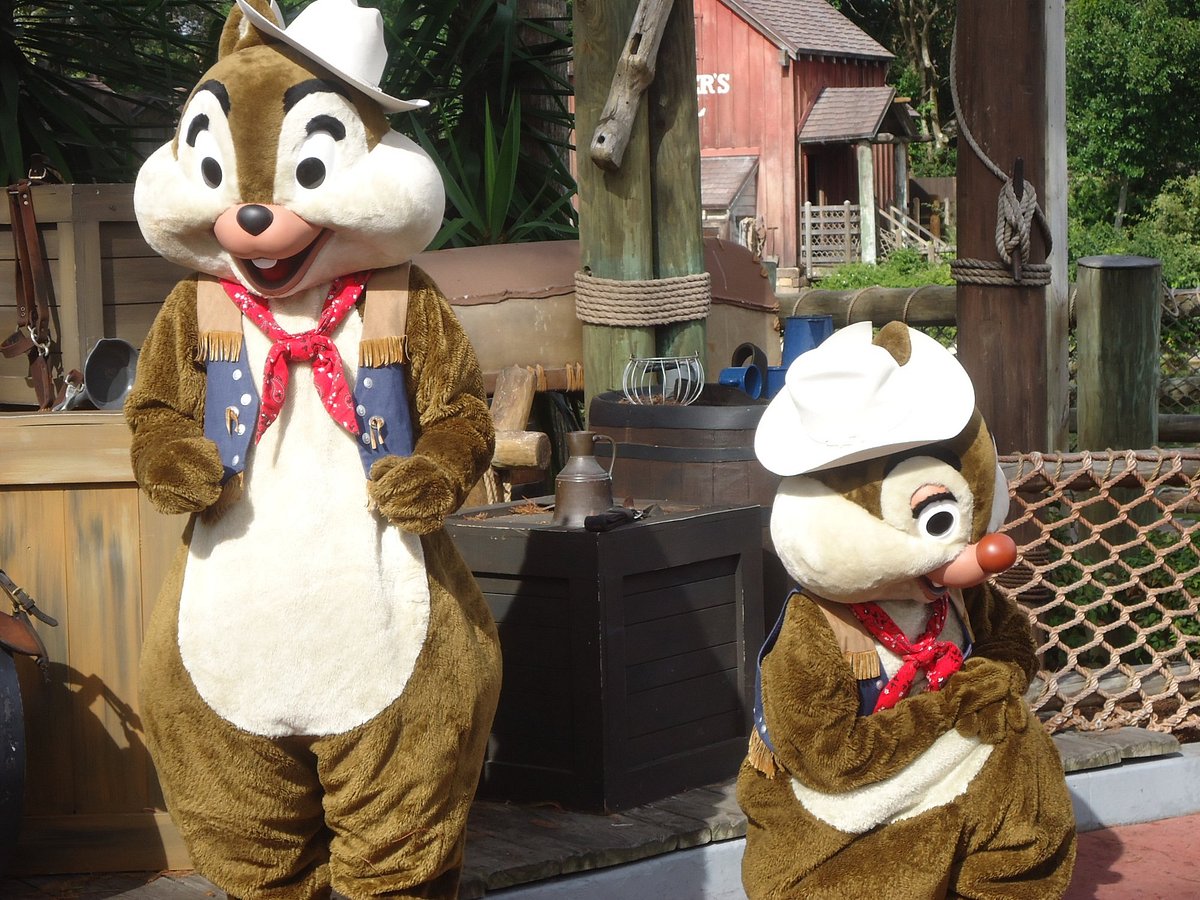 Chip and Dale or two of the most famous Disney characters, so you can find them in nearly all the parks.
At Magic Kingdom
Located near the backside of the Magic Kingdom is an enchanted land anointed Fantasyland. Tucked inside Fantasyland is Storybook Circus, where you will find the perfect place to meet these two crazy critters.
Chip and Dale will typically sign autographs here and pose for pictures. Be aware that these two love to show up at other places around the Magic Kingdom, so keep an eye out for them.
At Hollywood Studios
If you look to the right towards the end of the central street-Hollywood Boulevard at Hollywood Studios, you will probably catch Chip and Dale frolicking in the grass outside the Brown Derby Restaurant.
And while the chippy duo usually cannot sign autographs at this location, they spend a lot of time interacting with all the guests and posing for pictures and coveted selfies. Whether you're at the Brown Derby to enjoy a meal or happen to be walking by, you're sure to enjoy your time with Chip and Dale!
At Animal Kingdom
Chip and Dale like to appear at two different places inside Animal Kingdom. They sometimes crash Donald's Dino-Bash in DinoLand, U.S.A., and regularly meet and greet guests at the Rafiki's Planet Watch area.
Be sure to ask a cast member or check the Magical Disney Experience app to ensure you know where the crafty duo will be the day you are there. If you're lucky, you may be able to see the two walking around the park with a cast member friend!
At Epcot
Suppose you are looking for the best and most personal way to meet Chip and Dale, head over to Epcot and book a dining reservation at The Garden Grill restaurant.
The restaurant is a rotating eatery atop the Lands Pavilion- also home to the ride Soaring and Living with the Land. As you enjoy a fabulous farm fresh family-style meal, Chip and Dale will personally come to your table to sign autographs, take pictures, and interact with you as you eat.
At Fort Wilderness
Another fantastic character experience with Chip and Dale occurs at Fort Wilderness, Disney's campsite. At this experience, you can roast s'mores and sing songs while gathering around a campfire with Chip and Dale. How amazing is that?
This event depends on the weather, so keep an eye on the radar or your MDE app for updates.
Other Places to See Chip and Dale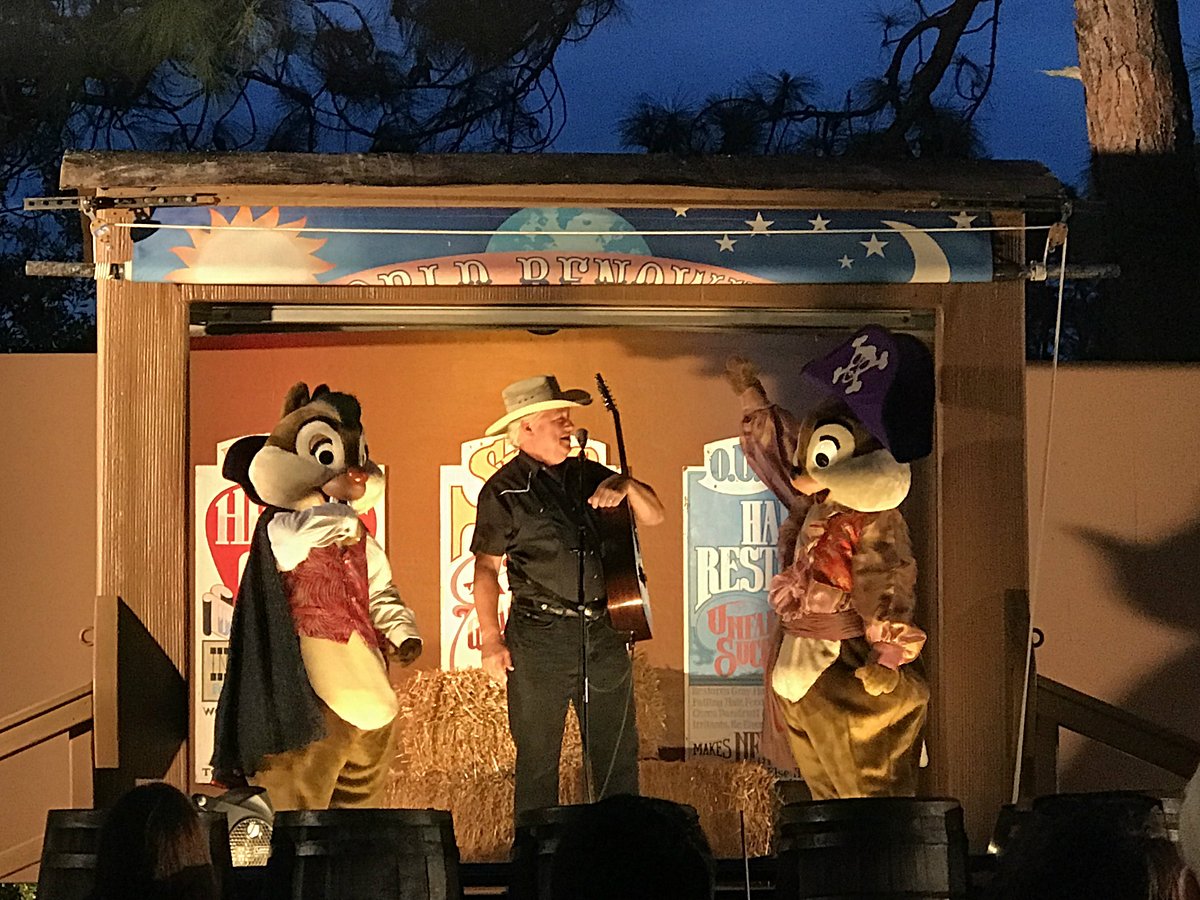 Since Chip and Dale are such popular characters, you will be fine with finding them throughout the Disney resort.
Parades and Character Cavaldes
Some parades and character cavalcades in which you might catch a glimpse of Chip and Dale are the Move It, Shake It, Celebrate It Street Party at the Magic Kingdom and part of the Goofy and Pals Sets Sail character cavalcade at Animal Kingdom.
Special Events
Never strangers to having a fun time, Chip and Dale adore the holidays. During the fall season, you might glimpse Chip and Dale dressed in their space-themed costumes, with sparkly astronaut helmets, antennas, and silvery vests.
You might also encounter the giddy duo wearing red and green holiday scarves and hats during the Christmas season.
Tips for Meeting Chip and Dale
Even though finding Chip and Dale is not as elusive as finding some Disney characters, these tips and tricks will make it as straightforward and effortless as possible.
Use the My Disney Experience (MDE) and Genie+
The sooner you begin using the MDE app and Genie+, the sooner you can reap the benefits (and subtract a bit of stress from the hectic day).
On the MDE app, you will find- among multiple other things- updates on locations for character meet and greets and the wait times. You can use the Genie+ add-on to combat those wait times and schedule the perfect time for your family to meet Chip and Dale.
Questions to Ask Chip and Dale
Meeting these silly characters is always delightful, but asking specific questions can make the experience more unique and memorable. Be sure to ask Chip and Dale:
Who is the smarter chipmunk?
What tastes better- popcorn or acorns?
If you really want to see the duo act up, call them Gophers, or even worse, call them Alvin and Theodore or each other by the other's name.
Even though Chip and Dale cannot actually answer you, their reactions and antics will leave you smiling from ear to ear.
Practice Patience
Remember that even though you are excited to meet Chip and Dale, so is everyone else in line around you.
Practicing patience will make the experience much more enjoyable and magical for you, your little ones, the cast members, and Chip and Dale.
Final Thoughts about Meeting Chip and Dale
Chip and Dale are always fun to meet and interact with- they are very popular characters and are always out to make you smile.
By following these tips and tricks, you will be sure to meet Chip and Dale and make magical memories that will last you a lifetime.
More about our TFVG Author