Here's everything you need to know about where you can meet Fancy Nancy at Disney World, Florida.
Young kids love meeting characters at Disney World. Meeting a beloved character is a genuine experience for a small child that will create lifelong memories. Luckily, Disney recognizes how special it is for young guests to interact with characters and structures many of the meet-and-greets around the interests of little kids. 
Fancy Nancy is one of the most popular characters for toddlers and small children. If someone in your family is obsessed with Fancy Nancy, you'll want to take the time to meet her during your trip to Disney World.
Read on to learn more about where to find Fancy Nancy at the happiest place on Earth.  
Where to Find Fancy Nancy at Disney World
Finding Fancy Nancy at Disney World is relatively easy. Hollywood Studios is the only park in Disney World where you can meet Fancy Nancy.
Hollywood Studios
Hollywood Studios hosts most of the television show characters, including Fancy Nancy. You can find Fancy Nancy in the Animation Courtyard.
To get to Animation Courtyard, walk down Hollywood Boulevard (the main street when you enter the park) and lean right at the Chinese Theater. You will recognize the Animation Courtyard from the large arch.
Fancy Nancy appears in the Animation Courtyard for both regular meet-and-greets and the Disney Junior Play and Dance event.
Nancy also makes visits to the Hollywood and Vine Restaurant for the Disney Junior Play and Dine event.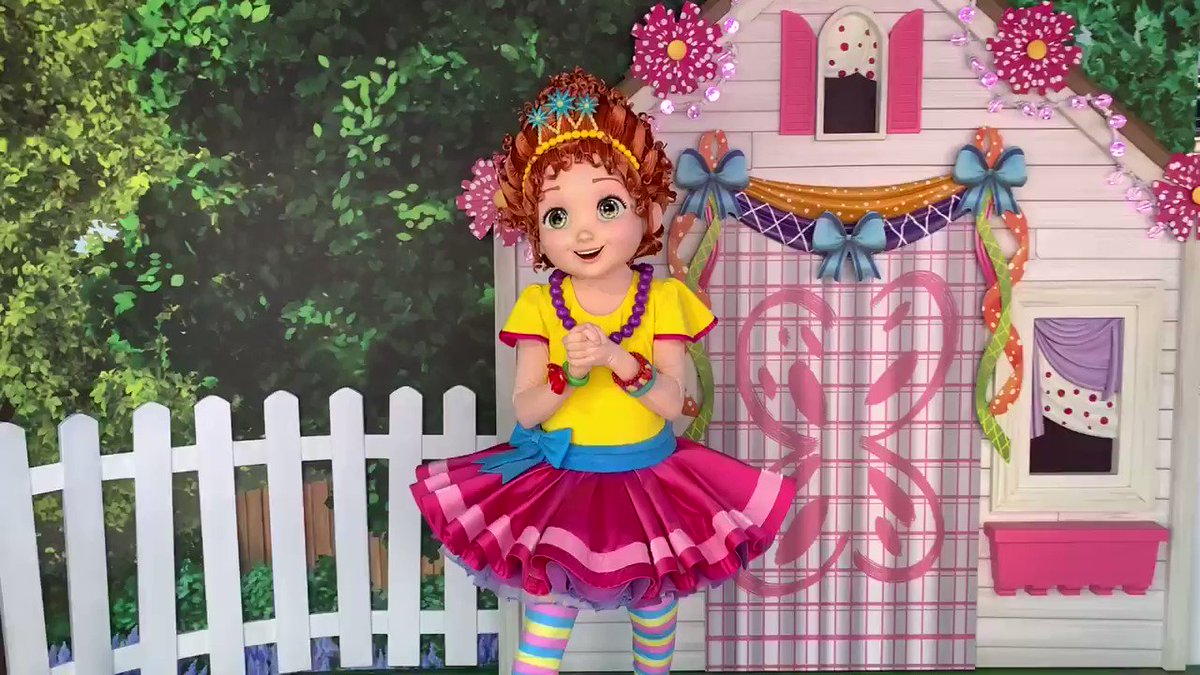 Fancy Nancy Meet and Greets
For the regular meet-and-greets, Fancy Nancy usually shows up in the Animation Courtyard alongside a couple of other Disney Junior characters, such as Vampirina and Doc McStuffins.
Nancy's meet-and-greet is located by her backyard playhouse, a set that fans of television series will recognize. The scene features fake grass, some trees, a white picket fence, and the facade of a small white playhouse, adorned with colorful curtains and bows.
Fancy Nancy makes frequent appearances throughout the day, so you'll want to check for the most updated schedules.
Disney Junior Play and Dance
Disney Junior Play and Dance is an awesome musical celebration featuring Mickey Mouse, Timon from The Lion King, and several Disney Junior characters, including Fancy Nancy. This event is a fantastic dance party for any young child who loves music and movement. 
Disney Junior Play and Dine
Character dining is a great opportunity to get extra attention from characters, and at Hollywood Studios, your family can enjoy a special Disney Junior character dining event at Hollywood and Vine.
Hollywood and Vine is a retro diner-style restaurant, and the breakfast buffet is entirely devoted to Disney Junior characters. That means you can get some guaranteed time with Fancy Nancy while your family eats breakfast since character dining gives you the chance to meet and take photos with every character present at the restaurant.
Frequently Asked Questions
Here are the answers to some of the most frequently asked questions about meeting Fancy Nancy and other characters at Disney World.
What age is Fancy Nancy for?
The Fancy Nancy television show and book series cover a relatively broad age range, but the typical target audience for Fancy Nancy is aged 4 through 7 years old, spanning preschool through early elementary school.
Of course, a child outside of that age range might still be a Fancy Nancy fan, depending on their developmental needs and individual interest areas.
What does the Fancy Nancy character look like at Disney World?
Fancy Nancy at Disney World is in a character suit, similar to Mickey Mouse. Her head is slightly large, matching the proportions of the character on the animated television show. She wears her curly red hair in an updo and sports a stylish golden tiara.
For her outfit, Fancy Nancy wears a yellow shirt, a pink tutu with a blue bow, striped leggings, and pink shoes. She has a necklace and several bracelets for accessories.
Is Fancy Nancy still on Disney?
The Fancy Nancy television series is no longer making new episodes. The final season aired in 2021 and 2022. However, you can still watch all of the episodes of Fancy Nancy on Disney Plus. 
How do you meet rare characters at Disney World?
Meeting rare characters at Disney is tricky but not impossible. If you have a specific character in mind, you should do some research in advance—check which parks and locations they tend to be in and be sure to schedule your days at Disney World to allow for time to find them.
When you arrive at Disney World, you should also consult a cast member to get the most current information on when and where the character will make an appearance. If you are particularly eager to meet a rare character, the cast member may even be able to arrange some Disney magic for your family and make a call for the character to come by. 
Final Thoughts
Fancy Nancy may not be that well-known outside of households with children under eight years old, but Disney World certainly appreciates her popularity. As long as you stop by the Animation Courtyard in Hollywood Studios during your visit, you should get a chance to meet the fabulously sassy Fancy Nancy.
More about our TFVG Author
A seasoned traveller, Dad, and avid sports tourist, James foundered The Family Vacation Guide to share his expert vacation experiences- especially when it comes to being a travelling family man.
Featured in Travel articles such as Travel + Leisure, TripSavvy and SFGate, you know you're reading some of the best vacation tips online.