As the first Disney Princess, meeting Snow White in person is an exciting opportunity for any Disney enthusiast. This cheerful princess has been beloved by children and adults alike for decades.
So next time you take a trip to Disney World in Florida, be sure to set aside some time to meet this super iconic character. 
However, finding Snow White at Disney World may be confusing if you are visiting for the first time. Disney World is a massive collection of theme parks, so it's best to navigate it with some guidance.
Fortunately, we're here to help! So, where can you meet Snow White at Disney World? Here is everything you need to know.
Where To Find Snow White at Disney World
If you go to Disney World to see Snow White, you can find her in a few places. The two main parks where you can meet her are Epcot and the Magic Kingdom. These parks are rather big, so read on if you know where to look.
Epcot
When you're in Epcot, you can find Snow White at the Germany Pavilion. The Snow White movie comes from a German fairytale, so it only makes sense that this princess is at the pavilion representing her country.
The Germany Pavilion at Epcot is overall the best way to meet Snow White at Disney World. While you may have to wait in line for a bit, chatting with this wonderful princess will be worth your while. This opportunity comes free with your Disney World ticket.
Snow White is only available for meet-and-greets at specific times throughout the day. So, to have the best experience, we recommend grabbing the Epcot Times Guide so you can plan your visit. We also recommend showing up to Snow White's meet-and-greet as early as possible.
In addition, you have a chance to meet Snow White at the Akershus Royal Banquet Hall.
This beautiful dining location allows you to enjoy cuisines from around Europe and see many famous Disney Princesses—including Snow White! It's a great way to meet Snow White if you're feeling hungry and don't have the energy to wait in line.
Because this restaurant is so popular, we highly recommend making a reservation. Otherwise, getting a table at this restaurant may be tricky.
Magic Kingdom
If you're in Disney World's Magic Kingdom and would like to meet Snow White, head on over to Princess Fairytale Hall. Bear in mind that the princesses at this hall may vary depending on the time of day, so if you're determined to meet Snow White, consider checking that she'll be there before you visit.
The Princess Fairytale Hall is a very popular spot in Disney's Magic Kingdom, so prepare for a long line. If you're willing to spend a little extra money, you can get the Genie+ app to help speed things along!
And if you're a fan of all the Disney Princesses and not just Snow White, you may enjoy Cinderella's Royal Table Princess Meals. This restaurant in the Magic Kingdom includes several popular Disney Princesses that visit every table, including Snow White.
However, the princesses available may change depending on when you visit. So while you have a good chance of meeting Snow White at Cinderella's Royal Table, it's not a guarantee.
Disney's Wilderness Lodge
When you're spending a day at Disney's Wilderness Lodge, you have a great opportunity to meet Snow White. Head over to Storybook Dining at Artist Point for an experience that's perfect for Snow White fans!
At this fancy restaurant, you can enjoy a delicious dinner with the cast of Snow White. Not only will you get to meet the princess herself, but you will also see her lovable dwarf companions as well as the Queen.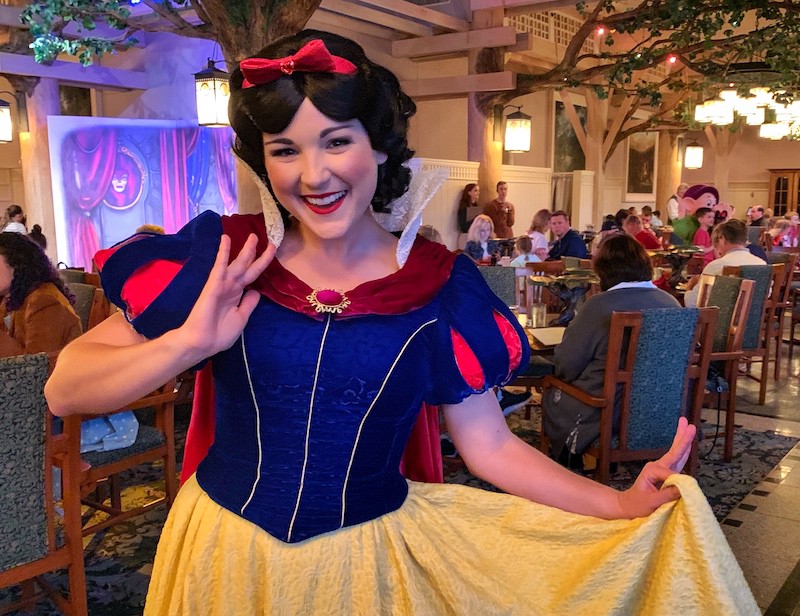 Can You Take Photos With Snow White?
You can have photos with her at Disney World. Photos with a Disney Princess can make a wonderful souvenir for anyone. They won't cost you any extra money, either.
You can bring a camera to take photos if you'd like. Or, you can take advantage of Disney's PhotoPass service, which provides professional photos from skilled photographers.
Does Snow White Give Autographs?
Yes, an autograph when you visit Snow White at Disney World is possible! So be sure to bring an autograph book, a photo, or a piece of merchandise for the princess to sign.
Getting an autograph from Disney's first princess can make a souvenir even more memorable. And best of all, you won't have to pay extra for it.
Tips for Meeting Snow White at Disney World
Before you visit Snow White at Disney World, there are a few things you will want to consider.
Lines to meet Disney Princesses can be pretty long, so bring along some toys, snacks, and drinks to help your kids pass the time.
Show up early to reduce the time you spend in line.
Consider getting the Genie+ app for a quicker, smoother experience.
Bring a high-quality camera to ensure you get a clear photo with Snow White.
Download the My Disney Experience mobile app to help you plan your visit.
When you keep these tips in mind, you can expect a much better experience when meeting Snow White at Disney World!
Conclusion – Where Can You Meet Snow White at Disney World?
If you're a fan of Snow White, there are a couple of ways you can meet her at Disney World.
So, where can you meet Snow White at Disney World? You can find this princess in certain locations:
The Germany Pavilion in Epcot
The Akershus Royal Banquet Hall in Epcot
The Princess Fairytale Hall in the Magic Kingdom
Cinderella's Royal Table in the Magic Kingdom
Storybook Dining at Artist Point in Disney's Wilderness Lodge
Are you ready to meet Snow White in person? It's a fun activity for both children and adults who are kids at heart. So if you have dreamed of seeing this beautiful princess, check out one of these locations next time you're in Disney World!
More about our TFVG Author
A seasoned traveller, Dad, and avid sports tourist, James foundered The Family Vacation Guide to share his expert vacation experiences- especially when it comes to being a travelling family man.
Featured in Travel articles such as Travel + Leisure, TripSavvy and SFGate, you know you're reading some of the best vacation tips online.