We all know and love that quirky little alien from planet Turo, Stitch. Stitch is becoming increasingly more popular among the kids of this generation, and for good reason! He's funny, sweet, and could even be described as cute. So it's no surprise that kids are increasingly interested in finding out where and how they can meet this furry little alien friend while visiting Disney World.
Let's dive in and explore the top 5 places you can go in Disney World to meet Stitch! 
The Rocket Tower Plaza Stage in Tomorrowland
Stitch is an alien from another universe, so it only makes sense that he would hang out with Buzz Lightyear in Tomorrowland. Tomorrowland is located in Disney World's most famous park, Magic Kingdom, and is home to the well-known Space Mountain attraction and many others.
While enjoying the buzz lightyear space ranger spin, or taking a leisurely ride on the people mover in Tomorrowland, be sure to make some time to visit Stitch on the Rocket Tower Plaza Stage. Although the exact times of when he will make an appearance are rarely announced, he does pop up on this stage quite often.
So hang around Tomorrowland for an afternoon, and you might just get lucky enough to encounter your favorite alien friend!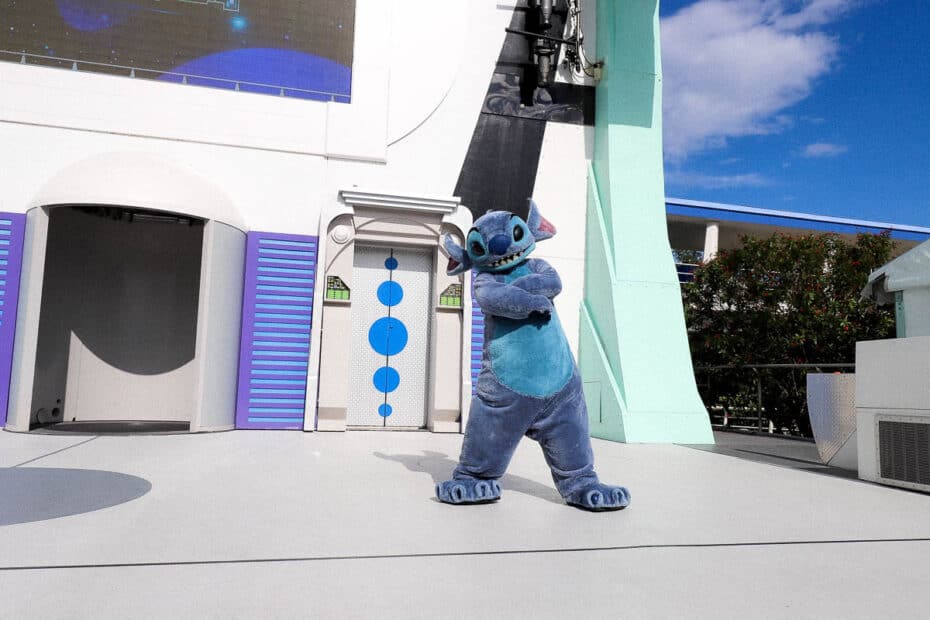 Best Friends Breakfast at O'Hana
Disney's Polynesian resort offers guests a chance to indulge in a delicious Hawaiin-style breakfast while also meeting the lovable characters from Lilo & Stitch. You and your family can meet the characters and get autographs and photos while dining at this incredible breakfast spot.
Some of the most popular food offerings here include scrambled eggs, Pua'a pork sausage, island-style potatoes, and the famous Mickey-shaped waffles! This is a once-in-a-lifetime dining experience that you and your kids will love, so be sure to make reservations for the Best Friends Breakfast at O'hana and interact with Stitch up close and personal. 
Epcot Center
Epcot is a place focused on the future, so of course, Stitch would be drawn to something unique and exciting! Stitch makes appearances occasionally here at the Epcot center. Still, the days and times in which he is available can be tricky.
One way to ensure you don't miss Stitch while trekking the expansive 300-acre park of Epcot is to download and check in on the Disney Genie app. This app features a list of all the attractions at each park, including character meet and greets. If you're still having trouble finding when and where to meet Stitch, you can ask one of the magical cast members as well; they are always waiting by with a smile, ready to help.
The Move it! Shake! Dance and Play it! Parade in Magic Kingdom
The Move it! Shake! Dance and Play it! Parade that takes place on Main street in Magic Kingdom is another place you can get your Stitch fix. Stitch is featured on the Lilo & Stitch float during this parade, and if you get there early enough, you can even snag a front row spot to watch the parade and see Stitch up close!
Disney is known for its magical parades, but this one, in particular, could be described as more of a dance party. Your kids will surely enjoy moving it, shaking it, and dancing it while also getting an up-close peek at their favorite blue alien friend!
Stitch's Alien Encounter Meet & Greet
If you can't catch Stitch on the Rocket Tower Plaza Stage in Tomorrowland, check out Stitch's Alien Encounter Meet and Greet location near the Alien encounter ride. Although his ride is no longer there, you can still meet Stitch at this location for a personal experience.
Here Stitch will sign autographs, give lots of fuzzy hugs and take as many photographs as your hearts desire. You can check your Disney Genie app for accurate times and dates when Stitch will be visiting, or as mentioned before, ask a friendly cast member. They can finally give you all the information you need to meet that crazy alien friend. 
Where to Buy Stitch Merchandise in Disney World
Now that you have the inside scoop on where to go in Disney World to meet Stitch, I'm sure you're wondering how you can come home equipped with all the latest and greatest Stitch merchandise too.
Mickey's Star Traders located in Magic Kingdom is a great place to go when searching for Stitch-themed merchandise. Here you will find a large selection of souvenirs all with Stitch's adorable face plastered on it. Star Traders is a gift shop conveniently located in Tomorrowland, so it won't be hard to find if you're already there searching for Stitch.
Another great place to search, if you want to purchase some Stitch-themed merchandise before heading home from the most magical place on earth, is the Polynesian resort. The Polynesian resort offers an exclusive Lilo and Stitch and Moana-themed gift shop named Moana Mercantile.
While grabbing breakfast at the Best Friends Breakfast at O'hana, be sure to stop by the Moana Mercantile as well and buy all the latest Stich-themed gifts.
Enjoy an Incredible Disney Family Vacation
If you and your little ones are eager to meet Stitch on your Disney family vacation, these are all the tips you need to know to achieve this once-in-a-lifetime opportunity. So be alert, always be on the lookout for character meet and greets, and download the Disney genie app for complete information about when and where your favorite characters may appear.
Be sure to book your reservations ahead of time if you plan on attending a character breakfast or dinner, such as the Best Friends Breakfast as O'hana, because spots fill up quickly for these dining experiences. Also, be sure to keep checking Disney's website for more info on booking reservations and how to get the best deals on rooms and tickets to Walt Disney World.
Have a magical day, and get excited for an alien encounter with Stitch on your next Disney World vacation!
More about our TFVG Author
A seasoned traveller, Dad, and avid sports tourist, James foundered The Family Vacation Guide to share his expert vacation experiences- especially when it comes to being a travelling family man.
Featured in Travel articles such as Travel + Leisure, TripSavvy and SFGate, you know you're reading some of the best vacation tips online.