Crystal clear waters, white sand shuffling on the floor, and the sun in the sky. These are three key elements to a perfect beach day. It's no wonder so many people set off on international vacations chasing clear, blue waters and sunny skies.
However, if you want to get the same experience without crossing borders, there are several beaches located right in Florida that will make your jaw drop with their pristine beauty.
Whether you're spending time in the northwestern part of the state or prefer to stay down south on the Atlantic coast, there are special spots where you can go for water that you can see all the way through.
So, which beaches in Florida have the clearest water? Read on to discover the best beaches in Florida with clear water and learn what contributes to this clear water in the first place.
What Makes Ocean Water Clear?
Why do some beaches and islands have crystal clear water, while other beaches are filled with murky green or brown waves?
As it turns out, there are a few scientific causes that have to do with our ocean currents and the positioning of bays. There are also a couple of other factors that come into play – the time of year and the weather, especially.
So let's learn what makes the magic of clear waters.
Earth's rotation – This creates what is known as upwelling, which brings deeper, more sediment-rich water inland and to the surface. Beaches with physical barriers like reefs can block this kind of upwelling, keeping waters clear.
Coarser, heavier sediments – Heavier sediments will sink to the bottom, keeping the water clear at the surface.
Weather – Rain run-off can darken the water, while days of light winds and sun can keep the waters more clear.
Seasons – The water tends to be more clear in spring and fall, especially on the gulf coast.
Armed with this understanding, let's answer the question of which beaches in Florida have the clearest water.
Florida's Emerald Coast Beaches with Clear Waters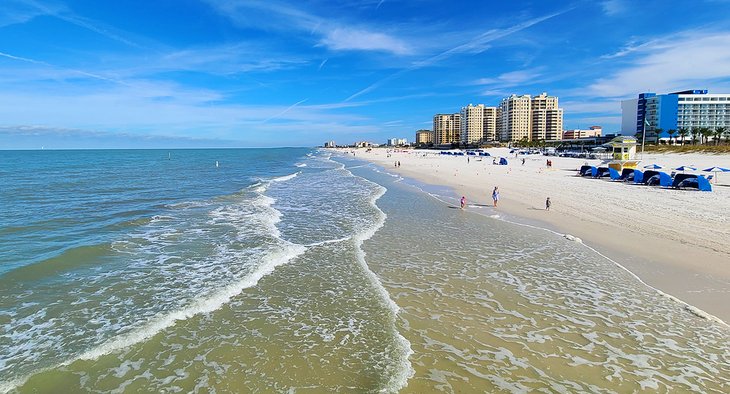 If you're on the hunt for the absolute clearest water beaches in Florida, head nowhere but the Emerald Coast, which is the northern end of the west coast, just next to Alabama beaches like Gulf Shores.
This area is known for its absolutely stunning beaches and waters, so the name Emerald Coast is quite fitting. The waters are characteristically a clear blue-green, and you can almost always see straight through to the bottom.
Destin
Destin is commonly referred to as the Florida beach with the clearest water. Why this beach in particular?
It's because of the Choctawhatchee Bay just beyond the beach that acts as a filtration, taking in the darker sediment and leaving clear waters atop Destin's fine quartz sand.
If you're looking for recommendations on where to stay, check out our guide to the best family resorts in Destin.
Panama City Beach
Just down a bit east and south is Panama City Beach, a place that used to be famed for spring break vacations but has since settled into a more quiet beach town. Panama City Beach also benefits from the Choctawhatchee Bay but doesn't experience water quite as clear simply due to its distance.
Rosemary Beach
Rosemary beach is quickly becoming one of America's favorite new vacation destinations. This family-friendly beach boasts clear waters and white, soft sand that make any beach trip feel a little more luxurious.
Santa Rosa
Santa Rosa Beach is a quieter, sleepier beach town than Destin is that still benefits from the clear waters of the bay. Vacationers love its sugar-white sand, gentle surf, and blue-green water color, especially on clear days.
Florida's Gulf Coast Beaches with Clear Waters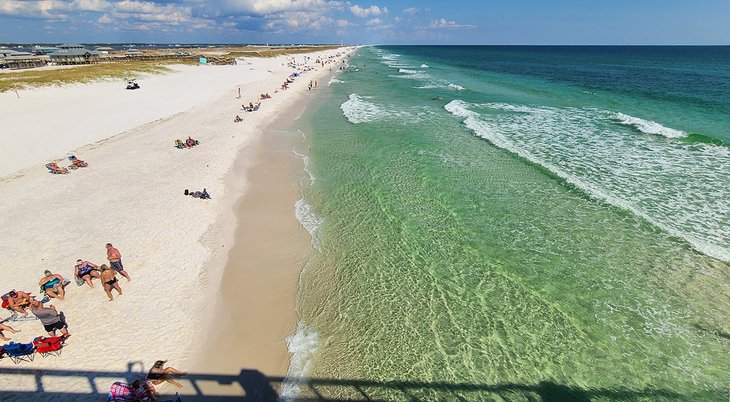 If you're located elsewhere in Florida, driving up to the Emerald Coast can be a trek longer than a trip to Georgia or South Carolina.
If you're looking for something a bit closer to home (read: more centrally located) but still on gulf waters, head to Florida's Gulf Coast to check out some of its most popular beaches (loved by visitors and state residents alike) with often clear water and picturesque shorelines.
Anna Maria Island
Anna Maria Island is a cute beach community just south of Sarasota that is both family-friendly and fun. The color and clarity of the water vary, but because of the filtering bay behind the island, it is typically pretty see-through.
This helps even those who may be a bit nervous about going into the ocean more confident since you can see to the floor.
Siesta Key
Another popular spot, especially for younger people who are looking for a buzzing social scene, is Siesta Key. Similar to Anna Maria, Siesta Key also has a filtering bay nearby, which helps to keep its waters so clear and sparkly.
If you're going for that picturesque beach landscape you see in photos and on TV, this is it.
Boca Grande
Boca Grande is a very quiet, private island that has a safe and friendly family feel to it. Ride your bikes or take a golf cart around the island and explore the giant banyan trees that line many of the streets.
The only thing better and more alluring than the island itself is the water! It's clear and beckoning visitors.
Longboat Key
Longboat Key is just down the road from Anna Maria and is a bit quieter with less traffic and an upscale feel. You'll love its white glistening sand and see-through green water that Longboat Key has become famous for. On the other side of the island, you'll find a much darker bay that holds the sediments in place.
Florida's Space Coast Beaches with Clear Waters
Florida's gulf coast isn't the only place to find clear ocean waters. On the Atlantic side, you can head to the Space Coast to find a few beaches with epic waves, alluring waters, and the best beachside experience.
Some of our favorites include Jupiter, Singer Island, Palm Beach, and Delray Beach.
Jupiter
Jupiter has the advantage of close gulf stream waters, keeping it a comfortable 78 degrees year-round for your enjoyment. Jupiter is even better if you like to get active in the water. Known for its water sports, you can enjoy stand-up paddleboarding, surfing, and snorkeling in Jupiter's calm, clear waters.
Singer Island
Singer Island's Ocean Reef Park is its most popular and largest public beach. Here and along the island's public beaches, you can swim in or relax by its crystal clear waters among upscale hotels and resorts, and world-class fishing, if that's your thing.
Palm Beach
Want to indulge in luxury and pamper yourself on one of the most beautiful beaches you've ever seen?
Palm Beach is known as a getaway for the mega-rich, but anyone can drive down and enjoy the public beach access. Palm Beach has consistently clear water due to its location and exudes all of the elements of a tropical paradise, with coconut palms lining the streets and tropical foliage throughout. 
Delray Beach
A quaint Florida beach village, Delray Beach is appropriately known as "Florida's Village by the Sea." It has a small-town vibe but exudes glamour with a bustling nightlife scene and incredible restaurants. But enough of that – what about the water? Delray boasts incredibly clear water, just like its Space Coast Neighbors.
Honorable Mentions
Florida's clear water beaches aren't just limited to these three categories, however. There are a couple of beaches that exist just outside of these boundaries that are worth visiting in their own right.
If you haven't found a destination that seems worth visiting, consider a trip to one of these four beaches with water clear enough to deserve honorable mentions. Some of the most impressive include Key West, Miami, New Smyrna Beach, and Clearwater Beach.
Key West
Key West is built on coral, so while this can help keep sediment away and the waters more clear, it never looks quite as clear as other beaches simply due to what's surrounding the island. Still, you can get a taste of clear waters if you travel to Key West and head to Smathers Beach, the island's most popular beach.
Miami
Miami is another honorable mention. The tides gradually wash out the sand, keeping the water clear if it's calm that day. It's also filled with sugar sand, large shells, and marine life that do their part in keeping the waters clear.
New Smyrna Beach
If you like clear water and want to pull the car up close, New Smyrna is for you. You can drive on the beach here, picking your favorite spot before you post up and enjoy the clear water.
However, be careful about going into the water. NSB is the shark bite capital of the world with the highest number of shark bites, so only go in if you dare.
Final Thoughts: Chasing the Clear Waters in Florida
Now you know which beaches in Florida have the clearest water.
Florida has so much to offer, from amusement parks and natural springs to our famous beaches with amazingly clear waters. While you could certainly fly to Mexico or Tahiti to bask in their vacation locales, you could also stay right here in the states and explore the pristine beaches with crystal clear waters that Florida has to offer.
Get started with the beaches listed here, and you're sure to be impressed.
More about our TFVG Author
A seasoned traveller, Dad, and avid sports tourist, James foundered The Family Vacation Guide to share his expert vacation experiences- especially when it comes to being a travelling family man.
Featured in Travel articles such as Travel + Leisure, TripSavvy and SFGate, you know you're reading some of the best vacation tips online.