Aulani, which is in the Hawaiian Islands, first opened its doors to guests in 2011. Architect Joe Rohde designed the resort itself. He grew up in the Waikiki area and created an authentic feel for this resort and spa.
During the building of the resort, Disney also put together an advisory board of professionals, all from Hawaii, to make sure the Hawaiian culture was properly represented.
If you love Hawaii and Disney, this is the perfect location for you. However, before booking this Resort, there are more than a few things to know. After all, if you spend money on vacation, you want to ensure it's everything you hoped it would be, right?
Take some time to read and review the information here. With information from top resources and people who have stayed here in the past, you can make an informed decision regarding if this is the right accommodation for your vacation.
Where is Aulani Located?
Disney's Aulani Resort, one of the best family resorts in Hawaii, is on the western side of Oahu, found in Ko Olina. It's approximately 17 miles away from HNL (Honolulu International Airport), a 30- to 40-minute drive (depending on traffic conditions).
If you use a taxi to get from HNL to Aulani, a smart option is Charlie's Taxis. That's because this car service provides you with a flat rate of just $55 one way. Taking one of the other Taxi car options will likely cost much more than this.
In most cases, you don't have to worry about setting up transportation ahead of time, as there is a stand in front of the resort, but you can make reservations if you want to.
What are the Different Accommodation Types at Disney's Aulani Resort?
The Aulani Resort has 351 hotel rooms. This includes 481 two-bedroom DVC (Disney Vacation Club) villas, 21 Grand Villas, and 16 suites.
The most popular and affordable option is the standard room, which comes with two queen-sized beds. In this room, you have a television and are greeted with the resort information menu and a welcome message on the screen, which most people agree is a nice touch.
Every room is also decorated using a Mickey-shaped towel and flower hairpin – after all, what's a mash-up of Disney and Hawaii without these little touches?
The rooms themselves are beautiful, featuring yellow and green colors, along with floral prints. You will get the entire "Disney" feel from every corner of the room. Even the lampstands scream, "Disney."
The Disney Vacation Club units are extremely luxurious and include a washer, dryer, and full kitchen. You can also choose from deluxe studies or one- and two-bedroom villas. If you are interested in joining DVC, it's a good idea to take a tour while you are there to see what you get. Most agree that the amenities and accommodations are well worth the membership fees.
Keep in mind that if you are a member of DVC, you will use accumulated points to book your stay. If you don't have enough points to cover your entire vacation, you must pay the remaining balance out of your own pocket.
Dining Options at Disney's Aulani Resort
When it comes to dining options at the Aulani Resort, you have a few to choose from.
The 'Ama'Ama
This is a higher-end, open-air restaurant at the resort. Here you can eat breakfast, lunch, and dinner, all in an oceanfront setting.
Prices for lunch begin at $19, while dinners start at $33.
Off the Hook
Off the Hook is a bar area where you can enjoy a fast lunch or a bite to eat in the evening. This restaurant option also offers appetizers, which are great if you love to enjoy a midnight snack.
Even better, this location is all about providing that Disney magic. If you stay late, you may be surprised with a free dessert to take back to your room.
The Makahiki
The name of this restaurant translates to "Bounty of the Islands." This is a character dining experience and overlooks a beautiful koi pond. Many visitors have compared this to Goofy's Kitchen, just with a more tropical theme.
You can eat breakfast here and enjoy photos with Mickey Mouse, Goofy, and Minnie Mouse. The buffet that is served here also has a huge selection of more traditional breakfast foods and some island favorites.
The Olelo Room
For an upscale bar experience, consider paying a visit to the Olelo Room. This is located right next to Makahiki on the ground floor of the resort's main building.
Here you can order signature cocktails and watch the beautiful koi fish in the pond right next to the Waikolohe Valley pool. You can also listen to live music in the evening, from your balcony over the bar.
Ulu Café
If you want a quick-service restaurant, then the Ulu Café is a great option. Here you can find several self-service items or orders that are cooked based on your special needs.
You can purchase a mug, which is refillable at the resort for $19 here, which lets you enjoy unlimited fountain drinks, coffee, and iced tea throughout your stay. This is a cute cup that you can use when you get home, too.
You will also find a few other quick-service options, including One Paddle Two Paddle, Lava Shack, and Mama's Snack Stop. Once you purchase the refillable mug, you can use it at these quick-service locations, too.
Papalua Shave Ice
If you are relaxing by the pool, then you can enjoy a treat from Papalua Shave Ice. For an extra dollar, you can also enjoy Mickey ears that are made of ice for your shaved ice dessert.
Some of the most popular flavors for these treats include guava, orange, mango, pineapple, lilikoi, coconut, and others.
Wailana Pool Bar
Do you want something fun to eat, and maybe an adult beverage – or two? If so, head over to the Wailana Pool Bar. Here you can enjoy salads, burgers, wraps, and pizza, along with beer and cocktails.
If you visit in the morning, you can participate in the coffee bar, which offers all types of delicious blends and combinations. You can even fill up your refillable mug with one of the coffee options.
Little 'Opihi's – Beachside Kiosk
Another quick service option, this small kiosk, offers fresh fruit, rolls, wraps, salads, and several other tasty snacks.
Things to Do at Disney's Aulani Resort
When it comes to on-site activities, there's a good chance you won't get bored, no matter how long you plan to stay. The activities you can enjoy while visiting Disney's Aulani Resort are highlighted below.
The Pools
You will find several whirlpool spas and pools on-site at the resort. If you plan to use one of the pools, you must check in with one of the poolside employees. When you do this, you will receive a wristband for "pool privileges," and you can get towels.
The biggest pool at the resort is called the Waikolohe Pool. It measures 8,200 square feet. In the Hawaiian language, Waikolohe means "mischievous water," and you will find a lazy river with beautiful rock formations, fountain springs, and caverns at this location.
However, this pool isn't just about relaxation. You can also enjoy the Volcanic Vertical for more adventurous guests and the Tubestone Curl. Also, thanks to the plethora of lifeguards nearby, your kids can play without concern about water-related accidents.
If you have younger children with you, then visiting the 2,100 square foot play area at Menehune Bridge is recommended. Here you will find two waterslides, various interactive water elements, and a play structure your kids can climb on.
During their playtime in this area, your children can learn more about Hawaiian culture, thanks to interactions with the Menehune, the island's "little people" responsible for all types of mysterious events across the islands.
For kids five or younger, visit Keiki Cove, which was inspired by the tidal pools around the Aulani Resort.
For families, the Ka Maka Grotto at Ka Maka Landing is a fun option. Here you will find an infinity-edge pool that overlooks the beautiful Ko Olina Beach.
Kids aren't the only ones that get to have pool-related fun. There's also an 18 and up pool called Wailana Pool. This is separate from the other pool areas and features a water wall in the deep end.
To relax and unwind, you can visit one of the four whirlpool spas.
Beach Activities
If you want to venture beyond the pools, there are plenty of beaches to explore. For example, the Ko Olina Lagoon is breathtaking and a location where you can participate in multiple water activities, such as snorkeling, paddleboarding, and swimming. You can rent the equipment needed from Makiki Joe's.
Spa and Fitness Center
Laniwai is the on-site spa. It is an elegant area and provides several common spa services like manicures, pedicures, herbal body remedies, massages, facials, and so much more. You can ask for a menu of services, including treatments for individuals, families, children, and teens.
If you are interested in a personalized body polish, pay a visit to the Pulu Bar, the outdoor hydrotherapy garden found inside the Laniwai spa.
Relaxation at the spa isn't the only way to de-stress. You can also pay a visit to the Mikimiki Fitness Center. Here you can access exercise equipment each day or participate in one of the yoga classes. This fitness center, which is 2,000 square feet, is accessible to guests 24-hours a day.
Golf
Do you or someone you are traveling with love golf? If so, consider scheduling a game at the Ko Olina Golf Club. This Golf Club was once the home of the LPGA Lotte Championship.
While the course is challenging, it isn't too difficult, and the fairways are wide open, with just a few of the holes having water.
Disney Character Experiences
While staying at the resort, your kids can get up close and personal with Goofy, Minnie Mouse, and Mickey Mouse at Makahiki restaurant's character breakfast. You can also use the provided phone number to find out when and where the characters will be available in other resort areas.
Along with the characters mentioned above, you can interact with Donald Duck, Stitch, Shellie May, Duffy, and Moana.
Teen and Kids Activities
Every day, there are new and exciting activities for children and teens. You can request your calendar of events each morning to see what is going on.
If you have children between the ages of three and 12, you can drop them off at Aunty's Beach House for free supervised activities. For teens, there are art nights where they are taught to draw different Disney characters.
Live Entertainment
You will find several live performances by some of the most renowned performers and musicians in Hawaii at the resort. Be sure to ask for a schedule to know when you can catch these live events.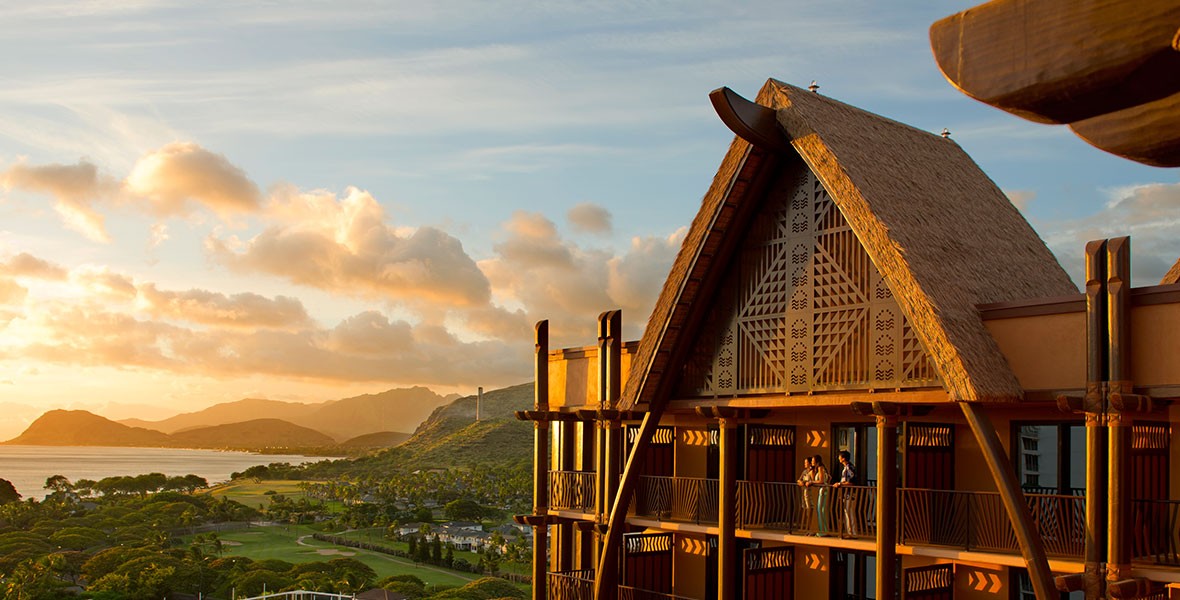 Things to do Nearby to Disney's Aulani Resort
If you want to venture beyond the resort, you may wonder what else there is to do. Some favorite activities that are located nearby include:
KA WA'A: This is a Luau experience located in Oahu. It is located just one minute from the resort, making it possible to walk to enjoy this event.
Rainbow Reef: Located just two minutes from the resort, this location allows you to see beautiful native fish in their natural habitat.
Paradise Cove Beach: Approximately nine minutes away from your resort, at this beach, you can see more Hawaiian wildlife and experience all the islands have to offer.
Wet 'n' Wild Hawaii: Found only 2.3 miles from the resort, this is the biggest waterpark in the state. It offers access to over 25 attractions for the thrill-seekers in your family.
Naval Air Museum at Barbers Point: Founded in 1999, this is a non-profit organization and provides you and your family with the opportunity to get up close and personal with all types of planes and helicopters used by the military through the years.
What Amenities are Available at Disney's Aulani Resort?
When it comes to services and amenities, Disney's Aulani Resort doesn't disappoint. Some of the amenities you can enjoy during your stay are described below.
Lost and Found
Did you happen to lose something during your stay? If so, pay a visit to the on-site lost and found. You can even call when you get home and have your lost item shipped to you.
Excursions
Are you ready to explore all the natural wonders of Oahu? If so, book an island excursion from the on-site Holoholo Tour Desk that is in the resort's lobby.
PhotoPass Service from Disney
You can pick up your Disney PhotoPass card from one of the Photographers at the resort. Once you do this, you can capture all the best moments of your stay at this resort.
On-Site ATM
You never know when you may need access to cash. To help make this simple, you can utilize the ATM in the resort lobby.
Bell Services
Access resort bell services 24 hours a day, seven days a week.
Business Events
Do you need to host a business event during your stay? If so, you will find there are several perfect options at the resort.
Car Rentals
You can rent motorcycles, mopeds, or cars to travel away from the resort and explore the nearby areas. These rentals are available at the resort, making it easy and convenient.
Groceries
You have several grocery options near the resort. You can even have groceries ordered in; just be sure to know the policies related to groceries.
Laundry and Mail Services
You can access laundry services for a small fee. You can also send packages, postcards, and letters while you are staying at the Aulani Resort.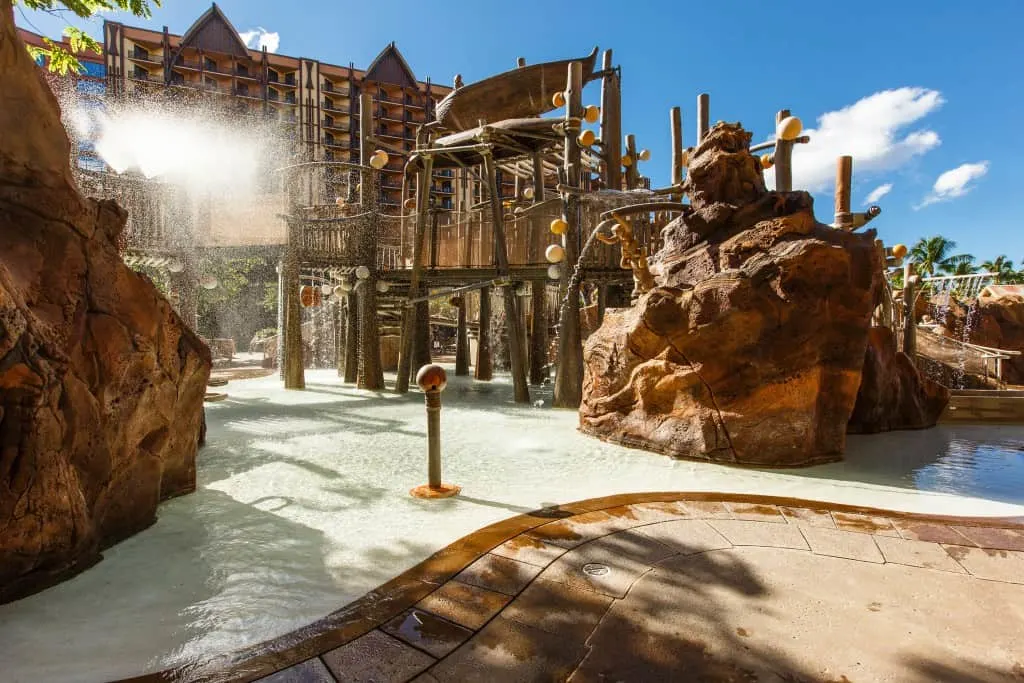 Can Disney's Aulani Resort be Booked by Guests Who Are Not Members of Disney Vacation Club?
While the Aulani Resort is a Disney Vacation Club property, you do not have to be a member of this to stay here. However, as a DVC member, you receive access to high-end villas and more amenities than other guests.
Some of the amenities that DVC members have access to include:
High chairs
Coffee makers
Ceiling fans
Flat-panel TVs
Pack 'N Play
DVC player
Green tea bowls, reusable chopsticks, and miso bowls
Hairdryer
Stackable washer and dryer
Refrigerator
Rice cooker
Microwave oven
Luggage rack
High-end bath products
Electric tea kettle and tea making supplies
Whirlpool tub
Vacuum cleaner
As you can see, these additional amenities make it beneficial to be a DVC member.
6 Reasons Why Families Love Disney's Aulani Resort
Are you still on the fence about booking a stay at Disney's Aulani Resort? If so, learn about some of the specific benefits offered by staying at this resort here.
1. Elevated Luxury
There's no question it can be seen everywhere at the Aulani Resort when it comes to luxury. Here you get a mash-up of Hawaiian luxury and Disney style, creating the perfect relaxing retreat with a bit of a modern twist.
Also, if you choose one of the villas, you will get all the comforts of home.
2. Increased Well-Being
Do you want to find the perfect balance of exercise and well-being? If so, consider paying a visit to the on-site Mikimiki Fitness Center. Here you can keep up with your daily workouts and enjoy the equipment and classes offered in this spacious, state-of-the-art facility.
3. Water Fun
This resort offers you and your family plenty of opportunities to have fun in the water. You can enjoy pools, water zones, lazy rivers, water slides, spas, and more. You can also take your boogie board to Ko Olian Lagoon, which provides you with another great way to have some water-related fun.
When the sun goes down, you can spend some time relaxing in an infinity-edge pool that overlooks the beach.
4. Epic, Hawaiian Style Storytelling
When you take time to see one of the live events or shows offered at the Aulani Resort, you will get to see the legends of the islands come to life. Here you can enjoy everything from a tropical hula dance to authentic Hawaiian music, fireside stories, and more.
5. Epic Activities and Signature Events
The Aulani Resort allows you and your entire family to enjoy all types of special moments that include all types of relaxation and adventure. All this is homed in offering nothing short of Disney perfection.
At this resort, you will find Disney magic everywhere. You will get the opportunity to see Mickey and his friends, who also love to have fun in the sun.
6. Amazing Benefits Included with Your Stay
When you book a stay at the Aulani Resort, you will find several included perks. These include:
Over 30 free activities for adults and kids
No resort fees
Six pool areas
Access to a private beach
All the Disney magic you expect
Quality service
Aunty's Beach House and kids club activities
Complimentary character experiences
Is Booking a Stay at Disney's Aulani Resort Worth it?
Regardless of if you are a member of the Disney Vacation Club or not, there's no question that Aulani Resort offers many appealing features and amenities. While this is true, it is up to you to review the information to decide if this is somewhere you and your family want to stay.
While the resort offers many fun and exciting things to do and ways to relax, it is also expensive. Some of the rooms and villas cost as much as $600 per night. Taking time to figure out what the resort offers will help you decide if this is what you want to do and where you want to stay.
Don't rush the decision of where to stay. However, if you love all things Disney and want to stay in a tropical paradise, then there is no question that this resort has your name all over it. Check it out today to see what all the fuss is about.
More about our TFVG Author
A seasoned traveller, Dad, and avid sports tourist, James foundered The Family Vacation Guide to share his expert vacation experiences- especially when it comes to being a travelling family man.
Featured in Travel articles such as Travel + Leisure, TripSavvy and SFGate, you know you're reading some of the best vacation tips online.