Families planning to visit Maui, the second-largest Hawaiian island, have an abundance of choices when it comes to visiting the best beaches in Maui for families. While every beach in Maui has its unique features and distinct identity, you can't find a "bad beach" on the island.
Finding the best beaches in Maui for families comes down to your preferences. Do you want a beach that offers incredible snorkeling and tropical island views? Do you want a secluded beach where you can enjoy quiet mornings with little ones or the fun and excitement of Maui crowds featuring surfers, boogie boarders, and kayakers?
No matter which one you prefer, these are the 11 best beaches in Maui for families that offer the best of both worlds in one of the top destinations in the United States. Regardless of which one you choose, get ready to hear those beautiful words, "Aloha friends," and make incredible memories with those you love.
Baby Beach, Lahaina
The shallow water and bare patch of coral in Baby Beach, otherwise known as Puunoa Beach in West Maui, make it a favorite for families with young children. The water is calm and perfect for young (or non) swimmers, and since it's mostly a local attraction, the crowds are less of an issue.
If snorkeling is on your to-do list with the family, kids will love exploring the exposed reef and visiting with the sea turtles! It is the ideal spot for young snorkelers to explore safely in the shallow water while their parents hang out nearby to sneak in a drink or two or relax with a good book.
While the beach is a bit narrow for some, it can also be perfect for building sandcastles, lounging around, or burying siblings or parents in the sand. Pack those sand buckets, shovels, and molds, and let the kids go to town!
Lana'i's backdrop, the contrasting colors of the bright greens, golden sand, calm clear blue water, and tree-lined beaches make it the perfect setting for a quiet morning with the kids or a fun afternoon of hanging out on the beach.
With free street parking nearby, a short walk to town, and the always gorgeous weather of Maui, Baby Beach is an excellent option for families with little ones who prefer calm and quiet beach adventures.
Baby Beach, Paia
Not to be confused with Baby Beach, Lahaina, Baby Beach Paia is on the north shore near the town of Paia and a consistent favorite among families visiting the island of Maui.
Both Baby Beach Lahaina and Baby Beach Paia feature swimming areas protected by an offshore reef, making it a relatively safe place for kids to play in the water and for parents to relax. Baby Beach Paia is ideal for young children, inexperienced swimmers, or those who want the picturesque Maui views with a laid-back atmosphere and calming lagoon effect.
Another fun feature of Baby Beach Paia is the sand dunes surrounding the beach and the natural lazy river running from the west end of the cove.
Around the corner on Baldwin Beach, the waves are more prominent, and those who like to play in the waves or boogie board will find it a nice contrast to the calmer waters. Baldwin Beach is also where you'll find bathrooms, showers, and plenty of parking.
Overall, Baby Beach Paia has a lot to offer families of all sizes and would make an excellent spot for any vacation, making it one of the best beaches in Maui for families.
Launiupoko Beach Park, Lahaina
A calm oasis in the midst of Lahaina's crowds, Launiupoko Beach Park is located at the very southern end of Lahaina before you join Highway 30. Popular with surfers and paddleboarders, it has a beautiful view of Lanai and the West Maui mountains with lots of shade options.
For families with small children, limited small waves make the beach great for learning to paddleboard or little ones just learning to swim. Little ones can also observe colorful fish and crabs from a tide pool created by a rock barrier.
No visit to Maui is complete without wildlife, so Launiupoko Beach is a great place to spot whales, too! Pack your cameras and get your video ready as kids squeal with delight over nature's own show!
The vibe here is friendly and includes outdoor beach showers, restroom facilities, and plenty of picnic tables nearby to have breakfast or lunch while everyone enjoys the beach. Crowds are not typically an issue at Launiupoko, and you're likely to bump into a local or two, as well, since it's a favorite among island-dwellers.
Load up your boogie boards, flip flops, towels, and sunscreen, and add Launiupoko Beach Park to your destination list for your family's next Hawaiian adventure.
Kapalua Bay, Kapalua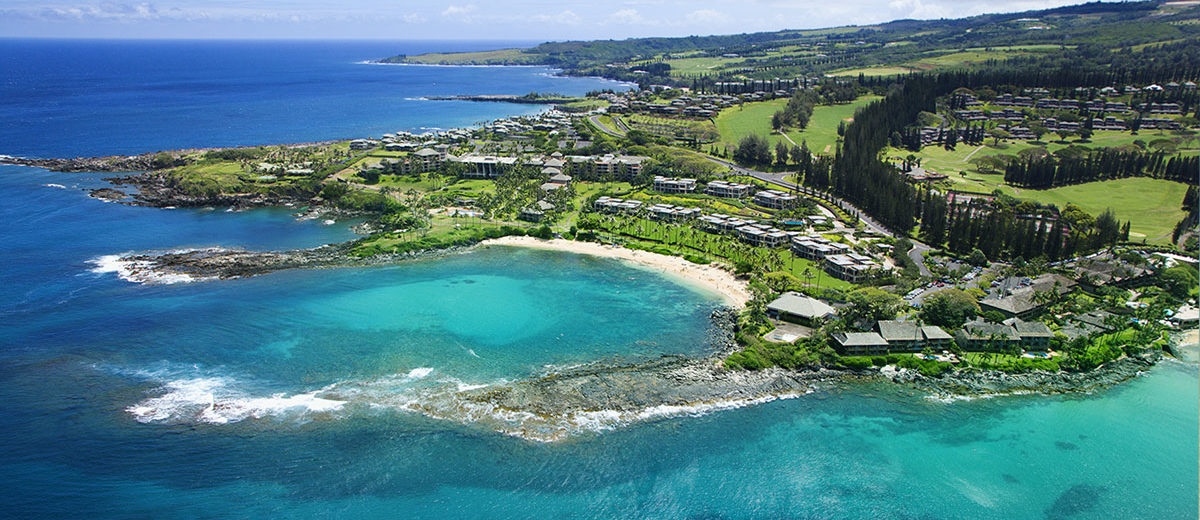 Located in West Maui, Kapalua Bay is a favorite destination for many families visiting Hawaii, and it is known as one of the best beaches in Maui for families. This tropical paradise and bay are perfect for snorkeling with sea turtles and beautiful fish – all experiences any child will love. 
The picturesque bay sits in a natural cove with a reef running through it, and the backdrop is like something from a magazine — the entire hillside covered in fragrant gardenia. Unfortunately, this area is known for windy afternoons, but scheduling water activities for the morning is an easy solution to avoid the unpleasant conditions.
On the practical side, its proximity to plenty of resort choices makes it a logical choice for families who want swimming, snorkeling, adventure, and a little relaxation, too, without the hassle of long walks to the beach or endless searches for parking.
Public restrooms and showers are available, and while it can get crowded during peak seasons, parking is available with a bit of planning.
Kamaole Beach III, Kihei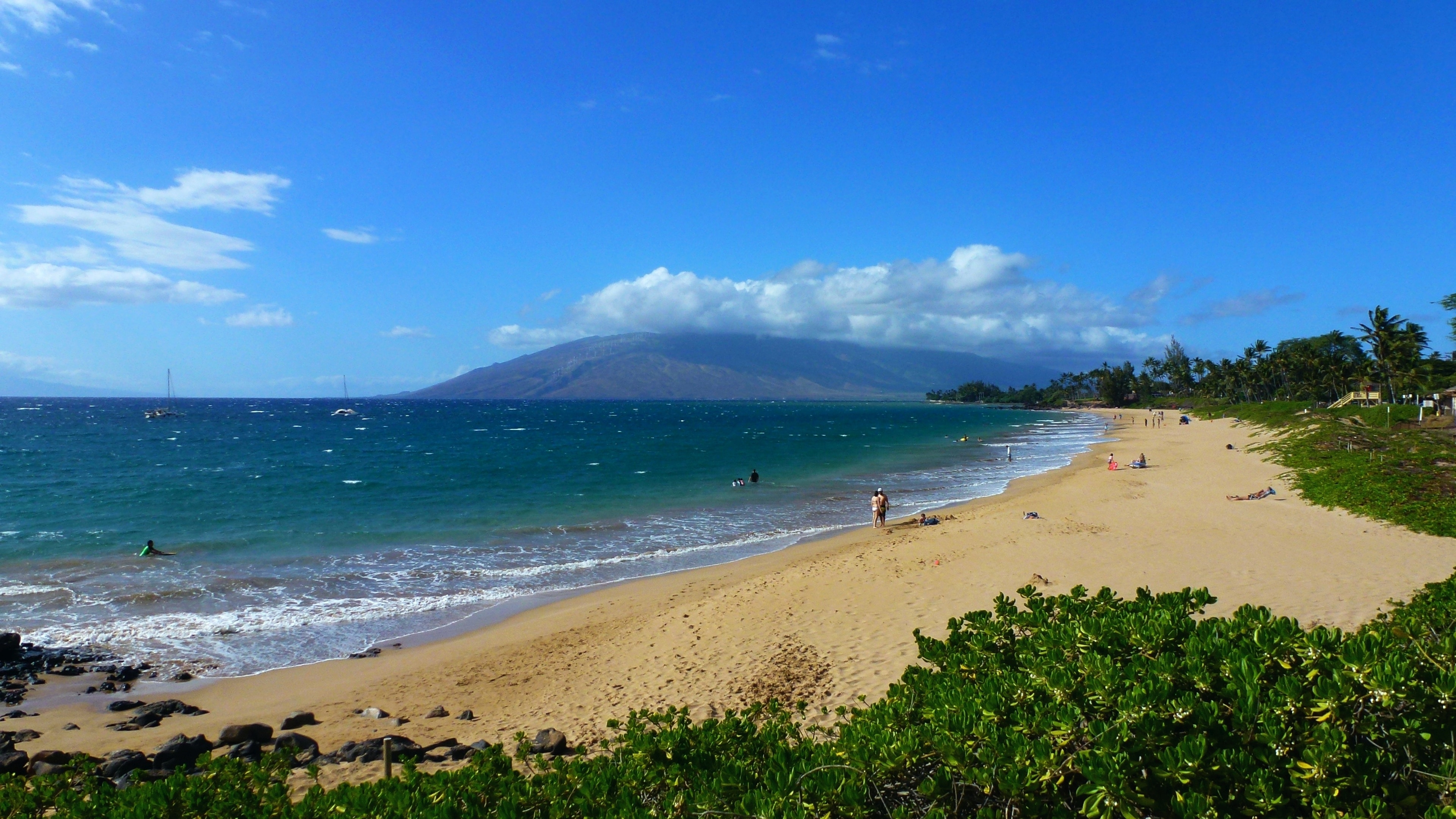 Kamaole Beach III is one of three famous stretches of beach in the middle of Kihei. The smallest of the three beaches, "Kam III," is a favorite among families, featuring a large grassy park, a playground area, and plenty of accessible facilities. It's also just a short walk from many vacation homes and condos.
Easy beach access is a must for families, and markers are clear on this one with staircases that guide you through the dunes and right to the ocean. The beach is also a reasonable distance from the road, making it a quiet location for your family day without the noise.
Kids of all ages will enjoy boogie boarding at Kam III, and with lifeguards on duty most of the day, parents can relax a bit while the kids explore the clear blue water. Like many Maui beaches, this beach tends to get very windy in the afternoons, so it makes a great morning stop for anyone who prefers calmer waters for swimming or snorkeling.
If whale-watching or sunset gazing are high on your list, you'll want to head to the end of the beach and take advantage of the grassy area elevated above the beach, perfect for a break from all the water activities.
Of course, no family beach day is complete without a picnic, and Kamaole Beach III is great for grabbing a quick lunch from a food truck or taking a short walk to the local deli. Food options for everyone make it an ideal location for a whole day spent on this beautiful Maui beach.
So gather the family, grab a picnic table, spread out your feast, and enjoy the beautiful Maui scenery at Kamaole Beach III.
Maluaka Beach, Makena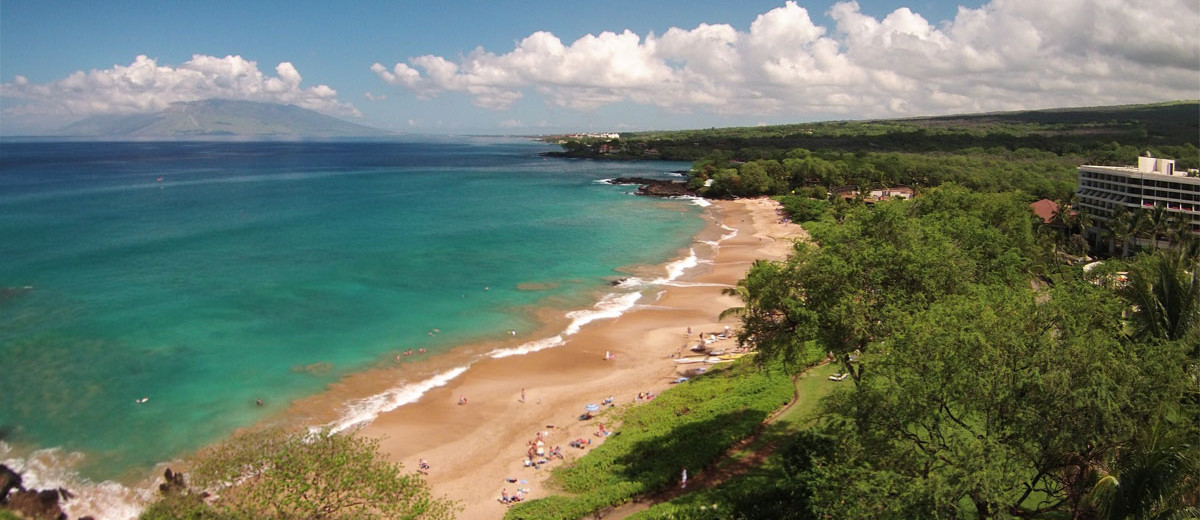 Known as "Turtle Town" for its Hawaiian green sea turtles population, this south Maui beach is a must-see destination for families. But, beyond the abundance of sea turtles and marine life, it's also a perfect place for snorkeling with its calm blue water and white sandy beach.
The mountain of Haleakala largely shields Maluaka Beach from the high sea winds that hit other Maui beaches giving families flexibility in enjoying the beach all day long instead of being limited to morning hours. This lack of winds also makes the beach great for swimming, boating, and fishing.
Although the nearby hotels bring visitors to Maluaka, the beach is not typically too crowded. However, parking is somewhat limited, and the food options are limited to those from the nearby hotel, meaning families should either pack their own snacks or plan for the expense.
Parents should note that there is no lifeguard on duty at this beach, so you should take the necessary precautions. There are, however, plenty of facilities with bathrooms and showers.
Overall, this stretch of coastline between Nahunta Point and Black Sand Beach is a lovely hidden gem and certainly one of the best beaches in Maui for families.
Napili Bay, Napili
Napili Bay is an older beach town than many other Maui beaches without the frills and luxury of other more commercialized beaches. This "down-to-earth" and laid-back vibe attracts families, and rightfully so — it's still one of the best Hawaii beaches for visitors of all ages.
Napili Bay's beach makes an excellent location for swimming and snorkeling or for younger families with babies or small children who want to spend hours playing in the sand. While the water here is primarily calm thanks to its outer reef, the larger waves are good for surfing and boogie board adventures.
This classic Maui beach boasts plenty of coral and tropical fish, too, so pack all your snorkeling gear for your beach day. If you need to rent equipment, there are plenty of nearby options for last-minute needs and advice on the best spots to snorkel.
The beach has no public restrooms or lifeguards, but there are a couple of restaurants in the area and a shopping center with a grocery store for those last-minute snacks. If your family is looking for something a little different than beach fun, there's an art gallery at the wharf on Saturdays, giving families something fun to do.
Ulua Beach, Wailea
Wailea's Ulua Beach is likely precisely what you picture when you think of Maui – white sandy beach, palm trees, island views, and a gentle breeze. However, perhaps what makes it such a great beach for families is its flexibility for all types of activities.
While the snorkeling here is known to be amazing and among the best of Maui beaches, Ulua Beach is perfect for ocean kayaking and stand-up paddleboarding, too. Families ready for a little more adventure can also book a private scuba lesson in this popular dive spot and have a great chance at spotting a squid or lots of tropical fish.
Just north of the top-rated Marriott resort and nestled next to Mokapu, this beach is also home to the coral reef naturalist program for the Pacific Whale Foundation, providing educational opportunities for everyone in the family. But, of course, since Ulua means "adult crevalle fish" in the Hawaiian language, you're bound to see a wide array of island fish as well.
When all the fun wears the family out, there's a small park next to the beach for picnics or early dinners outside that offers stunning views of neighboring islands, as well. Bring some books, a comfy blanket, and some binoculars while you hang out in nature and take in all the sights Maui has to offer.
Sugar Beach, Kihei
Located in North Kihei, Sugar Beach is among the longest beaches in Maui, making it perfect for early morning and late evening strolls as a family. Lace up your running shoes or grab the stroller and head out to watch the sunrise, where you might also spot a whale, a school of fish, or a sea turtle.
Easily accessed through many entrances, Sugar Beach stretches from Haycraft Park in Ma'alaea to North Kihei and is generally a quiet location for families to enjoy.
Due to its strong winds, Sugar Beach is famous among kitesurfers and windsurfers, and it can be fun for kids to watch all the action or join in on the fun. If kayaking is part of your plans, this beach also has a great kayak launch access point with several rental options nearby.
Since Sugar Beach is better for walking or jogging than swimming, it appeals to families who prefer to stay onshore for whale watching, sand play, and relaxing. Snorkeling may be an option around the reef not far from shore, but water conditions can be harsh, so locals advise caution when kids are playing in the water.
This particular beach lacks a lot of family amenities like picnic areas and showers and only has portable toilets, unfortunately. However, if you're hoping for a beach to take long walks as a family, do some island sightseeing, and get some exercise, Sugar Beach is a viable option.
Kahekili Beach Park, Kaanapali
Known to locals as "old airport beach" because Kahekili Beach Park was once home to a small oceanfront airport, this beach features some of the best snorkeling on Maui.
Just north of Kaanapali and right next to the popular Kaanapali Beach, Kahekili Beach Park is a good place for families to escape the crowds and spend the day exploring the long sandy shoreline. It's perfect for the first time or young snorkeling enthusiasts as the reef is very close to the shore.
Kids will be delighted to see fish as soon as you enter the water, including a good chance of spotting the Hawaii state fish, the humuhumunukunukuapua'a.
Parents will like Kahekili Beach Park for its easy accessibility, restrooms, and showers, not to mention the picnic areas, barbeque pits, and large grassy areas where kids can run off energy and dry off in the sun. Don't forget your picnic lunch or late-day snacks!
Scuba lovers will love the colorful reef, and paddle boarders, walkers, and joggers can all convene on this beautiful beach that has something for everyone to enjoy. Just don't forget your sunscreen and hat to handle afternoon winds.
Olowalu Beach
Olowalu Beach is a Maui-snorkelers' dream destination, just 15 minutes south of Lahaina. This golden beach is located at the base of Olowalu Valley and is also known as Mile Marker 14.
While it's not a great swimming location, the underwater adventure potential is sky-high. It's one of the oldest reefs in the islands, and chances are very high that you'll see a wide variety of sizable tropical fish or sea turtles.
Young kids can play in the shallow water or go with parents to explore tropical island fish, colorful coral reefs, or maybe catch a glance at a hammerhead shark. While narrow channels between the reefs can make it challenging for young snorkelers to navigate, the views are astounding.
There is no specific parking area, and access points are not always clearly marked. There are also no public facilities here, though there are plenty of dining options not far away. Remember to pack sandals, though, as the kiawe thorns in the sand can be rough on little feet.
Overall, Olowalu Beach is also an excellent spot for snorkeling, kayaking, or scuba diving and worth checking out for families who want a calmer, quieter location.
More about our TFVG Author
A seasoned traveller, Dad, and avid sports tourist, James foundered The Family Vacation Guide to share his expert vacation experiences- especially when it comes to being a travelling family man.
Featured in Travel articles such as Travel + Leisure, TripSavvy and SFGate, you know you're reading some of the best vacation tips online.