Kauai, also known as the Garden Island, holds endless beauty for visitors to enjoy during their vacation. While several outdoor activities allow you and your family to indulge in the splendor Kauai offers, taking to the sky is the best way to witness it all at once!
With the possibility of private helicopter rides or ziplining expeditions, these activities are the best way to plunge into the scenery, soak up the sun, and have lots of fun!
Numerous different locations offer views of a lifetime, and seeing from the sky promises memories your whole family will love.
Here are the 5 Best Ziplining and Aerial adventures in Kauai.
Outfitters Kauai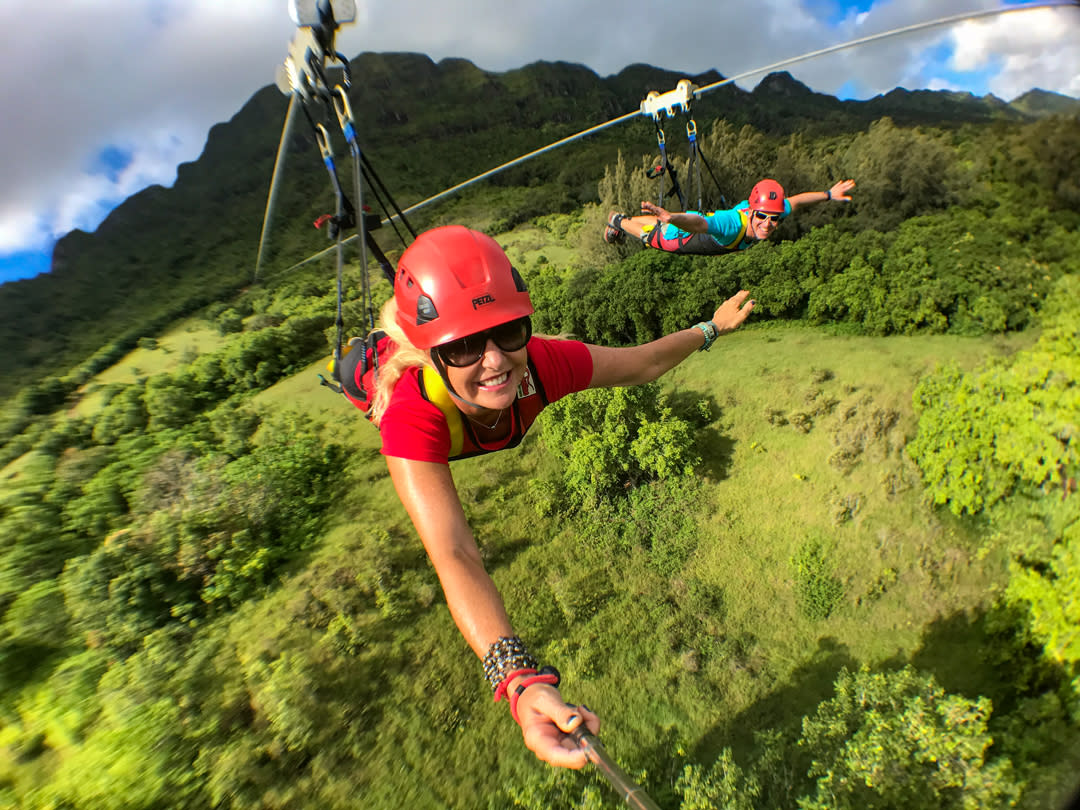 Located in Lihue, Outfitters Kauai is one of the best zipline places in Kauai due to its variety of courses; you can come back again and again, never experiencing the same zipline trip. Not only do they offer ten lines and four tours to explore, but also a few different modes to choose from for how to zip down.
Zipliners can choose to experience the Kauai greenery through options of tandem, single, superman, and even water zips, which gives a unique, impossible-to-see anywhere else view.
Outfitters Kauai is also well experienced, as they've been operating for over 30 years, which may reassure and relax some nervous first-time zipliners. Outfitters is equipped to deliver memorable experiences in under an hour but has options to extend your experience if you're looking to make a day of it.
Outfitters' "Kipu Zipline Safari Tour" combines the fun of not only zip-lining; but offers paddling, hiking, a wagon ride, and a water zip. Best of all, it includes a great lunch during your expedition, flexible for dietary needs.
Requirements
For all four tours, patrons must be aged seven and up and within the weight requirements to participate. Closed-toe shoes are a must with every experience, but all safety garments, including helmets and harnesses, are supplied on location. Sunscreen and bug spray are also suggested.
Koloa Kauai Longest Zipline Tour
Located in Koloa, Kauai's Longest Zipline Tour follows Outfitters Kauai as another well-revered ziplining haven. The longest zipline is a half-mile long, offering breathtaking views of the mountains and oceans of the Waita reservoir.
Kauai's most extended zipline tour is also suitable for those with kids aged seven and older, and welcomes first-time zipliners! Before your adventure starts, tour guides will present a brief lesson to introduce the basics, which is something not found anywhere else in all Hawaii.
As suggested by its title, Kauai's longest zipline tour lasts approximately three and a half hours and offers tours starting as early as 7:30 am to see the sunrise to the last tour leaving around 2:30 pm. Along with the beautiful views promised as you and your family travel down the line, seasonal tropical fruits and snacks from local vendors are offered as part of your reservation.
Requirements
Closed-toe shoes are required for the tour, as are proper shorts, meaning that they should be long enough to fit under the harness for the zip liner's comfort. Sunscreen and bug spray are recommended.
Skyline Hawaii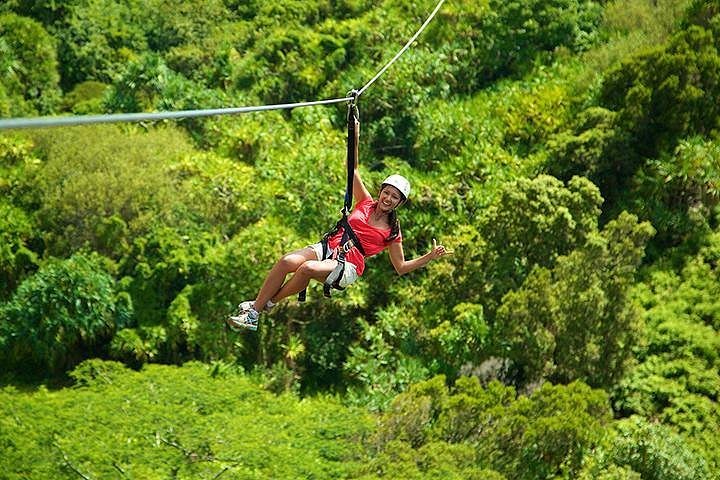 Skyline Hawaii is another top contender for your zipline adventure! Skyline not only offers their 8-line tour (lasting two and a half hours), and their 5-line tour (lasting an hour and a half) but was voted the best Kauai zipline tour in 2017. Additionally, they strive to educate patrons about the importance of conservation efforts, to keep the Kauai landscape untouched and resplendent for generations to come.
Skyline Hawaii helps put nervous first-time zipliners at ease. Skyline tour guides must undergo over 80 hours of training for handling both the equipment and logistics of ziplining and experiential training before they gain their figurative wings as zipline guides. 
Located in Poipu, Hawaii, Skyline Hawai'i has promised family fun since 2002 and will give the thrill of a lifetime and allow you and your family to immerse into the culture and history of the island fully. In addition to your zipline experience, there is also a 2-2.5-mile hike through the island that allows more opportunity to spend time with nature at the ground level.
One of the best advantages of their 5-line tour is that it's curated specifically for families (with children aged 10 and older), meaning everyone in your party can get in on the fun simultaneously. It even features Hawaii's only plank launch zipline, where you and your family can walk the plank over breathtaking scenery, including valleys with Kukui, Hawaii's state tree.
Requirements
With all these experiences and the physical exertion they entail, proper closed-toe shoes are required, as well as long pants to ensure the harness doesn't end up on the skin. Sunscreen and bug spray are also suggested. While it may be tempting, bringing your phone on your sky tour might not be the best idea. If you still hope to capture your skyline views without risking your phone, Gopros are available for you to rent on site.
Kaua'i Backcountry Adventures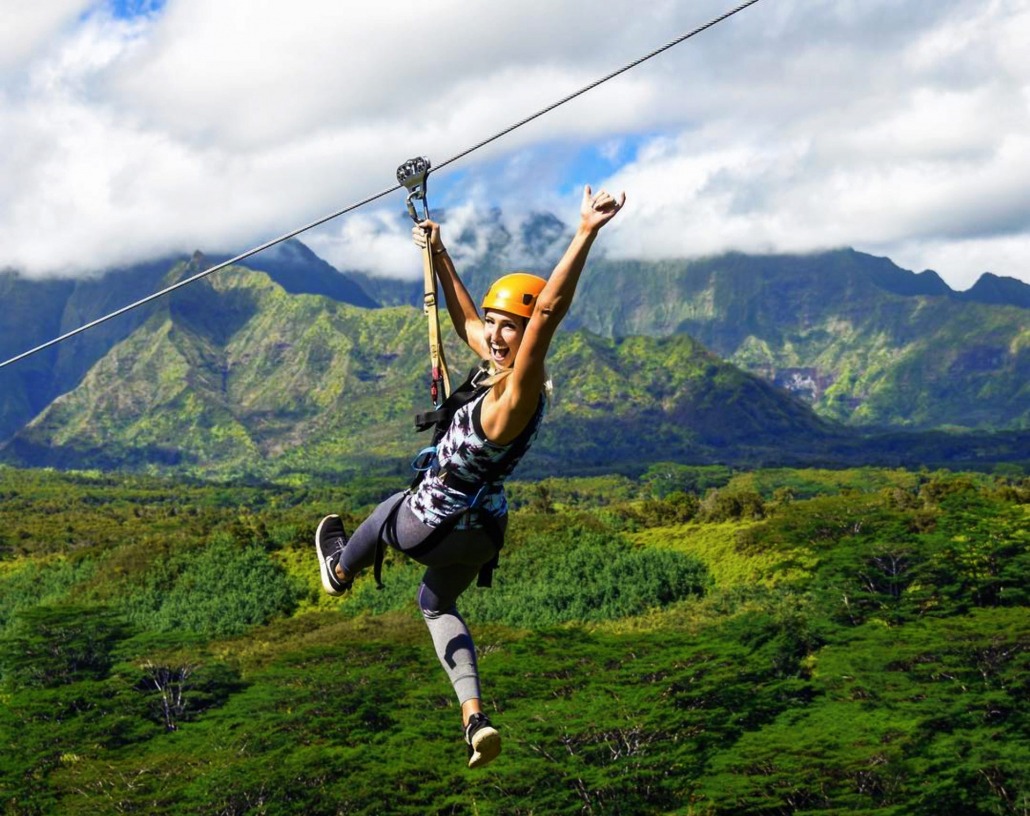 Located on Kuhio Highway in Lihue, Kauai Backcountry Adventures allows you and nine others access to "over 17,000 scenic acres of former plantation lands." With seven zip lines to try out during a three-hour tour, zipliners will witness endless miles of the breathtaking Kauai rainforest. Kauai's Backcountry Adventures offers an additional optional swimming hole experience to conclude your journey and snacks and beverages to be enjoyed in a bamboo grove.
Requirements
Participants must be aged 12 and older and fit the weight requirements. Closed-toed shoes are required, and patrons should bring a swimsuit and towel if they plan on swimming at the end of the tour. Those with longer hair should also bring a hair tie or scrunchie to pull hair up if necessary.
Ali'i Air Tours and Charters
For those who are interested in getting even higher in the sky, Ali'i Air Tours and Charters is the place to go! Located in Lihue, Ali'i Air Tours offers sky rides on three different aircraft: airplane, helicopter, and private charters.
Private Charters
While private charters offer you passage to the different islands of Hawaii, the airplane and helicopter rides remain on Kauai. If one is only slightly nervous of heights, have no fear; Ali'i has been sharing the sky with patrons for over 30 years.
Airplane Tours
Ali'i tours offer a more personal and secluded experience and are best recommended for smaller groups. Their private airplane tours are designed for a maximum of 5 passengers, allowing you and just your closest loved ones to partake.
A certified Hawaii air tour guide will lead the tour, and there are three different adventures currently offered: Kauai, Kauai, and Niihau, and a flight to Oahu to visit Pearl Harbor. (And if you plan to leave Kauai, there is also room for your luggage to accompany you!)
The Kauai tour lasts an hour and unveils over 11 amazing sights unable to be seen anywhere else. The Kauai and Niihau tour lasts about an hour and a half, allowing patrons endless photos-taking opportunities, including the Waita Reservoir (the largest reservoir on Kauai) and the tiny island of Niihau, which is described as being "frozen in time." 
Helicopter Tours
If you have a smaller group you're looking to take, helicopter tours may be your best choice for a more intimate experience. Privacy is promised with a maximum of 2 passengers, meaning no fighting over window seats. Patrons can even customize their experience by choosing to have doors on or doors-off flights.
There are two options for the Kauai helicopter tour: a traditional Kauai helicopter tour lasting an hour, and the Kauai helicopter photo flight, suitable for professional photographers. This second option lasts an hour, and while more expensive, is dictated by the passengers- you pick the sites you want to capture!
While not as private, there is also the 5 Island Ultimate Air Tour from Kauai, if you're looking to witness all of the Hawaiian islands in a single tour. Lasting 5 hours, this sky ride takes you on an adventure viewing the most popular staples of Kauai, Oahu, Lanai, Maui, and Kaho'olawe.
Conclusion
There are plenty of fun activities to enhance your vacation in Kauai, all guaranteed to supply a lifetime of memories. One of the best activities you can do with your family is immersing in the beautiful nature unique to the island, and there's truly no better way to do that than by taking it to the sky.
These five zip lining and aerial attractions in Kauai promise unique experiences you won't find elsewhere, with accommodations to suit you and your family's vacation goals. Whether you're a little scared of the sky or a complete daredevil, are just a couple, or have kids in tow, there are many options for you to experience Kauai in ways you'll remember forever.
More about our TFVG Author
A seasoned traveller, Dad, and avid sports tourist, James foundered The Family Vacation Guide to share his expert vacation experiences- especially when it comes to being a travelling family man.
Featured in Travel articles such as Travel + Leisure, TripSavvy and SFGate, you know you're reading some of the best vacation tips online.