Traveling to Oahu, Hawaii, with the kids can be one of the most exciting and memorable family experiences. Picking the best place to stay can make the difference between a wonderful and exhausting vacation.
Whether you're looking for beachfront villas with resort amenities or off-the-beaten path accommodations, here are some of the best places to stay on Oahu for families with kids.
Oahu offers a wide range of accommodations, from beachfront resorts to cozy condos and budget-friendly options. Three of the best locations to stay on Oahu are Waikiki, Ko Olina, and North Shore. Each area has a unique set of attractions and amenities that can make your stay more enjoyable.
We hope that our recommendations will help you plan an unforgettable Hawaiian vacation. Let's get started so we can show you what makes these regions stand out from the rest.
Waikiki
Waikiki is located on Oahu's south shore and is the most popular tourist area. It's home to some of the island's best beaches, shopping, dining, and entertainment options. For families with kids, the beach is a great place to swim or relax and take in the views. There are also plenty of kid-friendly activities, such as the Honolulu Zoo, Waikiki Aquarium, and Sea Life Park.
Waikiki is also known for the legend of Duke Paoa Kahanamoku. Duke Kahanamoku is the world-renowned father of modern surfing. Born in 1890, Duke was the oldest of nine children and spent lots of time playing in the water. He learned to swim as a toddler.
By the time he turned eight, Duke knew how to swim, surf, dive, and body surf. He eventually became a world-famous surfer, swimmer, and Olympian. There's even a statue of Duke Kahanamoku that stands on Kuhio Beach in Waikiki.
Your family can take surfing lessons from Duke's descendants at one of the many surf schools in Waikiki. It's a fantastic activity for the kids and an opportunity to learn about Duke Kahanamoku and his legacy.
No matter which hotel you choose in Waikiki, know that you and your family are only two or three blocks from the ocean. That not only makes it easy to get down to the beach for some fun in the sun but also makes getting out and about for shopping, sightseeing, and dining easy and convenient.
We recommend Waikiki because of its proximity to the beach and attractions. It's full of things to do and lots of rich history. Let's look at four of the best places to stay in Waikiki.
Hilton Hawaiian Village Waikiki Beach Resort
The Hilton Hawaiian Village Waikiki Beach Resort is one of the most luxurious resorts in Oahu. Located directly on Waikiki Beach, the resort offers a range of upscale amenities, including multiple pools, a saltwater lagoon with beach access, and a variety of water sports equipment.
It's one of the best places to stay in Oahu because it's centrally located and family-friendly. There's something for everyone here. Kids will love the on-site water park, rock wall, and gaming arcade. Parents can enjoy fine dining, shopping, and spa treatments. Parents can even experience a beach yoga class to balance the chakras and release unwanted stress.
The entire family can spend time learning traditional Hawaiian culture and activities such as luau parties, hula dancing, and ukulele lessons.
The Outrigger Waikiki Beach Resort
The Outrigger Waikiki Beach Resort is another excellent place to stay in Oahu. Located just a few blocks from the Diamond Head volcano, this beachfront property overlooks the Pacific Ocean and nearby Waikiki beach.
The resort offers plenty of nearby family-friendly amenities, specifically the Waikiki Aquarium. The aquarium provides a unique learning experience filled with colorful sea creatures, plants, and coral.
There are also giant clams, seahorses, turtles, and a variety of other marine life to experience. The aquarium also offers educational programs for both children and adults. Not to mention, families get a discount on aquarium admission for staying here.
The resort also has an on-site pool, fitness center, and coin-operated laundry. The hotel is pet-friendly so you can bring your four-legged friends along. It also features several restaurants for meals throughout the day.
The Outrigger features Duke's on Sundays, where you can enjoy a two-hour party that offers food, dance, and a live performance from the legendary Henry Kapono.
The Outrigger Waikiki Beach Resort is a fantastic destination for families that want to be close to the ocean and enjoy the nearby beach but also want to stay in a luxurious resort with plenty of amenities.
Sheraton Waikiki
The Sheraton Waikiki is another great place we recommend in Oahu. Situated on the edge of Waikiki Beach, this luxury resort offers panoramic views of the ocean and Diamond Head. With its lush grounds and a variety of amenities, the Sheraton Waikiki is perfect for families with kids. It features an infinity pool that overlooks the beach and has over 1600 rooms.
The Sheraton feels like a mega hotel and comes with lots of amenities. There's a kids club and regular live music. The only drawback here is that the kids club will require you to pay an extra fee. But if you think about the location, you're sitting at the heart of everything, which is why we recommend this hotel.
For one, this saves you the hassle of renting a car, which gives you more time to explore other parts of the island. You'll also save money by eating out in the restaurants nearby.
Halekulani Hotel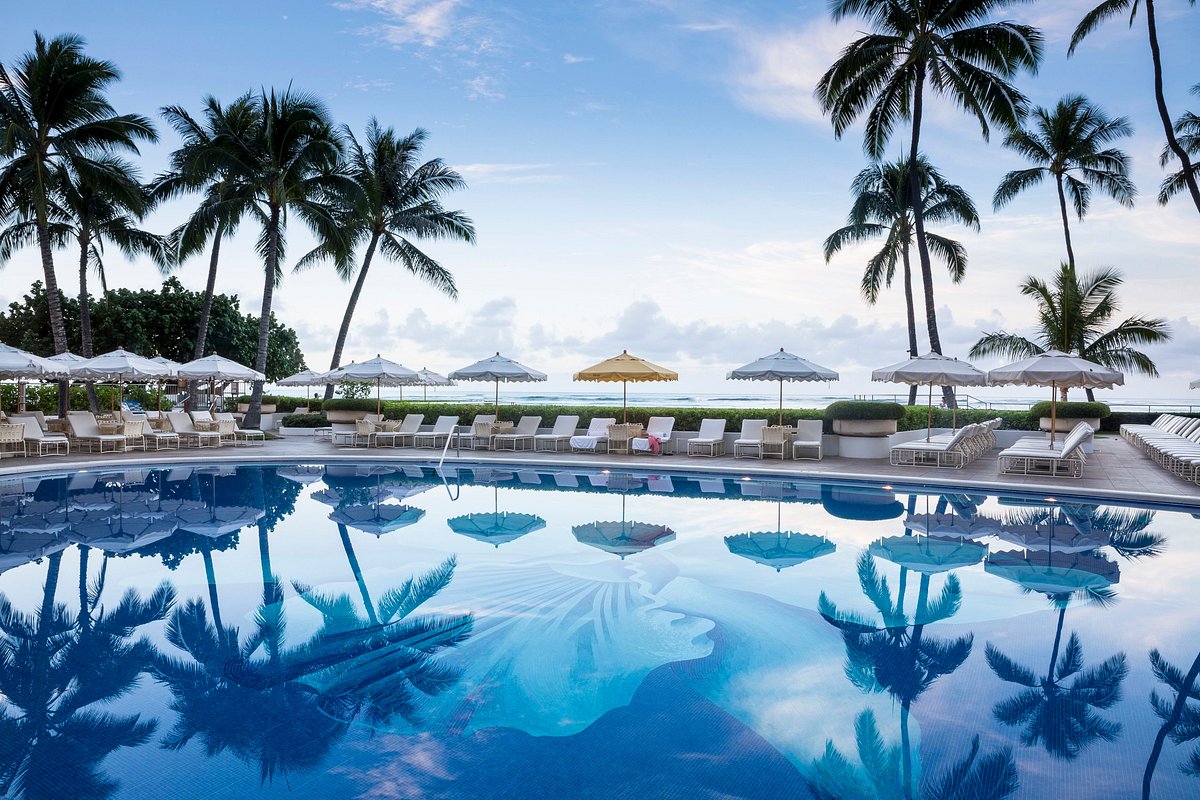 We recommend the Halekulani Hotel because it offers excellent experiences for you and the kiddos. Their "For You, Everything" program gives guests complimentary access to many fine arts and cultural events.
First, you'll receive access to the Bishop Museum, Charles Bishop built it in 1889 and dedicated it to his wife, Princess Bernice Pauahi Bishop.
It holds the world's most extensive Asia/Pacific natural history collection. The Hawaii symphony orchestra, founded in 1900, is the oldest orchestra in the United States, west of the Rocky Mountains. Other things to explore at no extra cost are the Honolulu Museum of Art, Shangri La Museum of Islamic Art, Culture, and Design, Iolani Palace, and the Manoa Heritage Center.
If you just want to take a break and enjoy the beach, you and your family can take a walk or run on one of the scenic jogging locations. Overall, the Halekulani Hotel offers a unique experience and is easily one of the best places to stay on Oahu with kids.
Ko Olina
Ko Olina is the next location we recommend. It's located on the west side of Oahu and offers beautiful beaches, resorts, golf courses, spas, restaurants, and shopping.
Four man-made lagoons that give you plenty of privacy and are perfect for water activities such as snorkeling, stand-up paddling, and kayaking.
Ko Olina is essentially a resort community, so there are plenty of amenities to keep the kids busy. It sits only 24 miles from Honolulu. You'll love that it's also 20 miles from the airport, making it very convenient to get there.
It's hard to believe that traffic will be a problem here. However, it is an issue that plagues Oahu. So if you want to avoid renting a car, shuttle services and taxis will take you around. Not to mention, the weather here is always perfect. Ko Olina experiences little rain, making it the best location if your goal is to stay in the sun.
Also, it's less crowded. Waikiki sits in the city, but Ko Olina is a bit more remote and has fewer people, so if you're looking for a private area, take advantage of this opportunity. Here are the best three places to stay in Ko Olina.
Aulani, a Disney Resort & Spa
Aulani, A Disney Resort & Spa, is another incredible option for families with kids. It is a luxury resort that offers many activities and amenities for your family. The resort is located right on lagoon one. It has a total of 351 rooms and 481 villas. It is the best location for the kids out of all others on our list.
Why do you ask? It's because of the Disney magic! Meeting Mickey Mouse and hanging out at the Disney character breakfast is an excellent way for your kids to create lasting memories.
One thing to understand is that you can make a day trip to Disney Aulani. However, you won't get to experience the massive pool or be able to take pictures with any of the Disney characters. They check wristbands to make sure you are a guest at the resort. The resort offers a children's club and activities like pool parties, movie nights, character appearances, and more.
But don't let that deter you, as adults can enjoy the spa and pool as well. The pool is 8,200 square feet and has its own lazy river, water slides, and a hot tub. Plus, you can eat at some of the best restaurants in Oahu while being surrounded by the fantastic landscape.
Four Seasons Ko Olina
If you are looking for a more luxe experience, the Four Seasons Ko Olina is the place to go. While it is the smallest resort, it's incredible for families with kids. It has a total of 371 rooms with balconies or terraces to enjoy the views. The best part about the Four Seasons is that it's quiet. One of the most underrated things on a family vacation is rest.
This resort offers that and so much more. It's about 30 minutes from Honolulu airport and 45 minutes from Waikiki. Adults will enjoy the spa and wellness pool, while kids can have a blast playing at the main pool. Unlike Aulani, you'll be able to enjoy the resort without being on a Disney property.
Depending on the size of your family, the resort offers suites that are 1,000 square feet and can sleep up to five people. Also, they provide a complimentary kids program so you can enjoy some time to yourselves while your kids are playing with their new friends.
Did you know that when the NFL Pro Bowl commenced in Oahu, the NFL rented the entire hotel? It was reserved for the players and their families. It is proof that this resort is great for families and provides the comfort and luxury needed to recharge to enjoy your vacation fully rested.
Marriott's Ko Olina Beach Club
The Marriott Beach Club gives you the option of one or two-bedroom villas. It sits on Lagoon three. The only drawback here is that the hotel doesn't sit at the heart of Ko Olina. So you have a nice walk to reach Ko Olina Station, where you have a more extensive selection of restaurants.
However, it's worth it because this resort provides a kitchen and washer/dryer in suites that can accommodate a family of up to six people. You also have access to a full-size pool and hot tub, as well as an activity center for the kids and beach access. The Marriott is the most secluded out of the three, but it still has three on-site restaurants.
Also, since they feature villas, you can prepare some of your own meals, providing comfort and saving money. There are few activities here, but you can take an Oahu snorkeling tour, go fishing, or have a unique dining experience on the beach.
Remember, the Marriott is a timeshare location. But a lack of activities means an abundance of freedom to explore and create lasting memories for your family. So when you're there, you'll get to experience timeshare presentations.
However, you don't have to participate or buy any of their products in order to stay. In many cases, if you participate, you can get discounts on your nightly rate or a Visa gift card that could help in vacation spending during your stay.
North Shore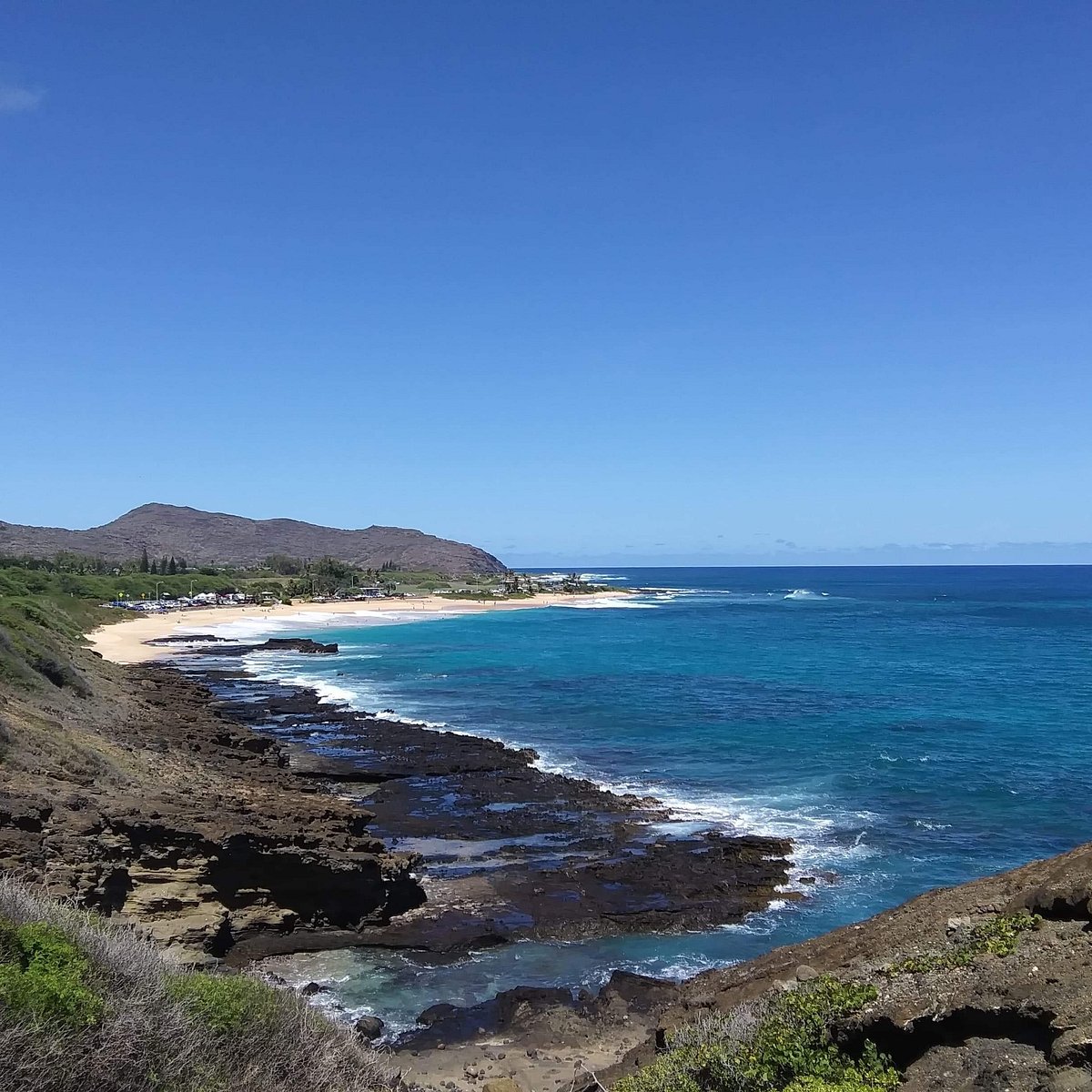 The North Shore is your surfing destination. And if you're looking for a more affordable option, this is the place to go. The North Shore stretches over seven miles and is known to host the world's premier surfing competitions like the Triple Crown of Surfing. You'll see the biggest waves that can grow over thirty feet from November to February.
During the summer months, you'll find more beginner and kid-friendly waves of about three to four feet. Haleiwa Town sits in the center of the North Shore, with plenty of beaches, restaurants, and food trucks. It's an hour from Waikiki. Think of it like a laid-back country compared to a big city.
Haleiwa has tons of surf shops, boutiques, and unique restaurants that sit inside plantation-era buildings. Then there is the shaved ice! Try the famous shaved ice in the color and flavor of your choice. The North Shore is also home to Waimea Bay Beach Park. It's your destination for bodyboarding, surfing, snorkeling, swimming, and fishing.
Let's look at the three best properties to stay on the North Shore.
Turtle Bay Resort
We recommend the Turtle Bay Resort because it has something for everyone. It has an allure that pulls in honeymooners and families. However, this is one of the locations that don't have a kids club.
So if you were planning on having some alone time with your partner, you might be out of luck. The resort is a 20-minute drive from Haleiwa. The Turtle Bay resort has an on-site pool with a waterslide for the kids. Then there are tons of other activities to enjoy. Here's a list of the lessons you can enjoy at the resort:
Ukulele lessons
Hula lessons
Surfing lessons
SUP demonstrations
Other activities include:
Golf, Canoe tours
Video rentals
Free round driving at the driving range
Horseback riding
Walking on trails
On top of all of these activities, there is a splash pool for younger children and two hot tubs. When it comes to dining at the resort, Kids get one free meal at the Kula Grille in addition to one adult paid meal.
Don't forget the blowhole that shoots out steam during the high tide. Turtle Bay is for families that want to steer clear of the hustle and bustle of the city. It's an excellent location for a private and peaceful getaway.
The Courtyard by Marriott North Shore
The Courtyard by Marriott North Shore made our recommendation listed because of its modern look and superb amenities. The hotel has 142 rooms, a restaurant, a fitness center, and an outdoor pool. The pool also features a heated children's pool. It's a great family vacation hotel because you'll have everything you need to enjoy a relaxing time with your family.
They also have onsite laundry and guest room entertainment. For those who don't want to miss out on all the hotel offers, there are wake-up calls. To enjoy any of the activities offered, visit the Marriott North Shore Activity Desk. They will give you all the information you need to enjoy the hotel and the nearby attractions.
Some of the family-friendly activities include the Polynesian Cultural Center, Fumi's Kahuku Shrimp, and The SurfBus. All these activities are 10 miles or less from the hotel, so you don't have to worry about going far for fun. Waimea and Haleiwa Beach Park offer great places to swim, but they are further away.
Waimea Beach is 13 miles away. Haleiwa Beach Park sits 20 miles out, which may be too far of a drive if you're staying at Courtyard North Shore. Other local attractions include Pearl Harbor and the USS Arizona Memorial. So even though the hotel is more secluded, the opportunity to travel off the beaten path still exists, which is why we recommend it.
Ke Iki Beach Bungalows
For families that want to stay on the North Shore and not worry about crowds, Ke Iki Beach Bungalows is the right place for you! Located right in the heart of the North Shore, these bungalows offer a private and peaceful atmosphere. The great thing about this location is that it's family-owned by Greg Gerstenberger, his wife Annie, and his son Reese.
The bungalows have been a family thing since the 1960s. These bungalows have all you need for families that want to participate in Hawaiian culture and enjoy activities. Ke Iki sits between Sunset Beach and Waimea Bay. The great thing is both locations are less than a 15-minute walk.
Other activities include the Hanauma Bay Nature Park, Pearl Harbor, and sport fishing off the coast of Oahu. If you are looking for some family sightseeing, check out the North Shore sailing adventures. You have the option of doing a group sunset cruise, coastal sightseeing, and wildlife encounters aboard KEET.
KEET is a catamaran operated by Captain Porter, a local Oahu resident. Also, if you are a pineapple lover, check out the Dole Pineapple Plantation, which is 20 minutes away. If you are feeling tired, relax by the beach or lay in a hammock with your family while the island breeze passes by.
Ke Iki Beach Bungalows also offers transit services to and from the airport, so you won't need to worry about that either.
Wrapping Up the Best Places to Stay on Oahu
Oahu is a great place for families to explore, relax, and have fun. There are so many options to consider as far as places to stay. From Waikiki, and Ko Olina to the North Shore, there are tons of places to choose from. Each location offers its own unique atmosphere so that you can choose the perfect spot for your vacation.
If you are looking for a more city atmosphere where you are close to everything, consider Waikiki. For a more laid-back atmosphere with beach and nature activities, consider Ko Olina or the North Shore.
When looking for the best places to stay in Oahu for families with kids, think about all your needs and wants. Consider amenities, activities, and location. It will help you decide the best place to stay in Oahu for your family. As always, plan and have a great time. Aloha!
More about our TFVG Author