We often think of Hawaii as a destination for couples as it's such a romantic space. However, it's also one of the best vacation destinations for families with kids. Whether you have toddlers or teenagers, there's so much for your family to enjoy in Hawaii.
We've compiled a list of some of the best things for families that want to have an adventurous vacation, who hope to make their trip educational, or those who just want to relax. The list is split by island, making it easy for you to plan your itinerary. Read on to find some of the best things to do in Hawaii with kids.
The Best Things to Do With Kids on the Big Island
As its name implies, the Big Island is the largest in the Hawaiian archipelago. There's a lot of diversity here, from volcanoes to forests to black sand beaches. There's plenty to do for adventurous kids. It's also an excellent stop for families who just want to spend their time relaxing on the beach.
No visit to Hawaii is complete without seeing a volcano, and the Hawaii Volcanoes National Park is one of the best places to give your kids the ultimate experience. The park has over 150 miles of hiking trails, ranging from easy to challenging, so you're sure to find an ideal path for even smaller kids.
The Hawaiian islands are a great way to teach your kids about the different types of volcanoes. Many kids, especially younger ones, may picture something more like Mt. St. Helens or Pompeii when you tell them your family is going to see a volcano. They may even be afraid, but you can explain that Hawaii has shield volcanoes with a very slow lava flow.
You can also bike around the park or search for exotic birds and flowers. There's a campground for families who want to spend the night in nature or a hotel if you don't want to rough it.
Pro Tip for Mt. Kilauea
Kilauea currently isn't erupting (although scientists expect it to start back soon). Be sure to prep your kids in advance, so there's no disappointment if it isn't erupting when you visit.
If your kids love animals, you have to check out the Pana'ewa Rainforest Zoo. It's the US's only tropical zoo and contains some exotic animals your kids will love to see. There are over 80 species, including lemurs, giant anteaters, spider monkeys, and two tigers (one white and one orange).
There's also plenty of flora to check out in the botanical garden located inside the zoo. You can find bamboo trees, orchids, and even a water garden. If you have smaller kids, you'll want to go by the petting zoo and playground.
The Pana'ewa Zoo is a great place to teach your younger kids about conservation efforts, as many of the animals in the zoo are endangered.
While you'll likely visit plenty of white sand beaches, be sure to stop by the Punalu'U Black Sand Beach for a unique experience that you can only find in places around the world where there's volcanic activity. Punalu'U is a great black sand beach for kids because it's large and easy to get to quickly. There are plenty of other black sand beaches in Hawaii too! Our guide will tell you everything you need to know.
Your kids will enjoy looking for chunks of lava, and older kids will enjoy swimming near the springs, where they can have the sensation of swimming in warm and cold water simultaneously. There are also some great places to snorkel, but only when the currents aren't strong.
Punalu'U is a great place to catch Hawaiian green sea turtles hanging out on the beach. There are few places in the world where you can find sea turtles on the sand, so be sure to bring your kids for this experience. Be sure to teach your kids the importance of respecting wildlife as you don't want them to disturb the turtles.
Do your kids love trains? If so, you'll want to check out the Laupahoehoe Train Museum. This museum delves into the history of the railroads in Hawaii. The museum's primary focus is on the Hilo Railroad, which was built in 1899 and ran until 1946 when a tsunami destroyed it.
The old station agent's house is now home to the museum, which is set up to look like a 1900s house. You and your kids can look at artifacts and photographs. Many volunteers have lived in the area for years and are willing to tell guests all about the area's history, giving your family a memorable experience.
Kahua Ranch has been in operation since 1928 and is a working ranch that you can visit. They have cattle, Wagyu, sheep, horses, and lambs. This ranch is an excellent destination for adventurous families who want to spend a day outside.
You can go horseback riding or take a tour of the ranch on ATVs. After your day of excitement, you can wind down with a traditional paniolo barbecue dinner. Paniolo is Hawaiian for cowboy.
Due to its location and altitude, Hawaii is an excellent location for astronomy enthusiasts. The Imiloa Astronomy Center of Hawaii is a great place to take kids interested in the stars (and make your trip more educational). It's a 40,000 square foot exhibition planetarium with lots to see.
The planetarium shows three different programs throughout the day, focusing on earth and space science. You can also visit the exhibit hall, which rotates exhibits. You'll receive a journal with your admission to document what you learn. You can also purchase a kit to make some crafts.
Be sure to stop by the Native Garden to see some indigenous island plants. There are also "canoe plants" which were brought to the island by canoe when the first Polynesians arrived.
Kids are fascinated by natural disasters, and Hawaii is a great place to learn about tsunamis. The Pacific Tsunami Museum serves to memorialize those who've lost their lives to a tsunami, along with educating visitors on how to stay safe.
The museum focuses primarily on two tsunamis that devastated the Big Island, one in 1946 (a great link with the train museum above) and another in 1960. Various exhibits describe and commemorate these events.
Visitors can also learn about disaster preparedness through exhibits that teach what to do in the event of a tsunami.
If your kids have an interest in marine biology, you won't want to miss the Ocean Rider Seahorse Farm. The farm spans three acres, and you'll get to experience thousands of seahorses during your tour. Kids ages five and over can even hold a seahorse.
Your family will learn about the importance of conservation and can witness the Farm's work to protect the seahorses from extinction. If your kids are super interested, you can take a private tour.
The Ocean Rider Seahorse Farm also offers surfing lessons. Classes range from beginner to advanced and are taught by professional surfers in the area.
The Thurston Lava Tube, also known as Nāhuku, is over 500 years old. This lava tube is easy to access and is only a short stroll instead of a more strenuous hike like some of the other lava tubes in the area. It's an easy walk for even smaller children.
The area is kept dark from 8 PM to 10 AM, so it's a good idea to bring a flashlight or headlamp if hiking during that period. Lava tubes are a great geology lesson for kids. Not only can they learn more about volcanic activity, but they can experience it firsthand. Your kids will be excited to say they walked through lava.
The Best Things to Do With Kids on Oahu
Oahu is your location for the quintessential Hawaiian vacation with your family. It's home to Honolulu, Waikiki Beach, and Pearl Harbor. Whether you have older or younger kids, you're sure to find plenty to do here.
Have your kids always dreamed of swimming with dolphins? Be sure to check out Dolphin Quest. They offer several different options for dolphin experiences, including an opportunity for your family to swim with the dolphins.
You can have an encounter where a dolphin paints you a picture or let your kids attend a short kids-only experience. Kids over ten can have some great encounters, including kayaking with dolphins or apprenticing with a veterinarian or trainer for a day.
While most of their programs are for ages five and up, they also offer a short program for kids under the age of five. While they won't get to swim with dolphins, they'll get the chance to get up close and personal with them.
If your family are fans of the Jurassic Park films, then Kualoa Ranch should be on your itinerary. Much of the original movie was filmed at the ranch, along with several scenes from the recent films and over 200 other movies. Your family will feel like they're stepping right into a film.
You can take several different tours on a bus, horseback, ATV, boat, or Jeep. There are movie tours and a tour of the working ranch and farm. For more adventurous families, you can take a zipline or enjoy water sports on Secret Island Beach. You can even rent an e-bike and tour.
When traveling with older kids, the Pacific Aviation Museum is an excellent place for your kids to learn about a critical moment in America's history, Pearl Harbor. The museum doesn't just cover the Pearl Harbor event but also covers over 75 years of aviation history.
The Museum has two hangars with over 50 aircraft and a pavilion with more exhibits to explore. They offer free audio tours so you can learn even more. You can make a day of the trip, as the museum is also home to a World War II-themed restaurant with classic American dining.
Future marine biologists will want to see Hanauma Bay State Park. It's a marine ecosystem housed in a bay formed by a volcanic cone. It's a great place to encounter marine wildlife, including many species of colorful tropical fish. If you have older kids, you can snorkel.
The park also educated visitors on the importance of conservation. You'll be asked to watch a nine-minute video before entering the park to ensure that you follow all wildlife preservation rules. There's a snack bar on-site, or you can bring in a lunch if you want to make a day of your visit.
The Children's Discovery Center is an interactive learning space for kids of all ages but will particularly enchant younger kids. There are several exhibits to explore, including a rainforest adventures area, a space for kids to pretend to be adults, and a chance to experience the inside of the human body.
There are two cultural exhibits, one focused on Hawaii, making the museum a great place for your smallest kids to learn about the place where you're vacationing. There's a snack bar on-site in case your kids get hungry.
The Best Things to Do With Kids on Maui
Little Moana fans will be excited to visit Maui for the name alone. It's the second-biggest island and offers some of the world's most stunning beaches. It's been named the best island in the U.S. by Condé Nast Traveler for over 20 years.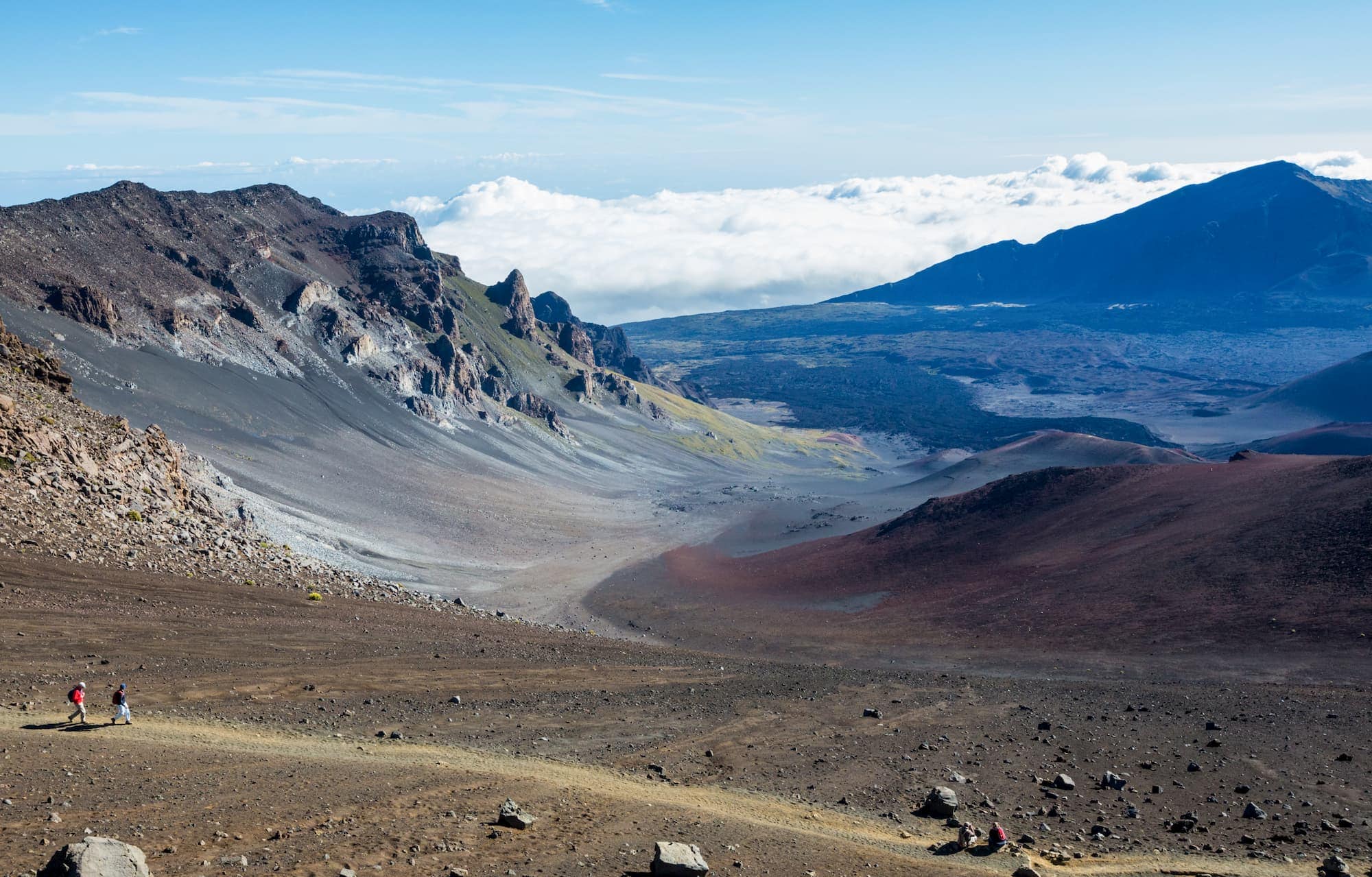 Haleakalā is a beautiful destination for families who want to spend time in nature while learning about the importance of conservation. Your kids will love hearing the legend of the 10,000-foot volcanic crater, which is the site where the god Maui stood while lassoing the sun.
The park boasts some of the most beautiful sunrises and sunsets in the world, along with red desserts and beautiful waterfalls. You can go on a guided hike or horseback ride or explore the park on your own.
Conservationists will enjoy looking at some of the wildlife, as the park has more endangered species than any other in the National Parks Service.
For a truly unique vacation experience, consider taking your kids on a submarine ride. Atlantis Submarine tours take you down 100 ft below the ocean, where you can see all manner of marine life. Do note that kids must be at least 36″ and able to climb down a ladder independently.
If you have older kids, you can purchase a snorkel and cruise combo, where you'll get to snorkel off the coast of Lanai. There's also a cruise and luau combo where your family can enjoy a buffet, open bar, and Hawaiian culture.
If you're visiting between December and March, you may want to consider the cruise and whale watching combo. Your kids will delight in seeing humpback whales.
There's no place like Hawaii to see marine life. The Maui Ocean Center is a beautiful aquarium with many different species for your family to explore. Several exhibits include a living reef, a turtle lagoon, a tunnel through the open ocean, and a virtual humpback whale experience.
There are also exhibits on Hawaiian culture and history. Your kids can learn about the first people who came to Hawaii and see some of the inspiration for the Moana film.
While the aquarium is great for families with kids of all ages, it's perfect for families with younger kids. Most younger kids love to get close to animals, but many of the activities in Hawaii, like snorkeling, are only for older kids. This aquarium gives your little ones a chance to experience wildlife as well.
Take an Outrigger Canoe Ride
The first Hawaiians came to the islands by way of an outrigger canoe. Taking an outrigger canoe ride is a great way for your kids to learn about Hawaii's history while also having a lot of fun.
There are many different options when it comes to going out on an outrigger canoe. Many companies offer tours that teach you about marine life, the history and culture of Hawaii, or both. Some tours also include a snorkeling session. If you're visiting at the right time of year (winter-early spring), you can go whale watching from an outrigger canoe.
The Best Things to Do With Kids on Kaua'i
Kaua'i is covered in rainforest and aptly nicknamed the "garden island." It's also the oldest island of the island chain and has some gorgeous landscapes. Many places on the island can only be reached by air, but when you see the stunning views, you'll know it was well worth it.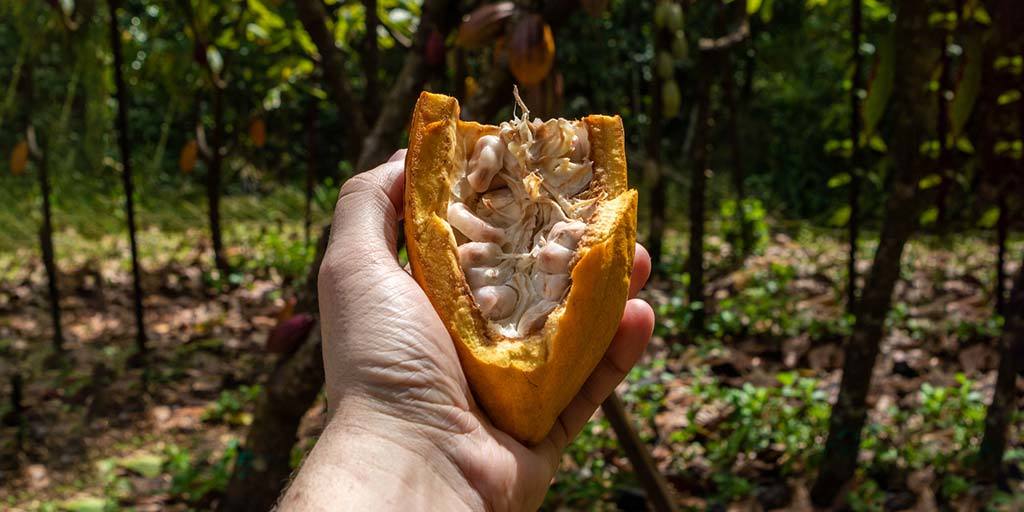 What kid doesn't want to visit a chocolate farm? The Lydgate Farm has been in operation since 1865, and their chocolate farm tour is famous in the area. It's one destination you can't miss while on the island of Kaua'i.
The farm features a three-hour tour. Your family will get to tour the botanical gardens where they can learn how the farm harvests honey and grows vanilla beans and tropical fruits. You'll get to taste everything along the way.
Next comes the chocolate farm. You'll learn how cacao beans turn into chocolate. The tour caps off with an extensive chocolate tasting. Your kids will love learning about all of the distinct flavors of chocolate.
Your trip to Hawaii won't be complete without spending an evening at a traditional Hawaiian luau. The Smith Garden Luau family has been hosting luaus for four generations. You'll begin your evening with delicious foods like pig roasted in the ground, teriyaki beef, and poi.
During and after your meal, you'll be treated to traditional music and entertainment. Your kids will enjoy getting on stage to do the hula. They'll also be thrilled by the Tahitian drum dancing and the Samoan fire knife dance.
If your kids are picky or if you plan on eating elsewhere, you can still attend the entertainment portion of the luau. You can even take a river cruise complete with music or tour the 30-acre garden and park. There's enough to do that you can spend the entire day at Smith's Garden.
The Kilauea Lighthouse and Wildlife Refuge is a must-see for families who have an interest in birdwatching. You can hike up to the point to get incredible views of the surrounding area or visit the historic lighthouse. The Point is also a great place to whale watch.
The site is exceptional because it's home to an endangered bird, the Hawaiian Petrel. The site recently hosted a pair of mates and naturalists at the Point who are hoping that the birds will breed.
The lighthouse has recently undergone restoration to its original condition from 1913. Your family can climb the lighthouse and learn more about the Point's history at the nearby exhibit.
Shipwreck Beach is the perfect destination for families with kids who love to surf or those who want to learn. It's easy to book surfing lessons or stand-up paddleboard lessons at the beach. The surf can be a little rough in this area, so it's best to only go in with an instructor or if your kids are experienced surfers.
There are lots of other activities available at this beach, such as hiking and beachcombing. You can hike the Mahaulepu Heritage Trail, which lets you see some coastline that you can only get to by hike.
Do your kids love those swinging bridges at the playground? If so, you have to check out the Hanapepe Swinging Bridge. The bridge dates back to the early 1900s and was initially constructed as a way for people to cross the river.
The bridge was restored and is now a popular tourist spot. While it's safe and sturdy, it swings just enough to give your kids a thrill. Do note that once you've crossed the bridge, you'll be in the area where the Hanapepe people live. They ask that visitors don't enter their village.
While in Hanapepe, there are many other things to do along with the bridge. There's a lively market area with a lot of fun shops and places to experience local artwork. If you want to see even more art by Hanapepe's artists, there's an art walk every Friday evening.
The Best Things to Do With Kids on Molokai
Molokai is an intriguing place to visit. It's only 38 miles long, but there's much to do. You can find the world's highest sea cliffs and the ​​longest continuous fringing reef there.
The island hasn't been modernized as much as some of the other islands, so you can get a more authentic view of Hawaiian culture. At times you may feel like you're stepping into the past. It's an excellent place for families who want to learn more about the history and culture of Hawaii.
You may think macadamia nuts aren't all that interesting, but there's a lot to learn about the nuts, including their fascinating history. Purdy's has been in operation for decades and has been welcoming guests since 1980.
Tuddie and Kammy Purdy own the farm, and you'll get to meet them when you visit. Tuddie has lived on the island his entire life, and he's happy to share its history with you, along with a tour of the farm.
Purdy's is a must-visit for a couple of reasons. First, it's a great hands-on experience for kids to learn about botany and a working farm. It's also a unique chance for your kids to meet someone with a first-hand understanding of Hawaiian culture.
One of the best ways to experience the Kalaupapa national park is by mule. You'll take a 1,700-foot journey along the world's highest sea cliffs to make it to the traditional village of Kalaupapa, which was previously forbidden to outsiders.
The ride takes you to some of the most remote parts of the island, and you'll get a chance to see some endangered plants and wildlife. At the end of your ride, you'll get a tour of the leper colony and learn the stories of people who lived there. It's a stirring history lesson that your kids won't soon forget. You can then enjoy lunch amongst some stunning views.
If your kids are sensitive to harsh events in the past, you can still enjoy a mule ride along Kalaupapa beach.
If you want to visit Kalaupapa but don't want to see the historic leper colony, there's still a lot to do in the national park. Note that you'll need to get a permit before visiting the park, and your kids will need to be at least 16 years old.
If you don't want to ride a mule into the park, you'll need to either fly in or hike in. The hike is steep and treacherous. You'll want to make sure both your and your kids are in good physical condition before doing the hike, and if you don't have much experience hiking, it's best to get into the park another way.
The people living in the park are survivors of leprosy. They've had a painful past, so it's essential to teach your children about the island before visiting. You'll want to make sure that your kids are behaving respectfully.
Before heading to Kalaupapa Lookout, be sure to stop in at the Molokai Museum and Cultural Center. The museum exhibits give your family a picture of what Molokai used to be like 150 years ago.
The museum is full of primary sources and artifacts, perfect for giving your kids a lesson on history and primary and secondary sources.
Since much of the museum is dedicated to the leper colony, it's a great place to visit before your trip into the park. Your kids can learn about the history before entering the colony and meeting the people who live there.
No trip to Hawaii is complete without seeing some incredible tropical flowers. The Halawa Tropical Flower Farm gives you that experience and more. The people who run the flower farm will teach your children a unique perspective on farming: it's not about what the land can do for us, but about our responsibility to take care of the land.
One of the employees will be happy to give you a tour of the farm. You can also take a waterfall tour of the area. The tour is led by Kalani Pruet, a descendant of Kuleana landowners, and his ohana (family). You'll not only get to see the magnificent water, but Kalani will also teach you about the culture, history, and vegetation of the area.
No trip to the Flower Farm is complete without one of Kalani's famous smoothies. Each tour guest gets a complimentary smoothie, and visitors rave that they're among the best. The farm will also ship tropical flower arrangements to anywhere in the US and Canada. They're the perfect souvenir to send to your family and friends.
Parting Thoughts
Although many don't realize it, Hawaii is one of the best places in the US that you can take your kids on vacation. It's surprisingly versatile, making it a good option for families with either younger or older kids. It's especially great for families who have kids of all ages, as there's something for everyone to do.
Hawaii has so much to offer: history, culture, science, adventure, water sports, and beautiful beaches. You're sure to find something to please the whole family and make your vacation a memorable one.
Take the opportunity to explore Hawaii with your family and visit some of the fantastic locations within this guide. You won't regret the memories you make in doing so!
More about our TFVG Author
A seasoned traveller, Dad, and avid sports tourist, James foundered The Family Vacation Guide to share his expert vacation experiences- especially when it comes to being a travelling family man.
Featured in Travel articles such as Travel + Leisure, TripSavvy and SFGate, you know you're reading some of the best vacation tips online.