For any animal lover, swimming with dolphins is a dream come true. Swimming with dolphins in Hawaii is on another level entirely. You'll never forget the life-changing experience of swimming with these beautiful mammals in Hawaii's warm, tropical waters.
If it's been your dream to frolic with dolphins during your vacation in the 50th state, keep reading to learn how you check that item off your bucket list.
What You Need to Know About Swimming With Dolphins
Regardless of when and where, swimming with dolphins is a memorable experience. Whether you swim with them in the wild or a controlled environment, dolphins are animals that deserve our respect. Keep these things in mind when you're swimming with these beautiful creatures.
In the Wild
In Hawaii, it is illegal to swim with dolphins that you accidentally come across in the ocean because they are a protected species. It is okay if they approach you first, but do not swim up to them intentionally.
Dolphins are friendly by nature, and if they want to interact with you, they will. Do not swim toward them.
Dolphins aren't used to being touched by humans. Instead of reaching out to pet them, let them approach you.
In a Controlled Environment
Listen to your guide; they know these animals best and will be able to help you make the most out of your experience.
Swimming with dolphins in an enclosure won't be like seeing them at SeaWorld. Keep your expectations realistic, and you'll have the time of your life.
Dolphins, like other animals, can sense when you're uncomfortable. Stay calm and collected, and the dolphins are most likely to approach you.
More likely than not, the trainers or guide will be in the water with you.
Many controlled swimming environments with dolphins will offer photos and videos for sale. You should take advantage of this as the videographer will have professional knowledge of how to get the best shots.
Which Islands Offer Dolphin Swim Experiences?
Hawaii is often viewed as a monolith, but this is a fallacy. Hawaii is composed of eight islands, six of which are visitable. At the moment, only two islands offer swim with dolphin experiences; those two islands are the Big Island and Oahu.
Hawaii Island
Hawaii island, known to locals as the Big Island, offers several options for swimming dolphins:
Hilton Hawaiian Village Waikoloa
Dolphin Watch & Snorkel Captain Cook Monument
Oahu
Oahu, the capital of Hawaii, also has memorable choices for your swim with dolphins adventure:
Dolphin Quest at The Kahala Hotel
SeaLife Park
We'll cover this in more depth below but wanted to showcase that there are multiple options across both islands.
What About the Other Islands?
While the other islands may not specifically offer "swim with dolphin" tours, you're likely to see Hawaiian spinner dolphins while you're out in the ocean, whether you're going to Molokini for snorkeling or enjoying a whale watch tour. In particular, spinner dolphins are known to frequent the South Maui coastline.
Maui
Maui, known as The Valley Isle, is popular for its excellent snorkeling opportunities. Whether you're going it on your own and enjoying the crystal clear water around Mile Marked 18, or participating in a boat excursion, your chance of seeing dolphins is good. The caveat is that because the state prohibits intentionally swimming with dolphins, you must let them approach you—not the other way around!
Reputable snorkel companies include:
Lanai
Lanai, part of Maui County, also has dolphin adventure tours. One such tour, the Lanai Dolphin Adventure, departs from Lahaina Harbor in West Maui. You'll cruise to the Au`au Channel, off the island of Lanai, where you're likely to encounter dolphins at one of two snorkeling sites.
Swimming With Dolphins in the Wild
Swimming with dolphins in the wild is undoubtedly the more exciting option, given the unpredictable nature of, well, nature.
Indigo Ocean Hawai`i (Oahu)
Indigo Ocean Hawaii offers a tour called "A`o Hawai`i" that is advertised as a swim with wild dolphins. The tour is a total of four hours, and their catamaran can accommodate up to 42 pax. You'll sail out to the warm waters of West Oahu where the experienced crew will help you search for wild dolphins to swim with.
Dolphin Watch & Snorkel Captain Cook Monument (Hawaii Island)
This four-hour dolphin watch tour is rated 5/5 stars on Viator. You'll be taken out to the coastline of Kona, where dolphins are known to play. Aside from seeing wild dolphins in their natural environment, a marine naturalist will be on board to teach you about the ecosystem.
You'll be allowed to snorkel—the company provides masks, fins, snorkel, and flotation aids—with the caveat that you use reef-safe sunscreen only. That means no oxybenzone listed in the ingredients! Spray sunscreens are also a big no-no as they make the deck slippery and are bad for the environment.
Deluxe Snorkel & Dolphin Watch (Hawaii Island)
This snorkel and cruise tour combo is run by Body Glove Hawaii. Enjoy a 4.5-hour cruise aboard their 65' catamaran that will sail you out to the Red Hill area. This tour doesn't guarantee dolphin sightings, but their statistics are pretty good. Guests can see dolphins on 85% of their tours.
The Deluxe Snorkel & Dolphin Watch is certified by the Sustainable Tourism Association of Hawai`i, which means you can feel good about supporting an environmentally friendly business. The cruise is also wheelchair friendly, and all of the crew is trained in first aid and C.P.R.
Swimming With Dolphins in Controlled Environments
Swimming with dolphins in a controlled environment, such as SeaLife Park, ensures that you have fun under the watchful eye of a trained professional. This option is ideal if you have young children in your group.
SeaLife Park (Oahu)
Sea Life Park Hawaii is located in east Oahu, in Waimanalo. It is a Marine mammal park, bird sanctuary, and aquarium. They have several programs available that let guests to the park interact directly with animals. In the case of dolphins they have three different experience and counter programs:
Dolphin Exploration (Ages 8+)
Dolphin Encounter (Ages 3+)
Dolphin Aloha (Ages 1+)
Dolphin Exploration
Dolphin Exploration allows for participants from ages eight and up to get waist-deep in the water. They'll learn about dolphin habitats, physiology, and conservation efforts. Perhaps best of all, they'll also get to have hands-on fun with these clever mammals! Children between the ages of eight and 12 will need to be accompanied by a paying adult.
Dolphin Encounter
SeaLife Park's Dolphin Encounter has two different booking options: Friday-Tuesday and Wednesday. This particular experience is touted as being perfect for families. Guests to the park will get waist-deep in the water and enjoy the acrobatic displays the dolphins put on, including doing the hula!
Dolphin Aloha
The Dolphin Aloha program is different from the others because you get to see dolphins up close without getting wet. While it's not swimming with dolphins, it's perfect for people who want to see their favorite animal up close and personal despite not being confident swimmers.
Dolphin Quest at the Kahala Hotel (Oahu)
The Kahala Resort in Honolulu is home to Dolphin Quest Oahu. There are several dolphin experiences to choose from, and best of all, Dolphin Quest is a Humane Certified™ business, which means that guests don't have to think twice about whether the animals are treated humanely!
Dolphin Quest has five different programs that accommodate guests from ages zero to adulthood:
Dolphin Encounter
Dolphin Adventure
Family Swim Program
Oahu Premier Experience
Wee Family, Fins, and Fun
Dolphin Encounter
The Dolphin Encounter program lasts for 30 minutes, of which you'll spend 25 minutes with dolphins. For ages five and up and a max of six people in a group, this encounter will allow you to get up close with these beautiful cetaceans. You'll swim, touch, play with, and even feed the dolphins!
Dolphin Adventure
Dolphin Adventure is 1-hour long, although of that you'll spend only 35 minutes with dolphins. Professional trainers will introduce you to the dolphins in shallow water, and you'll get to mingle with them in their lagoon environment.
Family Swim Program
The Family Swim program is perfect for all ages, offering both shallow and deep water encounters. You'll spend 25 minutes with the dolphins, including viewing them underwater using masks. Each child under the age of five needs to be accompanied by a paying adult.
Oahu Premier Experience
The 45-minute long Oahu Premier Experience has a group-size limit of three people but is perfect for any age. Like the Family Swim Program, this experience offers encounters in shallow and deep water, although this experience is more customized based on a guests' interests.
Wee Family, Fins, and Fun
The Wee Family, Fins, and Fun program is only 15 minutes long and is geared toward a younger audience. Children ages zero to four-years-old (with a paying adult) will spend ten minutes with dolphins and be able to enjoy a variety of out-of-water fun activities.
Dolphin Quest at the Hilton Waikoloa Village (Hawaii Island)
Just like its Oahu counterpart, Dolphin Quest at the Hilton Waikoloa Village on the Big Island offers five different encounters for you to choose from:
Encounter Deluxe
Encounter Deluxe (Family & Friends)
Kids Quest
Wee Tots
Marine Mammal Trainer for a Day
Encounter Deluxe
The Encounter Deluxe experience is 45 minutes long, of which you'll spend 30 minutes with dolphins. It's suggested for children five and up; however, children under ten must be accompanied by a paying adult. Professional trainers will teach you how to interact with these beautiful creatures, and you'll even get to swim alongside them! Bring a mask to maximize your experience with amazing underwater views.
Encounter Deluxe (Family & Friends)
The Family & Friends package caters to younger children from ages two and up. Everyone in your group will be able to touch, play with, and feed the dolphins. Experience the magic of swimming with dolphins as a family.
Kids Quest
Kids Quest offers a unique experience for children ages five to nine—no adults allowed! This is a shallow water experience that allows children 20 minutes of playtime with dolphins under the supervision of a marine mammal specialist.
Wee Tots
Wee Tots is for children between the ages of two through four, and an adult must be present. The experience runs for 15 minutes, but of those, children will spend just ten minutes with the dolphins.
Marine Mammal Trainer for a Day
The Marine Mammal Trainer for a Day experience is limited to a group size of two people, ages ten and up. You'll get to spend four and a half hours working side-by-side with marine mammal trainers and participate in everything from dolphin health exams to training sessions.
This program is unique as it offers hands-on experience working with dolphins and learning about careers working with marine mammals. Of the four and a half hours, you'll spend roughly one hour swimming and working with dolphins.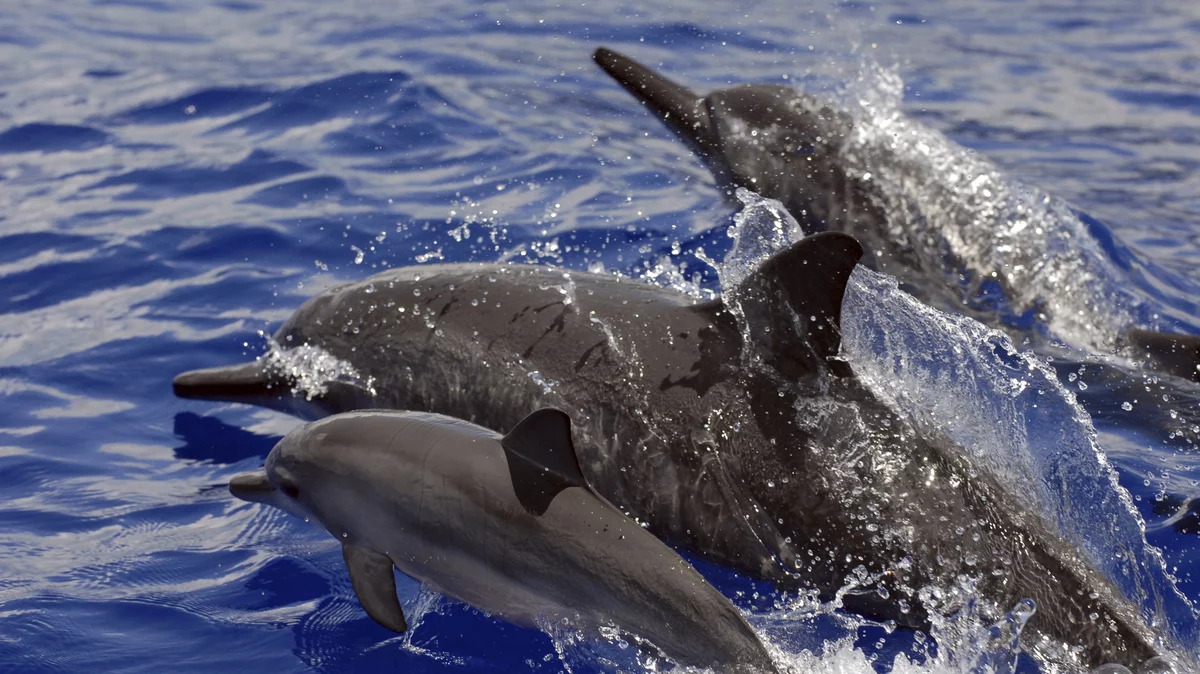 Things to Know About Dolphins in Hawaii
Dolphins are known as nai`a (pronounced na-ee-ah) in Hawaiian. Naia (or nai`a with correct punctuation) refers to any one of the species that are found in Hawaiian waters:
Pacific Bottlenose dolphin
Hawaiian spinner dolphin
Rough-toothed dolphin
Spotted dolphin
The Hawaii Wildlife Fund reminds visitors that when you encounter a dolphin in the wild, you should never feed it. Although your intentions may be good, this trains them to accept items that could potentially be dangerous to them.
Summary
Swimming with dolphins in Hawaii is a good time, whether you're going solo or with your family. But, it's important to observe local laws and respect nature. Do both, and you'll make beautiful memories that will last you a lifetime.
No matter whether you encounter a dolphin in the wild or not, these beautiful creatures will make an impact on you and steal your heart away!
More about our TFVG Author
A seasoned traveller, Dad, and avid sports tourist, James foundered The Family Vacation Guide to share his expert vacation experiences- especially when it comes to being a travelling family man.
Featured in Travel articles such as Travel + Leisure, TripSavvy and SFGate, you know you're reading some of the best vacation tips online.