From beautiful forests to striking beaches, Hawaii is full of natural landscapes and wildlife that you don't want to miss. If you're looking for a wonderful experience that you'll remember for years to come, then plan a time to swim with turtles!
No matter which area or island your Hawaii trip leads you to, you can swim or snorkel with turtles in a variety of places, each one offering a unique experience and unforgettable memories to bring home with you.
If you're looking for recommendations on where to stay, check out our guide to the best resorts for families in Hawaii.
The Best Spots to See & Swim With Turtles on Oahu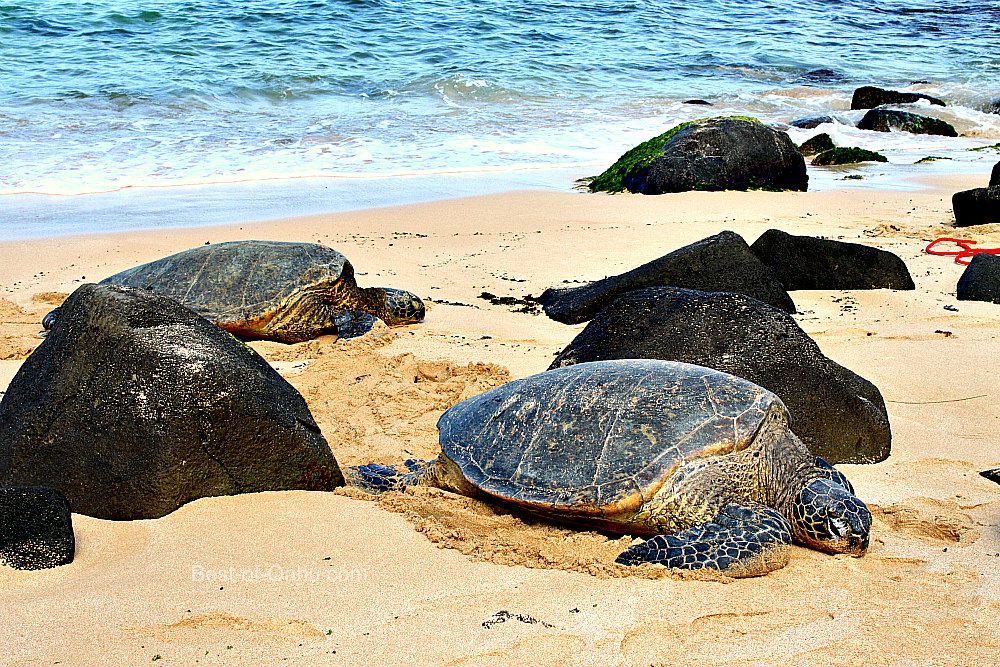 The island of Oahu is known as "the gathering place," and although it isn't one of the larger islands, it's one of the most popular. Nearly three-quarters of the state's population lives there. If you're going to Oahu, don't miss these amazing beaches where you can swim or snorkel with turtles.
Laniakea Beach (Turtle Beach)
If you're interested in interacting with turtles, then Oahu's Turtle Beach is a no-brainer!
The species that frequent this beach is the Hawaiian Green Sea turtle, a large variety that often takes to the waters. Guided, 90-minute tours that include instruction and safety lessons allow you to snorkel right alongside these majestic creatures in their natural habitat.
This beach can be pretty crowded, and parking spaces across the street can be hard to come by. While trees provide shade for comfortable relaxing on the beach, there are no restroom facilities or picnic tables available.
Electric Beach (Kahe Point)
This beach, which is about 40 minutes away from Waikiki by car, is known for the small power plant near the beach. It's still a well-kept secret because the best thing about this beach is concealed under the waves.
After swimming out across a narrow channel with a bit of a current, the underwater environment opens up, and there are sea turtles, dolphins, and plenty of tropical fish to swim alongside and appreciate.
One important thing to consider about Kahe Point is that, unless you're exploring it as part of a guided tour, accessing the open water from the beach can be difficult for swimmers who are not experienced or confident, as the waters can be choppy along the narrow channel.
Cockroach Cove (Kaupo Bay)
Don't let the name discourage you from visiting! While this spot may have some rough waters at times, too, it's still an excellent place for experienced swimmers to enjoy nature and interact with turtles below the surface.
Because of the rocky area, it's a great place to rock jump. You can explore smaller tidepools as well as swim and snorkel in the deeper areas.
Located on the southeastern shore, this beach is not as frequented as some of the others on the list, making it a great, secluded place to visit if you want a more secluded experience.
Hanauma Bay Nature Preserve
This incredible nature preserve is nestled in a former volcanic crater. Now, it's full of reefs that provide shelter and a source of food for sea turtles. Not only is this a beautiful space with jewel-colored waters, but there are plenty of turtles to see!
Since the reef waters are shallow, you can share the space easily with its resident turtles while snorkeling. While it's important not to touch them, you can observe them going about their regular business in an area where they're somewhat used to humans.
Waikiki Beaches
Waikiki is a long stretch of beaches to which many hotels and resorts have beachfront access. Because of this, it's a very convenient and popular beach to enjoy for tourists staying along the shore.
If you're out on the beach around sunrise or noon, you have a good chance at spotting turtles. Many organizations run snorkeling expeditions and tours all along the beach, so you can hit multiple spots that are well-known for turtle viewing underneath the waves.
The Best Spots to See & Swim With Turtles on Maui
Maui is the second-largest Hawaiian island and is famous for beautiful wildlife and culture and lots of avenues for enjoying, appreciating, and respecting it. Beaches in all areas are great places for interacting with turtles.
Molokini
An area only accessible by boat, Molokini is all that's left of a partially submerged volcanic crater. Now, it's a small and uninhabited crescent-shaped outcropping that is also a prime spot for snorkeling and viewing wildlife.
Because the area is three miles from Maui's coast, the best way to appreciate this wildlife-rich area is through a tour. Guided tours to Molokini often include snorkeling lessons and other amenities as well as multiple sites, so you can appreciate this and other popular snorkeling destinations around Maui.
Turtle Town
This long stretch of coastline nestled between Black Sand Beach and Nahuna Point, more commonly known as Maluaka Beach, is a relatively well-kept secret that many will drive by without even noticing. This area boasts white sands, beautiful snorkeling areas with clear waters, and relatively calm waters for all levels of swimmers.
The turtles and wildlife are most abundant along the rocky southern edge of the beach that also shelters the reef. The turtles and fish are easy to view, especially from the shallow portions of the reef, making this an excellent location for all family members to appreciate the wildlife.
Black Rock Beach
This is a large and popular beach that's also considered a historic spot for the state. If you want a traditional tourist experience along a highly frequented beach, then this is it! The sand is soft, and the waters are extremely clear.
Its namesake black rock borders the beach. It's also highly visible while snorkeling. Since there aren't many reefs in the area, this rock is the main shelter and structure for underwater life, such as turtles, fish, rays, and beautiful coral.
However, there can often be strong currents at this beach, so make sure to check weather forecasts and current reports before planning a trip.
Keawakapu Beach
Although short, this stretch of beach is idyllic and perfect for a lazy day in the sun. Historically, this area has been exposed to harsh weather, so avoid this beach on a particularly windy day. But under the waves, it has outcroppings, tidepools, and suitable areas for snorkeling.
A little further offshore is an artificial reef made of car bodies that have been submerged since 1962! Between this area and the shore is a prime place to see turtles and other wildlife as well as appreciate some old cars!
Ho'okipa Beach
This world-class surfing destination is also a prime spot to enjoy the outdoors and the abundant Hawaii wildlife.
Although windsurfing is a big attraction here, there are places along the beach with shallow, sandy areas for swimming and an exposed reef that runs along the shore break. This is where you'll see the most turtles, although they can first be camouflaged in with the rocks.
The best time to see turtles along this beach is around sunset, when they'll begin to take to the beach to rest and relax.
Ulua Beach
The main attraction to check out here, amidst the sandy beaches and water teeming with rock and coral, is Turtle Reef, right along the far side of the beach. It doesn't get easier to swim with turtles than this, as parking and admission are free, and the reef is easy to access.
This beach also offers shaded and grassy spots, restrooms, and shower facilities, so Ulua Beach is an accommodating place to spend the whole day admiring turtles on the reef and enjoying a relaxing day along the shore.
Polo Beach
Although the wind and waves can get choppy on Polo Beach, it's a great, secluded spot for easy turtle watching. For those who don't mind the waves, the reward of snorkeling with turtles is easy to find here.
At this beach, the turtles prefer the shallower waters closer to the shore, so it's a quick swim out to the best turtle-watching areas. There's also a lovely black stone beach area and rocky outcroppings to explore.
Because hotels and resorts have not hugely developed the beach, you'll find a nice bit of privacy along Polo Beach. Remember when visiting that, often, lifeguards are not available in this area.
The Best Spots to See & Swim With Turtles on The Big Island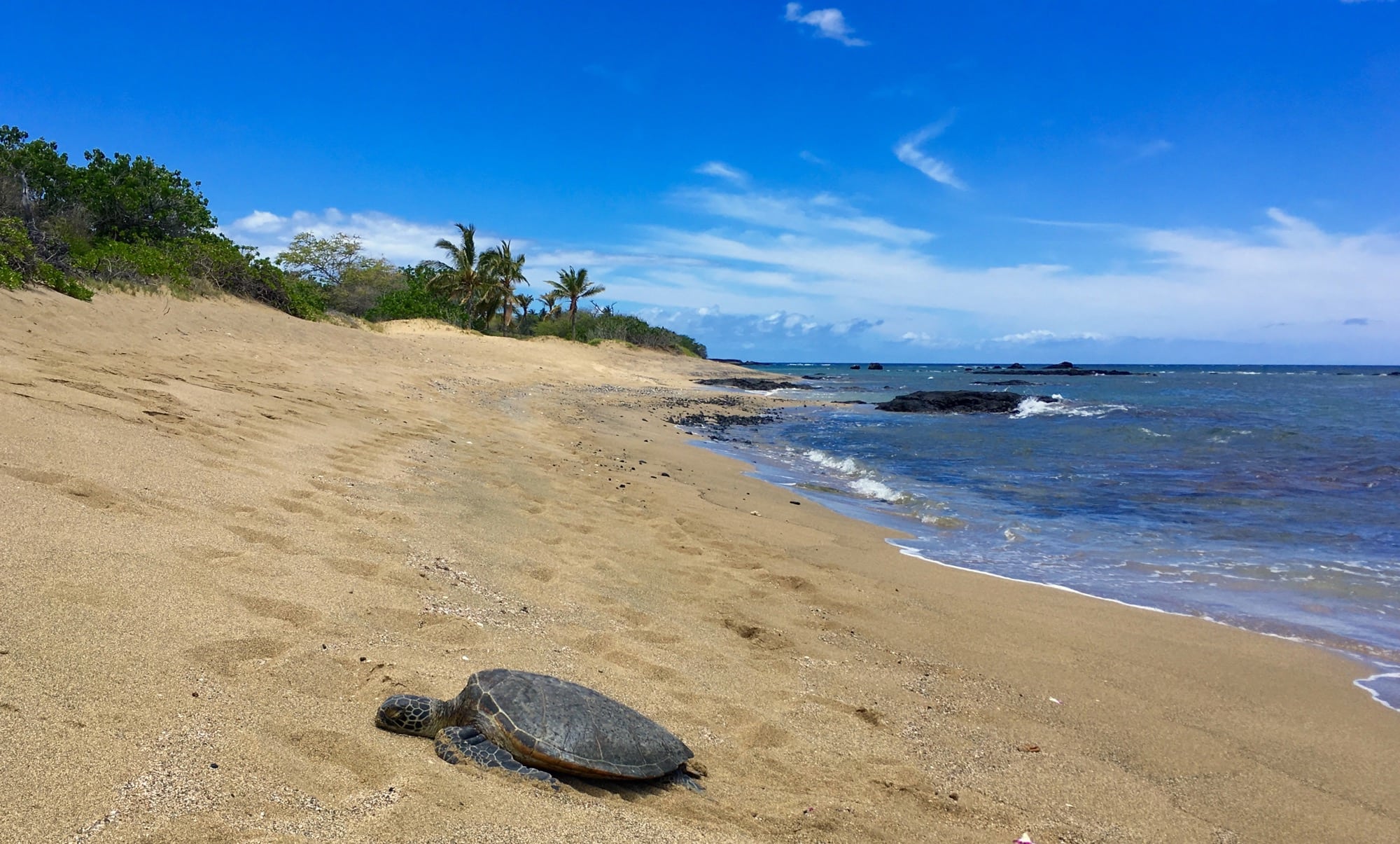 The Island of Hawaii is the largest in the cluster of islands and offers many landscapes and perspectives to take in and appreciate. It's a hugely popular tourist spot and hosts the world's most active volcano!
Anaehoomalu Bay
If you're looking for an easily accessible place to see and enjoy sea turtles, then this is it! This beach offers lots of areas for turtles to shelter and rest within outcroppings created by lava rocks!
These small coves and created tidepools are fun places to explore and search for wildlife. While the water visibility is often poor, nearby resorts and organizations rent out snorkeling gear so visitors can see turtles under the waves.
Kahalu'u Beach Park
For great, clear visibility and pristine beach waters, check out this beach, which is one of the best snorkeling spots on the island.
Many who visit consider it a sort of natural aquarium, as the reef houses so many kinds of beautiful and vibrant wildlife, including turtles.
Because of the reef-access area, many snorkelers use foot protection, such as water shoes, to keep them safe while traversing the underwater lava rock.
Kiholo Bay
Located in the North Kona District, this beach is flanked on both sides by lava flows from different volcanoes. Turtles along this beautiful stretch of beach like to stick close to the coastline, making it easy to view and appreciate them from the beach and the water alike.
As part of a state park preserve, this area has protection, so swimming is restricted in some parts. It's also a trendy area, and the beach will start to fill up early in the day. So for best access, come early.
Punalu'u Black Sand Beach
For many, black sand beaches are the first thing that comes to mind regarding Hawaiian beaches. This one is the most popular and idyllic of them all. Want to know more? Our guide on the black sand beaches in Hawaii will tell you everything you need to know.
Another notable aspect about this beach is that you can see not only green sea turtles but also the more rare Hawksbill turtle sunning on the beach.
Of course, the beach itself is beautiful, lined with coconut trees, but it's also a prime snorkeling spot if the currents aren't too strong during your visit.
The Best Spots to See & Swim With Turtles on Kauai
This northernmost Hawaiian island is the smallest and oldest but boasts a beautiful ecosystem that earns it the name "the garden island." This lush island offers lots of beautiful sites, including many beaches with an abundance of turtles.
Brennecke's Beach
This small sandy cove is a great family destination that offers lots of attractions: bodyboarding, swimming, and of course, turtles!
This area has both shallow and sandy areas and deeper, more choppy, rocky areas in the water suited for all kinds of swimmers. But in both places, you're likely to see an abundance of turtles that are so used to people that they might bump into you!
Poipu Beach
With just a rocky shore break separating this beach from Brennecke's, you could easily split a day between these two beaches. At Poipu Beach, reef snorkeling is popular, as you can see many types of exotic fish along with the turtles.
Another unique attraction of this beach is the monk seals, an endangered species that live primarily on the Hawaiian islands. You might even see one taking a nap on Poipu Beach!
Kuhio Shores
This is a popular beachfront area with convenient condo access. All the buildings don't bother the turtles, many of which seem to have chosen this beach as their favorite spot.
The nearby bay is an especially great place to watch turtles, and although the water can be a little rocky at the shore, the pristine waters make a great snorkeling spot. Here, turtles love to congregate and feed on the plants that grow along the rocky shoreline.
Kipu Kai Beach
This several-mile-long, beautiful blue shoreline is picturesque and has been featured in many movies. While it's a great, secluded area, it is also hard to access. But it's worth it! Many turtles love to frequent the shallower parts of the shore break.
The best way to access this beautiful beach, bordered by mountain outcroppings, is by boat or even horseback.
Lawai
If you're looking for an easy-to-access spot, Lawai provides a much better option. Although the beach area isn't as extensive due to fluctuations in the tide, it's a popular spot for tours and visitors because of all the wildlife you can see when snorkeling here.
Accessing the reef is just as easy; entering the water from any point along the beach can give you reef access after swimming across the small retaining bay. There is also a grassy park area around the beach to make this area a fantastic all-day destination.
Mahaulepu
This beautiful, undeveloped stretch of shoreline is one of the most secluded places on the island that lacks tourist development. Surrounded by beautiful nature trails, this beach is a great place to view wildlife.
Since it's undeveloped, the beach is a bit more rugged and less accessible. The waters are sometimes rough but make an excellent atmosphere for turtle watching and enjoying the bright blue waters.
Ke'e Beach
As far as you can go on the north shore, this beautiful beach stands with calm waters. A reef protects the area, keeping the waters smooth and clear and making the area safe for swimming.
People often see turtles around the reef area, and although parking can be limited, a shuttle service is available, among other amenities.
Anini
For campers, this beach provides a great area to put up a tent and stay awhile. Protected by one of the most expansive reefs on the island, it's not only a great spot to see turtles going about their normal business, but it's also a very safe area with a wide variety of swimming depths.
Whether you prefer to view the coral and the turtles, or swimming and windsurfing, this is a great family beach during the summer months.
Top Tips For Swimming or Snorkeling with Turtles in Hawaii
While planning your trip to Hawaii and anticipating interacting with turtles, there are several key things to keep in mind.
As turtles are endangered and protected, never try to touch, feed, or bother them. Remember that you are a visitor in their home, and they are gracious hosts! Simply enjoy their beauty and the opportunity to learn about their environment.
Reefs provide many of Hawaii's turtles with shelter and food, but they are incredibly fragile ecosystems that are vulnerable to outside influence. If you're planning to swim with turtles, make sure to wear reef-safe sunscreen that won't be toxic for the reef or the animals living in it.
Making preparations to experience and appreciate the reef and its inhabitants respectfully is key in making sure that turtles have a safe place to live for years to come and that people can still enjoy the beauty of wildlife in the future.
More about our TFVG Author
A seasoned traveller, Dad, and avid sports tourist, James foundered The Family Vacation Guide to share his expert vacation experiences- especially when it comes to being a travelling family man.
Featured in Travel articles such as Travel + Leisure, TripSavvy and SFGate, you know you're reading some of the best vacation tips online.