Hawaii is known for its excellent beaches, abundance of wildlife, and excellent snorkeling opportunities. All four of Hawaii's main islands–Big Island, Maui, Oahu, and Kauai–have several beaches offering crystal clear water. Visitors will find that the best visibility for snorkeling is in the early mornings.
This article will review some of the best beaches in Hawaii that offer the clearest water.
Why not also check out our guide to the best beaches for families in Hawaii?
Hulopoe Beach Park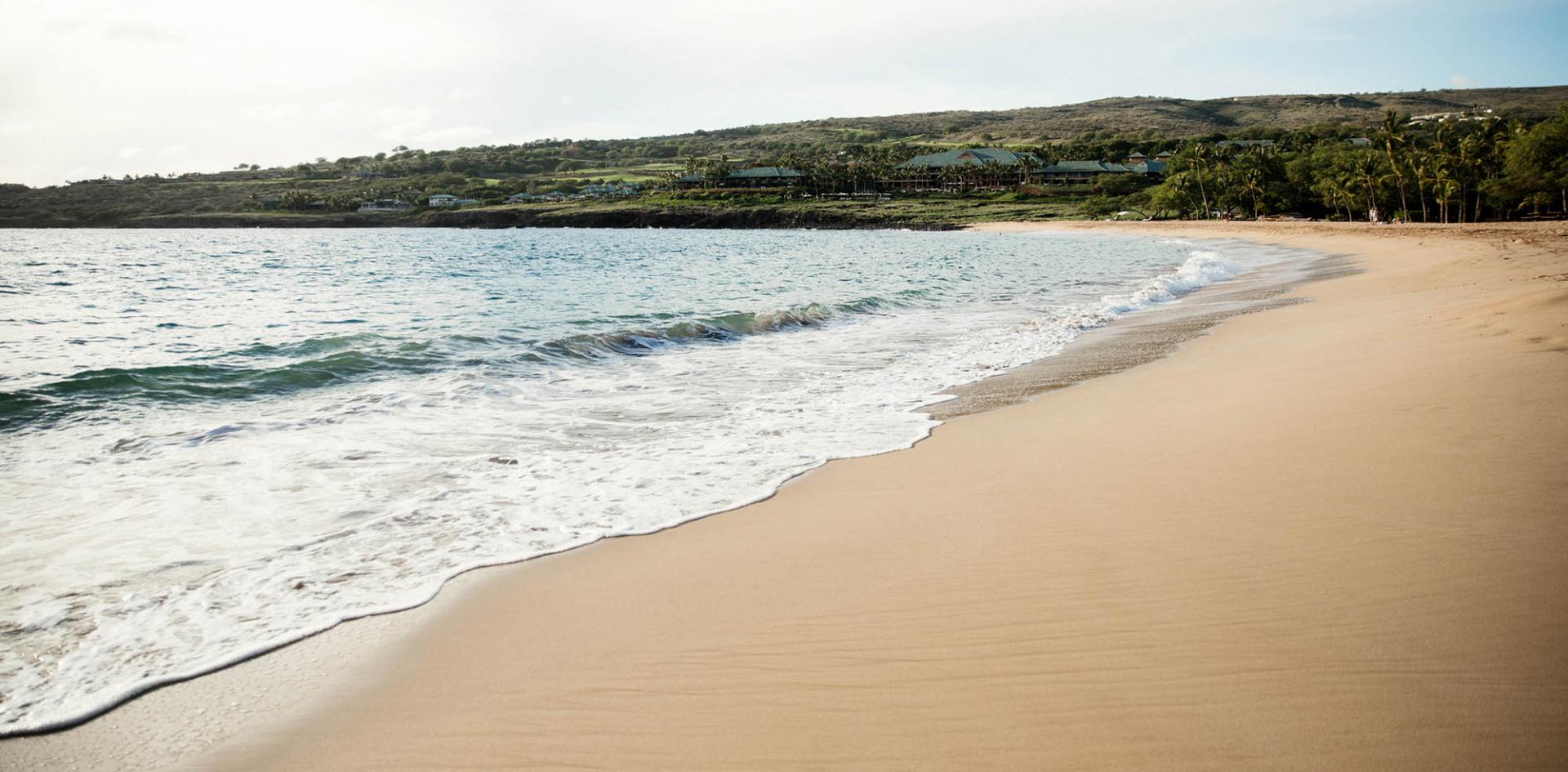 This crescent-shaped beach is located on Hulopoe Bay on the south coast of the island of Lanai. You can take a short ferry ride from Lahaina, Maui to visit this quiet beach. Ideal for snorkeling, you will need to bring your own equipment as there are no rental shops on the beach.
Facilities include plenty of parking, many picnic areas, showers, and washrooms. Explore the big tide pools and coral reefs and enjoy the gorgeous light sand. You can expect to see sea turtles, several species of fish, and sharks.
Ke'e Beach
Located on the north side of the island of Kauai, Ke'e Beach is within Ha'ena State Park. Reservations are required to visit the beach and must be done at least one day in advance. You can expect to see parrotfish, butterflyfish, and the occasional sea turtle here.
The clear, calm waters make Ke'e Beach ideal for swimming and snorkeling. In addition to washrooms and showers, there are also lifeguards on the beach. Gorgeous sunsets can be enjoyed here as well. Though there is limited parking available, there is a shuttle bus you can take.
Halona Cove
This small yet stunning cove is located on the south shore of Oahu. It cannot be seen from the road above and there is a steep, rocky path down to the beach. This hidden gem is located near the Halona Blowhole, a natural wonder that spews water up to 30 feet in the air.
Halona Cove is famous for being featured in the 1950s film From Here to Eternity. The beach often has big waves and a dangerous current that can deter swimmers, however, it is beautiful to visit.
Kapalua Bay Beach
This beach is located on the northwest coast of the island of Maui. It is a very popular beach and can get quite busy at times. However, the water is calm and clear, great for swimming and snorkeling. Expect to see turtles and plenty of fish while enjoying the water.
Snorkeling gear is available for rent at Kapalua Bay Beach. The north end of the beach has the clearest waters making it ideal for snorkeling.
Kua Bay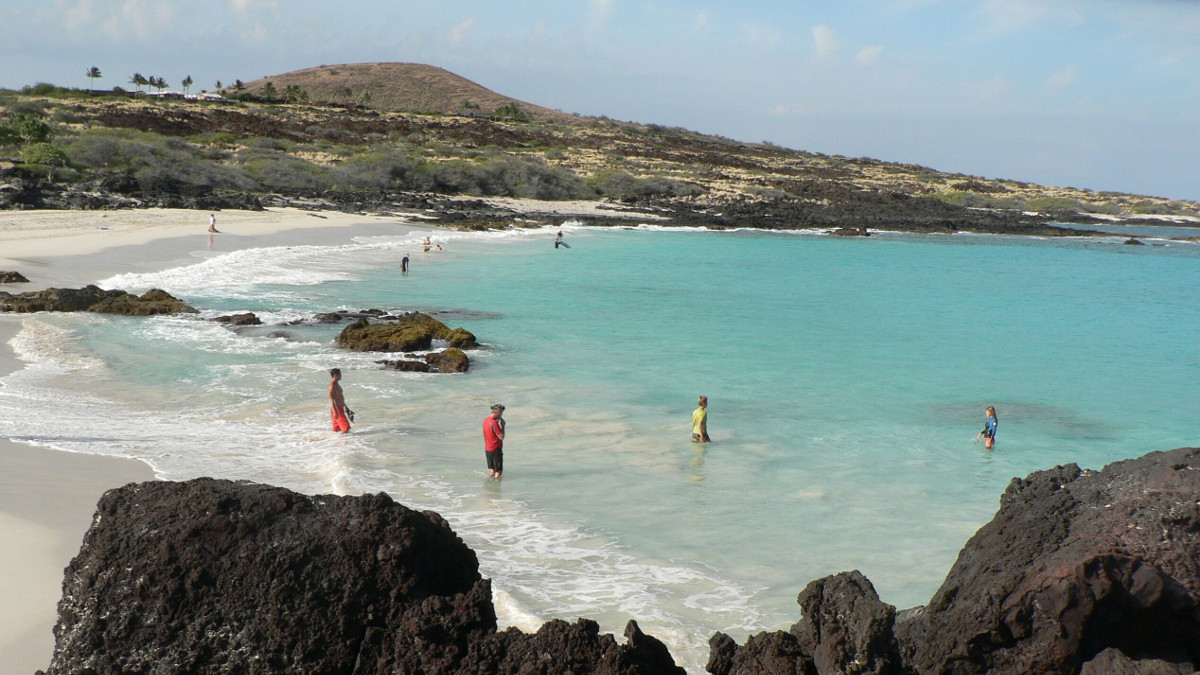 Also called Manini'owali Beach, Kua Bay is a small, secluded area on the north shore of the Big Island. This beach is known for its gorgeous sunsets and beautiful white sand. When the water is calm, it is great for snorkeling. Surfing is also popular at this beach when the waves are big.
Visitors can expect to see turtles and sometimes dolphins and whales. There are lifeguards, showers, and washrooms available at the beach, however, there are no food amenities. An umbrella is recommended as there is very little shade at Kua Bay.
Kealia Beach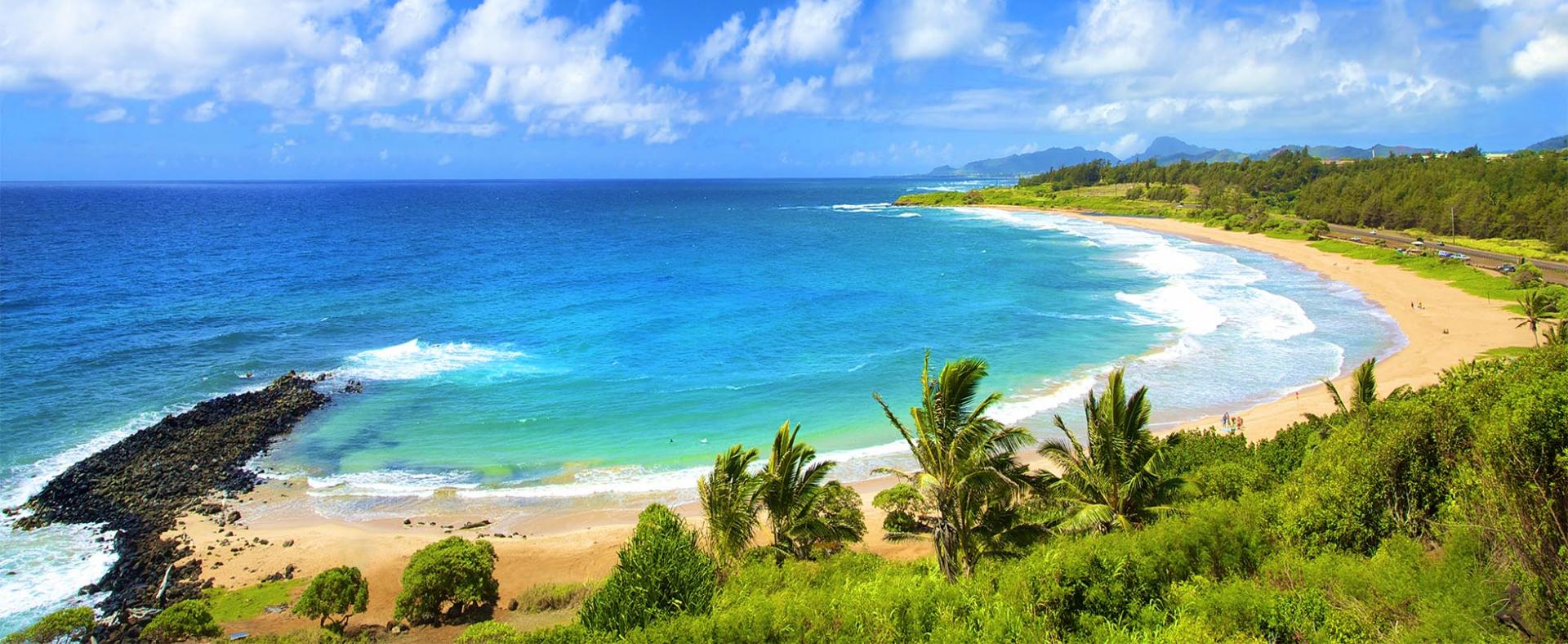 This beach is located on the eastern shore of Kauai. It has plenty of amenities for visitors including lifeguards, picnic tables, showers, and washrooms. Kealia Beach has beautiful white sand for walking along or sunbathing.
Swimming and surfing are popular activities at this beach. It is also an ideal spot for watching the sunrise in the morning. Nature lovers will be happy to know that whales can often be viewed from this beach.
Lanikai Beach
Located on the eastern shore of Oahu, Lanikai Beach is small and serene, making it a great choice when you want to avoid the crowds. This beach offers warm, calm waters and soft, white sand. This beach offers great snorkeling opportunities and is also a beautiful place to watch the sunrise.
Visitors can kayak to the nearby Mokulua, two islands less than a mile from the beach. Only the larger island permits visitors and only in certain areas as these islands are designated sanctuaries for seabirds.
Ulua Beach
This quarter-mile-long stretch of sand and water is located on the southeast shore of Maui. In the early mornings before the winds come up, it is ideal for snorkeling. Fish, turtles, moray eels, and spotted eels can be seen in the calm waters. The north end of the beach is preferable for snorkeling.
This is also a beautiful spot to watch the sunset. The beach offers plenty of shade, a small park to picnic in, and lovely soft sand.
Mahukona Beach 
Not a traditional beach, but a unique location for snorkeling. Mahukona Beach is the site of an old sugar mill and snorkelers will see fish swimming among the old equipment undersea. There is also a shipwreck under the water.
Located toward the north end of the Big Island, Mahukona Beach offers calm, clear water with great visibility. Schools of fish can be seen as well as octopus and whales. The shore is very rocky, so a ladder is provided to enter the water or the more adventurous may jump in.
Poipu Beach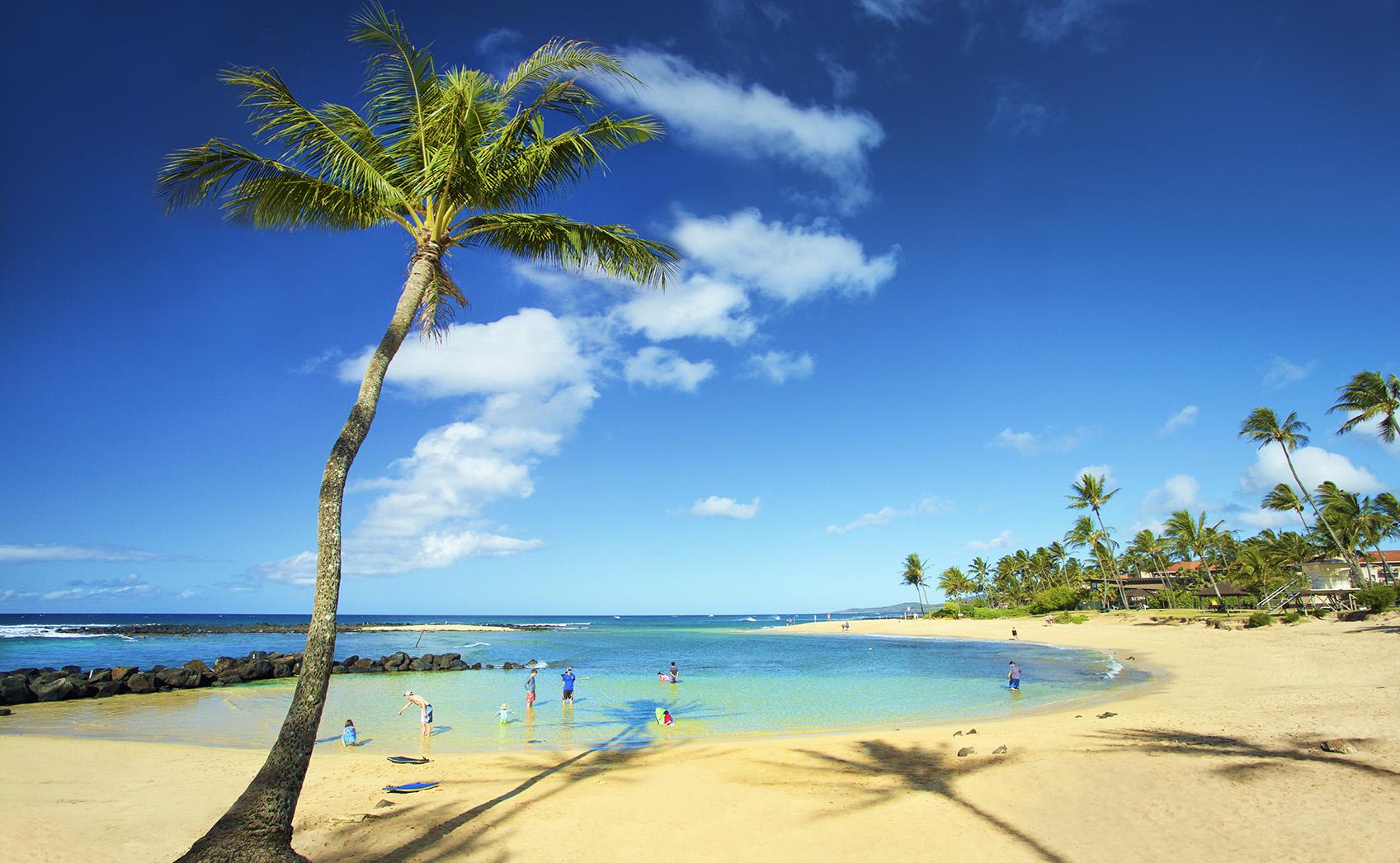 On the south shore of Kauai, Paipu Beach offers the chance to see plenty of wildlife. The endangered monk seals can often be seen sunning themselves in the sand here. Sea turtles and sea urchins are also present and whales can be viewed in the distance.
The beach offers many amenities including surfboard and snorkel equipment rentals, lifeguards, and a playground. There is also a natural wading pool suitable for young children.
Kailua Beach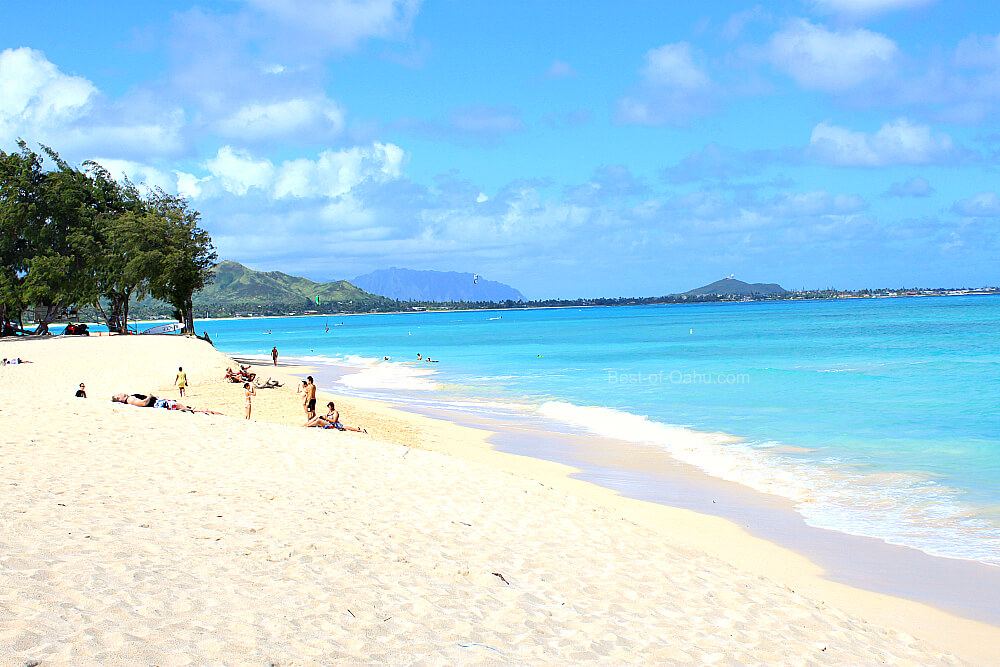 This beach on the eastern shore of Oahu is an excellent place to watch the sunrise. Its pristine water and soft, white sand stretch for two and a half miles. Kailua Beach is a popular location for windsurfing, kayaking, and kite flying.
Swimmers will enjoy the calm, crystal clear water and the presence of lifeguards. There is plenty of shade on the beach as well as picnic areas, showers, and washrooms.
Maluaka Beach
Located on the southwest shore of Maui, Maluaka Beach is found on a stretch of the coast called Turtle Town. As the name suggests, this is one of the best places on the island to observe green sea turtles.
Visitors can also expect to see octopus, parrot fish, eels, and butterfly fish. The beach offers soft, white sand and calm, clear waters. It is a great location for swimming and snorkeling along the coral reef.
Makalawena Beach
On the west side of the Big Island is Kekaha Kai State Park where you will find Makalawena Beach. This secluded beach requires a two-mile hike to reach it, making it less busy than many of the island's beaches. Visitors will likely see wild goats while hiking the trail to the beach.
Calm, clear waters offer excellent snorkeling by the lava rock formations. Expect to view sea turtles and plenty of fish. There are palm trees on the white sandy beach offering shade to sunbathers.
Kauapea Beach 
Located on the north shore of the island of Kauai, Kauapea Beach is sometimes called Secret Beach. This beach offers a clothing-optional section on the eastern end. The west end of the beach has tidal pools that are suitable for younger children to enjoy. A small waterfall can also be found at the beach.
Getting to Kauapea requires a steep hike down a slippery trail. Visitors are rewarded with beautiful, scenic views including a lighthouse. Whales and dolphins are sometimes seen from this beach as well.
More about our TFVG Author
A seasoned traveller, Dad, and avid sports tourist, James foundered The Family Vacation Guide to share his expert vacation experiences- especially when it comes to being a travelling family man.
Featured in Travel articles such as Travel + Leisure, TripSavvy and SFGate, you know you're reading some of the best vacation tips online.