Maui is an incredibly popular vacation destination due to its picturesque beaches, lush rainforests, and stunning volcanic landscapes, with some amazing family resorts on the island.
However, Maui is also home to some of the world's best ziplining and aerial adventure parks.
If you're looking for an adrenaline-pumping activity to add to your itinerary during your trip to Hawaii, then be sure to check out one of these top ziplining and aerial adventure parks.
1. Maui Zipline Company
Maui Zipline Company is arguably one of the most popular ziplining companies on the island, and for good reasons.
Their five ziplines are some of the longest and fastest in Maui, ranging from 300 to 900 feet long, and they offer amazing views of lush plantations.
Maui Zipline Company also has a variety of other aerial adventure activities, such as a ropes course and aerial tram.
Guests tend to appreciate their safety-oriented staff who ensure adventure seekers take safety measures at each step and don't get carried away. This safety prioritization makes them an ideal choice for families with young kids.
Another aspect of Maui Zipline Company is that their ziplines are side-by-side, giving customers the option to race against their peers! This option provides a friendly competitive element to the entire experience.
The tour starts with a walk, which some people appreciate as it allows them to take in the beautiful surroundings first without the adrenaline rush of being on the lines.
2. Kapalua Ziplines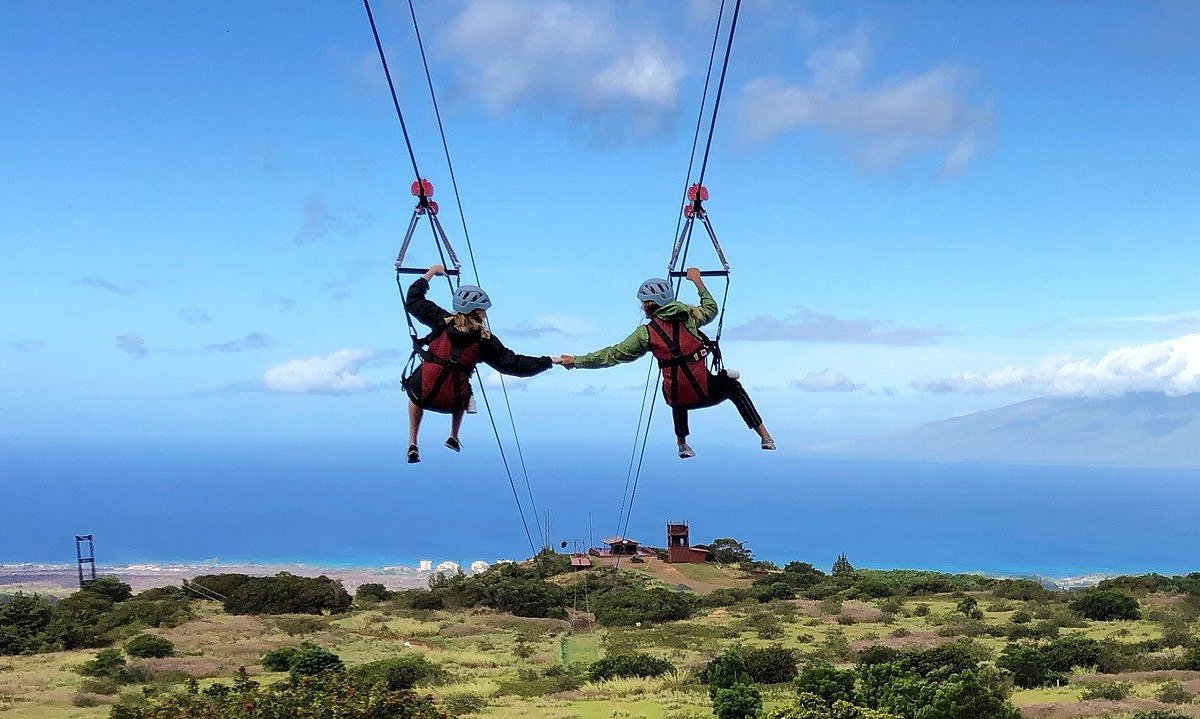 Kapalua Ziplines, in the popular area of Lahaina, is another fantastic option for those looking to experience the thrill of ziplining in Maui.
This tour operator offers seven different zipline courses with side-by-side lines so that you can race other members of your group, similar to Maui Zipline Company above. They also include a variety of other aerial adventure activities.
Their lines measure around 10,000 feet in total. The tour is on the lengthier side at 3.5 hours because it includes rainforest hikes and education about the local plants and animals.
The aspect that makes this experience so highly rated is the sweeping views of the rainforest, the unique suspension bridge, the company's thorough safety protocols, and the opportunity to add an ATV adventure to the mix!
Overall, Kapalua Zip Lines is a top-rated company and the perfect place to go if you're looking for a truly adrenaline-pumping experience.
3. Jungle Zipline Maui-HI
Jungle Zipline is another incredible adventure option for those who want to explore Maui's lush rainforests.
Guests appreciate the patience and understanding of the staff, especially if the guests are dealing with a fear of heights.
People also love the views on their rides, from the trees to the fruits to the ocean; you get to see it all!
We recommend going big and taking their 8-line zipline eco-tour and adding on their Quick Jump Free Fall Ride!
In addition to the ziplines and free-fall ride, this two-hour tour includes a suspension bridge and two swinging bridges.
4. NorthShore Zipline Co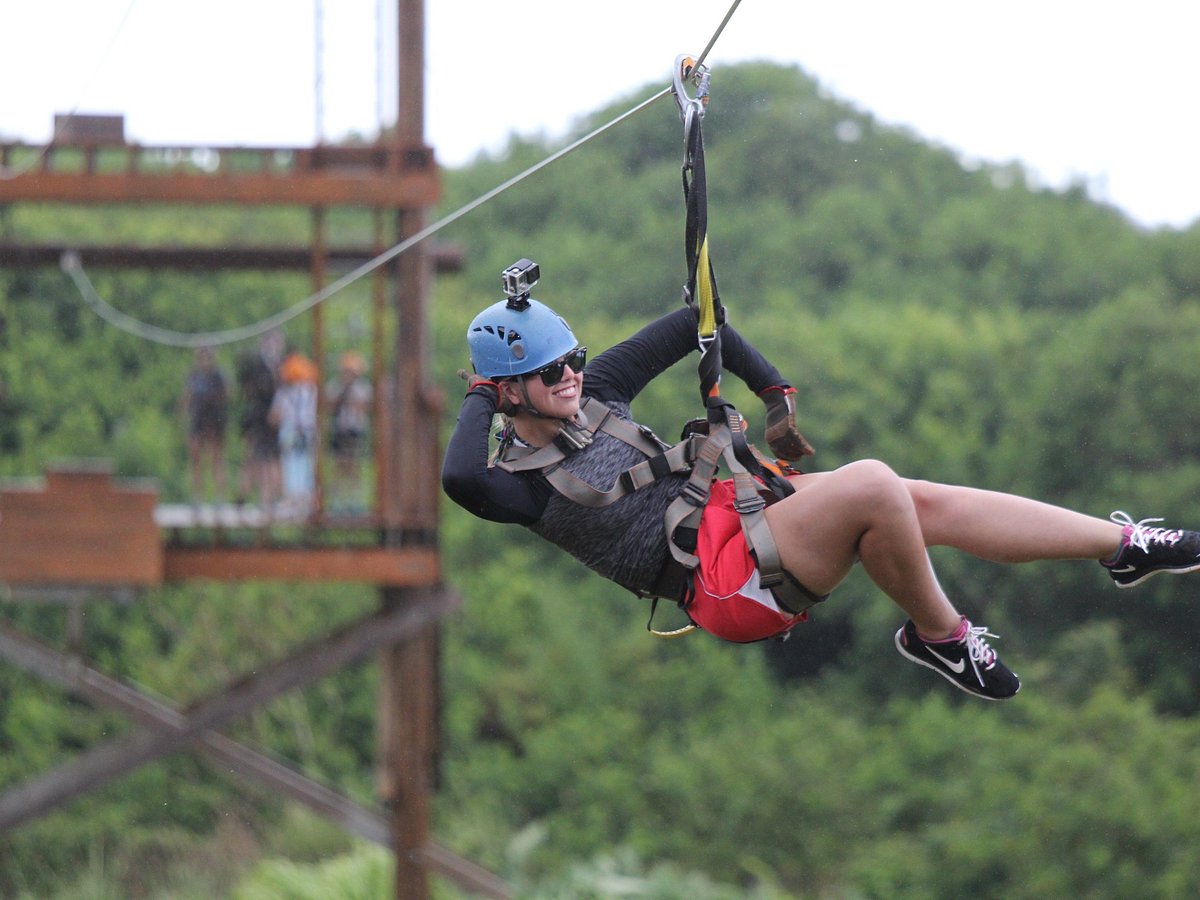 Named appropriately as it is located near the northern shore of Maui, NorthShore Zipline Co has seven different lines that run through humongous eucalyptus trees, adding an extra dose of thrill to your adventure!
Additionally, the zipline tour includes various aerial elements, such as:
Platforms
Suspension bridges
Towers
This company is known for adding humor to their tours, and the guides that come along with you are particularly funny, friendly, and entertaining.
This is important for many people because you might be spending quite a bit of time walking from course to course, and you don't want to be bored in between.
There is another unique aspect to this tour company, and it's that they have a "Scaredy-Cat Refund."
This means that you can get your money back if you are too scared to continue after the first couple of zipline runs. People appreciate this, as it allows them to try something new without great financial risk.
Finally, there's a historical aspect to this tour as well. You have the option of visiting a small World War II museum before or after your adventure since the location of the tour is an old WWII camp.
5. Skyline Hawaii
If you want to go on a supremely well-rated zipline adventure with a highly trusted operator, check out Skyline Hawaii. This company operates zipline tours from the Kaanapali and Haleakala areas of Maui.
You can choose between an 8-line and a 5-line tour depending on your time, money budget, or comfort level. Either way, you'll be riding above lush scenery with trees, valleys, mountains, ocean views, and so much of the beauty Maui has to offer.
Skyline also gives guests the option of tacking on a sunrise hike to the tour, which is an exceptional and memorable experience in and of itself.
What makes this tour unique, beyond the incredible views, is that the guides include an informational aspect. On the way up the mountain in a van ride, these professional, goofy guides will educate you on the history of Maui.
At the Kaanapali location, there is a walking platform over a 1,000-foot-deep valley, adding even more thrill.
Adventure, education, and entertainment all in one? Sounds like the perfect tour!
6. Flyin Hawaiian Zipline
Flyin Hawaiin Zipline claims to offer the longest, highest, and fastest ziplines in all of Hawaii. If you don't believe them, you'll have to check it out for yourself!
This adventure tour is not for the faint of heart, as their eight ziplines range from 250 to 3,600 feet and 2.5 miles of zipline total through the Waikapu Valley, ensuring an intense, beautiful, and memorable ride.
Plus, the speeds of these ziplines can go up to around 50 miles per hour, so they're quite exhilarating.
Like Skyline, Flyin Hawaiian Zipline prioritizes educating its guests on the history and culture of Maui. They even plant native Hawaiian plants throughout the tour, which is a special and unique touch.
Finally, Flyin Hawaiian's tour includes an ATV ride to get you up and down the valley to start your zipline, which adds an additional feeling of escapade.
7. Adventure Park Maui
Adventure Park Maui offers an extremely playful aerial adventure perfect for family trips because kids and adults both love it.
This adventure park includes around 50 high and low climbing structures and two thrilling free-fall elements, creating a gigantic jungle-gym-like atmosphere that will make you feel like a kid again!
The staff is friendly, caring, and helpful, which guests appreciate, especially if it's their first time doing anything like this.
Overall, Adventure Park Maui is an excellent place to push your physical and mental limits, get outside of your comfort zone, or celebrate birthdays and events in a unique way!
8. Paraglide Maui – Proflyght Paragliding
If ziplining and adventure parks aren't your thing, but you still want to have an incredible aerial adventure on your trip to Maui, why not try paragliding?
Paraglide Maui offers a safe, exciting tandem paragliding experience that is thrilling for the body and mesmerizing for the eyes.
You'll get fantastic views of the valleys, mountains, and ocean around Maui. And you can request a calmer ride if you want to take time to appreciate these views rather than getting an adrenaline rush.
Frequently Asked Questions
Here are some frequently asked questions about ziplining and aerial adventures in Maui.
What is the best zipline in Maui?
There are several excellent options for ziplining in Maui, but the best rated is the zipline adventures with the company Kapalua Ziplines.
Maui Zipline Company, Jungle Zipline, Northshore Zipline Co, and Skyline Hawaii also all have top-rated tours.
If you're looking for the most thrill, you will want to go with Flyin Hawaiin tours, as they have the highest, longest, and fastest ziplines.
What is the highest zipline in Maui?
Flyin Hawaiin has the longest and fastest ziplines in Hawaii, as well as the highest.
The highest zipline in Maui is Flyin Hawaiin's grand finale line on their tour, which is 600 feet high from the valley floor. Talk about an adrenaline rush!
Is it safe to zipline in Maui?
Yes, it's safe to zipline in Maui as long as you follow the safety guidelines and regulations set by the ziplining company.
All of the ziplining companies in Maui have experienced and certified guides who will help you feel secure while you zipline.
How old do you have to be to zipline in Maui?
The minimum age for ziplining in Maui is typically around 5 or 6 years old, but this varies by company. Some companies may require that children are at least ten years old.
It's best to check with the specific company you're interested in before booking a tour.
What should I wear ziplining in Maui?
You should wear comfortable, closed-toe shoes and clothing that you don't mind getting dirty or wet.
Most companies will provide you with a harness and helmet. Also, don't forget the sunscreen!
Final Thoughts
Although there are many wonderful things to do on the beautiful island of Maui in Hawaii, you won't regret adding an aerial adventure to your itinerary.
There are ziplining courses to fit different experience and comfort levels. No matter where you go ziplining in Maui, you're sure to have a friendly and supportive guide.
Enjoy taking the leap!
More about our TFVG Author
A seasoned traveller, Dad, and avid sports tourist, James foundered The Family Vacation Guide to share his expert vacation experiences- especially when it comes to being a travelling family man.
Featured in Travel articles such as Travel + Leisure, TripSavvy and SFGate, you know you're reading some of the best vacation tips online.