There's nothing like taking a trip to a theme park for the day. Whether you're with friends or family, prefer the thrill rides or calmer ones, or simply came for the food, you know you're in for a great day. Six Flags is the largest regional theme park company, with 27 locations throughout the United States and Canada.
One of the most popular theme parks in the Six Flags family is Six Flags Great America in Gurnee, Illinois. This excellent theme park pays homage to much of America's history with various themed areas, rides, and more. If you're considering visiting, here's everything you need to know about Six Flags Great America before arriving for your day of fun and delicious food.

If you're planning a trip to Illinois, take a look at our guides focused on Hotels, Resorts and Experiences in the state.
History and Overview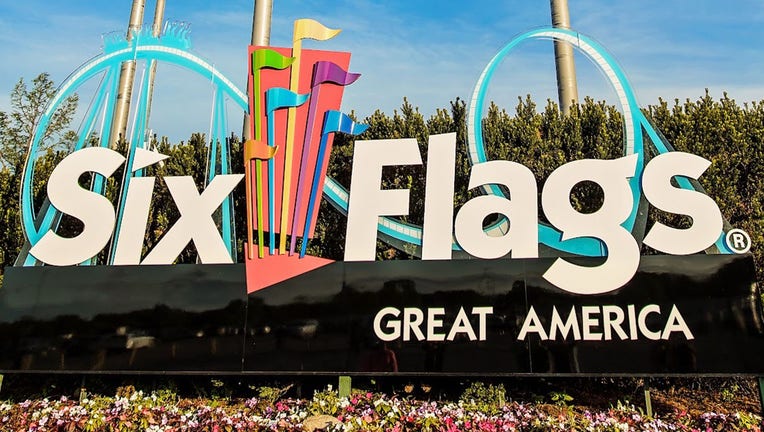 Before becoming Six Flags Great America, this park was Marriott's Great America. The location in Gurnee, Illinois, opened in 1976 and has a sister park with the same name in Santa Clara, California.
Its theme is dedicated to American history, showcasing different types of towns and characteristics throughout the park. The idea behind the parks was that they were to open in time for the country's bicentennial celebrating 200 years of independence from Britain.
The Gurnee park became a part of the Six Flags family in 1984 and was named Six Flags Great America. It has grown rapidly since being purchased, with a much larger selection of roller coasters and family-friendly rides and attractions than was originally available.
Six Flags Great America is a seasonal theme park. It's only open from April through November, so you'll want to plan accordingly. During this time, the park's hours are confined to Saturday and Sunday from 11 am until 9 pm.
With only limited open days, it's best to purchase your tickets ahead of time so you can enjoy your day at the theme park without the risk of missing out. They do have particular events in which they open the park on different days. For example, their Oktoberfest event is almost always on a Friday with fewer hours than the park's standard daily schedule.
Getting your tickets to any theme park before arrival is always a good idea, especially with Six Flags Great America. Not only will this save you precious time on the morning of your trip, but you won't be blindsided by ticket pricing. Here's a look at what tickets generally cost to visit this amusement park:
General one-day admission: $54.99
Seasonal passes: $79.99
Annual membership: Starting at $6.99 per month
Remember that the above prices are online only, and tickets at the gate might be higher depending on the day you arrive.
This Six Flags park has 15 thrilling roller coasters that are perfect for the thrill seekers at your party. These rides deliver a range of thrills, as long as you're over the height limit:
American Eagle
Demon
Batman the Ride
Goliath
Raging Bull
Joker
Flash: Vertical Velocity
MaxxForce
Little Dipper
Superman Ultimate Flight
The Dark Knight Coaster
Sprocket Rockets
X-Fight
Viper
Whizzer
Besides that, they have plenty of other rides and attractions to ensure every member of your group gets to have fun, no matter their preferences or height:
Big Easy Balloons
Buccaneer Battle
Columbia Carousel
Fiddler's Fling
Crazy Bus
Giant Drop
Hometown Fun Machine
Krazy Kars
As mentioned, this Six Flags park is themed on American history and has several areas centered on a specific aspect of the country, its history, and its culture. Each spot is amazing in its own way and features plenty of food, drinks, and rides to enjoy. The best part is that you should have more than enough time to visit all the areas of the park if you plan your time well.
Carousel Plaza
You can't miss Carousel Plaza because it's the entrance to the park. It's nestled between Hometown Square and Orleans Place and is an excellent introduction to the park. This area features a 1978 model of the park when it belonged to Marriott, plenty of food stands for fried goodies, and gift shops to visit on your way out.
Orleans Place
As the name might suggest, this area is themed after New Orleans, Louisiana, and is one of the original parts of the theme park. It is designed to resemble the French Quarter and features jazz music, Cajun food, and fun rides that have New Orleans-inspired names. Appropriately, it is connected to the Mardi Gras area since that celebration happens annually in New Orleans.
Hometown Square
Hometown Square is a Midwestern town as it would've looked at the turn of the 20th Century. It's one of the most famous in the park because it's based on one of the original ideas for the park. The square has several shops, food stalls, and carnival rides you'd see at a typical hometown fair. You'll love the welcoming atmosphere and small-town carnival vibes.
In addition to these features, Hometown Square has two show venues, one of which is outdoor. You can check the website or their physical program to see showtimes when you need to rest your feet but still want to experience what the park offers.
Hometown Park
You'll find Hometown Park inside of Hometown Square. It's been around since the park's opening in the late 1970s. The area reopened in 2016 for the celebration of the park's 40th anniversary.
Three rides from the original park give it a retro theme while emphasizing the small town Midwestern aesthetic that has made this area so popular with visitors.
Southwest Territory
The Southwest Territory park area is connected to County Fair and Hometown Square. It has a Wild West theme, so you'll feel like you're walking through an old movie with its decor and rides. Several shops and carnival games are available, as are multiple dining options.
Metropolis Plaza
The Metropolis Plaza is the smallest but arguably one of the most popular spots at Six Flags Great America.
Unlike much of the theme park, Metropolis Plaza revolves around the DC Comic universe. It opened in 2016 and lets you get up close with your favorite comic book characters.
Metropolis Plaza is one of two areas at Six Flags with a DC theme and features the "Justice League: Battle for Metropolis" interactive dark ride.
County Fair
When you hear about county fairs, your thoughts likely turn to livestock competitions, fried foods, and friendly people. While there aren't any cows, All the rides, shops, and food stalls here are set up to resemble what you would see at your local county fair in a rural area of the country.
County Fair is vast—the biggest area at Six Flags—and extends far into the back of the theme park. A major attraction in this area is the food court which has several popular options. What's more, if you're looking for a more leisurely ride, County Fair is one of two stations for the theme park's scenic railway (the other being Hometown Square).
Yukon Territory
The Yukon Territory in Six Flags Great America is modeled after the stunning Yukon Territory of the forests and mountains that stretch into northwest Canada.
Unsurprisingly, the main themes are gold panning, logging, and prospecting. You'll find this park area between the DC Universe and the County Fair.
Kidzopolis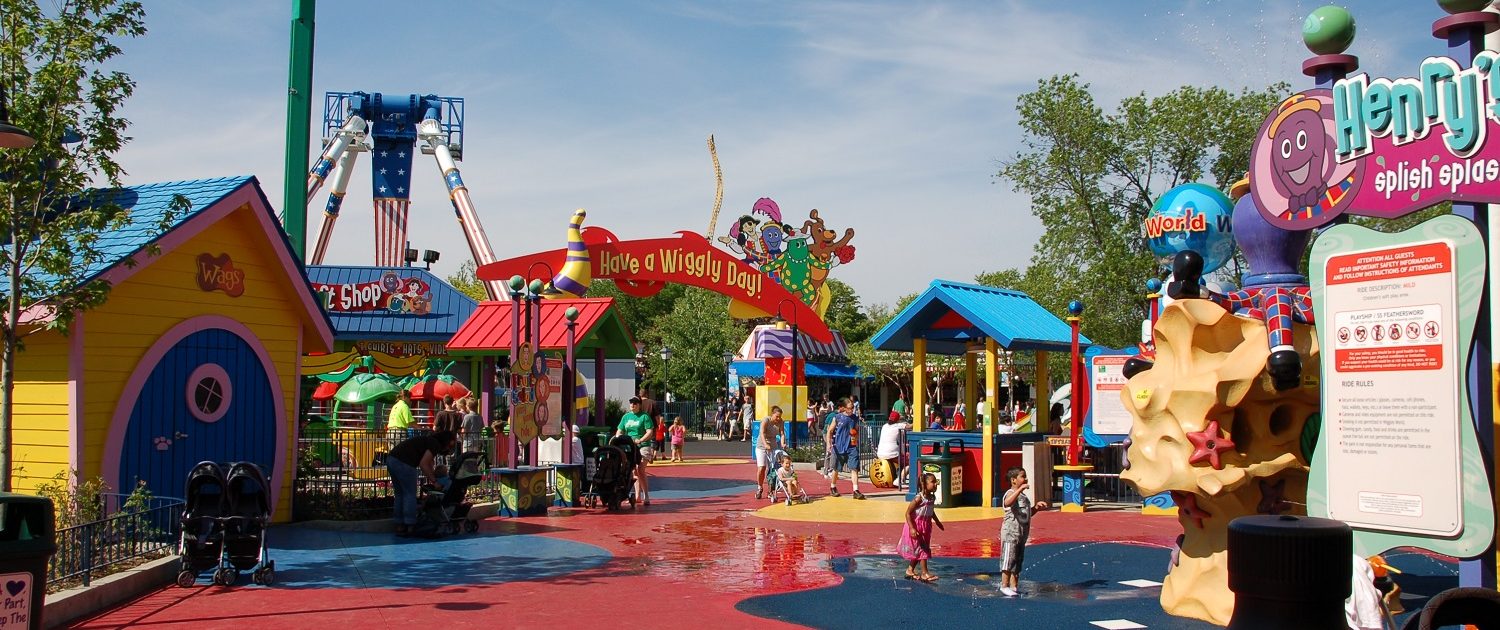 While Six Flags Great America has attractions for all ages, Kidzopolis was made just for the little ones in your group.
Kidzopolis is in front of the American Eagle ride entrance. It was initially the Wiggles World, and you'll find plenty of kid-friendly rides appropriate for children of varying heights. The rides are easy and slow-spinning that don't go upside down.
There's much to see and do here, so be prepared for some resistance from your children when it's time to get lunch or leave for the night.
Camp Cartoon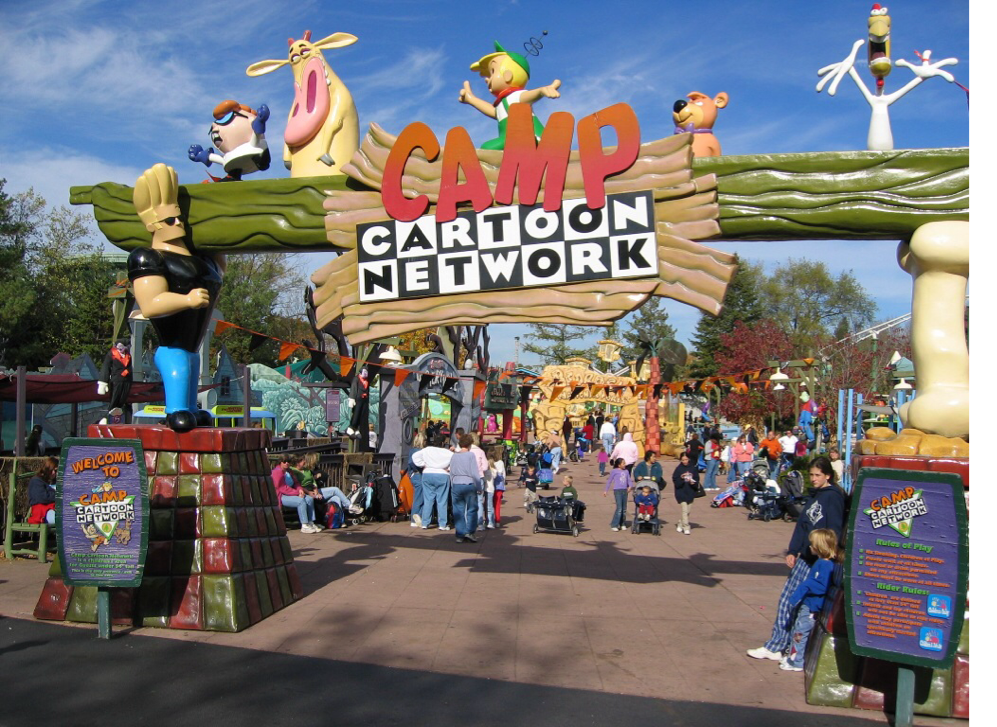 Camp Cartoon is a subsection of the Yukon Territory. It was initially added as Camp Cartoon Network in 1998 but was later shortened to its current name. Despite the name, the rides had a specific focus on Hannah-Barbera shows.
In 2017, Six Flags decided to remove all Hannah-Barbera characters and replace them with generic cartoon characters that lacked copyright. While they are not iconic like Scooby Doo and Yogi Bear, kids go crazy for the fun characters at Camp Cartoon.
DC Universe
The DC Universe was previously Yankee Harbor, based on Cape Cod. It was one of the park's original areas but adopted a DC theme in 2022 to generate more interest in Six Flags.
You'll find most of the roller coasters in this area and plenty of references to the DC Universe and its legendary characters. In addition, there are themed eateries based on the worlds of Batman, Superman, and The Flash.
Mardi Gras
Last but not least is Mardi Gras, which opened in 2004. You'll find bright green, purple, and yellow colors throughout, making you feel like you're celebrating the famous event in New Orleans.
It was created by repurposing a section of Orleans Place. Live music and fun rides are plentiful here, so much so that you might forget you're in Illinois for a little bit.
Hopefully, you've brought your appetite with you when you visit Six Flags Great America. There's a food court, sit-down restaurants, and stalls throughout the park, so you'll never get too hungry or thirsty.
Whether you're looking for a full meal or something to snack on, this park has you covered, with options that include:
Antoine's: Ice cream waffles cones and funnel cake sundaes
Bourbon Street Cafe: Sandwiches, soda, coffee, desserts, and Frito Lay snacks
Captain Cold Ice Cream: Ice cream and Dole soft serve
Blue Ribbon Turkey Legs: Turkey legs and soft pretzels
Chop Six: Veggie stir fry, beef and broccoli, and other Asian dishes
Cotton Candy Factory: Cotton candy, popcorn, and ICEE
Fiesta Fries Cantina: Walking tacos, quesadillas, and chicken strips
Claim Jumper Chicken: Fried chicken, cornbread, and mashed potatoes with gravy
Go Fresh Cafe: Flatbreads, veggie burgers, and salads
JB's Barbeque and Sports Bar: Burgers, nachos, wings, and deep-fried Oreos
There are several snack places throughout the park, typically named with the park area's name, followed by snacks. These offer patrons popcorn, nachos, soft pretzels, churros, ice cream, and soda.
In addition, there are two Johnny Rockets: one in Mardi Gras and the other in the County Fair. There are plenty of other restaurants and food stands to explore when you visit Six Flags Great America, with several places featuring similar cuisines and dishes like the ones we mentioned above.
A handful of locations sell alcohol to those over 21 within the park.
Where To Stay Nearby
Unlike other amusement parks with resorts and hotels to offer guests, Six Flags Great America doesn't. That doesn't mean there aren't some great, affordable options near the park. While you can Google search for yourself, here's a glance at some of the hotels closest to the park and the distance between the two locations:
WoodSpring Suites: 1.2 miles
Extended Stay America: 1.2 miles
La Quinta Inn and Suites: 1.1 miles
Hampton Inn Gurnee: 0.8 miles
Country Inn and Suites: 0.8 miles
Final Thoughts
Of the 27 Six Flag parks, visiting Six Flags Great America in Gurnee, Illinois, is one of the most memorable experiences to have. It's only open in certain parts of the year and on weekends during that time, but it's well worth trying to plan a trip to the theme park.
The tickets are relatively affordable compared to other major theme parks, while there are rides for every type of visitor and those of almost all ages. And, if you work up an appetite, you'll find the food options here are varied and delicious. Whether you love riding the rides, enjoying the theme park food, or sitting for shows, you can't miss out on a trip to Six Flags Great America.