Quaint, iconic cottages, striking hydrangeas, beautiful beaches, and spectacular dining all await you on Cape Cod, Massachusetts. The chain of beachside towns is perfect for families looking for a relaxing getaway. 
While Cape Cod may seem like an adult vacation spot, there are plenty of kid-friendly resorts that you and your children will enjoy. Below are some of the top family resorts in Cape Cod!
Wequassett Resort & Golf Club
Located in the stunning town of Harwich, Wequassett Resort takes the classic Nantucket-style home and magnifies it by ten. A sprawling estate with private cabanas, sparkling pools, and a waterpark, Wequassett will never leave your family bored.
Wequassett has day programs and evening programs for kids, with themes like Mad Scientist and Pirate Adventures. Evening programs last until 9:00 pm to give parents some alone time.
While your kids are becoming pirates or chefs, you can enjoy drinks at the Outer Bar and Grille or a five-star meal at Twenty-Eight Atlantic. Afterward, sit back and listen to nightly entertainment or take a stroll on the pristine sand.
Wequassett offers lodging with families and comfort in mind. Some of the options include:
Cottages
Signature Collection hotel rooms
Villas
Mother Goose house (a three-bedroom home)
Large families typically go for the cottages or the Mother Goose house, but smaller families fit snugly in the hotel rooms or villas.
The Mansion at Ocean Edge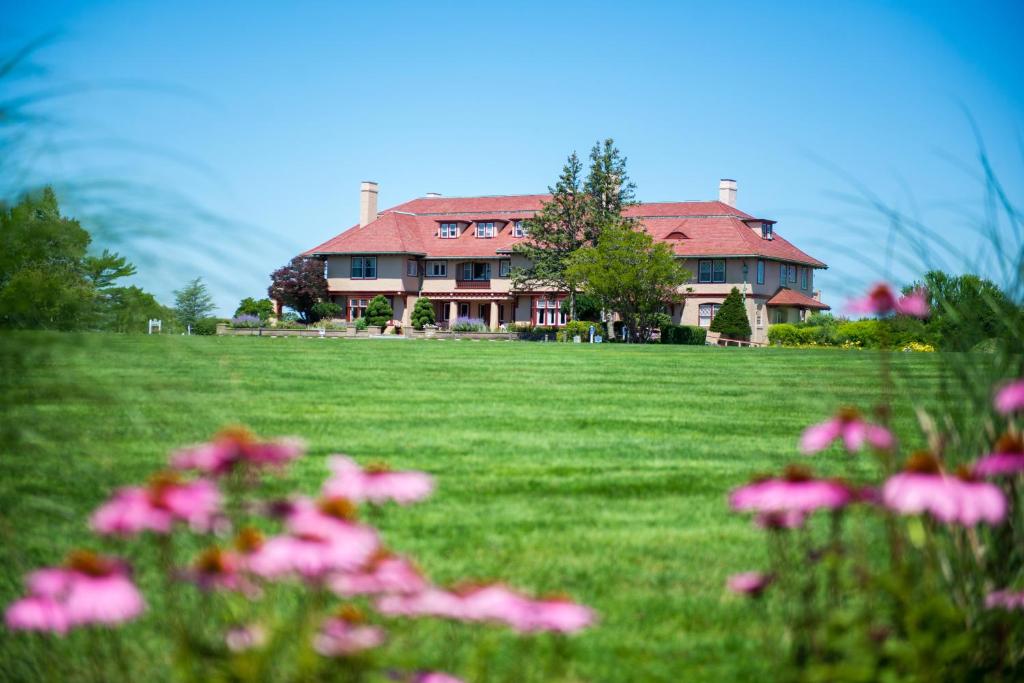 If you love Victorian homes, the Mansion is for you. Exceptional views of the Brewster shore and large rooms make it an ideal family getaway.
The Mansion at Ocean Edge is best suited for families with older children, as there are no day programs for kids or specific activities for young kiddos. That said, we promise there is a ton to do. Pickleball, paddleboarding, and oyster tours are just a few of the activities at the Mansion.
There are two accommodation options at the Mansion. You can choose to stay at the Mansion in one of their townhomes or venture to the grounds for private lodging in The Villages. Both are adequate for large groups – so bring your in-laws!
Also of interest is the private beach available to all guests. Relax seaside and enjoy beach food and beverage service. After your day at the coast, unwind at the Shark Bah.
If you visit the Cape in winter, check out The Igloos at The Frost Bar – heated igloos decorated with holiday garb and views of the bay.
The Club at New Seabury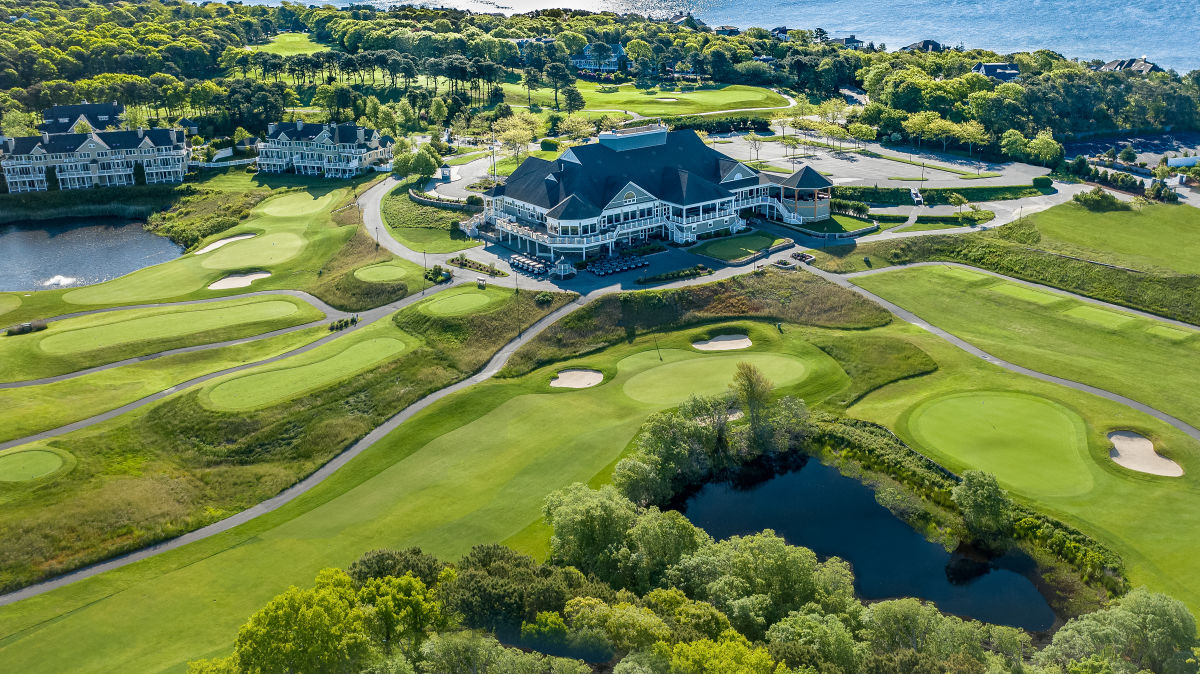 All-inclusive and great for kids, the Club at New Seabury makes for an unforgettable family vacation.
This resort may be better suited for small families rather than big ones, but large groups can find accommodations as well. The Club offers two bedrooms, two bath condos, one bed/one bath cottages, and two bedrooms one bath cottages.
The Club offers memberships, and some amenities are members-only. If you opt-out of membership, make sure you note what restaurants and activities are for members.
For casual, kid-friendly fare, try the Sand Wedge Bistro. If you want some alone time, take a stroll down to the shore and get a drink at The Lure.
What makes the Club stand out is its pool and beach offerings. Options include:
Cabana Club – views of Nantucket Sound and a kiddie pool
Beach Club – decks, private beach access, and views
Athletic Club – Olympic-style pool, zero-gravity chairs
Play a round of golf on their premium course, and challenge the fam to a game of tennis if you get tired of swimming!
Endless Coast, A Boutique Hotel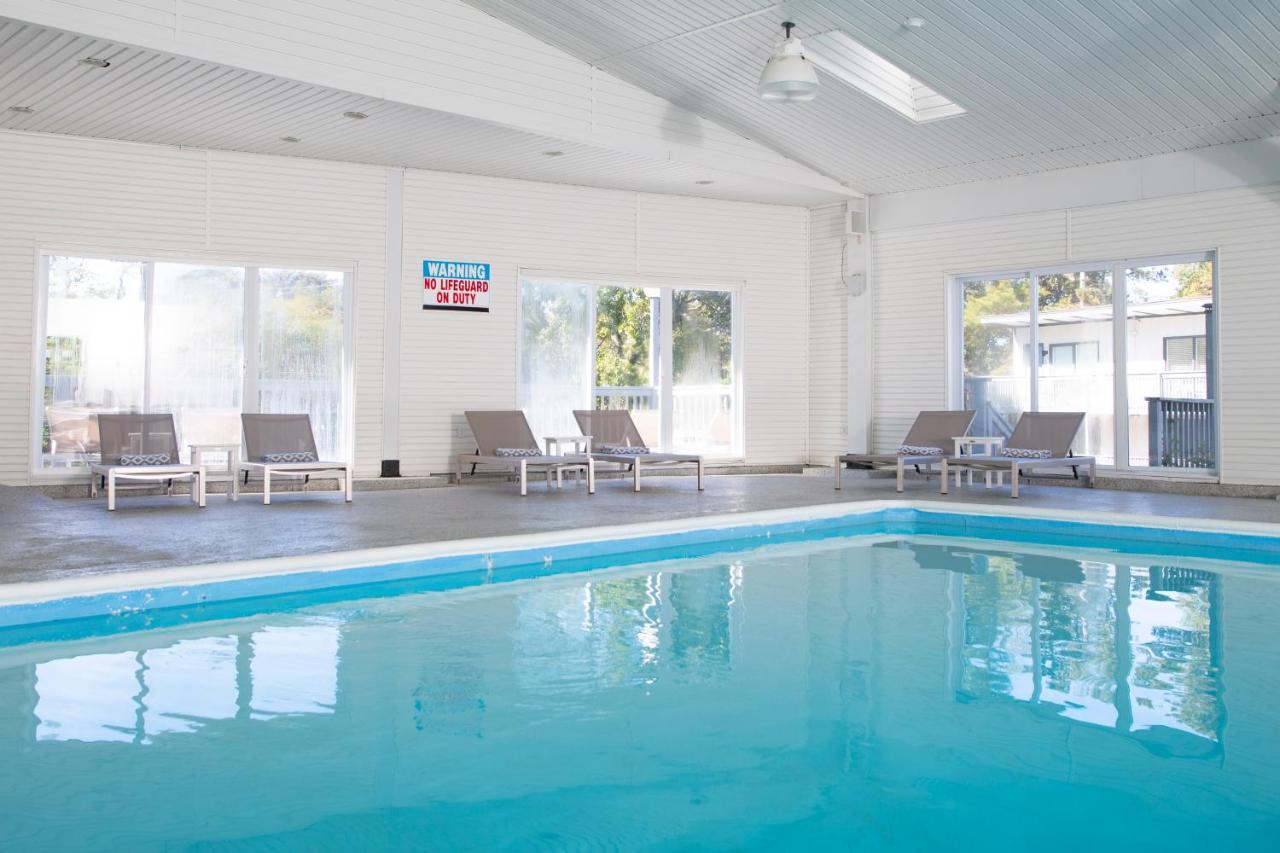 Do not let the name fool you – this is a boutique hotel for families! Minimal, modern decor and wood floors make each room feel like home. Located in Wellfleet, one of the most popular towns on the Cape, Endless Coast has it all.
Endless Coast is especially suited for those that like to be outside. They have barbeque pits, fire pits, and grills so you can make yummy summer snacks. Also at your disposal is an indoor pool, an expansive deck for lounging, and beach cruiser bikes.
This hotel is known for its location. Steps away from the famed Beachcomber restaurant and a short drive from Provincetown mean the world is your oyster. Remember that Endless Coast is open only in the spring and summer – they close during the chillier months.
Wychmere Beach Club
Picturesque, affordable, and right on the water, Wychmere Beach Club is a must for family trips. And the best part? Wychmere has an adventure camp for kids – so you can drop them off and have time to explore the stunning Cape and Harwich Port!
Lodging options at the Beach Club are:
Standard hotel rooms
Deluxe hotel rooms
Suites
Cottage
The suites and cottage fit the most guests, so if you bring extended family, that is the way to go.
Wychmere also has an incredible selection of pools. There are two heated pools, including one that is just for kids. It has a waterslide, water basketball, and a mushroom fountain – your kids will never want to get out of the water.
While Wychmere does not have its restaurants, there are several beloved local spots around. Take a short walk or bike ride to the Mad Minnow, or grab a slice at George's Pizza House.
AutoCamp Cape Cod
Arguably the most unusual accommodations on the Cape, AutoCamp gives guests a campground feel with resort amenities. You can stay in sleek, renovated Airstreams, modern cabins, and even luxury tents.
Another option is to add a Basecamp to your site. You can customize a tent for your kids to ensure they have space to play and make memories while you make s'mores on the fire pit. However, if you prefer to stay in something less campground-like, the Vista X Suites are perfect.
AutoCamp has on-site staff members to help you with anything you may need, and each lodging option has a private bathroom (aside from the tents).
Your kids will find things to do here that you cannot get anywhere else. Fat tire biking on a cranberry bog, folk tales by the fire with local storytellers, and foraging hikes are just a few of the phenomenal offerings at AutoCamp.
Harbor Hotel Provincetown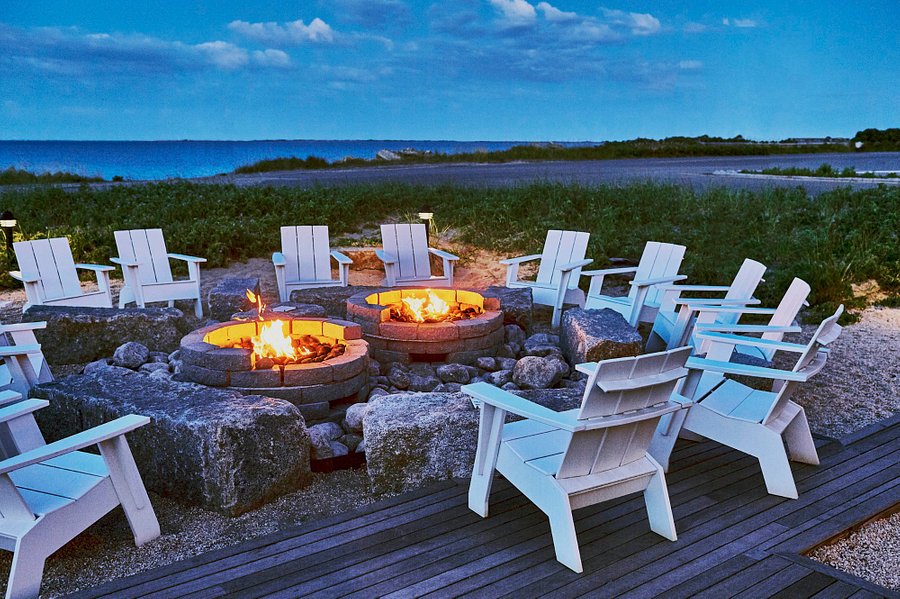 Provincetown is one of the most popular destinations for families on the Cape, and the Harbor Hotel encapsulates why people love Provincetown so much.
From its brightly colored exterior to eclectic and retro interior, the Harbor Hotel oozes family fun. The rooms are standard hotel rooms, with suites and single bedroom rooms also being available.
After a long day at the seashore or walking around Provincetown, take a dip in the pool and grab a drink or burger at the Cabana Bar, the only restaurant on Harbor Hotel property.
Other family-friendly amenities include:
Outdoor heated pool
Patio with fire pits
Ping Pong
Scooters and bikes available for rent
While the Harbor Hotel does not have water parks or arcades, it is on the shore and seconds away from Provincetown. Go whale watching with your fam, take a dune tour, or take a short hike to the Pilgrim Monument.
Chatham Bars Inn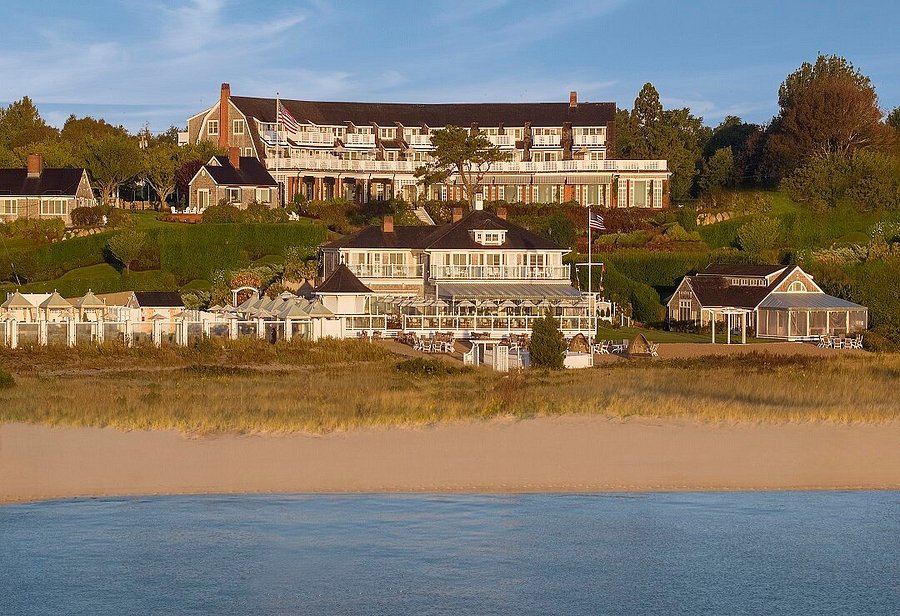 Voted number one best resort by Travel and Leisure, the Chatham Bars Inn is the premier destination for visiting Cape Cod. All-inclusive and on stunning grounds, Chatham Bars is for those that want to indulge.
Chatham Bars have activities for kids and families, like bubble soccer, archery, and scavenger hunts. Day programs and an evening program for children are also available June through Labor Day.
What makes Chatham Bars so special is their plethora of dining options. They have everything from upscale bar food at The Sacred Cod to fine dining at Stars. Most restaurants have water views and spectacular beverage choices.
If you are looking for ultimate luxury, Chatham Bars Inn has private cabanas for rent. Complementary Yeti coolers, reserved lounge chairs, and personalized food and beverage options are all at your disposal.
You can go off-site and visit the farm owned by Chatham Bars Inn, where they have seasonal fruits and veggies for sale and exclusive farm-to-table meals.
Winstead Inn & Beach Resort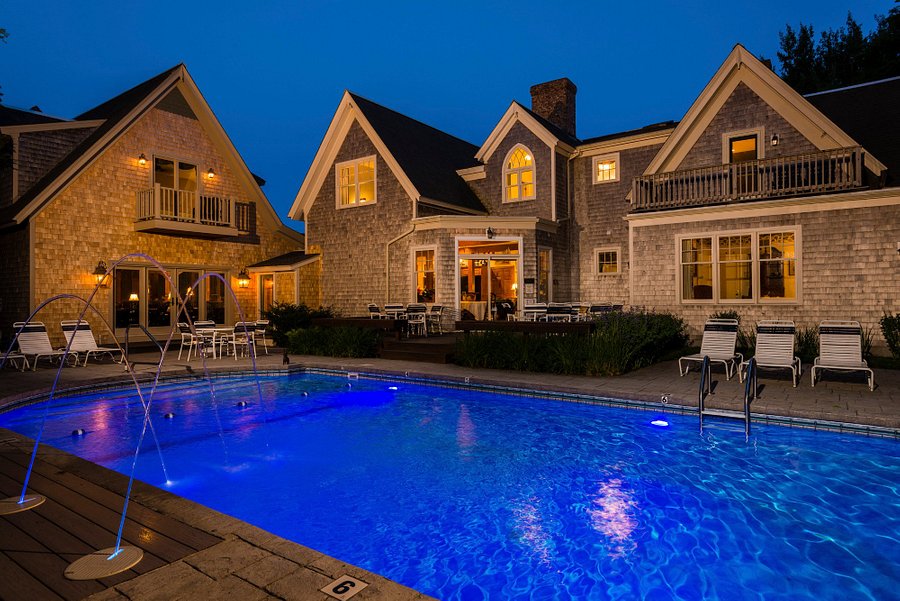 With two properties and a refined feel, Winstead is perfect for your next family getaway. Bike trails, a private beach, and its proximity to Harwich Port make Winstead a top pick on the Cape. Note that the Inn is in town and not located on the water.
Winstead comes equipped for large families, with some rooms fitting up to six guests. The Inn property is a traditional Inn with charming rooms and luxurious amenities. However, if you want to stay seaside, the Winstead Resort will be your preference.
The Winstead Resort overlooks the calm waters of Harwich Port. Steps away from the shore, you can take a walk with your kids and enjoy a day in the sun. Or, explore the area and check out some nearby activities:
Seal watching
Mini golf
Inflatable park
If your kids love adventure and playing outside, the Winstead Resort guarantees they will make memories that last a lifetime.
Edgewater Beach Resort
Low-key but still charming, the Edgewater Beach Resort is suited for families that plan to minimize time spent in the hotel room. The rooms are nice but not ultra-opulent, which works if you are looking for something less lofty.
Swim in the indoor or outdoor pools, or relax in their hot tub while the kids explore Dennis Port. Challenge your gang to multiple lawn games, like bocce ball, volleyball, badminton, and can jam – all free of charge.
Better yet, Edgewater has a private stretch of shore overlooking the Nantucket Sound and complimentary chaise chairs. There is nothing quite like sipping a cool drink and reading a book seaside!
Dennis Port is a thriving area of the Cape, so take some time out of your vacation to visit nearby attractions like the Whydah Pirate Museum, Skull Island, or the Ten Pin arcade.
Cape Codder Resort
About as close to the perfect family resort as you can get, Cape Codder has everything you need for the ultimate family vacation.
A few reasons why are:
The only resort on the Cape with an indoor waterpark
On-site dining options
Full-service spa
There are also tons of activities, like an arcade, lawn games, and special programs for kids. Cape Codder has seasonal programs like Haunted Hotel, Princess & Pirate weekends, and courtyard movies.
If you want to indulge, book a spa day at the Beach Plum Spa for a facial, peel, massage, or Mani/Pedi. They even have packages for families!
After your day of relaxation, have dinner at Hearth N' Kettle, a traditional New England restaurant, or The Grand Cru for a more intimate experience. For breakfast, go to The Deck for a wholesome and hearty meal.
Inn on the Beach
Inn on the Beach has that classic beachy feel that Cape Cod visitors love. Family-owned and located in Harwich Port, there will never be a dull moment during your stay at the Inn on the Beach.
All of the accommodations at the Inn are flawlessly furnished and have wood flooring for a homey feel. If you plan on bringing your extended family, you can book multiple rooms that are side-by-side for convenience and privacy.
You are within walking distance of some of the finest restaurants, shops, and sightseeing venues on the Cape at Inn on the Beach. Check out the Cape Sea Grille or Capeside Kitchen for delicious seafood, and get dessert at Sundae School, the closest ice cream shop.
The Inn also has fire pits perfect for a summer barbecue or smores. However, if your kiddos love swimming, the Inn on the Beach may not be your best bet – there are no on-site pools. That said, the private beach has been called pristine by the local health administration, so there is no shortage of places to splash.
Red Jacket Beach Resort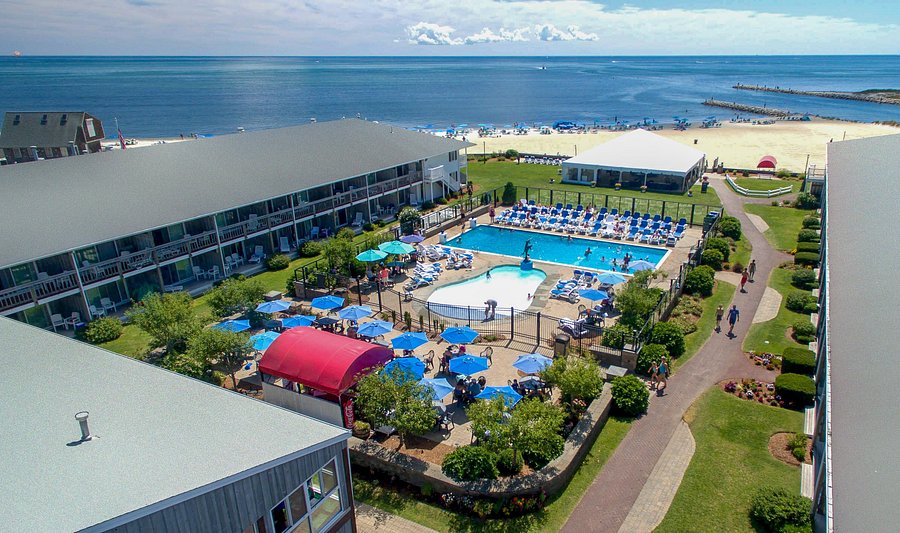 Excellent for first-time visitors, Red Jacket Beach Resort sits in the middle of the Cape and has tons of dining and lodging options for families.
A few room choices for families are:
Traditional family room (which includes an alcove with two twin beds)
Oceanview family room
Riverside family room
Poolside family room
Alcove family room
Separate from the primary hotel are several cottages ranging from one to four bedrooms and a large home ideal for lengthy family vacations.
Dining options include a coffee bar and sports pub, along with a pizza place and family-friendly traditional restaurant called The Clipper Ship. Wind down after a day of building sandcastles at the Pavillion, an outdoor bar that serves frozen adult beverages and cocktails.
Have some time to yourself, too, at the Spa at Red Jacket Resort – a full-service spa with indulgent massages and aromatherapy to soothe the senses (and possibly sunburn).
Riverview Resort on Cape Cod
Known for its spacious rooms and amenities, Riverview Resort is the quintessential Cape Cod vacation locale. Great for older kids and younger children alike, Riverview has something for everyone.
They have one and two-bedroom suites that sleep up to eight people. All rooms come stocked with a full-size fridge, so if you have a long trip ahead, Riverview is a practical choice.
As far as things to do, Riverview has a heated indoor pool that is open year-round and easy access to nearby airports and ferries. Taking a day trip to Nantucket or Martha's Vineyard has never been easier!
Grill up a delicious meal on complimentary grills while the kids play lawn games, or walk down the shore to The Lobster boat for fresh lobster rolls – a local delicacy. While Riverview is not directly on the beach, you have complete access to the river and its surroundings.
Cape Cod Family Resort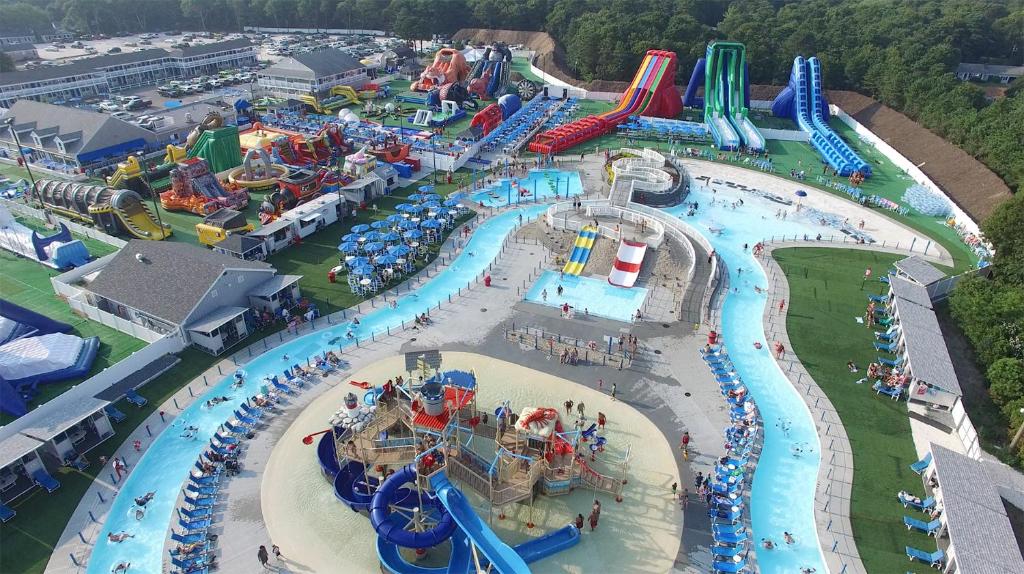 Active families, this one is for you. Cape Cod Family Resort has unmatched amenities, from an inflatable park to a gigantic lazy river and waterpark. Your kids will never want to go home!
Lodging is standard but charming, and rooms accommodate up to six people. Passes to the inflatable park and the H2O Waterpark come with your stay, even for one night. Family rooms get six free tickets to the amenities at Cape Cod Family Resort.
Kids come first at Cape Cod Family Resort, so most of the focus is on the fun to be had. If your family gets tired of swimming, there is an arcade on-site and a Challenge Zone, an obstacle course with a twist. A bocce ball court and ping pong tables are also available.
If you are looking for privacy and family bonding time, rent a private cabana – they fit up to ten people, and food and beverages are delivered straight to you. Relax poolside while the kids splash in the heated outdoor pool and waterpark – or do some splashing yourself!
Takeaways
Whether you are a seasoned Cape Cod visitor or a first-timer, there is a resort out there for you and your family. From the refined elegance of The Mansion at Ocean Edge to the adventurous Cape Codder resort, everyone will fall in love with the charms of the Cape.
More about our TFVG Author
A seasoned traveller, Dad, and avid sports tourist, James foundered The Family Vacation Guide to share his expert vacation experiences- especially when it comes to being a travelling family man.
Featured in Travel articles such as Travel + Leisure, TripSavvy and SFGate, you know you're reading some of the best vacation tips online.