Water parks are the highlight of summer–splashing in the wave pool, waiting in line for a big slide, and floating luxuriously in the lazy river. All of these experiences are part of growing up, and kids in Massachusetts are no exception!
If you're looking for a watery excursion in Massachusetts (that's not the Atlantic Ocean), look no further than these water parks. From small to huge, inexpensive to fancy, these parks fulfill every kid's summer dream: splashing and sliding.
The Best Water Parks in Massachusetts
The only thing these waterparks have in common is that they are all in Massachusetts. Otherwise, they are widely different and have a variety of sizes, styles, and prices. Look through each one and decide which best suits your family's vacation needs and budget.
Water Wizz, East Wareham
Water Wizz is the biggest waterpark in Southern New England. Completely outdoors, it features a wave pool, tons of slides, a lazy river, and in-pool playgrounds for the little ones. There are kid-safe wading pools, huge play areas for all ages, and a wide variety of slides and innertube rides.
The rides aren't just about slides, however–Water Wizz has a few log flume rides for the more daring. These rides are fast and exhilarating for older kids and adults alike. Meanwhile, little kids can stick to the slides, the wading pool, or the bucket dump on Captain Kidd's Island! Water Wizz offers day passes throughout the summer.
Cape Cod Inflatable Park, West Yarmouth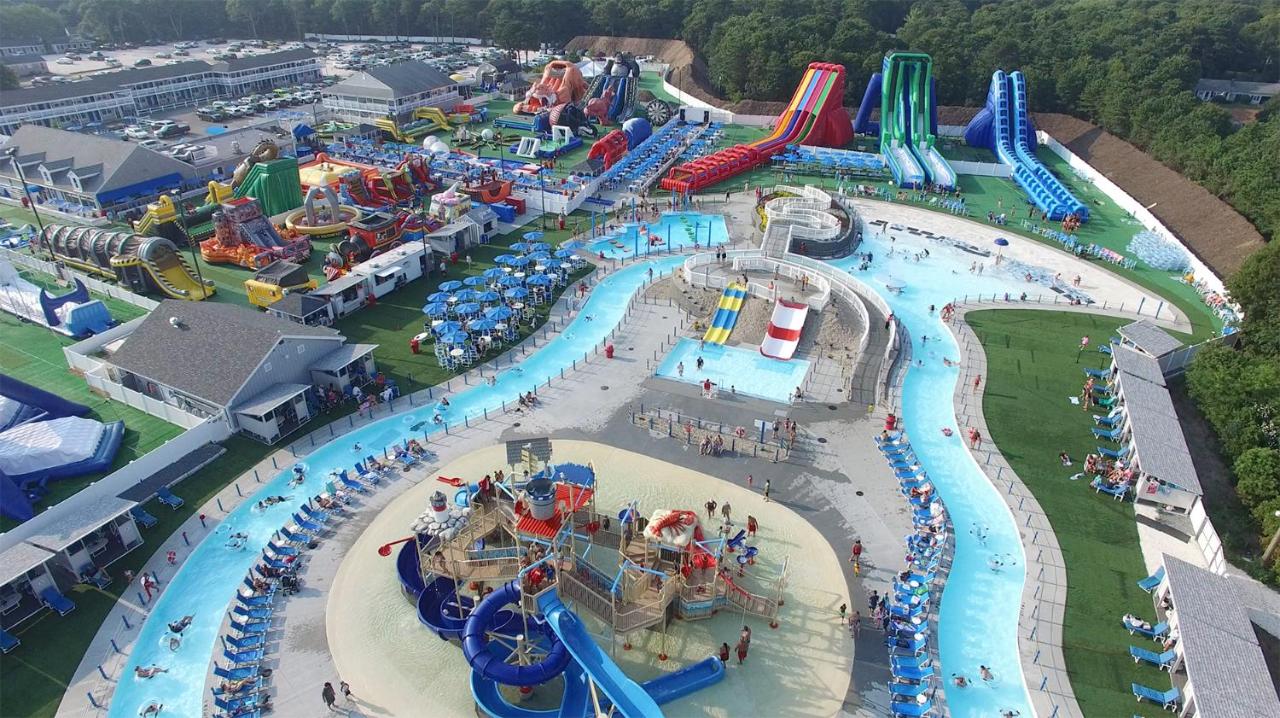 The combination of a bounce house and a waterpark is a match made in heaven, as the Cape Cod Inflatable Park proves. While many of the bouncy castles and slides are dry, the park's slip and slide rides are the most popular. So bring your suits and sunscreen, and prepare to get wet and bouncy!
The largest water slides in the inflatable park end in a shallow pool, where Intertubes, spray fountains, and smaller slides are available. It's a great idea for a park, excellently executed. Cape Cod Inflatable Park is one of the best water parks in Massachusetts if not all of New England.
Great Wolf Lodge, Fitchburg
If you are visiting Massachusetts in winter or just want to get away to the water with your family, you're probably looking for an indoor waterpark. Well, the Great Wolf Lodge is your answer: a chain of massive indoor waterparks and hotels with discount packages, great attractions, and a famous lazy river.
The Great Wolf Lodge in Fitchburg serves the entire New England area. During certain times of the year, the Lodge is only open to guests and not the public. However, it's cheaper to stay at the hotel and go to the waterpark anyway–you get the best deals that way.
Why not also check out our guide to the other Great Wolf Lodge locations in the US?
CoCo Key Water Resort, Danvers
Another year-round option, CoCo Key Water Resort, has a plethora of options for families, adults, and kids of all ages. There are wading pools for the small ones, slides and lazy rivers, and a hot tub for guests over 16. This waterpark is the largest in Massachusetts and has more options than any others!
CoCo Key has more than just slides and lazy rivers–the indoor theater plays movies over the pool, and the huge play centers are geared towards big and small children. If you have a wide range of kids, CoCo Key might be the right choice for you and your family. The resort offers day, week, or annual passes for varying prices.
Hurricane Harbor (Six Flags New England), Agawam
Six Flags might be a regular dry amusement park, but the Hurricane Harbor attached to the one in Agawam, Massachusetts, is very wet indeed. This waterpark is less about the lazy river and waterslides and more about thrills and getting soaked on roller coaster-like rides.
From a log flume to a 257 drop into the water, these rides are for thrill-seekers. You can buy admission to Hurricane Harbor or Hurricane Harbor and Six Flags for the ultimate day of fun (we recommend riding dry before getting wet–it works better than the other way around). Enjoy the water rides at one of America's greatest amusement parks!
Cape Codder Resort and Spa, Hyannis
One of the newest resorts in Massachusetts, the Cape Codder, does not scrimp on size. The lazy river is 300 feet, and the smallest water slide is 50 feet tall. The waterpark is an indoor/outdoor combination, so parts of it are open year-round. However, most of it is meant to be enjoyed in the warmer months.
There is a wave pool, a kiddy pool, a playground (complete with water toys and a dump bucket), and an enormous jacuzzi that can fit up to 24 people. While the Cape Codder is one of the more expensive options on this list, it's perfect for an all-inclusive vacation package to treat yourself and the kids to a high-class waterpark.
The Waterpark of New England, Middleton
The Waterpark of New England is a smaller water park attached to a hotel. The bonus to this waterpark is that it's indoors, so it's open year-round. If you want your kids to splash around and go down waterslides in January, you can go for it in the Waterpark of New England.
This waterpark is also a great choice if you're trying to save money. Because it's not as huge as some of the others on this list, it's a little cheaper and can save you money. You can do everything at the park in a day. The hotel has great discounts on day passes to the waterpark if you're coming in from out of town.
Breezy Picnic Grounds Waterslides, Douglass
The Breezy Picnic Grounds Waterslides are just what they seem–three huge waterslides with a picnic area and an outdoor playground. Pack a lunch and watch the kids fly down these 300-foot slides, or get your suit on and join them! Once you're done swimming, you can eat a picnic or buy snacks at the pavilion.
This park is one of the smaller parks on this list, but the size and adrenaline rush of the slides make it worth it. In addition, it's much cheaper than many other water parks. You can bring food and enjoy the view and the grassy knolls of these picnic grounds.
Bonus: Boston Common Frog Pond Spray Pool
Okay, this one's not really a water park, but it's an iconic part of Boston city. If you've got little ones who don't do much more than a splash, the Frog Pond spray pool is an excellent choice for them.
Those in or near downtown Boston should at least stop by on a hot summer day to see all the families cooling off in the large, shallow pool. There's a spray fountain that will cool and delight your little ones and a lovely little cafe for relaxation after the splashing.
It's not flashy, and there are no exciting rides, slides, or water adventures, but Boston Common offers a nice place to sit in the water and escape the sun for a bit. It's popular in summer, so keep in mind that many families with kids will be there!
Final Thoughts
Whether you're bringing your kids to New England for a summer trip or you live there and want to get away for a bit, you should look into the best water parks in Massachusetts. After all, sometimes kids need more than the ocean, and these water parks might be just the answer! 
Other fantastic water parks to consider for some family fun
If you're hoping to find some more of the best water parks, our round-up below will be the perfect place to start.
More about our TFVG Author
A seasoned traveller, Dad, and avid sports tourist, James foundered The Family Vacation Guide to share his expert vacation experiences- especially when it comes to being a travelling family man.
Featured in Travel articles such as Travel + Leisure, TripSavvy and SFGate, you know you're reading some of the best vacation tips online.