A beach vacation is something the whole family can get behind, and the turquoise and transparent waters of the Caribbean are unparalleled in both beauty and relaxation. White sandy beaches, calm blue-green waters, tropical cocktails, and endless aquatic sports are just a few of the things that await your arrival to the hot, sunny land of eternal summer.
One of the best Caribbean vacation spots for your family is the Riviera Maya, an 88-mile stretch of Mexican coastline from the city of Cancun to the beautiful Sian Ka'an Biosphere at the southern end of the town of Tulum.
You find incredibly pristine white sandy beaches and crystal-clear waters with magical reef systems in the Riviera Maya. But you will also get to explore hundreds of freshwater holes and caves known as cenotes, as well as marvel at ancient Mayan ruins.
The best thing about a vacation in the Riviera Maya is the countless selection of all-inclusive resorts for families that will fill your itinerary with fun in the sun during the day and delicious meals accompanied with superb entertainment at night.
With all the fantastic all-inclusive resorts in the Riviera Maya for families, it can be hard to choose the best one. We'll make it easier for you by giving you a list of the best all-inclusive resorts in the Riviera Maya for families. Whichever resort you choose from our list will surely deliver the best beach vacation you and your family have ever experienced.
Top 17 All-Inclusive Resorts in the Riviera Maya
Our list of the best all-inclusive resorts in the Riviera Maya for families has something for every age group and activity preference. Read on to see which all-inclusive resort in the Riviera best fits your family's taste and budget.
Fairmont Mayakoba Riviera Maya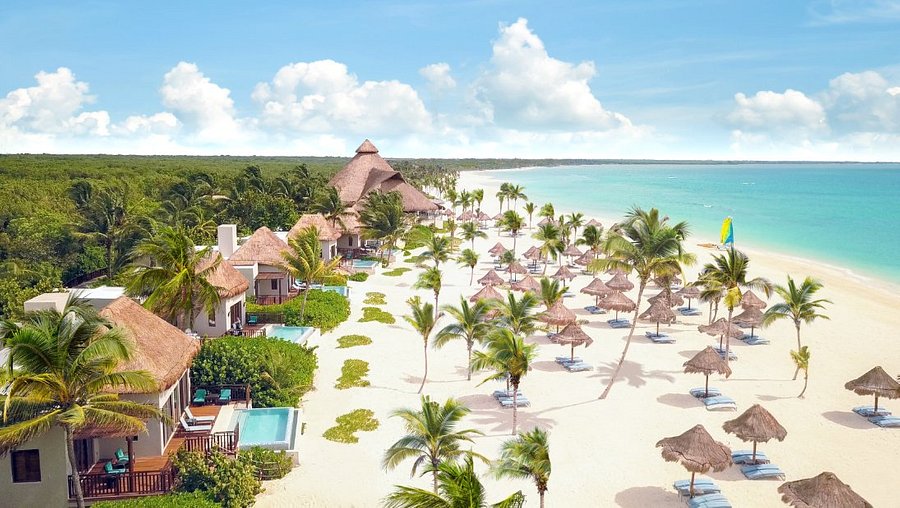 Located just north of the small resort city of Playa del Carmen, the Fairmont Mayakoba Riviera Maya is a five-star luxury resort that has received five diamonds from AAA for its excellent amenities and services.
The Fairmont has over 400 beautiful hotel rooms nestled into the surrounding 240-acres of rainforest, within a short walking distance to a stunning private beach. Parents can relax here while the kids can participate in one of the many beach activities planned specifically for them. Activities for kids and the whole family include catamaran rides to the best snorkeling spots, paddleboards, jet skis, scuba diving tours, and on-site school, and archery, to name a few.
The Fairmont has a vast selection of delicious restaurants that range from a casual beachside cantina to a fine dining steakhouse. Parents can enjoy a relaxing spa day at the Spa Willow Stream or a round of golf at the beautiful El Camaleon golf course.
Grand Velas Riviera Maya
Located next door to the Mayakoba resort complex around 30 miles south of the Cancun International Airport, Grand Velas Riviera Maya must be one of the most beautifully designed resorts on our list.
The main building is a circular dome with pyramid-like descending balconies, each surrounded by perfectly manicured bougainvillea and greenery with palapa-thatched roofing overlooking a massive infinity pool and the Caribbean beach beyond.
Grand Velas has a vacation package specifically for families with supervised activities for the kids so the parents can relax by the pool and enjoy a fresh cocktail. There's a Grand Velas Kids' Club for children between the ages of 4 and 12 with colorfully muraled walls, dress-up stations, forts, tents, video games, and table games. If kids are more inclined to do beach activities, supervised volleyball and football games are always in play.
Families can also take a snorkel tour to explore the vibrant reef and tropical fish population just offshore. Grand Velas has eight different restaurants on-site with cuisine from all over the world, along with a massive buffet with all the American and Mexican favorite comfort foods kids and adults love.
Vidanta Riviera Maya
There are six hotels inside the massive Vidanta Resort complex just north of Playa del Carmen, including the Estates, Grand Luxxe, The Bliss, The Grand Bliss, The Grand Mayan, and our favorite, the Mayan Palace. Vidanta has also won Conde Nast's Traveler's Choice Award as one of the Riviera's top 5 hotels.
The resort is a conglomeration of massive palapas surrounded by 1000 acres of rainforest. Here you can find blue-tiled pools, 15 bars and restaurants, an enormous golf course, a spa, and a giant water park known as Jungala Aqua Experience. We haven't even mentioned the perfectly manicured stretch of powdery white sandy beach with luxurious beach beds and beachside cocktail service.
Perhaps the most alluring part of the Vidanta experience for kids and adults is the resident Cirque du Soleil show JOYA, located in a massive complex built atop a flowing mote and surrounded by mangroves.
Paradisus, Playa del Carmen
Paradisus is a beautiful and family-friendly resort right on the beach of Playa del Carmen. It has direct access to the unique Punta Esmeralda beach with a small freshwater cenote just steps from the ocean.
In addition to a beautiful beach and proximity to Playa del Carmen's famous la Quinta walking street, Paradisus has an exceptional family-concierge service to ensure every family has a set of activities tailored to their vacation desires. Paradisus also has a giant waterpark with a water playground, five large slides, a kid's pool, and supervised games. Kids can also enjoy craft classes, mini-Olympics, treasure hunts, and cooking classes.
Parents interested in enjoying a fun night out can take advantage of babysitting services and head to one of the 24 bars and restaurants on-site. There's even a hookah lounge with a belly dance show!
Iberostar Quetzal and Tucan
Located within the gated community of Playacar at the southern tip of Playa del Carmen, within walking distance of the famous la Quinta walking street and Senor Frog's, Iberostar Quetzal and Tucan are two hotels inside the same Iberostar Resort Complex. Both the Tucan and the Quetzal hotels are 5-star hotels with the highest quality of luxury for the whole family, from gorgeous suites to activity programs for children and adults.
Adults can participate in the Aliveness program with beachside yoga classes, healthy eating options, and a world-class spa. Kids can play in one of the many pools, children's water playgrounds, and waterslides on the premises. There is also a program for kids from 4-17 to compete in outdoor games, beach activities, and puppet-making courses, recycling, and sustainability.
Parents can relax, and kids can play and learn at these beautiful eco-friendly hotels in Playacar. Families can dine at one of the many delicious restaurants on-site in the evening while enjoying live music, acrobatics, comedy shows, and magic shows.
Iberostar Paraiso Lindo, Cancun
Iberostar has various resorts in the Riviera Maya, and Iberostar Paraiso Lindo is one of their largest resorts located in the Cancun Hotel Zone. Iberostar Paraiso Lindo has a playground made entirely of 7.2 tons of recycled plastic replete with giant recycled plastic mobiles of dolphins and other tropical wildlife.
Iberostar Paraiso Lindo also has five infinity pools, a large wave pool that imitates the Caribbean's calm tides, and a new waterpark called Aquafun with numerous slides and a lazy river. There are also countless beautiful wood and bamboo bridges that lead you through protected mangroves to a spectacular beach.
Kids also have a giant funhouse club known as Star Camp with multimedia rooms, a climbing wall, trampolines, adventure courses, learning kitchens for cooking classes, a wave pool, and a carousel. There is no shortage of adventures, fun, and relaxation for the whole family at Iberostar Paraiso Lindo.
Dreams Tulum Resort and Spa
Located a mere 15 minutes from the quaint and magical town of Tulum, Dreams Tulum Resort and Spa has activities for the whole family to enjoy together and separately. There is a set of activities and clubs for young kids, teenagers, and adults, plus plenty of day trip tours to the ruins of Tulum and surrounding cenotes.
Parents can spend the day sipping cocktails by the giant infinity pool or lounging in luxurious beach beds on the white sandy, secluded stretch of beach reserved exclusively for guests. Kids and teens have their own supervised activities and areas to have fun, participating in sports, games, and waterpark activities suited for each age group.
There are nine restaurants and seven bars and lounges to choose from for family dining, an intimate fine-dining experience for parents or couples, or a classic sports bar where Dad can catch up on his favorite sports games broadcast on giant plasma TVs.
Azul Fives Hotel by Karisma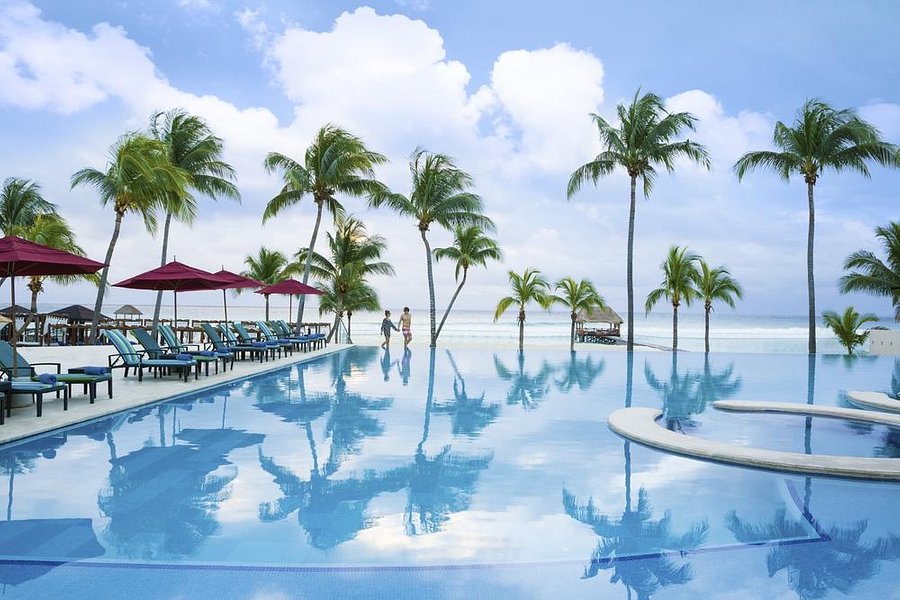 Azul Fives is a medium-sized resort with a little over 100 designer rooms and suites for families to enjoy a more intimate vacation without sacrificing any of the amenities of the larger resort complexes in the Riviera. You can find Azul Fives on the lovely Xcalacoco beach in a green and peaceful suburb north of Playa del Carmen.
Guests can enjoy local attractions in Playa like the Church of Guadalupe, 28 de Julio Square, La Quinta, along with access to attractions like El Camaleon Golf Course and Punta Venado Bike Park at other resorts. Shuttles and tours to surrounding attractions leave daily from Azul Fives, helping guests branch out from standard beach activities to enjoy a wealth of other natural and cultural activities.
Of course, there's plenty to do inside the hotel, including swim-up pool bars, beach volleyball, a delicious breakfast buffet, rooftop restaurants with fantastic ocean views, and a village of shops, restaurants, artisan stands, and nightly live music and fires shows.
Hard Rock Resort Riviera Maya
Just as the Hard Rock Café is fun, cool, and a rocking-good time for kids and adults, so too is the Hard Rock Resort Riviera Maya. Located halfway between Playa del Carmen and Tulum, the Hard Rock Resort Riviera Maya is a massive complex of hotels, beaches, palapas, pools, and enormous plazas for nightly events and parties.
You can hear amazing music from every genre serenading your walk from your hip hotel room replete with a hammock on the balcony to the pool or beach. Hard Rock's spunky animation team always has something fun planned for the whole family. The Hard Rock Kids program has numerous kids pools and a Kids Club with an impressive multimedia room for kids to watch movies and play video games to their heart's content.
There's also a teen-only, "no adults allowed" club for those teen rockers who are too cool for school. Kids, teens, and parents can relax on the beach or explore the massive aquatic park with slides, playgrounds, and giant water buckets.
Hyatt Ziva Cancun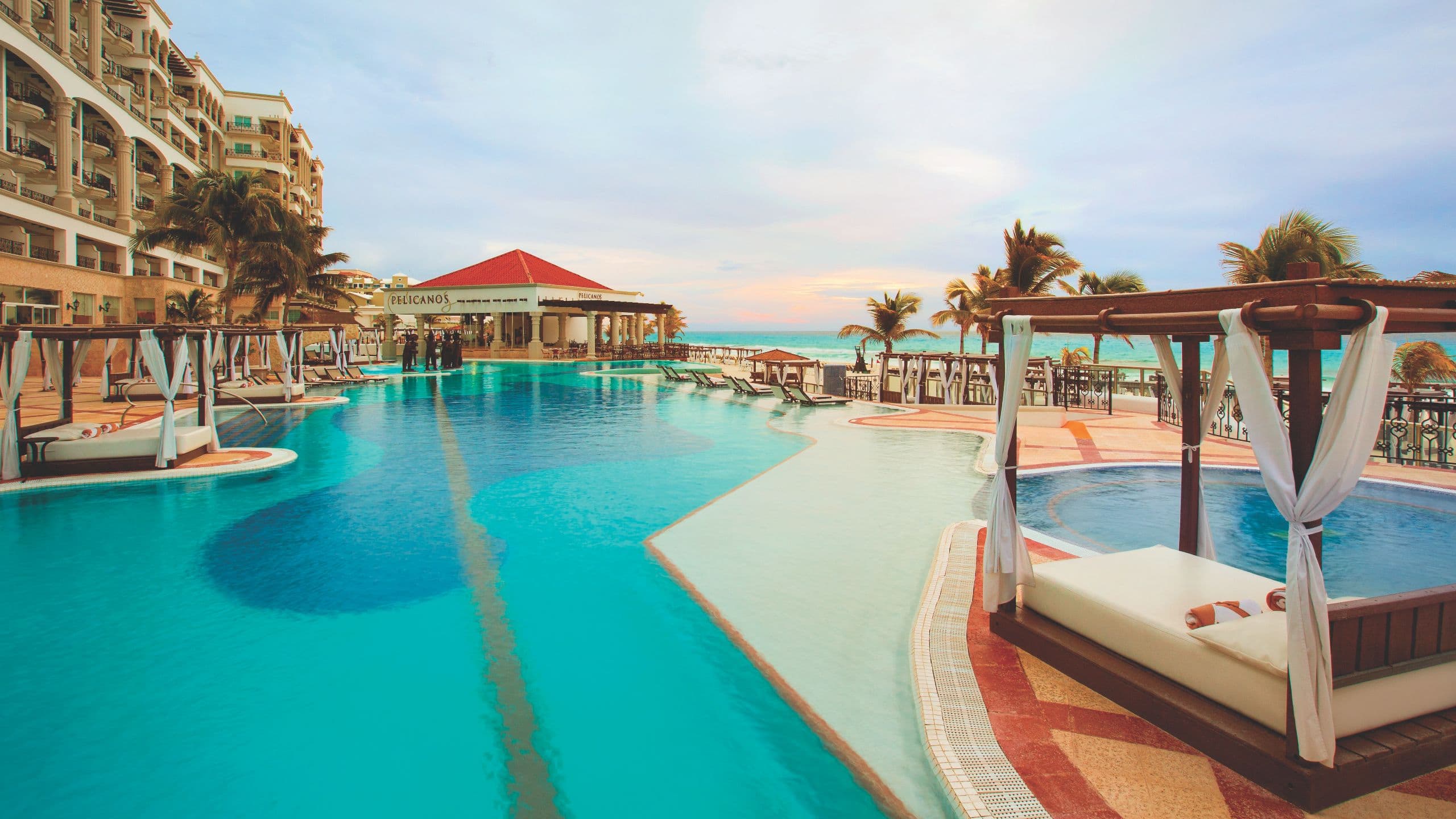 Located at the northernmost tip of the famous Cancun Hotel Zone, the Hyatt Ziva Cancun has one of the best beaches with the most spectacular sunsets in the Riviera. This five-star resort is fun for the whole family, with plenty of dance, fire, and light shows on the main plaza, three giant infinity pools, and whirlpool jacuzzi, three slides, and a large tank with three dolphins that you can swim with.
Along with a relaxing and luxurious oceanfront spa, adults can enjoy craft cocktails poolside at the swim-up bar and artisanal beers brewed at a microbrewery on-site. There are ten different restaurants showcasing cuisine from every region of the world.
There are snorkeling and scuba diving trips, paddle boarding and kayaking tours, water aerobics, and beach volleyball for the whole family to enjoy the spectacular Cancun beach.
Sandos Playacar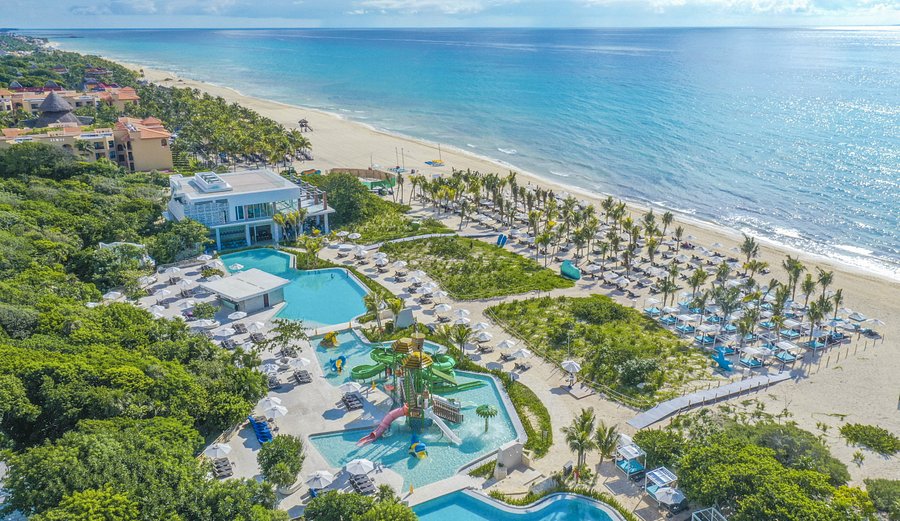 Located inside the beautiful, gated community of Playacar at the southern end of Playa del Carmen, Sandos Playacar is a family-friendly all-inclusive resort with adult-only sections to enjoy while the kids are playing in an adult-supervised playhouse.
Sandos has a massive swath of white powdery beach with lounge areas and a palm forest with dozens of large hammocks to relax in while you listen to the ocean. There are also plenty of water sports activities like jet skiing, parasailing, kayaking, and paddleboarding.
The knowledgeable team of guides at Sandos will show you and your family around Playacar and Playa del Carmen with a guided bike ride, stopping to enjoy all the local spots like La Quinta Avenida and the main plaza. You can also choose between luxurious rooms, larger suites, or even private villas for your family to enjoy together.
Grand Palladium Costa Mujeres
Costa Mujeres is the newest addition to the Riviera Maya resort scene, with the most pristine and exclusive beaches at the northernmost tip of the Yucatan peninsula, north of Cancun Centro. Grand Palladium Costa Mujeres is one of only a handful of resorts in Costa Mujeres, offering guests one of the most pleasant and newest experiences of the Riviera.
Grand Palladium may be far from Cancun and civilization in general, but it has absolutely everything you could possibly want or need on its massive grounds surrounded by acres of virgin mangrove. There are 670 stunning rooms and suites, eight restaurants, 19 bars, three swimming pools, a water park, a convention center, and a giant 360-degree amphitheater.
Families can select the Family Selection vacation package with countless amenities like nanny services, kids kits and clubs, exclusive family grill and pool areas, and giant cookies and milk to accompany nightly performances ranging from plays to magic shows.
Grand Sirenis Riviera Maya
Located just about halfway between the resort towns of Playa del Carmen and Tulum, Grand Sirenis Riviera Maya is a tropical leisure resort on a 2-mile stretch of pristine Caribbean shoreline surrounded by lush jungle. Not only can you and your family enjoy this perfect stretch of beach, but Grand Sirenis has also uncovered and preserved an ancient Mayan ruin on-site for you to explore without even leaving the premises.
If you're looking for aquatic activities on the beach, there are paddleboards, kayaks, and some of the most spectacular snorkeling in the Riviera. Fun in the sun doesn't stop there, as you can also enjoy three large pools, an exclusive kids pool, and a lazy river for guests to float around in inner tubes.
Families have access to two large buffets, eight restaurants, 11 bars, nightly entertainment discos, clubs, theaters, and beachside fire shows.
Hotel Xcaret Mexico
Xcaret is one of the Riviera Maya's first cultural and natural theme parks with pre-Hispanic shows, snorkeling, all-inclusive dining restaurants and buffets, a ropes course, swimming pools, man-made rivers, and so much more.
The creators of Xcaret bring you an adventurous, culturally, and environmentally conscious hotel where you can experience the authenticity of the Riviera Maya's natural bounty and rich history.
Hotel Xcaret Mexico wants guests to experience the same perfect combination of nature and culture at their beautiful and colorful resort. This resort is replete with jungle trails, rivers, coves, rocky beaches, sandy beaches, pools, and a kids and family club for all ages to learn about Mexico and engage in wholesome games for the whole family.
The lobby, an indoor/outdoor giant palapa with natural-wood carved installations and beautiful stone columns, offers a spectacular introduction to this unique hotel.
Hotel Riu Playacar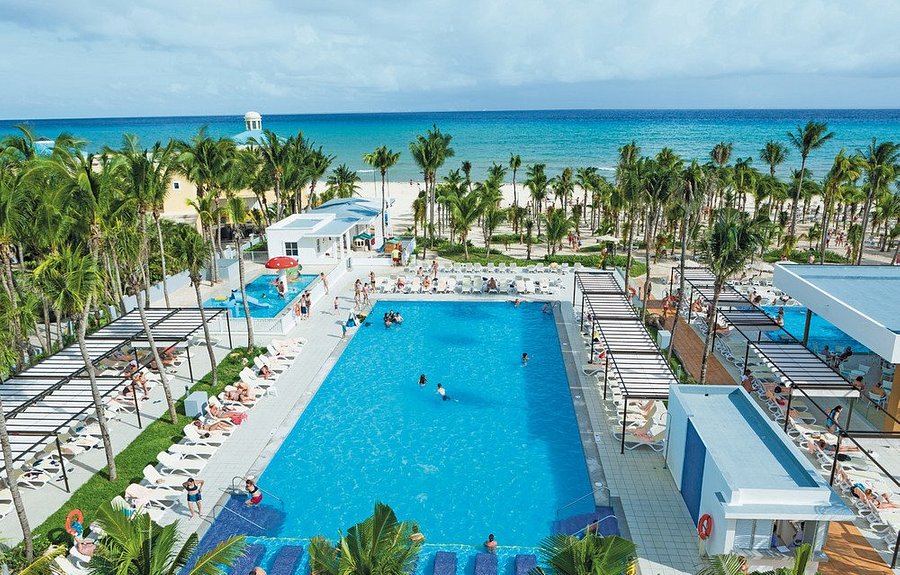 Hotel Riu Playacar is one of five Riu Resorts inside of Playacar's lovely, gated community. The other resorts are Riu Tequila, Riu Lupita, Riu Yucatan, and Riu Palace. All resorts are within walking and shuttle distance from each other, and you and your family have access to activities at all of them.
The excellent Riu buffet-style restaurants and world cuisine restaurants offer an array of delicious options for breakfast, lunch, and dinner. The three large swimming pools on site are an excellent reprieve from a day at the powdery white sand beach playing volleyball or building sandcastles with the little ones.
There is a children's pool with slides for the kids along with a full itinerary of entertainment day and night for kids and adults to enjoy.
Finest Playa Mujeres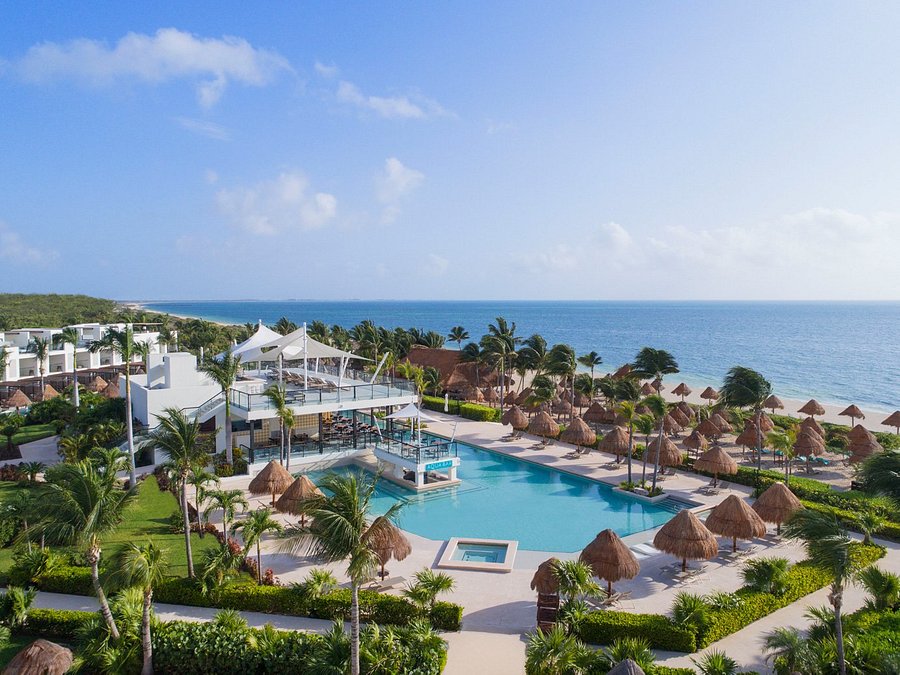 Playa Mujeres is a stunning stretch of beach north of the famous Cancun Hotel Zone with its own resort row of more secluded all-inclusive hotels. One of these gorgeous resorts is the Finest Playa Mujeres. Finest strives to create activity packages for families that include time to be together and time to unwind. Parents can enjoy time to relax away from the kids while the younger members of the family explore a supervised Kids Club and Imagination room.
Kids even have their own dining program replete with kids' sized fun outdoor dining patios and all the most delicious artisanal sweets, pastries, and comfort food they love. One of their particularly unique programs is the family spa experience with tailored spa regimens for mothers and daughters or fathers and sons to enjoy together. Who says kids can't enjoy a spa day as much as adults?
Bahia Principe Coba at Akumal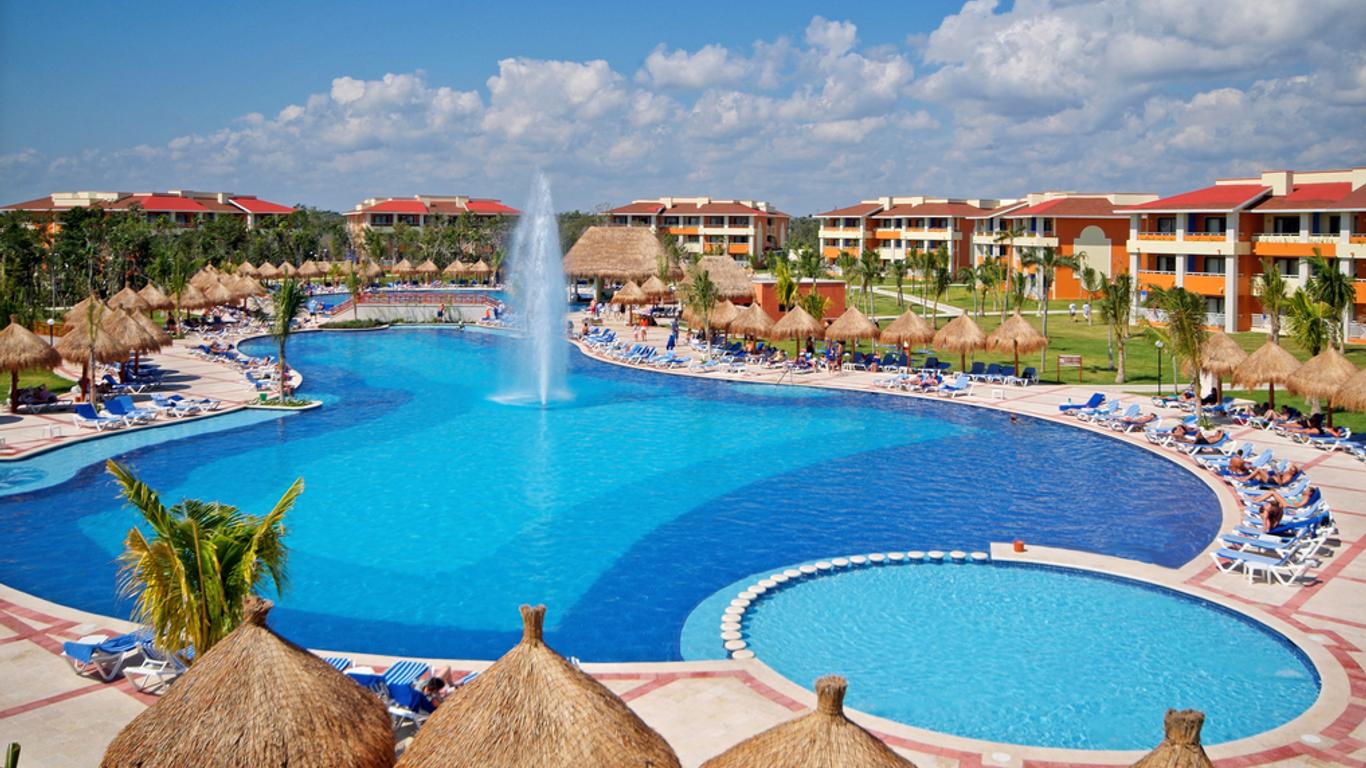 Bahia Principe Coba is a massive 1080 room resort in the beautiful town of Akumal, with some of the calmest and most beautiful beaches along Akumal Bay. While you and your family may not ever leave the resort because there is so much to do on the grounds, it is worth your while to explore Akumal's freshwater lagoon that opens out onto the bay. Akumal Bay is famous for its massive sea turtle population, with daily snorkel tours where you can swim alongside these magical creatures.
If you'd rather stay in the comfort of your hotel, there is a world of adventures, dining experiences, and relaxation amenities awaiting you. There are ten restaurants, 9 bars, a world-class spa, an 18-hole golf course, a disco, and a children's water park to keep you busy for your entire stay.
Are You Ready to Head to the Riviera Maya with Your Family?
This top vacation spot truly offers activities for all members of your family, and you might just find that you wished you could stay longer.
Whether you want to participate in some of the best holiday fun or go on a holiday to unwind, the Riviera Maya is the perfect place to go. With this list of the best all-inclusive resorts in the Riviera Maya for families, you'll no doubt have a lot to look forward to while you scout the resorts out to find the perfect one for your upcoming vacation.
More about our TFVG Author
A seasoned traveller, Dad, and avid sports tourist, James foundered The Family Vacation Guide to share his expert vacation experiences- especially when it comes to being a travelling family man.
Featured in Travel articles such as Travel + Leisure, TripSavvy and SFGate, you know you're reading some of the best vacation tips online.