Mexico is one of the best places to travel to, whether you're with friends, solo, or with your family. With the beautiful Gulf and Pacific Beaches, delicious food, and culture, there's more than enough to do here to keep everyone happy. 
Cabo San Lucas is undoubtedly one of the best places in Mexico to visit. The beautiful town is on the coast, filled with resorts and fun for everyone to have. If you're thinking about taking your family to Cabo, finding a great place to stay is essential.
When traveling with family, all-inclusive resorts are fantastic. They take almost all the guesswork out of what you'll do on your trip. Before you jump the gun on where to stay, check out ten of the best all-inclusive resorts in Cabo San Lucas for families. 
Playa Grande Resort and Spa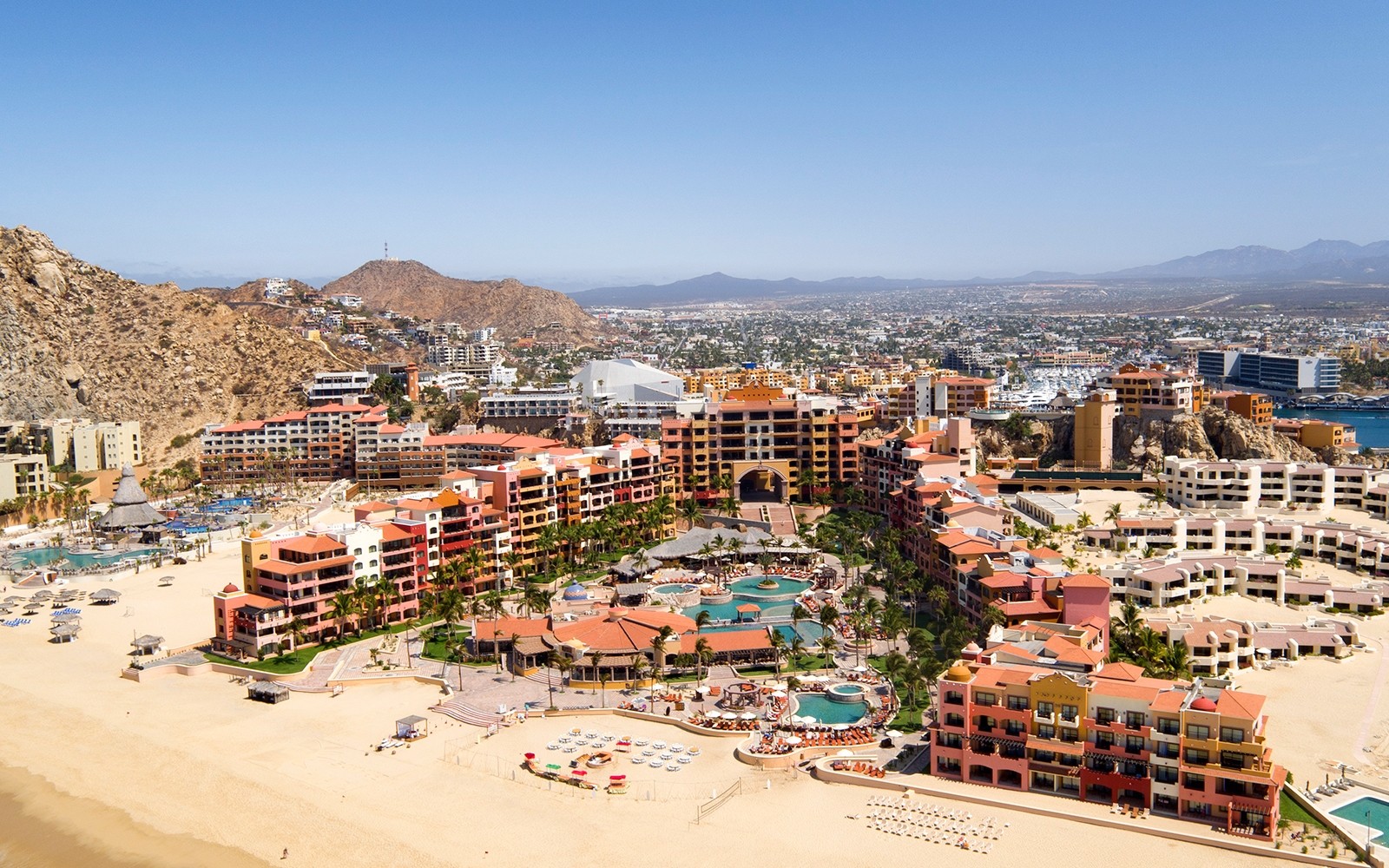 One of our favorite all-inclusive resorts for families is Playa Grande Resort and Spa. This beautiful 3-star resort is minutes from downtown Cabo and directly on the coast. When you and your family stay here, you'll have access to a private beach which means you don't need to worry about finding a place to plant yourselves on a crowded public beach.
We love that this resort offers multiple pools for you and your family to use if you don't want to venture onto their private beach. Many of these pools offer a swim-up bar perfect for the adults while the kids frolic through the water.
Besides the daily meals provided in your booking cost, several restaurants on the property have kid-friendly options. There is even a poolside restaurant when you don't want to lose your spot by the pool.
There are 260 suites available at the resort. Regardless of how small or large your family is, you can find suites that sleep anywhere from four to ten people. The suites are so beautiful that you may find yourself wanting to spend all day in one. Don't worry if you do. They offer 24/7 room service.
We love this resort because they offer child daycare or activities. While it is an additional cost, if the adults want to have a date night or do an excursion in town that's unsuitable for children, you can rest assured that resort child care staff will take care of your children at the resort.
Hyatt Ziva Los Cabos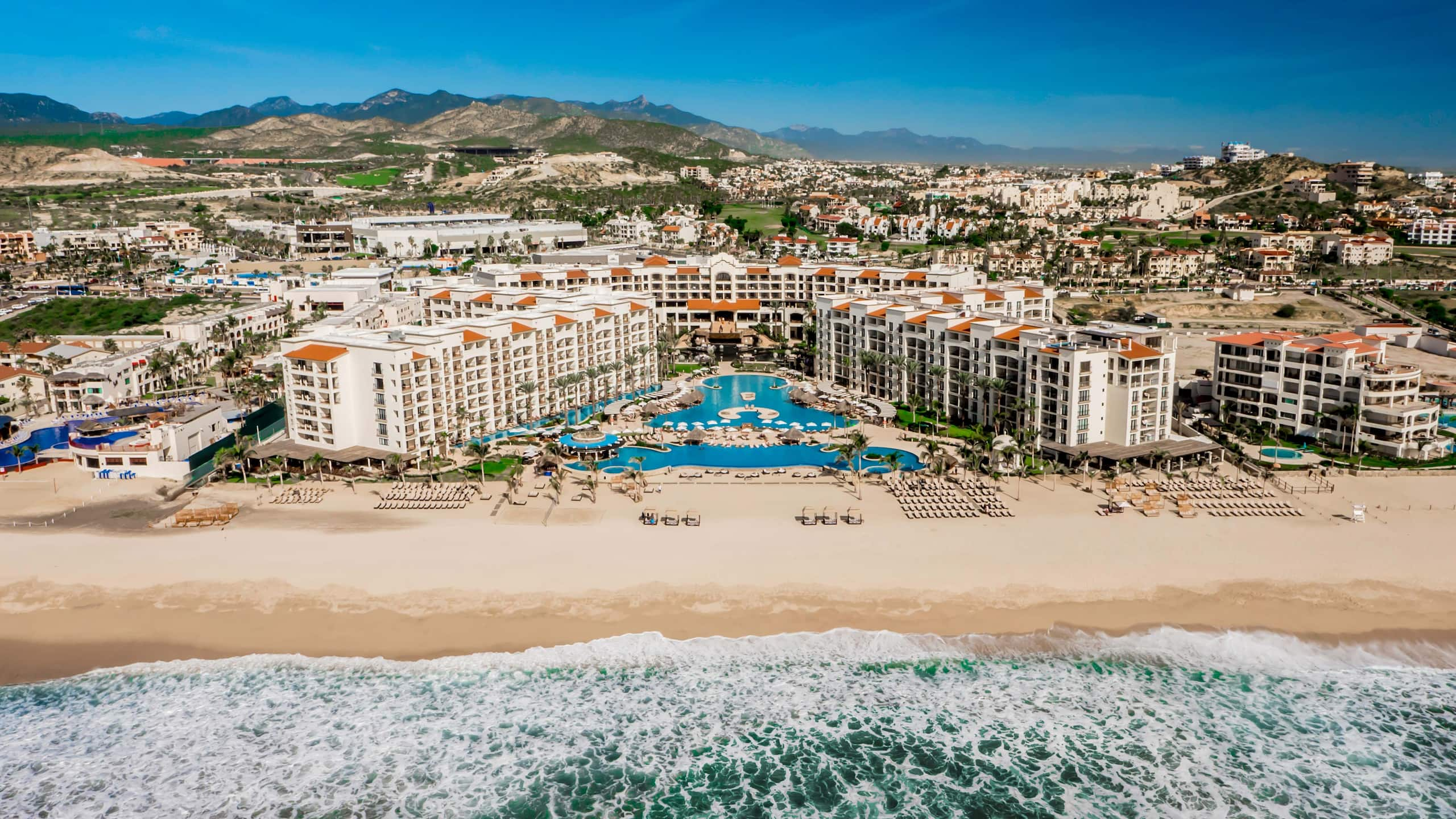 Less than 30 minutes from downtown Cabo is the beautiful, 5-star resort, Hyatt Ziva Los Cabos. The resort is nestled between desert dunes and the ocean, which is nice to escape the bustling downtown area. Being able to eat anything and everything you want while here is something everyone in the family will love. Plus, the adults can enjoy all you can drink if they wish.
This all-inclusive resort has seven fantastic restaurants on the property for you and your family to dine at. You won't want to miss out on their gourmet breakfast served every morning. If you don't want to leave your room in the morning, they offer room service, so you don't have to.
Let's face it: One of the best things about staying at any resort or hotel is the pool. The Hyatt Ziva offers several pools. They have a beautiful infinity pool, an adult-only pool with a swim-up bar, a kids pool with dump buckets, and several water slides. There's even what they call a mini water park that the kids will love.
The resort has a fitness center if you want to burn some calories on vacation. There are daily activities like dance lessons, Spanish lessons, games, and so much more. We love that their kid's club is included in the cost of your stay. This is the perfect area for your kids to meet other vacationers, and they can hang out here with qualified staff if you and the other adults need some time without them.
This resort has 591 suites. Some suites face the pools, while others have a beautiful view of the ocean. Regardless of which option you choose, you'll love your suite. They have different sizes to suit any family size. Sizes range from 585 square feet to 2,335 square feet.
Pueblo Bonito Sunset Beach Golf and Spa Resort
The next all-inclusive resort that we need to mention on this list is the Pueblo Bonito Sunset Beach Golf and Spa Resort. This beautiful 5-star hotel is situated in the Cabo neighborhood, Quivira Los Cabos. This is the perfect location where you can have a peaceful vacation and be close to the hustle and bustle of downtown if you want to experience the city.
As with many resorts in Cabo, Pueblo Bonito Sunset Beach offers resort guests unlimited access to their private beach. There are also multiple swimming pools so that guests don't have to feel crowded at one pool.
Pueblo Bonito Sunset offers daily activities to help you and your family enjoy your experience. Some of these activities include Spanish lessons, sandcastle building, and other excursions you can book directly through the guest services desk.
Two of the biggest draws to Pueblo Bonito Sunset are the golf course and spa. These are additional charges but well worth it if you need some time to relax in the spa or on the green. Something to note is that when you book directly through the resort's website, you get a $75 credit to their onsite spa.
The dining options at this Cabo resort are wonderful. There are plenty of kid-friendly options. Some of the most popular restaurants are their steakhouse, the Zao Shen Asian Kitchen, and their 24-hour Bistro. You can't forget their room service options too.
If you're traveling with teenagers, you'll love that they have a special clubhouse area for teens only. This is an excellent place for them to meet new friends and do their own thing from the safety of the resort while you venture off to do whatever you want.
This resort has over 600 suites. These beautiful suites are the perfect home away from home for the weekend or however long your trip is. You'll feel like you're living in the lap of luxury whether you need a suite that sleeps four or six.
Marina Fiesta Resort and Spa
One of the most popular all-inclusive resorts for families in Cabo is Marina Fiesta Resort and Spa. Marina Fiesta is in the heart of downtown and along some of the docks. It's one of the smaller all-inclusive options in Cabo San Lucas, but it's just as excellent as some of the larger ones in the city.
The resort has a stunning pool with a swim-up bar that the adults will love, and the kids will love staying cool under the Mexican sun. There are also a few hot tubs that you can use around the pool too.
They offer a kids club and babysitting service if you want to escape the kids for a bit while you treat yourself to a massage at the spa. This service is perfect if you're going to spend some time at the sky bar or want a date night at one of the many on or offsite restaurants.
Los Deseos is an onsite restaurant where you and the family can experience authentic Baja Mexican cuisine. They're open for breakfast, lunch, and dinner, so you can dine here whenever you want. Their steakhouse and Italian restaurant are worth checking out at least once too.
Something unique about Marina Fiesta is that you can bundle two whale-watching excursion tickets when you book through their website. If you want to bring the rest of the family, you can book additional tickets at guest services or go by yourself while the kids play in the kid club.
With a little over 100 rooms, you can choose between balconies with downtown or ocean views. They have suites that can sleep anywhere from four to eight guests comfortably.
Hotel Riu Santa Fe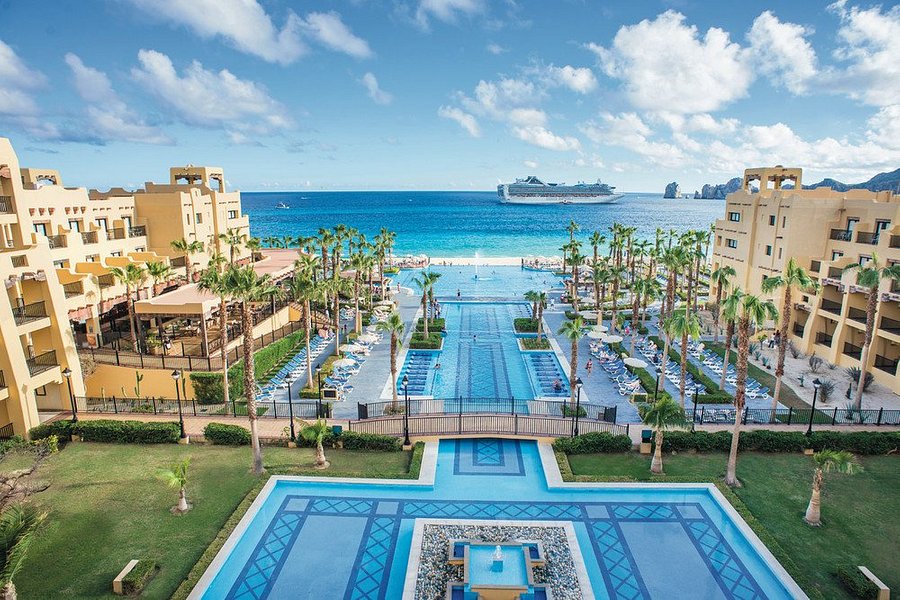 Just west of downtown Cabo San Lucas is Hotel Riu Santa Fe. Hotel Riu Santa Fe is one of the largest in the area and just as beautiful as the others. There are plenty of things to do for everyone in the family at this resort.
Of course, there's their massive swimming pool that everyone can enjoy. It's in the middle of the property and provides you and your family with a great view of the ocean and incoming cruise ships. While there's only one pool on the resort grounds, the pool is very large and offers plenty of space for all resort guests.
Adults will love the swim-up bar where they can hang out while the kids swim around. There are plenty of beach chairs alongside the pool where you can keep your things and sunbathe. The adults will love the adult pool parties that happen every few days. Kids cannot attend, but there are other activities they can enjoy while you're at the pool party.
Hotel Riu is unique because they have a water park next door. While other Cabo vacationers will visit the water park, all-inclusive hotel guests can go to the water park free of charge. The restaurants on the resort's property are worth checking out even though they are an additional charge.
There's plenty of live entertainment for both adults and kids and other activities that the whole family can enjoy. You'll receive a schedule every morning of your trip for what activities are going on that day.
This is a large resort. Every room of the 1,000 at this resort has a patio where you and your family can relax. Whether you have a garden, ocean, or pool view, you'll love your suite here. The room sizes are anywhere from 280 square feet up to 783 square feet. If you need a crib, you'll need to let resort staff know.
Hilton Los Cabos Beach and Golf Resort
Near the Cabo Real Golf Club is the Hilton Los Cabos Beach and Golf Resort. The Hilton Los Cabos Resort is a beautiful 4-star resort perfect for a family getaway. People love this resort because staying here gives you and your family access to one of the only beaches in Cabo you can swim at.
Besides access to the beach, one of the other perks of this all-inclusive resort is its infinity pool. You can swim with a stunning view of the beach, and there's a bar and restaurant near the pool where you grab some delicious local food. If you want to try some unique margaritas, you need to pop into Madero.
There are plenty of family-friendly activities available at this resort. The best part is that if you and the kids want some time apart, you can hit the bars, go to one of the onsite restaurants, or do whatever you want while you take advantage of their babysitting service. If your kids are older and don't need a babysitter specifically, they have children's activities that they'll love.
There are 288 rooms at this resort. Each room comes with either a patio or balcony and a great view. Some rooms face the ocean, which is worth splurging for if you can. Unlike some of the other resorts in Cabo, the Hilton offers standard guest rooms in addition to suites. Regardless of which option you choose, the family will love staying here.
Dreams Los Cabos Suites Golf Resort and Spa
If you're looking for a AAA, Four Diamond Resort in Cabo, Dreams Los Cabos Suites Golf Resort and Spa is the one for you and your family. This 5-star resort is roughly 18 minutes from downtown Cabo, so you don't have to go too far if you want to explore the town.
The two pools at Dreams Los Cabos are huge. This means that everyone will have plenty of room to swim, play, and sunbathe without feeling like they're on top of one another. There's a sizable hot tub in the center of the pool where you can soak while the kids play in the pool. Next to the pool is a large pavilion that serves drinks and food.
When you book your vacation here, some of the activities you can look forward to include live entertainment at night, golf, tennis, water sports, cooking and cocktail classes, and more. If you want to go golfing with the family, it's an additional charge, but as guests of the resort, you'll get special pricing for the whole family.
If you're traveling with children, you and them both will love the kids club. The Explorer Kids Club is open to kids from age three to twelve. They can go hang out with other kids and do child-friendly activities from nine in the morning until ten at night. This is an excellent opportunity for the adults to escape and take a cocktail-making lesson, dine at one of the a la carte restaurants, or anything else.
The Dream Los Cabos has 260 suites. Each suite offers either a garden or ocean view, but either is beautiful. The majority of their suites can sleep up to four people comfortably. Some suites can sleep up to six people on their club level if you have a larger family.
Sandos Finisterra Los Cabos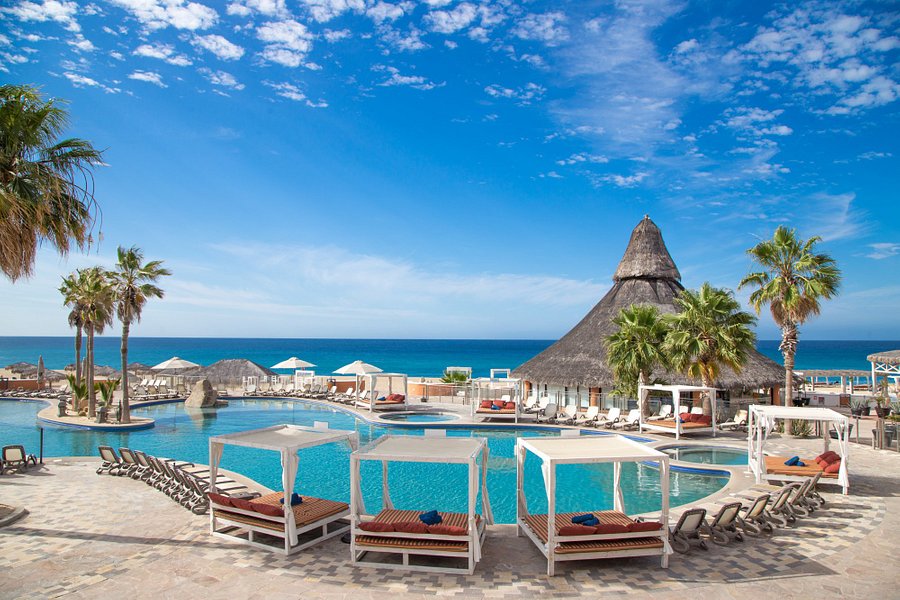 If you ask people who live in Cabo or have visited, they'll tell you that one of the most famous all-inclusive resorts is the Sandos Finisterra Los Cabos. This stunning property is only eight minutes from downtown Cabo and sits across the street from the Playa Grande Resort and Spa. Travel + Leisure has regularly stated that this is one of the top ten resorts in the entire city.
All of the pools at Sando Finisterra are on the beach, so you have unparallel views of the ocean. One of the pools offers a swim-up bar so you can get whatever you're craving without ever getting out of the pool. They often host a tiki party at the pool, and it's family-friendly, which is fantastic.
There are dance lessons, painting classes, and tequila tastings for adults. There is an adult-only pool for those 18 and up to use when you need to escape your kids. Don't worry. There are plenty of children's activities for them to participate in while you swim, go to the spa, or do anything else.
The Sandos Finisterra has over 200 guest rooms and suites to choose from. The number of rooms is pretty average when you compare it to the other resorts in the area.
Your room may face the Marina, Pool, or if you want, you can choose to stay in their VIP pool area. Most of the rooms have over 600 square feet, and the best part is that there's 24-hour room service included in the cost of your stay.
Royal Solaris Los Cabos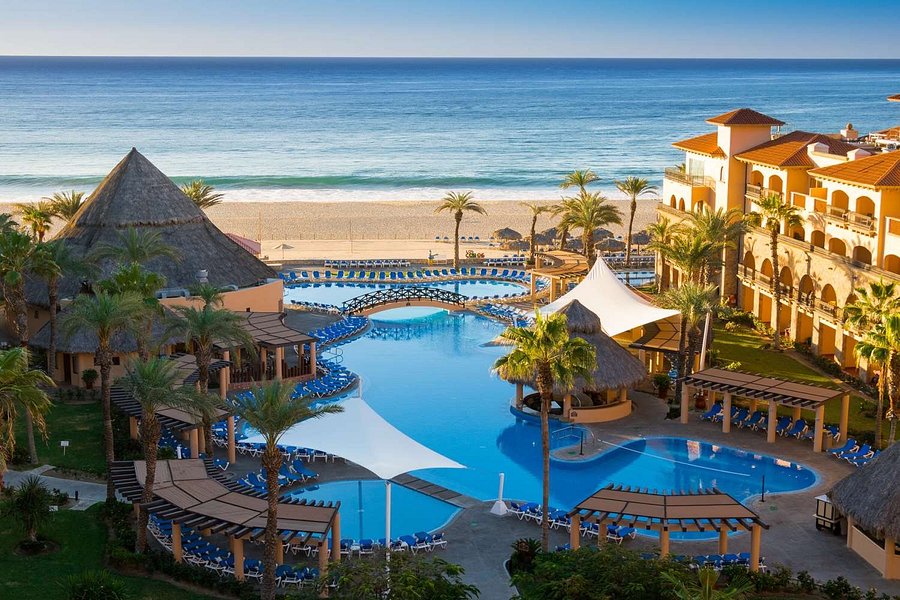 When traveling with family, affordable is usually preferable. One of the most affordable all-inclusive resorts in town is Royal Solaris Los Cabos. Depending on when you want to travel, you can find deals as low as $97 per night for all-inclusive.
The massive pool at Royal Solaris features a swim-up bar with a tiki theme. While this is a popular pool feature, not everyone uses the pool to play and drink. Staff at the resort often run water aerobic classes and water games.
Their most popular activity that's hosted at the pool is their A Minute to Win It game. It's a selection of competitions that people of almost all ages can participate in. It's a great way to enjoy pool time and maybe make some new friends. Competition is nothing without a prize. If you are skilled enough to win, you can look forward to a prize you can use during your stay.
Their fitness center is included in the price of your stay, as are their workout classes. On weekends, you can participate in free Zumba classes. Another great feature of this resort is its Living Room. This is an area just for children.
They can participate in arts and crafts, and every Saturday and Sunday at two in the afternoon, and they have movie time. This is the perfect opportunity for you to do whatever you want without your kids. They'll love the outdoor water slides at their mini water park and the activities that they run on the beach.
There are seven restaurants and bars that you can visit while on the resort property. Many of these will be an additional cost, but they're well worth it while you're in Cabo. Don't forget to check out the shows performed almost every night at the resort.
Many of them are family-friendly. They have reenactments of Michael Jackson shows, fantasy shows, and so much more.
You'll have your choice between deluxe rooms, ocean view, partial ocean view, and our favorite rooms with a private jacuzzi. Each room is spacious and decorated beautifully. As for the view options, you can't go wrong with the ocean or partial ocean view.
Grand Fiesta Americana Los Cabos All Inclusive Resort and Spa
Last but certainly not least is the Grand Fiesta Americana Los Cabos. This 5-star hotel is one of the most luxurious resorts in Cabo San Lucas. It's further away from the downtown area, but with so many amenities and things to do, you won't even care.
The pool might be the star of the show at Grand Fiesta. This winding pool is aesthetically pleasing, and there are plenty of lounge chairs around the water. You can rent various cabanas too, but their lounge chairs are perfectly comfortable.
When you want to escape to their wine spa, golf course, or bars without the little ones, their kid's club is perfect. It's open daily from nine to five. You can venture off for the day without having to worry about your kids and if they're having fun and staying safe.
They provide various activities to keep your little ones busy. If you need child care after five in the evening, you can request babysitting services for an additional fee.
If you want to dine at one of the onsite restaurants, you have plenty to choose from. They have an Italian, authentic Mexican, and even a sushi restaurant. When you're in the mood for something lighter, they provide tapas by their firepits. The real crowd-pleaser is their buffet. It's included in our all-inclusive price, and generally, it's the most kid-friendly when it comes to options.
The Grand Fiesta Americana in Los Cabos has 249 rooms. Their smallest rooms sleep two people, while their most extensive options can sleep four. If you have a larger family or multiple families traveling with you, you'll want to look into their four-bedroom options.
These larger suites can sleep up to ten people without having everyone in rooms down the hall from one another. These larger suites are lovely when you want to feel like you have an actual apartment rather than a hotel room.
Final Thoughts
Cabo San Lucas is home to some of the most beautiful and exciting all-inclusive resorts. There's a resort here for you and your family from downtown hotels to some a little further from town.
While most resorts in Cabo offer the main standard amenities you'd want in an all-inclusive resort, some have more unique ones. Whether you want something more basic or a resort with all the bells and whistles, you can't go wrong with booking any of these resorts for your next family vacation.
More about our TFVG Author
A seasoned traveller, Dad, and avid sports tourist, James foundered The Family Vacation Guide to share his expert vacation experiences- especially when it comes to being a travelling family man.
Featured in Travel articles such as Travel + Leisure, TripSavvy and SFGate, you know you're reading some of the best vacation tips online.