It comes as no surprise that Cancún is one of the most visited vacation destinations in the world. As a land of sun, beach, and luxury, Cancún offers the perfect getaway for couples, families, solo travelers, and adventure-minded folks of all ages. With over four million annual visitors, Cancún provides plenty of opportunities for visitors to fill their time.
If you're looking for the best all-inclusive resorts in Cancún for families, you will not be disappointed. As a top tourist destination, Cancún provides families the same luxurious experience that anyone can experience along its sandy shores. Cancún resorts are the perfect place to unwind from the busy pace of everyday life and create memories to last a lifetime.
Moon Palace The Grand – Cancún
If you're looking for a getaway that is equally elegant, luxurious, and convenient, then Moon Palace The Grand – Cancún is the place of your dreams. The all-inclusive package offers you and your family unmatched services, unique room amenities, and 24-hour room service that aims to meet your needs and leave you satisfied and content.
With world-class dining options, there is no shortage of marvelous cuisine to be had at the Moon Palace. Ranging from Mexican, French, Lebanese, steak, pizza, and so much more, the accommodations will make you never want to leave this place. The wine, beer, and spirits selection is guaranteed to satisfy whatever craving you might experience, day or night.
In-room features include a double whirlpool and the most comfortable bed you've ever slept in. With customer service that leaves nothing unaccounted for, the knowledgeable staff will provide you with plenty of ideas for daily activities and fun for the whole family.
One of the exciting features of Moon Palace is the famous water park, where you can take your kids for some fun on the slides or in the lazy river. If you're feeling competitive, there are always games that you can join. You might even make some new friends while you're at it.
With more than 1000 available accommodations, the resort offers something for everyone. No matter how old your kids are, there is always something to do. Between the non-motorized sports out on the Caribbean and the fun and games taking place on the white sand beaches, you'll feel like you've found your little slice of heaven.
Fiesta Americana Condesa Cancún
Claiming to be one of the most attractive destinations in Mexico, the Fiesta Americana Condesa Cancún is an all-inclusive experience that you and your family will remember for a lifetime. With modern rooms and excellent service, this resort provides each visitor with an unmatched opportunity to relax and escape real-life trials.
The resort is a bustling place, filled with fun and laughter. Live shows abound, and there are always water sports that you can join. With so many activities, you won't know where to begin. But the adventure is out there, just waiting for you to find it.
The knowledgeable and hospitable staff will give you all the opportunities possible to explore life at the resort. You can spend a day being pampered at the Miiluma Spa or enjoy some authentic Mexican culture presented through the excellent cuisine of El Mexicano.
There's something for everyone at Fiesta Americana. The littles in your group can enjoy the Kid's Club, and the Teen's Club is the perfect place for the older ones to make some new friends and enjoy the vacation as much as everyone else.
If you want to get out of the resort for a little while, nearby shopping centers will give you a taste of the local culture. Nearby ancient ruins are ready for adventurers to come and explore. And when you're ready to head back, you know that peace and luxury await you.
Hard Rock Hotel Cancún
This location is the ultimate beachfront playground, where all-inclusive becomes a rockstar paradise with an unmistakable cosmopolitan flair. Hard Rock Hotel Cancún is the all-inclusive experience you won't want to miss, with plenty of services and amenities to keep you occupied and having the time of your life.
24/7 room service plus pool and beachside service will ensure you always have a drink in your hand. There's a day spa where you can be pampered, plenty of activities to keep the kids occupied, and swim-up bars where you can mix and mingle with your fellow vacationers.
The resort's charm comes wrapped up in authentic memorabilia from international and local music artists. Seasoned travels will tell you that this is the place to be. Regardless of your preferences, Hard Rock has something for everyone.
Iberostar Cancún
Have you ever dreamed of waking up next to the Caribbean, hearing the waves as they roll in on the beach, and feeling the sand beneath your toes? At Iberostar Cancún, that dream becomes a reality. This beachfront hotel looks out over the Caribbean and offers all the peace and luxury that goes with that outstanding view.
Fun for the kiddos is a priority at a place like Iberostar, so make sure you prepare them for the most fun they've ever had. At Aqua Fun, they can run, splash, and play in a fun, clean, safe environment. Star Camp also hosts children's activity programming.
Whatever you need to make your stay more enjoyable, the hospitable staff is waiting to provide it for you. And if you find yourself craving lobster, you have a selection to choose from Harry's Cancún, Puerto Madero, or Porfirio's Cancún.
Paradisus Cancún
Located in the idyllic spot between the Nichupté Lagoon and the Caribbean Sea, this all-inclusive resort will make your vacation feel more like a vacation. With unmatched views and local culture in the architecture all around, the Paradisus Cancún is a familiar landmark in the area.
Every room is full of character and personality, ensuring that your time at the resort will be memorable, relaxing, and enjoyable. The Family Concierge ensures families have the best time possible and serves you and the kids with the utmost hospitality.
The resort includes a golf course, four lovely swimming pools, a fabulous spa, seven different bars featuring the highest quality of products, and nine restaurants where you can enjoy the local fare. Services and amenities are designed for children and adults alike, ensuring everyone will have something to do.
The staff is all about exceeding customer expectations, so they offer daily activities like workshops, wine tastings, pool parties, yoga classes, and so much more. Those who have spent time here often return. Between the attentive staff and the exciting experiences, this vacation will be the trip of a lifetime.
Royal Solaris Cancún
No one will be disappointed at this family vacation destination. The Royal Solaris Cancún offers 300 rooms accommodating some of the most sought-after views in the area. Situated in a unique, complex pyramid structure, the location alone offers plenty to explore.
Entertainment happens daily at the Royal Solaris, with shows that the entire family can enjoy. The Mini Club and Mini Water Park give the little ones something unique to do, under the supervision of highly trained staff. A new baby park allows the littlest among your group to have fun with others their age.
Complimentary activities occur every day of the week, where kids and adults alike can feel spoiled and pampered by the attentive staff. Regular visitors like to say that the Royal Solaris is their home away from home.
Beach Palace All Inclusive
Ranked at #13 for the Traveler's Choice Award on Tripadvisor, this family resort is filled with fun, luxury, and relaxation. You can catch a show from world-class entertainers, you can experience the best of the best in rooms and accommodations, or you can enjoy the gourmet cuisine that will keep you full and satisfied.
The Beach Palace All Inclusive offers visitors comfort, convenience, and opulence. Each room is like its own private paradise, filled with exciting opportunities and fun to have. The 24/7 room service means that you never have to leave the room if you don't want to. It becomes your luxury resort within the resort.
Offering the best service and signature amenities is simply a standard for this Cancún resort. With sandy white beaches, the blue ocean next door, and exotic tours available, there is something for everyone to enjoy. You can swim with the dolphins, explore ancient Mayan ruins, or find a secluded spot on the beach and just relax.
An immersive play space for the kids offers children of all ages the chance to make new friends and have their own fun time, all under the supervision of highly-trained staff and caretakers.
You can enjoy a day at the spa, soak in the exciting nightlife entertainment, or just enjoy your time relaxing and soaking in the Cancún sun. For returning customers, it is one of the best places in Mexico.
Panama Jack Resorts Cancún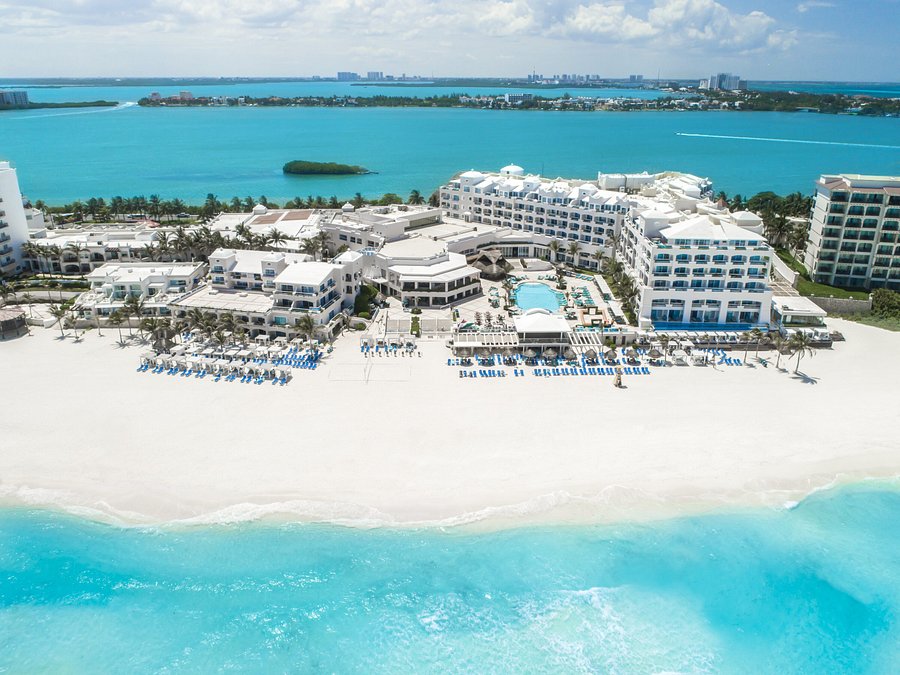 Located right in the middle of the famous Cancún Hotel Zone, Panama Jack Resorts Cancún is the perfect place for you and the family to get away for a while and enjoy some pampering by the crystal clear waters of the Caribbean Sea.
There's plenty to do at Panama Jack. With swimming pools and beachfront yoga, you can soak in all the time in the sun. Mini golf and a water park will keep the little ones occupied in the best possible way. Aura Spa offers serenity and relaxation for any moms out there who just need a break.
Nearby ruins feature Ancient Mayan culture that you and the family can explore if you feel like getting out for a bit. Fine dining and top-notch drinking options are available on location and nearby. And returning customers like to boast that there's always something new to explore.
A proud recipient of the 2020 Travelers' Choice Award, the resort offers something for everyone. The staff is present to ensure you have the best vacation and come away with memories that will last a lifetime.
Club Med Cancún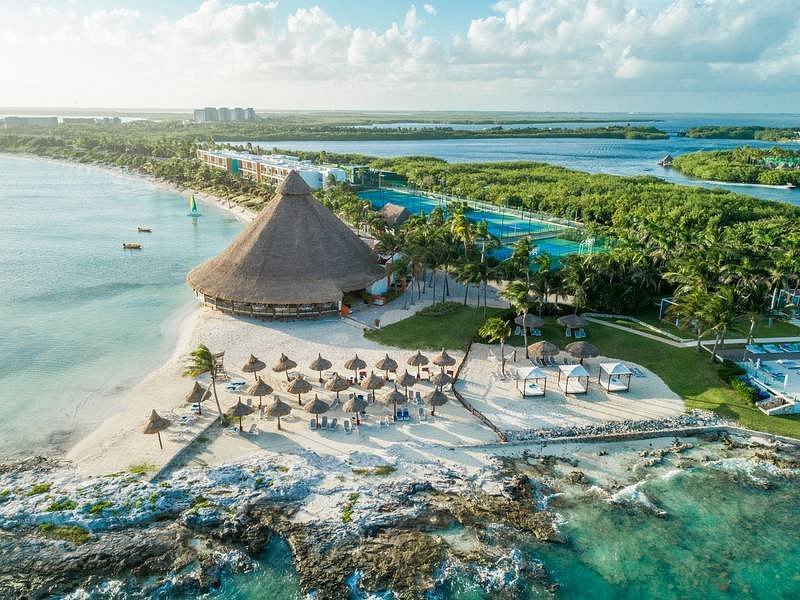 Located at the tip of the Riviera Maya, Club Med Cancún boasts three white sand beaches, the world's second-largest coral reef, and a plethora of natural beauty to behold. With direct access to ancient Mayan ruins, including Chichén Itzá, you and the family can explore the outdoors in style.
Enjoy some authentic Mexican dining experiences at the resort, as well as the stores of an extensive wine cellar. With about 50 acres of playground, everyone will stay occupied during your trip. With water and land sports to join, the whole family will love it here.
Events and activities mean there is not a dull moment to be had at Club Med. You can snorkel along the beach or sail out in the waters. Try your hand at paddleboarding, or get a kayak race starter. Tennis courts, archery, yoga, and so much more will keep you moving and help you connect with fellow vacationers.
The staff of Club Med is the prime feature. Knowledgeable and patient, they will even make the littlest among you feel included.
The Royal Sands All Suites Resort & Spa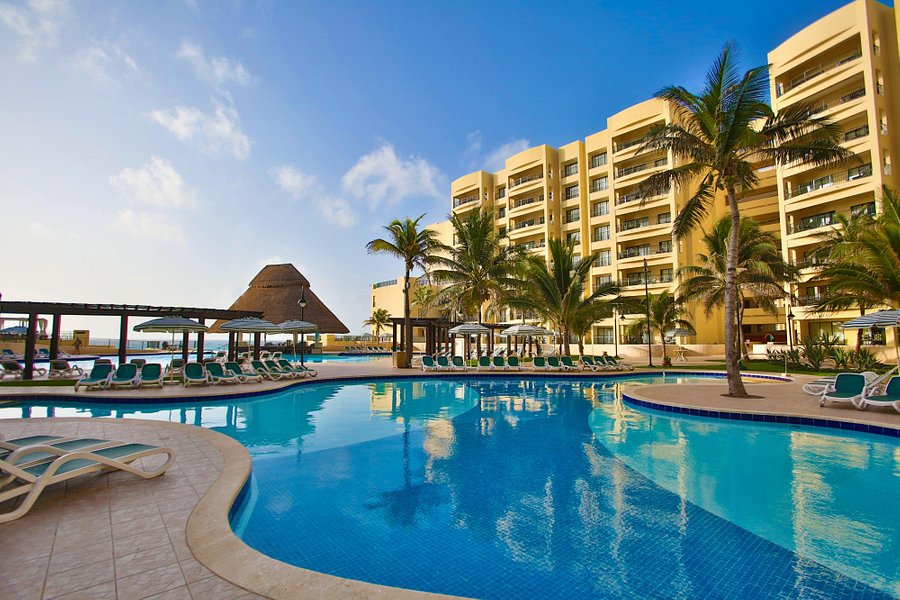 With a complete selection of resort and in-room amenities, it's no surprise that the Royal Sands All Suites Resort & Spa won the 2020 Traveler's Choice Award and the 2019 Certificate of Excellence from Tripadvisor.
This beachfront resort offers two swimming pools for adults, two swimming pools for the kiddos, and one lap pool where you can get some good exercise to start your day. With some of the most beautiful beaches in the Mexican Caribbean, there are beautiful views no matter where you find yourself at this resort.
A convenience store, laundry service, and fitness center make the Royal Sands feel more like a home away from home. There is plenty of food and dining options and bars that offer an authentic experience. Activities and tours will keep you and the other guests entertained, and programs are available for people of all ages to participate in.
The helpful, friendly staff will provide you with all the information you need, and they will seek to accommodate you in every way possible. With a concierge that offers the best in world-class service, you'll find yourself wishing you never had to leave.
Villa Del Palmar Cancún
This unparalleled beach resort offers all that you could want in a luxury beach getaway. Delightful for visitors of all ages, you can relax in style at the Villa Del Palmar Cancún. With gourmet cuisine options and plenty of entertainment, you will never find yourself bored.
Activities that you can join include dancing lessons, yoga classes, kayak tours, water polo, snorkeling, beach volleyball, and so much more. The Kid's Club will keep the little ones entertained with organized games of hide-and-seek, craft nights, charades, and water balloon fights.
The interactive, energetic games will keep the kids entertained and help them make new friends in the process. Meanwhile, adults can finally take those Spanish classes they've been putting off for so long. Or you can try your hand at bocce ball on the beach.
With five outdoor swimming pools, dining available at four different restaurants, and six bars where you can lounge, there is no shortage of fun to be had at Villa Del Palmar. Returning visitors keep coming back for the entertainment, the environment, and the lovely staff.
GR Caribe by Solaris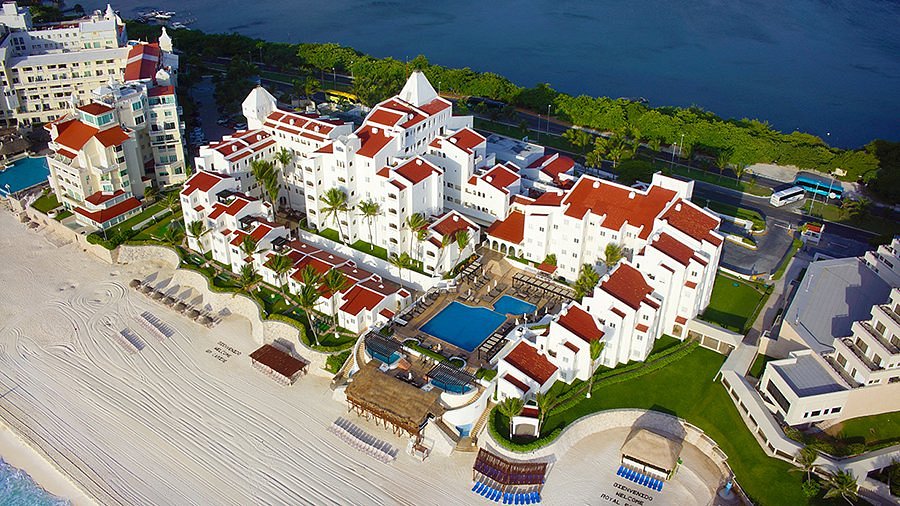 The elegant Mediterranean architecture creates the perfect place for a unique and luxurious getaway for you and the family. At GR Caribe by Solaris, the informative staff wants to serve you at every turn.
With 24/7 room service and constant activities, day and night, you'll find your schedule quickly filled at GR. Live music plays in the lobby, and open-air beachfront whirlpools provide a unique atmosphere.
Entertainment teams will keep you occupied with a Mexican show, princess and superhero show, Latin show, Broadway show, and so much more. With unlimited drinks and meals at all three restaurants and the two bars, you'll find premium options for everyone.
There's a water park where the kids can relax just like the grown-ups. With a Noah's Ark theme, there are statues of zebras, elephants, hippos, and giraffes that the kids can swim around for a memorable experience.
A tennis court and mini-golf present plenty of sporting opportunities. And with reasonable pricing for the all-inclusive package, the GR offers experiences that last forever.
The Royal Cancún All Suites Resort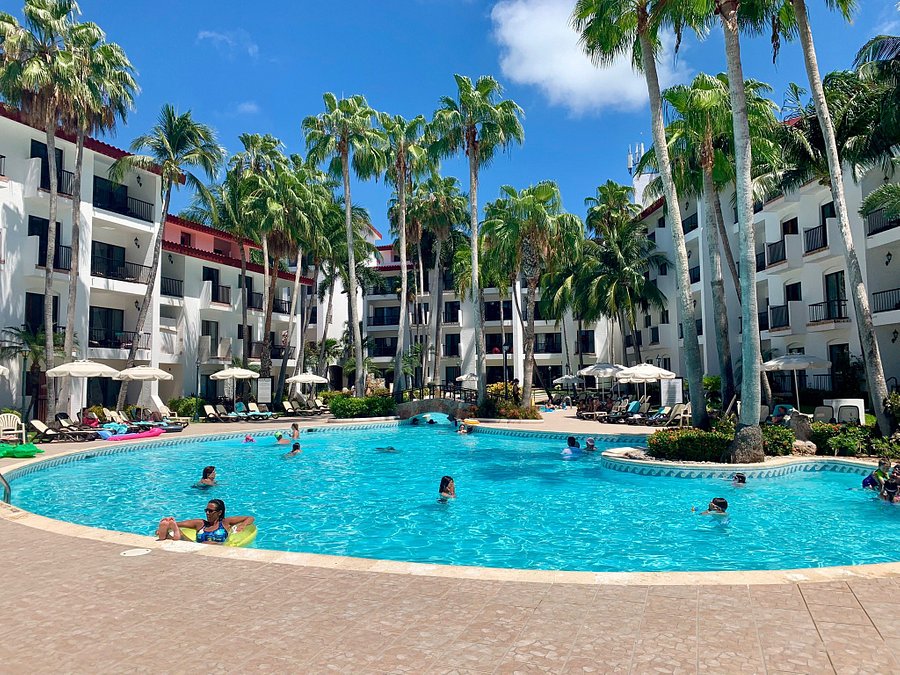 Located on Cancún's north shore with a kid-friendly beach, this is the perfect place for a family getaway. Spacious suites where you could realistically spend your whole vacation and daily activities to keep you entertained, there's no shortage of fun to be had at the Royal Cancún All Suites Resorts.
You can experience the Caribbean by sailing or paddle boarding, or you can spend your time exploring the fresh seafood dining options. A spa massage will keep all the tension at bay, and an activity center is a place to find beach and pool games any time of day.
Yoga and dance classes will keep you on your toes, and water sports like snorkeling and kayaking will give you a relaxing experience out in the turquoise waters.
Nearby, you can find the Cancún Maya Museum, the Cancún Aquarium, or an Underwater Sculpture Museum. Located only five minutes from the best shopping in the area, you can explore more than just the resort.
This sheltered beach offers shallow waters where you can let the little ones safely enjoy the Caribbean Sea, creating memories that the family will never forget.
The Westin Lagunamar Ocean Resort
With studios and villas situated to overlook the Caribbean Sea, this vacation destination provides all kinds of amenities that feel just like home. The Westin Lagunamar Ocean Resort offers vacation rentals with all the space you and your family might need.
Offering the comforts of home with a Latin flair, you won't want to leave once you settle in. Everything at the Westin creates a family-friendly environment that makes your vacation experience relaxing and memorable.
There's an infinity pool where you can chill, white sand beaches where you can soak in the sun, and a spa where you can pamper yourself and your significant other. A kid-friendly mini golf course will have the little ones laughing at playing for hours.
The hospitable staff make this homelike vacation peaceful and relaxing from start to finish. Good luck getting back to real life.
Hyatt Ziva Cancún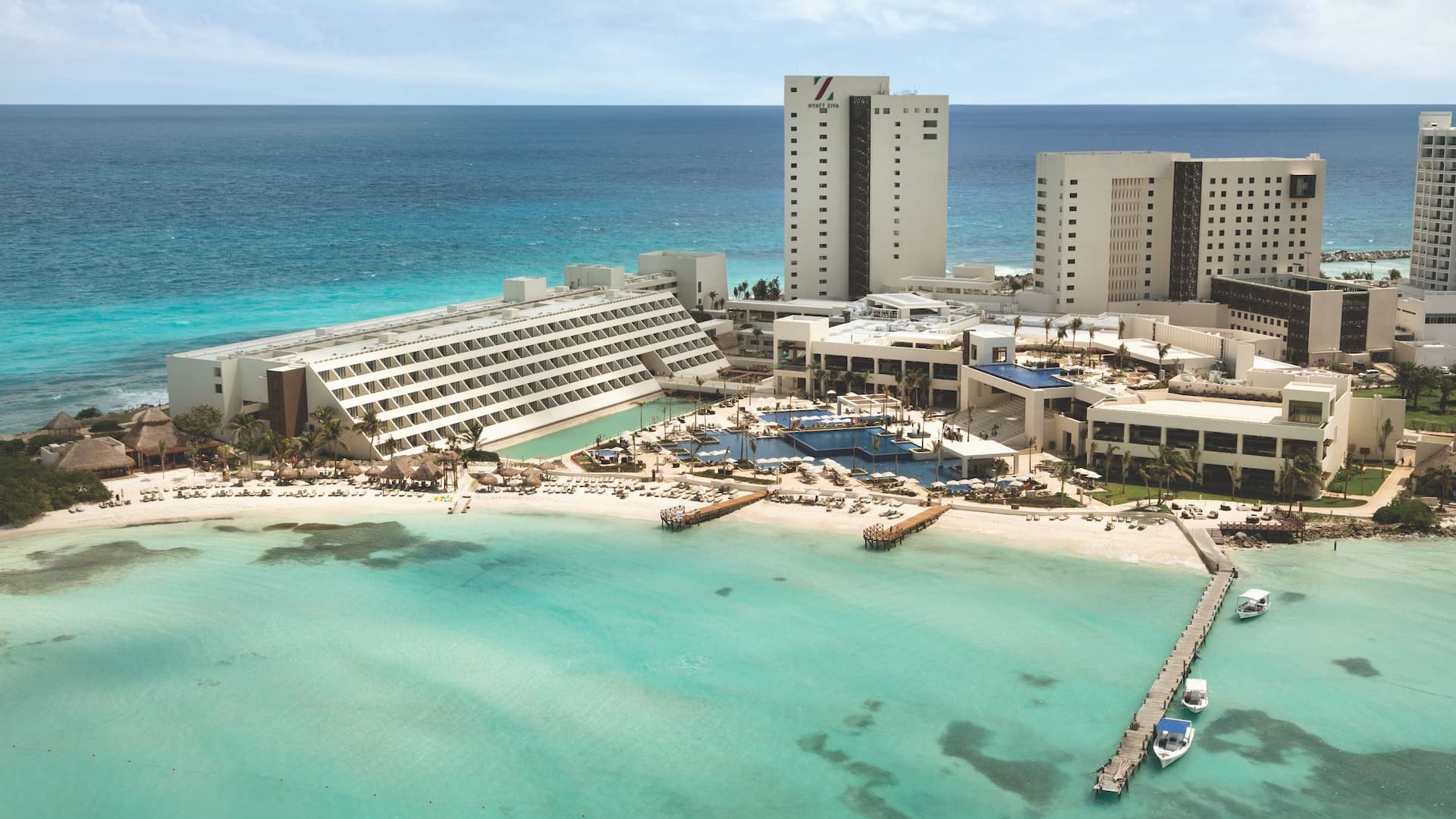 Sitting on a scenic peninsula, surrounded by ocean, the village-like setting of Hyatt Ziva Cancún provides luxurious accommodations for your family getaway. With large rooms and delightful amenities, there are lots to enjoy here.
Take a break from real life with water sports like kayaking, hang ten, or paddleboarding. Enjoy the world-class fitness center, or do yoga overlooking the ocean. Send your kids to enjoy one of the many programs designed specifically for them while you enjoy a drink at the bar or a dip in the pool.
Daily activities will keep you entertained, while live shows will keep you laughing all night long. There's even a dolphin exhibit that will leave the whole family wanting more.
Crown Paradise Club Cancún
This five-star beach resort is the unforgettable vacation experience that you and your family have been waiting on for years. The Crown Paradise Club Cancún offers all the amenities you could want, and then a few more just for good measure.
The warm weather, the white sand beaches, and the crystal clear water all add up to make this the place you've been dreaming of for years. Certain areas and activities are designed exclusively for kids, making sure they have a memorable experience.
Family swimming pools are always fun, and non-motorized water sports will offer a little strenuous activity out on the Caribbean Sea. Cuisine selections are abounding, and the nightlife will keep you wanting more.
The friendly staff offers accommodating services and plenty of information on all the fun things to do. There is plenty to keep you and your young ones occupied and entertained on your Caribbean getaway.