Cancun is home to a plethora of hotels and resorts. Each resort has something unique to offer guests, but they're all fabulous ways to spend your vacation. Some resorts have waterparks, dozens of restaurants, golf courses, and everything in between.
If you're ready to have a relaxing getaway in Cancun, there's nothing better than floating down a lazy river and sipping your favorite cocktails or non-alcoholic beverages. Finding Cancun resorts with a lazy river can be tedious, with so many resorts to filter through.
To save you some time, we've found six of the best Cancun resorts with a lazy river to save time.
Flamingo Cancun Resort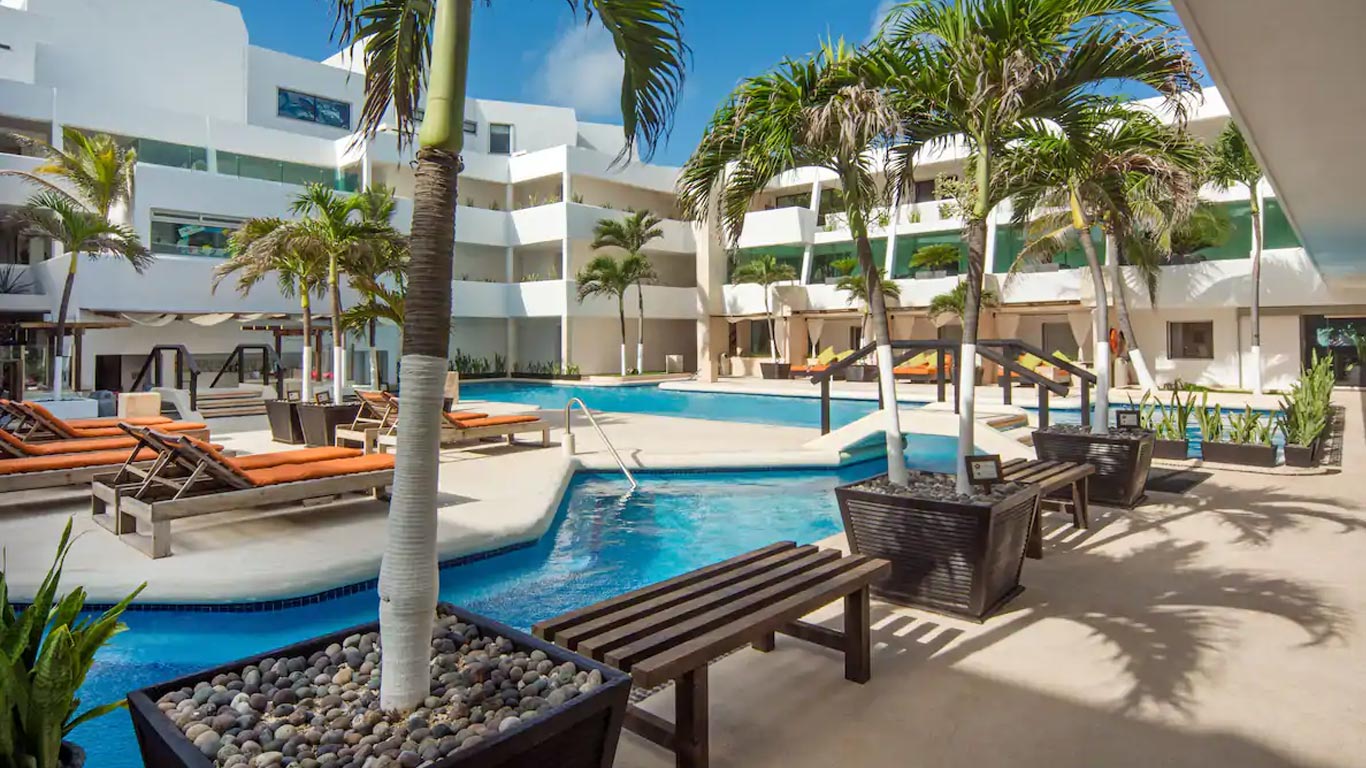 Flamingo Cancun Resort is in the heart of the Hotel Zone of Cancun. This beautiful resort is perfect and has at least one thing that people of all ages will enjoy. This hotel has around 249 rooms, with seven different room options, so you can choose the perfect room type for the vacation you want.
There are two gorgeous swimming pools for you to swim in or relax in the comfortable lounge chairs. Even though the pools are a significant draw to most resorts, you can't miss floating in the lazy river at least once during your stay. It's great for people of all ages who want to have a relaxing dip in the cool water.
Flamingo Cancun Resort offers several dining options you'll want to take advantage of in between floats down the lazy river.
They have a buffet option when you want something quicker and several excellent restaurants with various cuisines. They even offer room service when you wish to have breakfast, lunch, or dinner in bed.
While this is an excellent location for older adults, adults, and kids, you'll love this resort too if you're traveling with young kids. They offer a kids club where they can play and meet kids their age while you do whatever you want.
Dreams Playa Mujeres Golf & Spa Resort
Dreams Playa Mujeres Golf & Spa Resort is one of the most luxurious resorts in Cancun, with a lazy river. This massive resort has over 500 rooms and suites that are sure to impress.
Every room is already elegant, but if you want that extra layer of luxury, you can upgrade to their Preferred Club with additional amenities.
It can get pretty warm in Mexico, so there's no better way to cool off than to spend time in one of the several pools on the property. There are two adult pools, two children's pools, a water park, and a great lazy river to which preferred club members will have access. They even have six hot tubs outside. 
Besides the lazy river, one of the best water attractions of this hotel is the interactive dolphin exhibit. You'll love being able to relax in the spa and play a complimentary game of golf on their golf course. Other things you can do during your stay include catching any of the live entertainment shows, taking cocktail-making classes, and going to theme parties.
There's a kid's club with age-appropriate activities. You'll love the lazy river bar if you plan on spending your time on the lazy river. Besides that, they have a non-alcoholic kids bar, a non-alcoholic teens bar, and 20 total bar and dining options to choose from throughout your stay.
Excellence Playa Mujeres
If you're looking for a beautiful resort in Cancun for adults only, then Excellence Playa Mujeres is the one for you. This all-inclusive, adults-only resort is the perfect escape from reality where they will treat you like royalty for the duration of your stay.
Excellence Playa Mujeres is a larger resort with 450 rooms and suites. Each one comes with comfortable beds, a fully stocked minibar, a stunning ocean view, and more.
There are seven swimming pools on the property, and this is one of the top Cancun Resorts with a lazy river that flows to one of the several bars. You'll love floating through the lazy river and stopping to grab a refreshing drink at the swim-up bar.
You'll be able to go kayaking, rent snorkel and scuba diving gear, play beach volleyball, soak in hot tubs, take yoga classes, and more when you stay here. If you want to learn something new in Cancun, you can take cooking, cocktail making, and dance lessons.
When going to an all-inclusive resort, one of the biggest draws, besides the lazy river, are the food and bar options. There are around 23 combined restaurants and bars on the property. There are elegant restaurants, casual beach bars, low-key sports bars, and more.
Moon Palace The Grand
Moon Palace The Grand might be the largest resort on our list, maybe even one of the largest in Cancun. This vast and stunning resort property has over 1,300 rooms and suites to make your stay everything you want it to be. One of the best parts is that you can choose an all-inclusive package.
This resort is the perfect getaway for people of all ages, with activities ranging from live entertainment to classes to water sports and more. If you love being in the water but aren't the biggest fan of the sand or saltwater, you can relax and play in one of the nine outdoor pools and lazy rivers on the property.
These nine outdoor pools are nearby and have hot tubs and plenty of lounge chairs to spend your day on. The spa features a tranquil, private indoor pool that's perfect for the adults while the kids are off in the kids and teen clubs.
There are also ten bars and clubs at the resort if you want a night out while the kids play with newly-made friends. You'll find 16 different dining options here.
There are elegant restaurants that serve elevated dishes and other casual options when you don't want to get dressed up. Plus, they offer room service.
Planet Hollywood Cancun
If you want to live like a celebrity for your trip to Cancun, then Planet Hollywood Cancun is a great option. This all-inclusive resort offers over 640 suites to stay in with great views, luxurious bedding, bathrooms, and everything else you could need to make your stay the best possible.
Planet Hollywood offers guests four outdoor pools to enjoy and beat the Mexico heat. If you need to escape from people playing in the pools but still want to cool off, their lazy river is the perfect solution. There's even a small waterpark that kids will love if you're traveling with them.
If you manage to pull yourself away from the lazy river long enough, you'll find several other great activities for you to enjoy. You can try your hand at surfing with the FlowRider, experience Hollywood Fast Drivers where you'll go from 0-62 mph in three seconds, spend time at the beach, and more.
There's a kids' club that they'll love. All the activities are age-appropriate, and they'll love meeting new friends and playing all day. You won't go hungry here.
Eleven different restaurants have all kinds of cuisines and kid-approved options if you're traveling with little ones. If you enjoy a cocktail, there are several bars to choose from.
El Dorado Royale
El Dorado Royale is a good choice for those looking for an excellent, luxurious, slightly smaller resort to stay in when you're in Cancun. There are less than 500 rooms and suites on the property. Each room is exceptionally luxurious and so comfortable that you may find it challenging to get up and pursue other resort activities.
This adults-only resort is an award-winning beachfront resort that is sure to impress. You'll love lounging in the beach cabanas, swimming in the multiple swimming pools, and floating down the lazy river with a drink in your hand. They provide innertubes for you to use to float down the river seamlessly. You can also forgo the tube if you want.
Other water activities you can participate in include parasailing, windsurfing, kayaking, water polo, etc. They also have a gym, spa, and other relaxing activities you can participate in that don't require getting into the pool. They offer Spanish lessons, cooking classes, dance classes, cigar rolling classes, and you can learn how to make decorative towels.
There are four swim-up bars you can pop into when you're spending your days at the pool. There are four other bars to grab a drink at when you're not in the pools.
As for the dining options, there are 11 restaurants with various cuisines. You can visit their elegant Italian restaurant, Asian fusion joint, or casual pizza spot, or visit the health bar for something healthier.
Which of These Cancun Resorts With a Lazy River Will You Try?
Whether you're looking for a resort that you can take the whole family to or an adults-only resort, these six Cancun resorts with a lazy river will keep you relaxed (among other amenities).
You can spend your days swimming, lounging in the sun, trying new cuisines, and floating down the river for a vacation you'll never forget.
More about our TFVG Author
A seasoned traveller, Dad, and avid sports tourist, James foundered The Family Vacation Guide to share his expert vacation experiences- especially when it comes to being a travelling family man.
Featured in Travel articles such as Travel + Leisure, TripSavvy and SFGate, you know you're reading some of the best vacation tips online.