Can't decide where to take your family in Mexico between Playa del Carmen and Cancun? Both have similarities and differences, making it difficult to choose, especially if you're a first-time traveler.
But don't worry, because we're here to help. Here's everything you need to know about making the decision between Playa del Carmen vs. Cancun before you book your trip.
Playa del Carmen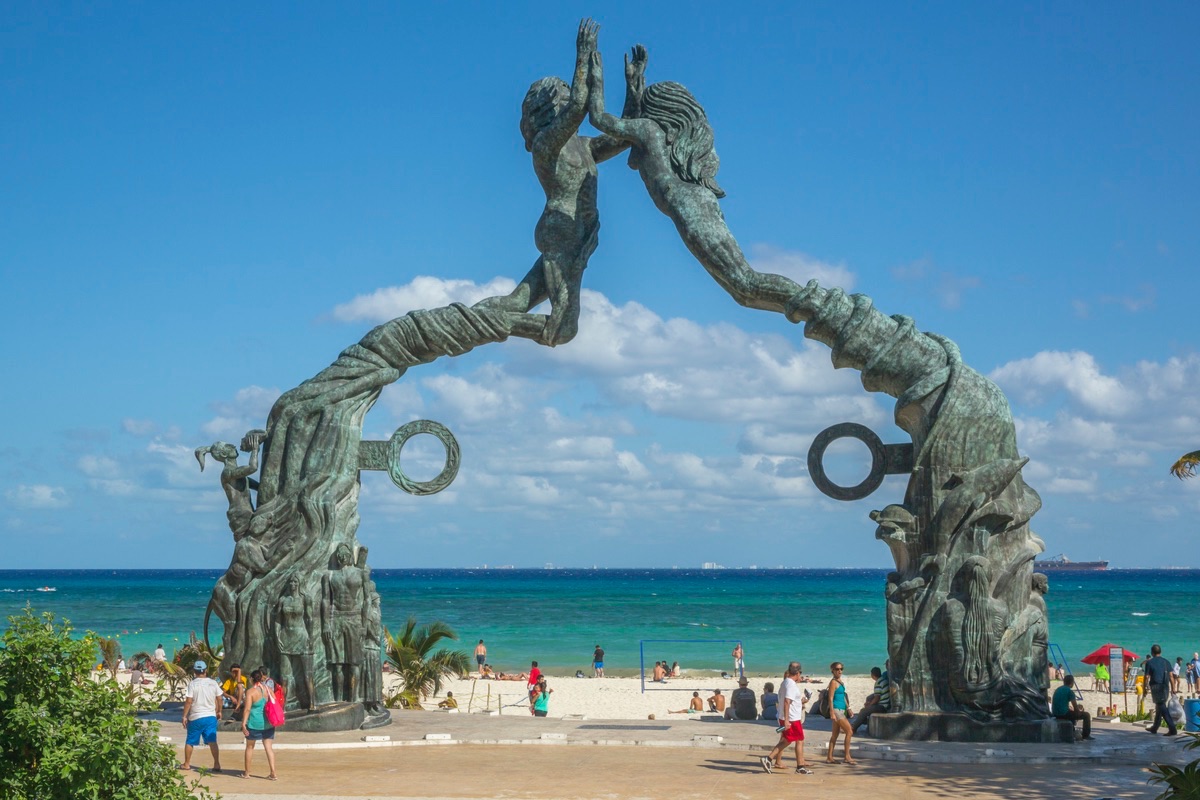 Playa del Carmen, also called Playa by the locals, is located at the heart of the Riviera Maya, a stretch of Caribbean coastline that has developed into a trendy destination in Mexico.
Despite its growth in recent years, Playa still has a small-town charm. It's a clean, well-kept, and peaceful city, making it a perfect destination for families who yearn for a quiet vacation paradise.
When you go to Playa, don't forget to visit Quinta Avenida and enjoy the main street's unique atmosphere. The surrounding neighborhood has many art galleries, fashion stores, boutique hotels, and fine restaurants.
Playa is also considered an elegant destination, attracting sophisticated travelers who want to stay away from Cancun's busy environment. While there aren't so many nightlife activities, you can be sure there is something for the whole family to enjoy at Playa.
How Is Playa del Carmen Special?
Here are some of the reasons that make Playa special when deciding between Playa del Carmen vs. Cancun.
Resident Cenotes and the Rio Secreto
The Yucatan Peninsula, where Playa is located, is truly a magical region with beautiful natural formations. Resident Cenotes are only a few minutes away from the city proper, making them great spots to visit, including the fascinating Rio Secreto.
From the city, you can go to Cenote Azul, Cenote El Jardin, and Cenote Cristalino by public transportation hired tours or rental cars.
On the other hand, Rio Secreto, which is one of the best-kept secrets of the Yucatan Peninsula, is a collection of caves and an underground river with turquoise waters and beautiful rock formations. Bring the family and enjoy swimming through the river.
Its Small City Charm
Playa is considered a smaller city of big Cancun in Yucatan, with its delights in relatively smaller proportions. However, it's full of treasures and what makes Playa stands out is its experience of being an authentic and small Mexican city.
While Cancun is full of big and fun things for the tourists, Playa is more reserved and has less noisy crowds, making it a perfect place for a quiet vacation.
The Quinta Avenida, also known as 5th Avenue, beats the heart of this beautiful seaside city. It's full of energy and populated with incredible shopping centers, food shops, and nightlife. While Playa has these features, they are less commercial and relatively more old-fashioned.
Close to Everything
Another great reason to stay in Playa is its location nearby other beautiful Yucatan spots, such as Xcaret Park, Tulum, Cozumel, and Akumal.
There are also underwater marvels and Cancun to the north. So, if you're looking for a more peaceful vacation, you can also stay at Playa and check out the nearby sights from Playa.
Playa also has many tour companies, car rental options, and a wide range of accommodation, such as luxurious hotels and resorts and more affordable stays catering to all types of travelers.
Despite being surrounded by huge tourist spots, it's among the most traveled Mexican regions. It's a sure place to check out if you seek the perfect balance of authentic Mexico and tourism.
Where to Stay in Playa del Carmen?
Well, almost all areas in Playa are of recent construction. The places are strategically constructed to create a balance of Mediterranean and Caribbean environments.
Quinta Avenida
Quinta Avenida is the main street running around four kilometers. If you've come to the coastal towns in the Caribbean, the Mediterranean, or Latin America, you'll feel at home in any hotel near Quinta Avenida.
If you want to stay near Quinta Avenida, find a higher structure where you can have a balcony that offers magnificent ocean views. While there aren't many high-rise structures in Playa, there are still lovely vistas from hotel rooms on the third floor up.
Booking a hotel near Quinta Avenida means being able to walk where you want to go. You can also find travel agencies nearby to book day trips for your family. They offer trips to nature preserves, Mayan ruins, and the refreshing cenotes you can find all over the region.
Playacar Palace
If you're bringing the whole family including your kids, Placayar Palace may be the best place for you. This luxurious all-inclusive resort offers free stays for kids.
Located south of downtown Playa, it offers 200 rooms with access to the stunning stretch of beach, which is a big plus for the guests. The entire family surely loves this resort because of its size and the ease of strolling around. It has elevators and 24-hour room service.
Guests can easily access the beach and swim because of the hotel's location. It also features its own supervised club with daily activities to keep the kids engaged.
Additionally, it offers an on-site playground and an outside pool entertaining the whole family. The hotel provides a credit that guests can use even for off-site activities, such as the Mayan Ruins of Chichen Itza, which is only a five-minute walk away.
A bicycle tour is included in your stay, which can be a big hit for the whole family. This surely makes going around the town much easier, especially if you have kids.
Overall, it ensures that the families staying in the hotel have a wonderful time.
Panama Jacks
Panama Jacks is a place for all ages. The hotel room design is compact, which is excellent for families with kids. For instance, if you forget something in your room, it won't take long to retrieve it.
The hotel has elevators, making it easier and more convenient when traveling with little kids and strollers. It also offers suites for families of five, featuring a king-sized bed and bunk beds.
A big plus of the hotel is its location. If you stay here, you're only a few steps away from Quinta Avenida, where you can go for a day or evening stroll, walk around, shop, and dine.
Overall, Panama Jacks is a winner because of its right balance for everyone of all ages.
Cancun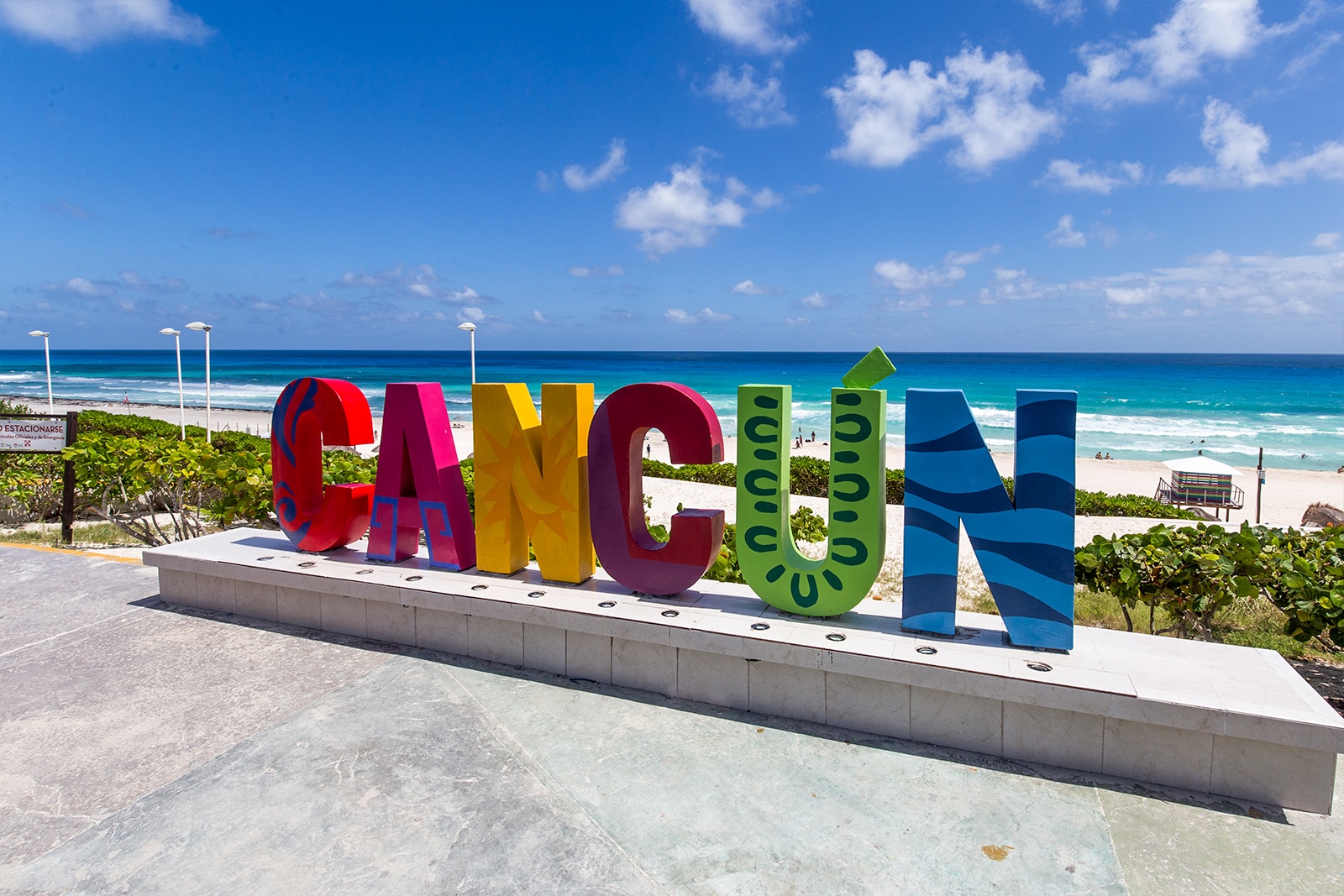 You've learned about Playa del Carmen and its beauty. Now it's time to talk about Cancun.
The first significant difference in Playa del Carmen vs. Cancun is the size. As mentioned, Playa is Cancun's sister city in terms of size. Being the larger city, Cancun has over 880,000 inhabitants, while Playa is a small city of 300,000.
If you stay in Cancun, you can find a plethora of options in restaurants, shopping malls, bars, nightlife entertainment, and amenities, which are comparable to some of the best Caribbean destinations.
Cancun has two significant areas: the city and the hotel zone. The city has many luxurious hotels with all-inclusive offerings. So, if you come to Cancun and stay in any of these hotels, you have access to its beautiful stretch of beaches.
The city is well-known for American tourism, while the smaller city, Playa, is famous for its European influx.
While both towns are family-friendly, the bigger city stands out in terms of modern tourism, vibrant nightlife, and spring breakers. The nightlife entertainment surpasses what Playa has to offer in this matter.
In terms of beaches, you'll find that the resorts in Cancun are less crowded than Playa's public beaches. The downside is that you can't access these beaches unless you stay in their resorts, which is the opposite in Playa. You can quickly go and enjoy Playa's beaches because they are accessible to all.
Because Cancun is a big city, there are plenty of paradisiacal islands worth visiting, such as Holbox, Isla Mujeres, and Contoy Island. So, if you want a few days of relaxing and recharging, exploring any of these islands is a great idea.
Usually, Cancun is an excellent option for travelers looking for an all-inclusive stay and its nightlife. So, if these are your priorities, choose Cancun over Playa.
What Makes Cancun Special?
Not yet convinced? Well, here are some of the unique features of beautiful Cancun.
The Nightlife Scene
On top of the famous natural tourist spots and historically-rich features, Cancun offers the biggest nightlife scene in the Caribbean, with its coveted parties and nightlife.
It's one of the most sought-after experiences of every traveler that missing it out means foregoing what Cancun is all about. The city becomes alive at night, everywhere from the hotel zone to downtown. All places are full of dynamic energy.
While Cancun is famous for its luxurious hotels and beautiful beaches, it becomes a big city nightclub at night, oozing with energy and excitement.
Some of the areas offering the best nightlife in Cancun are Mandala Beach Club, Coco Bongo, Palazzo, The City, Cuncrawl, and Dady O.
Chichen Itza
Don't miss Chichen Itza, located over a hundred miles from southwest Cancun. If you're up for some educational trip with the whole family, it's great to explore some of the curious finds and learn about the ancient culture of Mayans.
Chichen Itza, the sacred site in the Yucatan peninsula, is an UNESCO World Heritage Site. There is still much to learn from these areas. That's why they are subject to more study and, of course, protection.
While they still hold many mysteries, what we've discovered thus far is on display for culture-oriented travelers. In fact, they have attracted millions of tourists to Cancun and surrounding towns annually.
So Much to Do and See
Apart from the nightlife entertainment, Cancun also offers a beautiful 22.5 kilometer stretch of turquoise beach, coral reefs, caves, and cenotes.
Not only does the city have ancient places and cosmopolitan pleasures, but it's also rich with natural wonders, making Cancun very diverse. It's perfect for families who want some fun while learning and appreciating what history and nature have to offer.
In fact, Cancun is among the most popular Mexican tourist spots due to its long stretch of white sand beach and spectacular turquoise blue Caribbean waters. It's also famous for its cenotes, also known as water-filled sinkholes.
These special places provide the opportunity to explore and swim under the caves and experience the mysterious beauty down there.
All these natural features are just the tip of the iceberg. You still have a lot to explore, such as the reef patches scattered along the coast.
Due to the Mesoamerican Reef System sitting on the Cancun coast, you can enjoy the waters, go diving and snorkeling, view various types of marine life, and have a wonderful time with the whole family.
Lots of Hotels
When you got Cancun, you won't have any difficulty finidng a place to stay. This is because it's home to over 140 hotels catering to all types of tourists. From solo travelers to groups or families, budget travelers to high-rolling tourists, Cancun has the perfect temporary home for you.
The city's Hotel Zone is a well-known area because of all its featured hotels. It runs around a 22-km stretch of all-inclusive resorts, high-rise hotels, restaurants, shopping centers, and nightclubs. However, if you're looking for more affordable accommodation, you can head straight to downtown Cancun and find budget stays and more authentic Cancun vibes.
Cancun has evolved from a relatively simple city to a world famous tourist spot. The development of this waterfront city brought a dynamic and unmatching success. Indeed, it's packed with beautiful features, a captivating history to experience, and unmatched energy.
Where to Stay in Cancun
If you've finally decided to stay in the waterfront city, here are some of the best hotel accommodations to stay for the whole family.
The Grand at Moon Palace
The Grand at Moon Palace is a large, all-inclusive resort in Cancun that features a water park for the whole family, two outdoor pools, and a lazy river. It also has suites for families that have private balconies and whirlpools.
Additionally, they have double-sized beds, a minibar for the little ones, and an Xbox to keep the entire family engaged. The kids' club has blacklight mini-golf, splash pads, and bumper cars. They also offer a credits program offering excursions and dolphin swims.
While guests have access to the beach from this hotel, it isn't swimmable. So, you need to go to the sister property, Beach Palace, to go for a swim and enjoy the waters.
Hyatt Ziva Cancun
Another great place to stay in Cancun is this all-inclusive contemporary resort, Hyatt Ziva Cancun. Some suites have swim-up access, soaking tubs, and club-level perks. It also features amenities for families, such as a kids' club and mini water park.
Other amenities include bars and restaurants offering international flavors. The hotel also offers 24-hour room service.
Hard Rock Hotel
Hard Rock Hotel is a rock-and-roll-themed, all-inclusive resort offering a swimmable beach, whirlpools, and infinity pools. Other unique amenities include mixing stations, complimentary guitars, and access to recording studios.
Those 12 years and older can access their Music Lab with professional instruments, vocal lessons, and DJing. They also offer a live performance culminations at the end of the stay.
All rooms in Hard Rock Hotel have private balconies and two-person Jacuzzi tubs. Other suites have kids' minibars and Xbox.
Nizuc Resort and Spa
If you want to stay in a stylish resort located on a quiet beach, then Nizuc Resort and Spa is for you. This resort features a Maya-inspired spa, five outdoor pools, and a great dining experience.
It also has spacious premium rooms, family suites, and villas with private balconies. Some suites also have private pools and soaking tubs. They also have a kids' club with a plethora of crafts and activities for the little ones.
The restaurants have a wide range of flavors, from Mexican to Asian. Additionally, if you want to go for water adventures, you can go swimming and snorkeling and explore the reefs with the colorful schools of fish.
Grand Residences Riviera
The Grand Residences Riviera is the perfect choice for spacious suites that can accommodate up to 13 guests. So, if you're traveling with your big family, then Grand Residences Riviera is the way to go.
The suites have whirlpool tubs and kitchenettes, which are an additional advantage. Other amenities include outdoor Jacuzzi tubs, private pools, washers, and dryers.
The resort also has a kids' club, spa, and oceanfront pool. The beautiful beach is also swimmable, although some spots are a bit rocky.
Playa del Carmen vs. Cancun: Which Is Better For Families With Kids?
Now you've learned what Playa del Carmen and Cancun have to offer. Choosing between Playa del Carmen vs. Cancun can be challenging because both offer the most exciting places in Mexico.
If you want a beautiful, quiet vacation, go for Playa. But if you're looking for a lively and high-spirited vacation, Cancun is the way to go. Either way, both can make the Yucatan a place worth visiting. 
More about our TFVG Author
A seasoned traveller, Dad, and avid sports tourist, James foundered The Family Vacation Guide to share his expert vacation experiences- especially when it comes to being a travelling family man.
Featured in Travel articles such as Travel + Leisure, TripSavvy and SFGate, you know you're reading some of the best vacation tips online.