Once you have kids, your needs out of vacation destinations change. So while you may have enjoyed rappelling up a waterfall in your youth, a lovely, sandy beach where everyone can have fun and remain safe can be exactly what you're looking for.
Your needs may also grow as your kids get older and the activities they're interested in participating in change.
If you're planning a trip to Cancun in Mexico, it can be challenging to decide which hotel has the best beach for you and your family, which is why we put together this helpful guide to help you choose.
Whether you're looking for a beach hotel with a kids club and activities for your young child, or a focus on water activities for your teenager, this list has something for everyone!
If you're currently planning a trip to Cancun, why not check out our guides to the best all inclusive family resorts in Cancun, how much it costs to visit Canun and the best time to visit Cancun.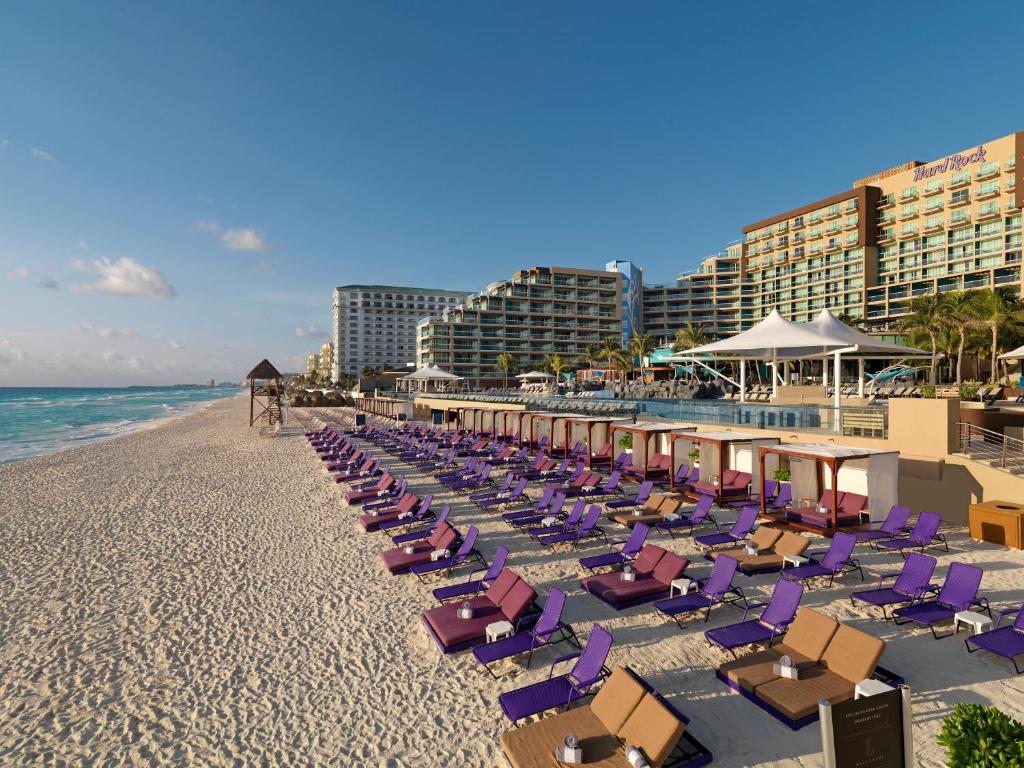 Featuring a large stretch of white, sandy beach with sprawling chez lounges, the Hard Rock Hotel Cancun does not disappoint when it comes to beachfront properties.
You can get expansive views of the ocean from your hotel suite, beachfront, or even swimming pools, including swim-up bars.
The Hard Rock Hotel Cancun appeals to grownups and children alike. Kids from the ages of four to 12 can enjoy Hard Rock's Kid's Club, which specifically caters to their interests and offers a variety of indoor and outdoor activities.
The music lab encourages kids to embrace their inner rock star, and the golf course gives adults some alone time to appreciate the views.
If you're looking for a family-friendly hotel stay that caters particularly to younger kids, look no further than this luxury hotel.
Nobody will get bored with the combination of hotel-guided activities and family playtime on the beach and the warm ocean!
Consider booking one of the two-bedroom family suites when staying here, complete with a kids' minibar, to ensure everyone has a good time!
Moon Palace Cancun is a major crowdpleaser for families with children of all ages. The sprawling pool meanders around, offering endless views of the ocean and allowing kids a small amount of freedom from parents without getting out of eyesight.
Young kids will love the indoor playroom where they can have fun and make friends with other young guests of the resort.
Opt into the all-inclusive resort features and enjoy unlimited access to the more than twenty delicious onsite restaurants.
Younger and older kids will appreciate the Flowrider machine, a surfing simulator, while parents can know they're safe from the ocean.
The beachfront property has plenty of room to spread out and take a dip, and the whole family can come back together in the evening to catch a show or attend a themed party.
This luxury resort would be a great place for teenagers who can enjoy putting around the mini-golf course while their parents take in the actual golf course onsite.
With gorgeous views extending from either side of this all-inclusive resort, the Omni Cancun Hotel and Villas is a luxurious and beautiful stay for the entire family.
The luxury hotel goes above and beyond welcoming young guests by greeting them with a backpack filled with books, toys, and games, as well as milk and cookies.
If your young one is anxious about traveling, consider this accommodating hotel to get them in the mood!
If laying on the beach is your thing, you can spread out on the gorgeous white sand or lounge in a chez lounge or a serviced, private Thai bed.
If your kids love sports, consider letting them enjoy the tennis courts, and if they're more into relaxing, they can enjoy the expansive pools or 35-person mega jacuzzi on site.
Young kids especially will enjoy the poolside parties that the Omni Cancun Hotel throws, including pinata breaking!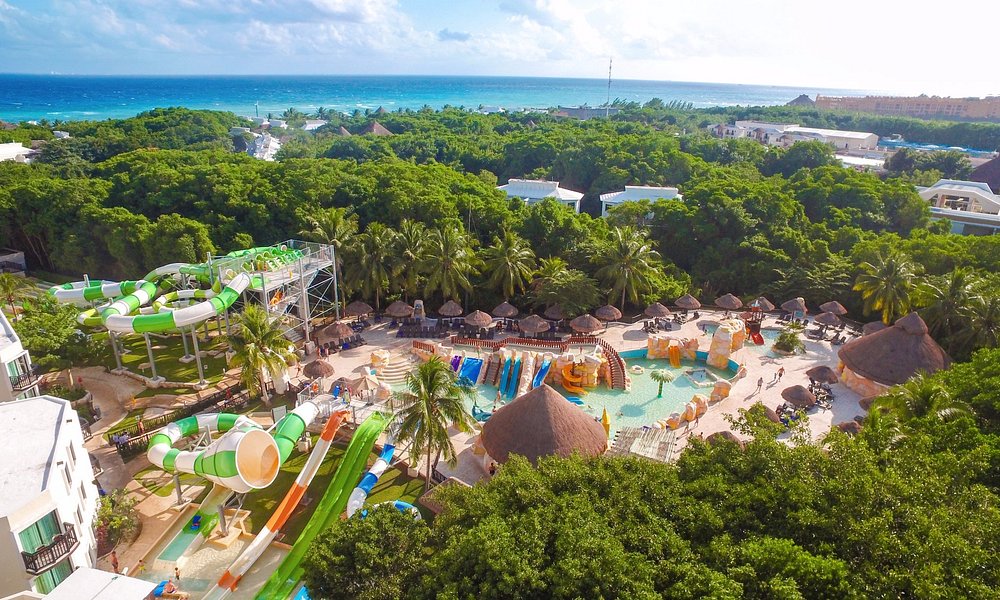 Sandos Caracol Eco Resort is all-inclusive with a slightly different vibe than other hotels on this list.
While it features a gorgeous, sprawling beach on one side of the resort, and you can book ocean-view rooms, the Eco Resort is also surrounded by jungle that allows you to enjoy some of the more rugged beauty Cancun does has to offer.
With an emphasis on outdoor fun, this resort has plentiful activities that you and your kids can all enjoy, including a number of outdoor water sports like snorkeling, scuba diving, reef diving, and so much more.
The onsite aquapark makes the most of the beach weather, and your kids can have fun utilizing the slides and multiple pools day after day.
The resort features nearly ten all-inclusive restaurants, and you can venture offsite if you're interested in more variety.
With complimentary bicycles for you to get around, tennis courts, and a kids club for the younger travelers, this Eco Resort is an excellent choice if you're having trouble deciding between sprawling ocean views and Cancun's gorgeous jungle.
The Fiesta Americana Condesa Cancun is an excellent all-inclusive resort that is likely what you first think of when a Cancun resort pops into your mind.
This resort more than delivers in the beachfront and pool categories, featuring absolutely stunning white, sandy beaches.
You can enjoy the chez lounges on the sprawling beach, but be careful in the water with your young ones, as there is more of a surf near this resort than some of the other hotels on the list.
If you're more of a pool lover, consider splashing around in one of their onsite pools, one of which features fountains, or even taking a trip down their water slide.
Younger kids will enjoy the kids club on site, which is specifically curated to encourage interaction between children from three to 12.
Multiple onsite restaurants mean there's sure to be something for everyone, and adults can enjoy the onsite Maya-themed spa.
Several of the water sports and other activities are not included in the all-inclusive package and will feature an additional charge. Still, the Fiesta Americana Condesa is located right in the heart of the entertainment district, which means there are more than enough activities to enjoy off the hotel property if your family feels like venturing out.
This hotel is ideal for families or a return trip for just the parents, who can consider booking a room in one of the ocean-facing suites replete with a jacuzzi on the private terrace.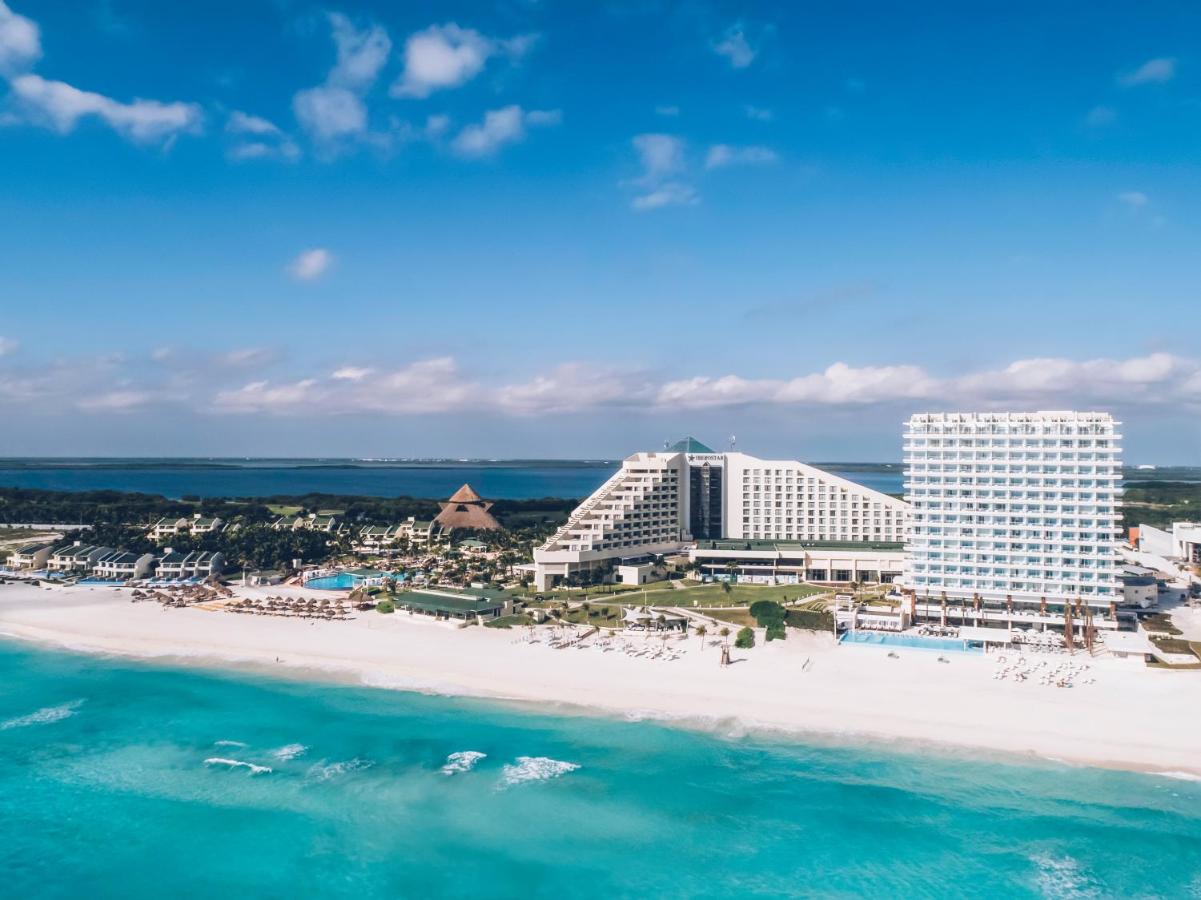 The Iberostar Cancun is a dream come true for parents, offering seemingly endless opportunities to entertain your youngsters.
The beachfront is spectacular, and you and your kids can have an incredible time just taking in the views and dipping your toes in the water.
If playing in the ocean isn't to your liking, consider taking a swim in one of the ten onsite pools and enjoy the tiny swimming pool specifically designed for the littlest traveler who can't swim yet.
Slightly older children will love the water park that features fountains, water slides, and even a pirate ship!
The Iberostar accommodates kids of all ages, and offers separate kids and teens clubs, with varying activities and games for different age groups, keeping kids up to 17 years old entertained.
The sporty family will think they've gone to heaven when they arrive at the Iberostar, which features an 18-hole, championship golf course, a FIFA regulation soccer pitch, onsite tennis courts, and a scuba center.
If you brought any picky eaters along, you'd especially appreciate that the restaurant features a children's menu, and if you're looking for an adults-only evening, consider paying an additional fee to utilize the resort's babysitting service.
Whether you're planning on spending your entire trip lounging on the gorgeous beach, or you want to use some of the resort's amenities, the Iberostar Cancun is an excellent choice for your next family vacation.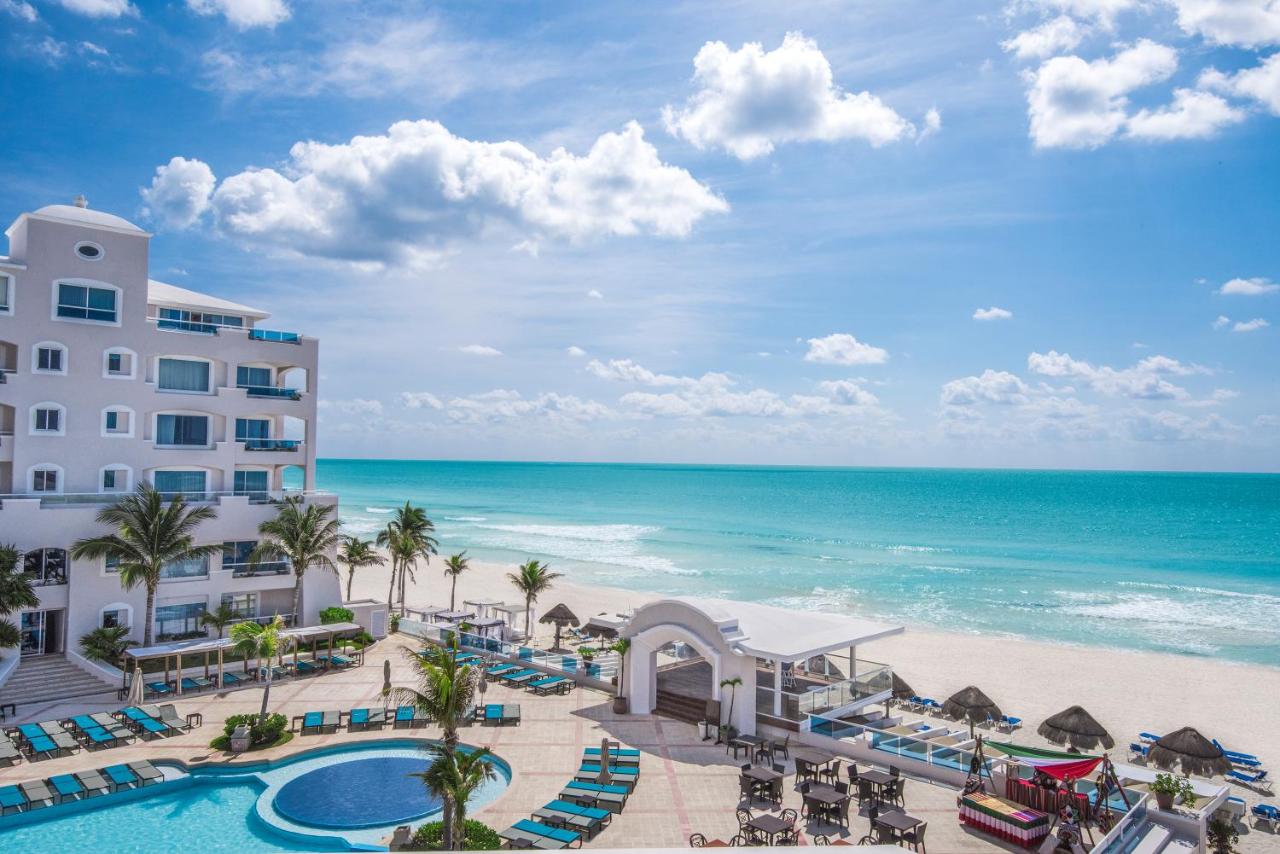 The Wyndham Alltra Cancun All Inclusive is another fantastic resort for parents looking to bring their kids of all ages along. Don't be thrown off by the name change of this all-inclusive resort, which used to be called Panama Jack Resorts Cancun.
With an incredible stretch of beach right in the hotel zone, the Wyndham Alltra is probably precisely what you have in mind when you're envisioning your dream Cancun vacation.
In addition to the gorgeous beach line, this resort includes an incredible family pool and a kids' waterpark that includes seven water slides, a pirate ship, and two splash zones.
In addition, young kids will have a blast playing on the suspended bridges and ball pits, not to mention the activities available at both the kids club and teens club.
Children four through 12 can enjoy spending time with other kids their age in the kids club, while teenagers 13 through 17 can enjoy spending time with one another at the monitored #Hashtag teen club.
Consider lounging in a private cabana during the day or attending any nightly shows in the evening.
Like the Iberostar, parents can get some alone time by chatting with the concierge and setting up some babysitting for an extra fee.
With scattered, private, beachfront cabanas, this gorgeous beachfront hotel is what dreams are made of. Backed by scenic, lush greenery, with clear blue waters ahead, this beautiful Resort is a must-try for your next family getaway.
With a focus on enjoying everything Cancun offers, the Dreams Riviera Resort offers a number of activities both on and offsite.
You and your kids can enjoy playing some family beach volleyball, bocce ball, playing on a small outdoor pyramid, ping pong, pool, and even utilizing the onsite Euro-bungee.
If you want to enjoy the scenic beauty of the area, consider lounging beachside or taking a dip in one of the three onsite swimming pools or two hot tubs, including an infinity pool.
Fun for the whole family is available every evening with nightly entertainment, themed nights, or even outdoor movie viewing.
Parents can opt for the additional babysitting service and participate in a cocktail-making class or tequila tasting!
This tranquil and beautiful beachfront has much to offer in natural beauty and hotel amenities.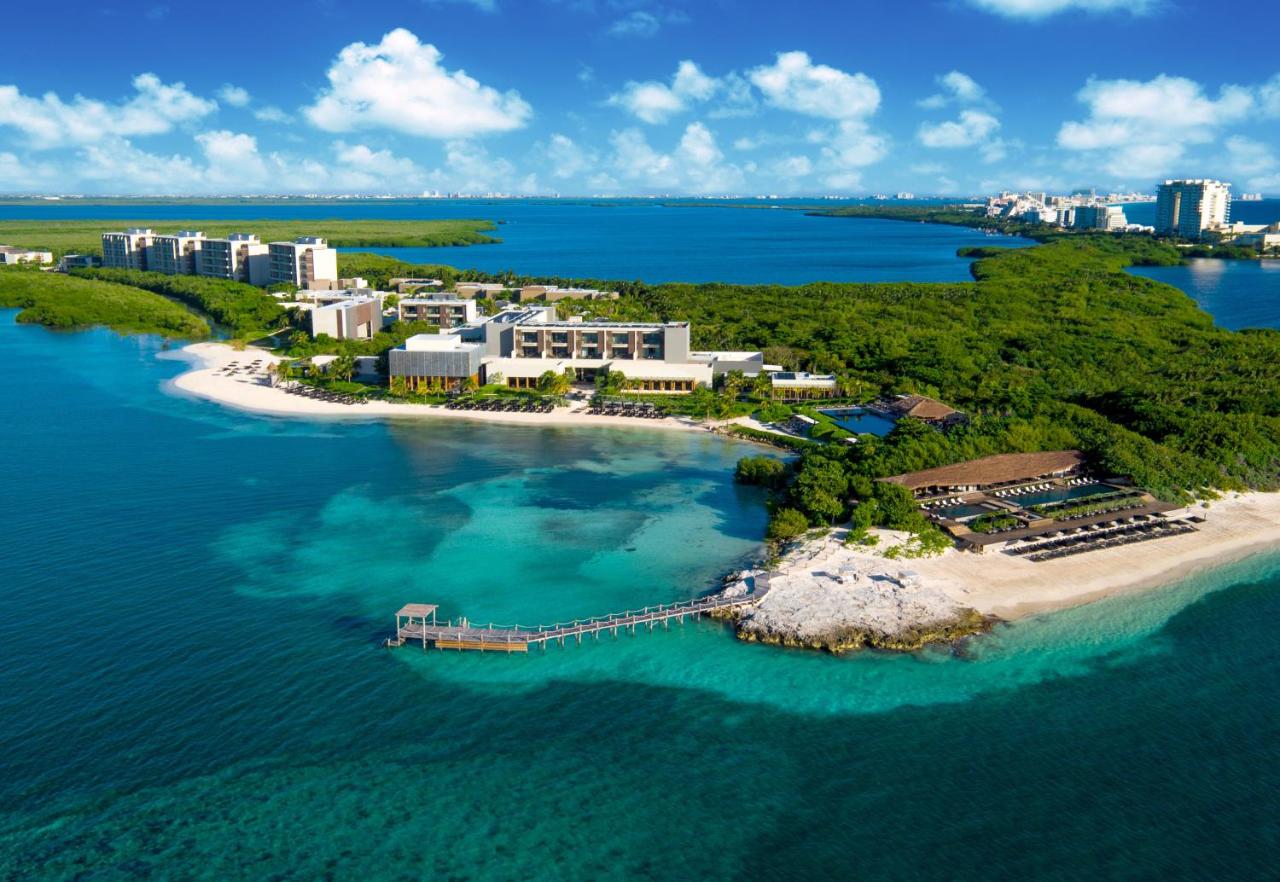 The NIZUC Resort and Spa is luxury at its finest; you'll never want to leave this award-winning gorgeous beach resort.
Featuring a kids club with special activities for the younger travelers in your group, this resort is excellent for parents who have younger children who're concerned about letting in the ocean.
The resort is located on an incredible stretch of sandy beach that features a tame ocean, perfect for monitored beginner swimmers.
The calm ocean gives kids the opportunity to enjoy kayaking or paddleboarding, and there's even a gorgeous reef that is ideal for snorkeling. Meanwhile, adults can enjoy pure luxury at the resort's Maya-themed spa.
Enjoy the onsite pools and restaurants, and just absorb the natural beauty that surrounds you during your stay at the luxurious NIZUC resort.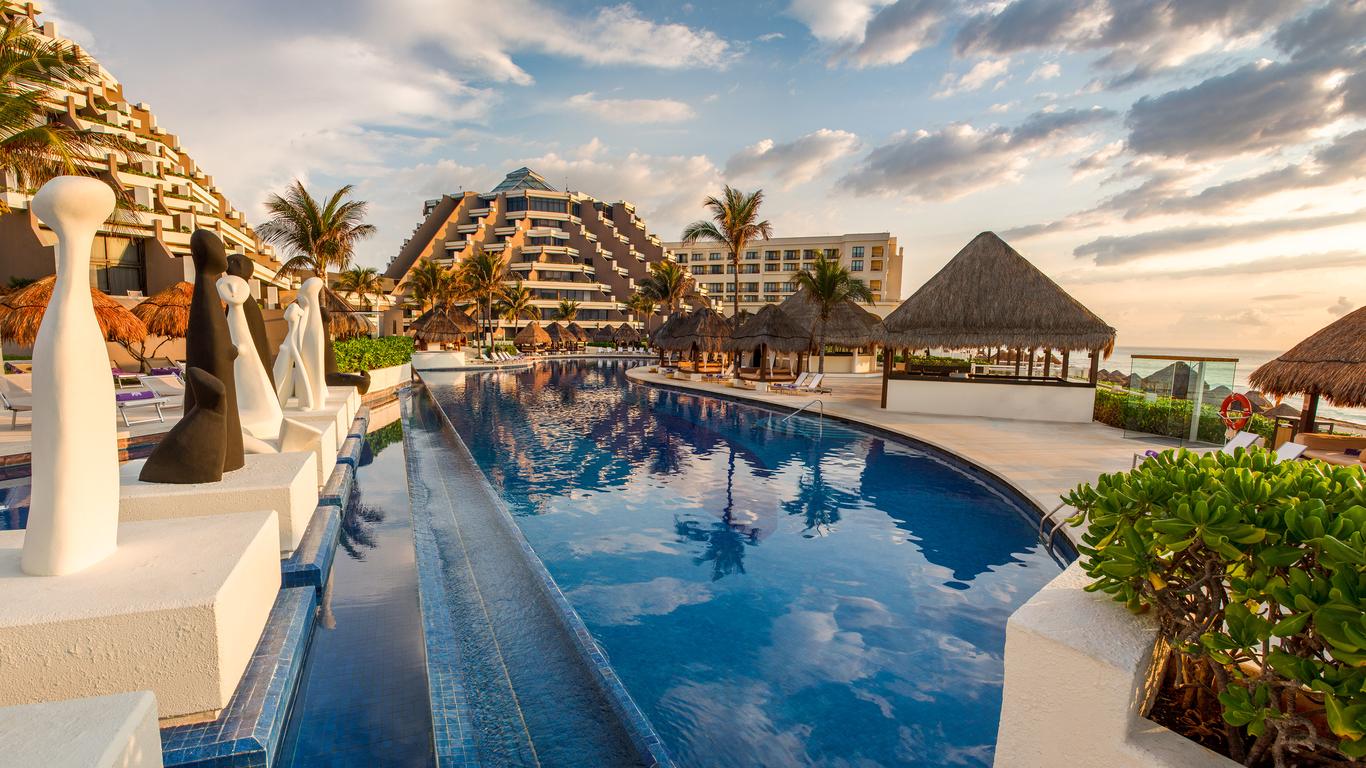 Paradisus Cancun is an excellent all-inclusive resort that focuses on making sure entire families have the trip they're dreaming of.
Adults will love the expansive stretch of beach, tropical gardens, gym, golf course, and spa and will have endless opportunities to lounge at their incredible pools.
Children are not forgotten about at the Paradisus, and there are clubs and activities tailored from children from toddler age through teenagers.
The Kidsdom young kids club features fun science experiments, crafts, and other activities that will appeal to your youngsters, while the special kids' turndown service includes milk and cookies.
Have a fun spa night with your little one, using the hotel's robes and slippers, specially designed to fit kids.
The family concierge lounge is happy to accommodate any requests, and the Paradisus is sure to be fun for the whole family who wants to enjoy the beach as well as the amenities.
The Royal Solaris Cancun is great for families on a tighter budget looking for a resort that offers all the natural beauty that Cancun offers, without any stuffiness or pretension.
Despite the affordable pricepoint, the Royal Solaris does not skimp on some of the included all-inclusive amenities, and non-motorized watersports such as windsurfing and kayaking are included in your stay, something you and your older children can enjoy together.
In addition, there are nightly onsite performances and activities, and themed parties offer fun for the whole family.
Younger kids can enjoy the onsite animal-themed water park, and even teenagers won't be able to avoid utilizing the waterslides.
The hotel is happy to arrange additional activities and accommodations for additional fees, such as snorkeling certifications.
However, one of the main attractions not to be overlooked is the spectacular beachfront, which you and your kids can enjoy for the entirety of your trip while you watch the sunset over the ocean.
Kids who need to take a day out of the sun can enjoy the indoor fun center, and adults can enjoy the included fitness classes, followed by a meal at any of the onsite restaurants.
If you're looking to go light on your wallet without compromising a good time, look no further than the Royal Solaris Cancun.
Conclusion
Whatever hotel you choose to stay at, every single hotel on this list has an incredible beach for you and your family to enjoy.
Each resort caters to the unique needs of families and does a seamless job of emphasizing the natural beauty that the Cancun beachfront offers while supplying enough activities to keep young kids and teens from getting bored.
Whether your priority is expansive, white sandy beaches as far as the eye can see, or a focus on water sports for your older kids, this list has something for everyone.
Consider what it is you want out of your vacation before planning your trip, and make sure to check for things like babysitting services and water parks if you or your kids have any specific things that are important to you.
If you're considering a trip to Cancun with your family, the 11 hotels on this list are sure to lead you in the right direction and won't disappoint, offering you incredible ocean views.