Many people don't think about the state of Michigan as a top vacation destination when it comes to planning a family vacation with their kids. But Michigan, also known as the mitten state given its shape, has many great areas that you shouldn't push away for potential getaways. 
No matter the season you visit, Michigan will offer many activities and attractions to enjoy during your stay. Although summers are often humid and winters quite cold, Michigan is known for its unpredictable weather. It's not uncommon to have spring days where it's shorts weather one day, and you're back to winter coats the next!
Don't let that deter you, though. Michiganders will tell you to dress in layers and head on over. The weather is just another component that makes the state unique. To help you out with your plans, we have rounded up the best places to vacation in Michigan with kids. Continue reading to see the top destinations!
The 8 Best Places to Vacation in Michigan with Kids
Michigan is an area of the United States that frequently gets overlooked when planning a family vacation. With the well-known, nationally known attractions of some of the more populated states, Michigan often falls to the side when it comes to travel consideration.
However, that shouldn't be the case. Michigan has many diverse experiences to offer that other states don't have. Take a look at our top recommendations for an unforgettable vacation with your kids in Michigan.
South Haven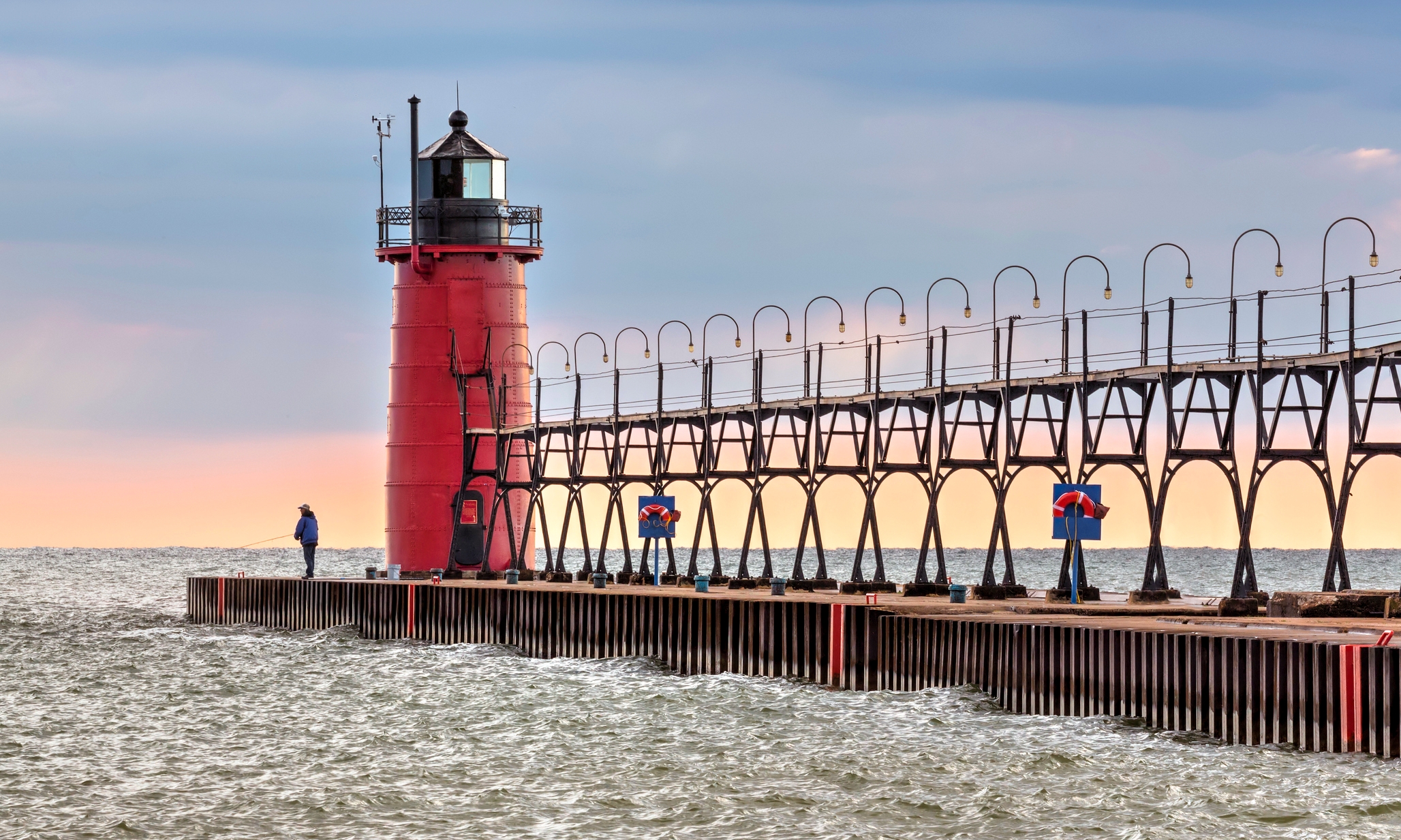 Known as the top beach town in Michigan, South Haven is close to the Michigan/Indiana border. There you will find miles of beautiful, golden sand beaches accompanying Lake Michigan. The town itself is very quaint and offers many boutiques and restaurants that locals and tourists come back for year after year.
Taking a trip to South Haven typically revolves around the beach, but the city isn't far from other fun attractions. Nearby is a large splash pad, children's museum, and an indoor water park. Also in South Haven is the Kal-Haven Trail. This 34.5-mile biking and walking path can take you from South Haven to Kalamazoo, Michigan. Many locals take the trip every year!
Many who visit the South Haven area enjoy camping at one of the many state or private campgrounds. It's important to note that many Michiganders reserve their campsites well in advance. So if you want to stay at a particular campground, call or reach out sooner rather than later!
If you decide to make the trip to South Haven in the winter months, the activities will change slightly but still offer tons of fun opportunities. Many people still visit the beach to see the tundra in the winter! Some of the most popular winter activities in South Haven include:
Ice Skating
Skiing
Snowboarding
Cross Country Skiing
Sledding
Tobogganing
Snow Tubing
One unique feature of Michigan is its love of bonfires. For some states, having a bonfire is reserved for the summer and fall months. But Michigan does theirs all year long. It is not uncommon to warm up in front of a blazing bonfire after multiple runs down the sledding hill.
When it comes to sledding, ice skating, tobogganing, and snow tubing, several places in the area offer all of those winter activities in one spot. For a small fee, you and your family can gain access to the attraction and spend the entire day hopping from one winter activity to another.
During your time in South Haven, don't forget to visit the top dining establishments. Some of the best in the area include:
Clementines
Admiral Jacks
Black River Tavern
Cafe Julia
Captain Lou's
Captain Nemo's
China Cafe
Regardless of what you decide to do on your family vacation to South Haven, you are guaranteed to have a great time and enjoy great meals. With many hotels, Airbnb's, and resorts in the area, you will find great accommodations that fit your family's needs.
Traverse City
Known for its cherries, Traverse City brings you top wineries with delicious cherry wines. Additionally, you will find many options for nature-derived activities and beaches, ski resorts, and shopping.
One of the many unique things about Michigan is that it comprises two separate peninsulas and has an island. Traverse City is in the northern part of the Lower Peninsula. Due to its location, the weather is a bit cooler in the summers than what you will get in the southern portion of the state. Its location also means that they get harsher winters as well.
On vacation to Traverse City, you can take in all of the activities you love in one city. You can spend the morning on their beautiful beaches, followed by a winery tour or a nature walk. After wrapping that up, you can do some shopping or stop at one of their top restaurants. Ending the night, you can snuggle up in bed in one of their many resorts.
Some of the top attractions in Traverse City include:
Grand Traverse Lighthouse
Peter Dougherty Mission House
Benzie Area Historical Society and Museum
COGNiTiON Science & Discovery Center
Discovery Center ~ Great Lakes
Pirate's Cove Adventure Park
Eyaawing Museum & Cultural Center
Traverse Tall Ship Company
Great Lakes Children's Museum
Great Lakes Maritime Academy
Wind Dancer Charters
Maritime Heritage Alliance
The Dennos Museum Center
The Botanic Garden at Historic Barns Park
Traverse City has you covered when it comes to family vacations and finding appropriate resorts and hotels to stay at during your trip. One of the top accommodations in the Grand Traverse Resort and Spa, which includes a spa and golf. The hotel has labeled its amenities "the ultimate Michigan experience."
There is also the more child-focused Great Wolf Lodge, which is a national chain in the United States. Here kids and adults can spend hours at the indoor water park or partake in a resort-wide scavenger hunt. There are also shows throughout the day, as well as an arcade and an opportunity to Build-a-Bear.
With the beautiful scenery of the northwestern Lower Peninsula, Traverse City is an excellent option for a laid-back vacation with your family. Having easy access to beaches, as well as beautiful wineries and restaurants throughout the city, will provide you with a beautiful experience that you and your family members will continue to talk about for years.
Mackinac Island
While Michigan has a few tiny islands within proximity, the biggest and most popular one is Mackinac Island. Known for its fudge and the fact that there are no motor-powered vehicles on the island, it's a hot spot for those who live in the state full-time and tourists.
When traveling to the island, you arrive in Mackinaw City (Lower Peninsula) or St. Ignace (Upper Peninsula). From there, you take a ferry to the island. Many ferries run throughout the day during the busy season, typically from Memorial Day in May through October.
While you can visit Mackinac Island during the winter, it does get a bit more complicated. Firstly, there aren't many hotels and resorts available for tourists, and only 2-3 restaurants remain open during that time. But in what is perhaps the biggest obstacle, the ferries do not run. Once the water of Lake Huron freezes over, local residents use snowmobiles to get to the mainland!
Visiting during the summer months will bring ample opportunity for fun. One of the most popular traditions to take part in on the island is a horse-led carriage ride. The carriage will take you around the whole island with a guide that will provide history about the island as well as trivia. Did you know that in order to be buried in the island cemetery, you have to be a resident for over 15 years?
Other fun activities to participate in and exciting landmarks to see during your trip to Mackinac Island include:
Arch Rock
Benjamin Blacksmith Shop
Fort Holmes
Fort Mackinac
Grand Hotel Stable and Carriage Museum
Great Turtle Park and Playground
Horse in History Museum
Little Stone Church
Marquette Park
McGulpin House
Butterfly House and Conservatory
Insect World
Skull Cave
Sugar Loaf
It is important to remember that the primary mode of transportation outside of winter is by bicycle. Instead of looking both ways at an intersection for cars, you will do the same for bikes. You can bring your own over on the ferry or rent one from a local vendor.
Many horses will also be going through the streets alongside people to take tourists from place to place or make deliveries around the island. While on the mainland, when you order something online, it will be delivered by truck straight to your doorstep. However, on Mackinac Island, a horse and trailer go around and bring deliveries to each resident.
Michiganders might jokingly view a trip to Mackinac Island as a requirement since almost all residents have visited there at least once in their lifetime. However, the trip is just as magical for those who live outside of Michigan.
It will sometimes feel like you have stepped back in time to an era of no vehicles. And when you bite into a sample piece of fudge from one of the many local shops, you will want to buy every bar in the store. Your family will love every minute of their stay and want to make it a tradition to come back!
Frankenmuth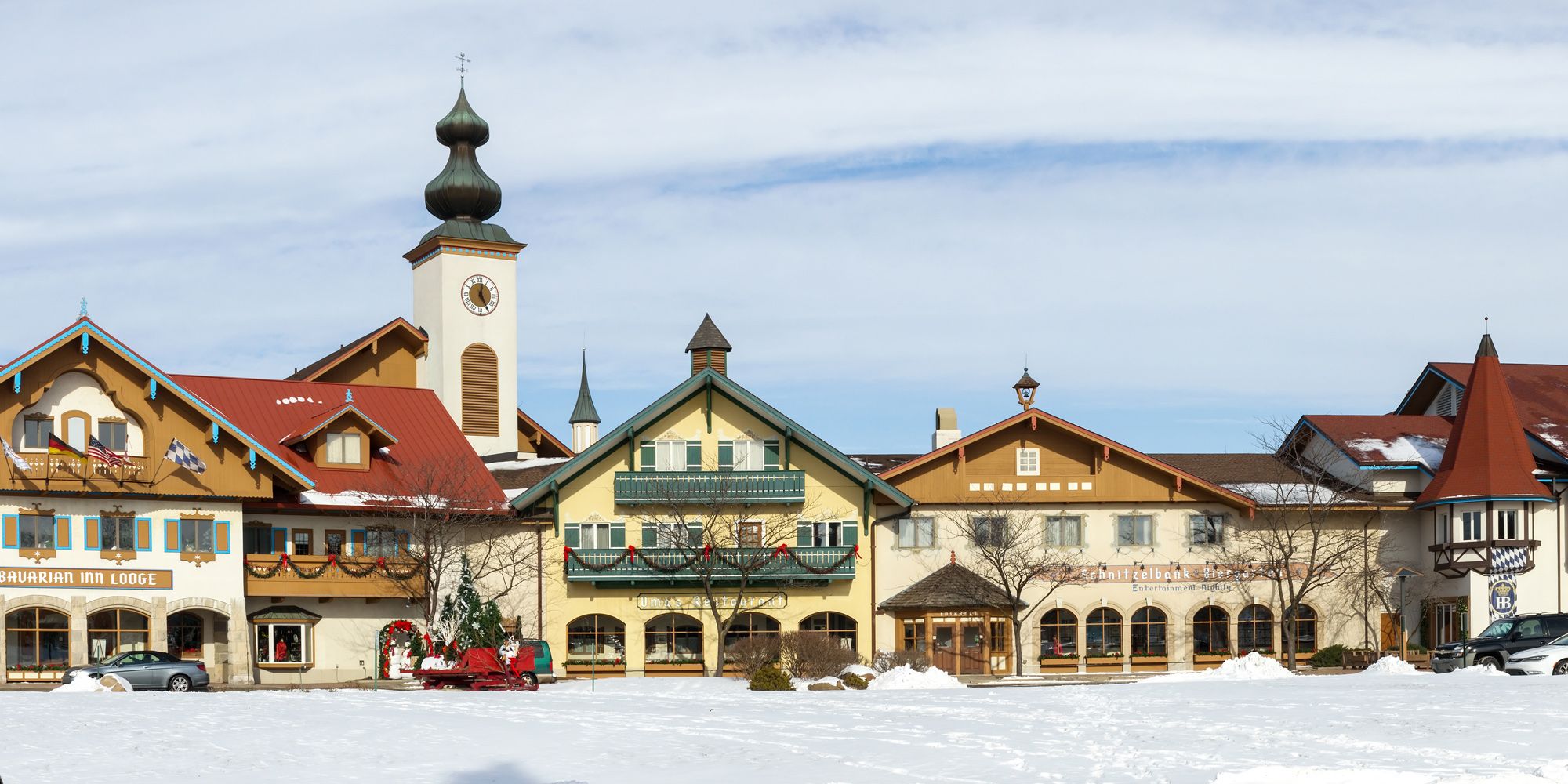 Traveling to Frankenmuth, Michigan, is like stepping into a Bavarian village. The shops and restaurants reflect the culture and provide a unique experience for your next family vacation to Michigan. Located near Saginaw, Frankenmuth is relatively easy to get to, although there aren't any large airports nearby.
One of the biggest draws to Frankenmuth is the Bronner's Christmas Store. The store is dedicated solely to Christmas decorations and is open 361 days a year. In ornaments alone, they carry over 6,000 different styles! When it comes to Christmas trees, the store has 300 fully decorated ones on display at all times.
At Bronner's, you can get ornaments and personalized decorations on the spot. Once you decide what you want and the inscription you prefer, the highly skilled artists will perform the work while you shop. If you have items you would like to ship home instead of travel with, they can arrange that for you in-store.
When it comes to food, the Bavarian town does not disappoint. Frankenmuth also has top-rated family-style meals at their Zehnder's restaurants, where the menu is prix fixe and comes with good meat dishes and several sides. If you have enough room, they bring ice cream around for dessert. It is common to have a wait when visiting Zehnder's, so it's best to plan ahead for that.
Other great local attractions that visitors must check out during their stay include:
Bavarian Belle Riverboat
Bavarian Blacksmith Experience
Bavarian Inn Lodge Family Fun Center
Cass River Rock Dam
Castle Museum of Saginaw County History
Cheese Haus Mouse
Chippewa Memorial
Figurinespiel
Frankenmuth Aerial Park
Frankenmuth Corn Maze
Frankenmuth FunShips Tasting & Tours
Frankenmuth Historical Museum
Frankenmuth River Place Shops
Grandpa Tiny's Farm
Gunzenhausen Platz Fountain
Holz Brücke Covered Bridge
Michigan Heroes Museum
Silent Night Memorial Chapel
St. Lorenz Replica Log Church
Veteran's Memorial/Willkommen Park
Wolkensdörfer Log House/Cross Park
Zehnder's Splash Village Hotel & Waterpark
Visitors will love walking up and down the street of downtown Frankenmuth and taking in all the Bavaria-inspired shops and cafes. There is often live music in the town square in the summer months. Nearby is the popular Birch Run Outlets, which have many top fashion retailers.
Visiting Frankenmuth is like traveling to Bavaria, hence the city's nickname of Little Bavaria.
During your time there, you will eat hearty and fulfilling meals, shop for unique goods (don't forget to check out the many leather shops!), and enjoy the many attractions the city has to offer. Your kids will thank you for the opportunity to visit this unique and friendly location, and you'll enjoy the experience you all get to have.
Detroit
Known as the Motor City, Detroit is the home of car manufacturer Ford. The city expanded significantly after the car boom and struggled a bit for many years. Detroit is now well on its way to being the city it once was. Many parts of Detroit have undergone revitalization in past years.
Located next to Canada, you can quickly go back and forth between the two countries. In fact, many Detroiters hold jobs in Canada and vice versa! Detroit offers many activities for families to participate in and is a hub for the state with sports teams.
Do you enjoy football? If so, come during the season and catch a Detroit Lions game. Is hockey more your thing? Little Caesars Arena hosts the Detroit Red Wings! The city also has baseball in the form of the Detroit Tigers and rounds it out with the local Detroit Pistons basketball team.
Detroit is very diverse in culture, and as a result, you will have pockets of different populations. In one area, you have a large Middle Eastern population, and the residents own restaurants and bakeries with a focus on Middle Eastern foods and baked goods. There is also Greektown and Mexicantown, as well as a large Polish population.
Outside of the different family-oriented areas of Detroit, there are activities throughout the city that you will all enjoy, such as the Sea Life Aquarium. Other family-friendly attractions that your group will enjoy during a vacation to Detroit include:
Legoland Discovery Center
Detroit Kid City
Meadow Brook Children's Theater
Sanders & Morley Candy Makers Factory Tour
Marvin's Marvelous Mechanical Museum
Detroit International RiverWalk
Turtle Cove Family Aquatic Center
Detroit Flyhouse Circus School
Cranbrook Institute of Science
Detroit Zoo
Outdoor Adventure Center
Wolcott Mill Metropark
TreeRunner Adventure Park
Greenfield Village
Henry Ford Museum of American Innovation
Holocaust Memorial Center
Arab American National Museum
Tuskegee Airmen National Historical Museum
While Detroit boasts many city-like attractions, they also have many nature-oriented activities for families to enjoy. With many hiking trails, options for cycling, many areas for kayaking, boating, fishing, and swimming, you will have no shortage of outdoor recreational fun to take part in during your vacation.
Detroit is easily accessible from almost any city with a large international airport. When planning a visit, don't forget your passport – just in case you want to swing over and say hi to Canada! Whether you stay a few days or a few weeks, your time in the Motor City will be impactful and eventful!
Marquette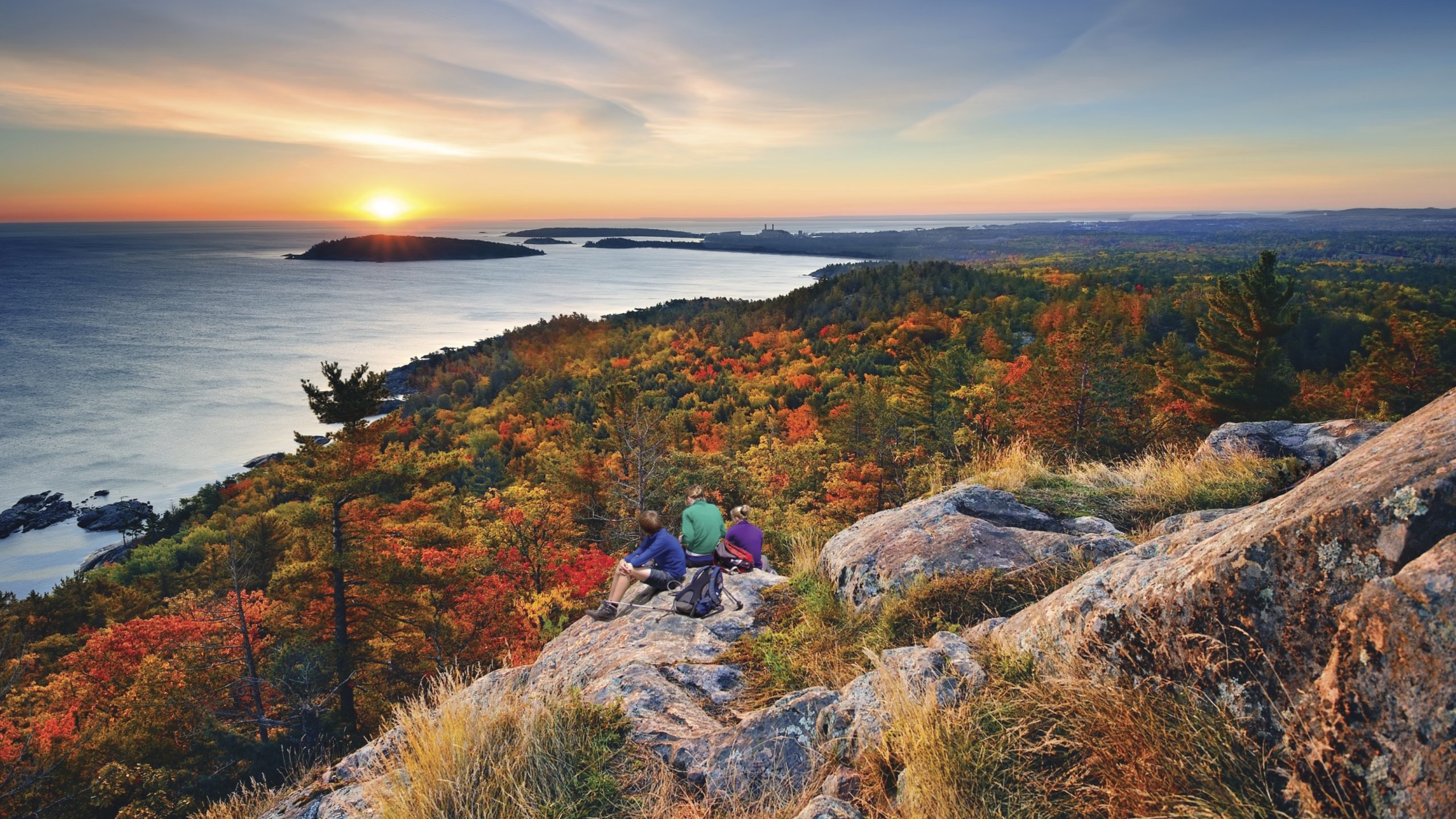 Swinging around to the Upper Peninsula of Michigan, we have Marquette. While it is a very long drive to arrive in this northern town, it is worth it due to the beautiful scenery and the enjoyable nature activities.
For perspective, driving from South Haven at the border of Indiana and Michigan (also the first destination we listed above) to Marquette is over seven hours of driving. Some people choose to take a car ferry to Wisconsin and go over to Marquette that way instead of through the entirety of Michigan!
However, you are privy to an entirely different Michigan experience once in Marquette. The Upper Peninsula itself is unique in its laid-back approach to life and the way they operate. For instance, in the Upper Peninsula, it is possible to drive for miles upon miles without seeing a town, gas station, or having cell phone reception.
Additionally, you are close to Canada. Therefore, your phone reception will often try to connect to the other country's towers!
Marquette has many hotels and resorts, as well as fun attractions for everyone in the family. Some of the most popular options include:
Presque Isle Park
Sugarloaf Mountain
Lankenenland Sculpture Park
Dead River Falls
Jilbert Dairy
Marquette Maritime Museum
Iron Ore Heritage Trail
Superior Dome
Upper Peninsula Children's Museum
Hogback Mountain
Morgan Falls
Marquette Regional History Center
Marquette Tourist Park
The Devos Art Museum
Lake Superior Theater
Zero Degrees Artist Gallery
Shiras Planetarium
Marquette Golf Club
Superior Kayaking Company
During your visit to Marquette and the Upper Peninsula in general, be sure to stop and get a pastie. As the famous food of the Upper Peninsula in Michigan, a pastie is a pastry shell with a mixture of meat, potatoes, and vegetables inside. You are likely to see more restaurants than not that offer this unique entree.
Lansing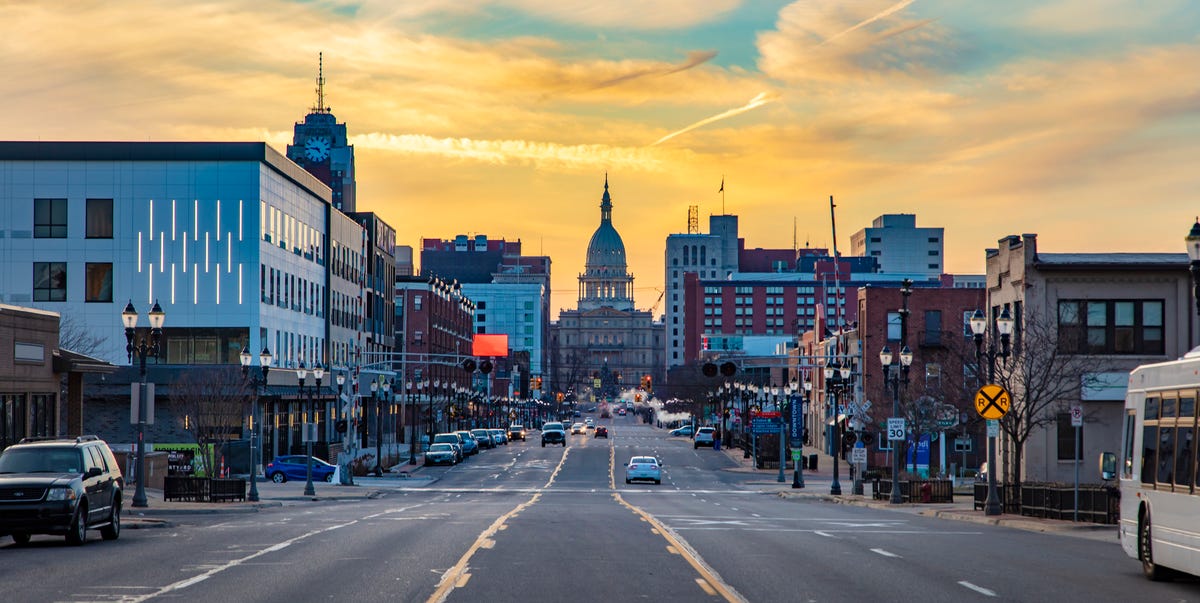 The capital of Michigan, Lansing, is the governmental hub for all political endeavors in the state. However, that doesn't take away from the city's entertainment! Located in the middle of the Lower Peninsula, Lansing is easily accessible by car, train, bus, and airplane.
Home to Michigan State University, Lansing embodies the image of a college town with its exciting downtown atmosphere and plentiful restaurants. But the area is also very family-friendly and easily mixes entertainment and education in the history that it offers.
Some of the most popular attractions to check out during a visit to Lansing include:
The Michigan State Capitol
Michigan History Center
Potter Park Zoo
Impression 5 Science Center
R.E. Olds Transportation Museum
Abrams Planetarium
Lansing River Trail
Fenner Nature Center
Turner-Dodge House & Heritage Center
Woldumar Nature Center
Michigan Women's Historical Center & Hall of Fame
The Michigan Princess Steamboat
Lansing Community College Sculpture Walk
Meridian Historical Village
Michigan State University Museum
Beaumont Tower
Hawk Island Park
While Lansing is a beautiful area to travel to any time of the year, do be cognizant if visiting during football season. The Michigan State University games can cause a severe traffic back-up in the town, so check the game schedule before booking your hotel!
In addition to many family-friendly attractions to enjoy, the city of Lansing offers a variety of top accommodations to stay at during your vacation. From high-end to chain hotels like Holiday Inn, Lansing has them all. The city also provides restaurants of all varieties and many fun shopping areas with an array of eclectic boutiques.
Kalamazoo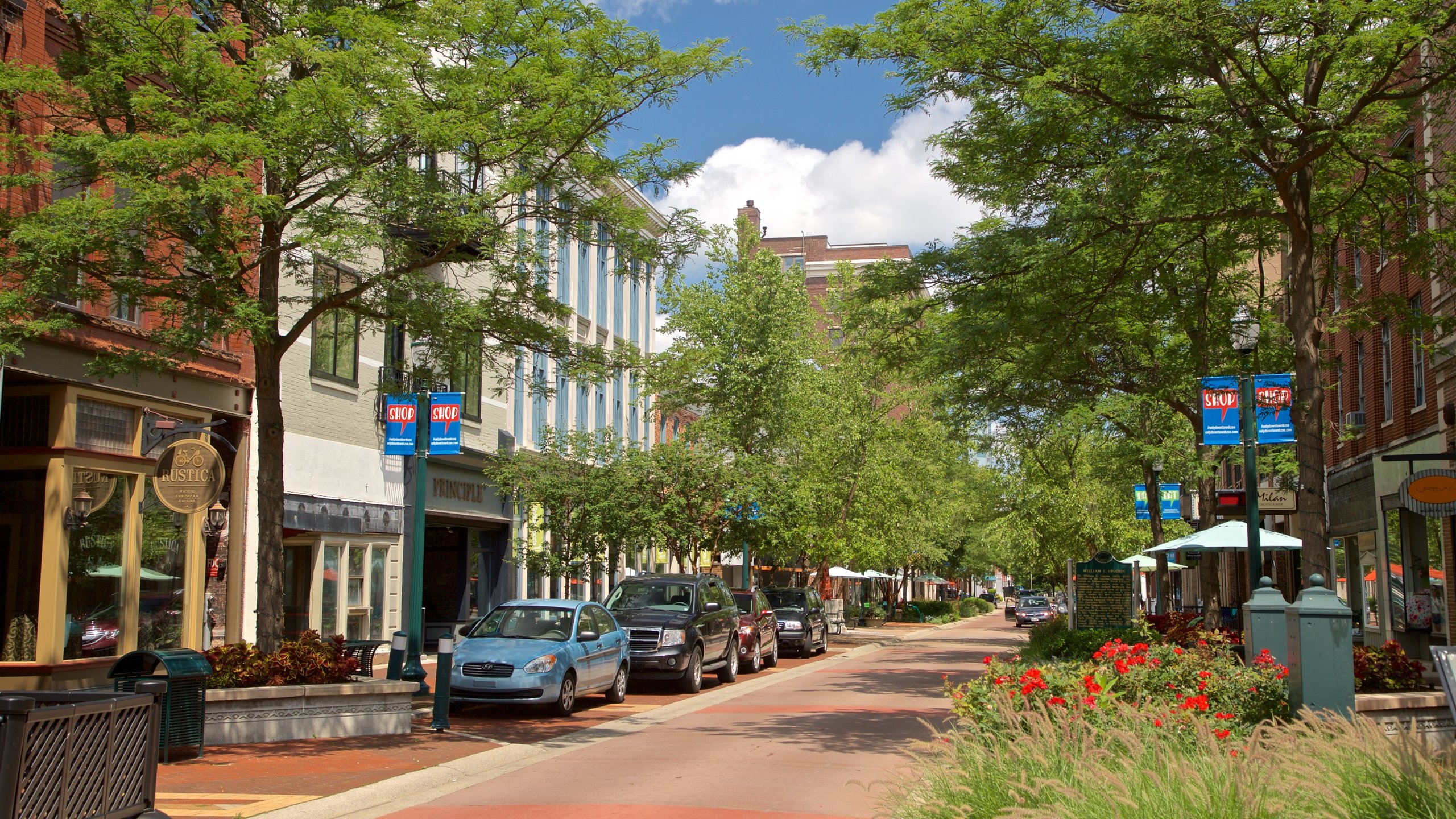 Yes, there really is a Kalamazoo! The famous phrase came into circulation when those outside the state didn't believe that Kalamazoo was a legitimate city and just a made-up name. But in fact, Kalamazoo is genuine and offers many fun attractions for families who venture in for a getaway.
Similar to Lansing, Kalamazoo is a college town. Home to Western Michigan University, part of the city is devoted to the sprawling and beautiful campus, while the other side is home to many top corporations and historic neighborhoods.
With its own international airport, you can easily reach Kalamazoo by plane, car, train, or bus. The Amtrak station takes you directly into the center of downtown, while the airport is on the edge of town. With many family-friendly establishments to check out on your visit, the most popular include:
Air Zoo
Kalamazoo Valley Museum
Kalamazoo Valley Planetarium
Kalamazoo Institute of Arts
Gilmore Car Museum
KalHaven Trail
Kalamazoo Nature Center
Markin Glen Park
Leila Arboretum
Kalamazoo River Valley Trail
Al Sabo Land Preserve
Milham Park
Verhage Cider Mill
Gull Meadow Farms
Mezanmi Play Cafe
Ramona Park
Bow in the Clouds Preserve
West Lake Nature Preserve
Bishop's Bog Preserve
In addition to fun family activities, Kalamazoo is known for the many festivals they hold each year (rib fest anyone?) and also for their high-quality restaurants. When visiting, be sure to check out many of the local eateries. The most highly rated establishments include:
Principle Food and Drink
Rustica
Crows Nest
Food Dance
One Well Brewing
Theo and Stacy's
Studio Grill
Zooroona Restaurant
Shawarma King
University Roadhouse
Comensoli's
Martell's
HopCat
Latitude 42
Martini's
Nonla Burger
Oakwood Bistro
600 Kitchen
Old Burdick's
All of the restaurants listed above are fit for families of all types and sizes. Some, like One Well Brewing and Latitude 42, even offer children's play areas inside or arcades for entertainment.
Kalamazoo often experiences milder winters and humid summers. While just a short drive to South Haven, Kalamazoo also has its fair share of beaches for public use. The city also has a public kick pool for families to use during hot days.
Kalamazoo and its neighboring cities offer many different nature preserves and centers for exploration. Many areas even provide special events and instruction to families who visit. Whether it's bird watching, fishing, guided nature walks, or learning about different animals, there are always programs for nature education.
So yes, there really is a Kalamazoo. And the city is an excellent place for a family vacation when visiting the mitten state. Between the activities and the natural scenery, as well as the top restaurants, every member of your family will be glad they came.
Try These Best Places to Vacation in Michigan with Kids
No matter the season you visit, Michigan will provide many activities and attractions to enjoy during your stay. Whether skiing and ice skating in the winter months or taking a 30+ mile stroll in the summer, you will never be without something to do in Michigan.
Next time you are looking at the map, scouting for the next family vacation destination, don't forget about the beauty of Michigan and all that it provides. Kids and adults alike will enjoy every moment of their visit if you choose any of these best places to vacation in Michigan with kids.
More about our TFVG Author
A seasoned traveller, Dad, and avid sports tourist, James foundered The Family Vacation Guide to share his expert vacation experiences- especially when it comes to being a travelling family man.
Featured in Travel articles such as Travel + Leisure, TripSavvy and SFGate, you know you're reading some of the best vacation tips online.