We've all been there.
Walking around a foreign city, you're excited and grateful to be in a new place.
However, you keep checking your maps to try to find the activities that you had lined up for the day.
The Uber hasn't shown up, you're a little bit lost, and all you really feel like doing is having a shower back at your hotel…
When you're traveling, it's essential to try and organize your trip so that you can experience as much as possible in close proximity to your accommodation.
Because, let's face it: Seeing all of the cultural sights, smells, and sounds can be exhausting!
Even the fittest travelers (the ones you see with the waist-packs and fluorescent spring shoes) are often home and in bed by dusk to rest for the next day of activities.
So for those on a tight schedule, what's the answer? How can both comfort and excitement be fulfilled at the same time?
Welcome to the wacky world of Water Park Hotels. 
We have a lot to owe to this marvelous trend that started late last century.
This is because when hotel managers started *pooling* the idea of building giant water slides that wrap around their accommodation, they bonded over two essential aspects of modern traveling and holiday-making:
Comfort and excitement!
There's also no better excuse to stay in for the day, when your home is a beautiful 5-star room that also has access to turbo-jet twisters just a few floors down!
Funnily enough, Minnesota is home to some of the world's most epic indoor water park hotels. 
(Kind of ironic really, considering that the state has over 10,000 beautiful lakes!)
However, there's no denying it: Minnesota is home to some of the most exhilarating water washouts on offer in the U.S.! 
In this article, we've saved you the hassle of trying to filter through the thousands of enthusiastic water-thrill stan comments on the internet, and are offering you the six best hotel water parks on offer in the state.
No time to waste. Grab a tube and hold on tight!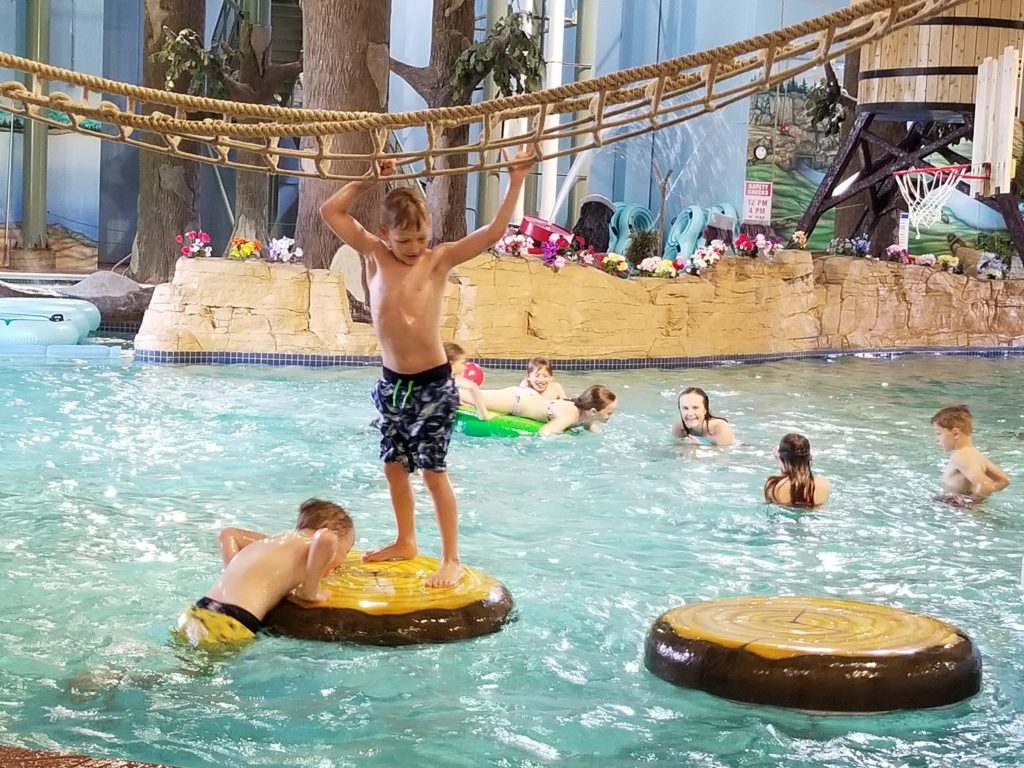 Aiming right at the top of our list is Arrowwood Lodge at Brainerd Lakes, and it hits right on the bullseye.
Located in the heart of the gorgeous Brainerd Lakes, this rustic (yet by no means dated) lodge is a perfect getaway for a family trip or romantic weekend.
Marrying the best aspects of cabin life with hotel treatment and convenience, your stay at Arrowwood is bound to be a comfortable one.
A free complimentary breakfast will get you up and ready to have loads of fun, which leads us to the most crucial topic: The hotel's water park!
The water park here is indoors, and it's also 30,000 square feet in size. Yep, it's pretty impressive!
I guess you need all that space when you want to fit in a four-story body slide, zero-depth entry pool, lazy river, and a pool-based basketball court!
There's plenty of thrills and chills to be had at the Paul Bunyan Water Park no matter the season, so be sure to have a look at their website to see what they've got going on for your upcoming holiday!
The fun doesn't have to stop at the water's edge either, with an array of activities available on the Lodge's expansive grounds.
Why not show the family who's boss with some volleyball on the sand, or impress a loved one with your secret talent for pétanque?
Speaking of games, the lodge also boasts a 2,400 square foot arcade room, with a mix of classic titles.
This is perfect for those competitive members of your family, or the ones that don't like to get their feet wet.
With an array of impressive meeting and event spaces, the Arrowwood Lodge also makes for an awesome location for a work trip or business conference- with room for a splash of fun on the side!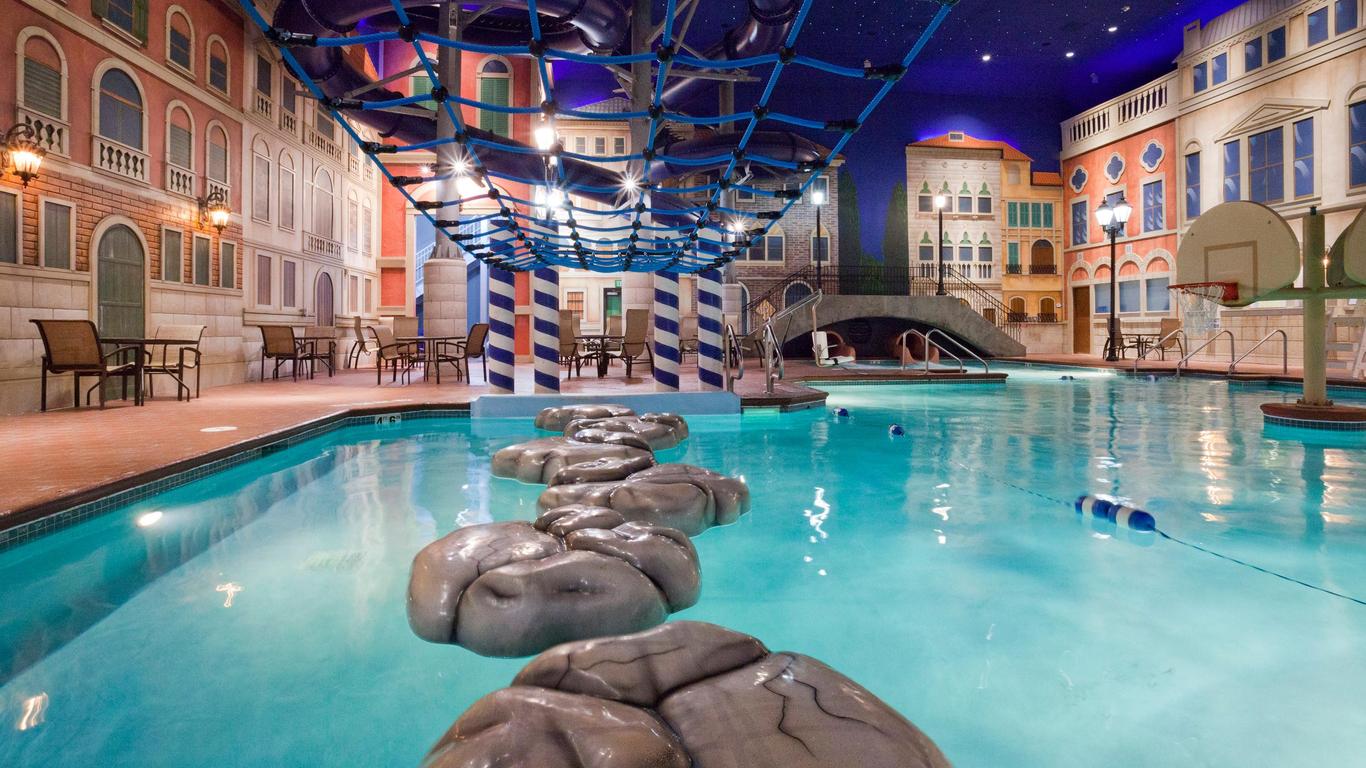 Ahh, the Holiday Inn.
A classic name in American hospitality, they certainly don't do themselves a disservice with the suites on offer at Maple Grove.
With the comfort that they are renowned for, you can rest and relax in luxury before making the most of the complex's indoor pool.
While this pool is not quite as impressive as some of the other hotels listed here, it does have some awesome activities such as an obstacle course and a pool-based basketball court.
Swish!
Third up, we have the Northwoods-inspired Great Wolf Lodge in Bloomington.
As far as accommodation goes, the Great Wolf Lodge doesn't hold back. 
With a selection of standard, themed or premium suites to pick from, there is something for family, friends, or lovers. Their motto is 'strengthen the pack' for a reason!
Keep an eye out for funky references to Northern culture scattered throughout the lodge's interior. This ranges from bear paw prints, to log-cabin bunk rooms!
Outside of the comfortable lodge-style accommodation, the magnum opus water park is on display for all.
The Great Wolf offers eleven different water-ride activities within their park, which is enough to keep any fun-seeking aquaphile busy for a day!
Those who don't want that much excitement will have a great time scavenging around the grand interactive four-story water fort.
Otherwise, simply enjoy your time not being stuck in the office as you float down Crooked Creek on a tube!
On the other end of the spectrum, those who enjoy sending their heart rate rocketing will love the Wolf Rider Wipeout water simulator, or bringing their crazy friends along for the team-based River Canyon Run.
There are also a plethora of mid-tier thrill rides for the less experienced, with enough twists and turns to put a smile on any slide surfer!
Not only does this place bring variety and adrenaline, but it's also an awesome deal for those short on time.
If you stay overnight, you can access the pool from 1pm on your arrival day and all the way until closing time on your departure day.
This means that you don't have to cram the activities around your checkout time, and gives you a chance to play as much as you want after a restful night's sleep!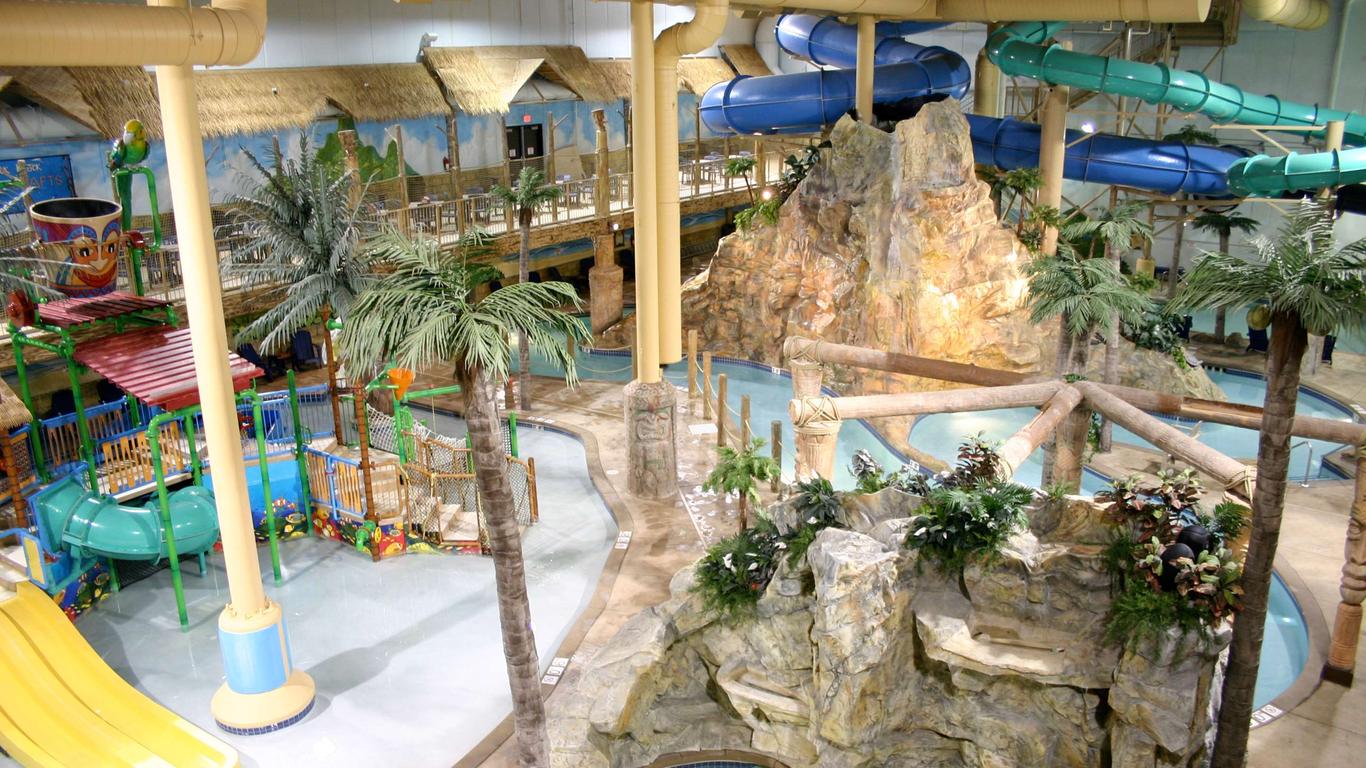 Naming itself the "funnest hotel in Duluth", Edgewater Hotel and Waterpark has a lot to offer for guests that are eager to soak it up.
It's a big claim, but with a four-and-a-half story body slide- I guess it's well-warranted!
The fun doesn't end there either, with the water park's Tiki Tumbler coming in with two massive drops that will send your stomach back up to the launching platform.
While impressive, it's the attractions other than the two main epic slides where Edgewater really shines.
With a massive interactive climbing playground, a 400ft lazy river, and several vortex pools, this indoor complex is a great locale for family time.
The little ones won't get left behind in the fun either, with several pools at 6-inch and even zero-depth entries- making it safe for the smallest of waterbugs!
Outside of the waterzone, there's plenty of fun to be had for the land-lubbers. Tiki Adventure Island offers a variety of seasonal attractions, such as hot tubs, mini golf, and outdoor movies.
All of this excitement takes place on the edge(water) of the beautiful Lake Superior, which means that you can take in the view of the largest freshwater lake in the world from the comfort of your room. Whoa!
Guests of the hotel can see this lake up close and personal with free bike usage for all patrons, alongside limitless access to the activities listed above.
Notorious for its booking deals, keep your eyes peeled on a family-friendly bargain!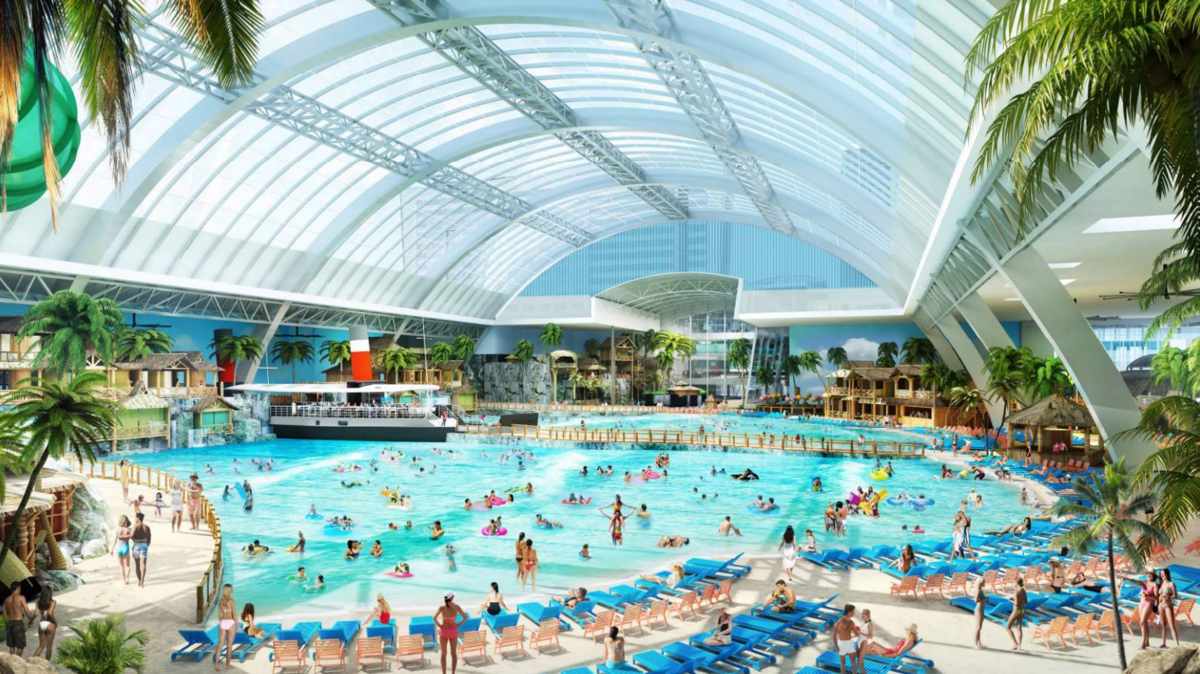 One would think that the Radisson Hotel Bloomington would be shadowed by its neighboring Mall of America, the seventh-largest shopping mall in the world.
While the Mall of America is a massive institution, it may have perhaps served as a point of influence for the Radisson. The hotel boasts the biggest indoor water park in Minnesota– the WaterPark of America!
The major attraction of this water park is its sheer size.
Standing in the complex and taking it all in is thrill enough, and that's not even mentioning the twists of all its slides!
The water park has an awesome, immersive design, with all of the water activities bridged and moated around each other and a giant lighthouse- not to mention the presence of three restaurants, so that every taste palate is catered to!
If the adults are looking for a bit of peace and quiet while the kids are causing chaos, the complex hosts the Trillium spa.
This tranquil space offers a restorative menu of massages and physical therapies, perfect for soothing those aching bodies from being crammed in a 4 hour car ride!
The hotel itself is home to 403 rooms, and is a bit more peaceful at a 20-minute drive from downtown Minneapolis.
With free shuttle services from the airport or to the famously gigantic mall, there's more than enough to keep you occupied in this mecca of comfort.
Keep in mind that the water park is not open every day, so we recommend comparing schedules with the Radisson Hotel website!
Unfortunately, the park fee is also not included in your accommodation booking, so you'll have to fork out a little extra to visit the biggest waterpark in the state.
Last, but certainly not least, is the Rapid River Lodge & Waterpark.
After seeing the massive sprawling family complex of the Radisson Hotel above, the Rapid River Lodge will look like an adorable log-trimmed cottage-house (with a not-so-cute 250 ft. tube slide!).
With 68 comfortable suites on offer, it is significantly smaller than some of the other monoliths listed in this guide.
However, this can be a great thing for those who are looking to get away from the bustle of big family holidays. Here, you can find yourself somewhere a little more intimate!
The suites on offer are all outfitted with locally crafted cedar furniture, which gives the lodge an authentic Northern feel.
The coziness of the lodge-style interior is amplified with Serta Comfort Sleeper beds, which are renowned for relieving the weary backs of those that have been traveling on the road!
Amidst the myriad of amenities on offer- from flat screen TVs, to espresso machines- there is one super-facility which is probably the reason you're thinking of heading here…
You guessed it: This cute little lodge also has a water park!
While it's widely marketed as a family-friendly environment with plenty of entertaining, interactive features for the young ones, there are definitely a couple of slides that'll send even the most mature holidaymaker flying across the water with a smile on their face!
With a 250ft tube slide, a 240ft body slide, and a lazy river complete with rapids and a waterfall, there is plenty to entertain yourself with whether you're young or old!

Although some of the other hotels listed have a more expansive waterpark, they'll probably not be able to boast of the smaller crowds that are on offer here.
The environment certainly allows for extra room to bond with your party that larger places may not give you the space for!
———
And there you have it!
Seven aquatic wonderlands, listed before your very eyes.
Now for the hard part: Are you going to opt for the drops of the Tiki Tumbler, or the feel the rush of Rapid River Lodge's 250 ft. tube slide?
With so many awesome opportunities for nautic fun, maybe you'll just have to visit them all.
Here's a quick Pro Tip: Once you've found your perfect accommodation for rest and rejoicing, make sure you check the waterpark hours of operation in advance.
This is absolutely crucial, as there's nothing worse than arriving at the hotel for check-in wearing your speedos- only to find that the park is down for maintenance or off-season!
See you on the (watery) slopes, partner!
More about our TFVG Author
A seasoned traveller, Dad, and avid sports tourist, James foundered The Family Vacation Guide to share his expert vacation experiences- especially when it comes to being a travelling family man.
Featured in Travel articles such as Travel + Leisure, TripSavvy and SFGate, you know you're reading some of the best vacation tips online.