Minnesota, the land of 10,000 lakes (actually more like 11, 842 to be exact), has a lot to offer families looking to get out and experience the water and spend quality time together.
Whether you're going fishing, paddle boarding, taking a short cruise, camping, canoeing, or whatever water activity comes to mind, Minnesota has the best lakes in the country.
When your day is over, you'll need a comfy resort that can accommodate the whole family. Check out our list of the best Minnesota Lake resorts for families to explore.
Top Minnesota Lake Resorts for Families
Here's our list of the best resorts in Minnesota Lake that are perfect for families or groups:
Larsmont Cottages on Lake Superior
Larsmont Cottages is a family-friendly resort modeled after traditional Scandinavian fishing villages. This resort effortlessly facilitates activities intended to bring the family together, many of which you can find close to fantastic restaurants. You can enjoy an evening of fun with loved ones touring through the wilderness and experiencing all that nature has to offer.
If you're looking for kid-friendly activities, Larsmont Cottages on Lake Superior is the place to be. Enjoy activities such as croquet, bocce ball, arts and crafts, horseshoes, and geocaching. What's more, the resort provides free bikes for exploration, outdoor hot tubs, and even S'more kits for evening bonfires with the family.
The guest rooms feature amenities, such as refrigerators, air conditioning, flat-screen TVs, and they even provide free Wi-Fi to the guests. Furthermore, to help make your stay more enjoyable, Larsmont Cottages features room service. There's a lounge and a pool on the premises for you to relax at your leisure. There's also free parking.
Additional amenities include board games/ puzzles, banquet rooms (perfect for family reunions and special occasions), a full-service spa, concierge services, and a gift shop.
Superior Shores Resort
The Superior Shores Resort is in Two Harbors, 20 miles North of Duluth. This resort is great for families looking to explore the great outdoors. Superior Shores is strategically situated to facilitate hiking along the Superior Hiking Trail.
Not only this, at Larsmont, you can explore Tettegouche State Park and Gooseberry Falls, which is abundant with wildlife. While you're there, you and the family can visit the over 100-year-old Split Rock Lighthouse.
The entirety of the resort spans over a mile, with three properties on the resort anchoring the main lodge. Here you can find both indoor and outdoor pools, an exercise room, a sauna, hot tubs, a restaurant, and a plus cabana bar!
Additionally, the pool of Burlington property offers a stunning view of Lake Superior. What's more, the Lakeside homes give the area a rustic feel. It is nice to peer out of both the living room and bedroom windows to witness spectacular views of the lake.
At this resort, you can cook your own meals and build a campfire. You can even bring your dog to this family-friendly lodge which caters to lovers of the outdoors. While at Superior Shores, you can try out some skiing, hunting, boating, fishing, beachcombing (spend time searching the beach), and snowshoeing.
During your stay, guests may enjoy the complimentary wireless internet, an indoor pool, a fitness center, a private beach, and a complimentary breakfast every morning. There are scheduled activities and outdoor play equipment to keep the kids entertained.
Ruttger's Bay Lake Lodge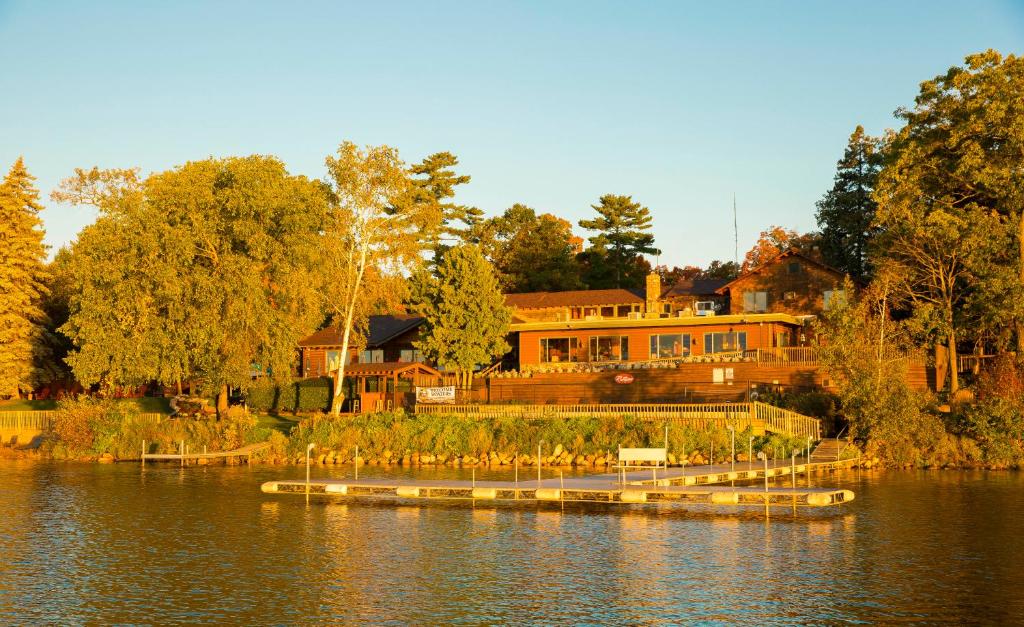 Ruttger's Bay Lake Lodge is one of the best lake resorts in Minnesota, and it emphasizes family, fishing, and fun! This resort is on the stunning shores of Bay Lake, where you and your family can find plenty of aquatic adventures to dabble in as well as traditional outdoor fun.
Thanks to the abundance of lodging options, this lodge can accommodate even the most extended families. This family-operated resort has been in business since 1898, and since that time, they've perfected the art of family fun.
For starters, you can go down to the lake and enjoy scuba diving, boating, or even swimming. You can choose to head out on an impromptu family fishing trip, or you can enlist the help of capable fishing guides. Moreover, the marina has many vehicles to explore the shores with, including rowboats, kayaks, sailboats, pontoons, water bikes, and paddle boats.
For some dry land fun, hike through the nature trails filled with beautiful flora, or you can stop by the championship golf course. There are even unique shops to visit.
This resort offers private decks and patios, a full kitchen, jacuzzi tubs, fireplaces, and more! Ruttger's also has a kid's camp, canoe, kayak rentals, affordable pontoon rides, and two golf courses.
Grandview Lodge Spa & Golf Resort
Grandview Lodge Spa and Golf Resort is renowned for its family and kid-friendly atmosphere. The main lodge, constructed in 1918, is on the National Registry of Historic Places because of its distinctive log architecture. The building is on top of a hill with a great view of Gull Lake.
The resort has over 200 guest cabins outside of the lodge itself. Furthermore, there's a newly constructed boutique hotel that has 60 rooms. Grandview Lodge, Spa, and Golf Resort also have seven restaurants, a conference office, two golf courses, and a spa.
If you and the family want fun water activities, biking, horseback riding, and more, then spend your next vacation at the Grandview Lodge. This place is great for kids, hosting daily events with the Kid's Club.
Parents have the option to leave their children ages 3-11 in the care of their exceptional and professional Kid's Club staff as they go off to enjoy their activities or to have some alone time.
Children will have fun-filled days doing art and crafts, playing games, and having adventures of their own. There's even a kid's night out, a special night for children (ages 3-11) where children enjoy events like relay races and loads of fun capping the night off with a dinner.
Additional activities to do at Grandview Lodge Spa and Golf Resort include skiing, snowshoeing, bonfires, ice skating, bingo, ice fishing, biking, tennis, horseback riding, and more. There's no doubt that everyone in the whole family will come together for fun no matter the season.
Hotel Chase on the Lake
Hotel Chase on the Lake is a family-oriented hotel that is remarkable in the way that it caters to the needs of families of all sizes. 
Chase Hotel revamped its endeavors when it opened Chase on the Lake in 2007 and built a new building with sleek woodwork, high ceilings, and incredible window views. The luxury additions added to the hotel, such as a sauna, indoor swimming, and spa, all added a welcomed flair of opulence and comfort.
Some of the activities that a family can look forward to here include bowling at their two-lane bowling alley at the resort. If you come to visit in the winter months, you can enjoy the skating rink on the lake or even rent skis and snowmobiles to surf the snow.
The summer offers other exciting activities for the family to enjoy. During this time of the year, you can go out and rent a boat to travel across the lake, take a swim or go out for a bike ride on the Paul Bunyan Trail.
Some amenities to enjoy at the resort include an indoor pool, Recreation area, a whirlpool, plunge pool, and a lap pool. Furthermore, if anyone in the family is looking to stay fit, they can do so at the fully-equipped fitness center.
Kohl's Resort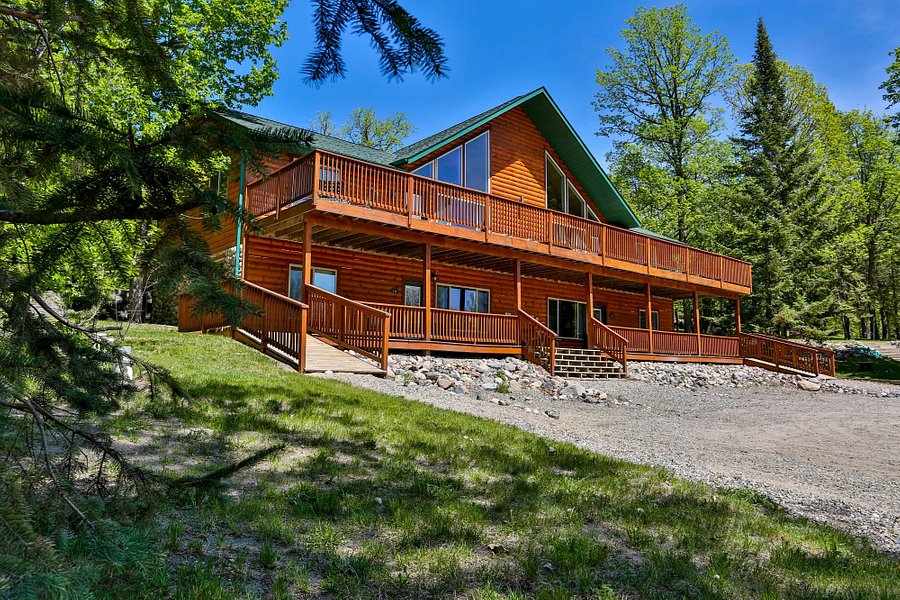 Kohl's Resort is a family-friendly establishment that sits along the shores of Turtle Lake, near Lake Bemidji. There are plenty of clean and comfy cabins with contemporary designs and accommodations. Every cabin also has washer and dryer access as well as a full kitchen.
If you've had a full day and you're too tired to cook, grab the family and take advantage of the restaurant on-site in the main lounging area. There's also a hot tub and indoor pool for your enjoyment to help you relax and spend time with loved ones. Or, you can venture out to the lake when the weather permits for a dip or to go kayaking.
The Turtle Lake shoreline is home to native plants and wildlife, including green and mink frogs. You can easily make a day of going around identifying all of the marine life that fills the lake and taking pictures for souvenirs.
An idea for a day trip with the family includes going to the Paul Bunyan statue in downtown Bemidji to take pictures. It's right next to the information center for tourists and not far from the Paul Bunyan Playhouse where you can catch a show.
The spacious rooms include a complete kitchen for cooking up your favorite meals as if you're in the comfort of your home. Take in the gorgeous views of the lake on the balcony, enjoy a movie night on the flat-screen TV, hot chocolate by the fireplace, or a relaxing evening in the jacuzzi.
Popular family activities include scavenger hunts, shuffleboard, snowboarding, skiing, kayaking, going to the playground with small children, ice cream socials, and much more. Kohl's Resort promises to help bring the family together and create memories that you will never forget.
Quarterdeck Resort

Sitting along Gull Lake, the Quarterdeck Resort is a family-friendly lodge with plenty of attractions to visit and activities to do. Aside from the spacious family suites that accommodate large and small families, the lake itself has miles of shoreline dedicated to water sports and activities.
Enjoy fishing, hiking, and exploring nature with your loved ones in a peaceful setting. You can partake in golfing and lawn games or snowshoeing and skiing, depending on the season.
There's no shortage of fun adventures that everyone can indulge in together. Quarterdeck also has a recreation center with a television and game room for kids and teens to hang out during the downtime.
You'll find something for everyone to eat at the Boathouse Eatery & Bar, which serves American and international foods. Each of the rooms at the cozy resort has a balcony, a gas fireplace, a full kitchen or kitchenette, and standard bathroom amenities.
Depending on which suite you select (main, lakeside, king, or cottage), you may also get a jacuzzi, whirlpool, sundeck, and more. There's also free wireless internet, free parking, and flat-screen TVs in each room. Everyone can kick back and relax in their home away from home.
Additional activities include ice cream socials, live entertainment, horseback riding, go-karts, hayrides, outdoor grilling, kayaking, and more where you and your family can create memories together. This resort focuses on bringing everyone together to spend quality time together by hosting an extensive array of group activities.
Timber Trails Resort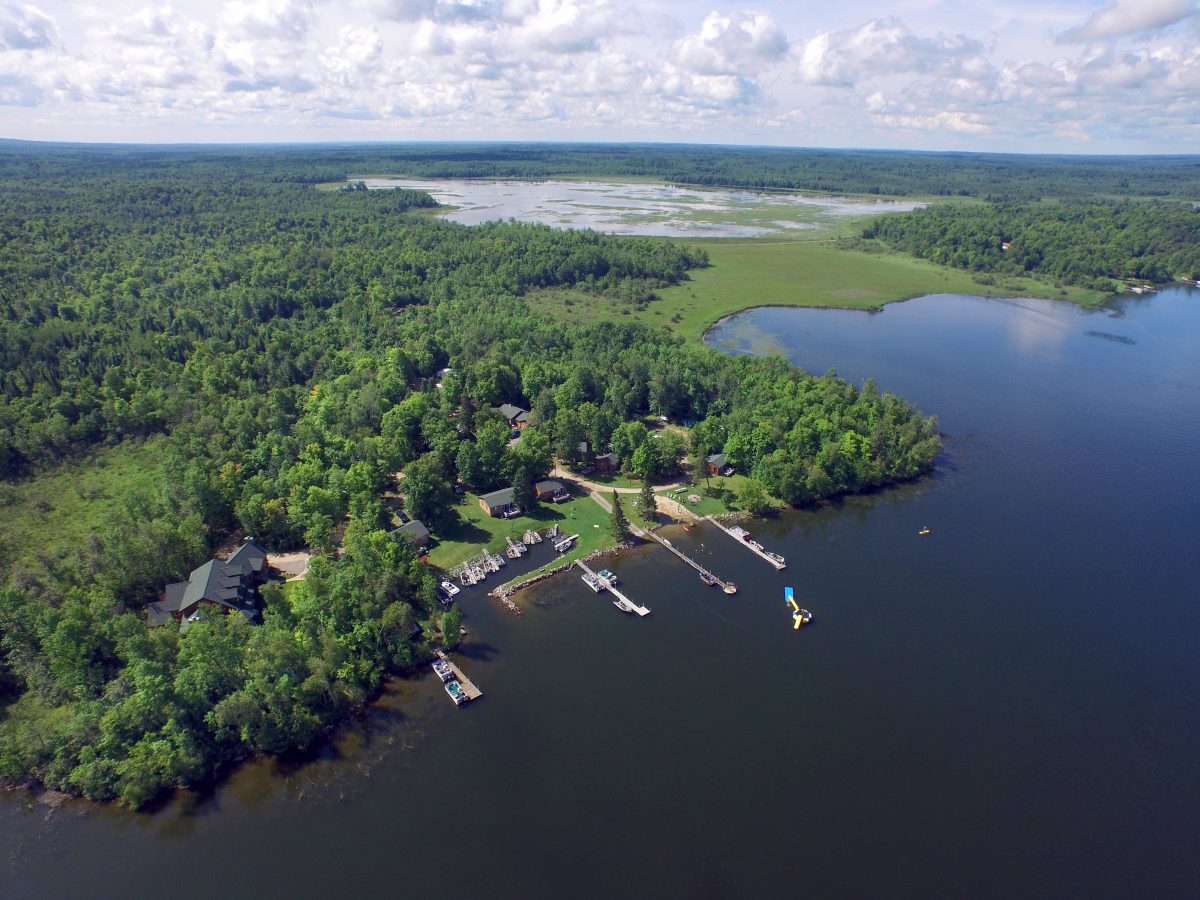 Timber Trails Resort is on Boy Lake, tucked away off the main road. It's a secluded location that still has the comforts of home and lots of fun for the whole family. All the guests can enjoy privacy with the cabins situated between the trees for an authentic "up north" vacation.
The resort has a communal beach, playground, and store where families can mingle and hang out with others. Additionally, there's a game room, television, free internet access, a protected harbor, and more available to guests during their stay.
Take a family hike through the woods, relax while enjoying a good book in the library, or participate in the many group activities offered by the resort.
Each comfy room has air conditioning, a refrigerator, a flat-screen TV, a coffee maker, a fireplace, and a full kitchen or kitchenette. There's plenty of space for everyone to have fun together or relax and regroup individually.
Bring your pets along to play in the open park space, and don't hesitate to let the kiddos come and take part in games like horseshoes, bocce ball, and more.
The Timber Trail Resort also hosts arts and crafts sessions, scavenger hunts, cycling, boating, ATV riding, and other fun things to do as a family. There is undoubtedly something that will interest everyone and make for a memorable getaway.
Tamarack Resort
Tamarack Resort is one of the top selections on this list because of its dedication to serving families. Nestled on the western side of Burntside Lake, Tamarack Resort is the perfect place for families to escape during hot summers.
There's nothing like taking a trip to the lake to swim, going kayaking, canoeing, or fishing together for the first time, or as a family tradition. The water is clear for up to 16 ft, and there are over 150 islands to explore.
With the proper equipment and supplies, it's an excellent occasion to explore the wilderness and take a hike through the area.
The resort has fully furnished cabins for your enjoyment, and everyone in the family has plenty of space to move around and make themselves feel at home. After a day of shopping, taking pictures, sightseeing, and dining in the nearby town of Ely, unwind at the cabin and enjoy a movie together.
Or perhaps you all want to grab the board games and hang out on the deck overlooking the lake while grilling up your favorite foods. There's also a gas fireplace, a coffee maker, a full kitchen, and other standard room amenities. Each cabin has access to wireless internet, free parking, laundry facilities, and a sauna.
Arnesen's Rocky Point Resort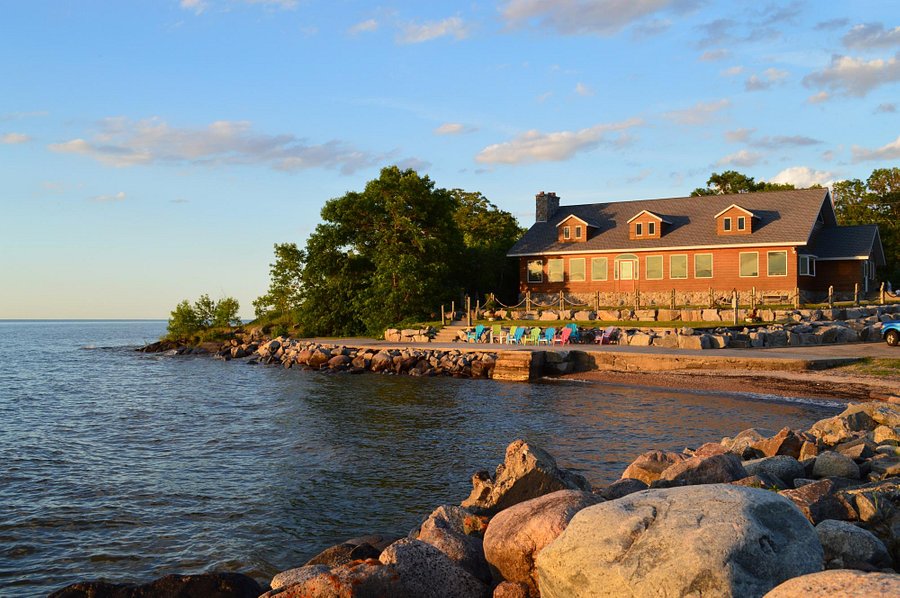 If you're looking for a Minnesota Lake resort that allows families to reconnect with one another and disconnect from hectic daily lives, Arnesen's Rocky Point Resort is the place to go. Surrounded by the beautiful Lake of the Woods, this resort has several delightful cabins that offer adequate space and amenities to make your stay pleasurable.
The full kitchen, picnic table, and outdoor grill ensure that the family can come together over delicious meals while planning the day's endeavors. Take in the beauty of the lake from the private porch or deck, or look into the family group activities like swimming, hiking, ice fishing, and more.
One of the more popular ventures for families is the boating excursion since the resort has a large protected marina. They also offer bait, fuel, and an overnight docking station to make family trips easier to manage. What a great time to go on a short cruise and teach the kids how to cast a line!
There's never a dull moment at Arnesen's Rocky Point Resort with so much to do. If you like the idea of catching fresh fish, you won't be disappointed with the northern like, walleye, perch, and other selections that fill the lake.
If you're just looking to relax on the sandy beaches for a family outing, there's plenty of space and equipment at your disposal. Finish off your day with a tasty meal from the Rock Harbor Lodge and a signature dessert!
The hotel's additional amenities and services include vending machines, free wireless internet, free parking, an outdoor playground for families with children, a game room, and a gift shop.
Woodland Beach Resort
Find the Woodland Beach Resort by Bay Lake in Deerwood, Minnesota. They have a wide array of charming cabins for you to choose from, and you also get access to other lakes that are nearby. This resort is two hours away from major cities, making it perfect for access to either country life or the hustle and bustle.
Families have commented that they loved taking a trip together into the city to do shopping, dine at various restaurants, and explore multiple attractions. They then get to return to a secluded cabin where they can relax and enjoy nature, and lounge around.
Guests have access to free wireless internet in their cabins and on the property in general, and they have cable and a DVD player in the rooms to watch movies and tv shows together on the flat-screen TVs. Woodland Beach Resort offers fishing, private space on a beach, boating, kayaking, canoeing, and more. With over 2400 acres, there's something for everyone to get into at the resort.
Families with teens have found that their children enjoy the plethora of outdoor recreation activities such as volleyball, basketball, swimming, golfing, and sunbathing when they take a trip to the beach. The cabins at Woodland Beach are some of the largest in the area, with modern amenities such as air-conditioning, a gas fireplace, a full kitchen or kitchenette, and more. The larger cabins also have a hot tub and an entire deck included.
Families can enjoy the theme parks near the property, bird watching, cycling, cross country skiing during the colder months, horseshoes, scuba diving, and so much more at Woodland Beach Resort. There are also laundry facilities on-site, roll-away beds, pack and plays, a swimming pool, and free parking at this resort.
Hiawatha Beach Resort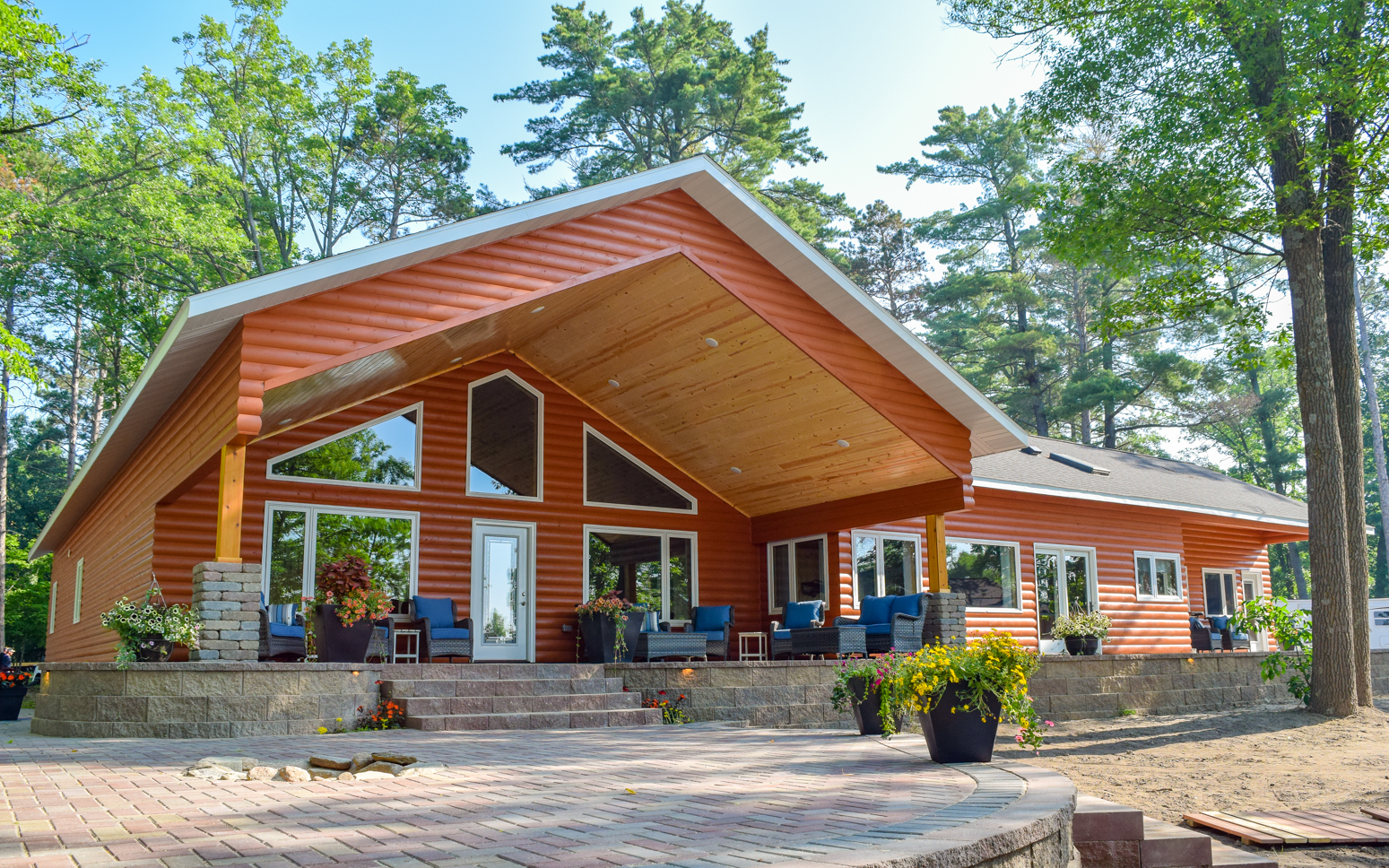 The family-owned Hiawatha Beach Resort at Leech Lake is a premier destination for your next reunion or vacation since it is so family-centric. Adventures are waiting to happen for people of all ages, and Hiawatha Beach is one of the best Minnesota Lake resorts for families on our list.
Start your getaway with a fishing trip, or go swimming, tanning, kayaking, or boating together. You can also go out and explore the shores for yourselves. By renting one of the houseboats, families of up to ten people can enjoy the spacious boat with a large patio, a swim slide, and a grill on the deck.
On the property, children are welcome to participate in supervised activities ranging from arts and crafts, basketball, tennis, volleyball, sightseeing, or playing on the playground.
Adults can enjoy wine tastings, gambling at the casino, and even hunting and shooting. A family favorite is getting together and hiking or biking on the famous Paul Bunyan Trail in the summer, which is also the perfect setting for snowmobiling in the winter.
The newly renovated suites and rooms at the Hiawatha Beach Resort come with a private balcony and a full kitchen. The cottages have a decent amount of space between them for added privacy and beautiful lake views. All rooms come with air conditioning, a deck, and a coffee maker.
There's also complimentary wireless internet, video games, a game room, and a convenience store on the premises. With so much to do and experience at the resort, you won't be disappointed if you select the Hiawatha Beach Resort for your next family vacation.
Are You Ready to Enjoy These Minnesota Lake Resorts for Families?
Your family trip to one of these Minnesota Lake Resorts promises to be full of memorable moments. Whether you are seeking a relaxing vacation or a holiday filled to the brim with activities, you can't go wrong with choosing a resort from this list.
When narrowing down your choices between resorts, consider which activities and facilities you would like while taking a break in these natural settings. We hope you enjoy your trip to one of these Minnesota Lake resorts for families!
More about our TFVG Author
A seasoned traveller, Dad, and avid sports tourist, James foundered The Family Vacation Guide to share his expert vacation experiences- especially when it comes to being a travelling family man.
Featured in Travel articles such as Travel + Leisure, TripSavvy and SFGate, you know you're reading some of the best vacation tips online.